After seven years of construction, Hudson Yards is now OPEN
It's been nearly two decades since city officials began plans and rezonings for Manhattan's West Side Yards and seven years since construction began on the selected $20 billion project, Hudson Yards. And as of today, the largest private development in the nation is officially open to the public. New Yorkers can visit the public squares and gardens, the one-million-square-foot shops and restaurants, and probably most anticipated, the Vessel, the 150-foot-tall, climbable public art piece. Ahead, watch a time-lapse video of the 28-acre development under construction and learn more about what's open and what's yet to come.
Though the development has been criticized as a glassy playground for the rich, when Senate Minority Leader Charles Schumer spoke at the grand opening earlier today, he continually emphasized the number of jobs created by Hudson Yards for people of all economic backgrounds. The buildings and companies at Hudson Yards will bring 57,000 new jobs, in addition to 600 jobs over the next six months "to provide essential services at the development" and thousands more at the restaurants, shops, and other on-site businesses. In fact, during construction, Hudson Yards has already contributed more than $10 billion to the city's GDP. And despite an unprecedented number of multi-million-dollar apartments, Schumer also made note of the complex's 1,300+ units of affordable housing.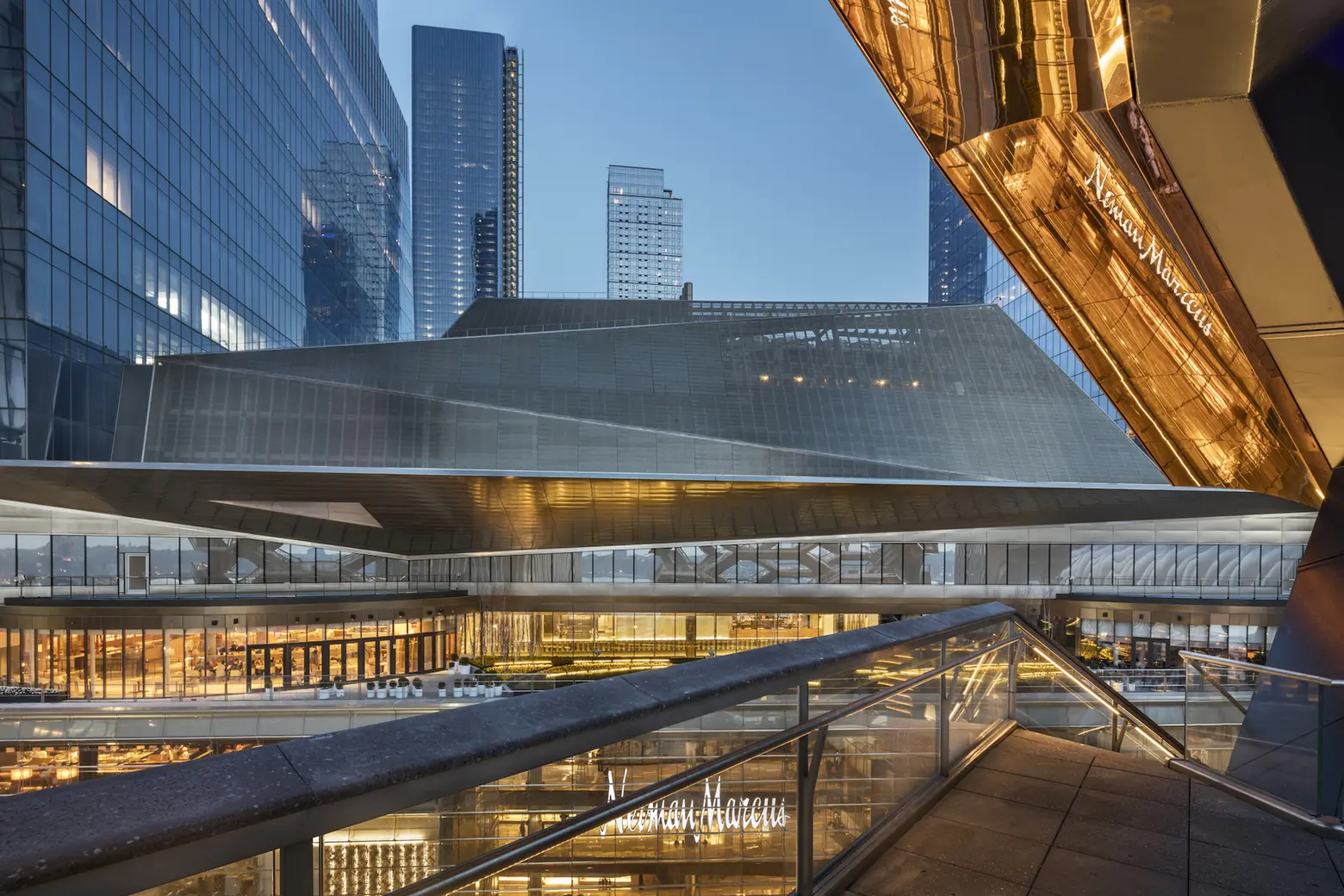 At noon today, the Shops & Restaurants at Hudson Yards opened, and according to early reports, it is completely mobbed, with lines to get into most stores. The space is very reminiscent of Related's other neighborhood-changing project at the Time Warner Center. Though at 100 million square feet and with 100+ restaurants and dining options, it is undoubtedly a much larger operation. The anchor tenant is a 190,000-square-foot Neiman Marcus, and the other shops range from typical offerings like Lululemon, Banana Republic, and Muji to very high-end spots like Cartier, Fendi, and Rolex.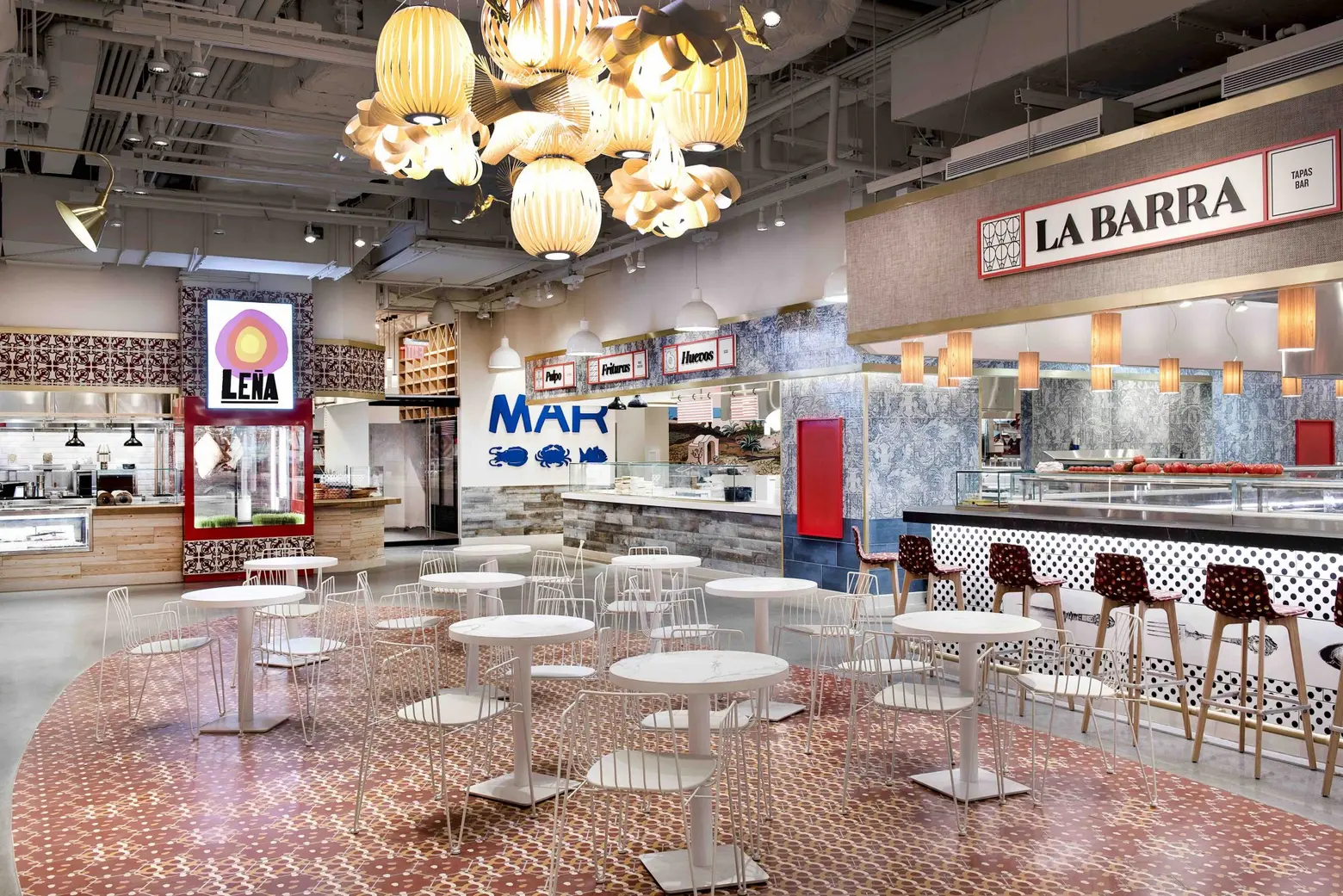 Little Spain; photo by Liz Clayman
But what's drawn more hype than the retail is the food, with restaurants from acclaimed chefs Thomas Keller, David Chang, Estiatorio Milos, and more. The biggest attraction, though, is Chef José Andrés' Mercado Litle Spain, a 35,000-square-foot Spanish food hall with 15 tapas kiosks, a cocktail bar, Spanish wine bar, and three full-service restaurants.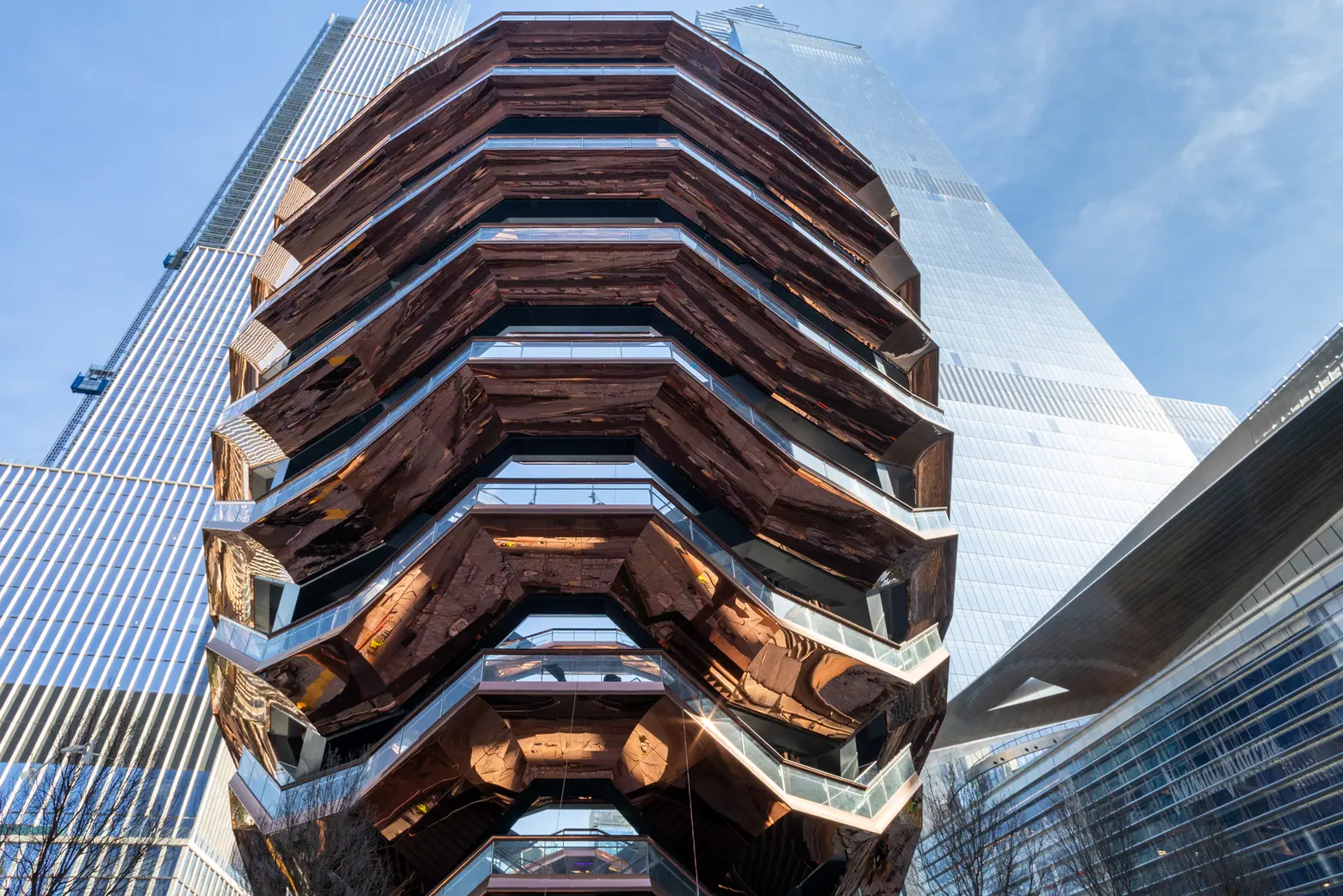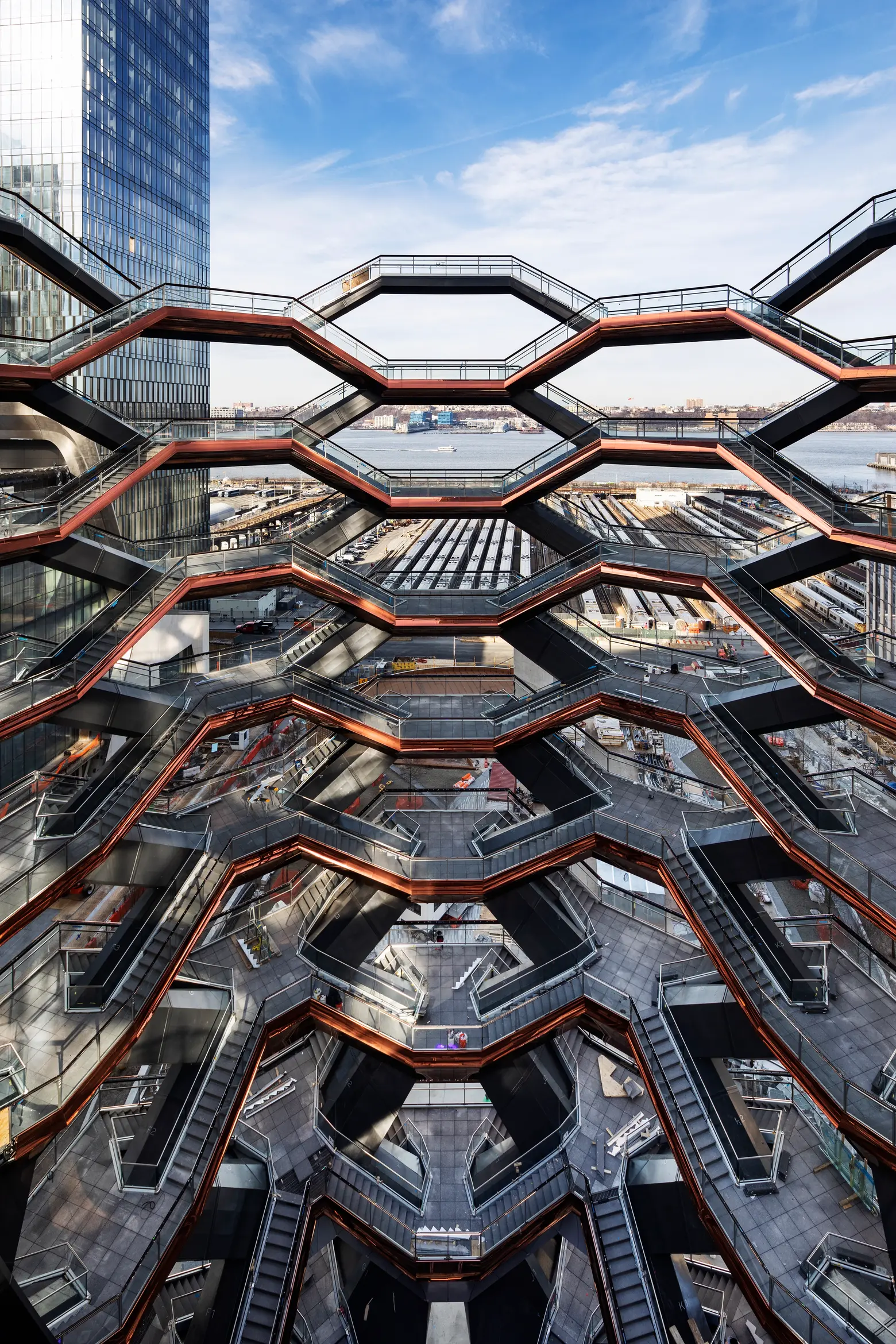 Top photo by James and Karla Murray for 6sqft; Bottom photo by Michael Moran for Related-Oxford
And we predict even the most jaded New Yorker won't be able to resist a climb to the 150-foot peak of the Vessel, Thomas Heatherwick's intricately engineered, honeycomb-shaped, climbable public art piece. From the time it was unveiled, Related chairman Stephen Ross likened it to the Eiffel Tower, and though that's yet to be determined, it's certainly doing well, with the reservation site completely down.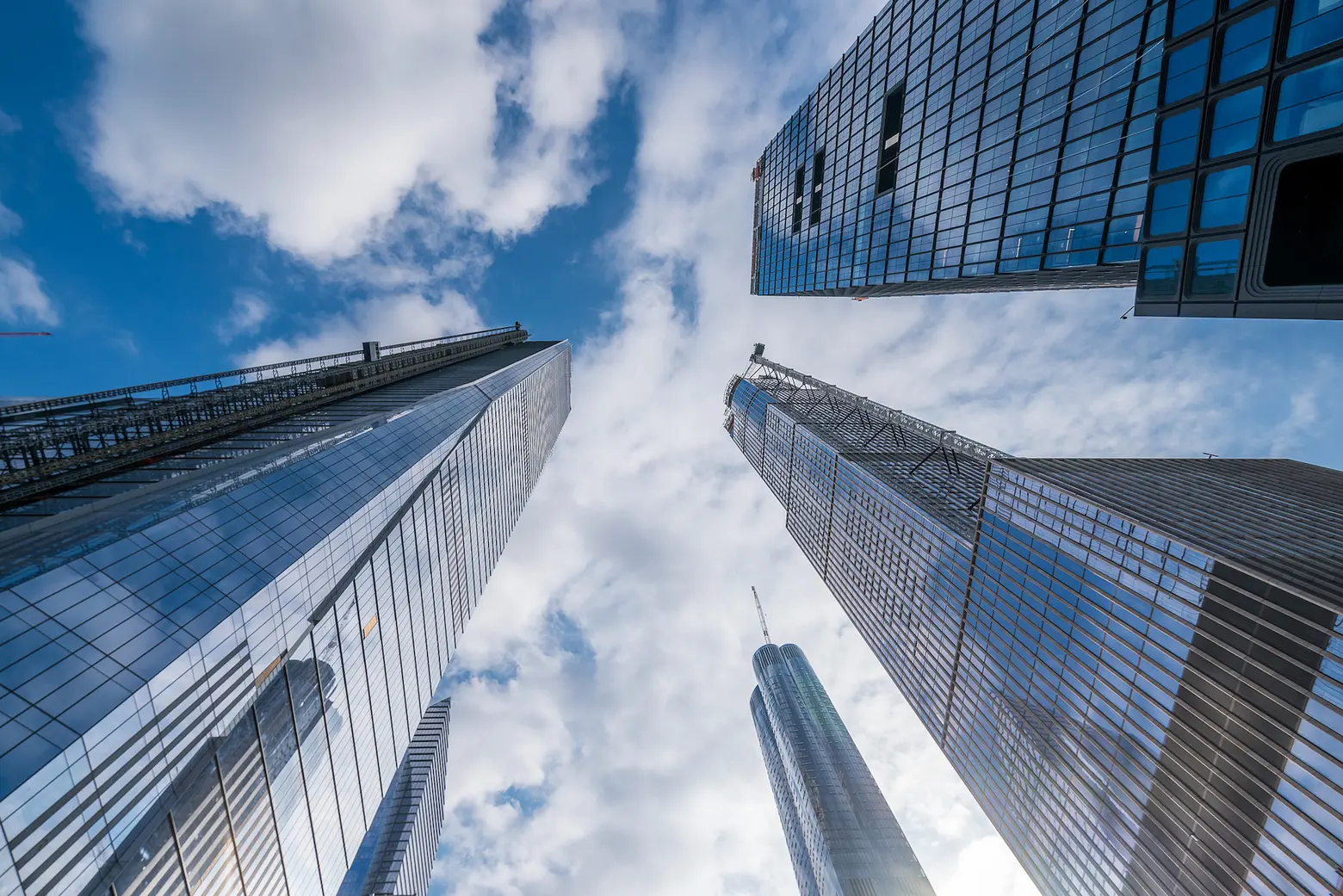 Photo via Flickr cc
Also today, leasing launched at 35 Hudson Yards. Residents are currently beginning to occupy 15 Hudson Yards. Over the next few months, tenants will begin moving into the towers at 55 Hudson Yards and 30 Hudson Yards and continue to move into 50 Hudson Yards, the city's most expensive office building, and 10 Hudson Yards, the first building to open at the complex in 2016.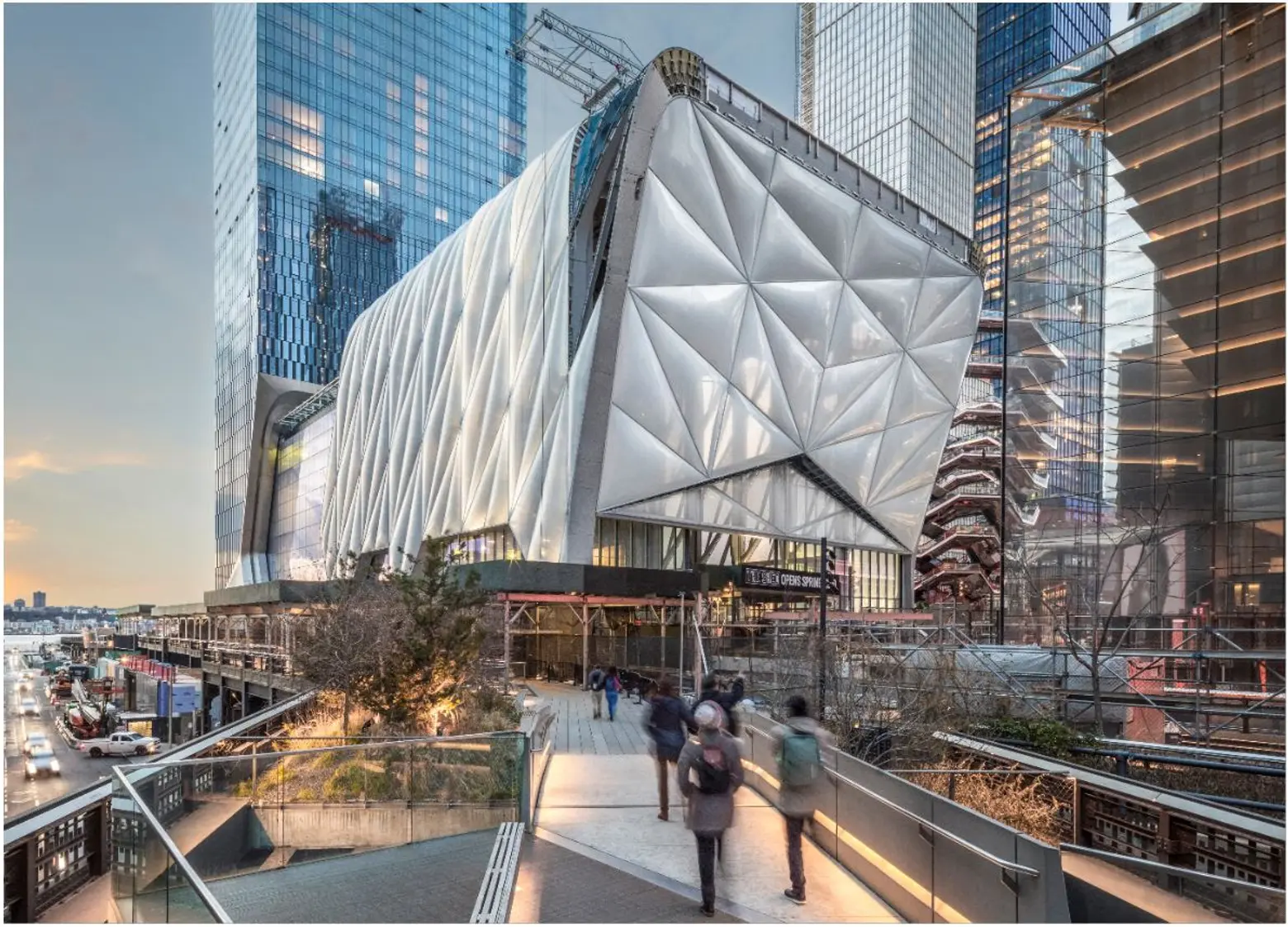 Photo of the Shed by Brett Beyer
Still to come at Hudson Yards is the Shed, New York City's first arts center dedicated to presenting new performing arts, visual arts, and popular culture works. Best known for its futuristic design and movable shell, it will open on April 5th with an inaugural lineup including Björk, artist and filmmaker Steve McQueen, master painter Gerhard Richter, and many more.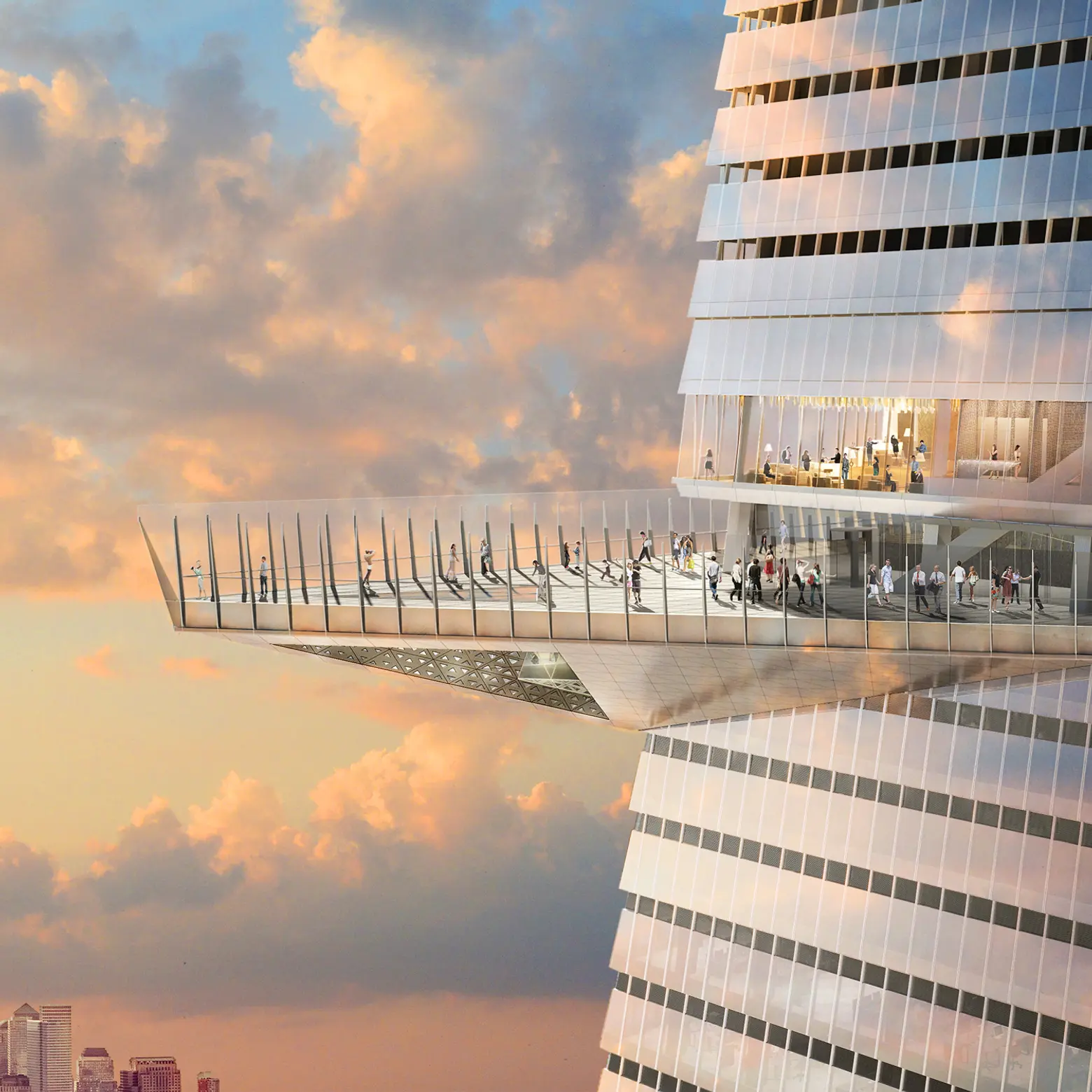 Rendering of Edge, courtesy of Related-Oxford
Other highlights that will open are the Equinox Hotel at 35 Hudson Yards in June and Edge, the highest outdoor observation deck in the Western Hemisphere in early 2020.
Of this monumental day, Stephen Ross said:
Building Hudson Yards is the most humbling experience of my lifetime. It's a rare opportunity to be able to create a neighborhood of this size and impact, let alone in New York City. Hudson Yards' economic impact is already profound and its place on the New York skyline is meaningful. Bringing this vision to life took incredible forethought and commitment from the public sector, and a world-class team and set of partners in the private sector, many of whom signed on to bring their businesses to our budding community when it was still just an open railyard. This new neighborhood represents more than just a set of buildings, it shows what can be achieved when the public and private sectors join together to unleash passion and creativity. Our ambition for Hudson Yards was to create a great neighborhood, with experiences and opportunities for everyone. I am confident that we have achieved this with great public spaces, shopping and culinary expressions across all spectrums, cultural attractions, diverse residential opportunities and cutting-edge sustainability and resiliency. We are thrilled to now welcome every New Yorker, indeed the world, to visit New York's newest neighborhood, Hudson Yards.
RELATED: