'Beastie Boys Square' to be unveiled at LES block party with Ad-Rock and Mike D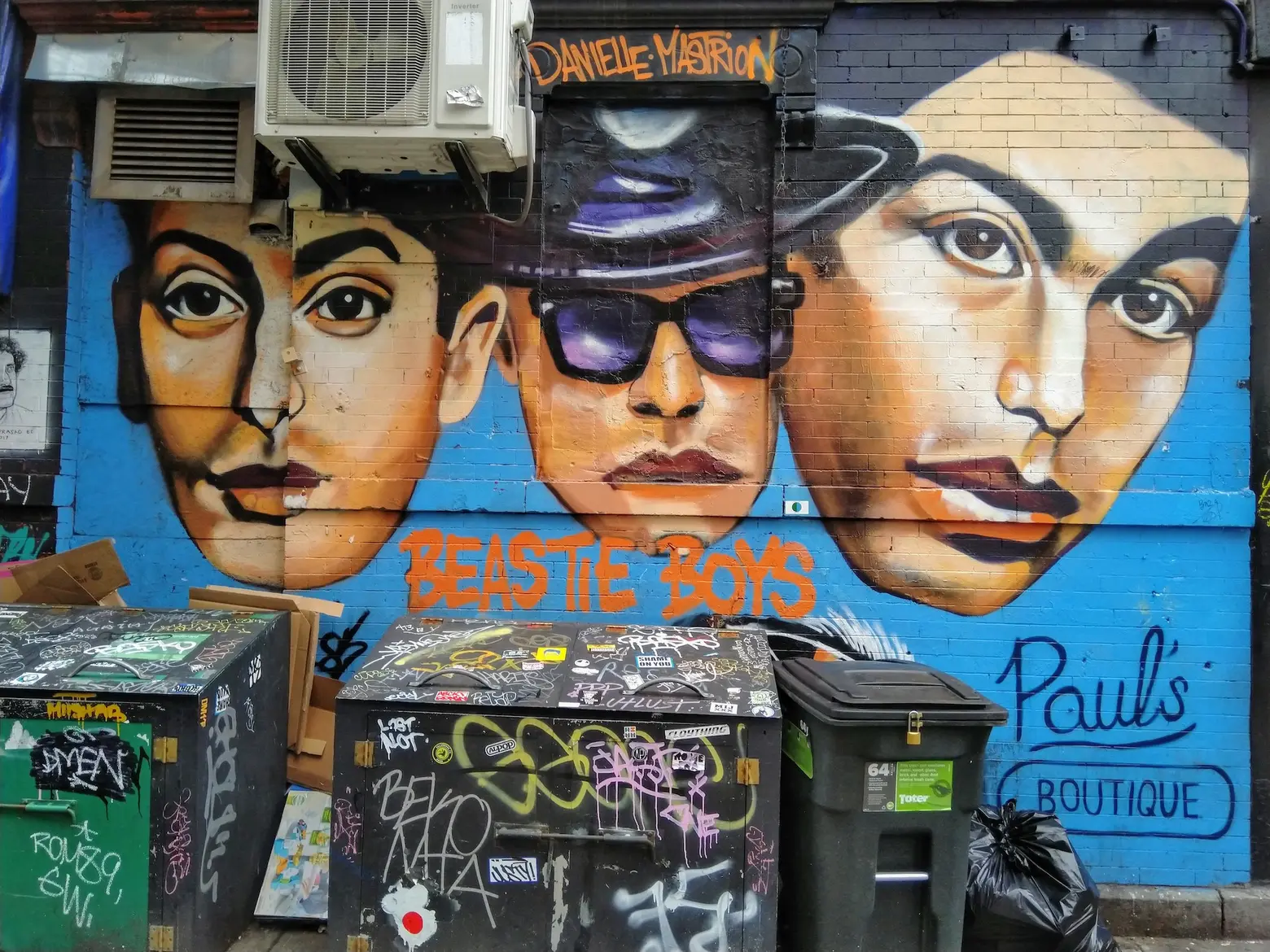 A Lower East Side intersection is being renamed "Beastie Boys Square" this weekend, with members of the famed hip-hop trio expected to make appearances during the celebration. On Saturday, September 9 from 12 p.m. to 2 p.m., Adam "Ad-Rock" Horovitz and Michael "Mike D" Diamond will join Council Member Christopher Marte and fellow New Yorkers for a block party celebrating the co-naming of the corner of Ludlow and Rivington Streets. The now-iconic intersection was featured in the art for the group's second studio album "Paul's Boutique."
The renaming event will feature a live DJ set by Jon Bless, Beastie Boys pop-up shops and activities, live screen printing, and more.
"Beastie Boys Square" will honor the legacy of the three members of the Lower East Side-based group: Michael Diamond, Adam Horovitz, and the late Adam "MCA" Yauch, whose death in 2012 sparked the effort to rename the intersection.
The effort to rename the corner to "Beastie Boys Square" was kickstarted by LeRoy McCarthy, a hip-hop fan who also led the effort to rename Christopher Wallace Way in Brooklyn and the Wu-Tang Clan District on Staten Island, according to Gothamist.
McCarthy submitted a proposal for the intersection's renaming in 2014 which was ultimately denied after the local community board determined the Beastie Boys did not meet the guidelines for a renaming. The city requires honorees to have 15 years of community involvement or an exceptional accomplishment worth highlighting. After his request was denied, the City Council prohibited him from bringing the proposal back to them for another five years.
Last year, McCarthy's most recent proposal was approved by the City Council with support from Marte. Marte has been an outspoken advocate for the intersection's renaming for nearly 10 years since McCarthy first made his proposal.
"As many of us know, once the Beastie Boys hit the scene, it really changed the hip-hop game. I see it as a celebration," Marte said in a statement last year following the council's approval.
"A celebration for the Lower East Side, a celebration for hip-hop, and especially a celebration for our community who has been organizing for a really long time to make this happen."
RELATED: