NYC approves renaming Lower East Side intersection 'Beastie Boys Square'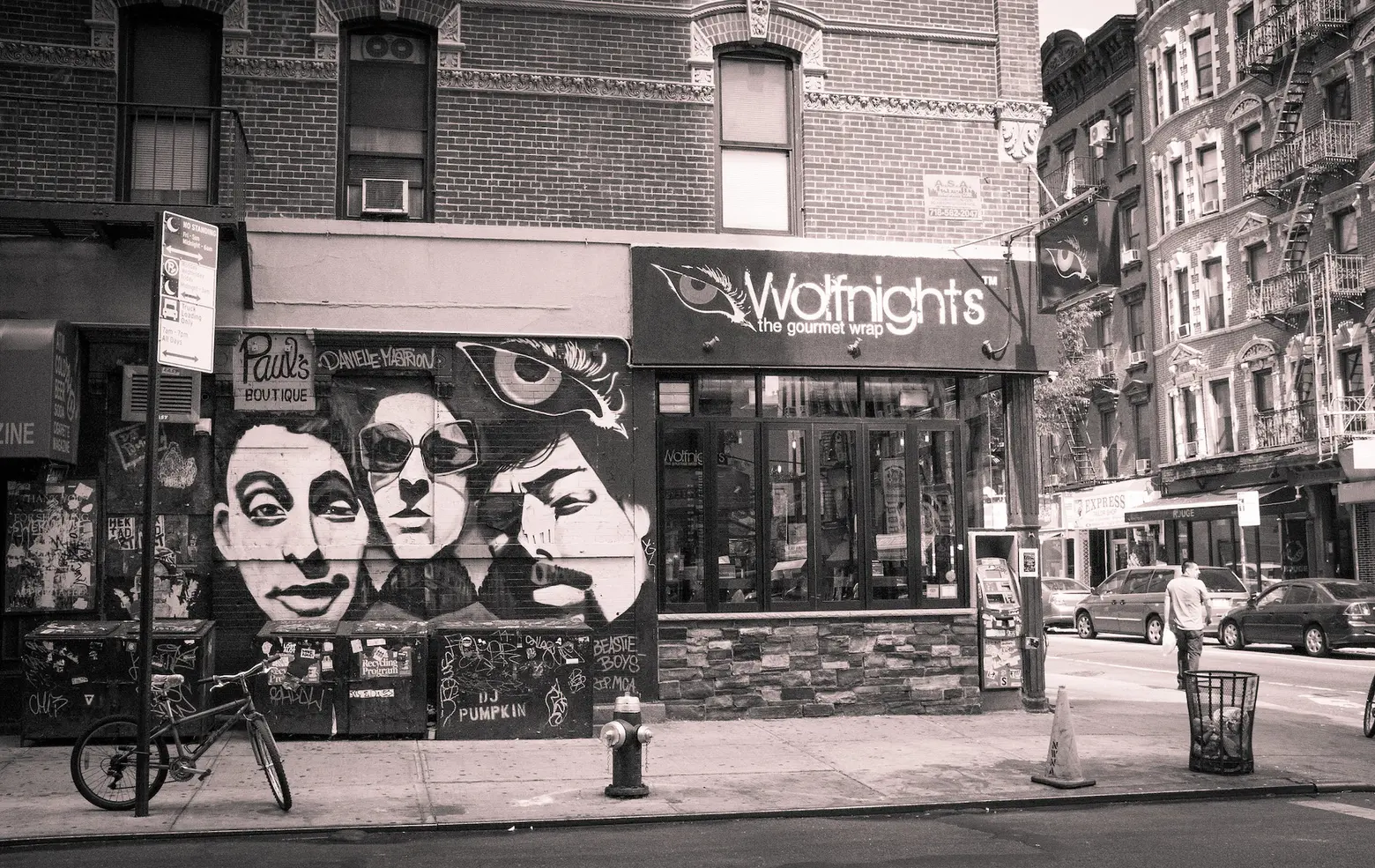 The intersection of Ludlow and Rivington Streets on the LEs; Photo courtesy of Simon O'Brien on Flickr
The New York City Council last week voted to rename the intersection of Ludlow and Rivington Streets on the Lower East Side to "Beastie Boys Square," an ode to the NYC hip-hop trio who immortalized the corner of the two streets on the cover of their 1989 album, Paul's Boutique. The bill is currently awaiting the signature of Mayor Eric Adams.
"Beastie Boys Square" will honor the legacy of the iconic three-member group who called the Lower East Side home: Michael "Mike D" Diamond, Adam "Ad-Rock" Horovitz, and the late Adam "MCA" Yauch, whose untimely death in 2012 due to cancer sparked the effort to rename the intersection.
Council Member Christopher Marte is an outspoken proponent of the intersection's renaming and has been a part of the effort for the past nine years. Marte spoke about the petition's success:
"As many of us know, once the Beastie Boys hit the scene, it really changed the hip-hop game. I see it as a celebration. A celebration for the Lower East Side, a celebration for hip-hop and especially a celebration for our community who has been organizing for a really long time to make this happen."
The campaign to rename the intersection to "Beastie Boys Square" was jumpstarted by LeRoy McCarthy, a devoted hip-hop lover who was also behind the renaming of Christopher Wallace Way in Brooklyn and the Wu-Tang Clan District on Staten Island, according to the Bowery Boogie.
The proposal was denied in 2014 after the local community board decided the Beastie Boys did not meet the guidelines for renaming. The city's standard for a renaming includes requiring honorees to have 15 years of community involvement or an exceptional accomplishment worth highlighting. After McCarthy's request was denied in 2014, the council banned him from bringing the proposal back to them for another five years.
According to Gothamist, Marte argued against the community board's initial decision, claiming that the Beastie Boys' ties to the neighborhood were worthy of the intersection's renaming. In 2017, Marte stated:
"The Beastie Boys lived and breathed the Lower East Side as the Lower East Side lived and breathed the Beastie Boys. MCA, Ad-Rock and Mike D put this neighborhood on the hip-hop map not just by calling it their home, but putting it front and center on one of their top albums."
Marte continued: "There's no denying these guys were punks, maybe not their neighbors' favorite neighbors, but that's what the Lower East Side was and always will be: a home to people who do things a little differently."
RELATED: