Sample the wares and see what's new at NYC's top flea and food markets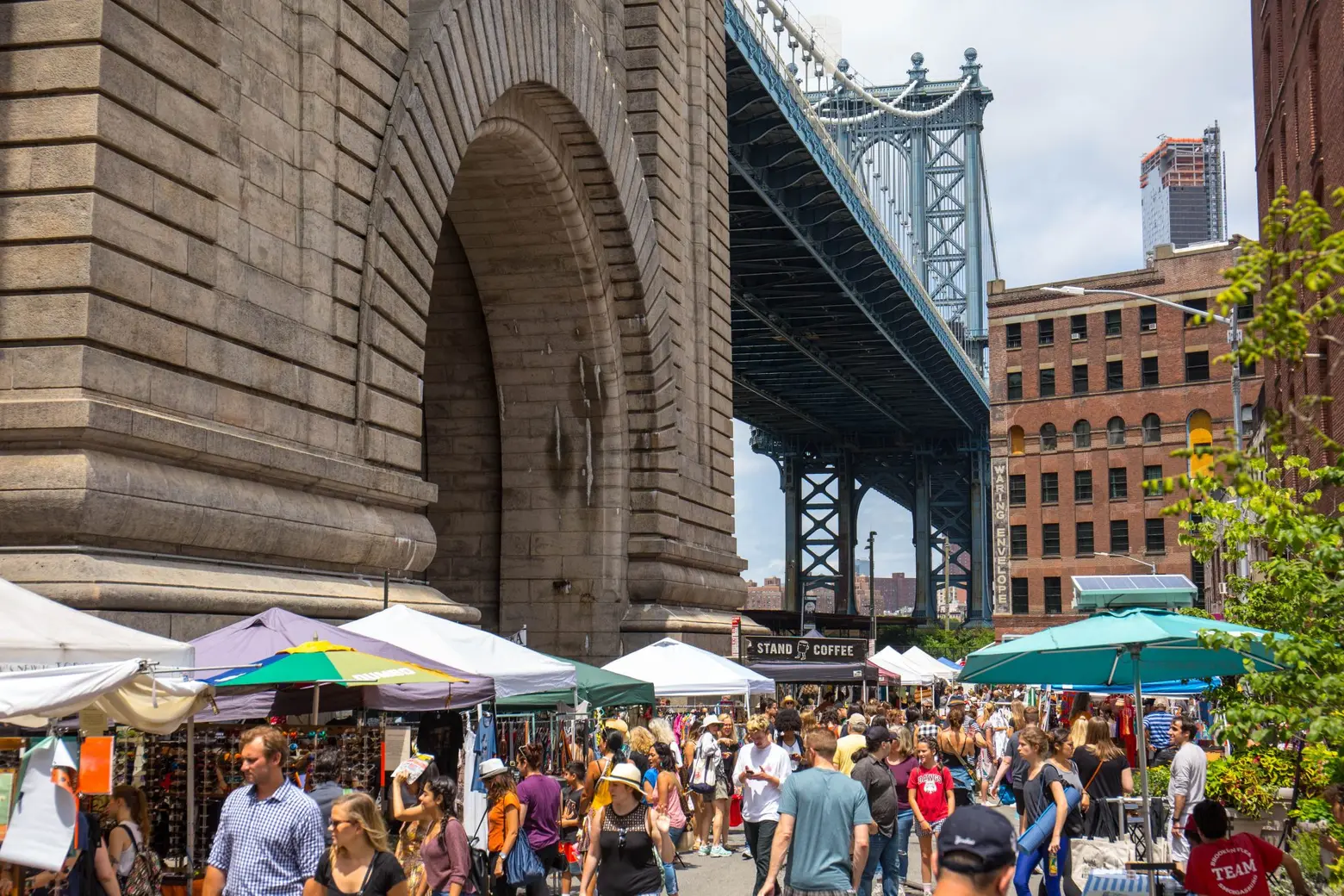 Image courtesy of Brooklyn Flea; photo credit: Scott Lynch
The city's local flea and food markets set up shop in springtime, bringing irresistible edibles and covetable goods to a neighborhood near you. Though dates and locations vary and favorite vendors come and go, the mighty market phenomenon keeps growing. The shop-and-nosh mecca Brooklyn Flea again changes locations (hello, WTC!), a favorite night market returns in Queens, and the Manhattan classics are back to offer more of what you didn't know you couldn't live without. Some of the best fairs are the most fleeting, and one-offs like the annual Renegade Arts and Crafts Fair are always worth the trip. The list below rounds up the city's top food and flea picks. Let the hunting and gathering begin!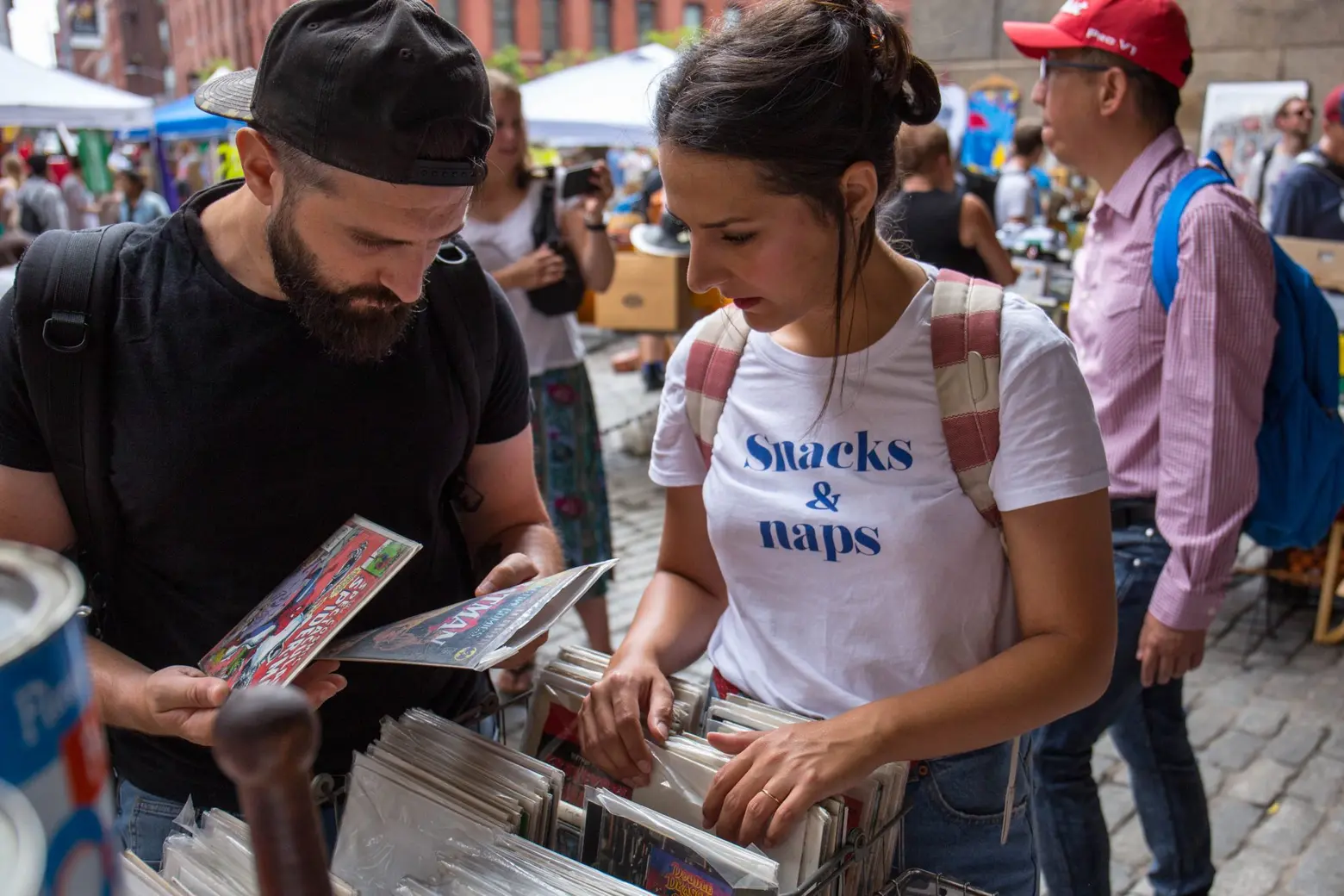 Brooklyn Flea: Williamsburg Saturdays 
Williamsburg Hotel, 96 Wythe Avenue, 2nd level patio
Saturday, April 6 through October; 11 a.m. to 6 p.m.
The venerable Brooklyn Flea has come a long way from its birthplace in a schoolyard in Fort Greene. This year's Saturday shopping, noshing and people-watching destination finds the now-elder-statesflea on a patio of a trendy Williamsburg hotel just a few blocks from Smorgasburg at East River State Park, looking out over the neighborhood. The shoppers' mecca that by now is one of the city's most enduring brands is the place to find vintage, furniture, handmade goodies and more while enjoying the view.
Brooklyn Flea: DUMBO Sundays 
Manhattan Bridge Archway, 80 Pearl Street, Brooklyn; Sunday, April 7 through October, 10 a.m. – 5 p.m.
Sundays at the Flea roll on to DUMBO for another season in the majestic archway under the Manhattan Bridge. You'll find about 80 vendors of antiques and collectibles, vintage fashions, furniture, rugs, textiles and more—and, of course, food—with an old-fashioned town square vibe.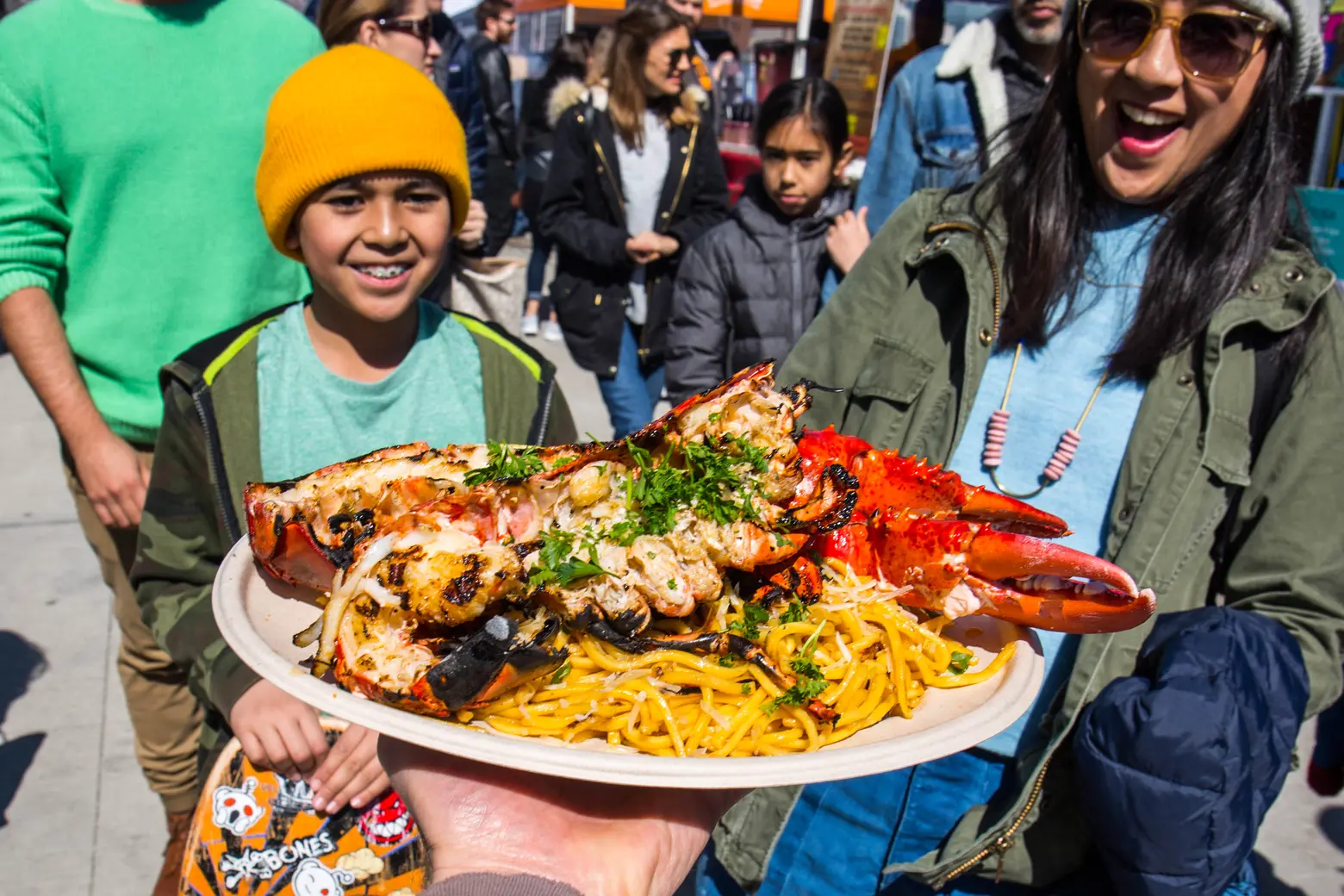 Smorgasburg 
East River State Park, 90 Kent Avenue (at North 7th); Opens April 6; Saturdays 11 a.m. – 6 p.m.
Prospect Park, Breeze Hill at Lincoln Road; Opens April 7; Sundays 11 a.m. – 6 p.m.
Smorgasburg WTC, Westfield World Trade Center, Oculus Plaza; Opens April 12; Fridays 11:30  a.m. – 7 p.m.
Smorgasburg x Vice Night Market, Villain, 307 Kent Avenue at South 3rd Street, Brooklyn; every other Friday, 6 p.m. til late
The 'Smorg is back in its familiar feeding spots, with two young upstarts in tow this year. What the New York Times has called "the Woodstock of eating" happens every Saturday with 100 vendors on the Williamsburg waterfront and Sunday in beautiful Prospect Park. A lower Manhattan Friday addition at Oculus Plaza is something to cheer about, and an indoor night market (with Vice) spices things up with 10 vendors, a full bar, DJs, astrology readings and more. The familiar foodie fests feature purveyors from New York City and nearby, including local faves like Jing Fong, Dough, The Better Pop and trendy treats like The Pizza Cupcake, plus beer, wine and booze. Check their Instagram feed for a virtual nibble.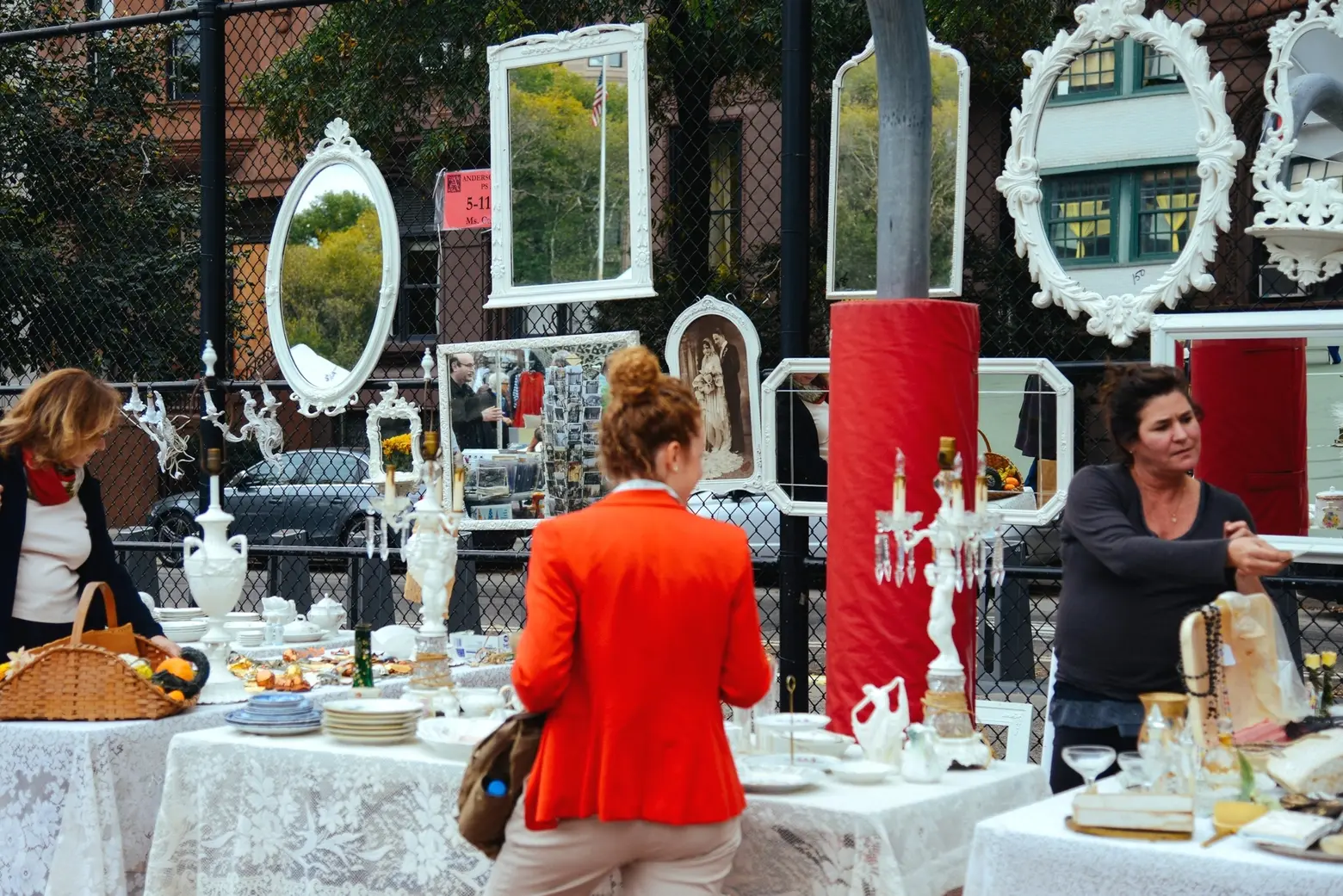 Photo courtesy of Grand Bazaar NYC
Grand Bazaar NYC
100 West 77th Street at Columbus Avenue
Every Sunday 10 a.m. – 5:30 p.m.
This urban "yard sale" has been serving the Upper West Side since 1982 and has no intention of slowing down. You'll find antiques, artisans' wares and fabulous food every Sunday, all year 'round. In addition to helping support local makers and sellers, this market donates 100 percent of profits to four local public schools. Look for cool events like the NYC Food Truck Fest and Earth Day celebrations in April, NYC Home Décor & Furniture Bazaar in May and regional artisan markets throughout the spring and summer.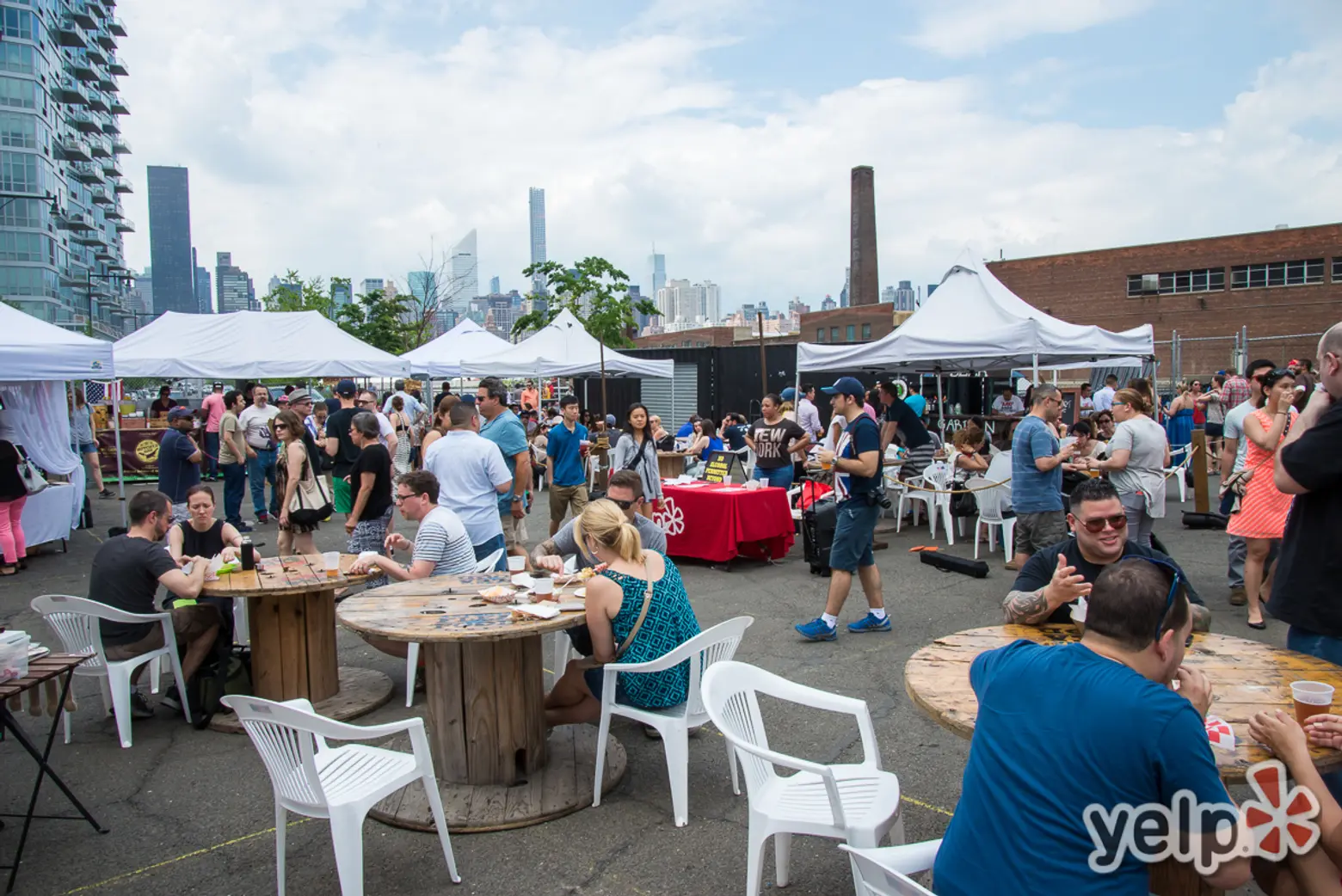 Image via Yelp Inc./Flickr cc
LIC Flea & Food 
5-25 46th Avenue, LIC, Queens,
Weekends from May through October 30 from 11 a.m. to 6 p.m.
Queens weighs in with another season of market madness on the waterfront of Long Island City just one block behind the Pepsi-Cola sign. You'll find cool jewelry, vintage goodies, clothes, and indulgent edibles while taking in breathtaking views of the Manhattan skyline at the largest outdoor market in the borough.
Astoria Flea & Food 
Kaufman Studios, 34-12 36th Street, Astoria, Queens,
Dates to be announced; Saturdays from 6 p.m. to Midnight; Sundays from 12 p.m. to 6 p.m.
This little sister to the LIC Flea happens at Kaufman Studios as a night market on Saturdays from 6 p.m. until midnight and a daytime destination on Sundays. Similarly, you'll find a carefully curated collection of vendors offering food and drink, antiques, art, furniture, fashion, jewelry, arts & crafts, and much more.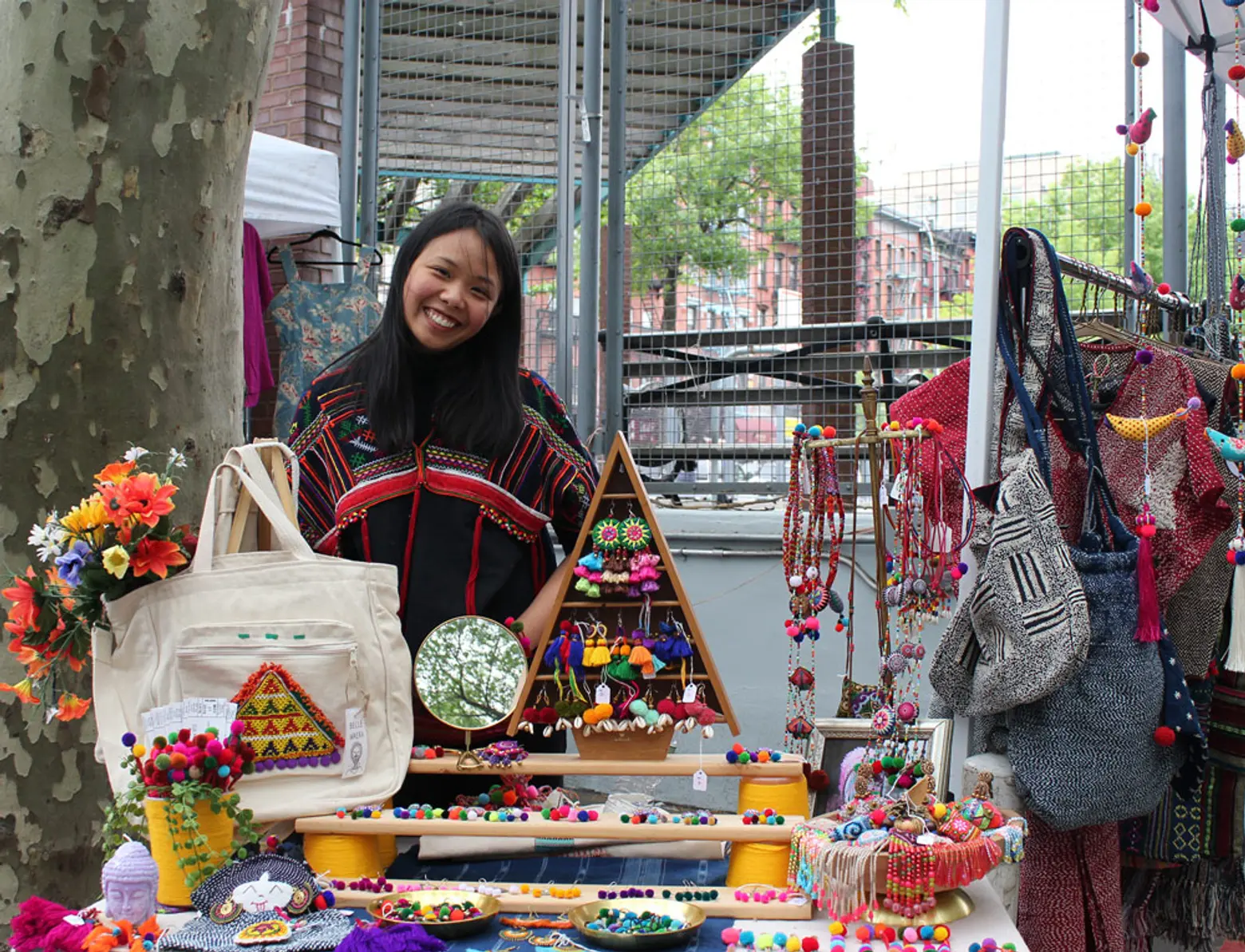 Image courtesy of Hester Street Fair
Hester Street Fair 
Corner of Hester and Essex Streets in the LES
May 13 through October 31, every Saturday, 11 a.m. – 6 p.m.
Located on the historic grounds of New York City's original food cart vendors (i.e. the city's largest pushcart market at the turn of the century) in the heart of the Lower East Side, this bustling Saturday market continues to draw the crowds. In its 10th season, you'll find artisanal food, vintage clothing, jewelry, crafts, home goods and much more, with special events on the calendar like concerts and other performances, a baby festival, a lobster and beer fest and pet day.
Chelsea Flea Market 
29 West 25th Street between Broadway and Sixth Avenue
Saturdays & Sundays, year-round; 6:30 a.m.– 7 p.m.
Descended from the OG 6th Avenue flea market, this weekend warrior boasts both veteran dealers and new-school vendors selling antiques, collectibles, ephemera, decorative arts, vintage clothing and jewelry including Art Deco and Mid-Century Modern items. If flea-ing isn't enough fun, Eataly and Madison Square Park are both nearby.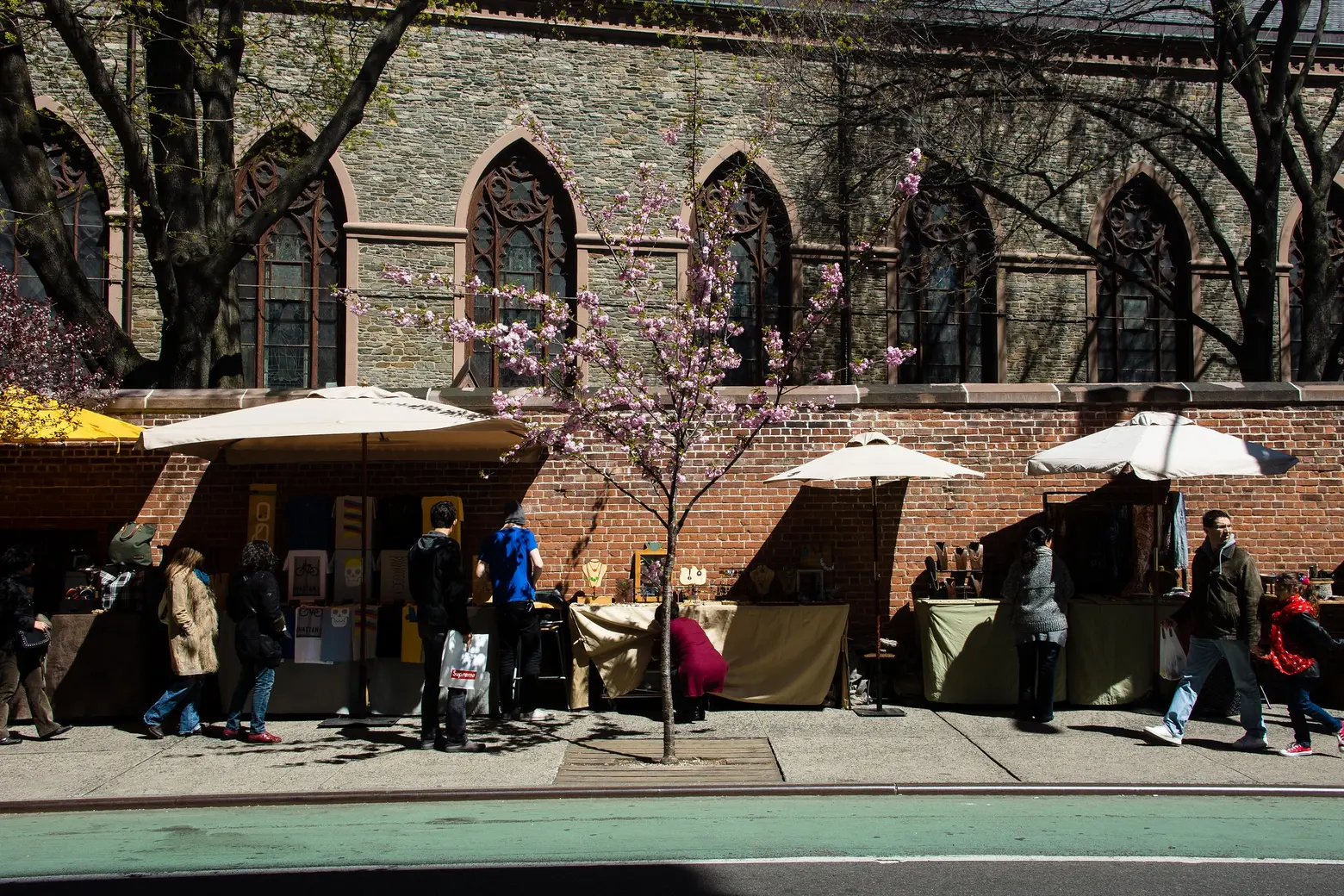 Photo via Flickr cc
Nolita Outdoor Market 
Prince Street between Mott and Mulberry Streets
March-December, Friday – Sunday 10 a.m. – 7 p.m. (weather permitting)
When spring weather arrives, so does a handful of top vendors offering unique and high-quality merch along the brick wall of the church on Prince Street in the Nolita shopping-and-brunching district. You'll find surprisingly well-priced art, jewelry, accessories and apparel you won't find anywhere else.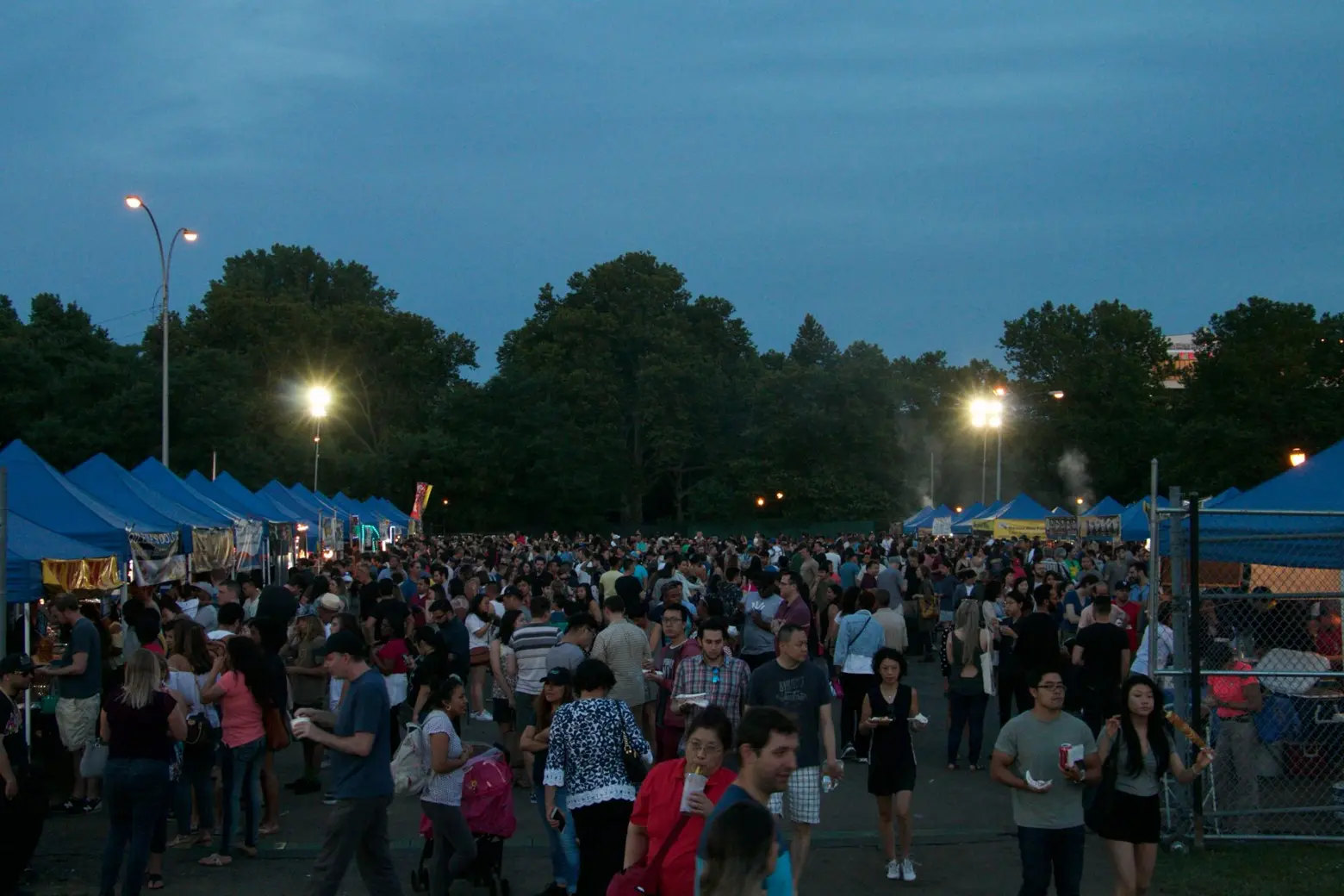 Photo credit: Storm Garner
Queens International Night Market 
New York Hall of Science in Flushing Meadows Corona Park, Queens
Saturday nights from April 20th – August 17th and September 28th – October 26th; 5 p.m. – 12 a.m.
Who doesn't love a little night shopping, especially when it's in a science museum? This beloved and family-friendly open-air market returns, featuring independent vendors and food as well as cultural performances and entertainment, all on a level that matches the rich cultural diversity and heritage of the borough and NYC.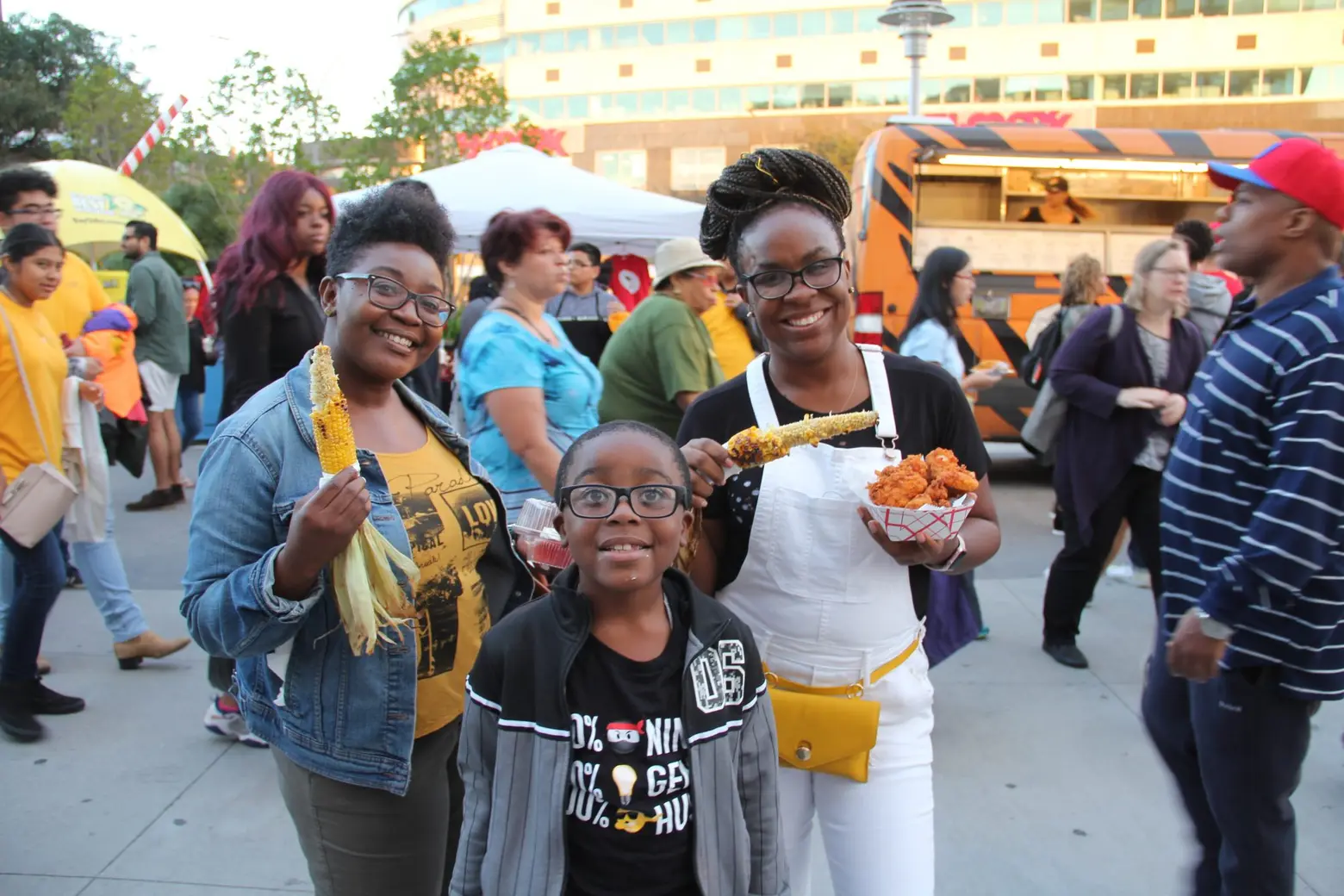 Courtesy of Bronx Night Market
Bronx Night Market
Fordham Plaza in the Bronx
Select Saturdays starting May 25; 4-10 p.m.
Following its debut season last year, in which more than 30 ethnicities and cuisines were represented, the Bronx Night Market helped start two dozen new business. Vendors may offer $3, $5, and $7 menu options, "creating a cultural event that appeals to the broadest possible audience and supports small local businesses." In its second year, the Market has doubled its number of dates and added more than 25 new food and merchandise vendors, including City Island Seafood Shack, Memphis Seoul, Lotsa Latkes, and Sam's Fried Ice Cream. There will also be a performance lineup with local musical acts.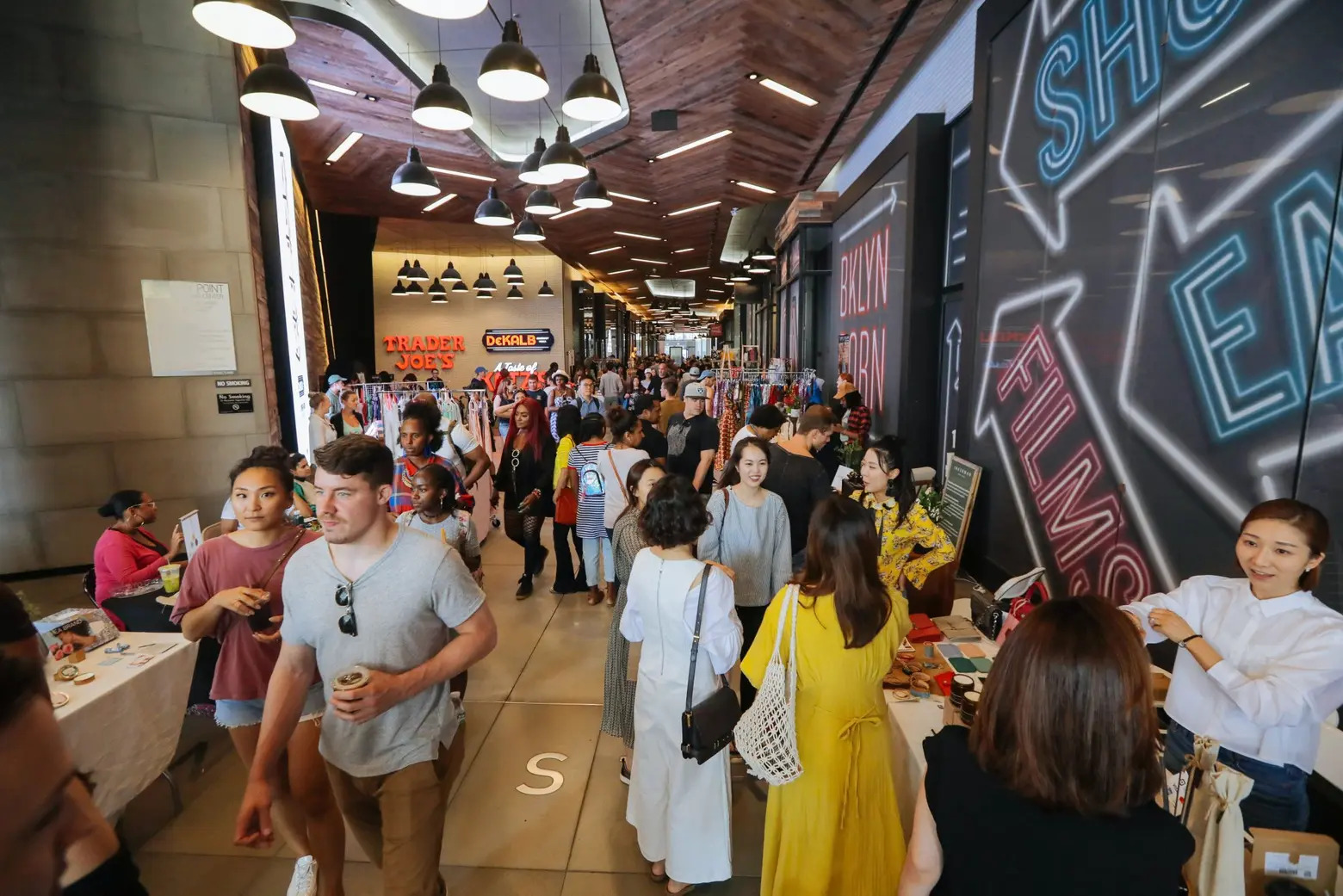 Image courtesy of FAD Market
FAD Market
City Point, 445 Albee Square West, Brooklyn
The Invisible Dog, 51 Bergen Street, Brooklyn; Check schedule for market dates, times and themes.
For the 2019 spring and summer season, FAD (fashion, art and design) Market promises its usual thoughtfully selected independent makers and artists at two Brooklyn locations. Kicking off the season is Brooklyn Made Market at City Point on April 13th-14th, followed by the NYCxDESIGN Market in conjunction with the citywide NYCxDESIGN on Mother's Day weekend. In June comes FAD Fare, an artisanal food market, and FAD mini, a kids and family market with activities from storytime in the garden to glass blowing demonstrations by Urban Glass, coloring stations, face painting and more.
Metroflea local flea markets 
Greenwich Village, 490 Hudson Street (between Christopher and Grove Streets); Wednesday – Friday 4 p.m.-10 p.m.
Park Slope 7th Avenue, 180 7th Avenue (between 1st and 2nd Street);Saturday – Sunday 9 a.m.-6 p.m.
Park Slope 5th Avenue, 350 5th Avenue (between 4th and 5th Street); Saturday – Sunday 10 a.m.-6 p.m.
Metroflea Greenwich Village Market evokes a lively and friendly atmosphere featuring talented local designers, vintage clothing and jewelry vendors. MetroFlea Park Slope 7th Avenue Market has been in business for nearly 30 years in the PS 321 schoolyard and surrounding sidewalk every Saturday and Sunday–just look for tents, umbrellas and a bustling crowd. Like its siblings, the 5th Avenue market features unique finds among clothing, art, food, and jewelry in one of the hottest neighborhoods in NYC.
Artists and Fleas 
Chelsea: 88 10th Avenue @ West 15th Street; Saturdays & Sundays, 10 a.m. – 7 p.m.
Williamsburg, Brooklyn: 70 North 7th Street; Saturdays & Sundays, 10 a.m. – 7 p.m.
Soho: 568 Broadway @ Prince Street; Saturdays & Sundays, 10 a.m. – 7 p.m.
While it's neither seasonal nor outdoors, no flea market list would be complete without the garden of crafty delights you'll discover at this artist, designer and vintage market. Look for special events like a macrame workshop.
One-offs and pop-ups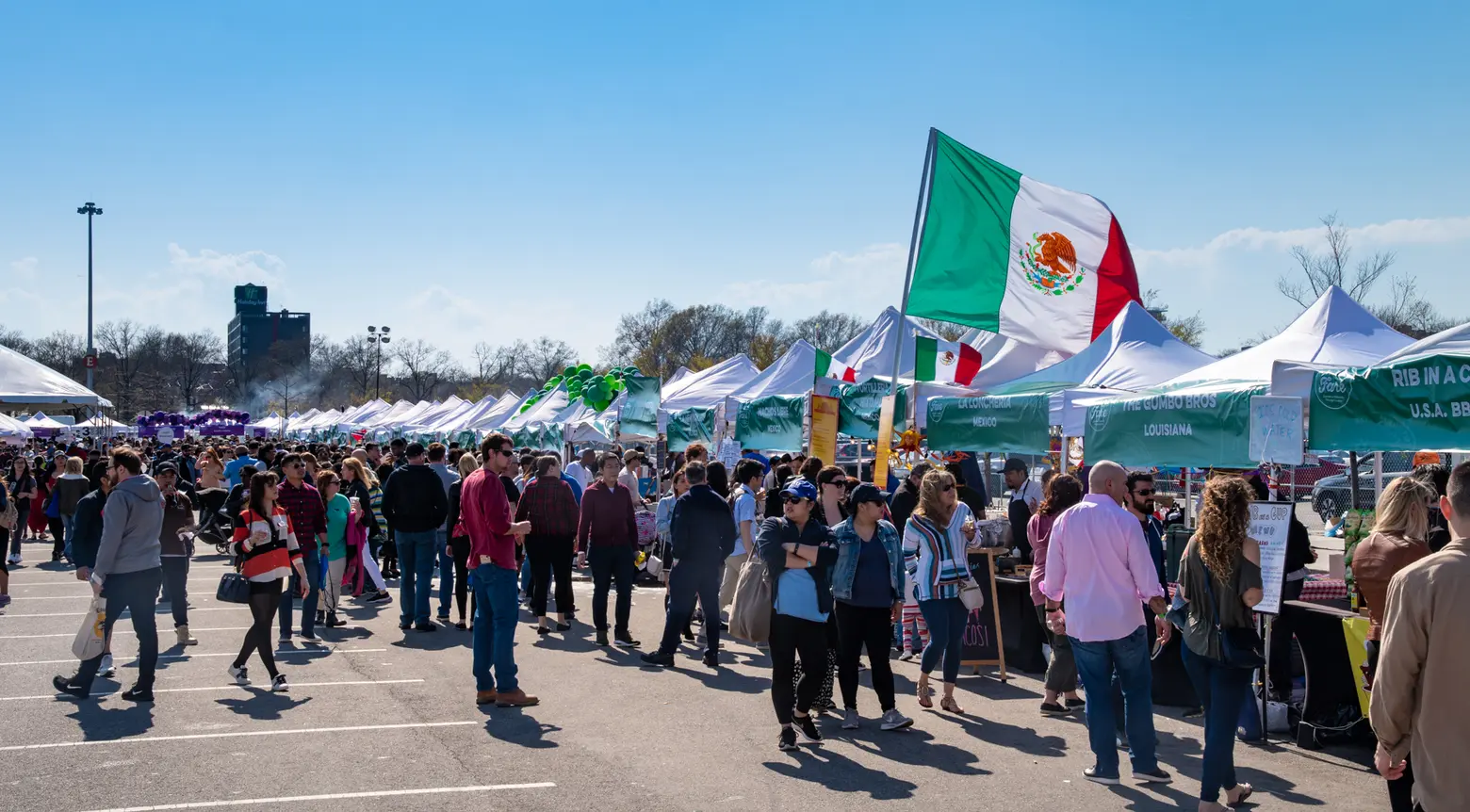 Photo courtesy of the World's Fare
The World's Fare
Citi Field, Saturday, May 18 & Sunday, May 19
As a reference to the iconic 1964 World's Fair that also took place in Flushing Meadows, the World's Fair is coming back for its second year. More than 100 food vendors, all serving up a different cuisine from around the globe, will come together along with an international beer garden, global cocktail pavilions, cultural music and dance performances, the World Market Shopping Bazaar, art installations, and family-friendly activities. This year's event will be hosted by chef Anita Lo, Chef Alex Raij, and food critic Gael Green. General admission starts at $19/person, but for $49 you can get unlimited booze.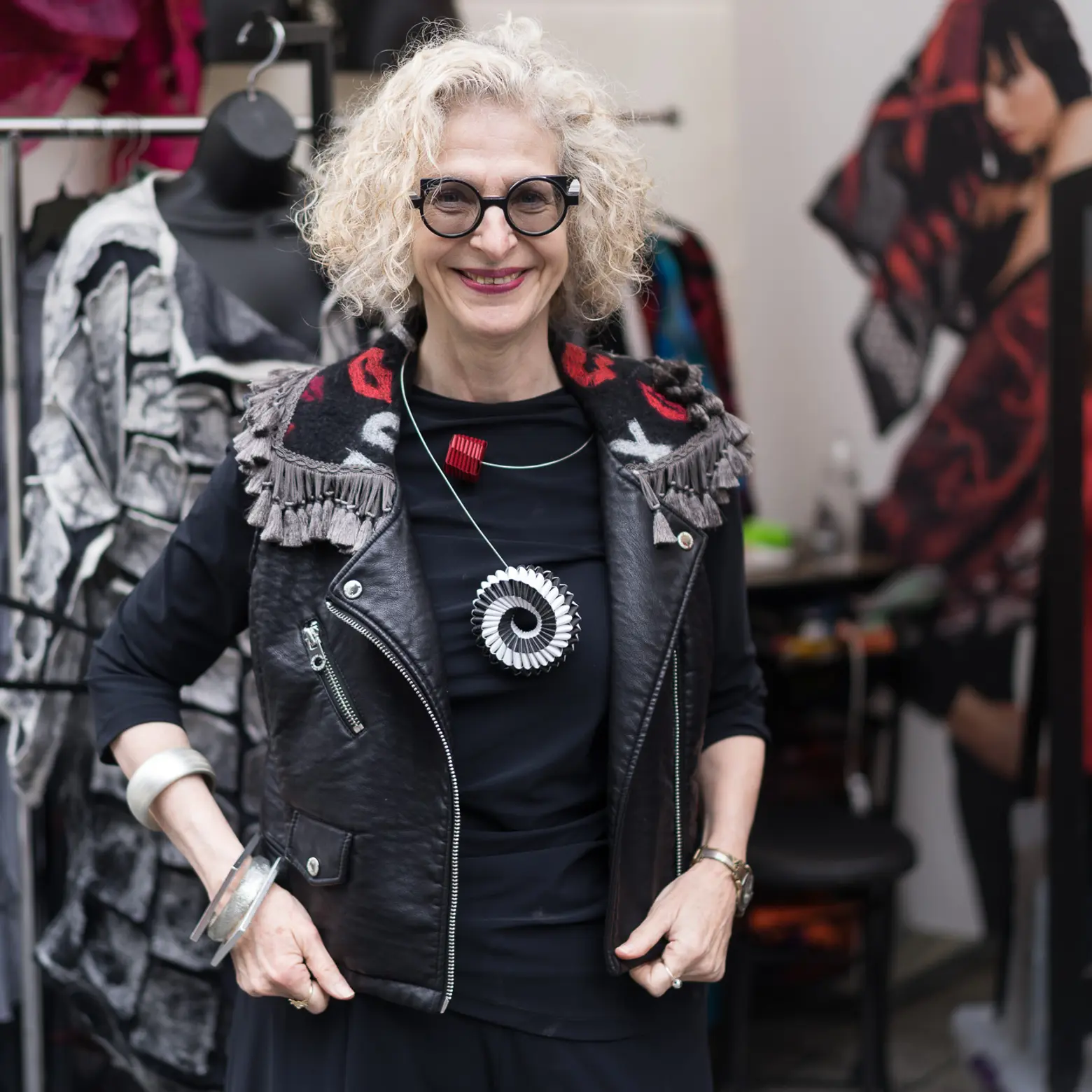 Image courtesy of Artrider
Craft New York at Lincoln Center 
Damrosch Park at Lincoln Center, 62nd Street between Columbus and Amsterdam Avenues
June 8, 10 a.m.-7 p.m.; June 9, 10 a.m. – 5 p.m. 
Browse 175 juried craft displays selected from the best modern makers from all across the country. Shop from America's best craftspeople including perennial favorites and new artists offering clothing, jewelry and handbags. home decor items made from ceramics, glass, metal, wood and mixed media, fine art painting, printmaking and photography and more. Make sure to check out the gourmet foods and specialties boutique including distillery and wine tastings.
Renegade Craft Fair 
Brooklyn Expo Center, 72 Noble Street
June 22-23, 11 a.m. – 6 p.m. 
This annual craft celebration heads back to Greenpoint this summer, giving lucky visitors another chance to behold unique handmade items as far as the eye can see from hundreds of makers, fun DIY workshops, immersive special features, food and drink and much, much more. There's plenty of creative spirit here, but this fair's curatorial chops are impressive, so expect the best.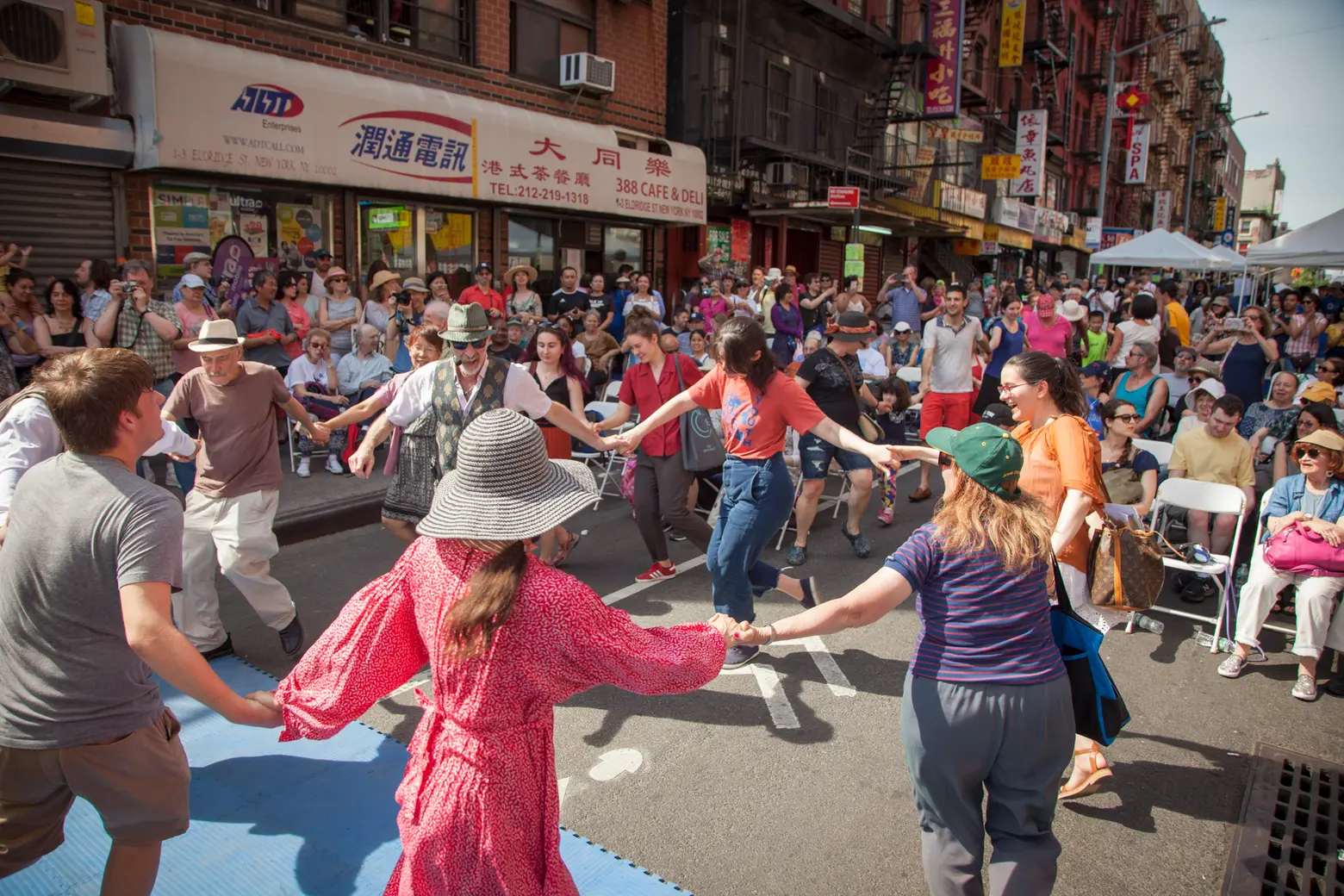 Image courtesy of Egg Creams and Empenadas Festival. Photo credit: Kate Milford.
2019 Egg Rolls, Egg Creams and Empenadas Festival 
The Museum at Eldridge Street,  Sunday, June 18, noon – 4 p.m. 
Celebrate the diverse ethnic communities of the Lower East Side/Chinatown neighborhood at a block party that began as a celebration of Jewish and Chinese culture and grew to an event that brings thousands of people each year. Come for the kosher egg rolls, egg creams and empanadas; stay for klezmer, cantorial, Chinese opera, Puerto Rican folk music, Hebrew and Chinese scribal arts, yarmulke making, Puerto Rican mask and lace making, mah jongg and more.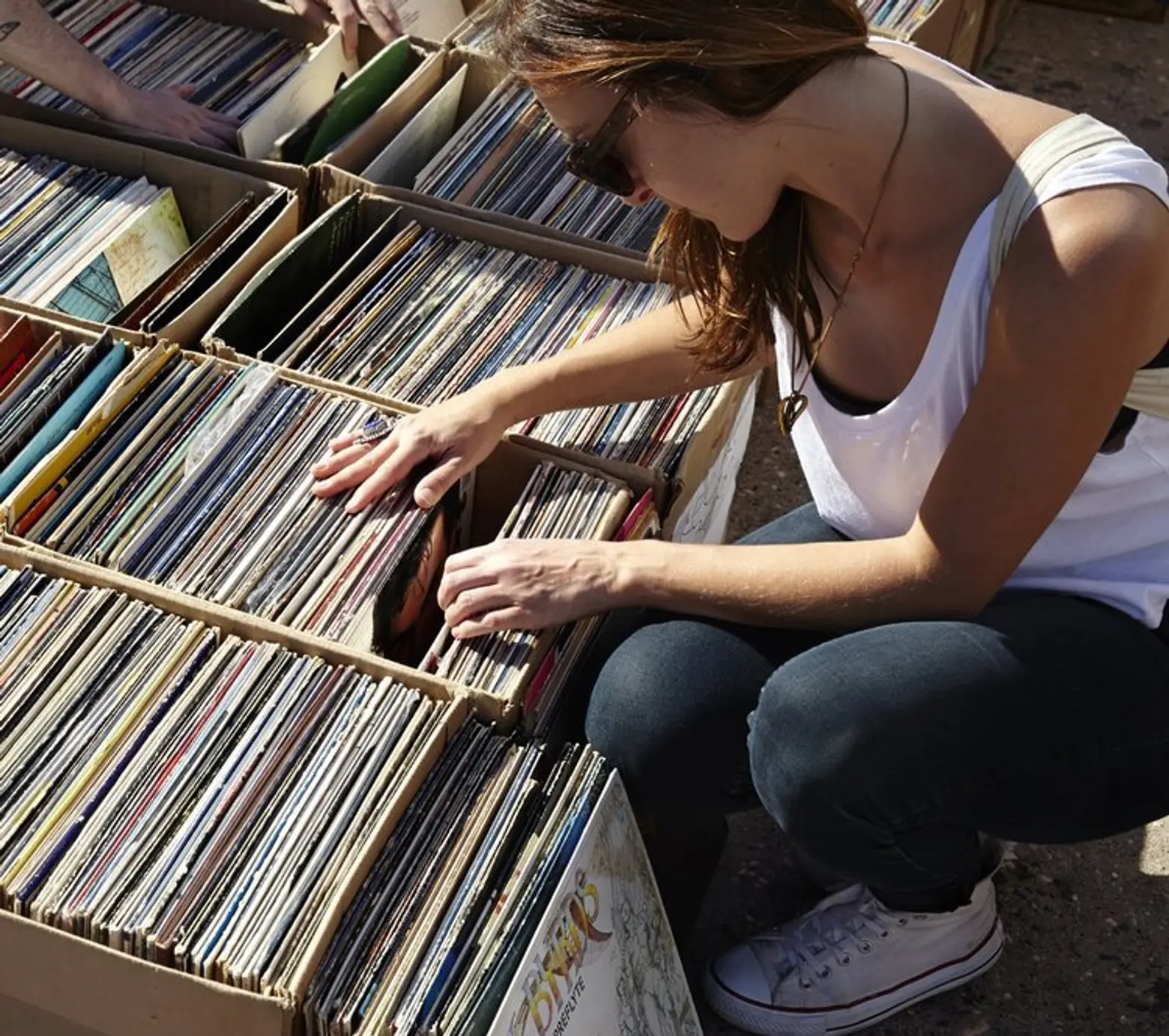 Brooklyn Flea Record Fair 
Saturday, May 18, East River State Park, 90 Kent Avenue at North 8th Street (next to Smorgasburg)
The thrice-annual Brooklyn Flea Record Fair returns, historically one of the busiest market days of the season with 50+ vinyl, cd & cassette vendors including record labels, stores and collectors.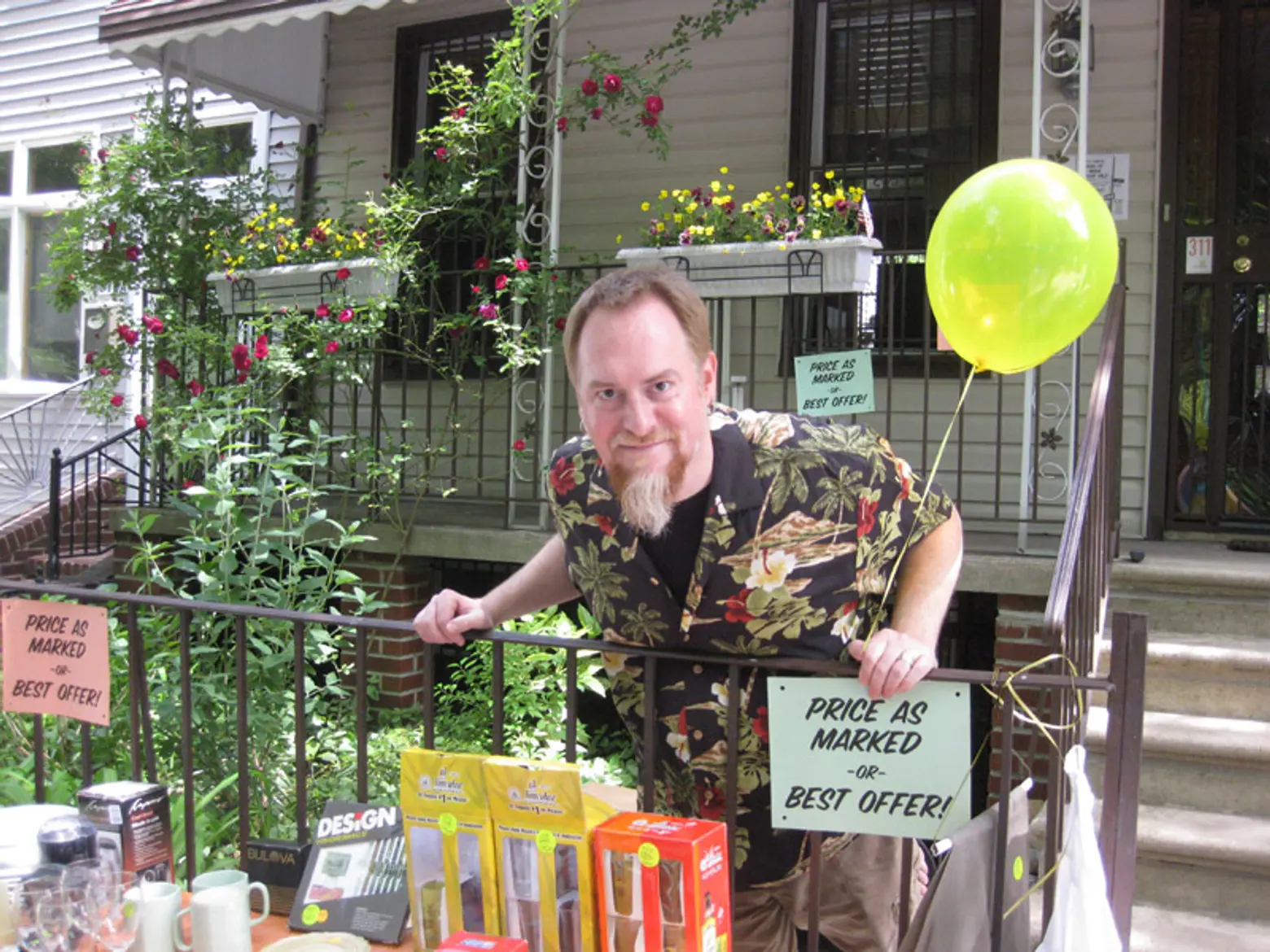 Image: lostinbrooklyn/Flickr cc
Neighborhood Stoop and Sidewalk Sales ↑
Don't sleep on the city's feast of stoop and sidewalk sales in neighborhoods like Park Slope and Carroll Gardens. Small, under-the-radar flea markets broadcast their wares well in advance on Craiglist, so if you want to plan ahead, click your way through the local "Garage and Moving Sales" pages for your neighborhood and date of choice–then click the "map" option and you're good to go.
RELATED: