New-York Historical Society expansion will feature new Democracy Wing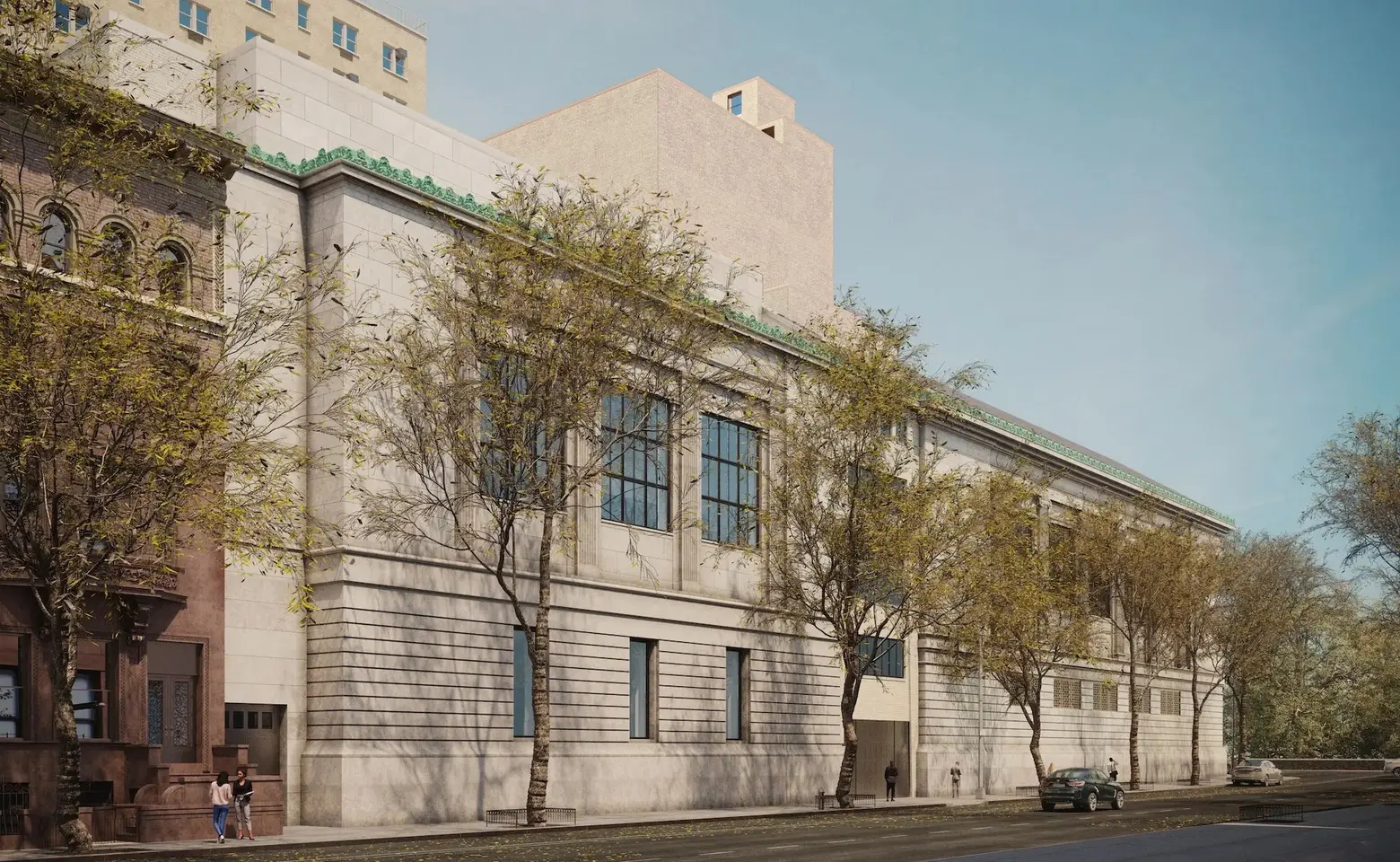 The New-York Historical Society new wing and renovation by Robert A.M. Stern Architects as viewed from 76th Street. Image courtesy of Alden Studios for Robert A.M. Stern Architects.
New York's oldest museum, the New-York Historical Society Museum and Library, begins construction this month on an 80,000-square-foot renovation and expansion project. As 6sqft previously reported, the $140 million five-story extension at the rear of the museum's Upper West Side location will be designed by architect Robert A.M. Stern. New-York Historical president and CEO Louise Mirrer announced Monday the new addition will feature a Democracy Wing. When construction is completed in 2026–just in time for the nation's 250th anniversary–the new wing will offer educational programs and a home for valuable materials on American democracy.
The Landmarks Preservation Commission-approved addition will also provide the first real home for the American LGBTQ+ Museum, a partner institution dedicated to LGBTQ+ history and culture. The new space will also feature a courtyard and rooftop garden terraces with Central Park views.
On the wing's second floor, the Tang Academy for American Democracy will offer the New-York Historical's award-winning American history educational program. The Dorothy Tapper Goldman Center for Teaching Democracy will offer a space for teachers, scholars, and museum professionals to collaborate on explorations of history and political theory.
"As construction begins on our new wing, we are fulfilling a vision set into motion in 1937 by the Trustees of New-York Historical Society, who had the foresight to purchase the lot adjacent to our building, knowing that our growing collections and evolving programs for scholars, students, educators, and the public would someday need room to expand," said Dr. Mirrer in a statement.
"As we look ahead, our new wing will serve as a beacon for democracy education, a powerhouse of inclusive history, and a home for history enthusiasts of all backgrounds and perspectives. We look forward to seeing Robert A. M. Stern Architects' design, which was crafted with extraordinary skill and sensitivity, come to realization."

The expansion will also house the Klingenstein Family Gallery, The Stuart and Jane Weitzman Shoe Museum, a conservation studio for painting and paper, and storage stacks for collections in the Patricia D. Klingenstein Library. The new addition's facade will be constructed from granite from the same quarry in Deer Isle, Maine that yielded the stone used in the original 114-year-old building.
"It's a privilege to work with the New-York Historical Society on this expansion of its landmark building, enabling it to extend its broad and vital mission to a growing audience that ranges from local schoolchildren to international visitors," Stern, founder and senior partner of Robert A.M. Stern Architects, said.
"With input from engaged and supportive neighbors and in response to the historic neighboring townhouses, the design of the expansion is sympathetic to the palette and rhythm of the 1908 building and its 1938 additions."
RELATED: