Intrepid Museum gets a branding makeover with updated name and logo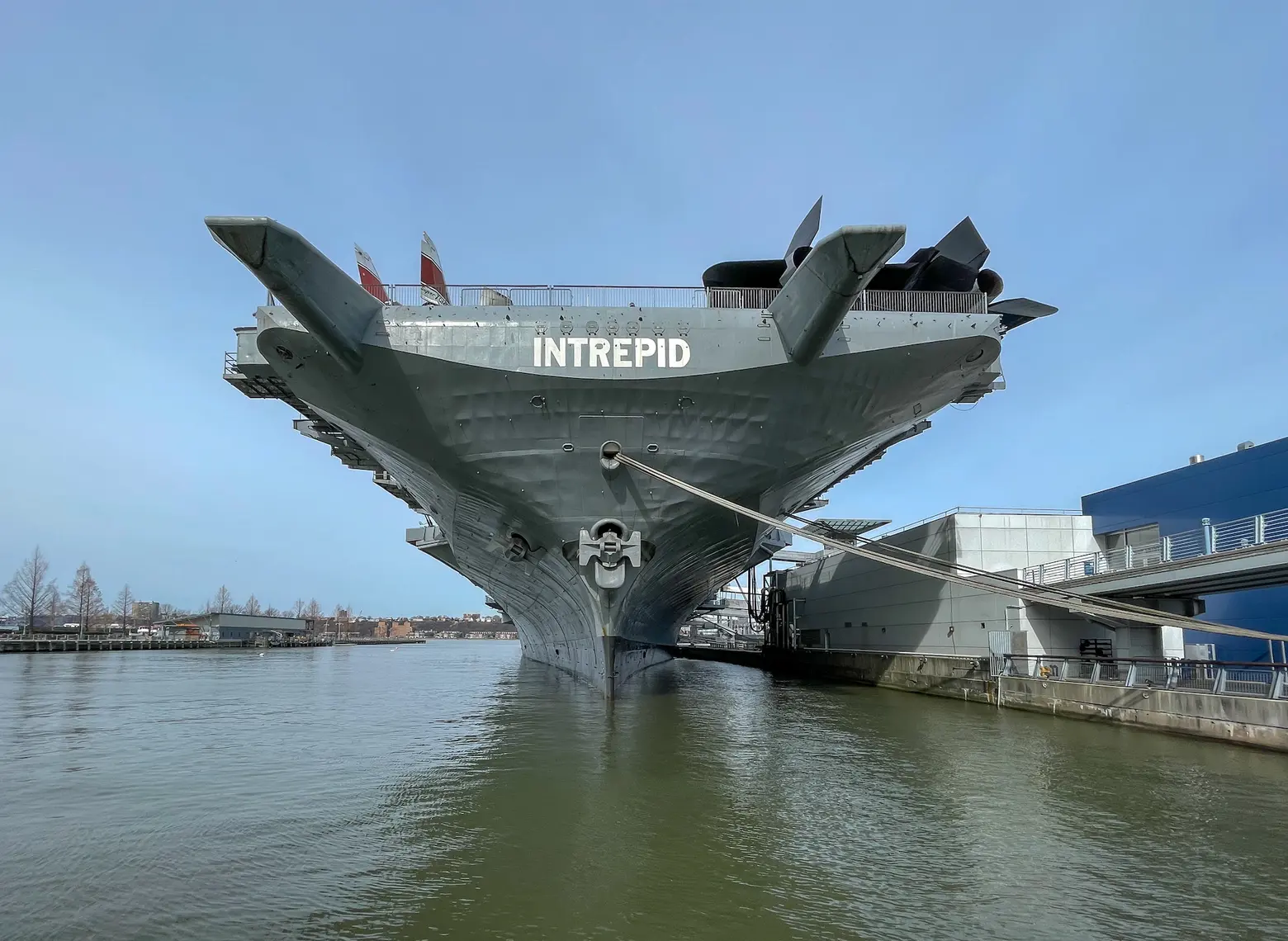 The Intrepid Sea, Air & Space Museum has received a branding makeover for the modern era. The museum, which opened its doors in 1982 aboard the decommissioned U.S.S. Intrepid aircraft carrier at Manhattan's Pier 86, has been officially renamed the Intrepid Museum. The new name is part of a rebranding with the goal of maintaining the museum's relevance for future generations of visitors. In addition to its new shortened name, the museum has also received a new logo and updated website.
The museum's new icon is a depiction of the aircraft carrier seen from its bow, the view most visitors see when they first approach the vessel. When rotated, the logo resembles an aircraft blasting off into the sky.
The logo is framed by three colored panels that represent the museum's collection of space vehicles in black, seafaring vessels in sea blue, and aircraft in sky blue.
The new logo also includes three pillars which are meant to represent the museum's different manifestations. These include the museum's collection of sea, air, and space vehicles. They also represent its goals to "honor," "educate," and "inspire, and its mission to offer "bold," "dynamic," and "immersive" content that educates visitors on the "past," "present," and "future."
"As we've grown and evolved as a museum, it became clear that our brand needed to evolve with us," Susan Marenoff-Zausner, president of Intrepid Museum said.
"The new, more contemporary design of our logo broadens our ability to define ourselves, becoming less limiting and allowing us to elevate the perception to meet who and what we are. This refreshed iconography and name better capture where we are today and where we aspire to be, while also providing exciting opportunities to expand our reach."
As part of Intrepid's rebranding campaign, their upcoming advertisements will feature the tagline, "Be Curious. Be Inspired. Be Intrepid."
The museum worked with Tronvig and GreyBox Creative for their rebranding initiative. "It's an honor to help shepherd the brand metamorphosis of a New York City icon," James Heaton, founder of Tronvig, said.
RELATED: