Shop and nosh your way through 20 of NYC's best flea and food markets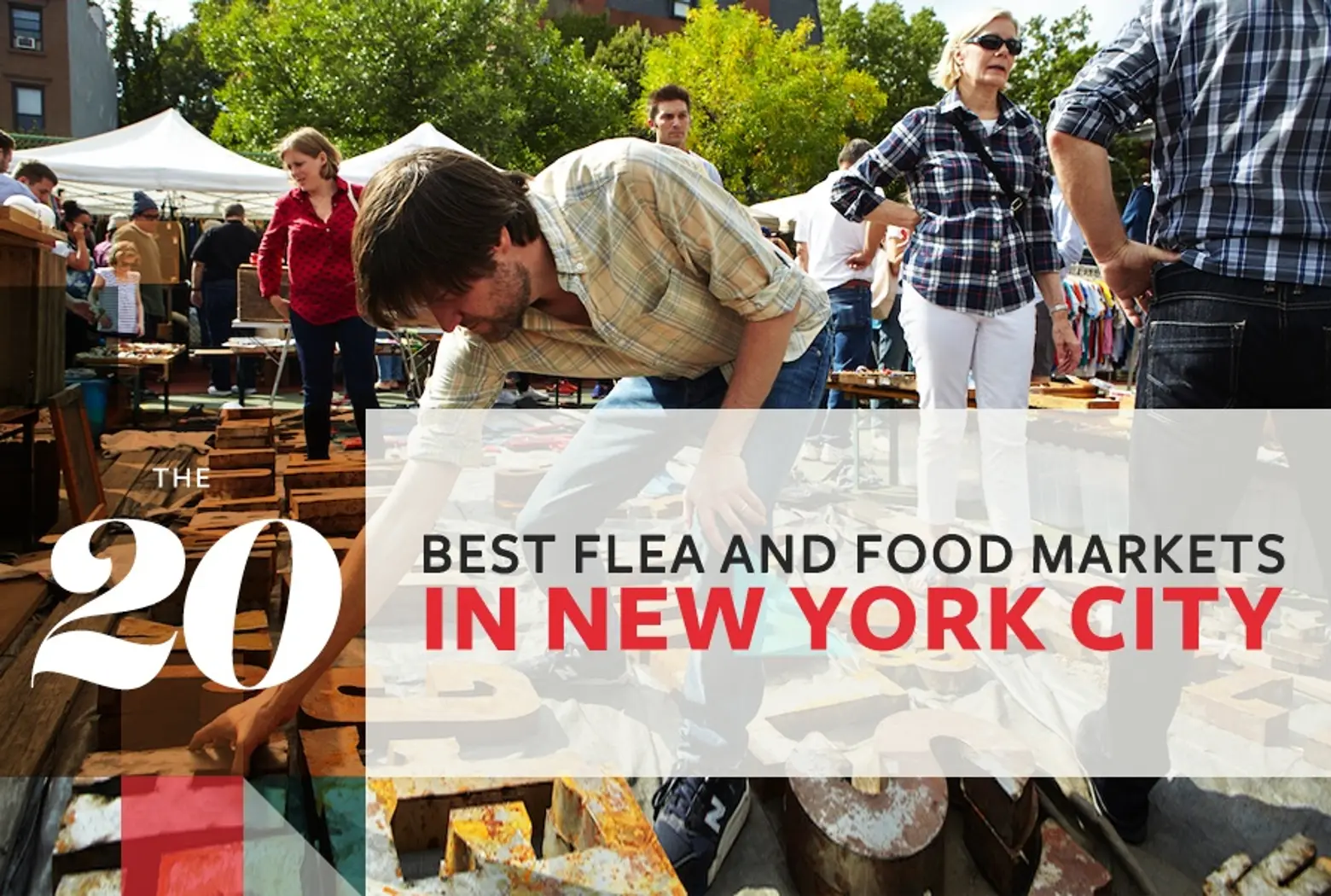 With spring weather in full effect, the city's flea and food markets roll out the red carpet and the irresistible edibles, and it's pretty likely there's one happening near you. The shop-and-snack mecca Brooklyn Flea has changed locations yet again, a night market returns in Queens and antiquing, arts and local maker standbys in all corners of Manhattan offer more of what you didn't know you couldn't live without. The goods may be odd, but they're out there, and the list below rounds up 20 of the city's top food and flea picks. Just don't blame us for the tchotchke overload—or the calories.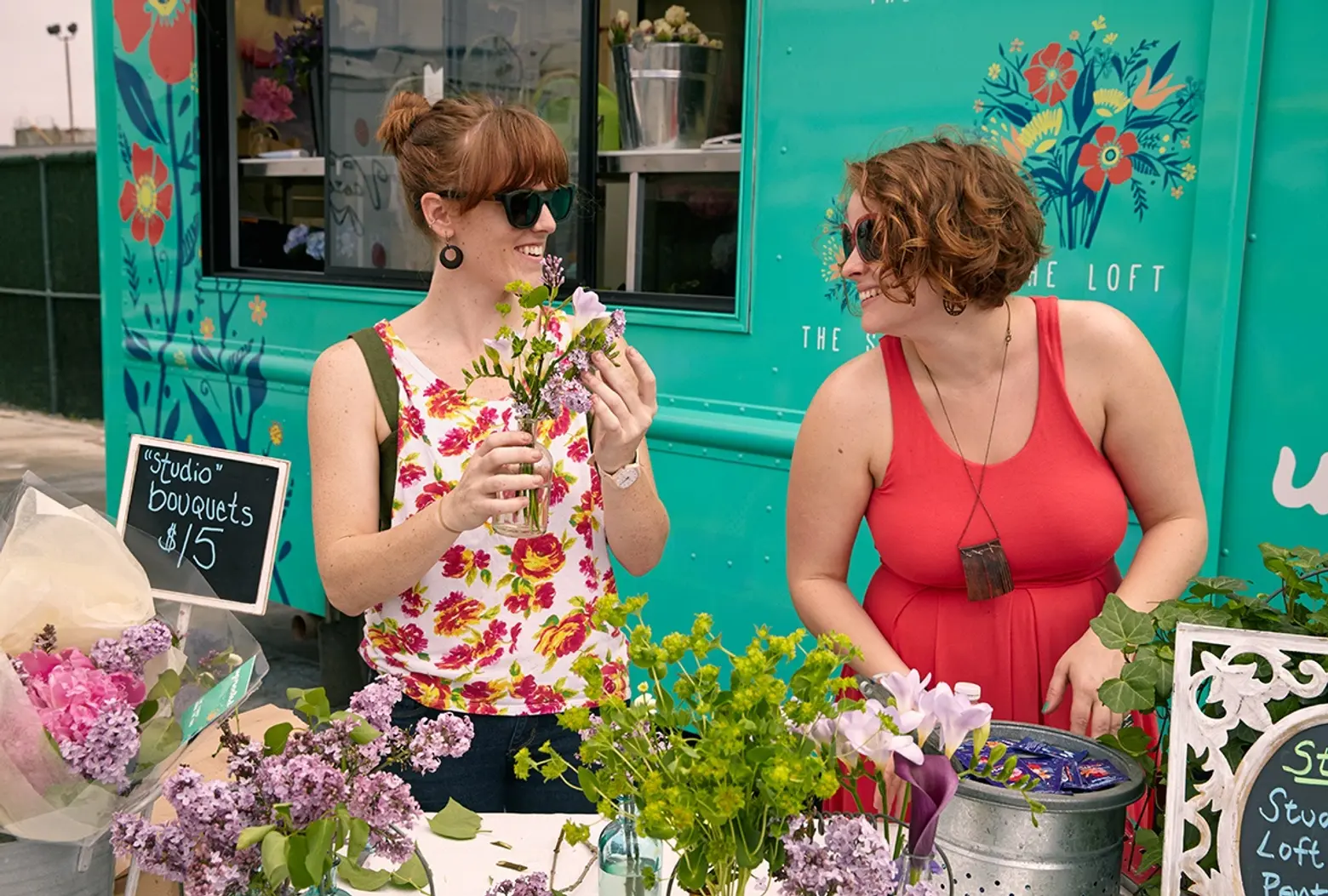 Brooklyn Flea: Williamsburg Saturdays ↑
90 Kent Avenue
Saturdays through October 10 a.m. – 6 p.m.
Anyone who's been on the flea scene long enough to remember when the venerable Brooklyn Flea was the new kid on the block might consider the move from its birthplace—a schoolyard in Fort Greene—to the Williamsburg waterfront to be the end of an era. But the riverfront location is perfect for lazy Saturday shopping, noshing and people-watching, and the now-elder-statesflea stays young by switching it up. The shoppers' mecca that by now is one of the city's most enduring brands will be summering in Williamsburg (next door to Smorgasburg) with 80 vendors from April through October. Find vintage, furniture, handmade goodies and more while enjoying the gorgeous Manhattan skyline.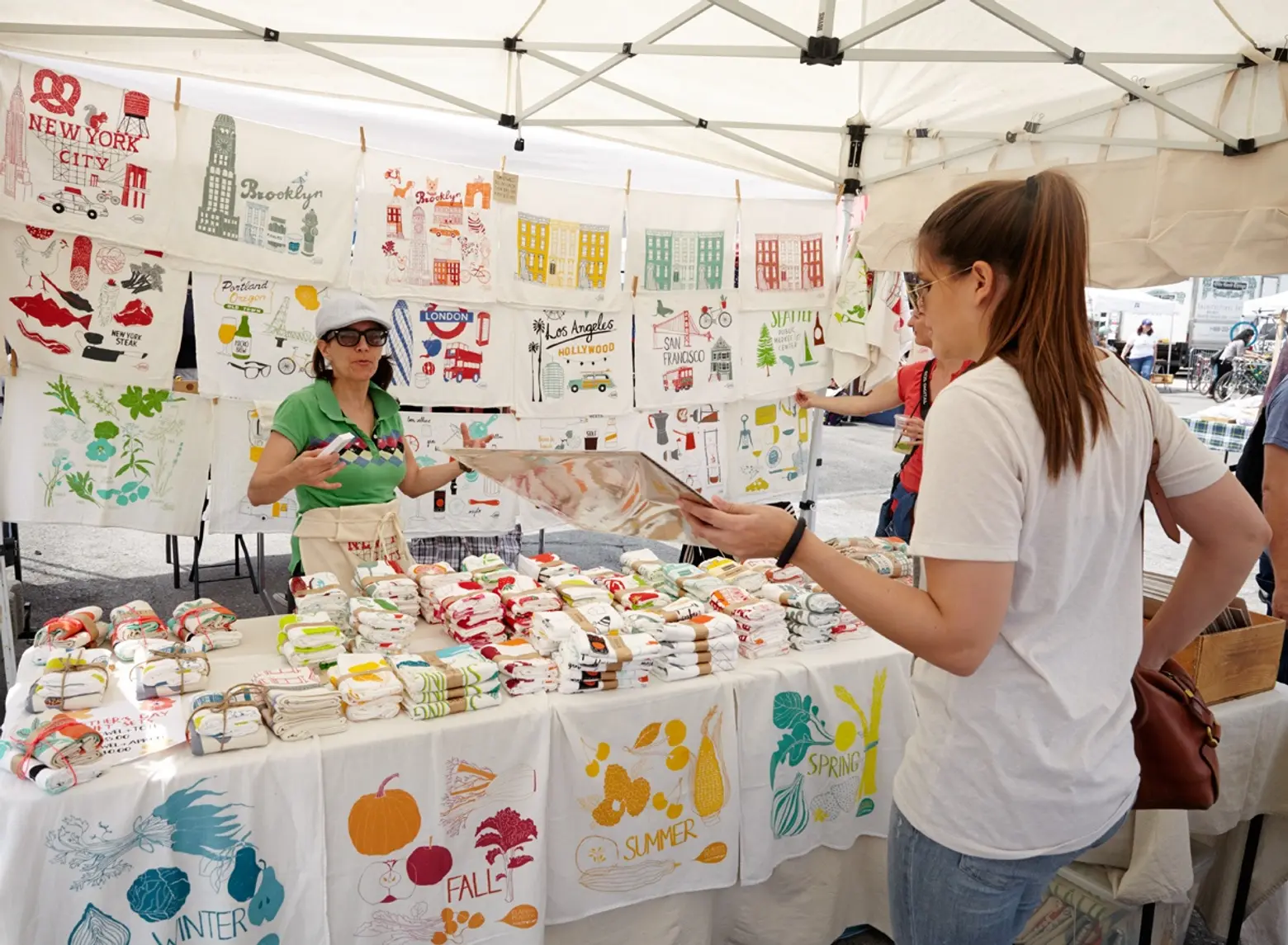 Brooklyn Flea: DUMBO Sundays ↑
Pearl Plaza, BrooklynSundays through October 10 a.m. – 6 p.m.
Sundays at the Flea continue in DUMBO for another season at Pearl Plaza surrounding the majestic archway under the Manhattan Bridge and cobblestoned Anchorage Place. You'll find about 80 vendors of antiques and collectibles, vintage fashions, furniture, rugs, textiles and more—and, of course, food—with an old-fashioned town square vibe.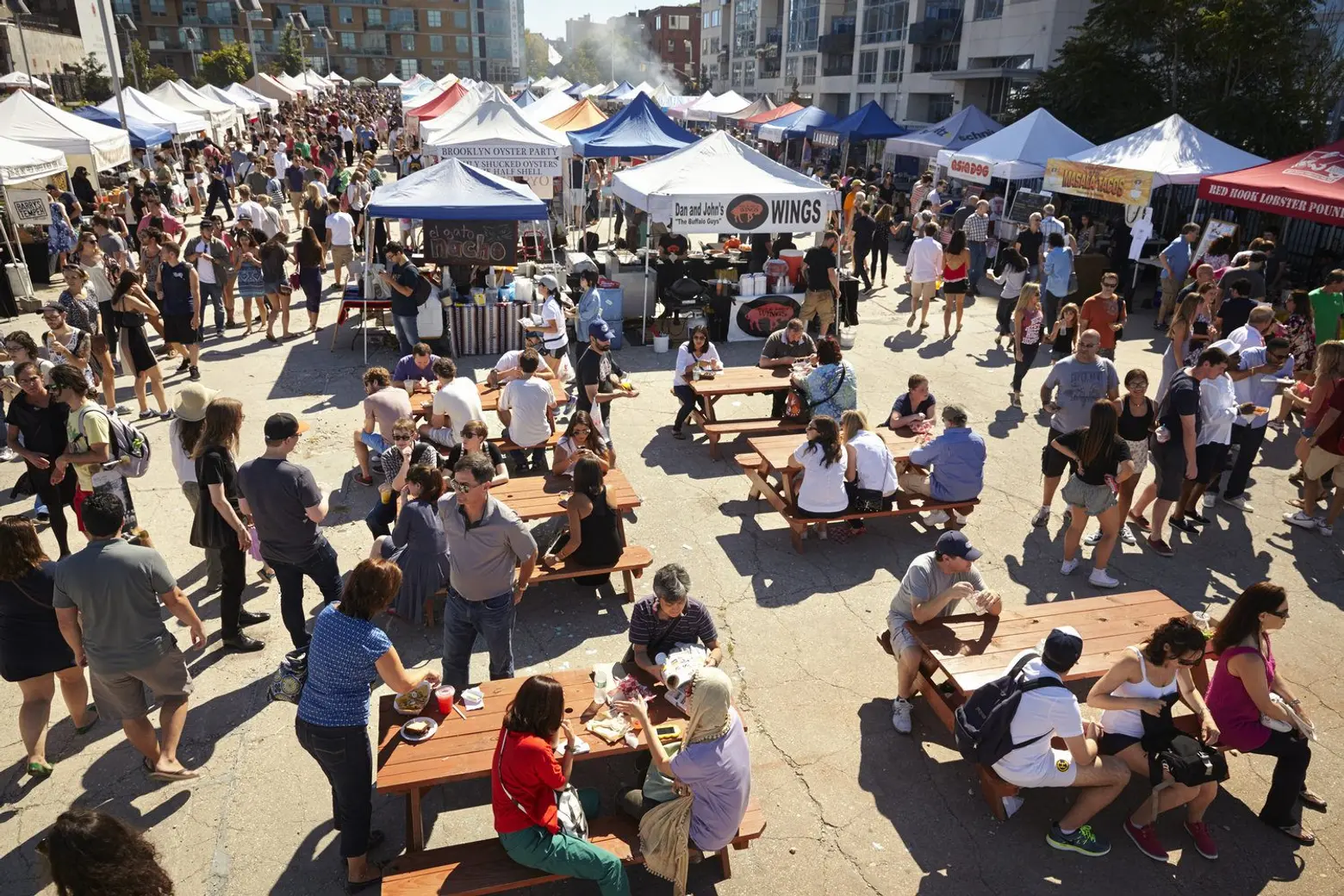 Smorgasburg ↑
East River State Park, 90 Kent Avenue (at North 7th); Saturdays 11 a.m. – 6 p.m.
Prospect Park, Breeze Hill at Lincoln Road; Sundays 11 a.m. – 6 p.m.
The 'Smorg is back in its familiar feeding spots, joined by its proud parent, the Flea. Smorgasburg happens every Saturday on the Williamsburg waterfront and Sunday in beautiful Prospect Park. The familiar foodie fest features packaged and prepared foods from 100 purveyors from New York City and nearby, including local faves like Blue Marble Ice Cream, Dough, Red Hook Lobster Pound, Porchetta, People's Pops and vegan treats from Monk's Meats (to name just a very few). Sadly, state park rules say no dogs at the Saturday venue, but your pooch is welcome at Prospect Park Sundays. Check the Instagram feed for a virtual taste.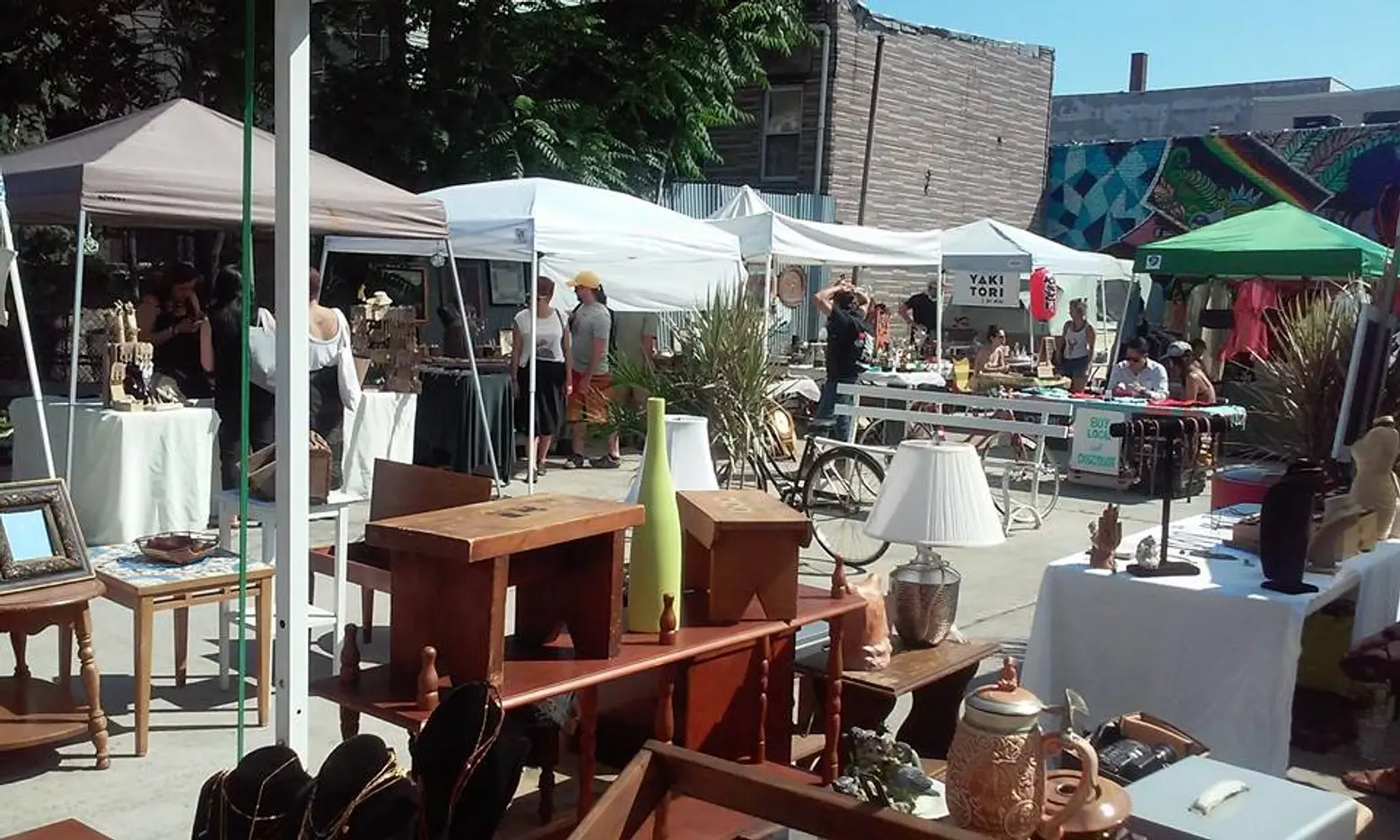 Bushwick Flea ↑
16 Harrison Place
Saturdays and Sundays through November from 10 a.m.- 6 p.m.
Now open in the heart of fully-gentrified (but still sufficiently hip) Bushwick, Brooklyn, just a half-block from the Morgan stop on the L train, half a block off Bogart Street. You'll find a fresh collection of vintage/retro items, furniture, cool clothing and jewelry, handmade crafts, artwork and specialty foods from hot sauce to nut butter along with the denizens and wannabes—and tourists—of Bushwick.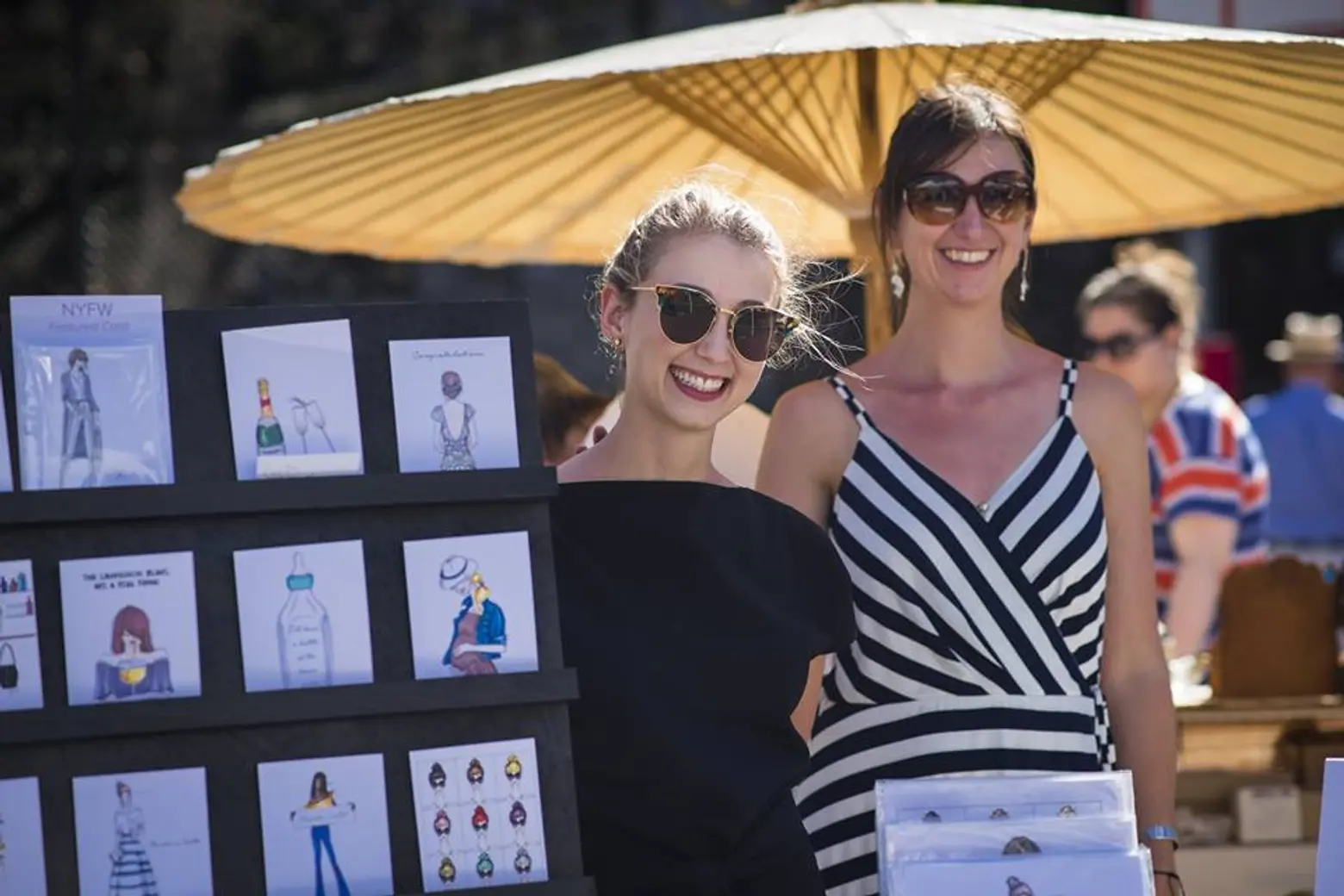 Upper West Side Grand Bazaar ↑
100 West 77th Street at Columbus Avenue
Every Sunday 10 a.m. – 5:30 p.m.
You don't have to go to Brooklyn—or even downtown—to satisfy your weekend flea craving. Since its urban "yard sale" beginnings in 1982, this Upper West Side market has been offering antiques, artisans and edibles every Sunday, all year 'round. In addition to helping support local artisans and entrepreneurs, this market donates 100 percent of profits to four local public schools. Look for cool events like a vegan pop-up market in late April, an international food bazaar in June and regional artisan markets throughout the spring and summer.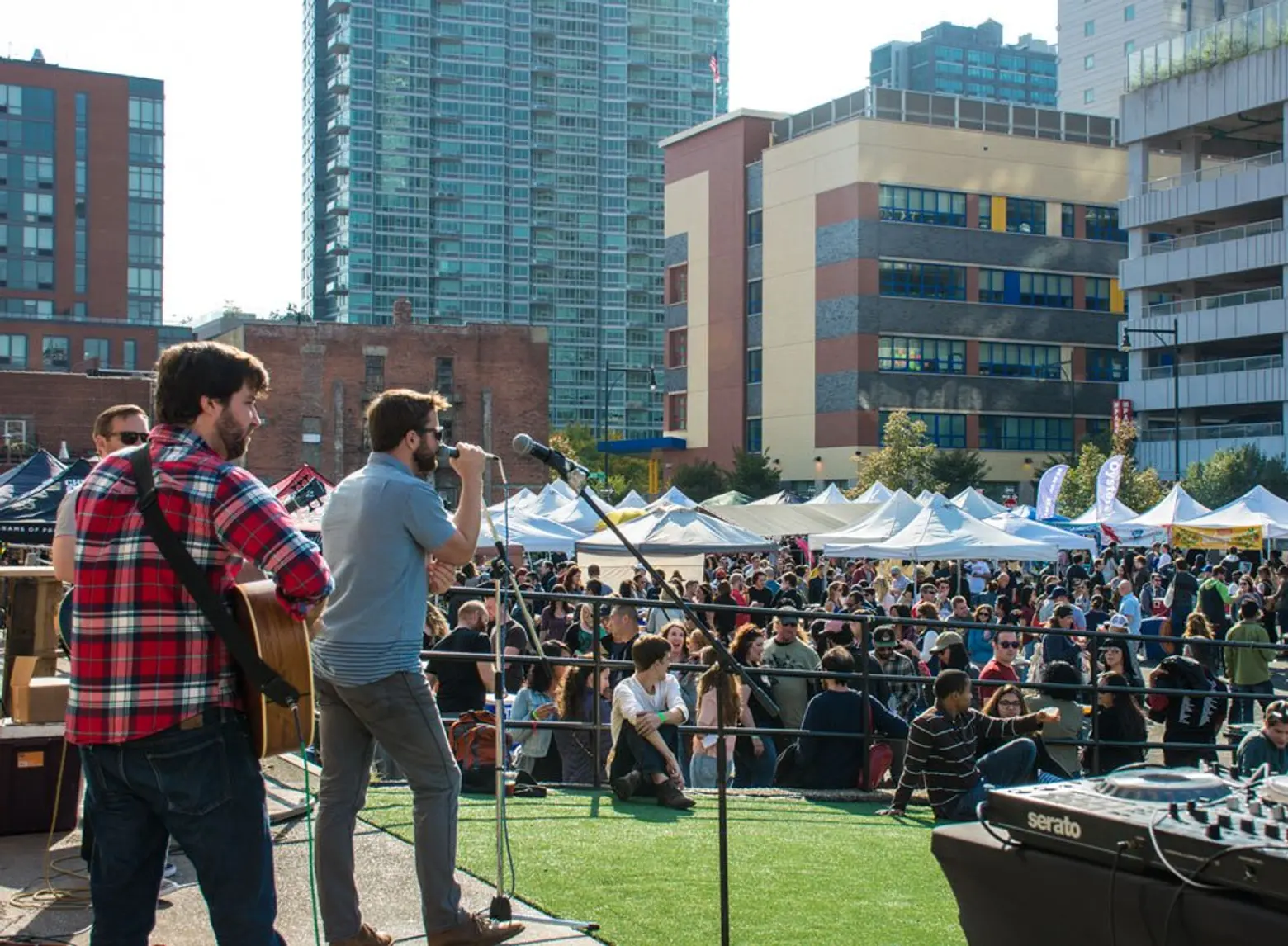 LIC Flea & Food ↑
5-25 46th Avenue, Queens
Weekends through October 30 from 11 a.m. to 6 p.m.
The Queens answer to that other borough's flea heads into their fifth season of outdoor fun with friends and family checking out cool jewelry, vintage goodies, clothes, and indulgent edibles while taking in breathtaking views of the midtown Manhattan skyline.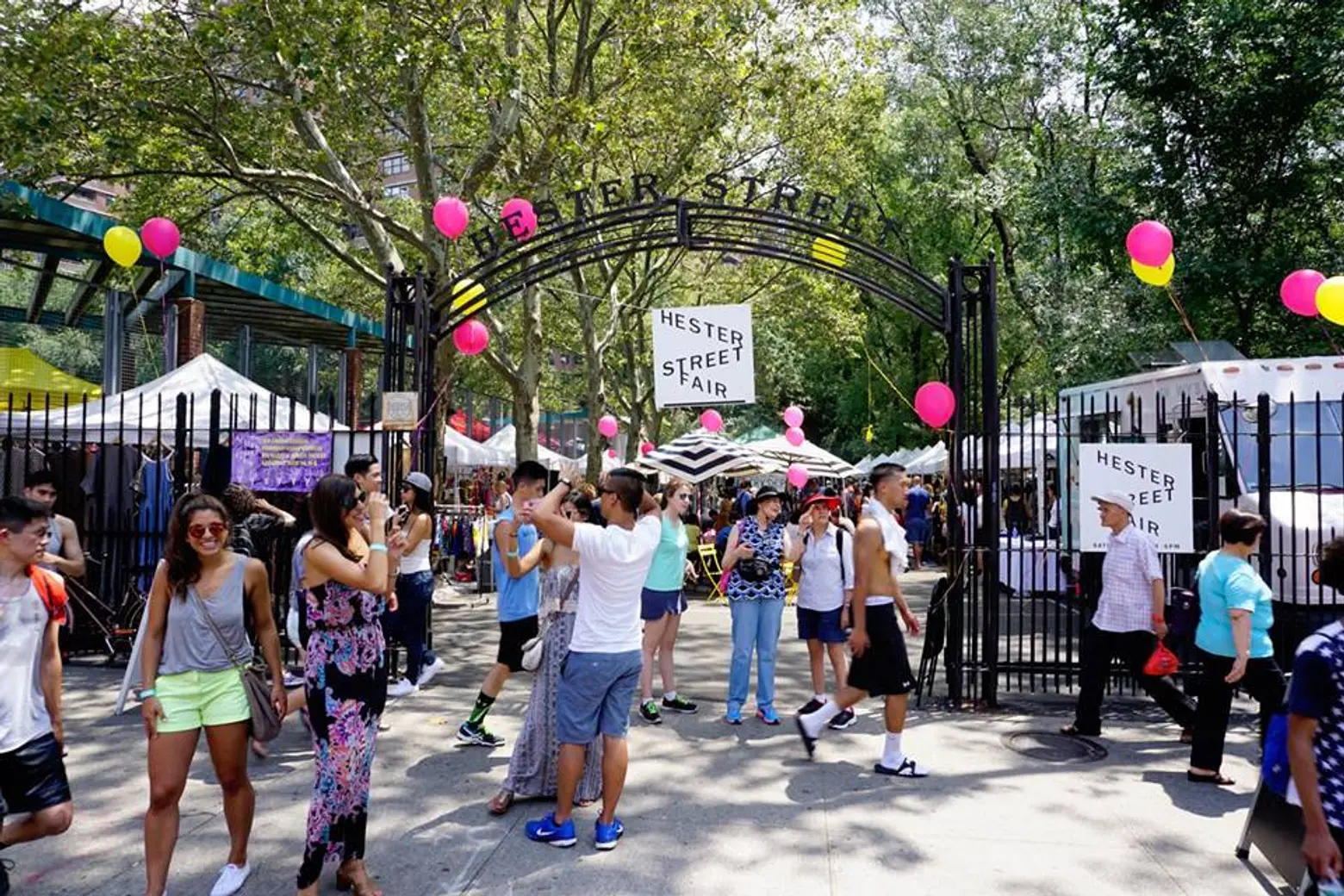 Hester Street Fair ↑
Corner of Hester and Essex Streets in the LES
Through October 31, every Saturday, 11 a.m. – 6 p.m.
Located on the historic grounds of New York City's original food cart vendors (i.e. the city's largest pushcart market at the turn of the century) in the heart of the Lower East Side, the Hester Street Fair returns with a collection of NYC's top vendors in a bustling outdoor marketplace; you'll find artisanal food, vintage clothing, jewelry, crafts, home goods and much more, with special events on the calendar like a local yard sale, a lobster and beer fest and pet day.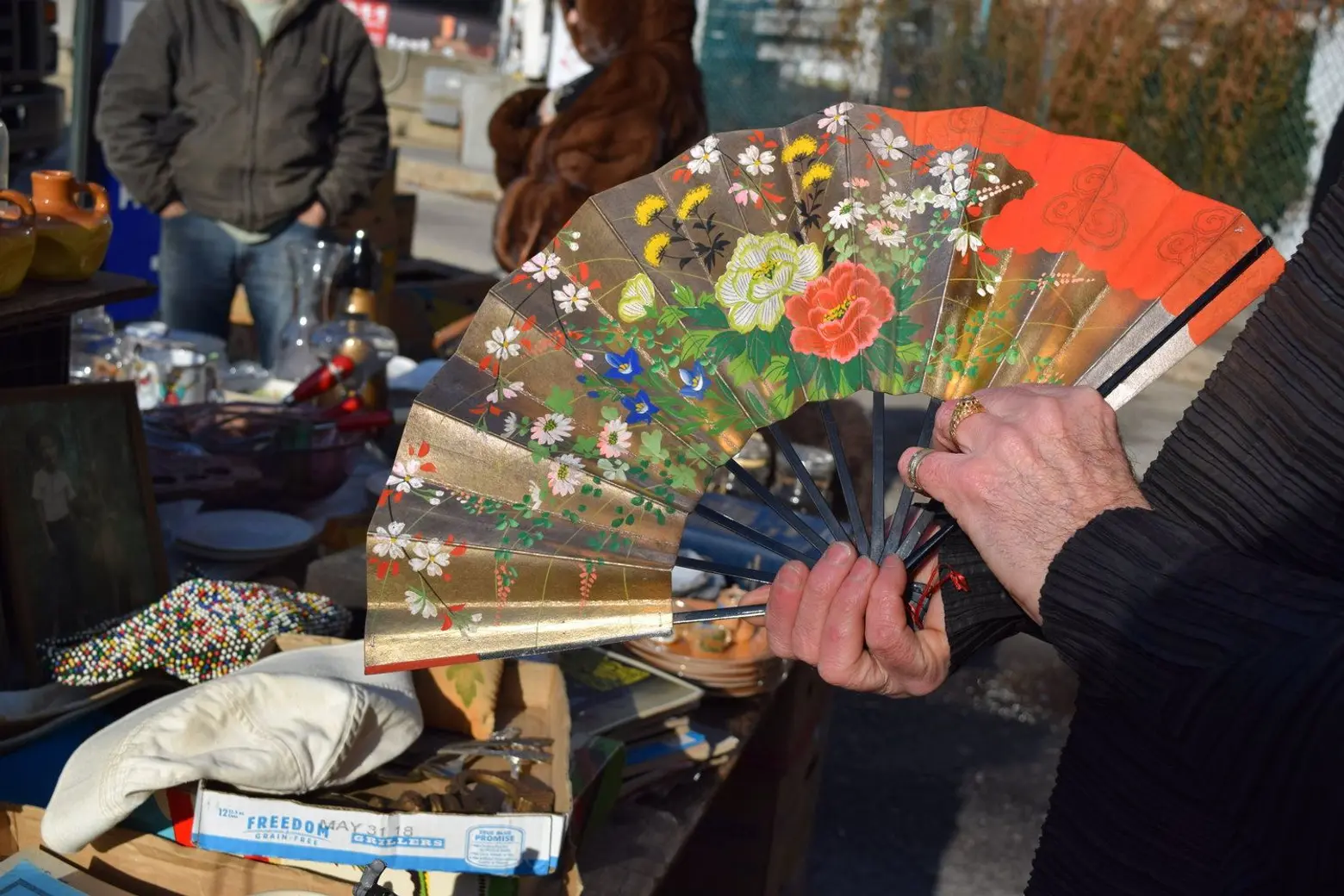 Hell's Kitchen Flea Market ↑
West 39th Street between 9th & 10th Avenues
Saturdays and Sundays, year-round, 9 a.m. – 5 p.m. (weather permitting)
One of the arms (with sister Chelsea Flea Market) of the venerable Annex Markets, this massive outdoor mart has been a magnet for antique collectors, vintage lovers and shopping addicts for over 45 years.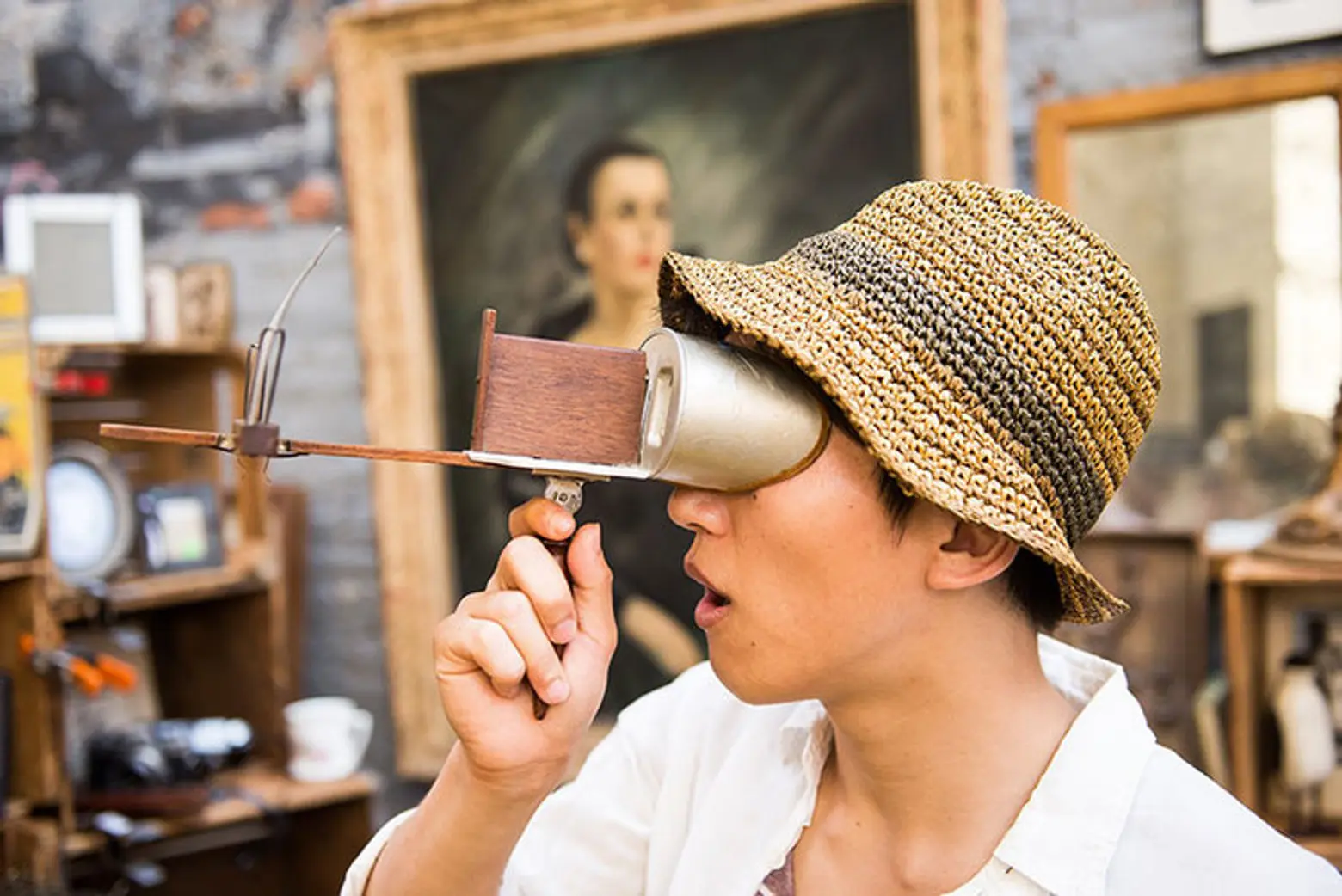 Chelsea Flea Market ↑
Uptown Side of West 25th Street between Broadway and Sixth Avenue
Saturdays & Sundays, year-round; 6:30 a.m.– 6 p.m.
This offshoot of the original 6th Avenue flea market boasts both veteran dealers and a new crop of vendors selling antiques, collectibles, ephemera, decorative arts, vintage clothing and jewelry including Art Deco and Mid-Century Modern items. If flea-ing isn't enough fun, Eataly and Madison Square Park are both nearby.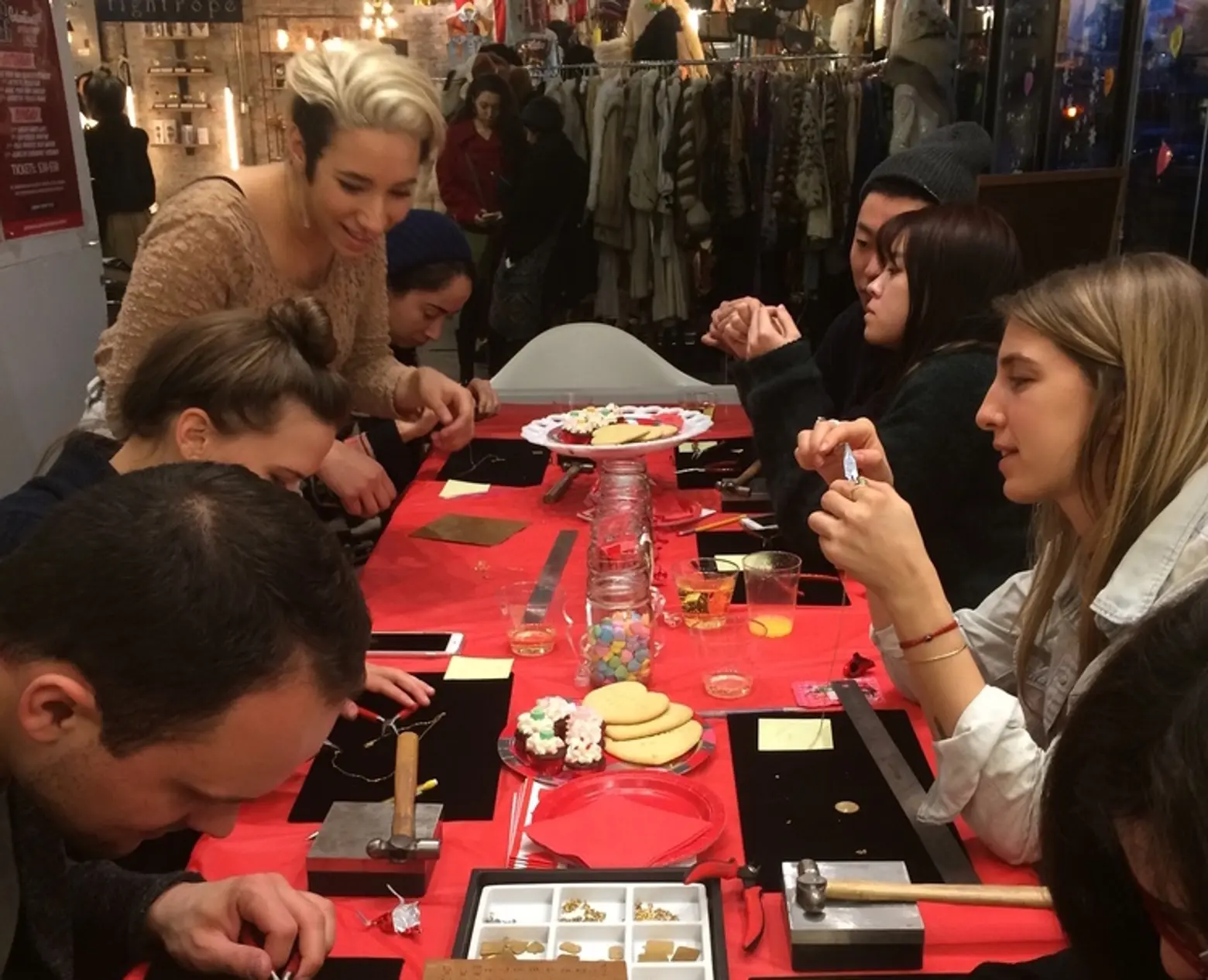 Artists and Fleas ↑
70 North 7th Street, Williamsburg, Brooklyn
Saturdays & Sundays, 10 a.m. – 7 p.m.
While it's neither seasonal nor outdoors, no flea market list would be complete without the garden of crafty delights that is this artist, designer and vintage market. Look for special events like a bike workshop. A & F also have a permanent home in Chelsea Market at 88 10th Avenue at West 15th Street where they're in business all week as well as on the weekends.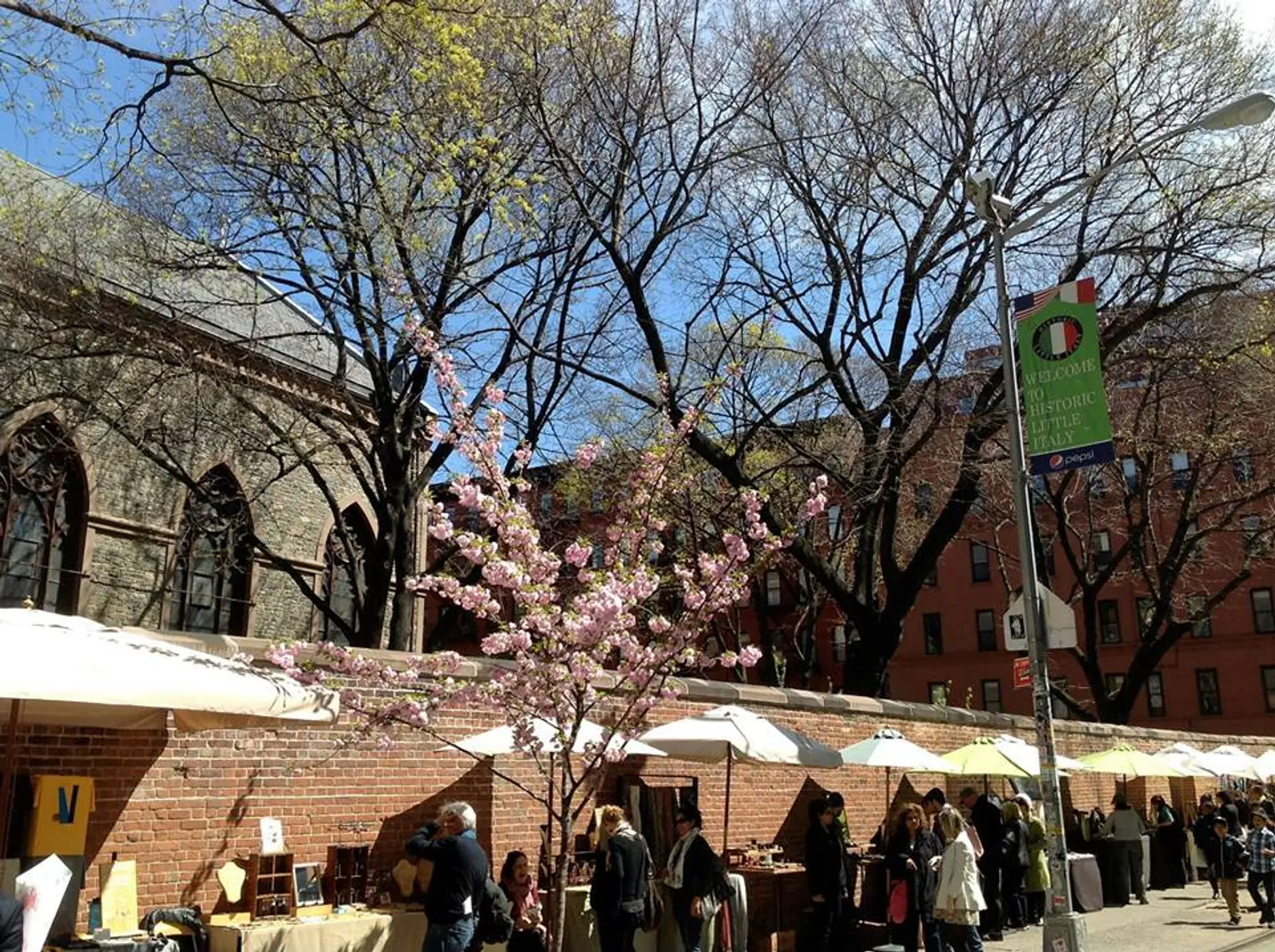 Nolita Outdoor Market ↑
Prince Street between Mott and Mulberry Streets
Friday – Sunday 10 a.m. – 7 p.m. (weather permitting)
The number of vendors may be small, but the quality is high and the merch is unique. This lineup of vendors along the brick wall of the church on Prince Street in the downtown-trendy shopping-and-brunching district appears with spring weather and offers surprisingly well-priced art, jewelry, accessories and apparel you won't find anywhere else.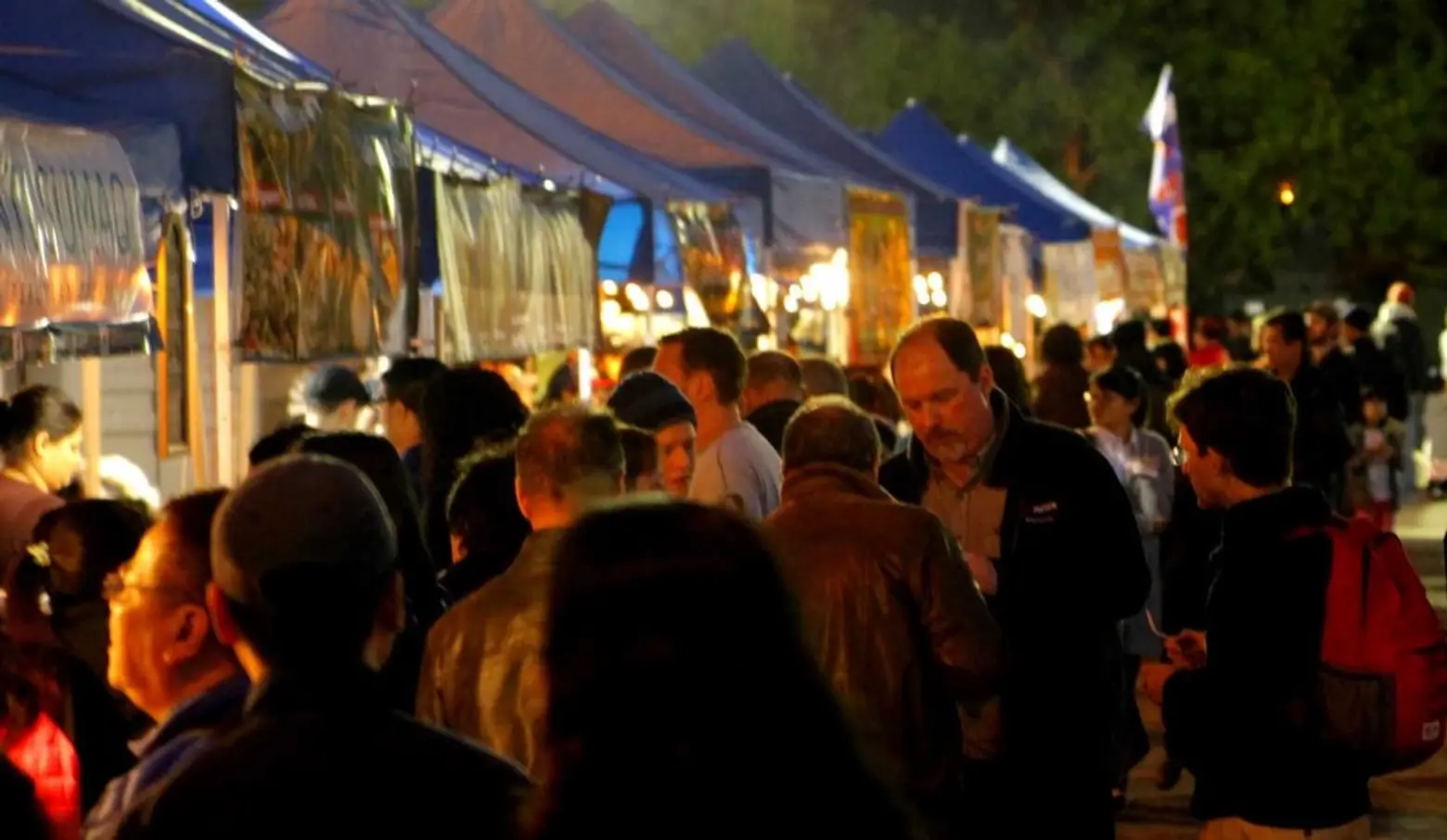 Queens International Night Market ↑
New York Hall of Science in Flushing Meadows Corona Park, Queens
Saturdays, 6 p.m.- midnight, starting on April 22 through August 19 and September 30 – October 28
Who doesn't love a little night shopping, especially when it's in a science museum? The Queens International Night Market is a large, family-friendly open-air night market featuring independent vendors selling merchandise, art and food, with small-scale cultural performances and entertainment, all in celebration of the rich cultural diversity and heritage of NYC and Queens.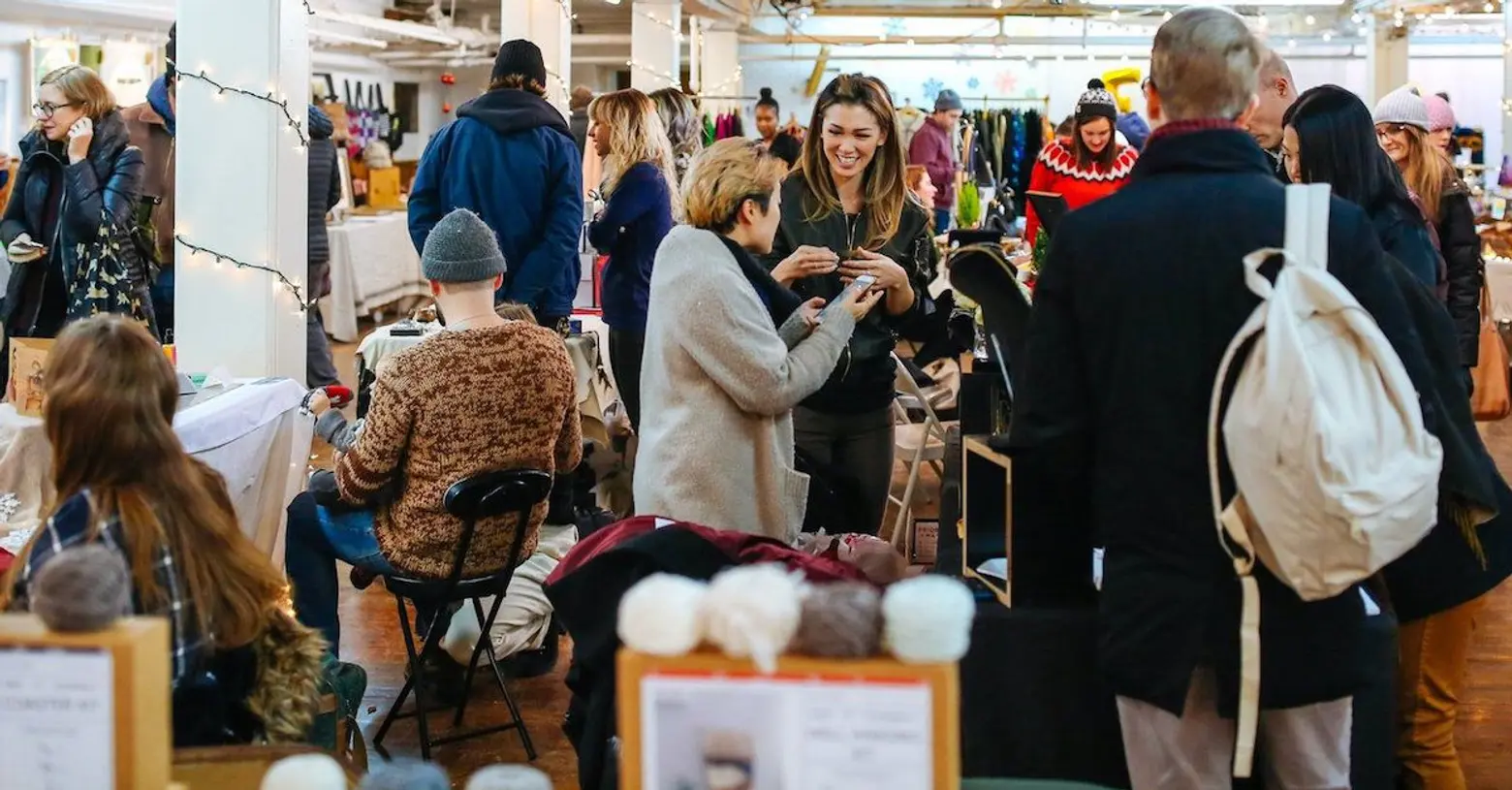 FAD Market Spring Edition ↑
Brooklyn Historical Society, 128 Pierrepont Street
April 22-23, May 13-14, 11 a.m. – 6 p.m. 
This spring, FAD (fashion, art and design) Market will present over 45 thoughtfully selected independent makers and artists in the Great Hall of the Brooklyn Historical Society. Browse and shop jewelry, apparel, bath and body, tableware, art and home decor, then head for the front patio for a lineup of local food and drink. Round the day off with a walk through the many ongoing exhibitions in the magnificent landmark museum. In addition, expect fresh monthly lineups and special themes from the fab FAD folks.
One-offs and pop-ups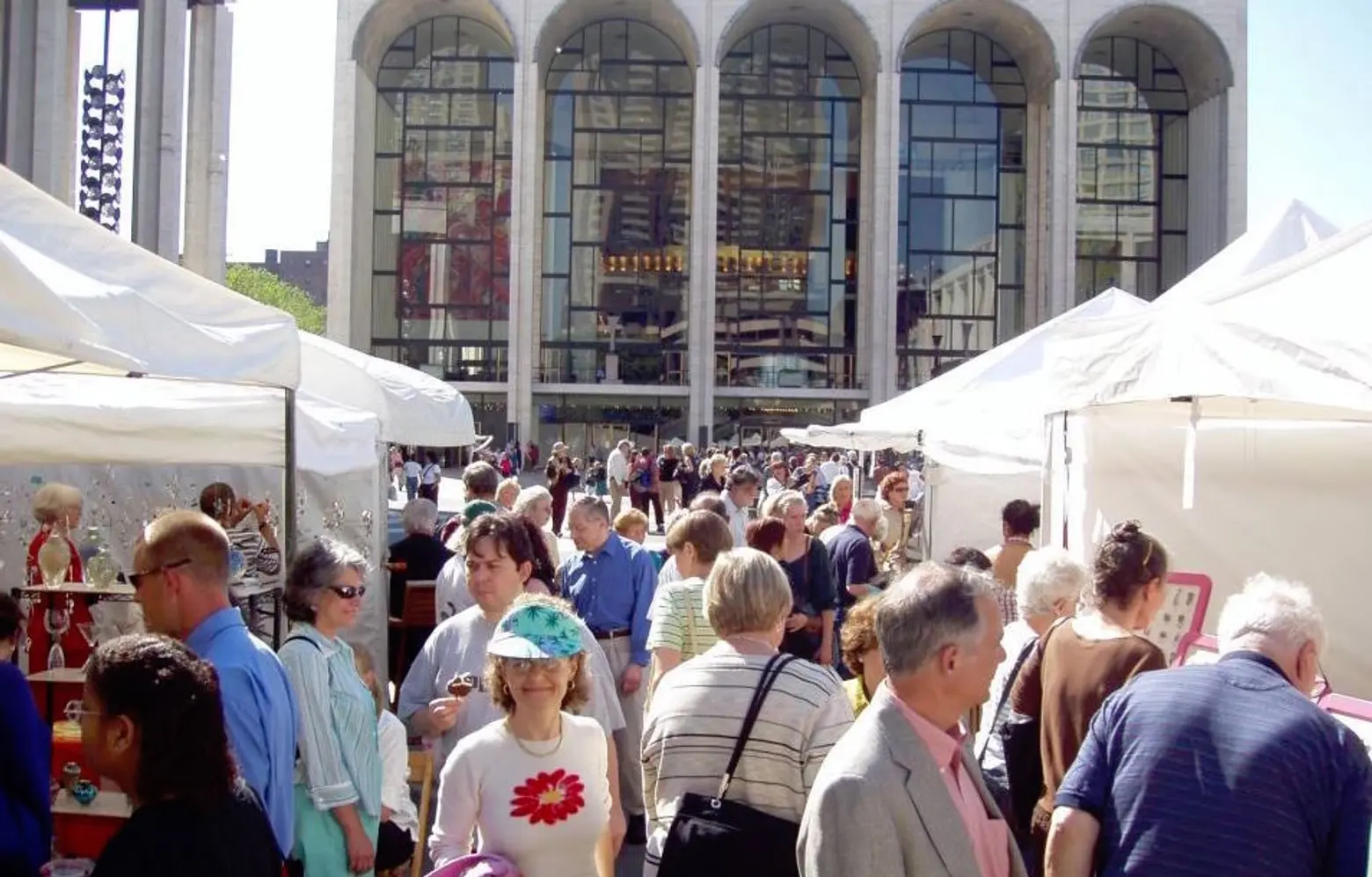 American Crafts Festival at Lincoln Center ↑
Lincoln Center for the Performing Arts, 64th Street at Columbus Avenue
June 3-4, noon-9 p.m. & June 10-11; 10 a.m. – 7 p.m. 
Browse 380 juried craft displays selected from every region of the United States alongside all-day entertainment and craft demonstrations. Admission is free, and parking is available.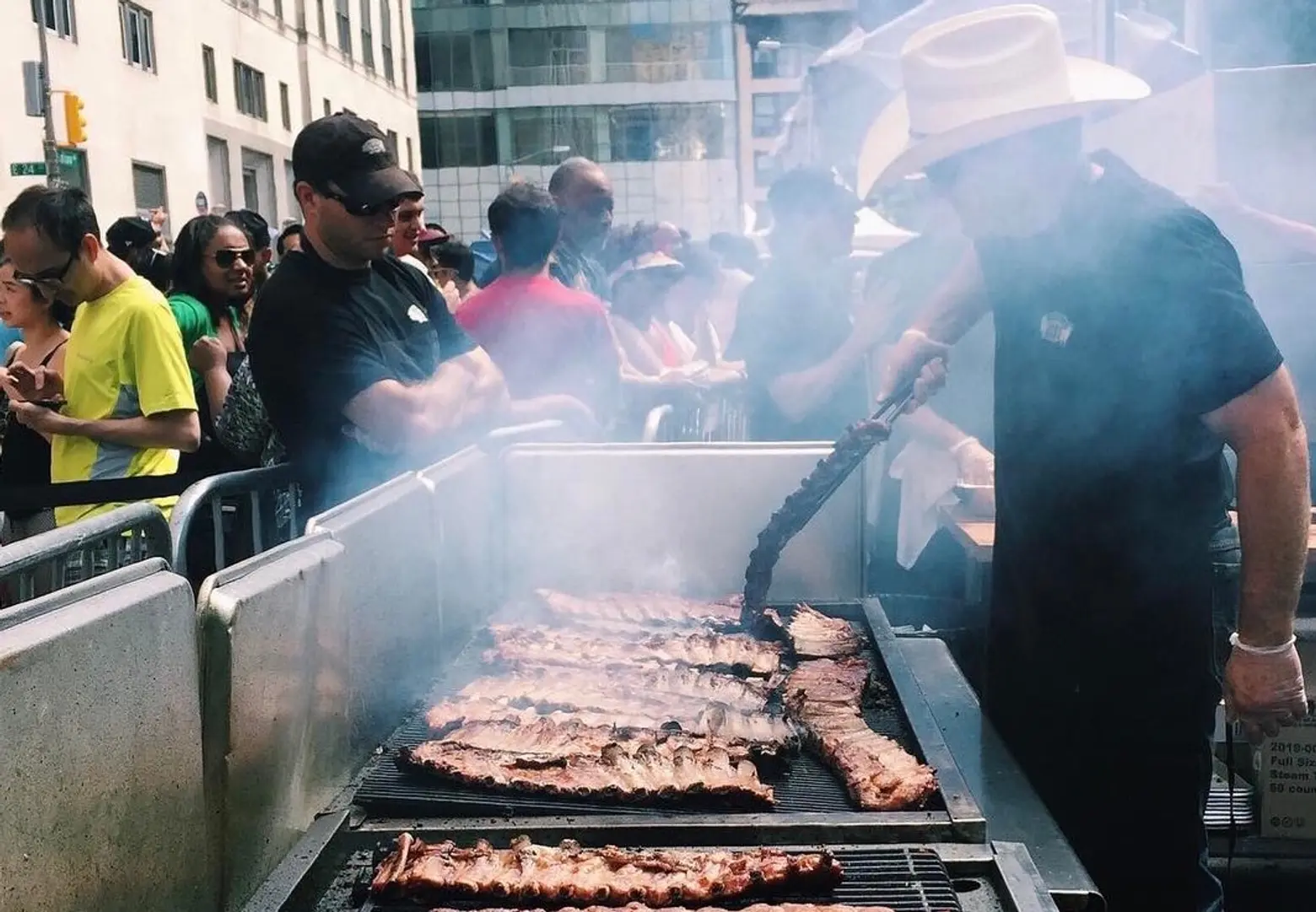 Big Apple BBQ ↑
Madison Avenue from East 23rd Street to East 27th Street; East 26th Street from 5th Avenue to Park Avenue
June 10-11, 11 a.m. – 6 p.m. 
Celebrating 15 years of going hog-wild in Madison Square Park and the surrounding environs of tony Gramercy, this BBQ extravaganza hits the Manhattan streets again with the motto: "Come hungry. Get sauced. Swine not?" Pit-masters from the best BBQ joints in the country do their thing, and beer, desserts and live music make this the wrong weekend to start that diet or go vegan.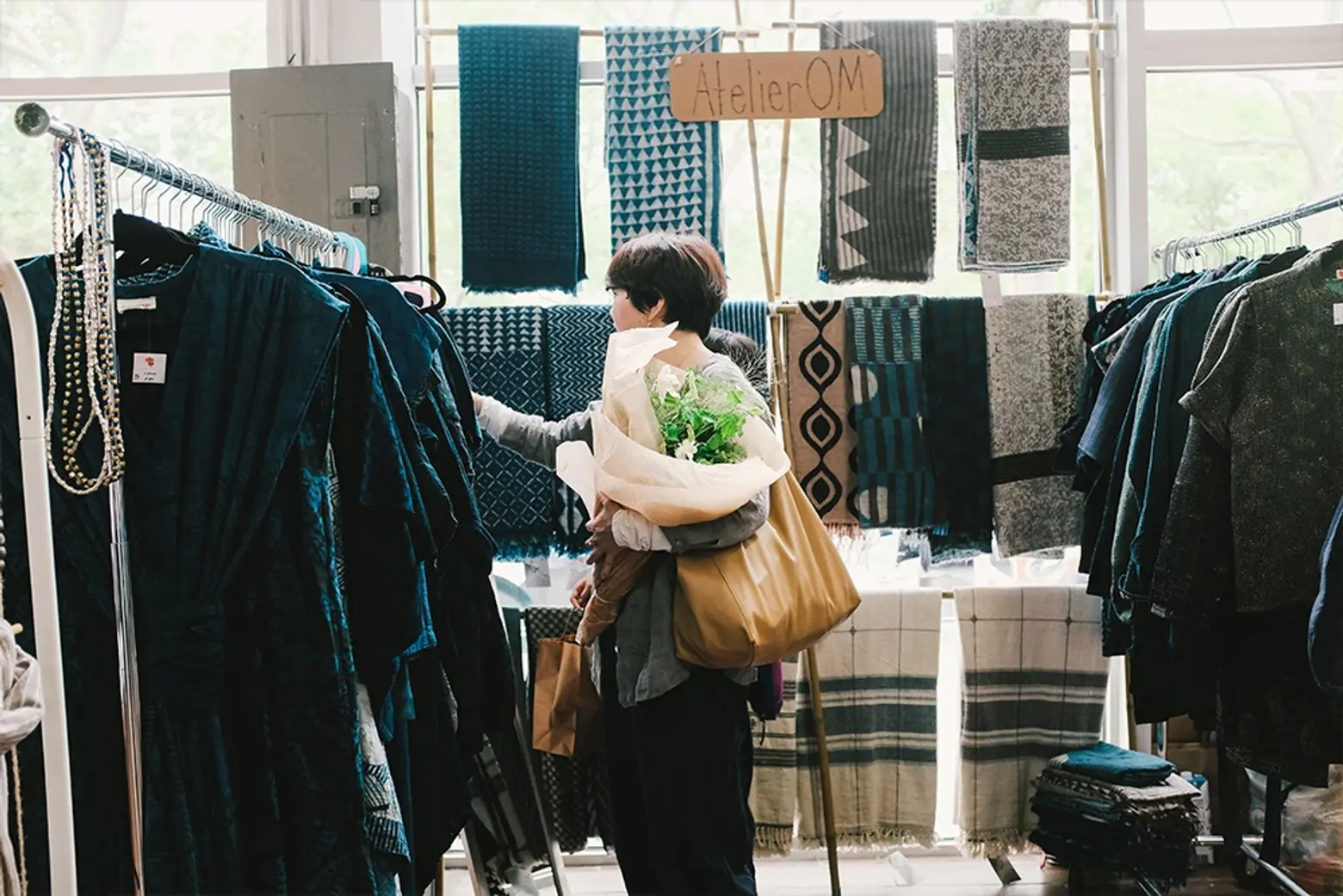 Renegade Craft Fair ↑
Brooklyn Expo Center, 72 Noble Street
June 17-18, 11 a.m. – 6 p.m. 
This annual craft extravaganza heads indoors this summer, but that means you don't have to worry about the weather when you behold what seems like miles of unique handmade items from hundreds of makers, fun DIY workshops, immersive special features, food and drink and much, much more. There's plenty of creative spirit here, but this fair's curatorial chops are impressive, so expect the best.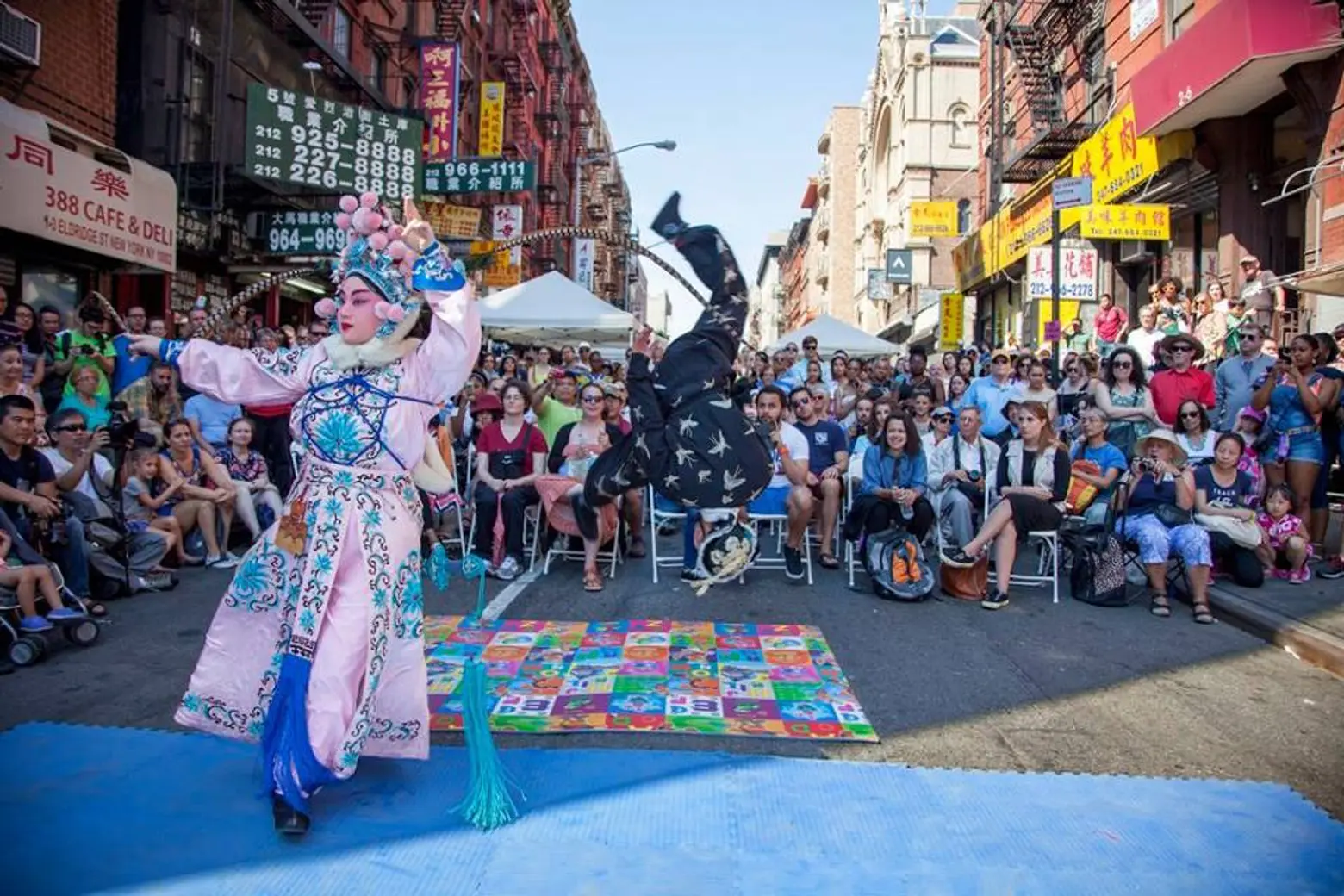 Egg Rolls, Egg Creams and Empenadas Festival ↑
The Museum at Eldridge Street,
June 18, noon – 4 p.m. 
Celebrate the diverse ethnic communities of the Lower East Side/Chinatown neighborhood at a block party that began as a celebration of Jewish and Chinese culture and grew to an event that brings thousands of people each year. Expect klezmer, cantorial, Chinese opera, Puerto Rican folk music, Hebrew and Chinese scribal arts, yarmulke making, Puerto Rican mask and lace making, mah jongg and more. And yes, Kosher egg rolls, egg creams and empanadas will be sold, of course.
Food 52 Spring Spruce Up ↑
Food52 HQ and Test Kitchen, 122 West 26th Street, 8th Floor
April 21-23, 11 a.m. – 6 p.m. 
The food-positive event throwers and kitchen gadget purveyors at Food52 will be transforming their NYC HQ and test kitchen into a three-day spring pop-up market featuring their newest and niftiest cleaning tools, cookware, time-saving gadgets and tabletop decor plus special events from a pastry breakfast to wine and food tastings, cooking demos and a temporary tattoo parlor.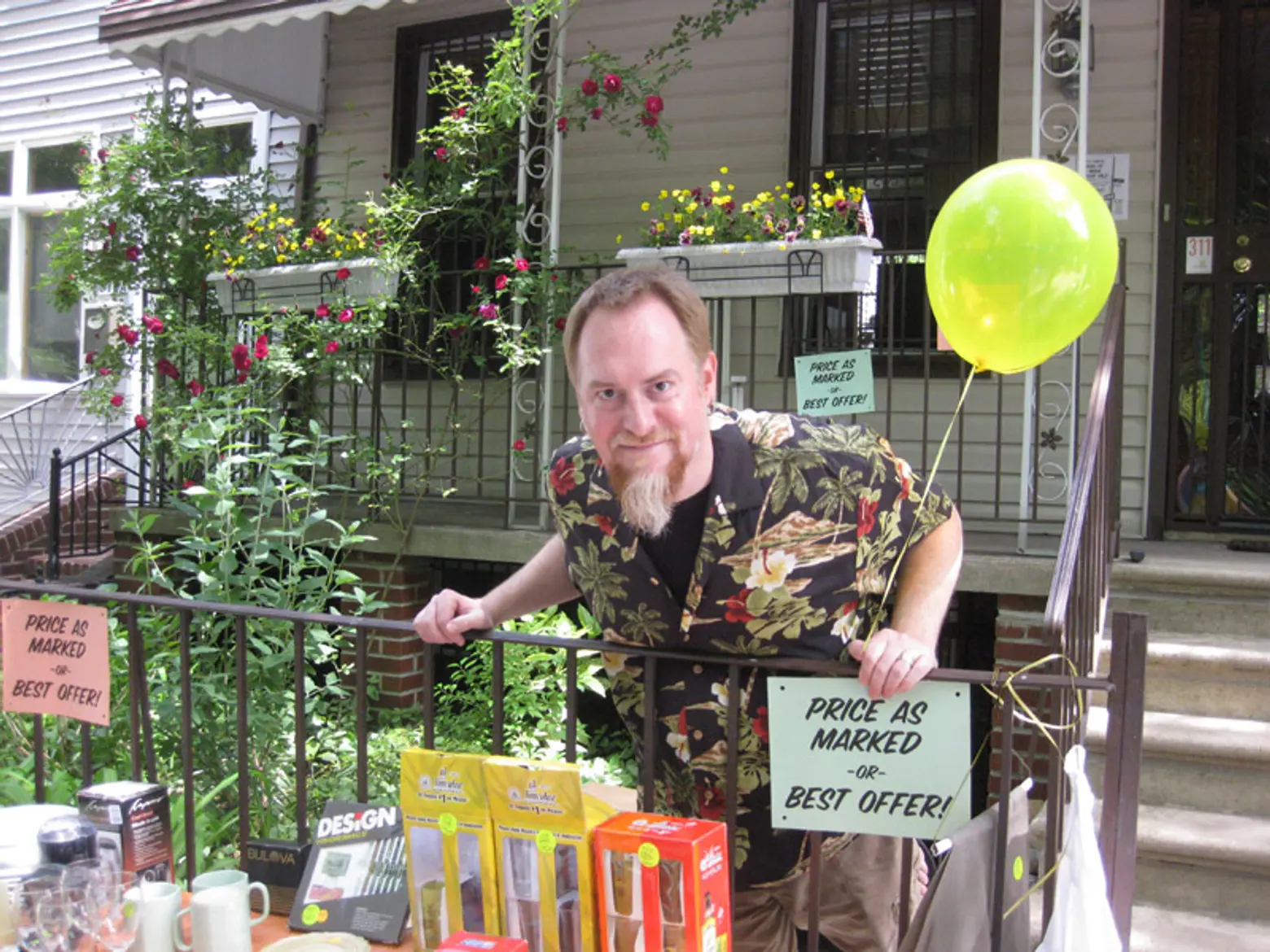 Image: lostinbrooklyn via flickr.
Neighborhood Stoop and Sidewalk Sales ↑
City weekends are a veritable feast of stoop and sidewalk sales in neighborhoods like Park Slope and Carroll Gardens. Many sellers and small, under-the-radar flea markets broadcast their wares well in advance on Craiglist, so if you want to plan ahead, click your way through the local "Garage and Moving Sales" pages for your neighborhood and date of choice–then click the "map" option and you're good to go.
RELATED: