The new Hell's Kitchen is sizzling with hot restaurants and fresh residential buildings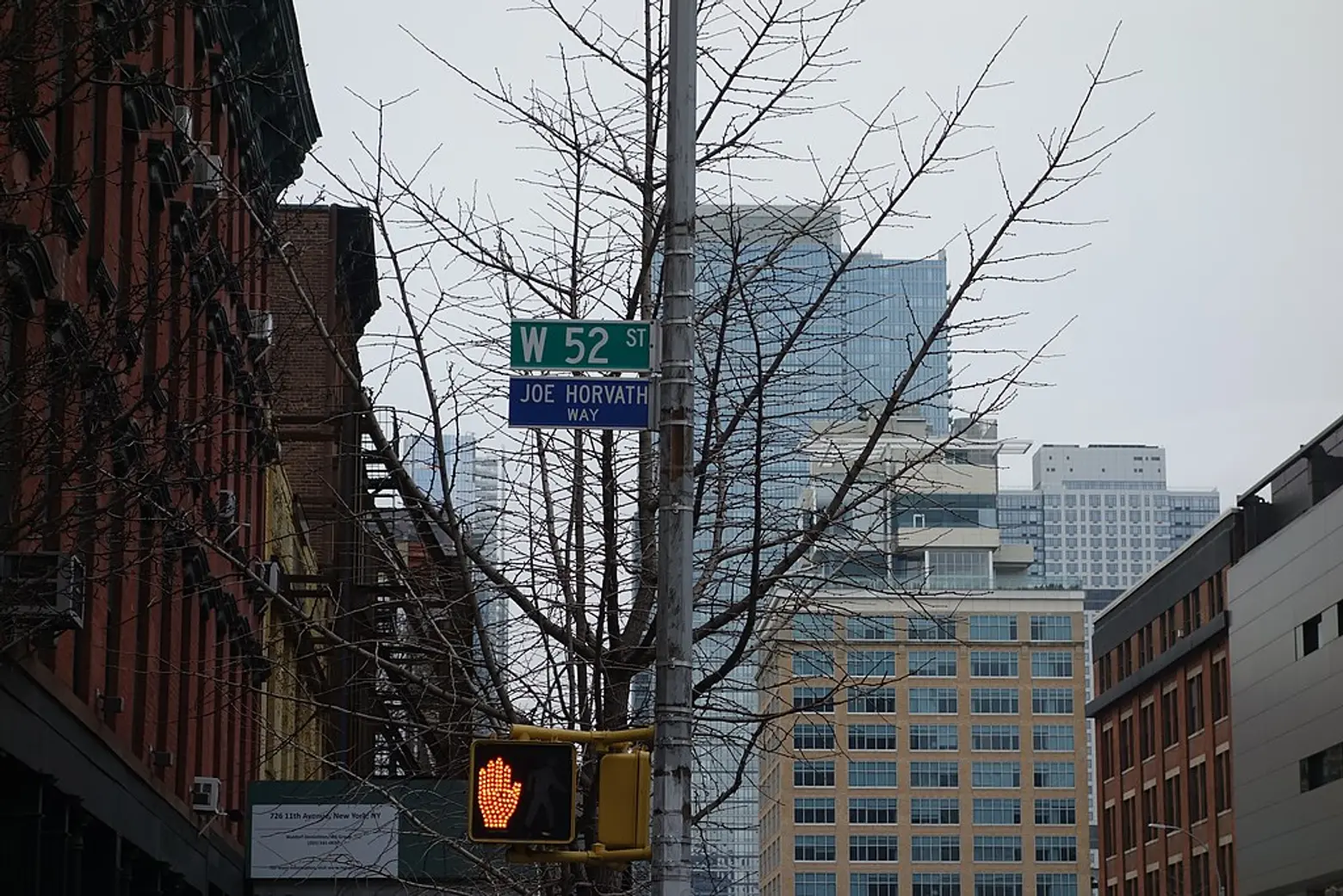 Hell's Kitchen used to be a no-go zone. It was a gritty section of New York City with dangerous gang warfare and violent streets. Although West Side Story does not have any specific references (aside from its title), the plot, which was based on fractured race relations, was the story of Hell's Kitchen pre-1990s–minus all the singing and dancing.
But Tyler Whitman, a Triplemint broker and a proud Hell's Kitchen resident, says there is actually quite a bit of singing that still goes on today. The 'hood retains some grit, in a charming New York way, but it is a genuine residential neighborhood in the midst of big changes, as new buildings and businesses spring up every day. But unlike a lot of other up-and-coming neighborhoods, Hell's Kitchen has flown rather under the radar, with many New Yorkers still believing it's an extension of Midtown or a stopover spot for dinner. Ahead, we break down why those in the know are moving to Hell's Kitchen and all the amenities it has to offer for people to stay awhile.
Hell's Kitchen History
Hell's Kitchen, sometimes referred to as Clinton, is a neighborhood on the West Side of Midtown bordered by 34th Street to the south, 59th Street to the north, Eighth Avenue to the east, and the Hudson River to the west.
Traditionally, Hell's Kitchen was a poor and working-class neighborhood filled with Irish Americans who were mostly refugees of the Great Famine. They came to New York and found work at the docks on the Hudson River. When the Hudson River Railroad was built in 1849, the neighborhood was covered in rail tracks. Additionally, the station also brought polluting businesses like tanneries, factories, lumber yards and slaughterhouses that used the river for shipping and dumping waste.
Dense and unsanitary tenements housed the overcrowded population. During Prohibition, many of the area's warehouses were used as bootleg distilleries. And at the start of the 20th century, rival Irish and Puerto Rican gangs took over control of the area as organized crime mobsters took over.
According to Manhattan Unlocked, "A veritable Thunderdome of the late 1800s, the mostly Irish and German community was notorious for assaulting unwelcome intruders by raining down a storm of bricks, rocks, and paving stones from tenement rooftops with legendary accuracy. It was Gopher territory, a gang known for lurking in cellar stairwells. It's said that no other gang stepped foot in Gopher territory without permission."
The Javits Center today, via Eden, Janine and Jim / Wiki Commons
At the end of the 1950s, containerized shipping took off and led to the decline of the West Side piers as the bigger ships needed bigger ports and many locals became unemployed. In addition to the lack of jobs, the construction of the Lincoln Tunnel and the Port Authority Bus Terminal destroyed much of Hell's Kitchen south of 41st Street. In 1973, the Jacob K. Javits Convention Center was approved for a 44th Street site to replace piers 84 and 86 (It's currently planning a $1.5 billion expansion).
The biggest change for the area happened in 1986, when the big mobster bosses were arrested thanks to the Federal level Racketeer Influenced and Corrupt Organizations (RICO) Act. After the RICO enforcement, the area slowly improved.
Zoning
Despite its location just west of the busy Midtown business district, development in Hell's Kitchen had been curtailed for years by the special zoning rules in the area designed to protect the low-rise character of the neighborhood. According to nyc.gov, "The Special Clinton District (CL), generally between West 41st and West 59th Streets west of Eighth Avenue, was created to preserve and strengthen the residential character of a community bordering Midtown, maintain a broad mix of incomes and ensure that the community is not adversely affected by new development. Special regulations for designated perimeter areas provide appropriate transitions between the lower-scale side streets, and the Special Hudson Yards District to the south and the Special Midtown District to the east." This zoning limited a large part of the district to a maximum height of seven stories or 66 feet, whichever was less.
In 2011, the Bloomberg administration passed the West Clinton Rezoning plan allowed mixed-use residential development to extend to Eleventh Avenue from 43rd to 55th Streets. According to CityRealty, "prior to the rezoning, large pioneering developments such as Avalon Clinton, Mercedes House, and Gotham West won special approvals to rise in the area, and in turn, brought stores and amenities palatable to future residents." To keep up with the area's growth, two schools, Public School 51 and the Beacon School, opened in the neighborhood.
Living in Hell's Kitchen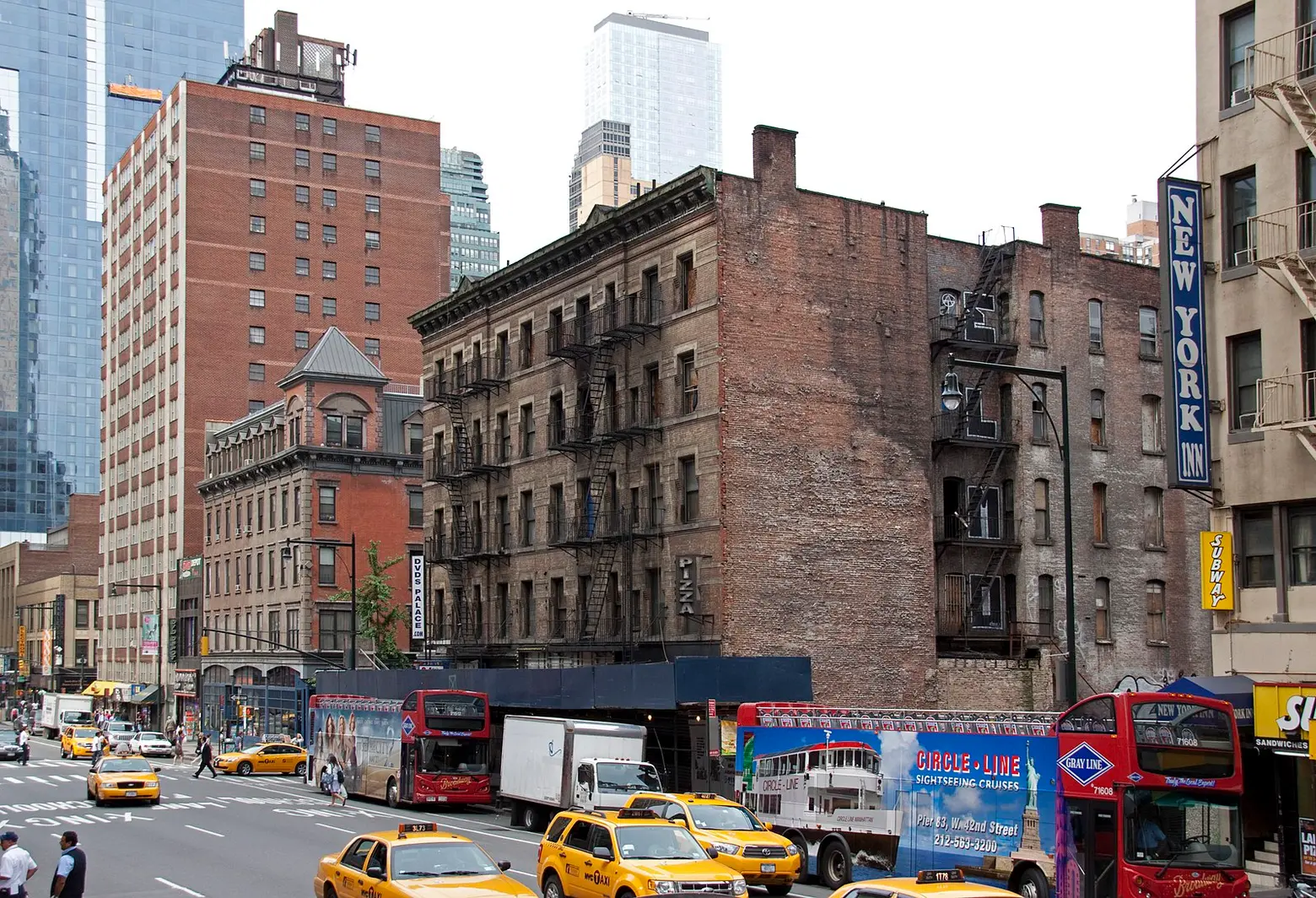 8th Avenue between 46th and 47th Street, via Tony Hisgett / Wiki Commons
Vince Rocco, a Halstead broker, describes Hell's Kitchen as a previous "battlezone where you wouldn't get out of your car, to now being filled with mostly younger people, restaurants, bars and a lot of entertainment. It is a destination and it is popular." Rocco says that people who want to move to Hell's Kitchen want to be there. Those who do not, do not look there. "It's very New York, very charming, gritty, established, and cool. The neighborhood might not appeal to everyone but it surely appeals to many," he says.
Tyler Whitman moved to Hell's Kitchen 10 years ago and has no intention of ever leaving. "All my friends live here, there is a real sense community. There is so much going on. It's been amazing to watch the neighborhood change over the past ten years and the next 10 years are going to be insane."
Describing his favorite local neighborhood bar, Pocket Bar, which serves a limited number of beers and wines on tap and only hot pockets to eat, Whitman says evenings usually end up in a karaoke-like sing-along to the 90s playlist. "It's a like Cheers. It's my favorite bar in the whole city. It's a teeny tiny wine bar that is quirky and has the funniest bartenders in the world. We like each other so much, we've formed a bowling league."
Whitman points to The Centro, at 505 West 47th, built in 2007 and Griffin Court, at 454 West 54th Street, built in 2010, as transformative buildings for the area, offering higher-end residences. Centro 505 was designed by H. Thomas O'Hara and has a garden, roof decks, a gym, a doorman, balconies, and penthouse terraces with hot tubs and barbecues. Griffin Court a handsome, two-building residential condominium project with 95 developed by Alchemy Properties and designed by FXCollaborative.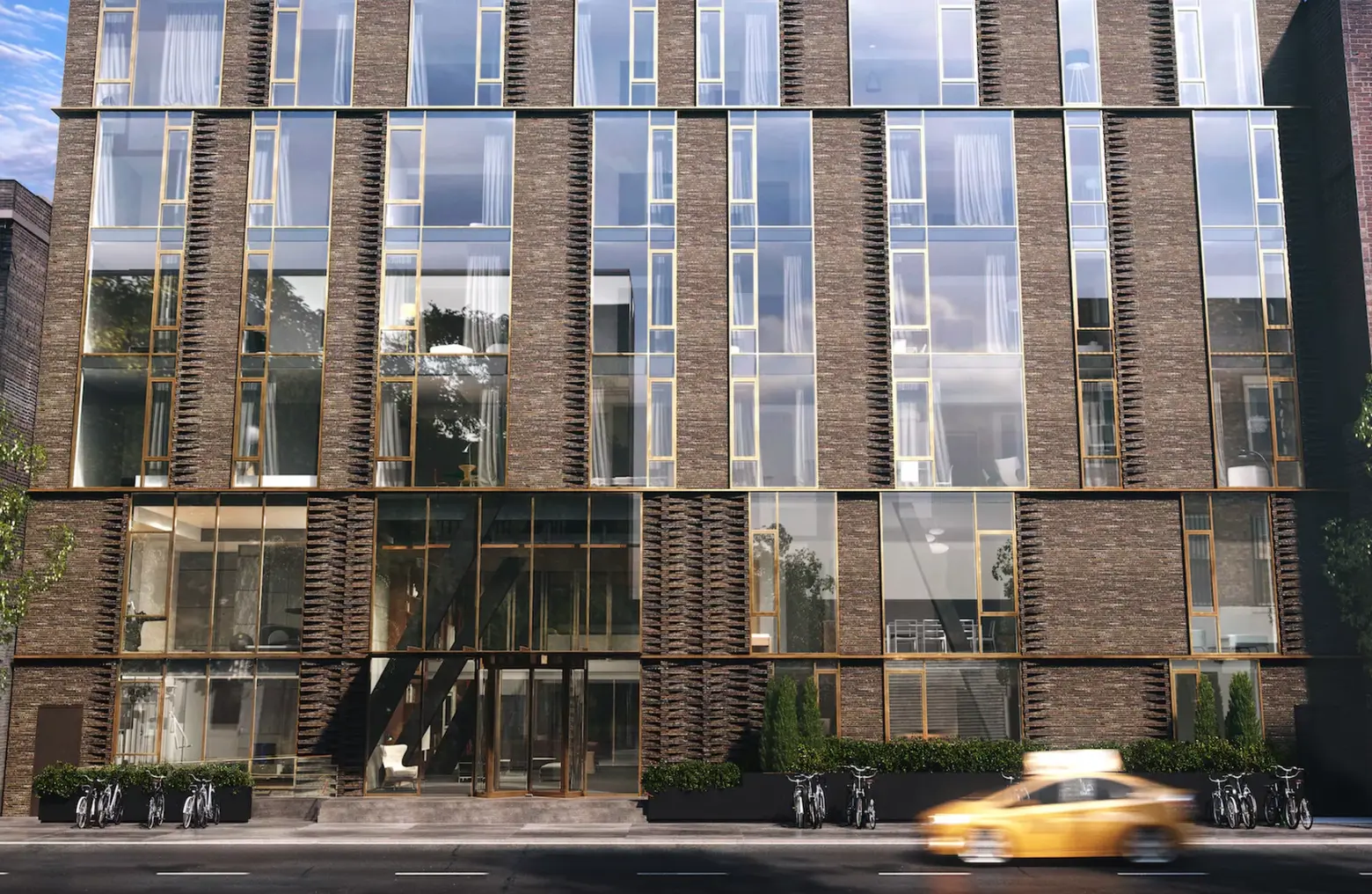 Rendering via ODA 
Designed by ODA Architecture, the celebrated New York-based modern architecture and design firm led by Eran Chen, with interiors by Andres Escobar (The Gretsch, 5 Franklin Place, Jade Hotel), Charlie West at 505 West 43rd Street is two 16-story buildings linked by amenities and outdoor space. Andres Escobar designed the interiors with a hip, downtown feel by fusing raw, natural materials with sumptuous textures and bespoke finishes in sleek, loft-style spaces. The 123 condominium residences range from studios to four-bedroom homes, including penthouses with substantial terraces commanding skyline views.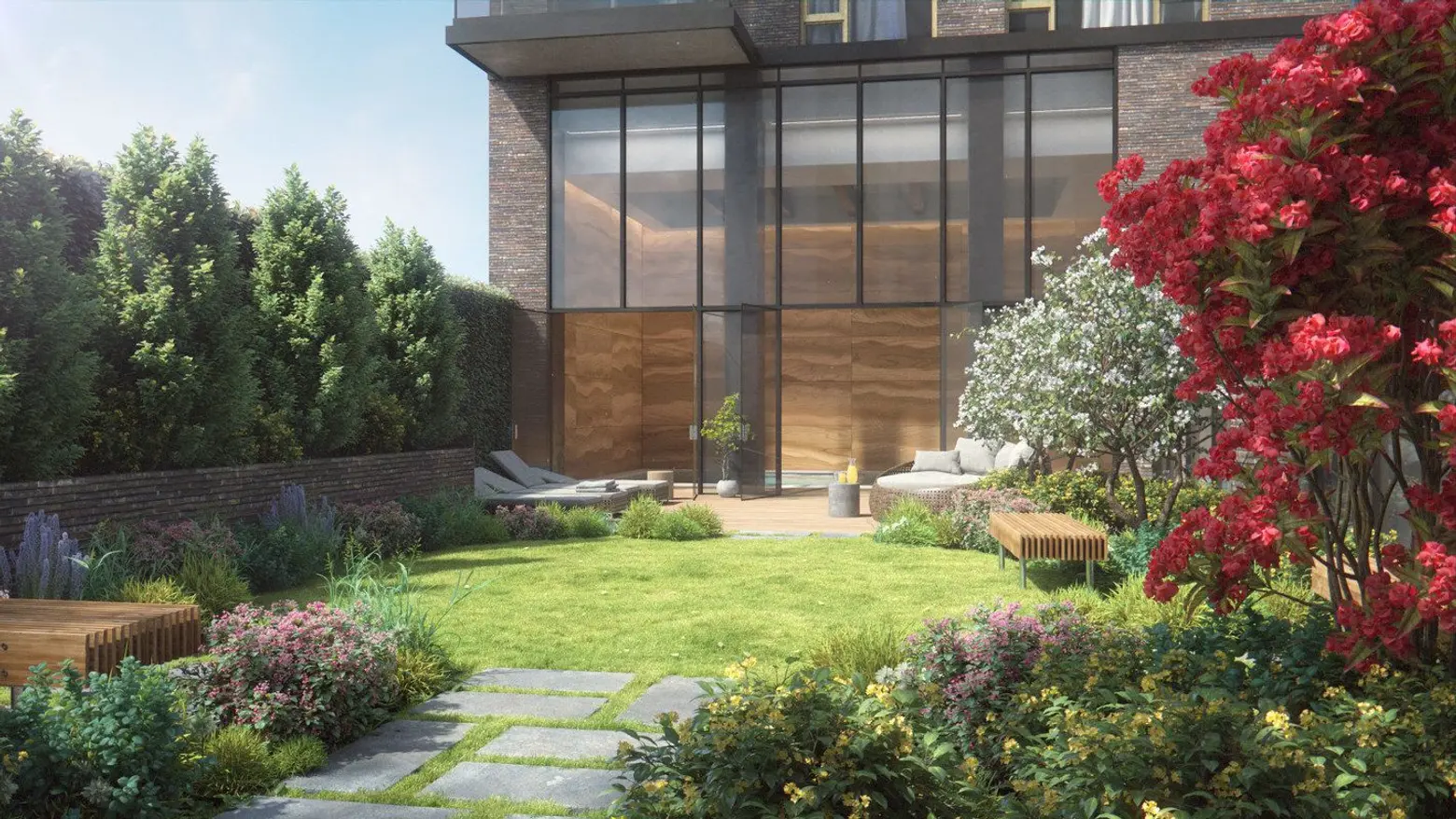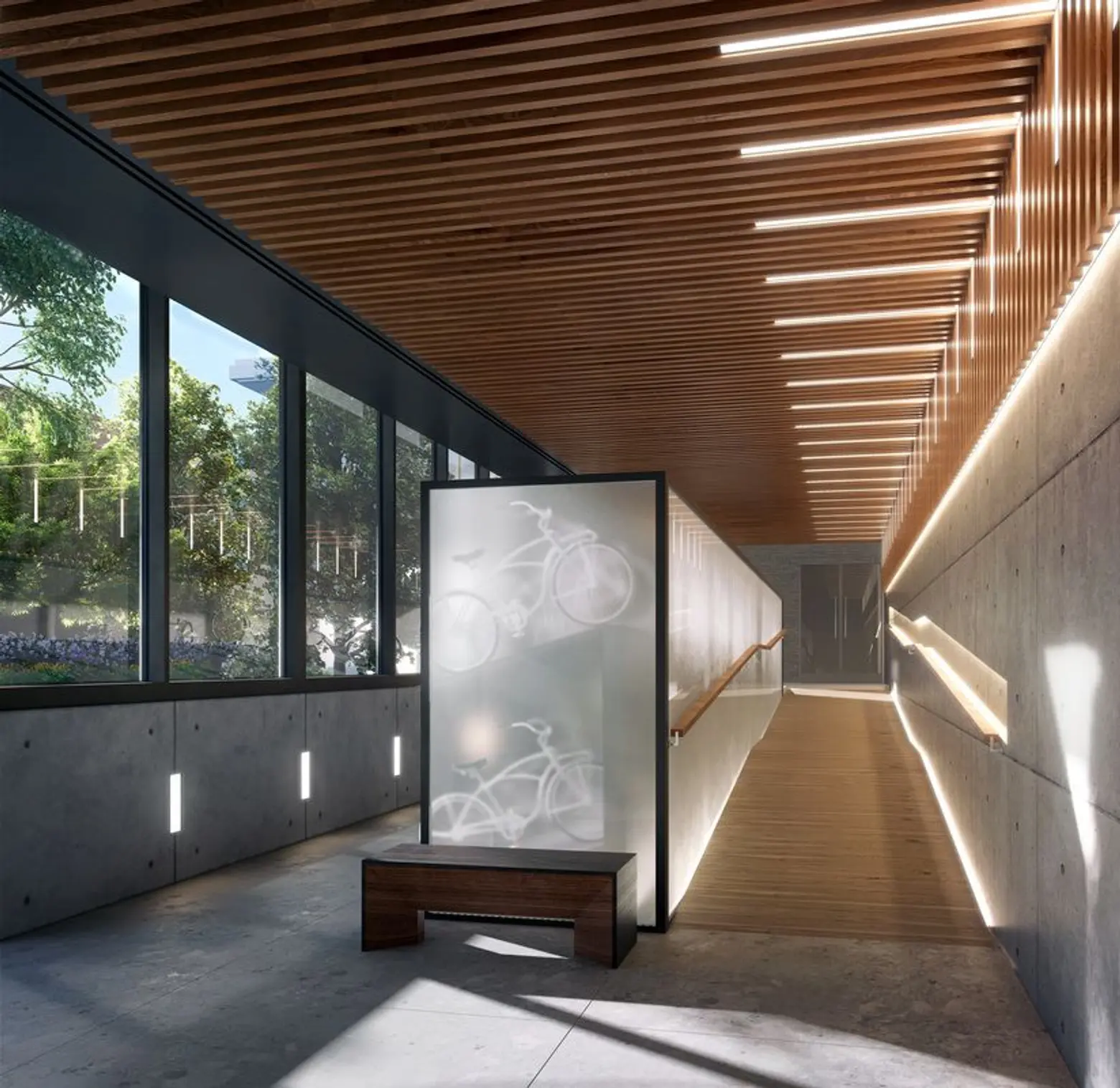 Renderings via ODA 
The amenities at Charlie West include a lobby with a curated library and private lounge with a fireplace, a double-height indoor pool and modern children's playroom that open to respective outdoor terraces and the building's center courtyard, a fully equipped two-story fitness center, as well as a super cool, translucent glass-enclosed bike storage "box."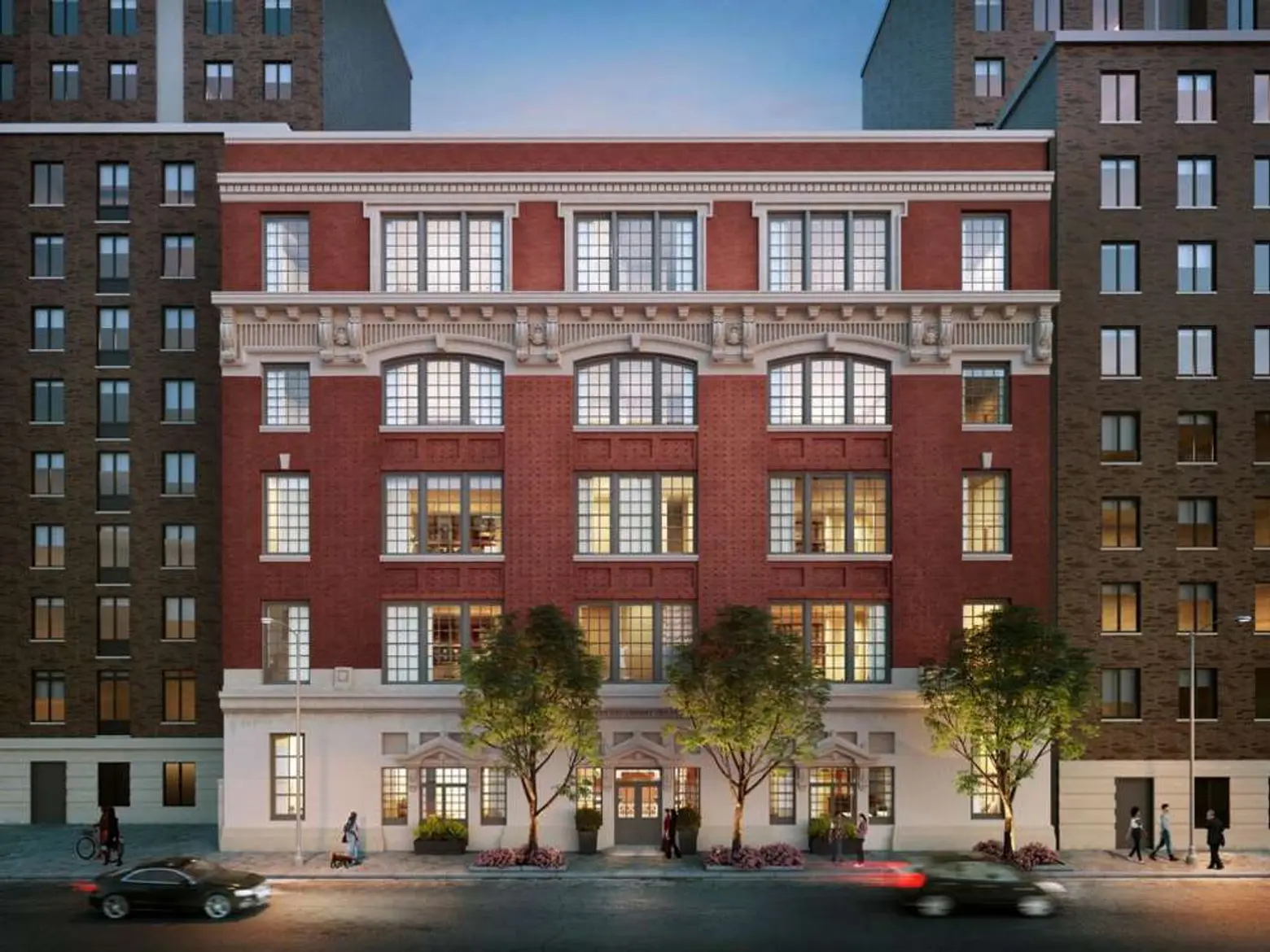 Via Gotham Organization
Housed in the former PS51 elementary school, Inkwell is a five-story condominium conversion at 520 West 45th Street. Designed by AvroKO and developed by the Gotham Organization. Inkwell is composed of two and three-bedroom units. Amenities include a fitness center, outdoor lounge, bicycle storage, and tenants' storage.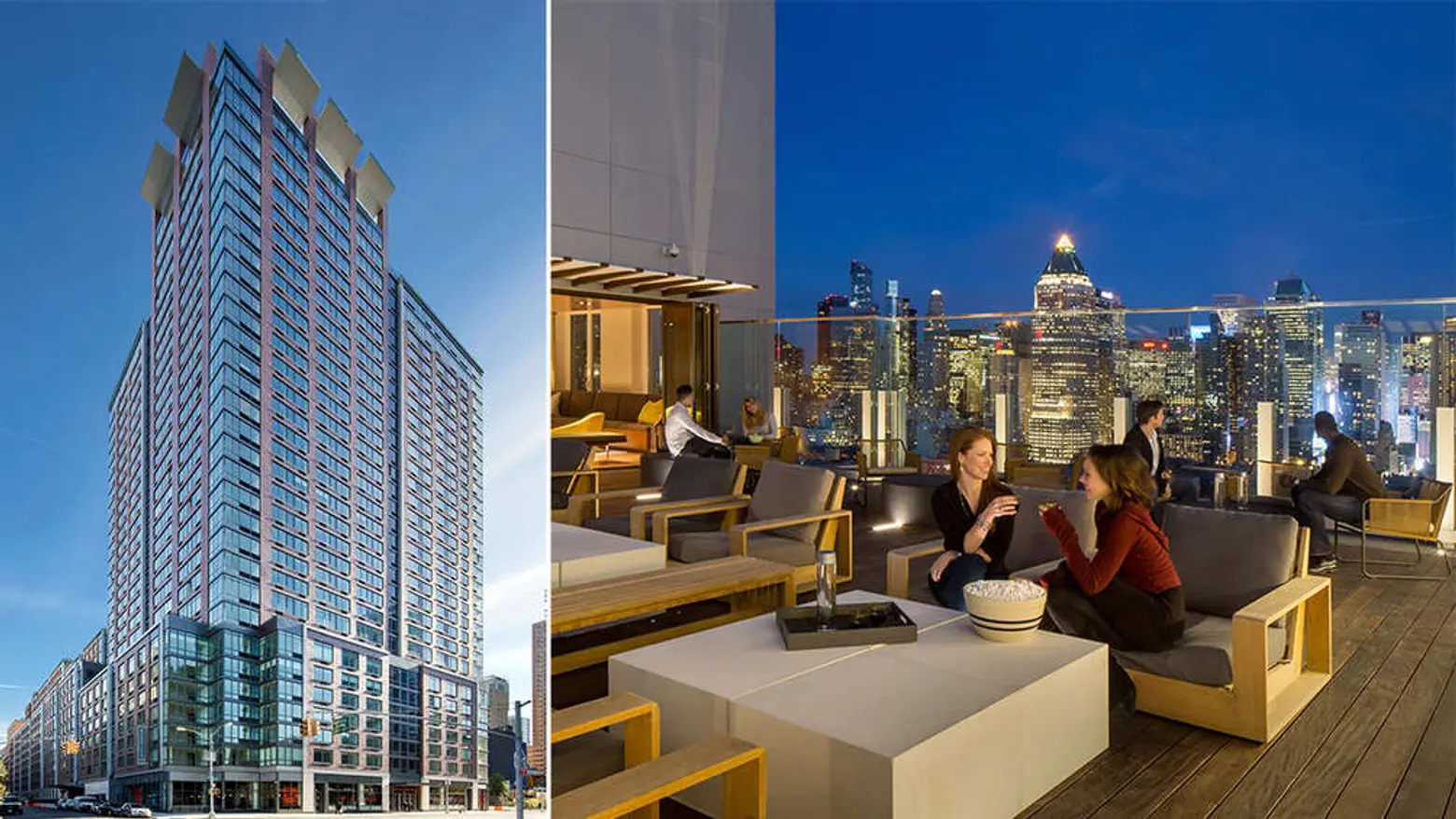 Via Gotham Organization
At 550 West 45th Street, a much different project by the developer Gotham, Gotham West is a massive four-building, 1,238-unit rental development occupying most of its block between 44th and 45th Street. Along the Eleventh Avenue end of the project, is the popular Gotham Market. Building amenities include a common lounge with billiard table, a business center, fitness center, an outdoor sky terrace, huge courtyard pet spa and a children's playroom.
The townhouse unit, via Halstead
318 West 47th Street is a new seven-story boutique condominium featuring a townhouse, three full-floor homes, and the $4.35 million duplex penthouse. These homes introduce the privacy, expanse, and tailored interiors of a townhouse. The $5.35 million townhouse has a private backyard, private garage and a family/playroom on the lower level.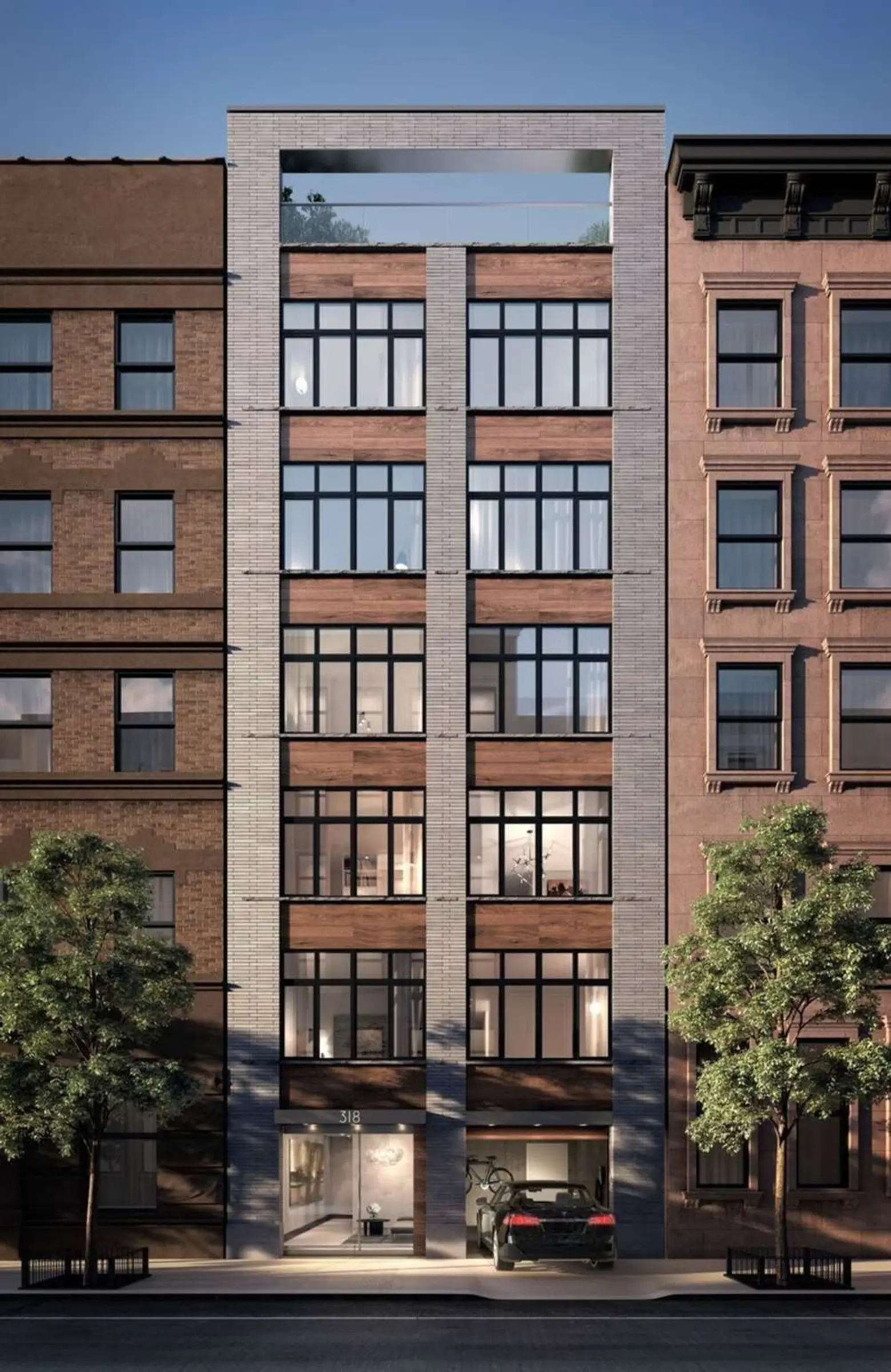 Via Halstead/318 West 47th
New York-based architecture firm William Leggio Architect LLC designed the exterior of the building. Their adaptive reuse of a former theatrical lighting wholesale supply building has a bluestone brick facade with curated edges accented by simulated wood spandrels. The development team also repurposed the building's original construction, utilizing the existing load bearing walls and showcasing the original wood joists in select areas. Katch I.D.'s design emphasizes classic materials that speak to the authentic 'old New York' nature of the neighborhood in a way that feels fresh and for today's modern homes.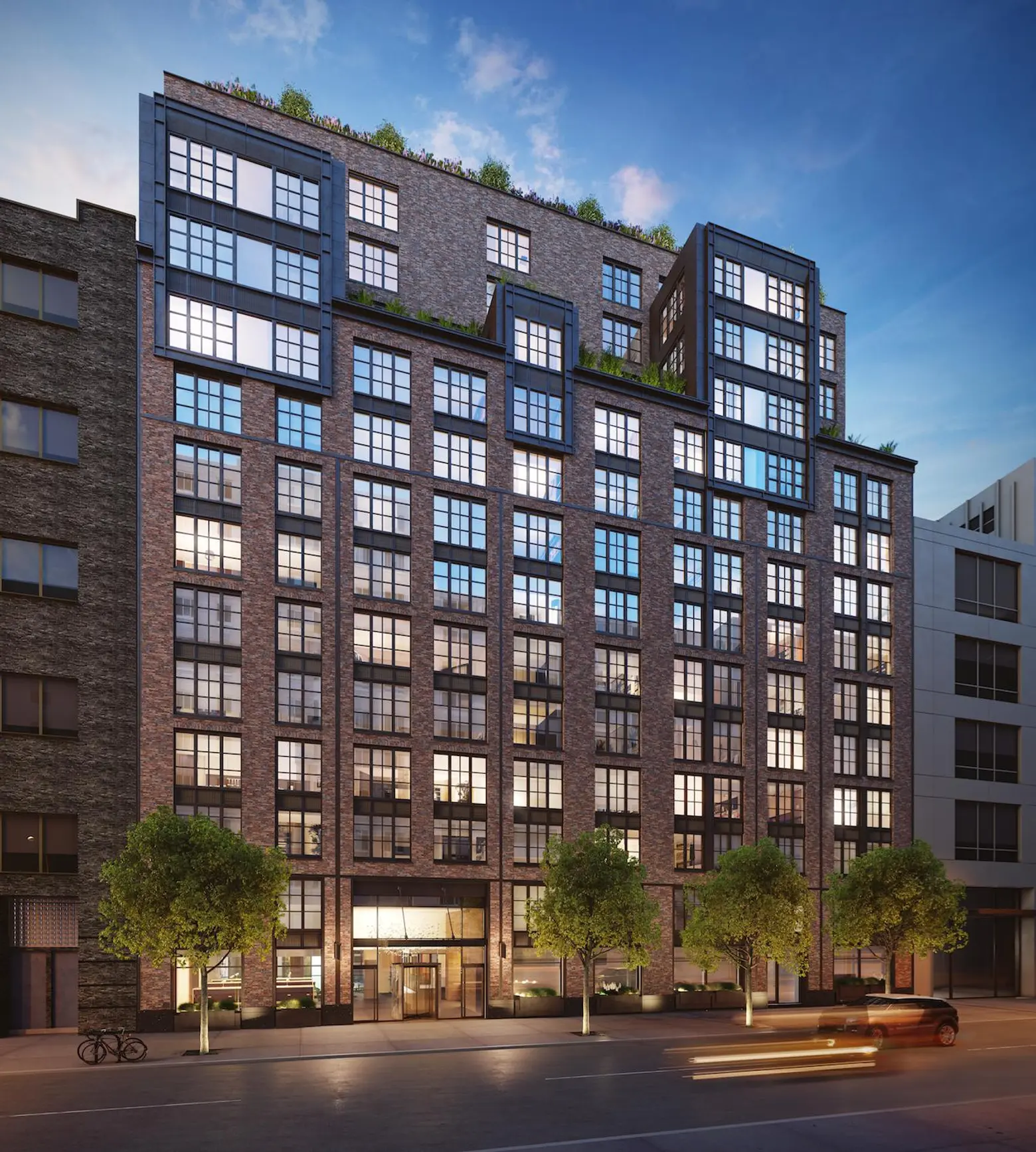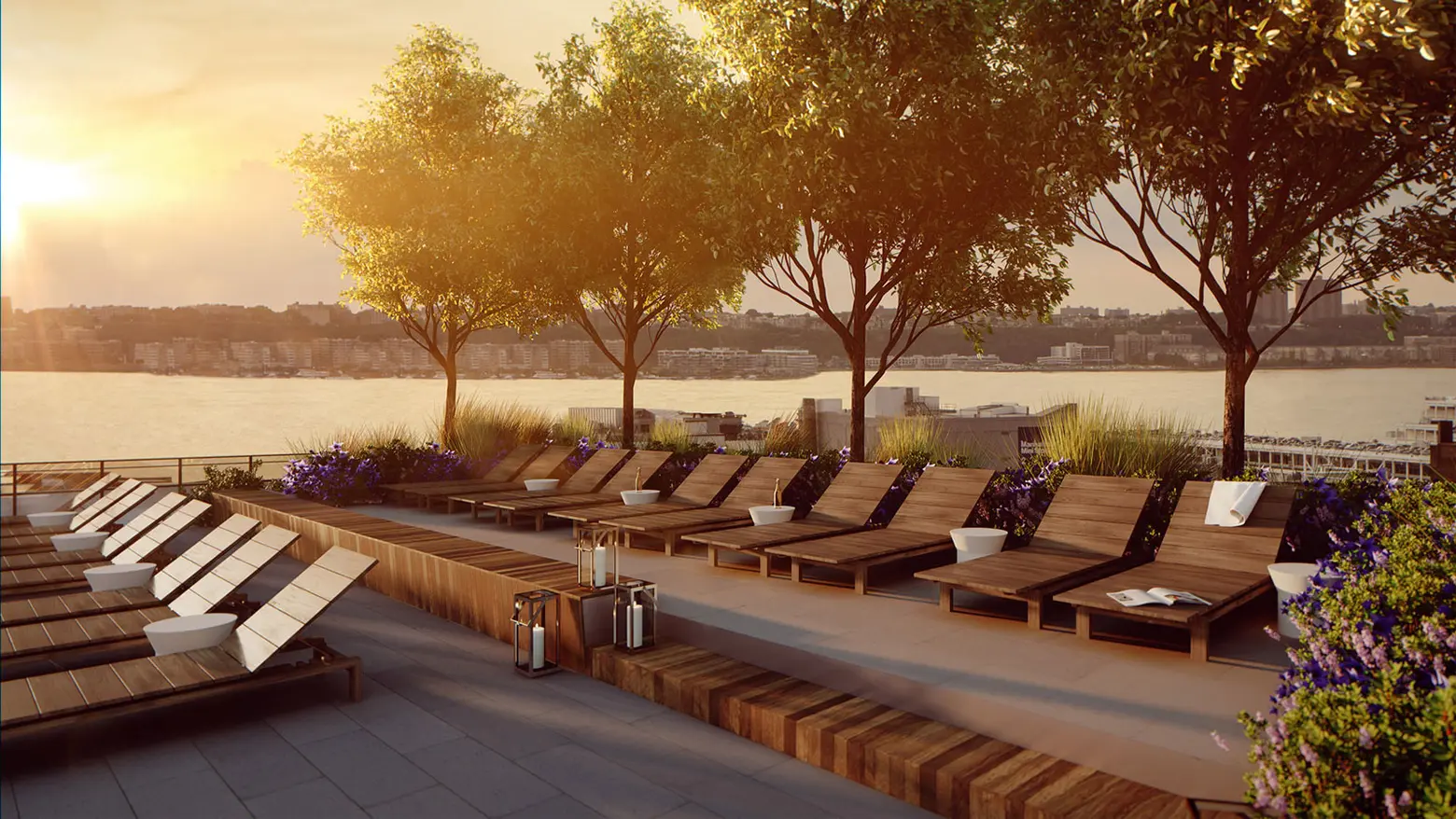 Renderings via DHA Capital
535 West 43rd Street is rental development designed by the architects CetraRuddy. The building offers luxury residences and robust amenities with both indoors and out with gardens and landscaped rooftops.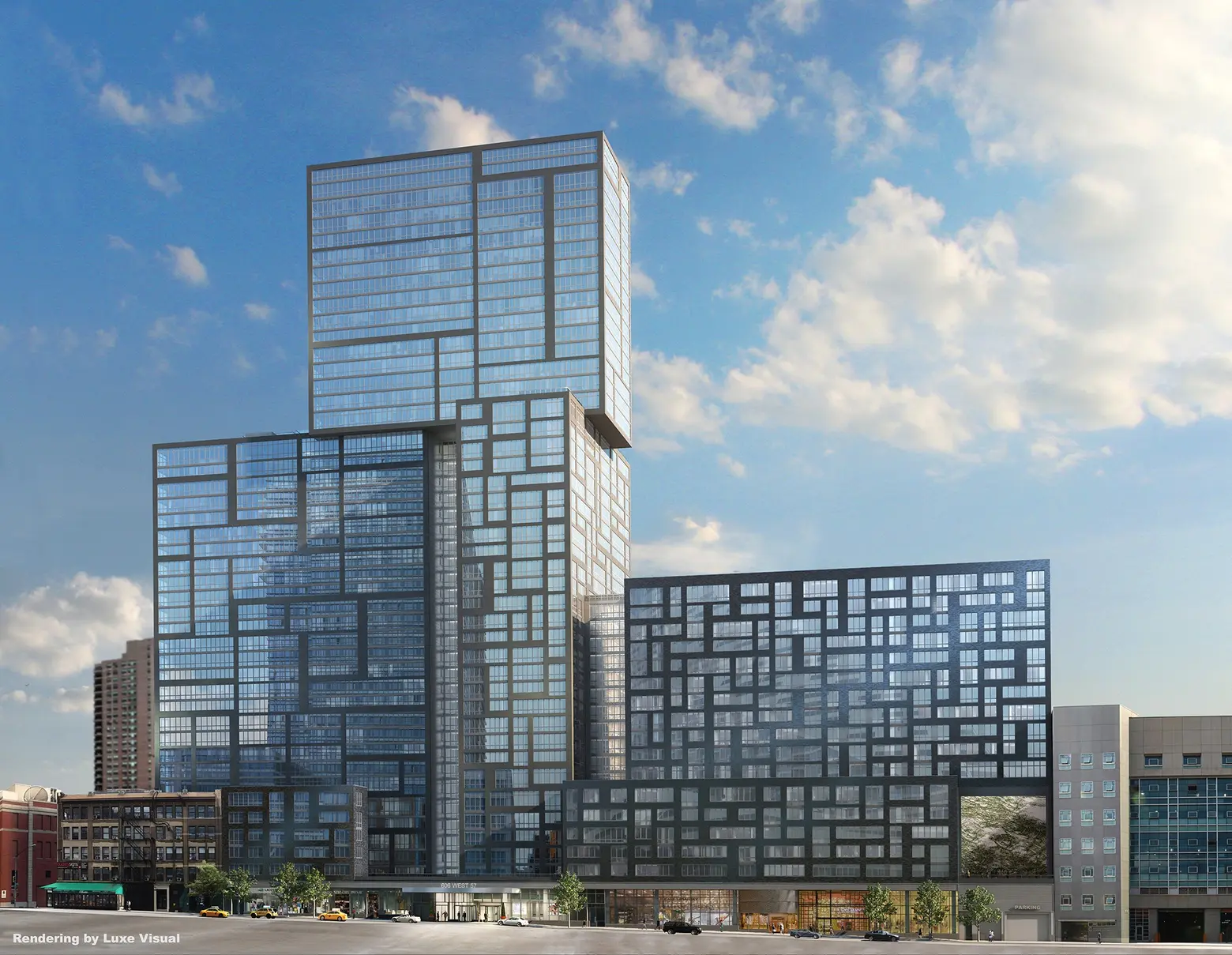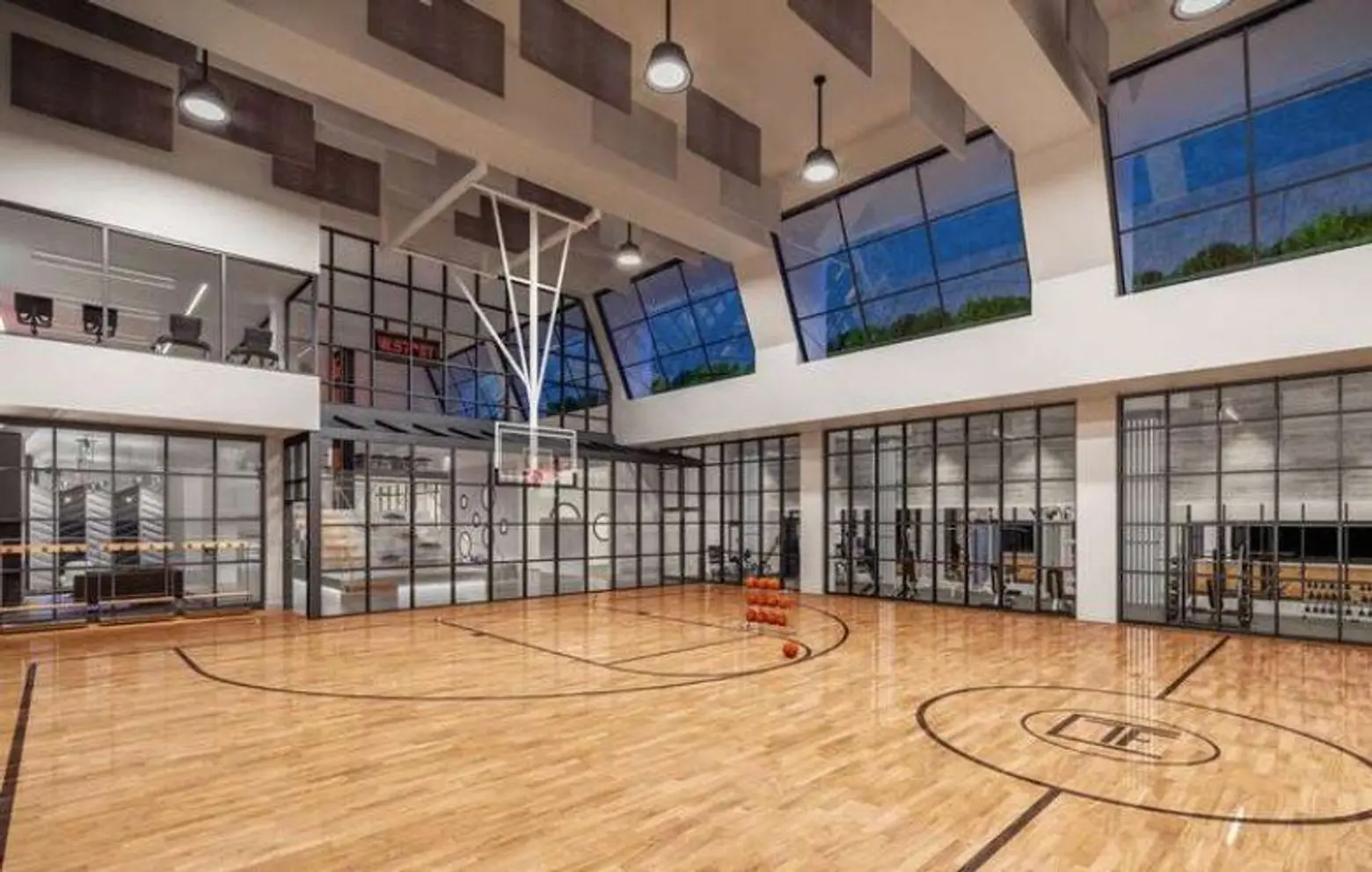 Renderings via TF Cornerstone
Another rental building, 606 West 57th is a huge building with 1028 units that rises 44 stories. The building's amenities include a full-time doorman, roof deck, fitness center, an insane basketball court, on-site parking and laundry room.
Restaurants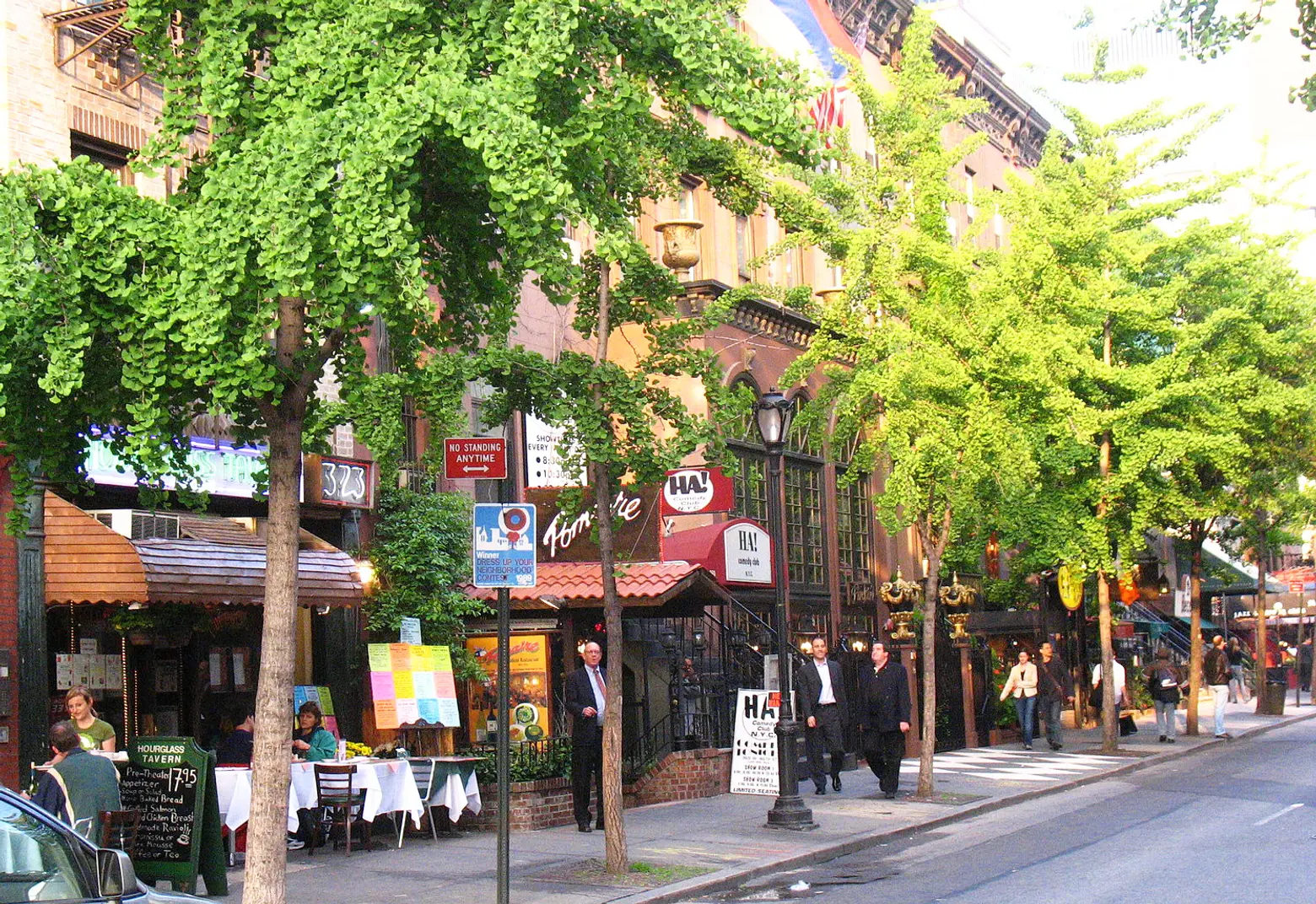 Restaurant Row via Wiki Commons
The area is filled with tons of amazing restaurants. Of course, there's Restaurant Row, the stretch of 46th Street between Eighth and Ninth Avenues that is chock full of places with cuisine from all over the world. But if you're looking for some less tourist-filled options, there are many smaller, "hole in the wall" types that will are sure to impress.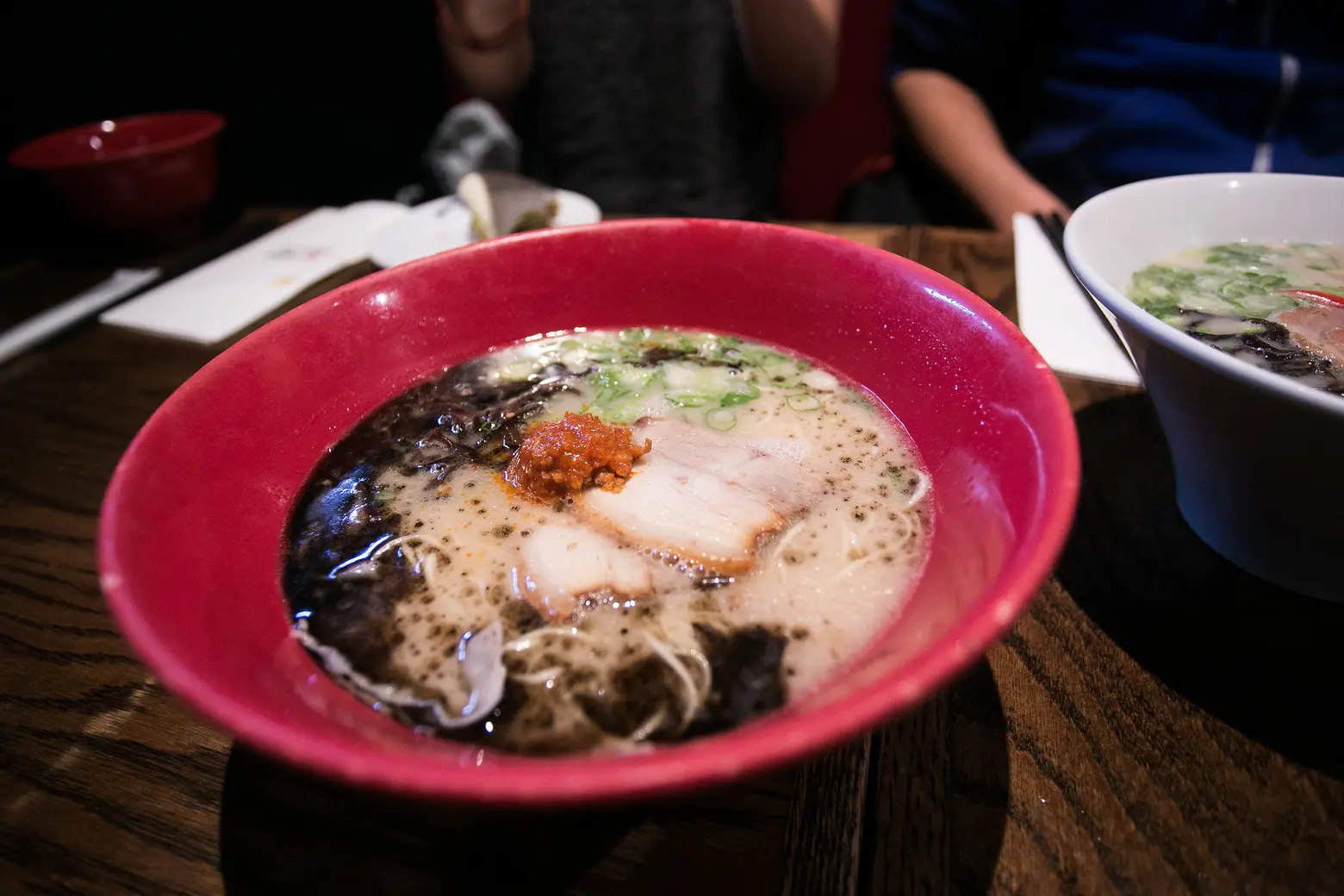 Ramen at Ippudo, via City Foodsters / Flickr
PURE Thai Cookhouse is an authentic Thai shophouse-style restaurant that features homemade noodles from a prized family recipe. PURE specializes in signature dishes from the many vendors and shophouses from the farmlands of Phayao, in the North to the floating markets of Ratchaburi in Central Thailand, to the oceans and fishing villages of Krabi in the South. PURE Thai always has a wait but it is well worth it.
Ippudo has two locations in NYC, the second in Hell's Kitchen is at 321 West 51st Street, a block chock full of tasty spots. Ippudo serves authentic Hakata style Tonkotsu ramen as well as specially selected Sake accompanied with the warm ambiance of IPPUDO style. Try their pork buns and Goma Q-seasoned cucumbers with sesame dressing.
Aria serves small plates alongside cocktails and wine produced by female vintners.
Located on West 51st Street, B Side Pizza and Wine Bar has a rustic minimalist interior, retro music, and a friendly atmosphere. The chef, Jason Neroni's inspired menu of artisanal pizzas and shareable small plates are baked in authentic Pavesi wood-burning oven. To complement our seasonal menu items, they offer an eclectic selection of wine and craft beer, cocktails and aperitifs – available by the bottle or on tap via their innovative tap system.
Casellula's philosophy is "to share our passion for handmade cheeses with as many people as possible." They offer 40 cheeses from all over the world on their list every day. They also have shareable plates (it's clearly popular to share in Hell's Kitchen) and over 100 wines, many of them unusual varietals from obscure regions, "your geeking out doesn't need to be limited to the cheese."
Medi offers Mediterranean fusion cuisine and a wide selection of wines from the region. Medi's partners Dorian Gashi and Andrea Giacomoni, who share over 35 years of experience in the Food, Wine and Service industries, met about 10 years ago and bonded over a shared love for food, wine, music, history, politics, and soccer.
44 & X offers a seasonally-inspired menu reinventing American classics and the finest hand-selected meats, like gooey mac-and-cheese and crispy buttermilk fried chicken with chive waffles. They offer lunch, dinner and weekend brunch. and Tony-themed cocktails at their bar.
So much more

Additionally, Hell's Kitchen boasts some great cultural attractions like Baryshnikov Arts Center, New World Stages, Alvin Ailey American Dance Theater, the Intrepid Sea, Air & Space Museum, and the Frank Gehry-designed Pershing Square Signature Center.
Rocco concludes that "even though there is a lot of new, the area is still growing with a lot more room for development and retail. This neighborhood still caters to the smaller mom and pop establishments, and as a long time New Yorker, that means something to me." Whitman agrees and says, "It will be exciting to see how it continues to change and watch the army of people that will move here and celebrate the neighborhood."