See the Museum of Natural History's sparkling new Halls of Gems and Minerals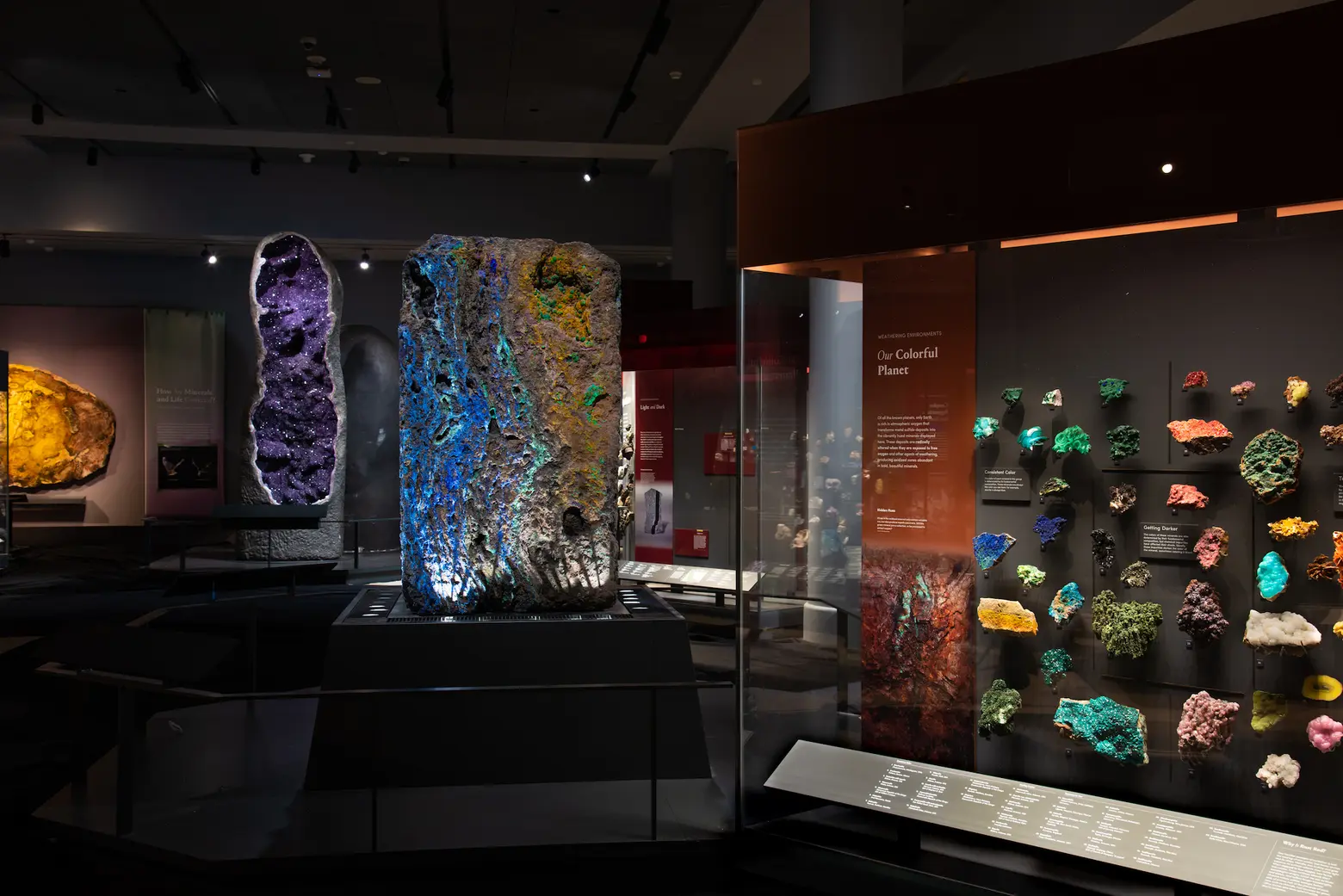 The Mineral Hall in the Allison and Roberto Mignone Halls of Gems and Minerals at AMNH. Photo credit: D. Finnin/ © AMNH
New York City is getting its sparkle back. The American Museum of Natural History will reopen its popular Allison and Roberto Mignone Halls of Gems and Minerals to the public this weekend following a $32 million redesign. The galleries feature more than 5,000 specimens sourced from 98 countries, including a 563-carat Star of India sapphire, a 12-sided 632-carat Patricia Emerald, and a 14,500-pound slab with huge garnet crystals found in upstate New York.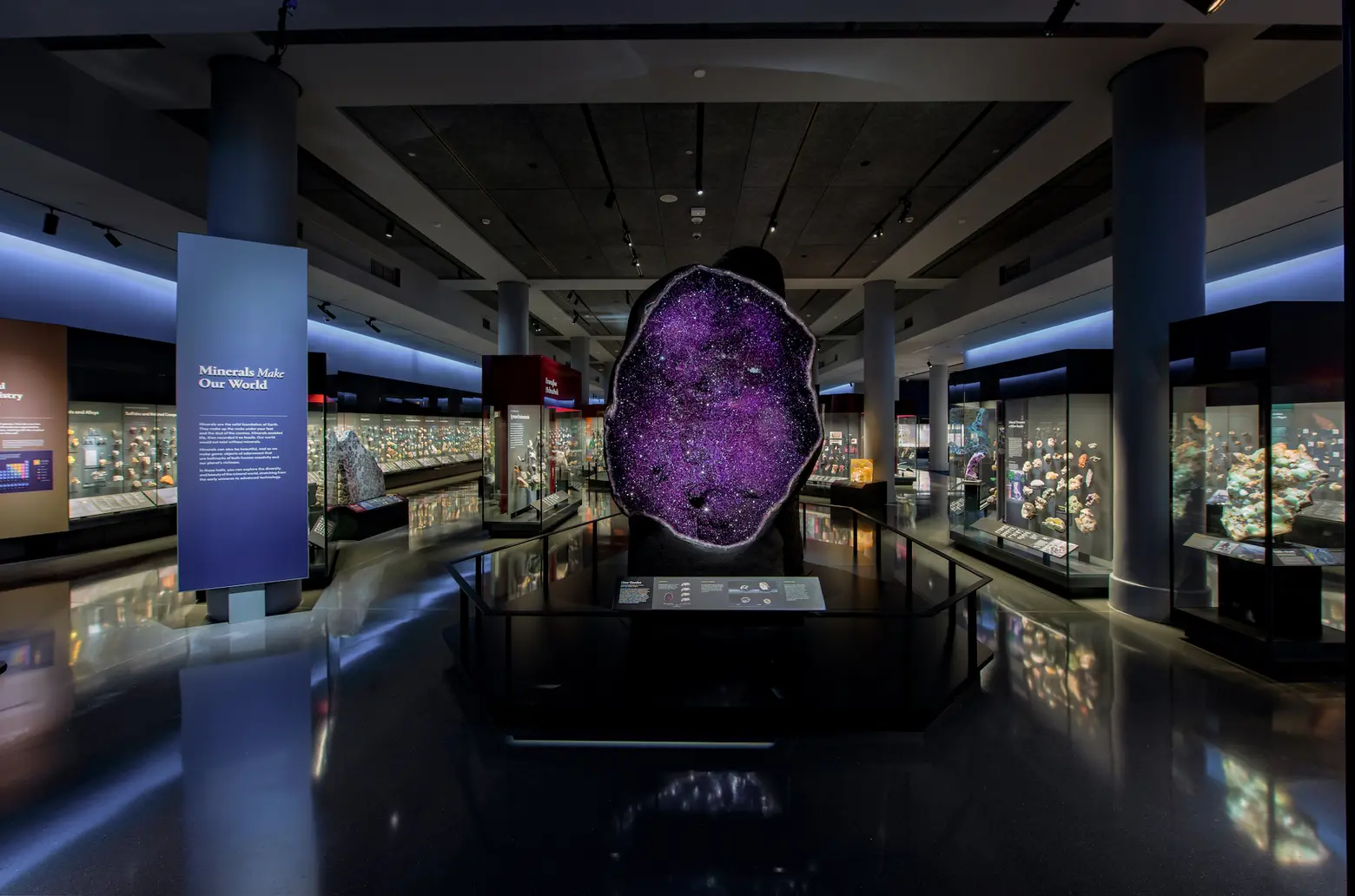 Designed by Ralph Appelbaum Associates with Davis Brody Bond as architects, along with the museum's Exhibition Department, the Mignone Halls of Gems and Minerals consists of the Gem Hall, the Mineral Hall, the Melissa and Keith Meister Gallery for temporary exhibitions.
The project, which kicked off in 2017, reorganized the exhibits to present the "geological conditions and processes by which minerals form: igneous, pegmatitic, metamorphic, hydrothermal, and weathering," according to a press release. The Halls also focus on mineral evolution, a concept developed over the last 15 years that explains how the planet came to host thousands of mineral species.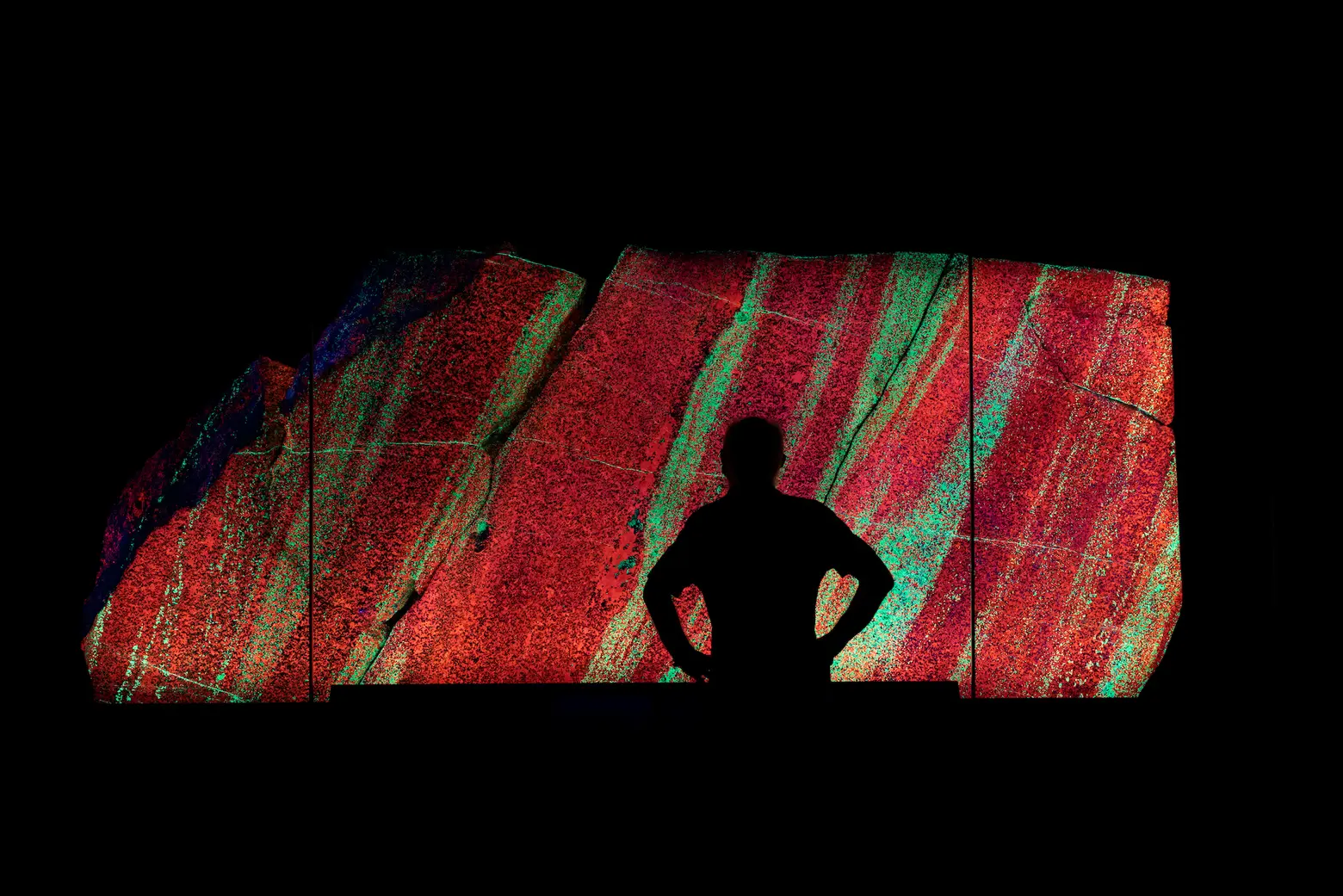 Sterling Hill Fluorescent Rock Panel. The centerpiece of the "Minerals & Light" room is a wall-sized panel of fluorescent rock that glows in shades of orange and green, sourced from Sterling Hill in New Jersey. Photo credit: D. Finnin/ © AMNH
"When I started at the Museum, there were probably 2,500 minerals described—and now there are more than 5,500 minerals," George E. Harlow, a curator of the museum's Division of Physical Sciences who organized the exhibit, said.
"The enhanced Halls present up-to-date science, which has progressed significantly. I look forward to seeing visitors delight in remarkable gems and mineral specimens from across the globe and our own backyard, like those in the Minerals of New York City display featuring specimens from all five boroughs."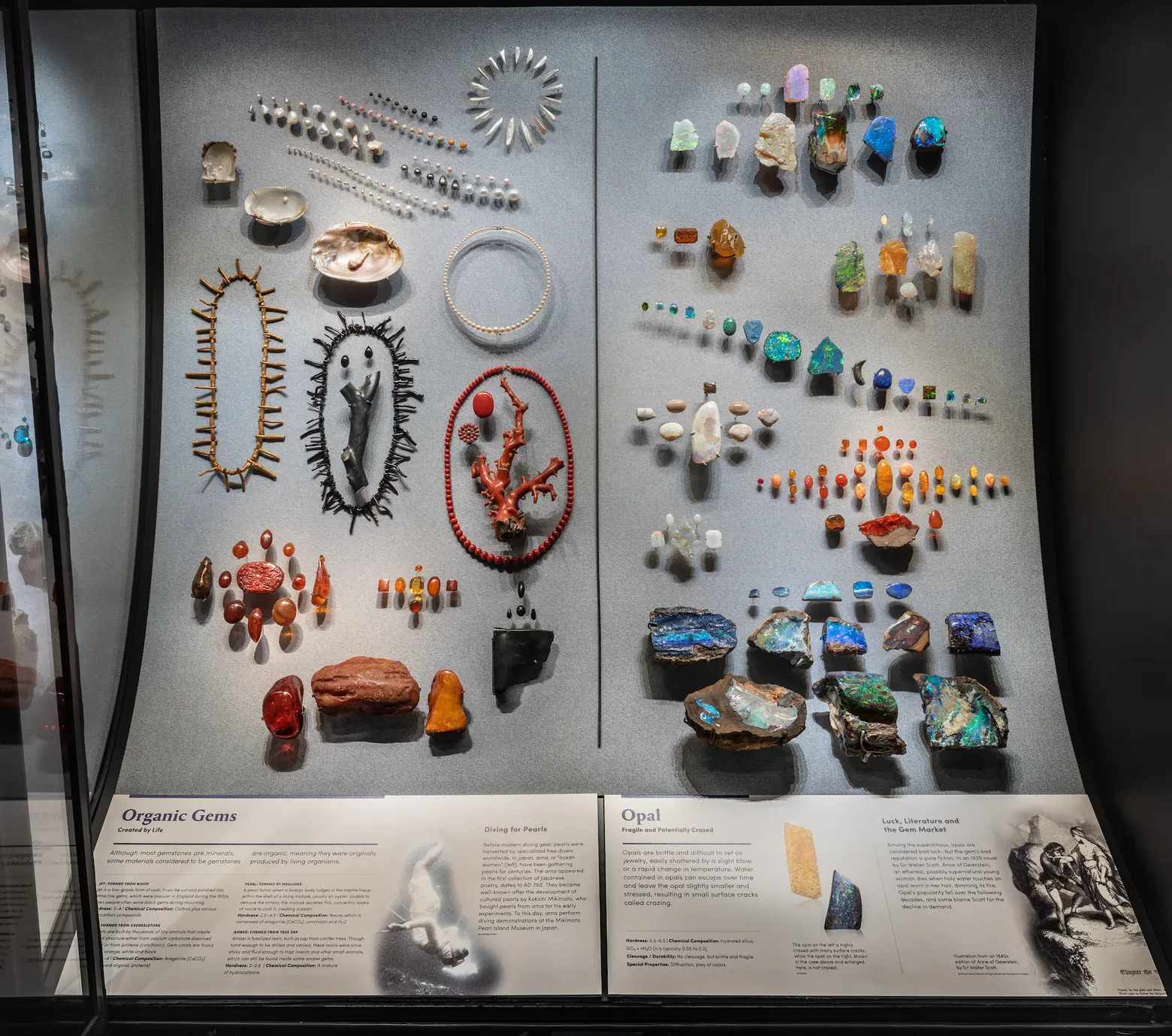 Organic gems and opals Photo credit: D. Finnin/ © AMNH
Highlights of the Halls include a wall-sized panel of glowing fluorescent rock from Sterling Hill New Jersey, never-before-exhibited almandine "Subway Garnet" discovered under Manhattan's 35th Street in 1885, a 600-pound specimen of topaz, and much more.
The reopening includes a new temporary exhibition space, "Beautiful Creatures," which showcases animal-themed jewelry design over the last 150 years. The pieces on view range from the mid-19th century to the present.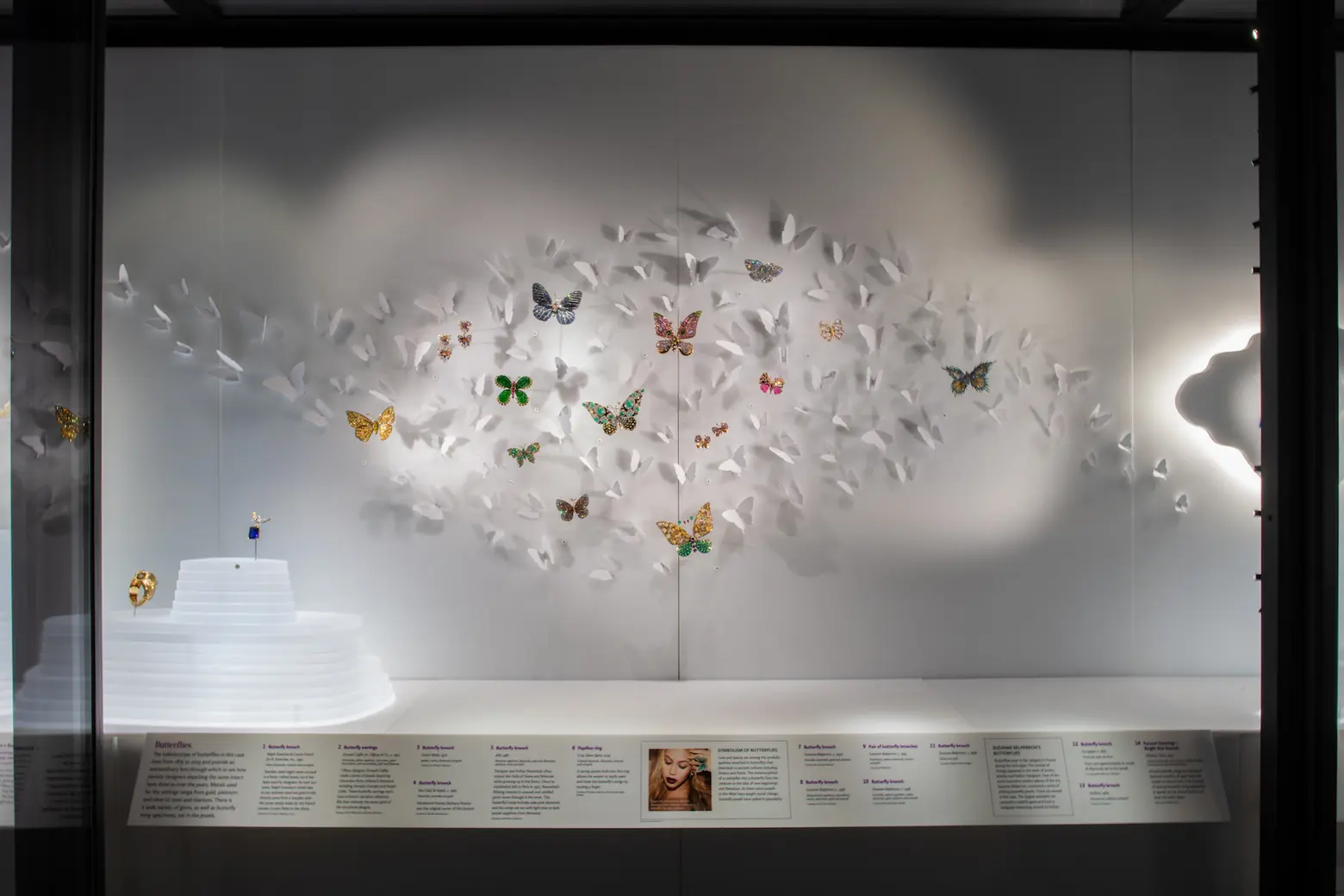 "Beautiful Creatures," Creatures of air, featuring butterflies, dragonflies, bees, birds, and more. Photo credit: D. Finnin/ © AMNH
"New Yorkers and visitors have long embraced these Halls as one of the City's treasures," Ellen Futter, president of the American Museum of Natural History, said in a press release.
"Now, with this complete redesign made possible by Allison and Roberto Mignone, the Halls are more spectacular than ever and an even greater resource for learning about the processes that shape our changing planet and make it so endlessly fascinating. With their opening, we not only mark a signal moment in the resurgence of New York City and the renewal of its cultural life, but also, we hope, accelerate its pace."
Reservations to visit the Halls are included in a General Admission ticket, which must be booked in advance here.
RELATED: 
All photos D. Finnin/ © AMNH