Car-free blocks with diverse outdoor dining options open in Queens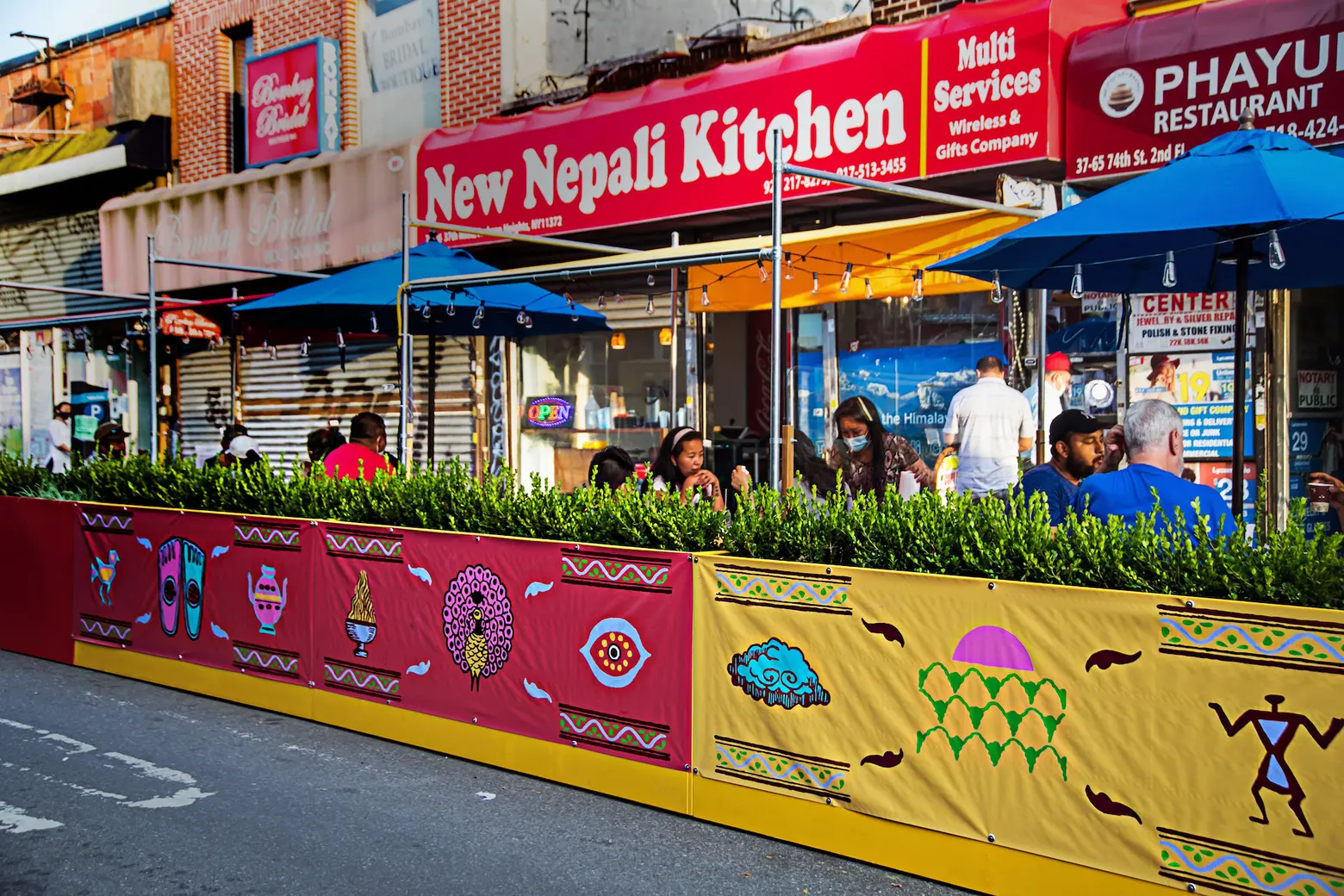 DineOut opens in Jackson Heights; Photo by Kamila Harris for Rockwell Group
Two neighborhoods in Queens hit especially hard by the coronavirus are slowly getting back on their feet thanks to a new communal dining experience. David Rockwell and his firm Rockwell Group unveiled last week two new community outdoor dining areas on car-free blocks in the Queens neighborhoods of Elmhurst and Jackson Heights, part of the firm's DineOut initiative. Both communities, which are considered to be among the most diverse neighborhoods in New York City, offer a variety of cuisines, including Tibetan, Nepali, Indian, Thai, and more.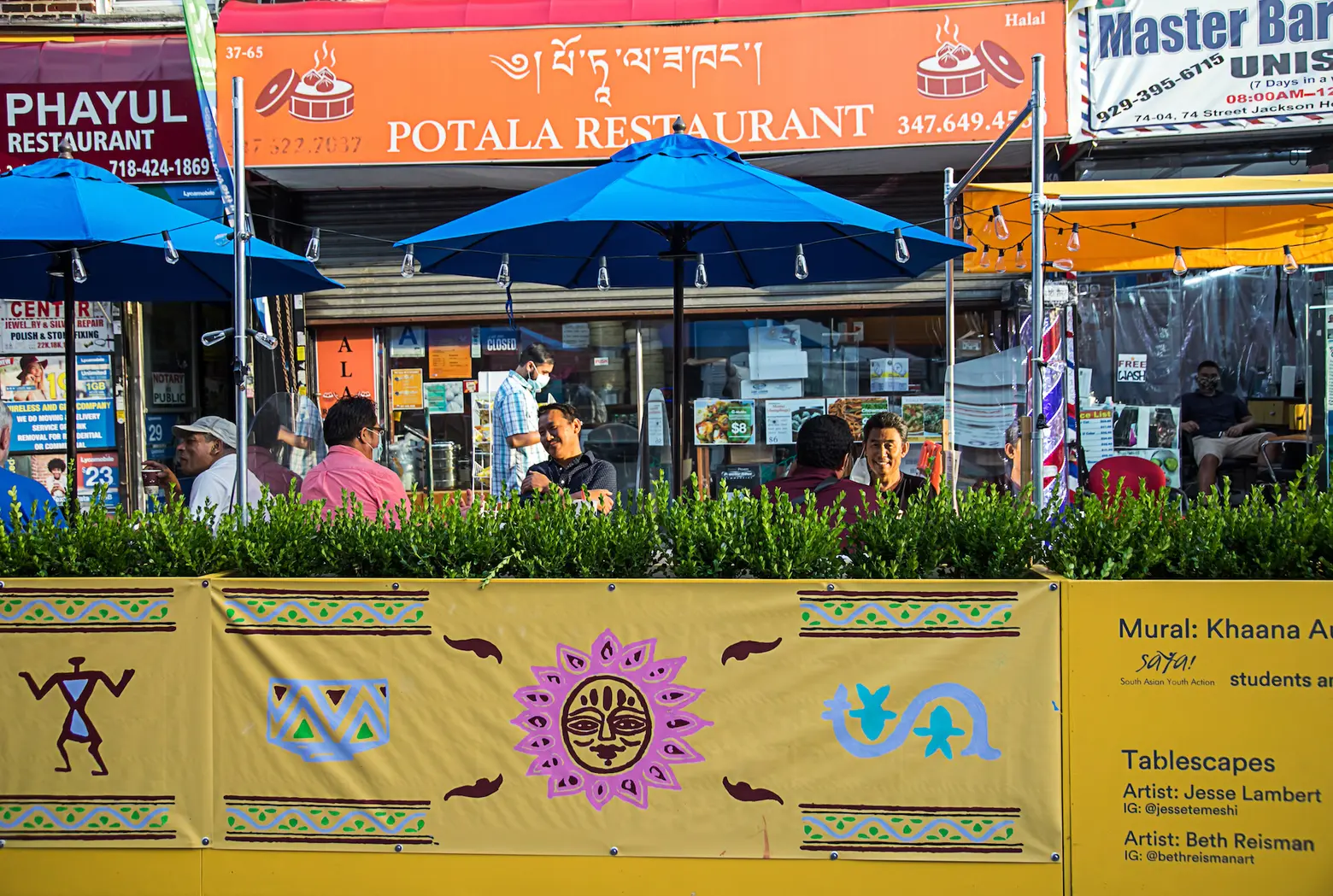 Colorful dining options in Jackson Heights; Photo by Kamila Harris for Rockwell Group
Rockwell Group's pro bono DineOut NYC program launched earlier this summer to provide restaurants with a template for cost-effective and safe outdoor dining, which includes booths, wooden decking panels, fencing, and landscaped areas. The firm, in coordination with the NYC Hospitality Alliance, picked six restaurants in the five boroughs to help with outdoor dining, with Melba's Restaurant in Harlem becoming the first to open in June.
Last month, the group, working with the Department of Transportation, opened its first community-wide dining design on Chinatown's historic Mott Street, with colorful, socially-distanced dining. The recently opened DineOut locations can be found in Jackson Heights at 37th Road and 75th Street and in Elmhurst on Woodside Avenue between 76th and 78th Streets.
"The Covid-19 pandemic has forced us to rethink urban space, especially our sidewalks and streets," Rockwell said in a press release. "They have provided us with a way to pump energy back into these establishments, allowing them to reopen safely and to help the local economies and the women and men who make their livelihood from serving the rest of us."
According to the group, both outdoor dining setups receive heavy foot traffic from first responders from Elmhurst Hospital and pedestrians at commercial center Diversity Plaza in Jackson Heights. Because of the partners of the program, Moët Hennessey, Resy, and Amerian Express, the Queens restaurants did not have to pay for the program.
On 37th Road in Jackson Heights, Rockwell Group installed a 50-foot-long installation using 8 feet by 8 feet modules. Three of the pavilions include built-in banquette seating with three others including loose furniture and umbrellas. There is enough space for 30 diners on this strip.
Local artist Nitin Mukul created a series of murals "Khaana aur Peena" (which translates to "eat and drink" in Hindi), for the back of the DineOut modules. The designs feature elements of traditional Indian and South Asian culture.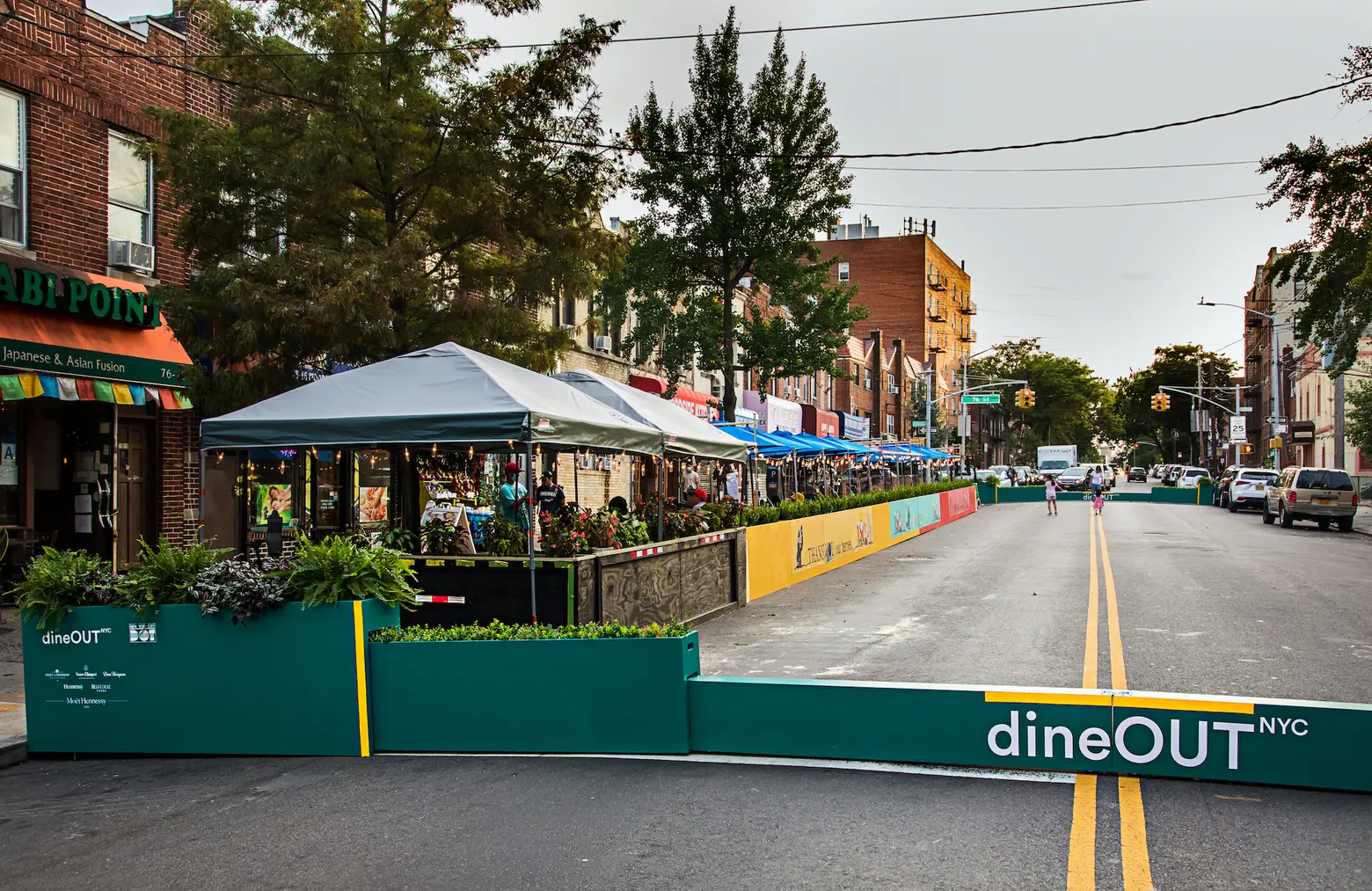 DineOut NYC in Elmhurst; Photo by Kamila Harris for Rockwell Group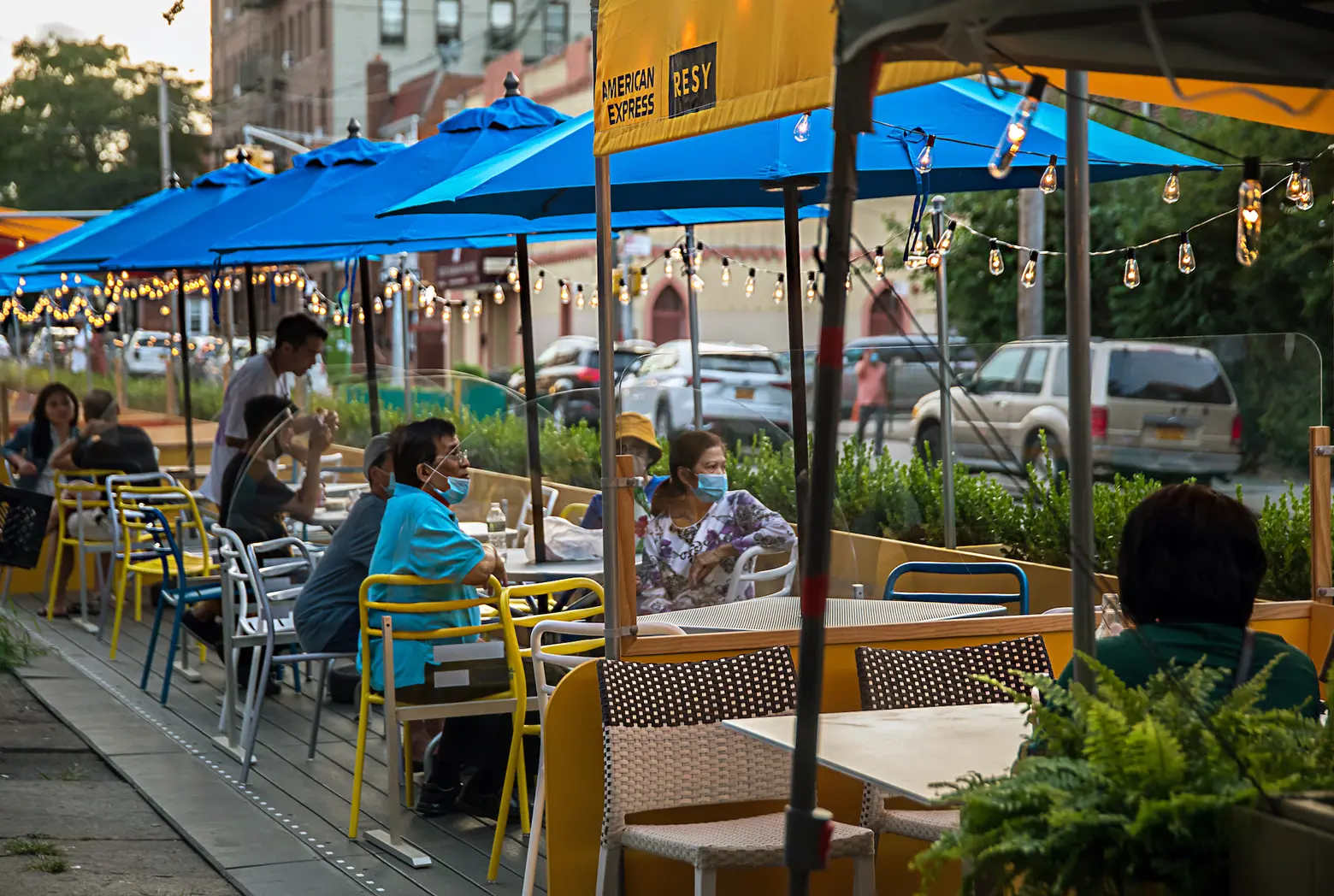 Elmhurst restaurants; Photo by Kamila Harris for Rockwell Group
On Woodside Avenue, Rockwell Group's installation can hold 66 seats across five dining pavilions and Dekton stone tables donated by Cosentino. Artist Puwana Prathuangsuk created a mural for the Elmhurst dining experience called "The Culinary Ambassadors," which features national elements like an elephant for Thailand and a panda for China.
"Elmhurst and Jackson Heights were among Queens communities hit hardest by COVID this past spring — and so we are thrilled to bring back more restaurants and the jobs they support in those diverse neighborhoods, which boast cuisines from all over the world," DOT Commissioner Polly Trottenberg said.
The new outdoor dining areas will be open and car-free Fridays to Sundays until October 31.
RELATED: 
All photos courtesy of Kamila Harris for Rockwell Group