The city helps save Queens' 190-year-old Neir's Tavern from closing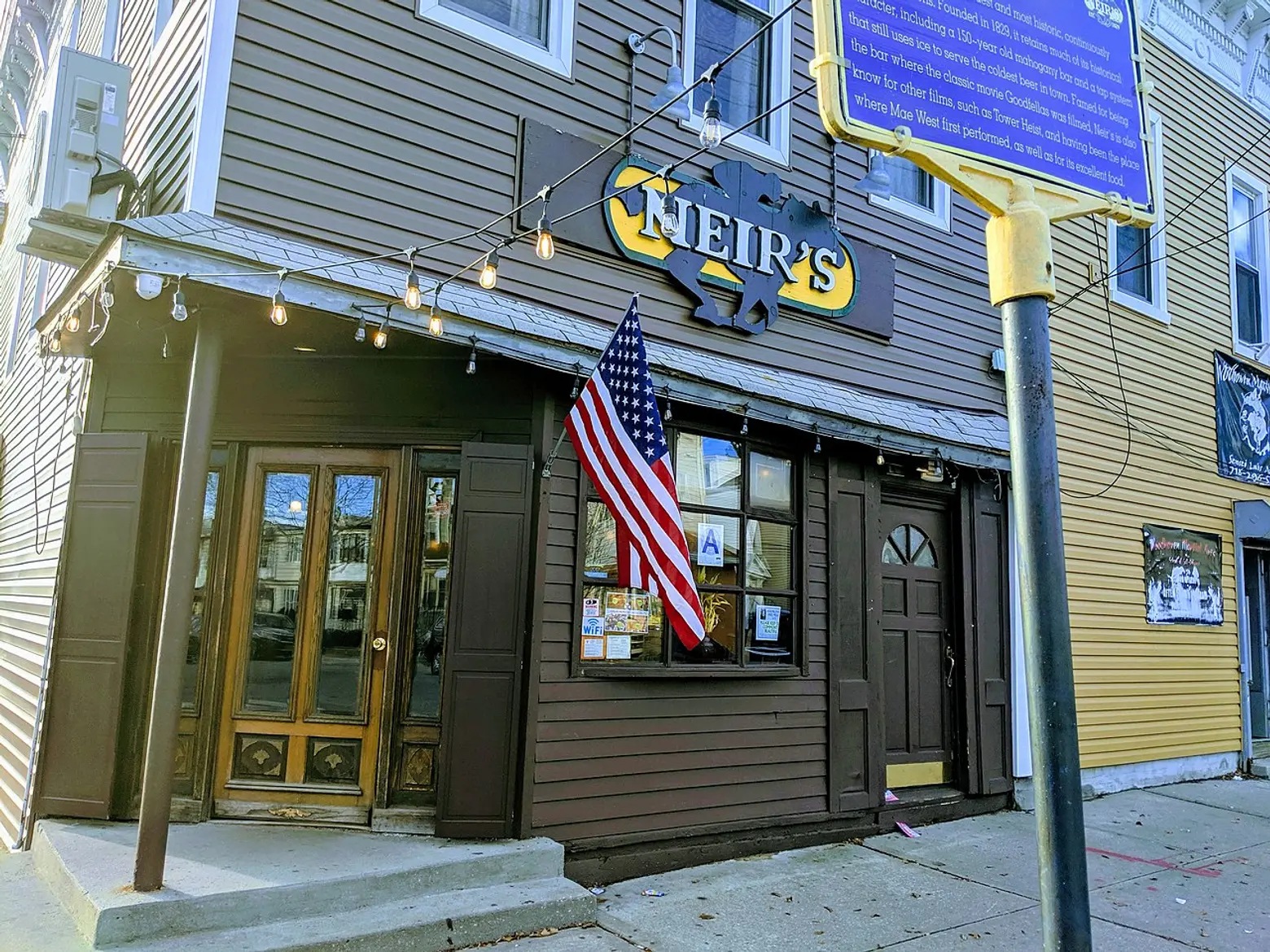 This past October, Neir's Tavern in Woodhaven, Queens celebrated its 190th anniversary. But last week, the Woodhaven Cultural & Historical Society reported on Twitter that the beloved and historic establishment would close its doors for good on Sunday. Originally opened in 1829 as a saloon called the "Old Blue Pump House," Neir's considers itself NYC's oldest bar. When the tavern was in danger of closing in 2009, a local FDNY member and a group of friends bought and restored it, but in December of 2018, the building was sold unbeknownst to them. According to a Facebook post by Neir's, they were unable to negotiate a new "affordable long-term lease" with the new owners. But when Mayor de Blasio heard the news, he and the city stepped in and saved the bar from closing.
"I'm sorry I let you down. I'm sorry I couldn't get landmark status. I'm sorry I couldn't buy the building. But I'm grateful for all the memories we've created together saving Neirs Tavern the last 11 years I've been here," wrote Gordon on Facebook.
Woodhaven Cultural & Historical Society President Ed Wendell told amNewYork last year that the tavern opened "amid a development boom fueled by the arrival of the now-defunct Union Course horse racing track." It became known as Neir's in 1898 when it was purchased by Louis Neir, who added a ballroom, bowling alley, and hotel rooms upstairs. During Prohibition, Neir's operated as a speakeasy, and it's said that Mae West's career started here in the ballroom. It stayed in the Neir family until 1967, after which it was renamed "The Union Course Tavern" until current owner Loycent "Loy" Gordon changed it back when he bought the business in 2009.
Gordon, along with a group of regulars, fought to have the bar's interiors landmarked (in which case the space itself would have to be preserved regardless of ownership), but their request was denied by the Landmarks Preservation Commission in 2015, who said: "After careful evaluation of the history and conditions of the structure, LPC determined that it did not rise to the level of significance necessary for designation and does not merit further consideration as a New York City landmark." Then, in 2018, current owner Henry Shi bought the building for $1.3 million and raised the rent from $2,000 to $3,000 a month, according to the New York Times, who also reports that Gordon said Shi was planning to again raise it to $5,000.
However, Gothamist reported on Friday that in a radio interview on WNYC's Brian Lehrer show, Mayor de Blasio expressed his frustrations over the news: "This drives me crazy. I think it's really disrespectful of local communities and local culture… The original sin is greedy landlords." He added, "The landlord could do something good for New York City by backing off and allowing you to continue at a rent level that is achievable." In a phone call with Gothamist, building owner Henry Shi said, "It's bullshit. I did not raise the rent yet."
But on Friday, the city organized a meeting among Mr. Shi and his brother Ken, Gordon, City Councilman Robert Holden, Assemblyman Mike Miller, a representative of the Queens Chamber of Commerce, and others, during which Shi said his challenges stemmed from the fact that the building "lacked a proper certificate of occupancy and did not meet current zoning rules," reports the Times. In a "handshake deal for a new five-year lease," Holden's office said it would work with Shi to rectify the issues, the city committed to making a small business grant to aid in the process, and Shi agreed to raise the rent much less.
New York City's oldest bar will stay open! A deal has been reached with @NeirsTavern's landlord — and @NYC_SBS is awarding them a $90K grant from the Love Your Local program. pic.twitter.com/GZkcFhu2cO

— Mayor Bill de Blasio (@NYCMayor) January 11, 2020
Mayor de Blasio was at the Tavern amid the good news, pouring a beer from the tap and raising it in a toast.
Neir's will also live on in several film and television appearances. Robert Deniro, Ray Liotta, Joe Pesci, and Lorraine Bracco all filmed scenes here for "Goodfellas." It's featured in "Tower Heist" with Ben Stiller and Eddie Murphy, and Anthony Bourdain visited in his series "Parts Unknown."
RELATED: