191-year-old Neir's Tavern stays afloat in Queens with new five-year lease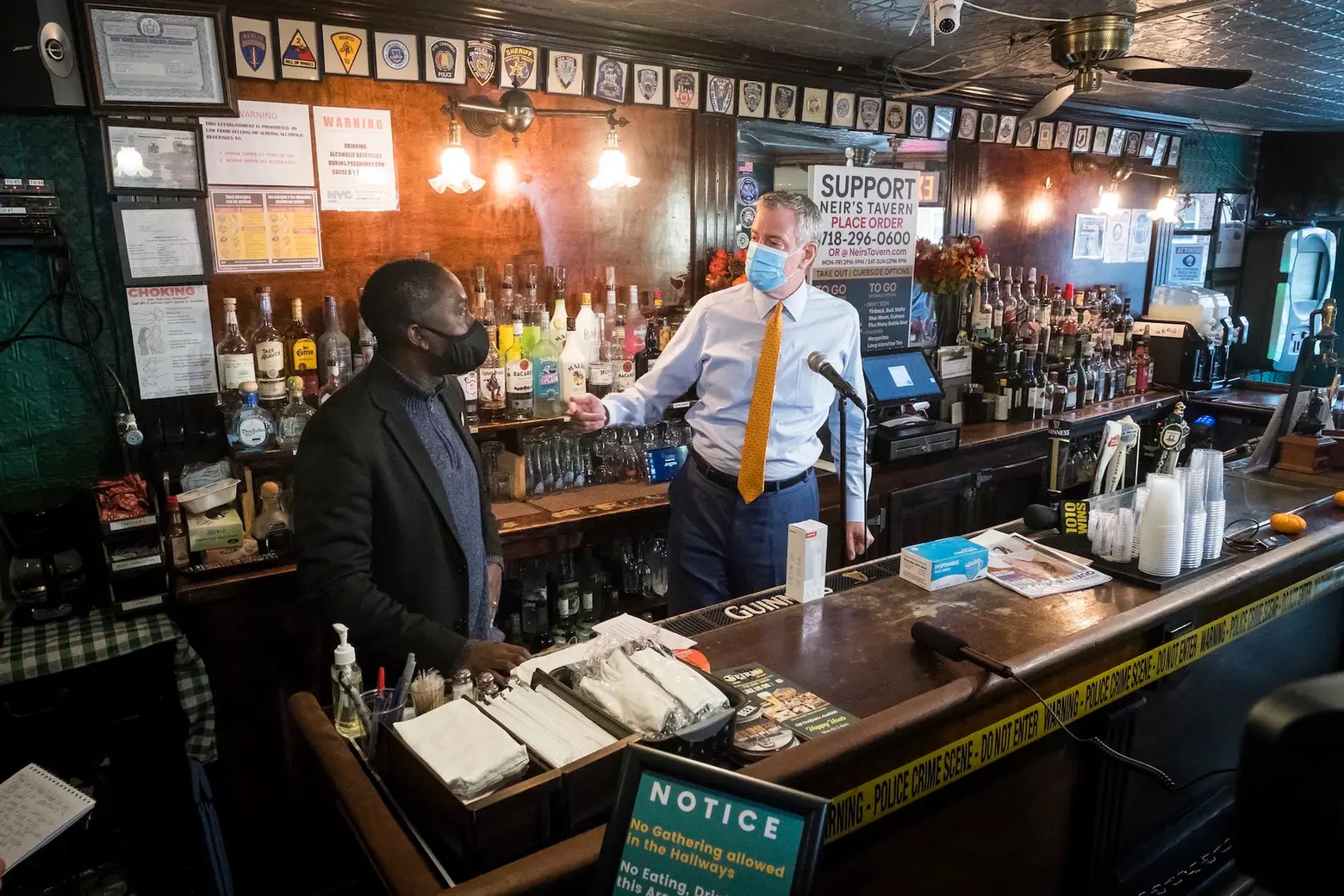 Mayor Bill de Blasio and owner Loycent Gordon at the ceremonial lease signing at Neir's Tavern in Woodhaven, Queens. Thursday, October 29, 2020. Credit: Ed Reed/Mayoral Photography Office on Flickr
Historic Neir's Tavern will stay open in Queens for at least another five years. The 191-year-old bar nearly shuttered earlier this year after a rent increase. It then temporarily closed in March because of the coronavirus pandemic. On Thursday, Loycent Gordon–the owner of the Woodhaven watering hole–signed a new agreement with the landlords that was brokered by local officials and the Queens Chamber of Commerce. The new five-year lease gives Gordon the option to extend it an additional five years, which would bring the business into its 200th-year.
"This is an opportunity to start over. Let bygones be bygones because this is a beacon of hope for all for me and for all New Yorkers," Gordon wrote in a Facebook post on Thursday. "I'm signing this 10-year lease in uncertain times because I have faith you will come back. Not for me but to show we're all in this together despite our differences."
Founded in October of 1829, Neir's is considered the oldest bar in New York City and proclaims to be the "most famous bar you've never heard of." The pub has been featured in films like Goodfellas and in an episode of Anthony Bourdain's Parts Unknown. It's also thought to be where Mae West first performed.
While Gordon and community members fought to have the interiors of Neir's designated as a city landmark to preserve the historic space, the Landmarks Preservation Commission denied the request in 2015, claiming it "did not rise to the level of significance necessary for designation."
In 2018, owner Henry Shi bought the building for $1.3 million and raised the rent by $1,000 more a month, according to the New York Times. After failing to negotiate an affordable long-term lease with Shi earlier this year, Gordon announced that he would have to close Neir's permanently. Following his announcement, Mayor Bill de Blasio stepped in and helped Gordon and the landlord reach a temporary agreement.
After closing in March, Neir's reopened for outdoor dining in July. The restaurant has covered curbside seating with tents and a "sunbubble" and also offers indoor dining at 25 percent capacity. You can also place orders for takeout and curbside pickup here.
RELATED: