Where I Work: Artist Nancy Pantirer shows us around her imaginative Tribeca loft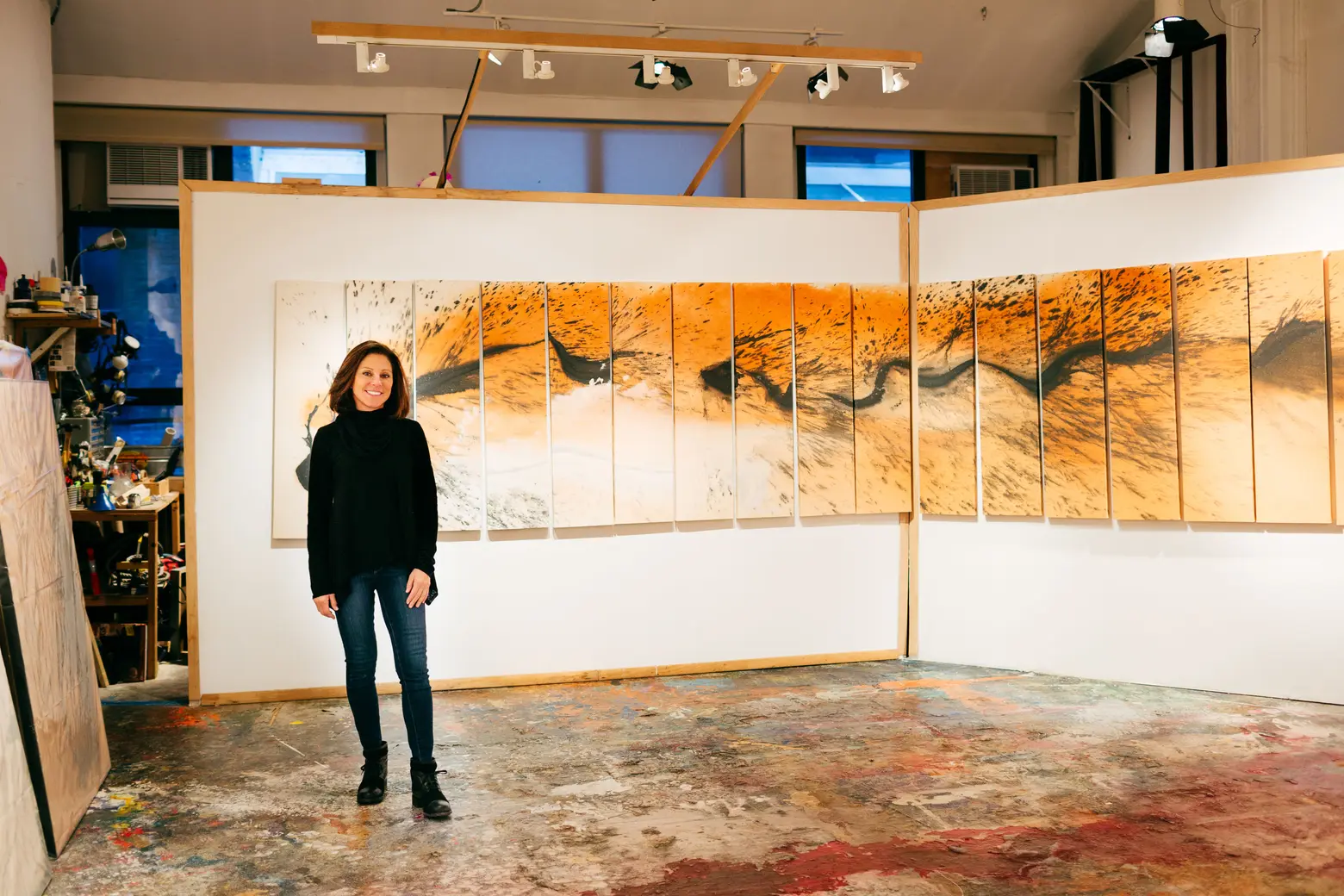 6sqft's series "Where I Work" takes us into the studios, offices, and off-beat workspaces of New Yorkers across the city. In this installment, we take a tour of painter and sculptor Nancy Pantirer's imaginative Tribeca studio. Want to see your business featured here? Get in touch!
When artist Nancy B. Pantirer opened up her studio for this year's Inside Tribeca Loft Tour, guests were swooning over everything from the high ceilings to the eclectic furniture, and of course, her incredible paintings, many of which are done in a large-scale format. But what really left an impression was Nancy's welcoming nature, evident as she chatted with almost everyone who passed through her space, telling them a bit about herself, her work, and the neighborhood. Eager to share this with our readers, 6sqft was lucky enough to get a private tour of Nancy's space, where she filled us in on her process, design choices, and how she feels Tribeca has changed since she arrived in 1995.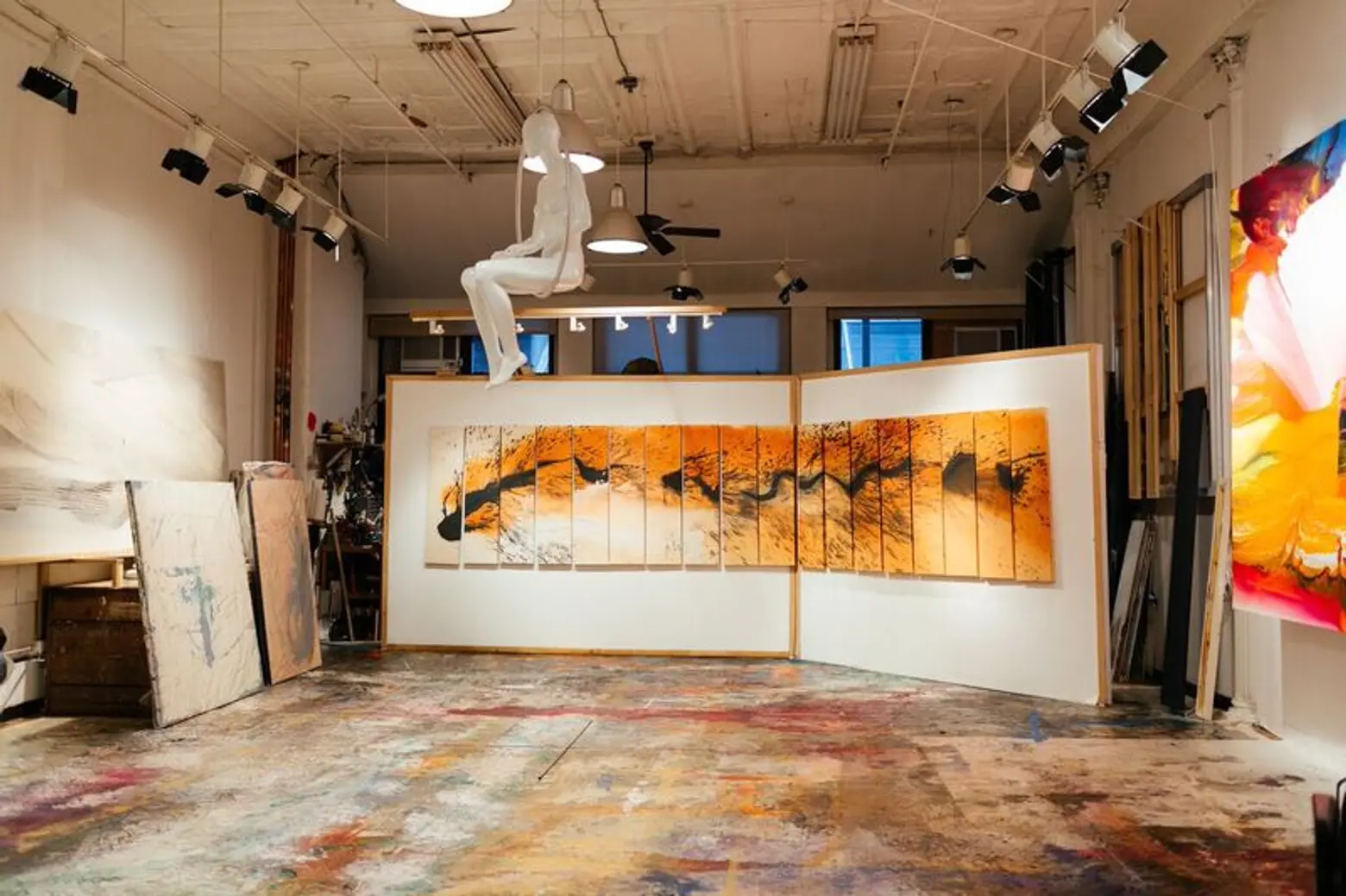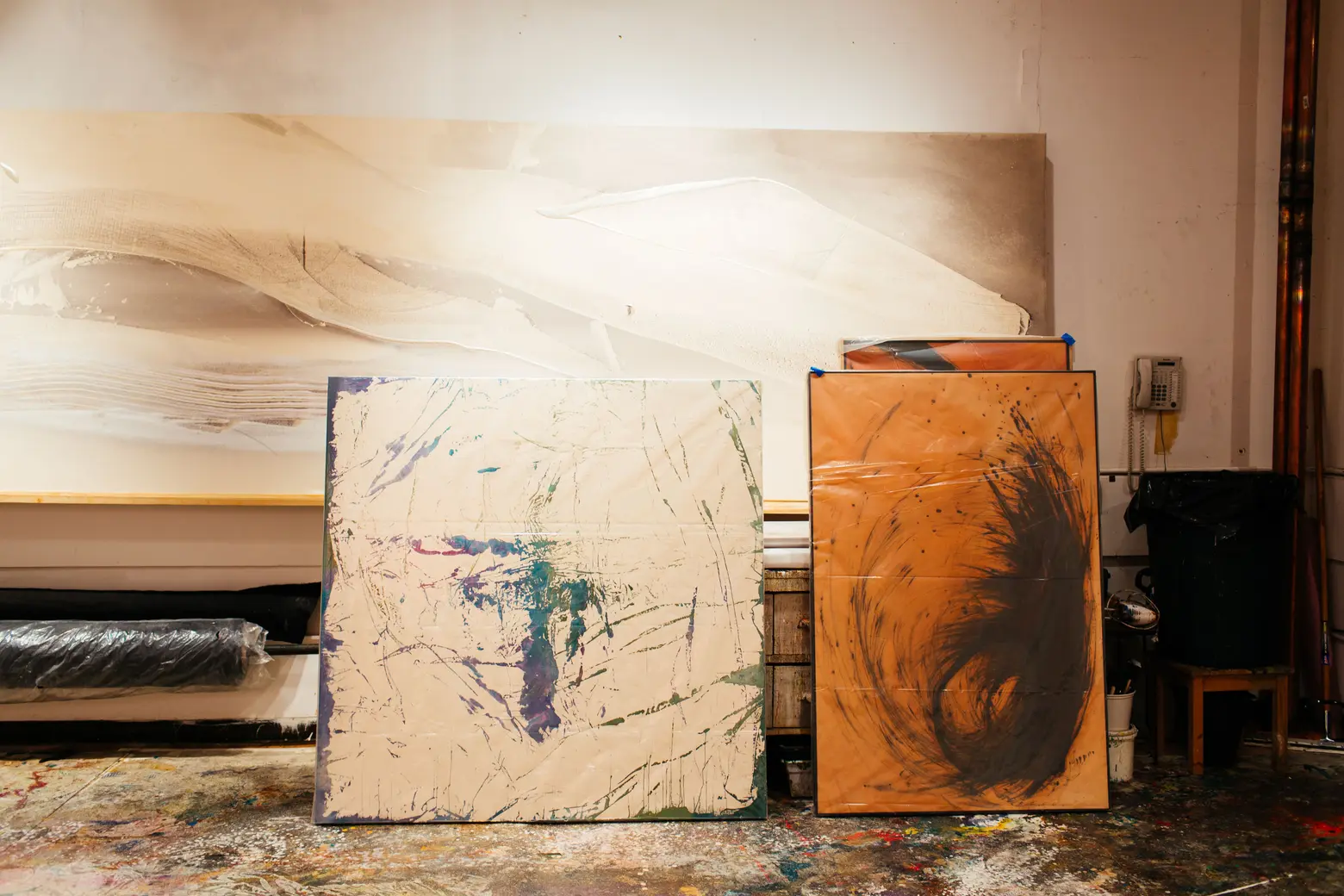 Nancy says her floor is like a scrapbook of all her work. The large-scale piece above is the test for two similarly sized paintings she was commissioned to do for an office lobby in New Jersey.
6sqft: Have you always painted?
Nancy Pantirer: I began painting at a very young age. I painted the walls in my bedroom since I can remember. Fortunately my mother was always very supportive and allowed me to paint whatever and whenever I wanted. When the walls got too busy, she helped me repaint them white and start again. It is probably why I'm comfortable painting on such a large scale. I once painted windows on my walls, and I received such positive responses from my family that I continued to do so on a regular basis. It was almost like elementary hieroglyphics. At a young age I realized through my passion that I could entertain my family and friends.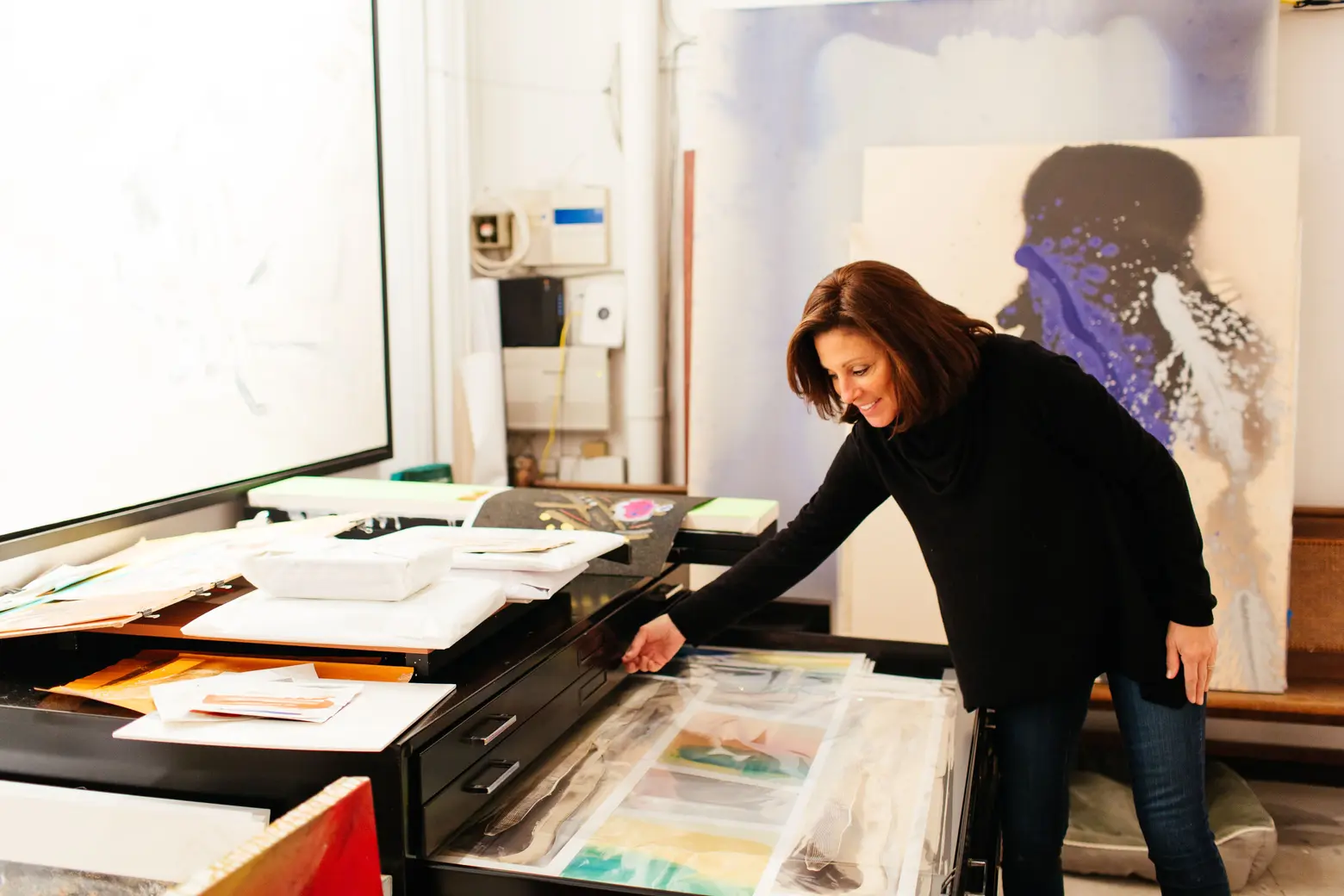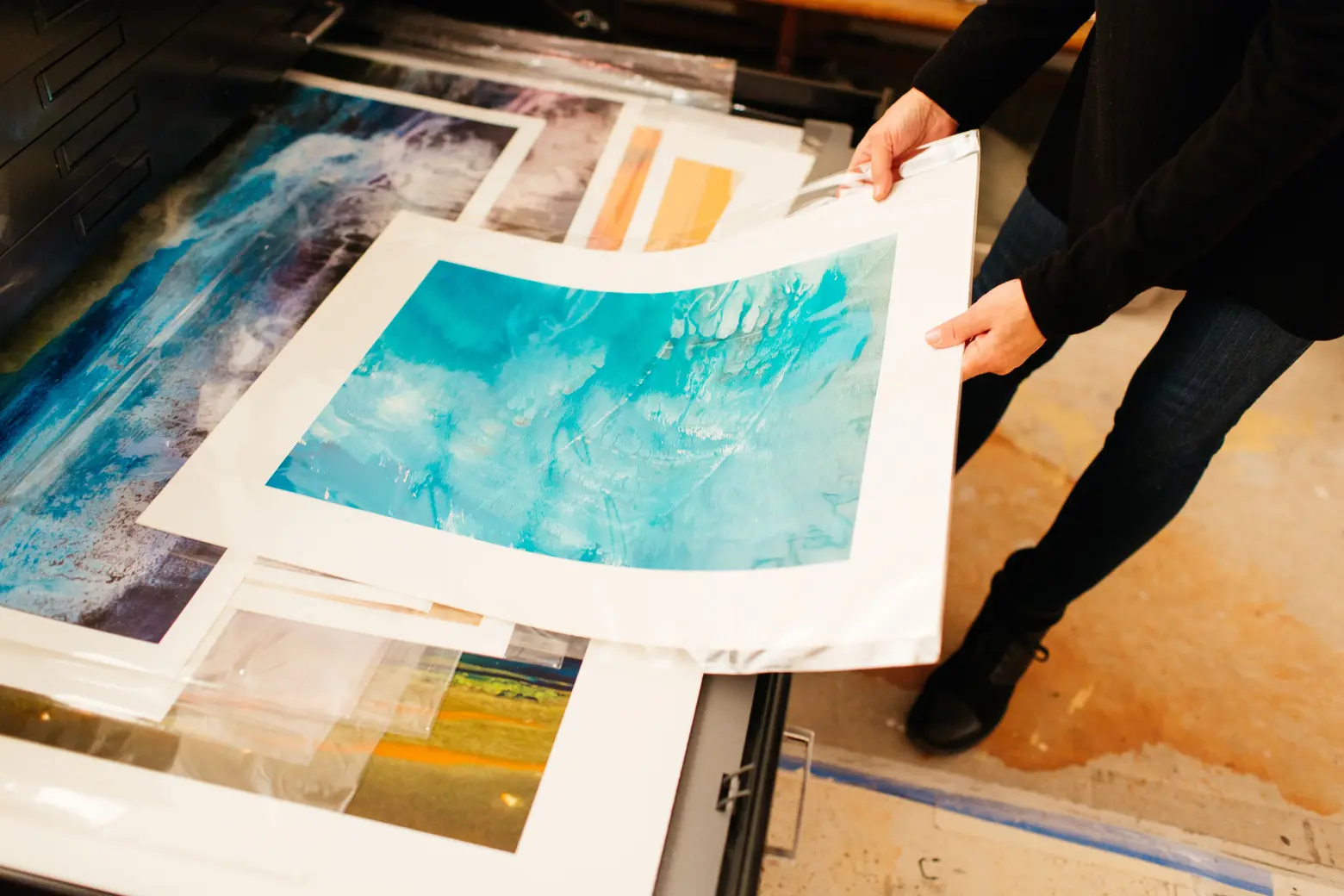 6sqft: What drew you to Tribeca? How has the neighborhood changed since you first arrived?
Nancy Pantirer: I first experienced Tribeca in 1978. I was in graduate school at Pratt and my dearest friend left school and moved to Franklin Street to pursue her work. It was life changing. She was a pioneer and still has the same insight into life's treasures. Tribeca was so very different then. The best way to describe the neighborhood is to say it was raw, fresh, cheap and charged with creative activity. Very few people lived there except artists who had primitive, minimal spaces along with textile businesses. It was exciting and new. I was fortunate to open my studio in 1995, when Tribeca was very much on the map.
6sqft: What are some of your favorite local spots past and present?
Nancy Pantirer: The Odeon restaurant was a local hot spot along with Puffy's Tavern, but the new local spot is the Italian restaurant Locanda Verde. Pearl Paint was home to the art world–an artist's dream of acrylics, dyes, brushes, clay, charcoal, you name it. Artists mourned when they closed two years ago; it was a very sad day.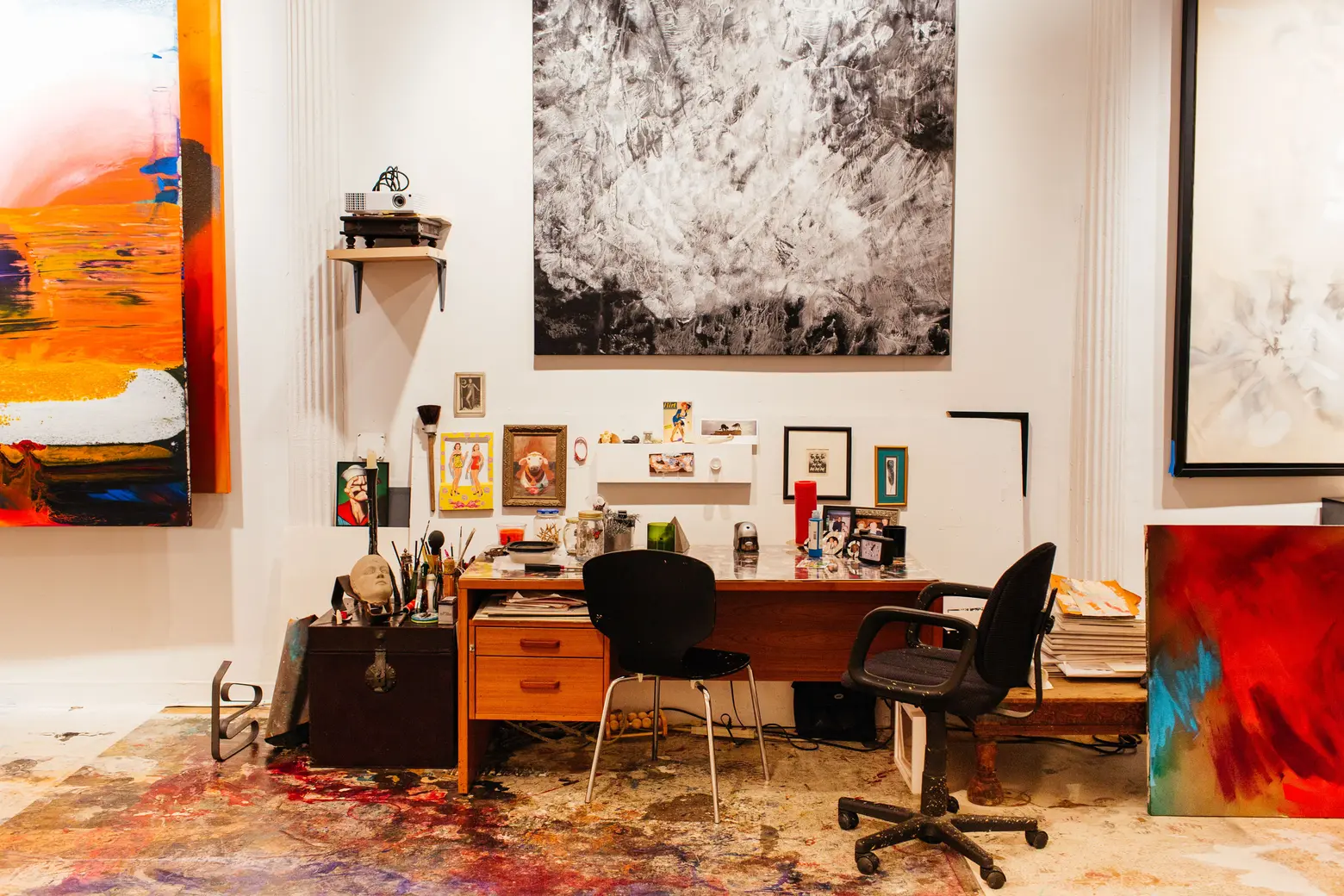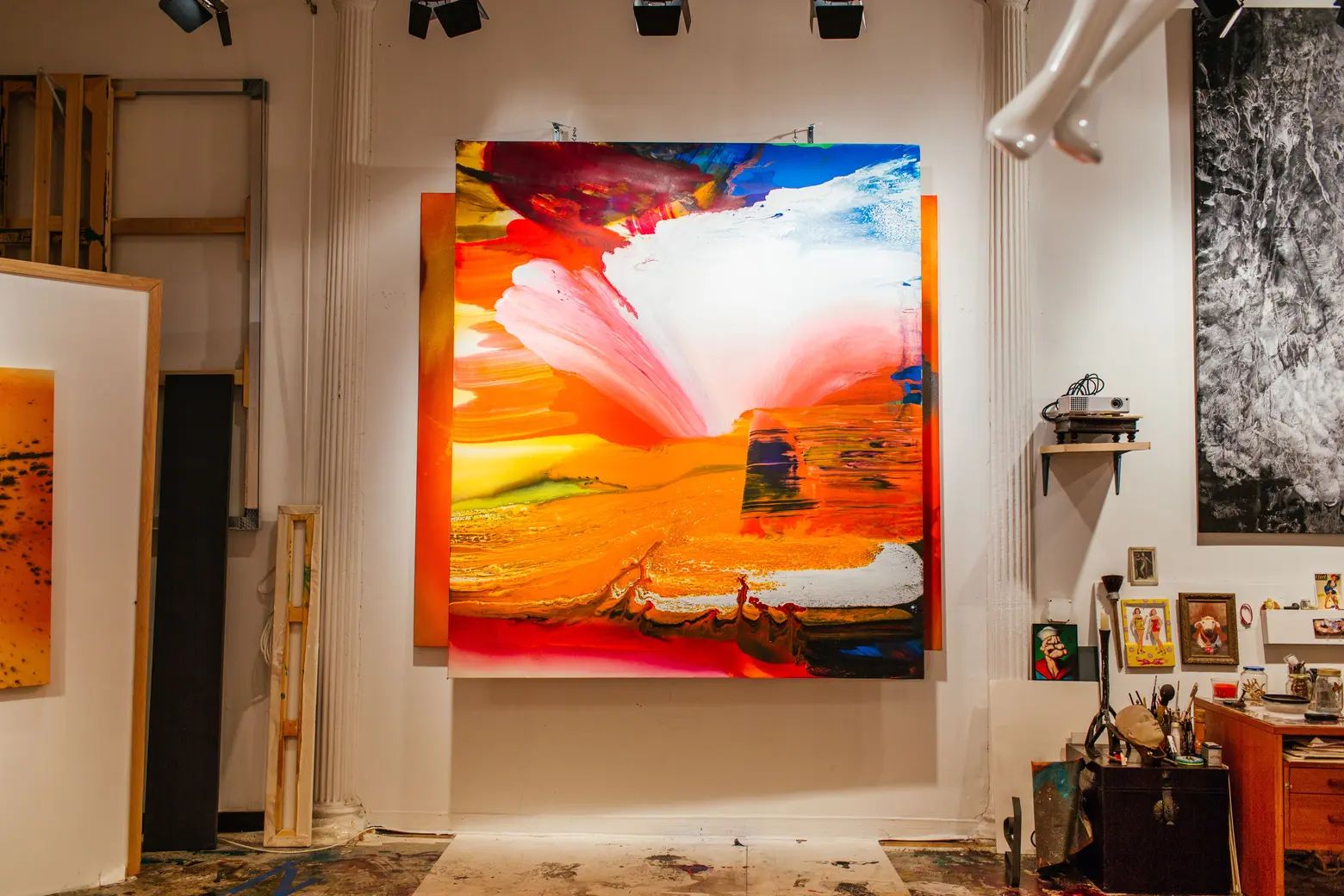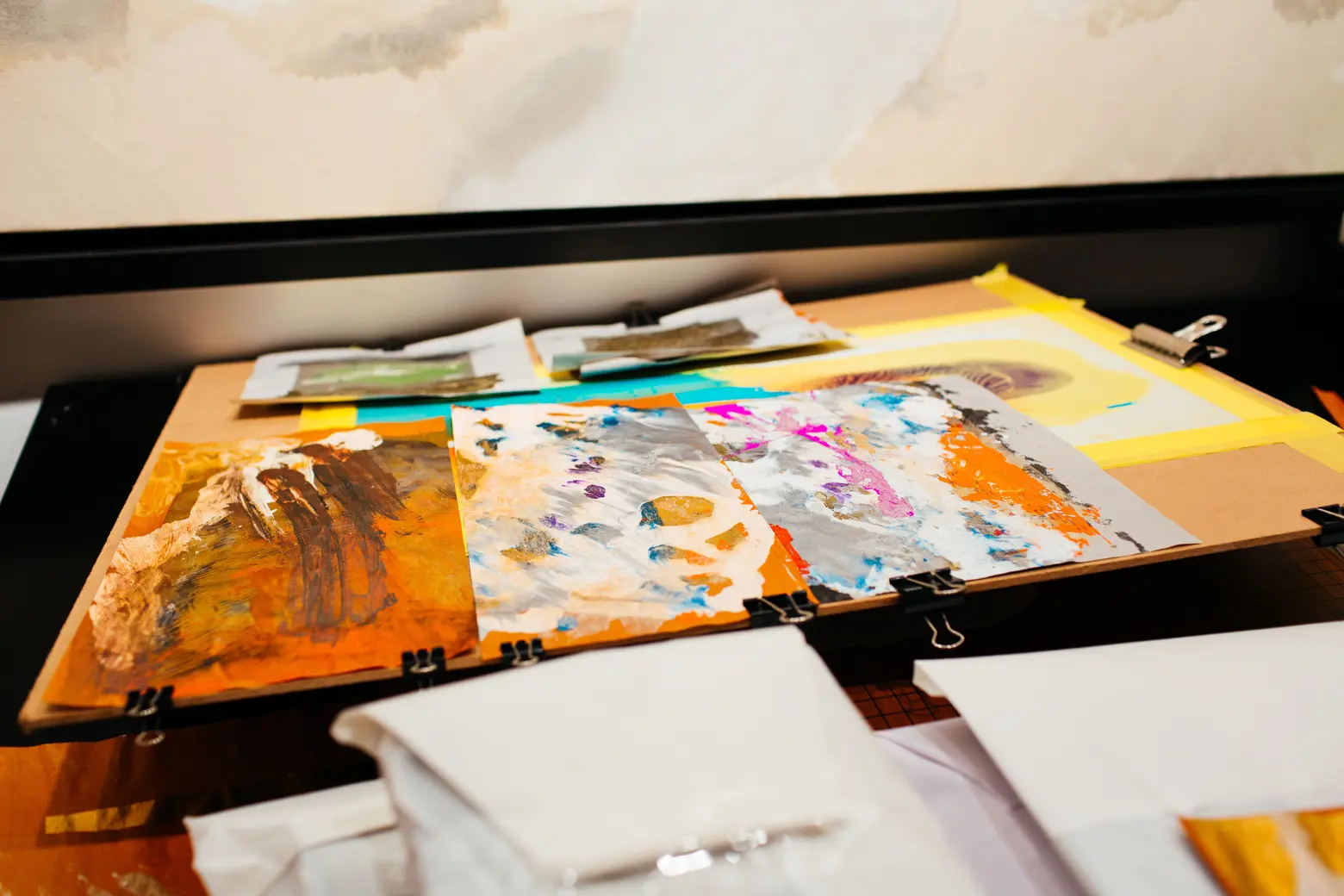 6sqft: From where do you typically draw inspiration for your paintings?
Nancy Pantirer: I typically draw inspiration from the materials themselves. I become excited when experimenting. The process is a continuous investigation that feeds itself.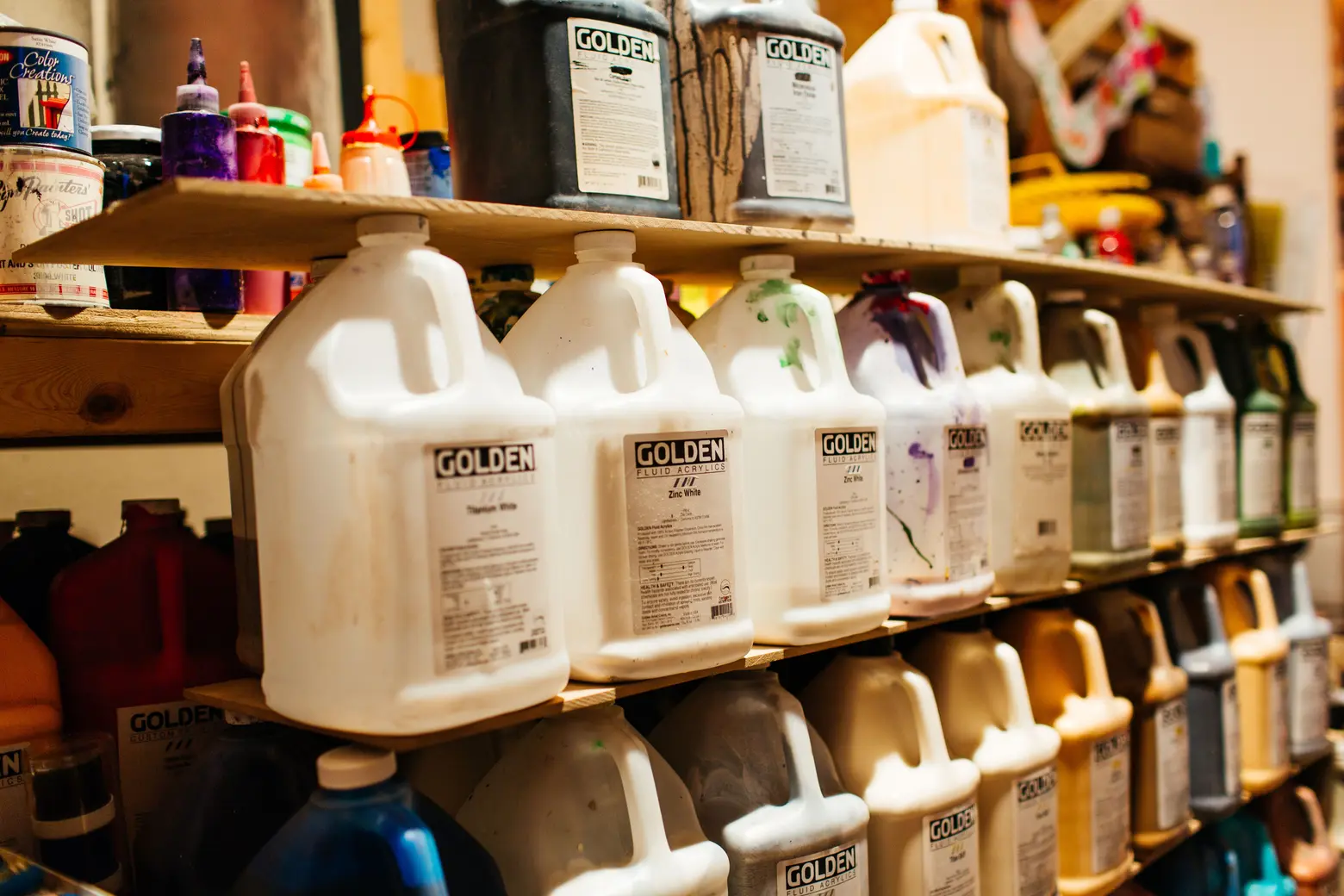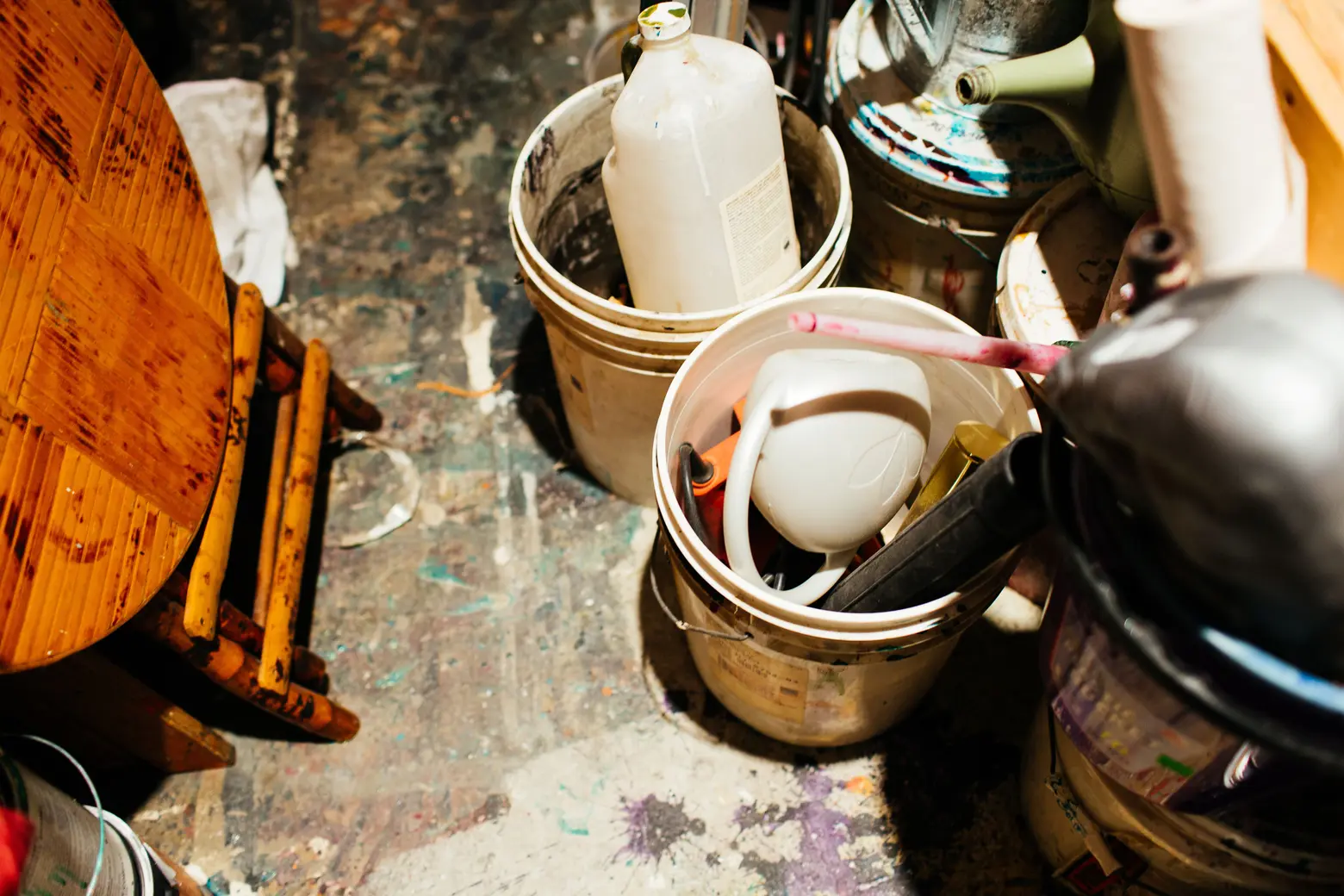 6sqft: Do you have any favorite artists you'd like to share?
Nancy Pantirer: My colleague and friend CJ Collins is also on Leonard Street, and I am a huge fan and collector of her work. I also collect works of Elaine Grove. I adore the second-generation abstract expressionists and have the privilege to own pieces by Dan Christenson, former Tribeca artist John Griefen, and Kiko Saito.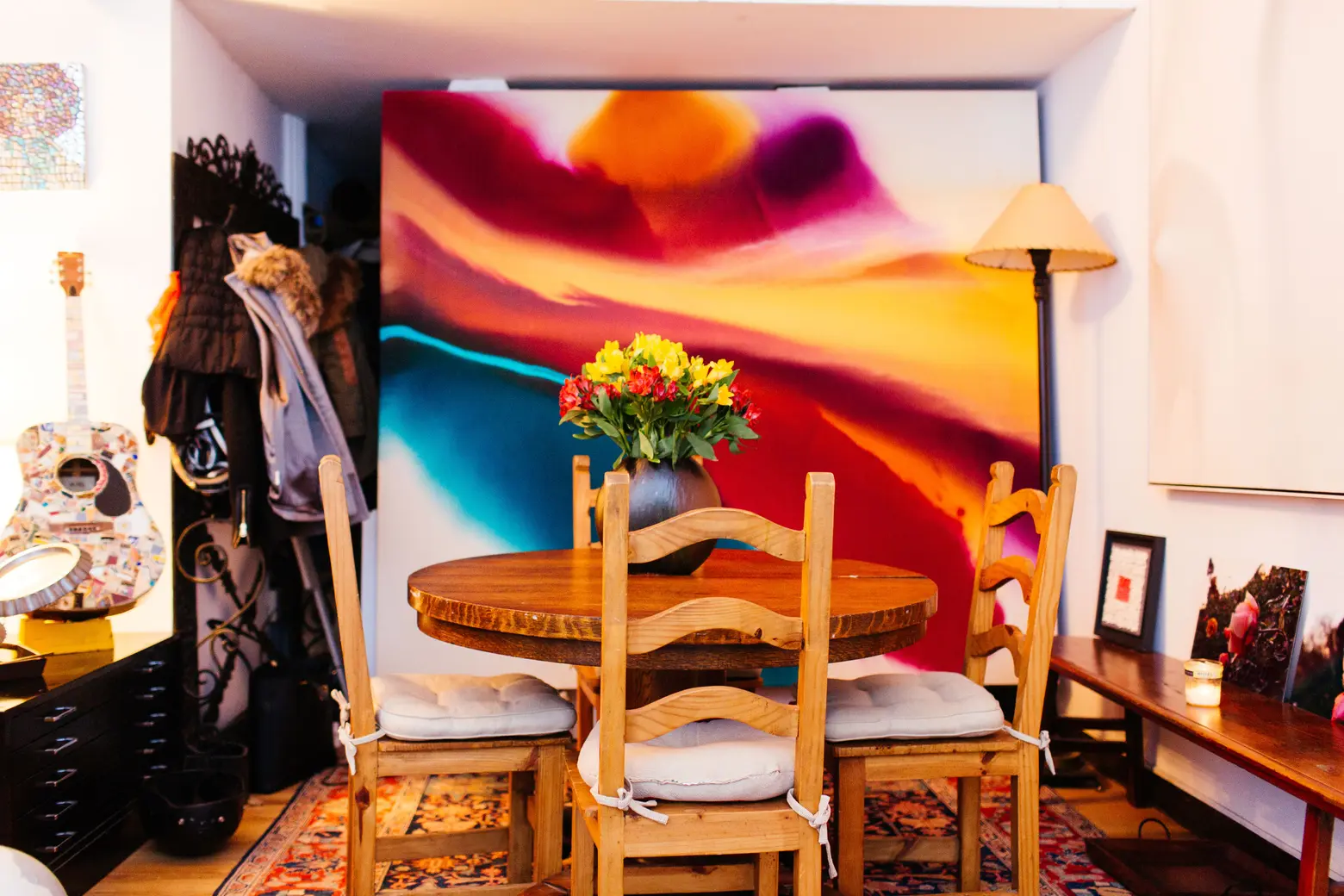 The large painting behind the table conceals an entire area of canvases and other paintings.
6sqft: What does a typical day in the studio look like for you?
Nancy Pantirer: My days in the studio start at about 9am. I walk around, study my work, and start painting until about 4pm. I usually break for lunch around 3pm. When the weather is good, I like to take walks. My favorite strolls are either the Brooklyn Bridge or Battery Park. It's beautiful and peaceful.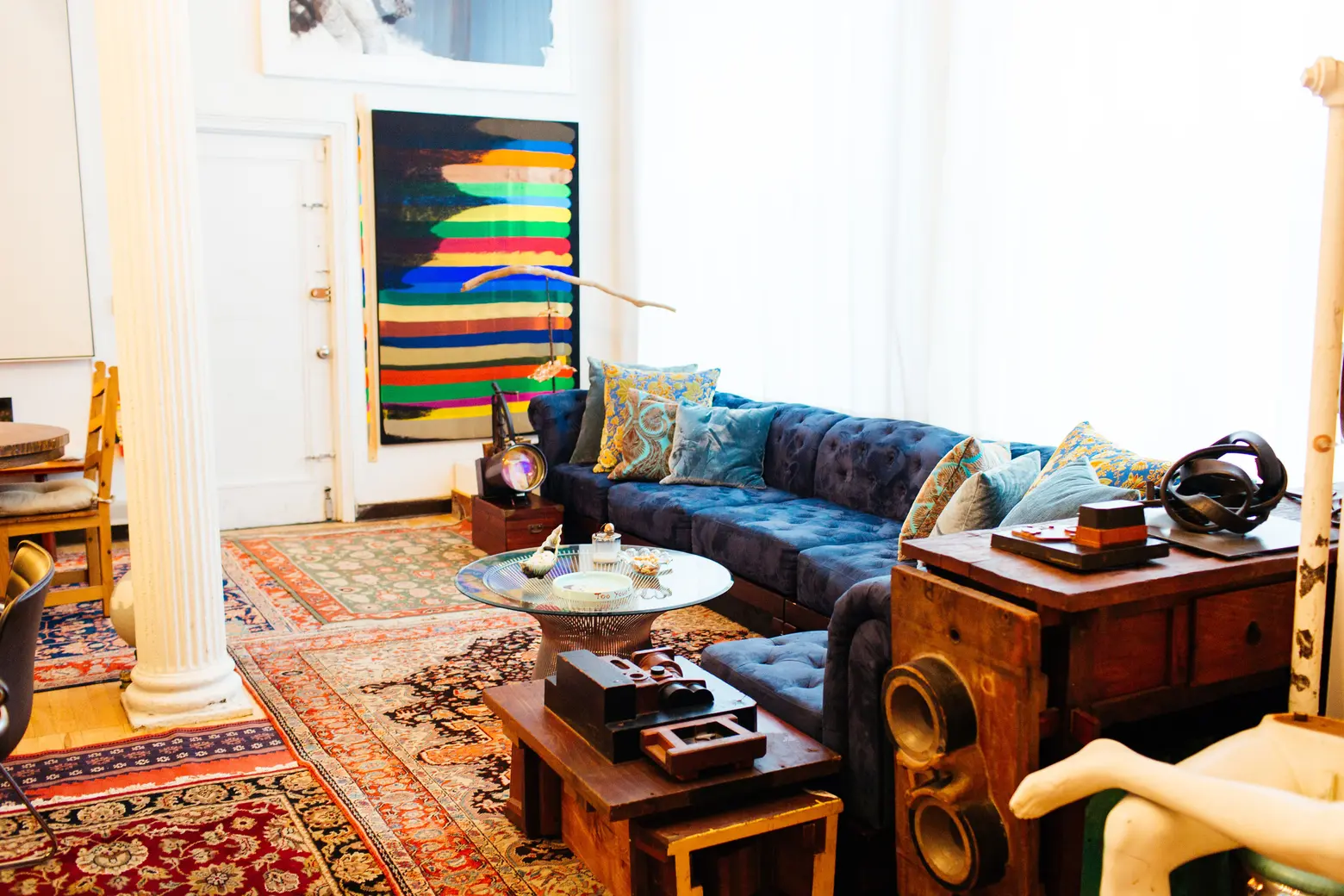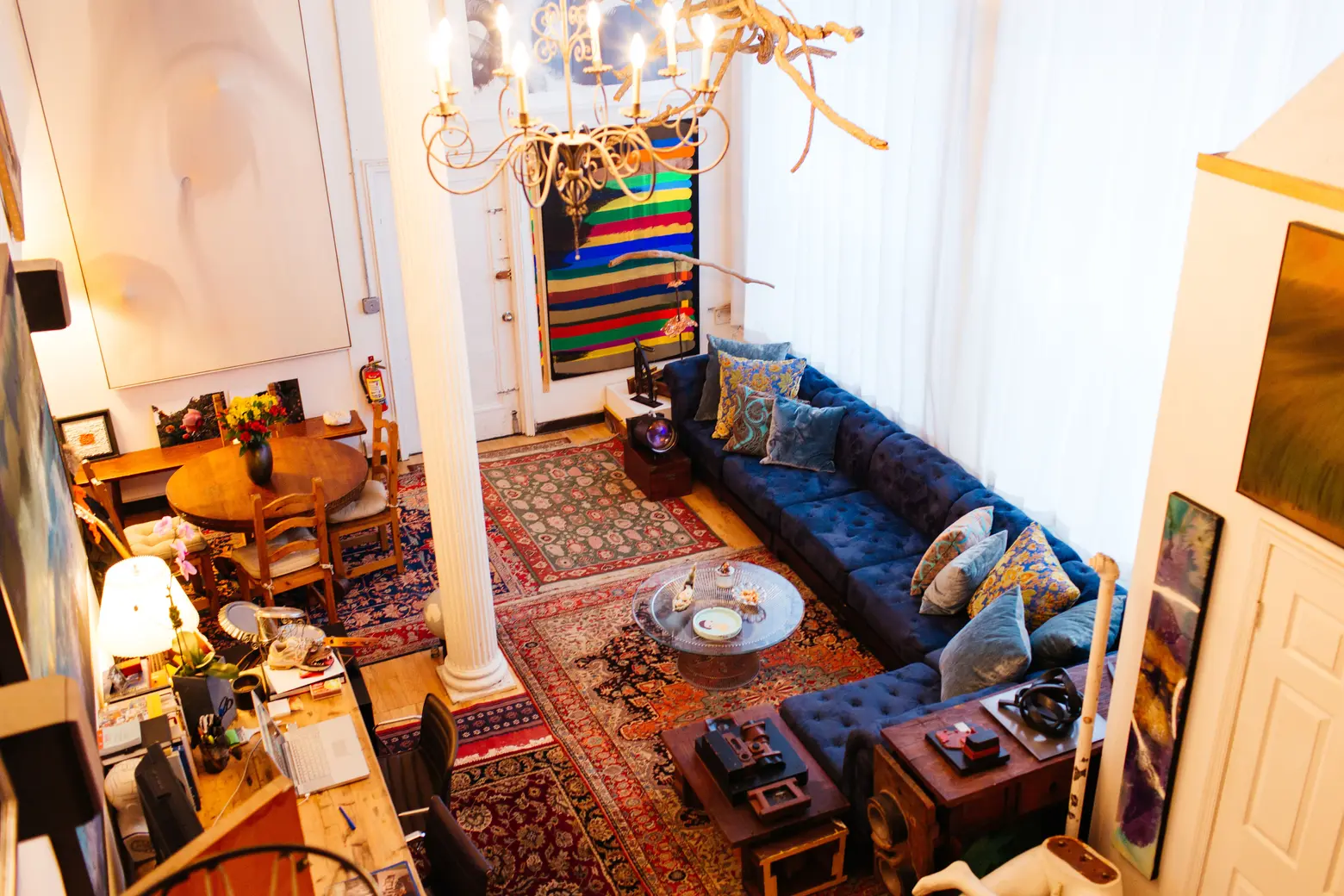 Nancy layered the rugs to warm up the large, open space. Though the couch looks vintage, it's actually from Pottery Barn Teen.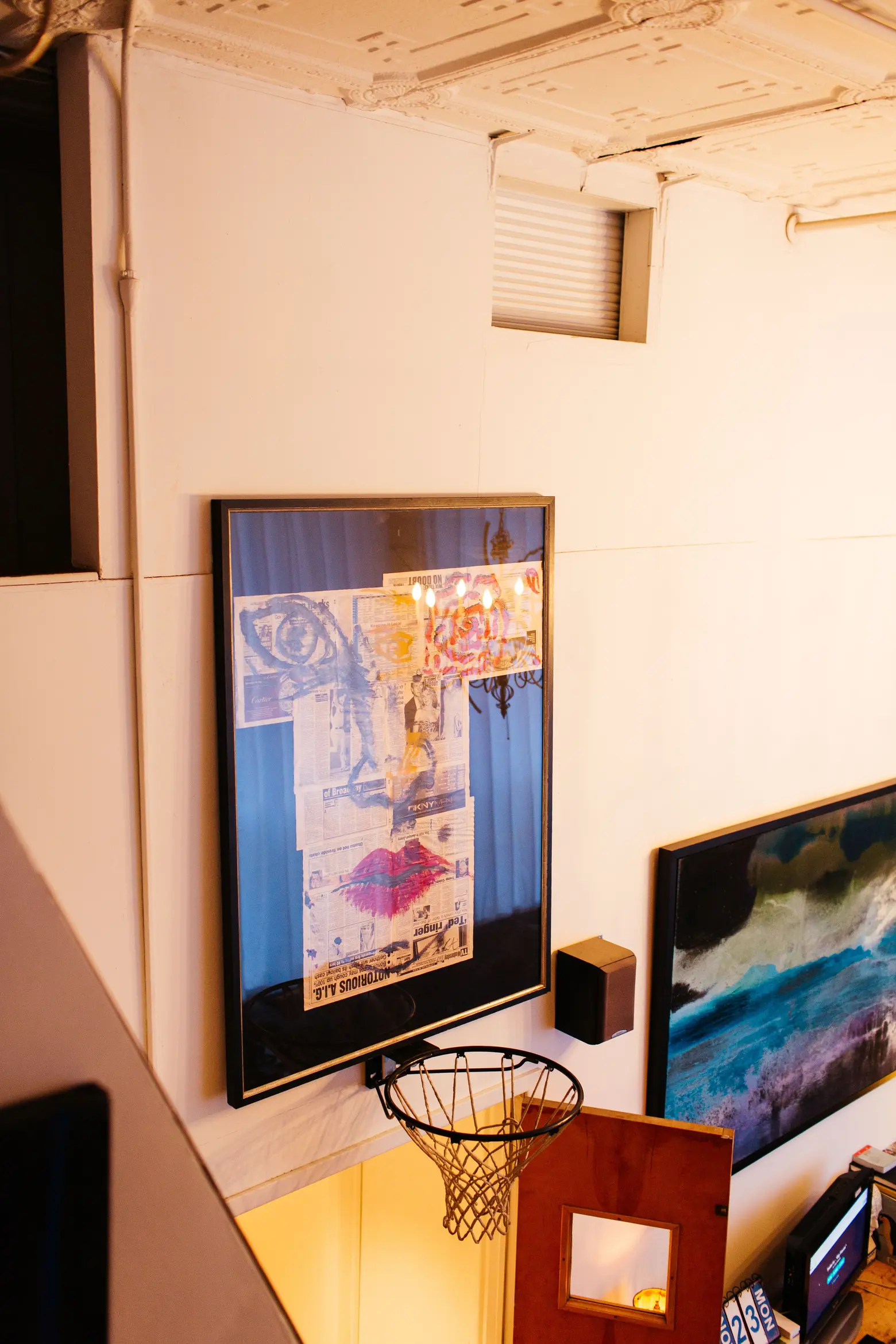 You can see the playful nature of the studio in the basketball hoop that Nancy installed for her kids.
6sqft: Can you talk a bit about how you designed the space?
Nancy Pantirer: My studio pretty much designed itself through function. I had three young children, and the space allowed all of us to work and play. It evolved constantly to fit our needs. I furnished the studio with "stuff" that appealed to me without any grand design. It was so open that anything and everything seemed to fit. My children grew up, but to this day still return and cherish the space. Needless to say, my studio defines who I am and those I love.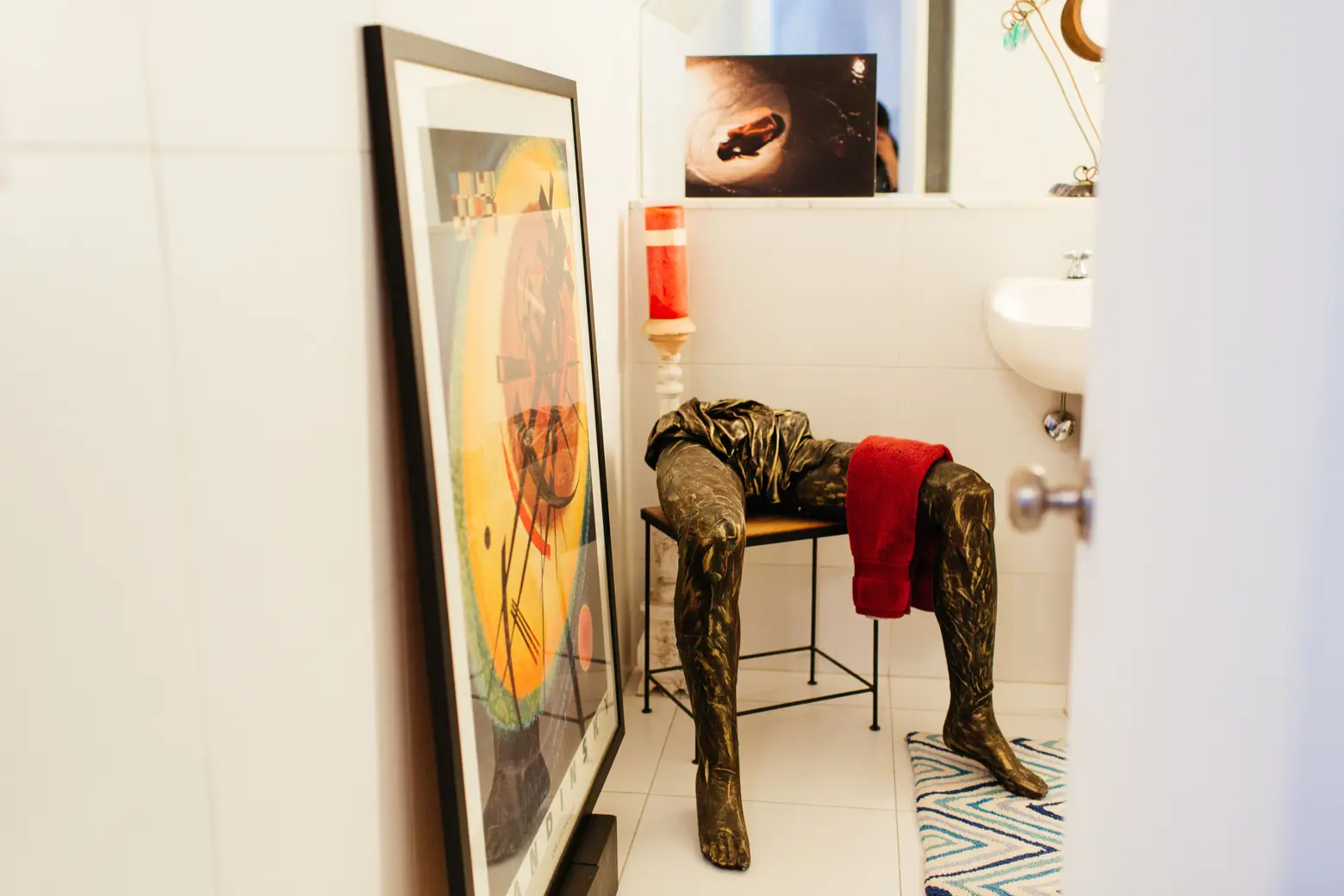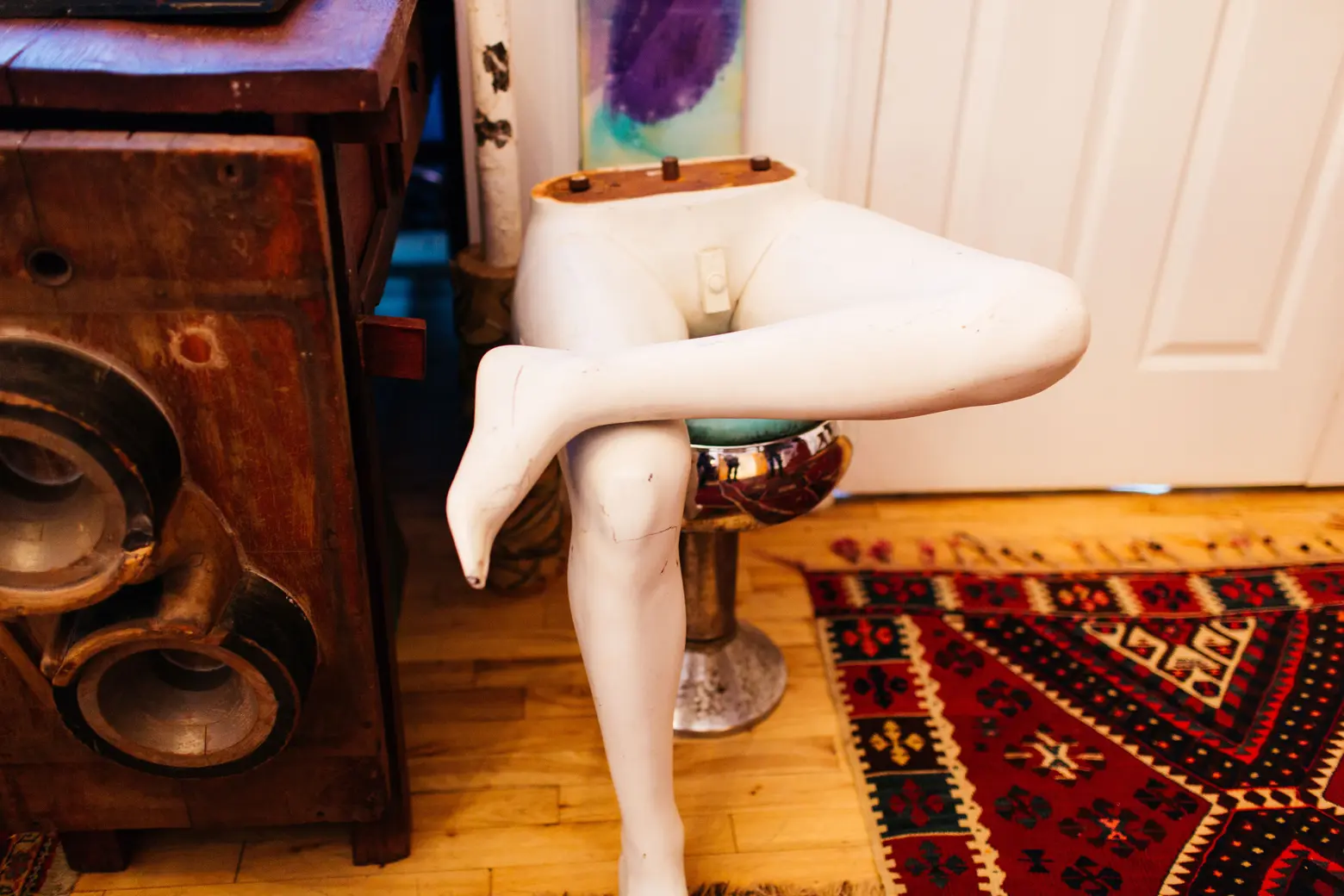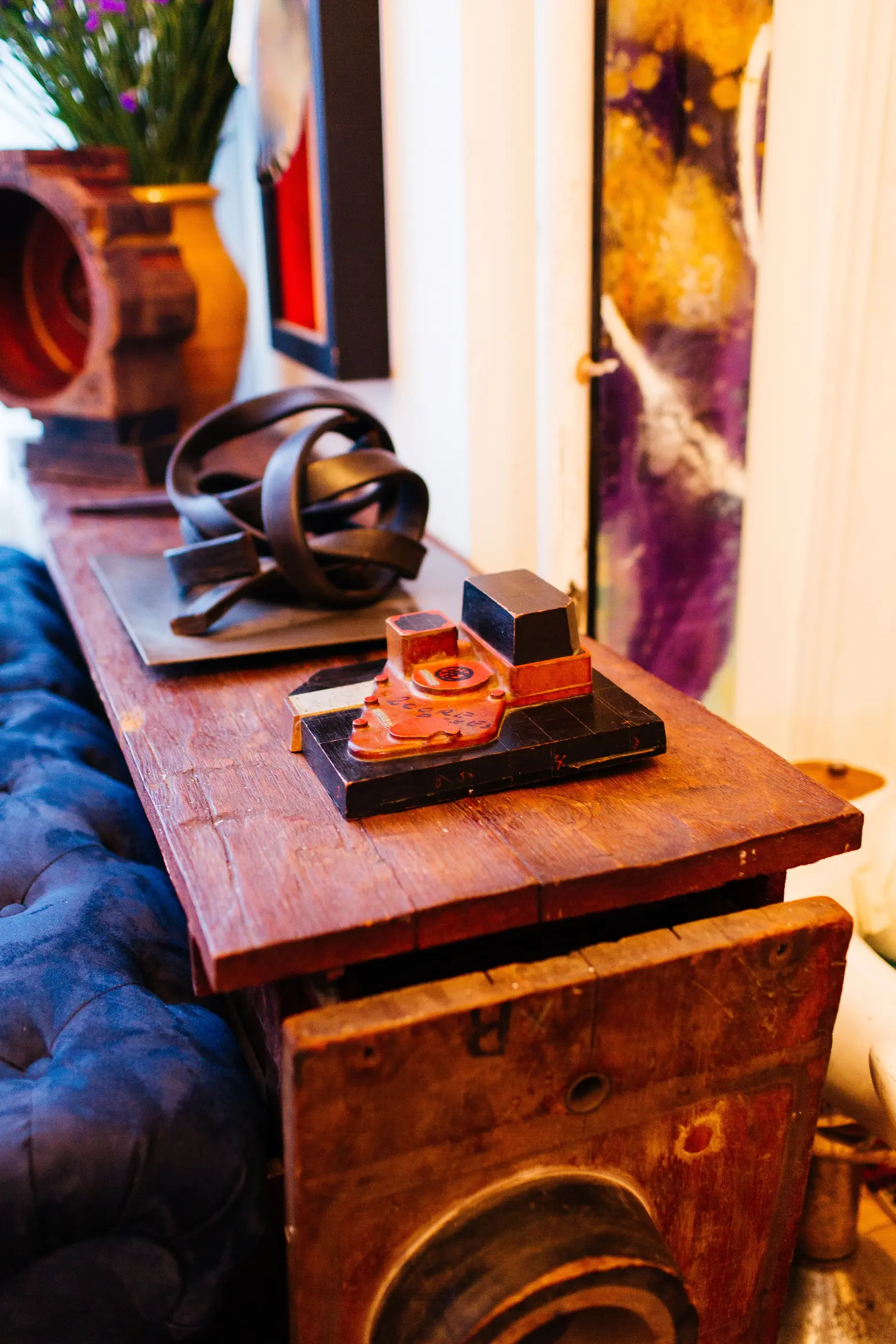 6sqft: Other than your own work, do you have one piece of furniture or art that's your favorite?
Nancy Pantirer: Over the years I've collected many unusual things, and I rearrange constantly. One of my favorite possessions are the wood pieces my husband discovered when he was demolishing an old property in New Jersey. It was a factory that made parts for helicopters. The pieces of wood where used for casting the parts. Technology replaced their purpose and they went out of business. I turned them into sculpture. I have two side tables made from them. They are as precious as any sculpture I could have purchased. I absolutely adore them.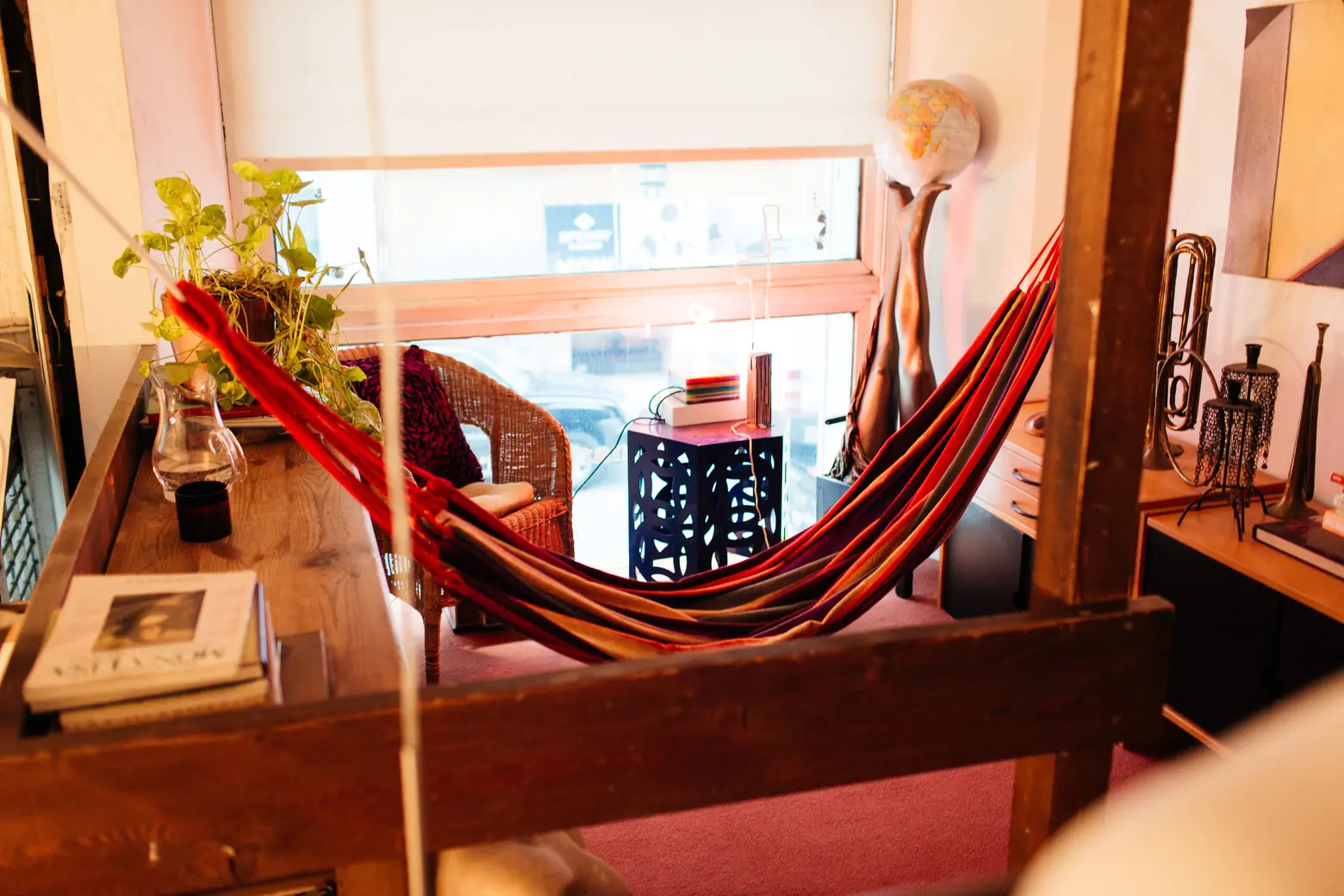 6sqft: We just love the hammock area. Where did you get the idea to create this cozy nook?
Nancy Pantirer: This is one of my favorite spots. Often when I work a long day I need a place to remove myself. I can think of nothing better than chilling out on my hammock. It forces me to get off my feet and contemplate whatever I am doing.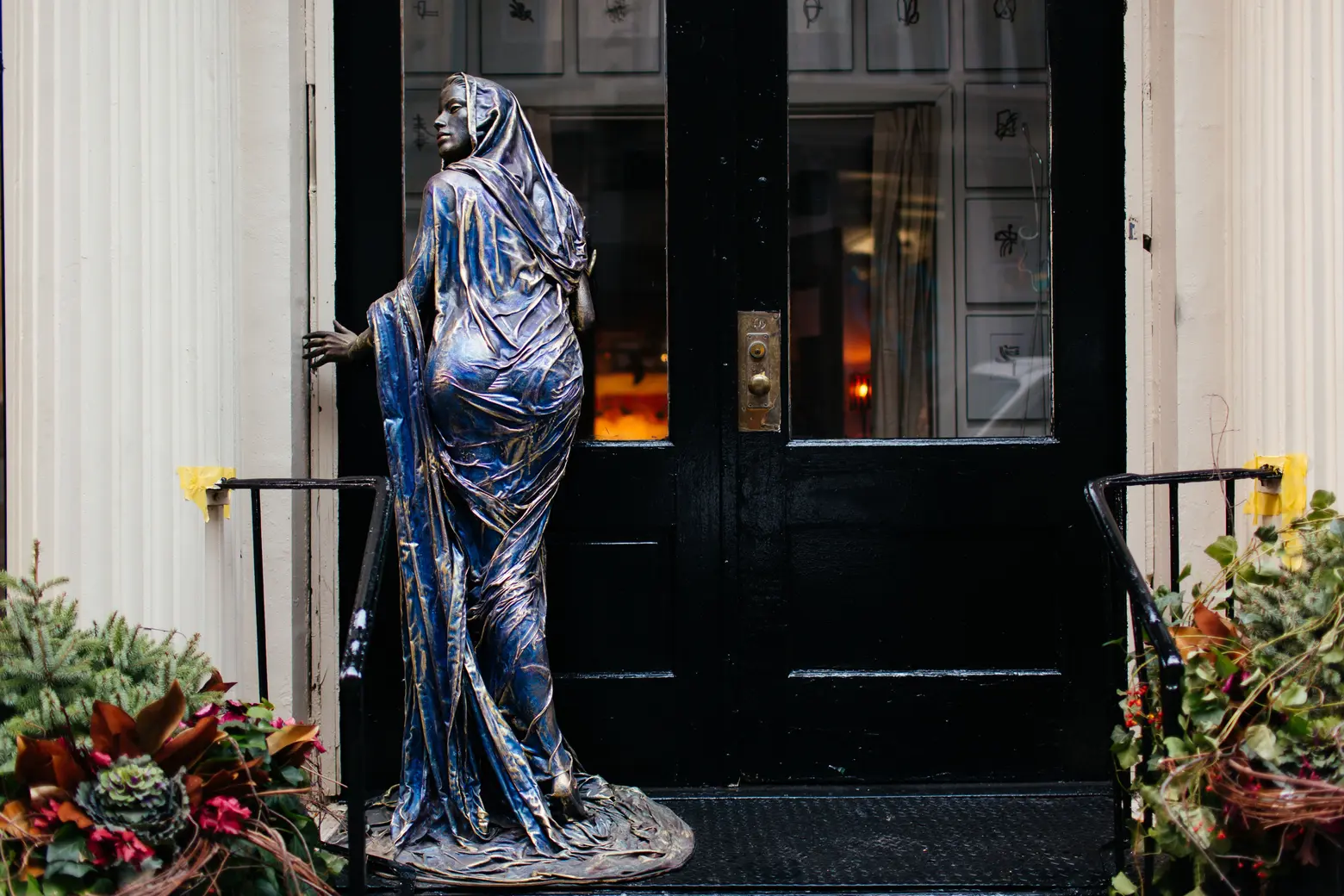 6sqft: The sculpture on your front stoop of Lot's Wife is certainly a conversation piece. What's the story behind this work?
Nancy Pantirer: As a result of hammock contemplations, I decided to install a figurative sculpture on my front stoop. Being in the studio is like being in a cave, so I needed some street interaction and this sculpture was a great solution. The piece I am referring to was completed ten years ago and was located in the National Arts Club in Gramercy Park. It was on loan for a decade and then it was time to bring her home.
The piece was originally conceived in a group of sculptures devoted to woman in the bible. I was amused and intrigued making these pieces in life-size proportions. I discovered that she had tremendous street appeal. Several times throughout the day pedestrians would take selfies with her. This has inspired a new interactive art piece that will involve people who stop to photograph her. It's still in the works, but will go live on my website very soon. In the meantime, I encourage people to photograph and post their selfies to instagram with @nancybpantirer.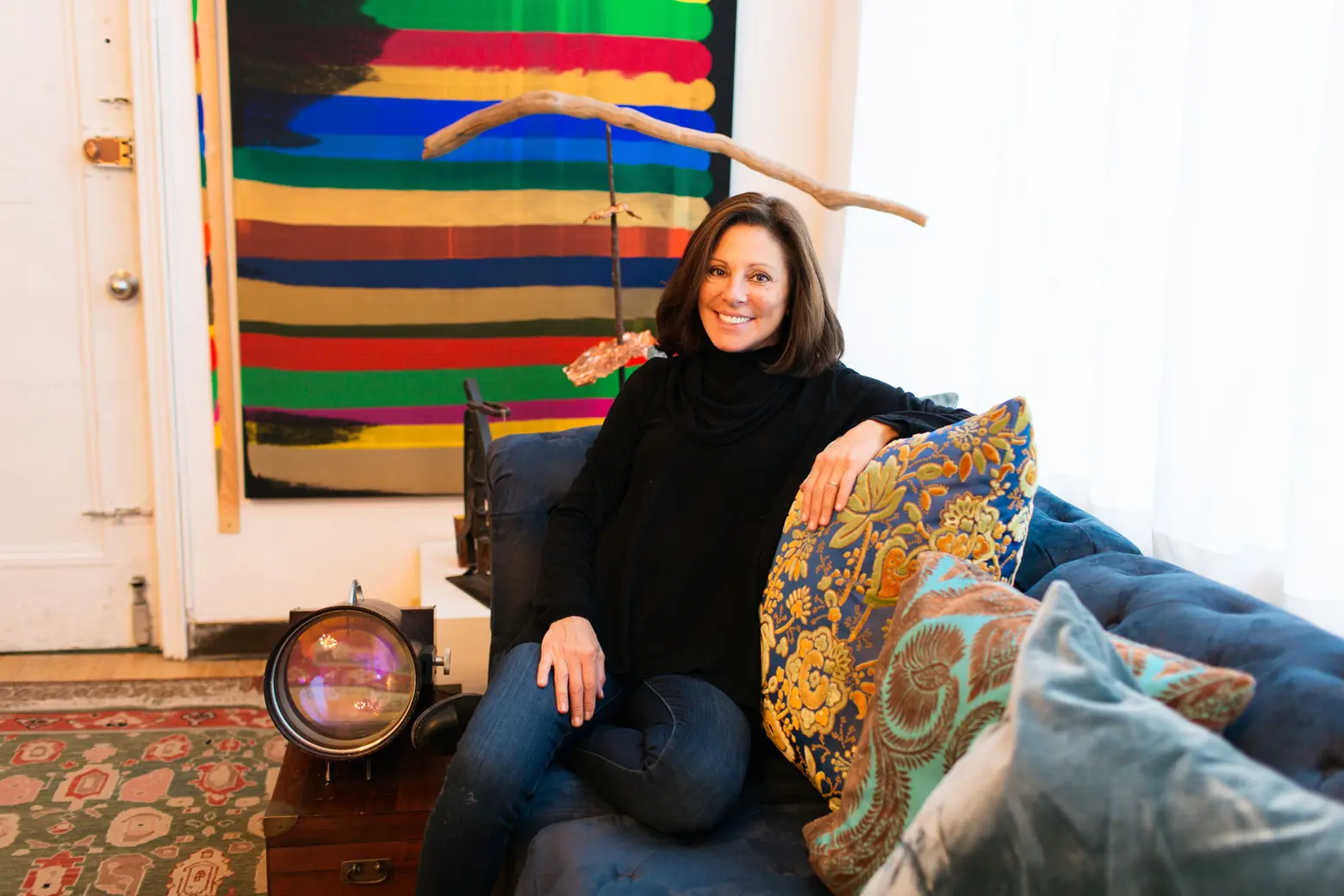 6sqft: Do you have any advice for young artists starting out in NYC today?
Nancy Pantirer: My advice for artists is to just try everything they can. One path leads to another. Investigation is the key to discovery.
+++
Nancy B. Pantirer Studio
81 Leonard Street
New York, NY 10013
[email protected]
RELATED:
Photos by Erin Kestenbaum for 6sqft