Where I Work: Marvel Architects' studio brings tropical flair to a classic Tribeca loft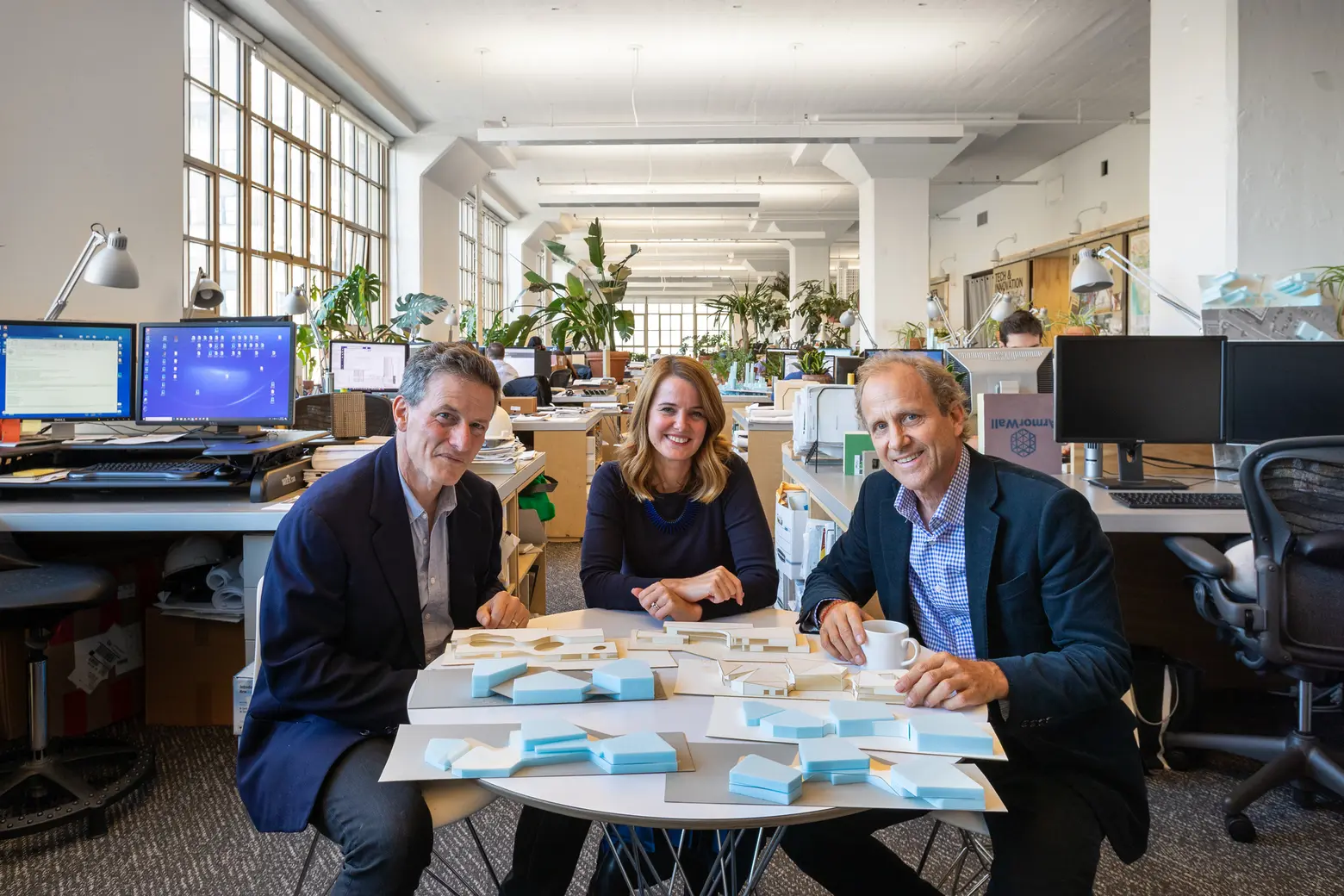 Marvel Architects say they were drawn to their Tribeca office space 25 years ago because of its connection to NYC history and its openness, qualities that also resonate throughout the firm and its practice. They regularly work on cultural projects (like TheatreSquared and the Northeast Bronx YMCA), adaptive reuse projects (such as St. Ann's Warehouse and the Bedford Armory in Brooklyn) and affordable housing developments (like the Stonewall House and Rockaway Village) and they are receptive to community feedback (as was the case with their current One Clinton project). With another office in San Juan, Puerto Rico, Marvel continues this open dialogue throughout its team, as staff members contribute reciprocally to projects in both cities. To learn more about this unique firm, 6sqft had a chat with founding principal Jonathan Marvel and founding partners Lissa So and Guido Hartray and toured their open and airy office that brings a bit of tropical flair to Tribeca.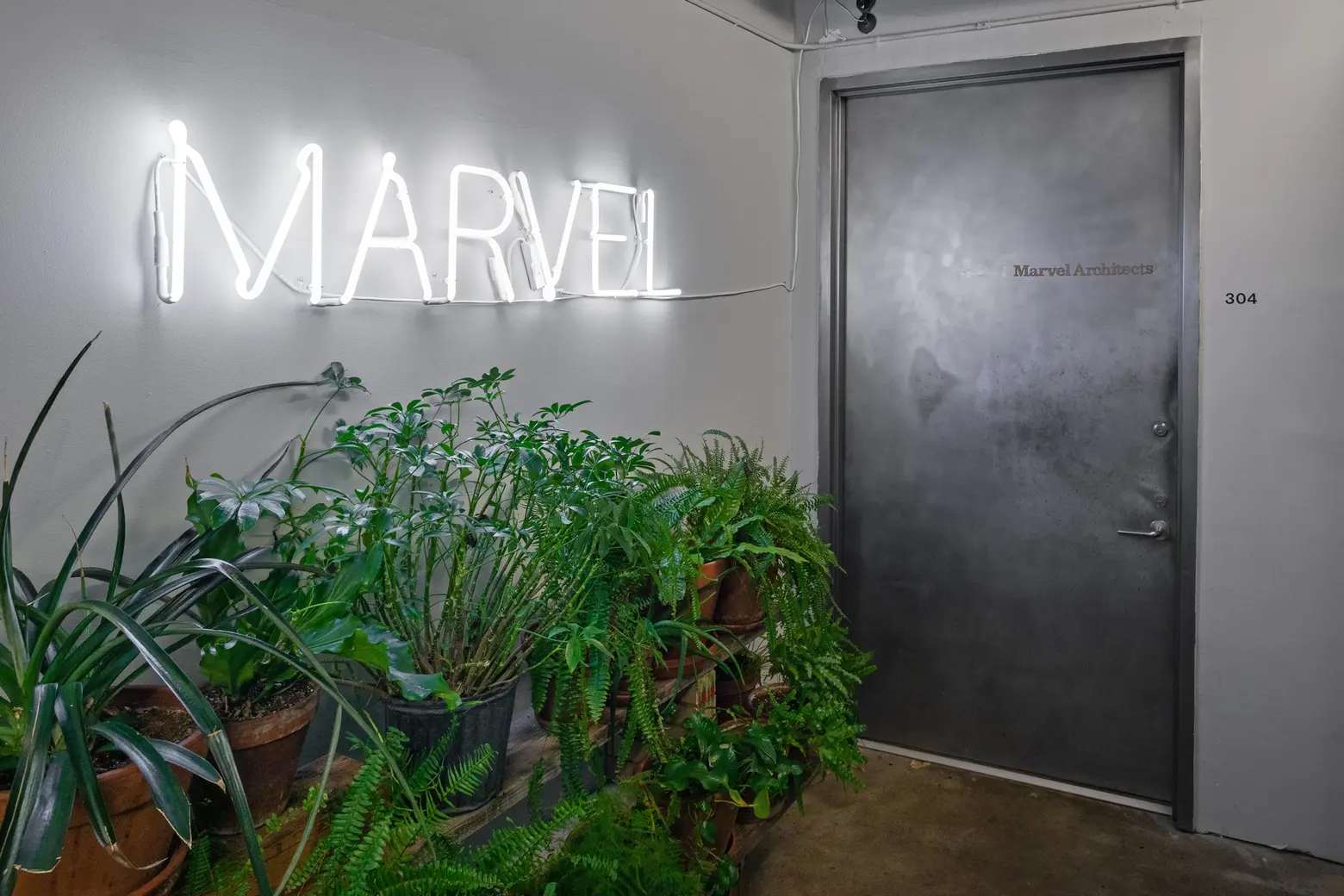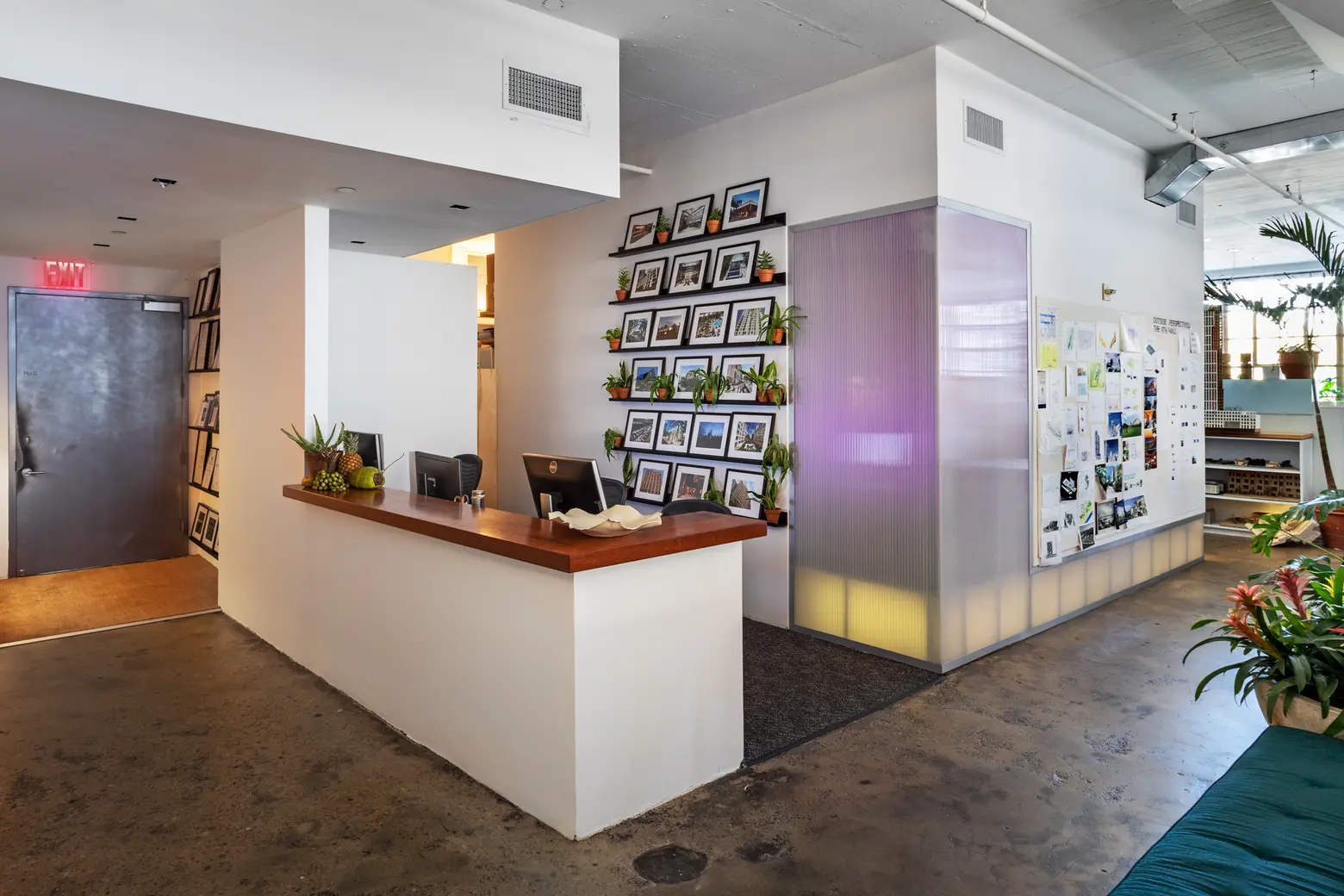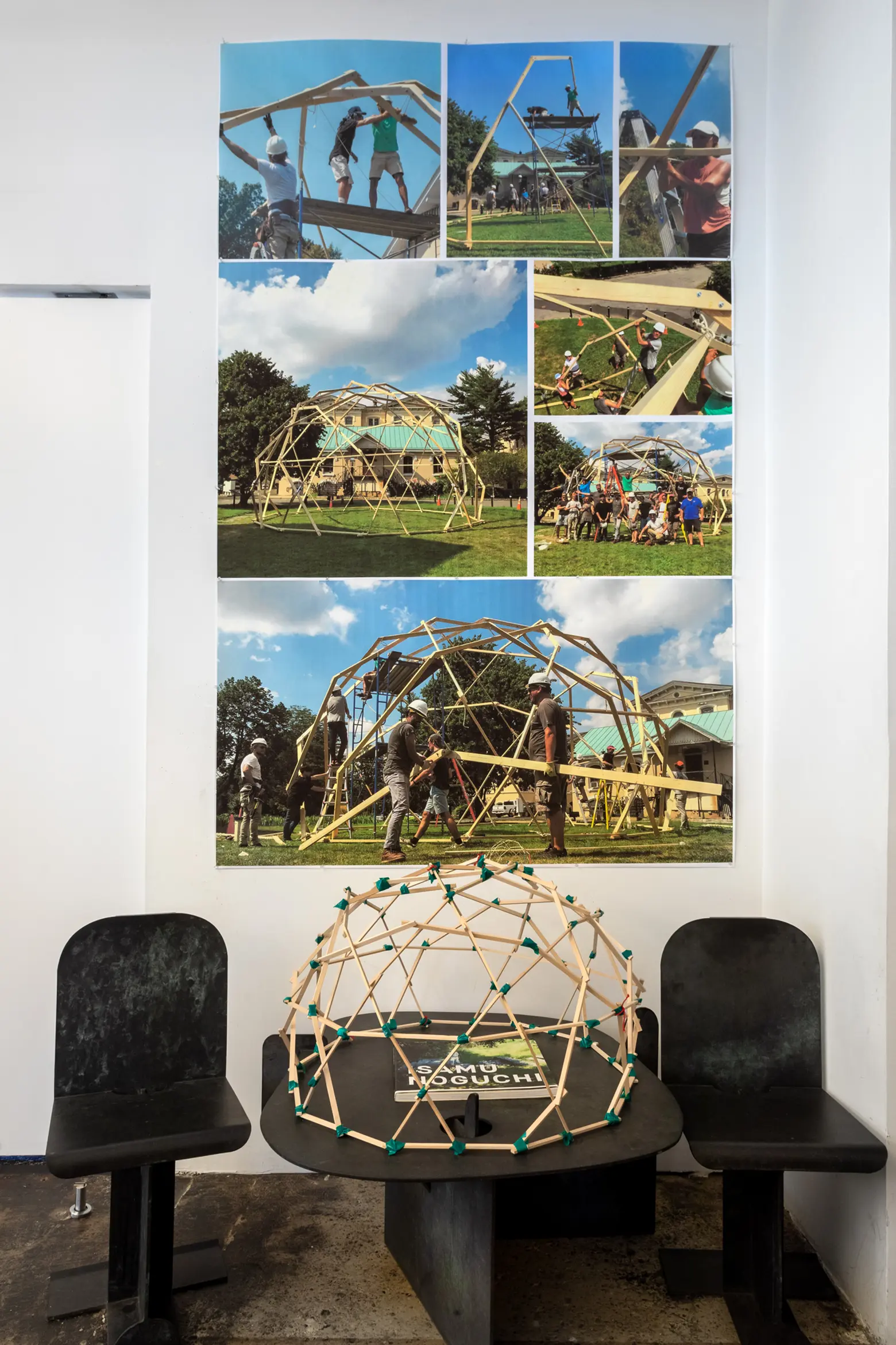 In the entrance are original Noguchi chairs and a table. They are serving as a display for the firm's Snug Harbor Dome project.
The building where Marvel Architects is located was built in 1929 and was a printing press. When Marvel moved in 25 years ago, it was still quite industrial and a lot of the tenants were artists. In addition to being attracted to this history and energy, Jonathan liked the great natural light that the space got, as well as the open floor plan.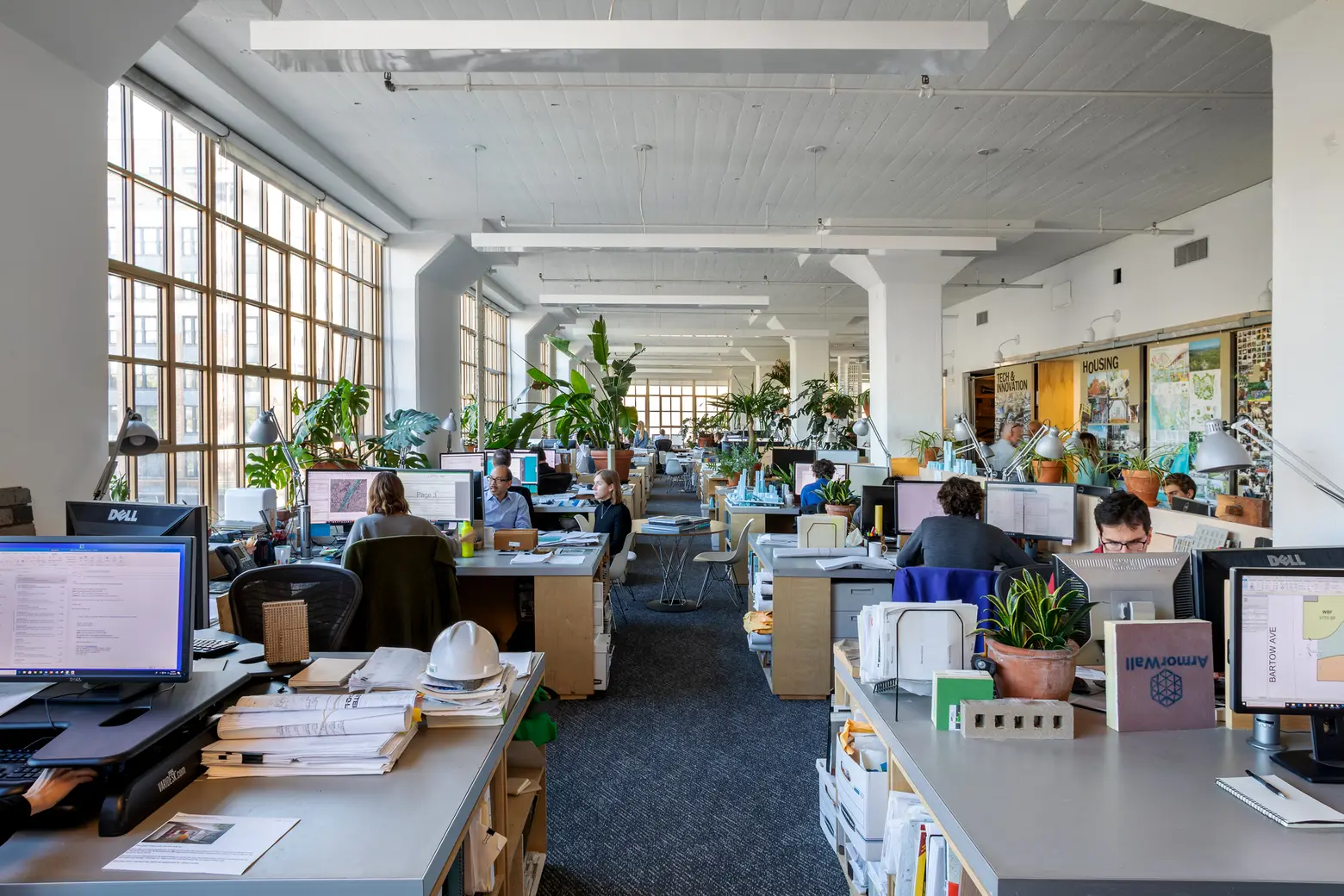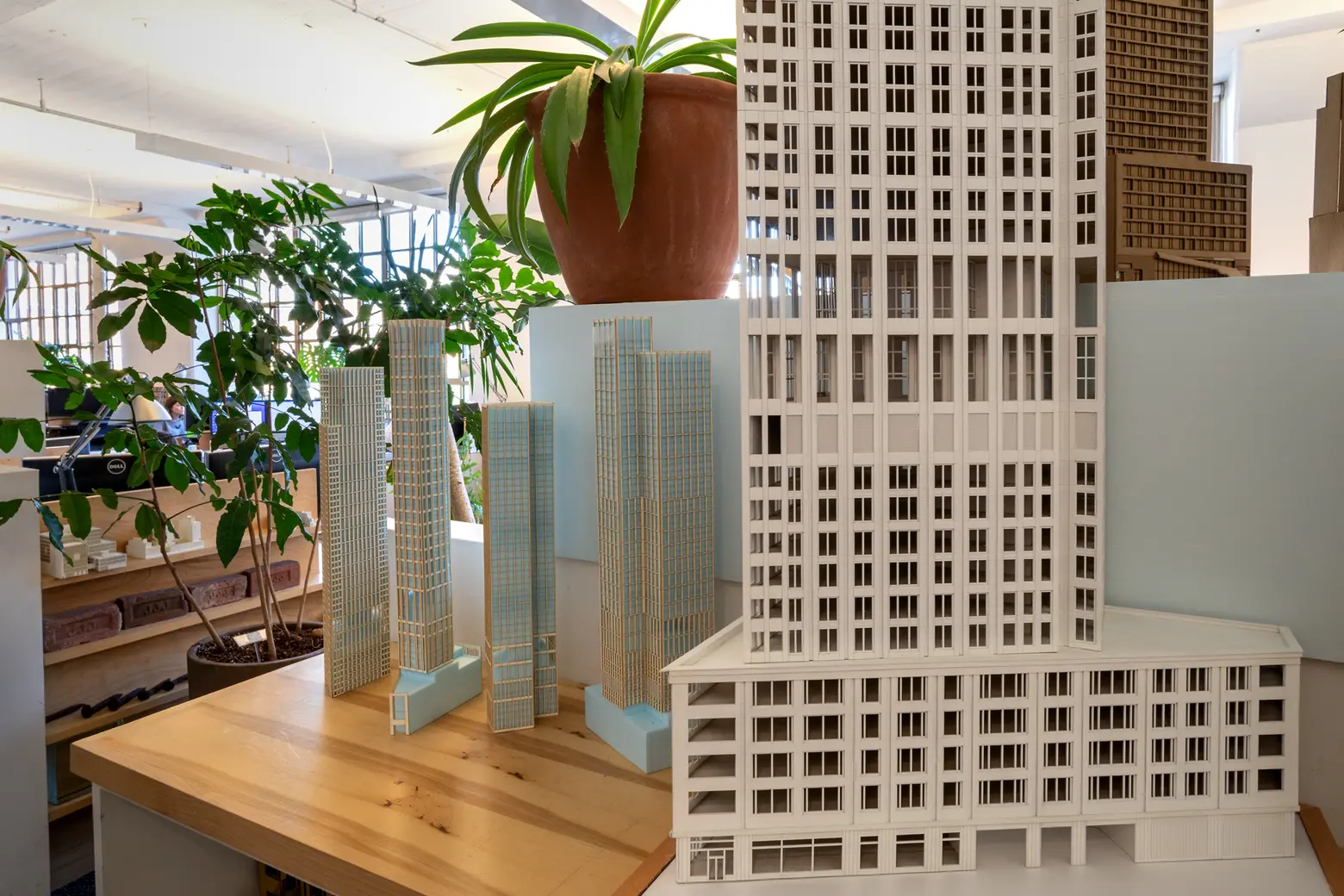 In 2013, the current practice was initiated, and the firm redefined how they wanted to occupy the space. Lissa said, "It was important to create an environment that promoted our collaborative design process." They knew they wanted it to remain open, and they decided to go with an "inefficient" layout of having a lot of space around desks instead of lining them up in rows so as to give people a lot of space to think and interact," explains Jonathan. For this same reason, they also added small round tables throughout for employees to congregate and have informal meetings.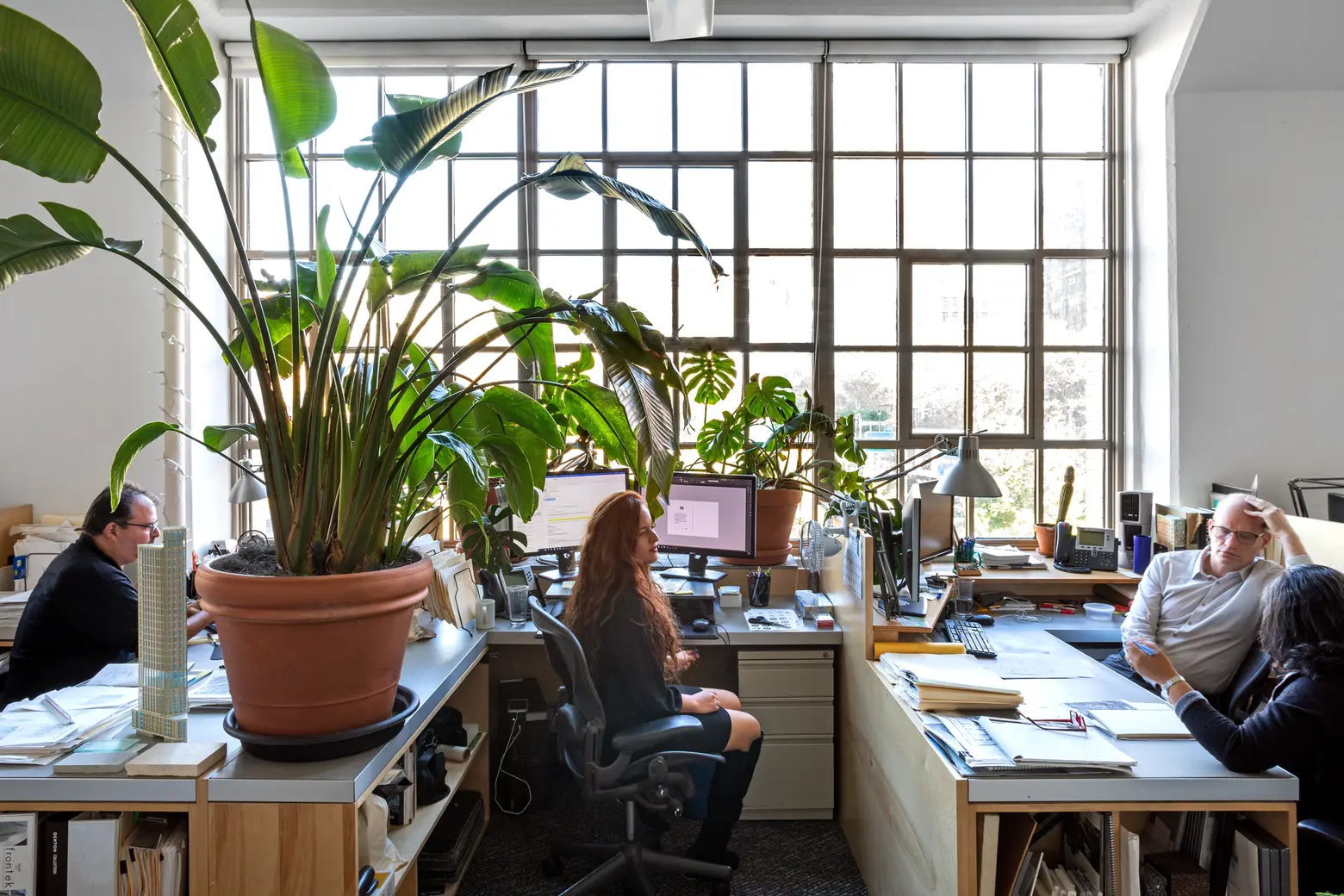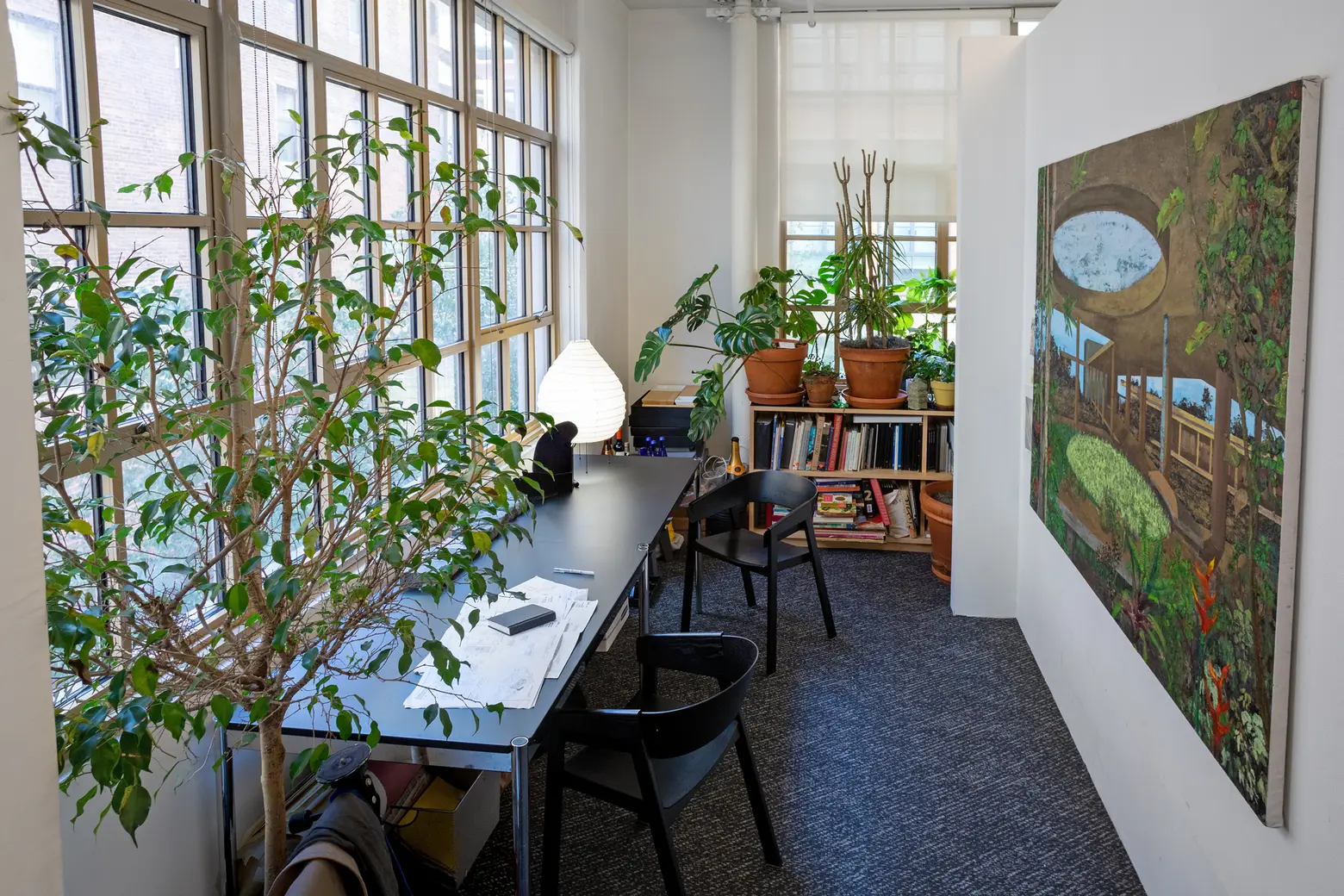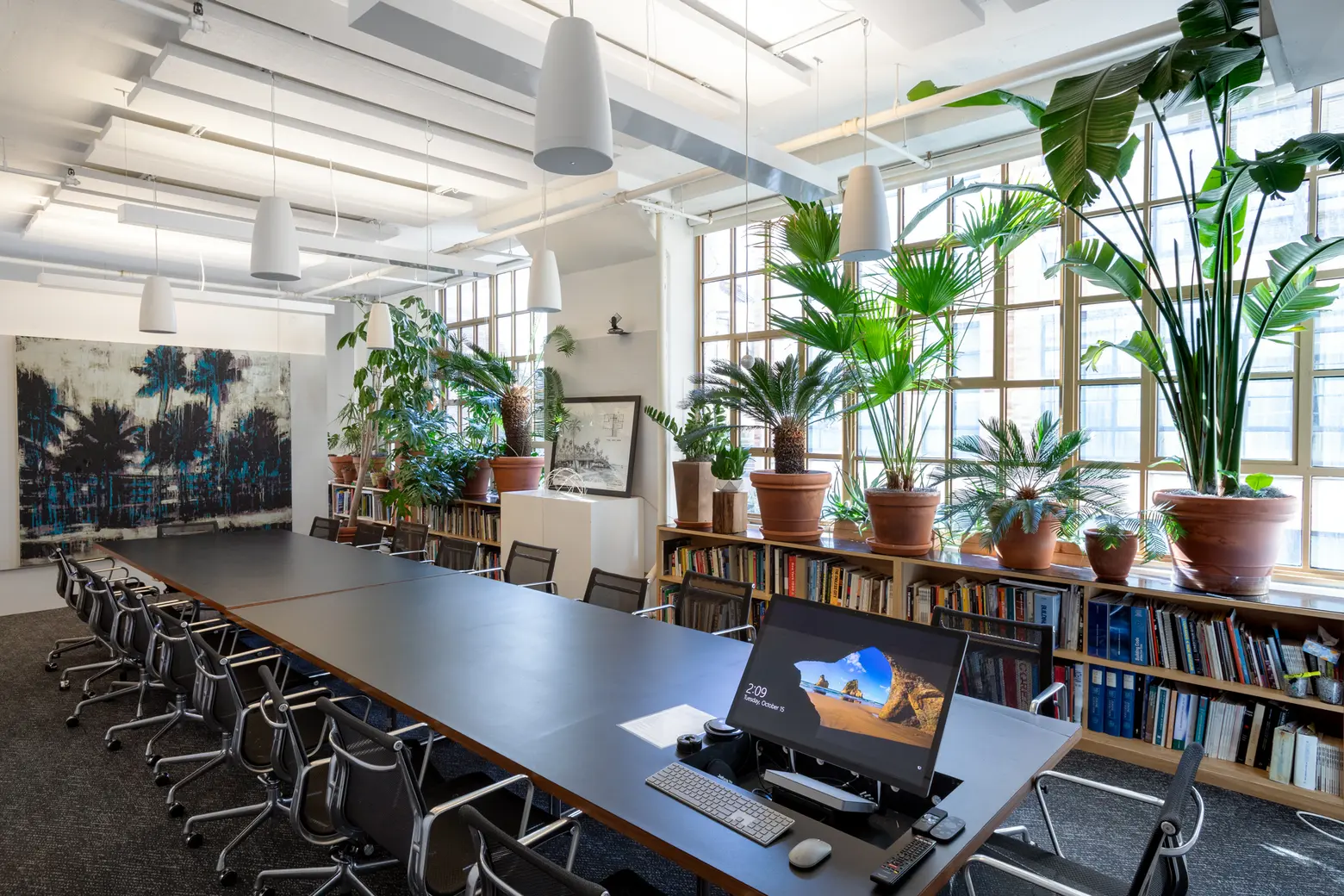 As for the plants, Jonathan feels that it "humanizes the space" and since much of the practice is in San Juan, it's also a way to connect to the Puerto Rico office "and the tropical environment in which they're practicing." The firm hired someone to come in daily and tend to the plants, though Jonathan says that employes definitely "adopt plants" as their own.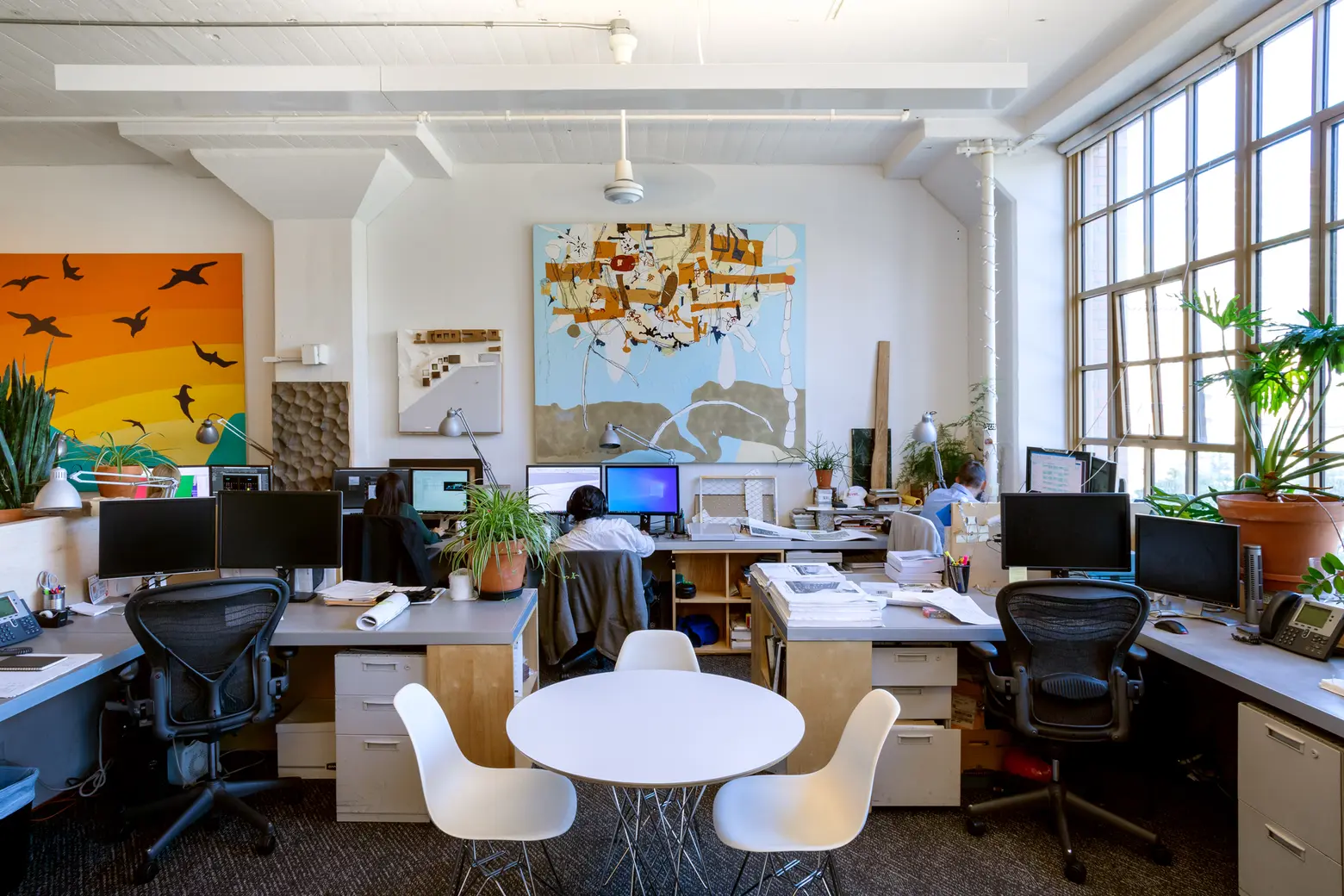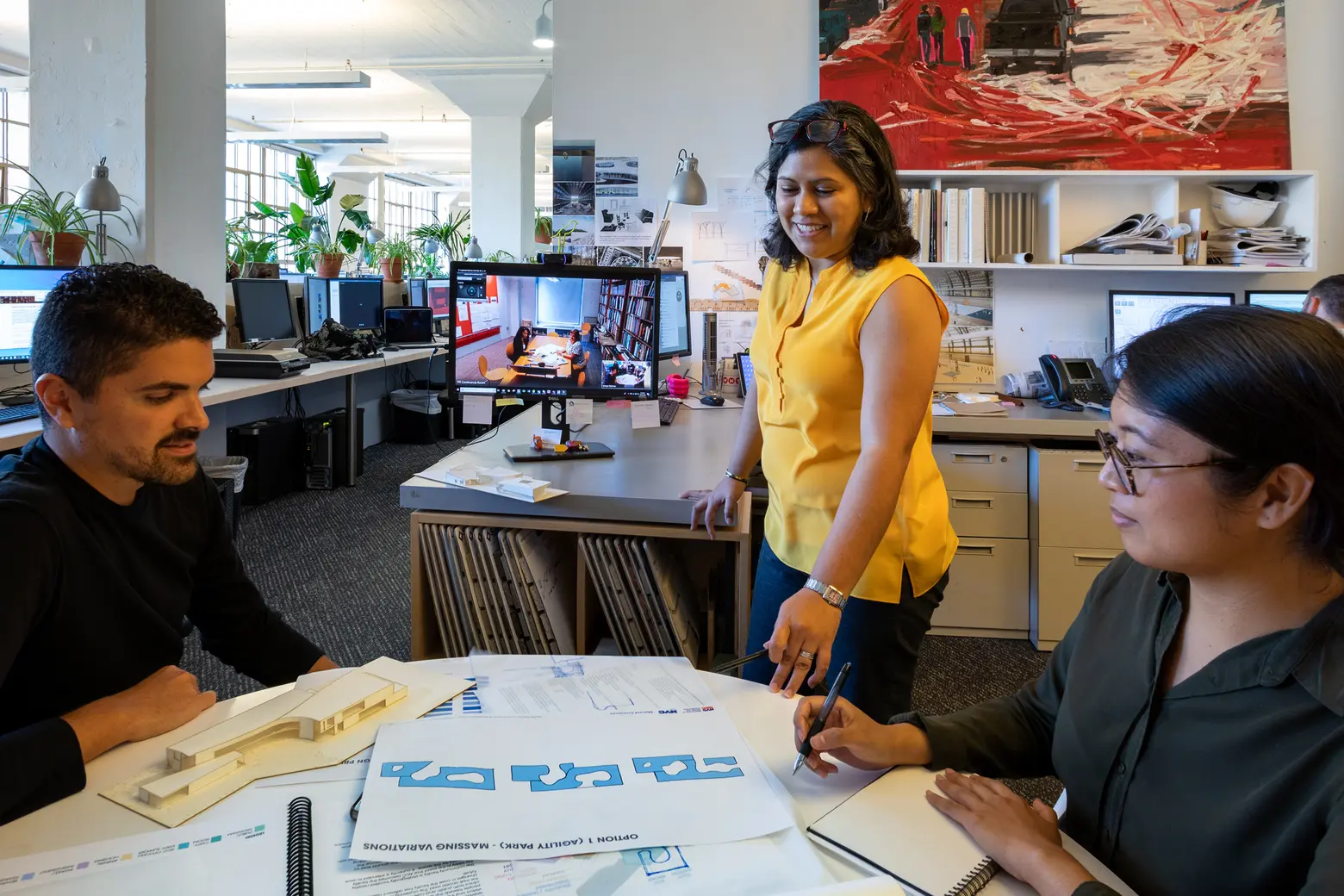 A virtual meeting with the San Juan office in progress
Jonathan's father started a practice in San Juan 50 years ago. That office was incorporated into Marvel's New York practice six years ago and has now "become an integral part" of how the firm works "mixing points of view and perspectives," Jonathan tells us. And since landscape architecture is so vital in Puerto Rico, the firm has also brought that into the practice, which allows them to think even more comprehensively about projects in both locations.
Guido tells us that there were some growing pains in terms of integrating the two office cultures. "The biggest thing we had to overcome is that we do a lot of in-person social activity in New York with happy hours,  lunchtime discussions, and hands-on projects like the construction of a geodesic dome for storytelling at Snug Harbor last summer. To build the same organic interaction we had to compliment electronic collaboration with frequent travel and in-person meetings and team activities." The firm has an attractive apartment next to the San Juan office which is an added incentive for the New York team to stay in San Juan.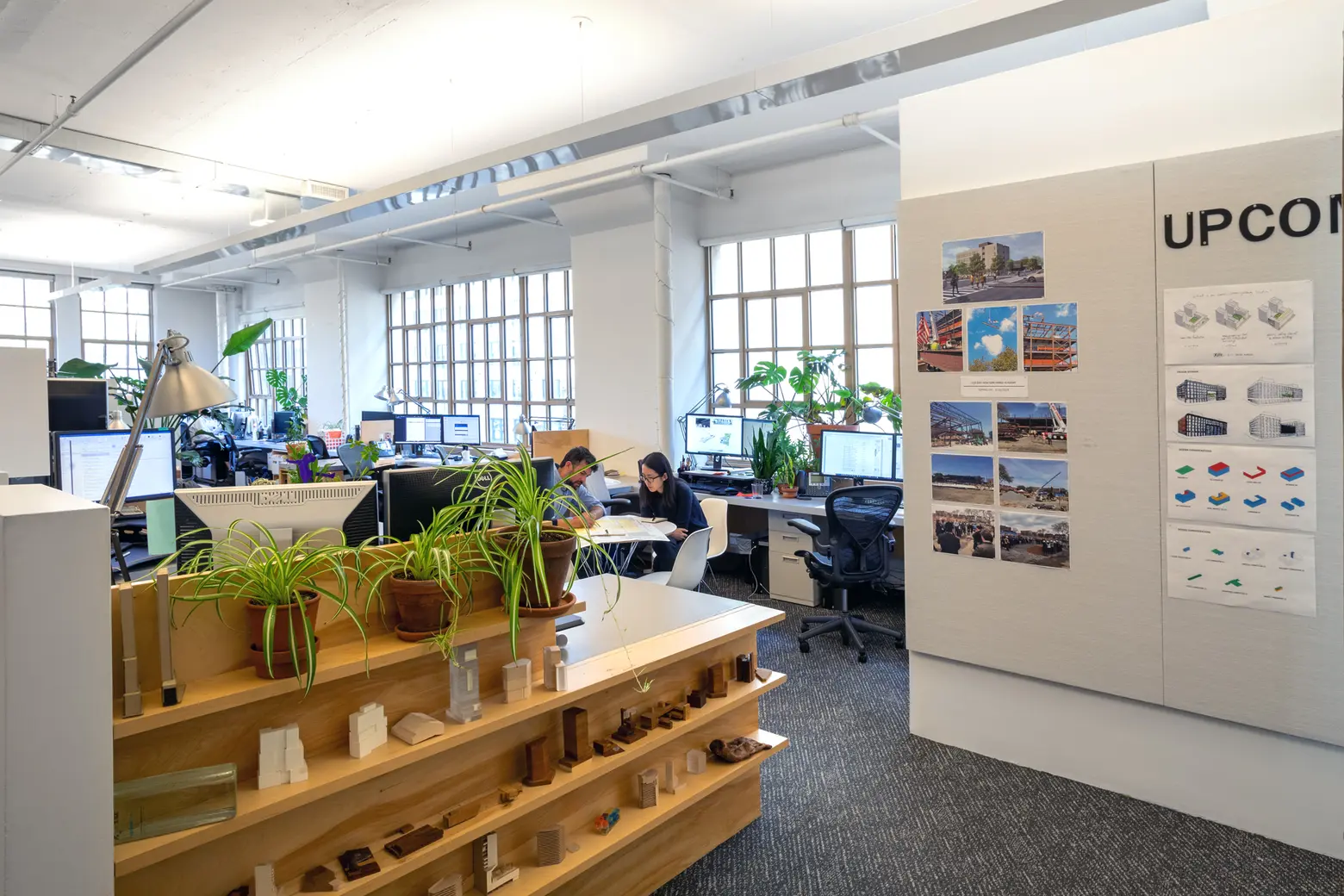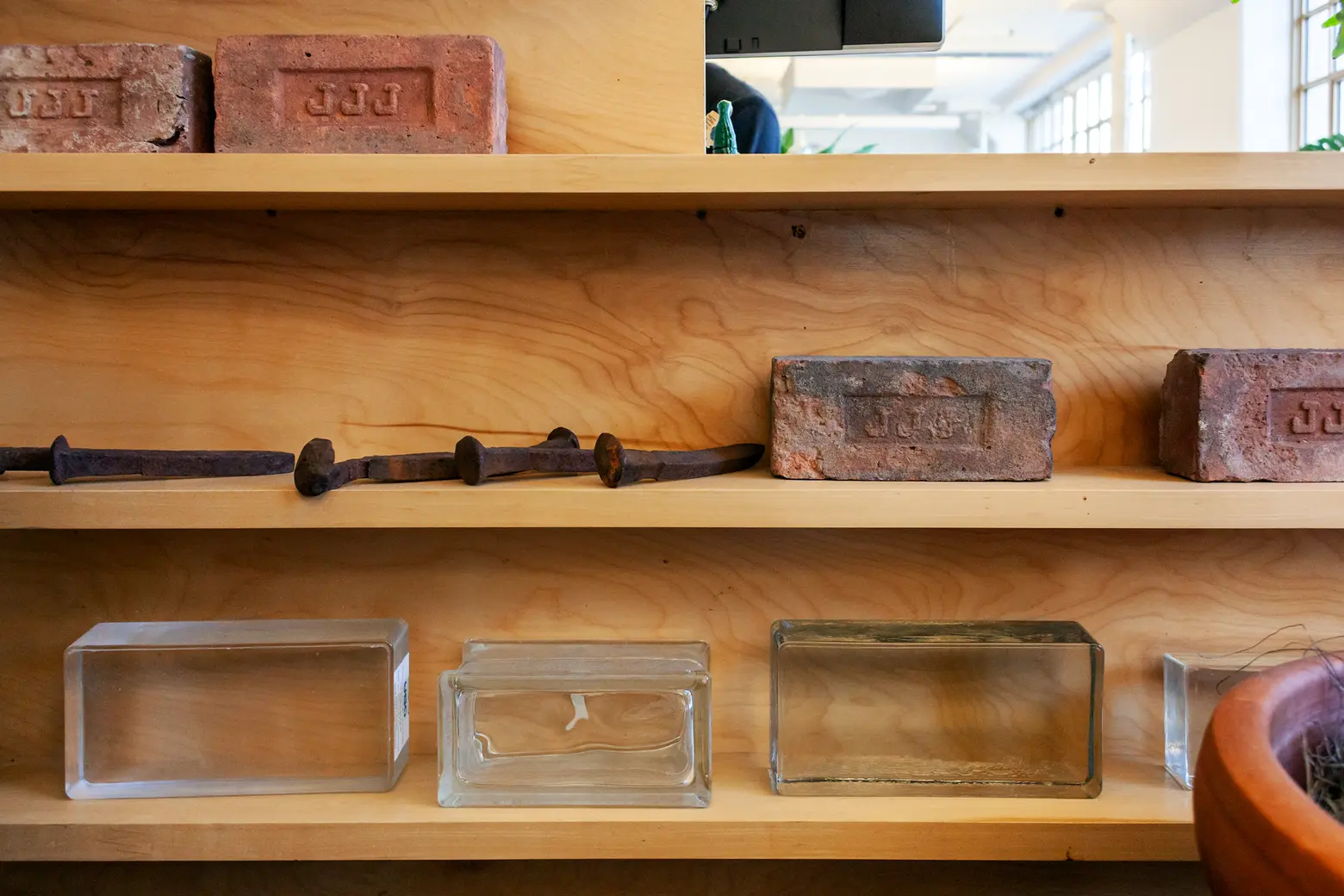 Jonathan's family had its own brickyard in Newburgh, NY from 1890-1960, so he likes to keep and display significant bricks found during projects, like one from McCarren Pool and another from behind the Empire State Buildig. Also on display are historic railroad tie nails. 
In terms of how it compares working in the two locations, the size of the cities is, of course, the biggest factor. "New York is 10 times bigger as a city, and the economy is 100 times bigger, so the pace of the project is a lot faster because the city has fine-tuned and made it very efficient to get a building permit. It's a city that needs to make its real estate accessible at a fast pace. San Juan operates at a slower pace. It takes longer to get a permit and longer to realize a project. In Puerto Rico, you can nurture a project a little longer. But at the same time, all architects are educated with the same background and licensing, so there's a lot of common denominators in terms of what we do internally," explains Jonathan.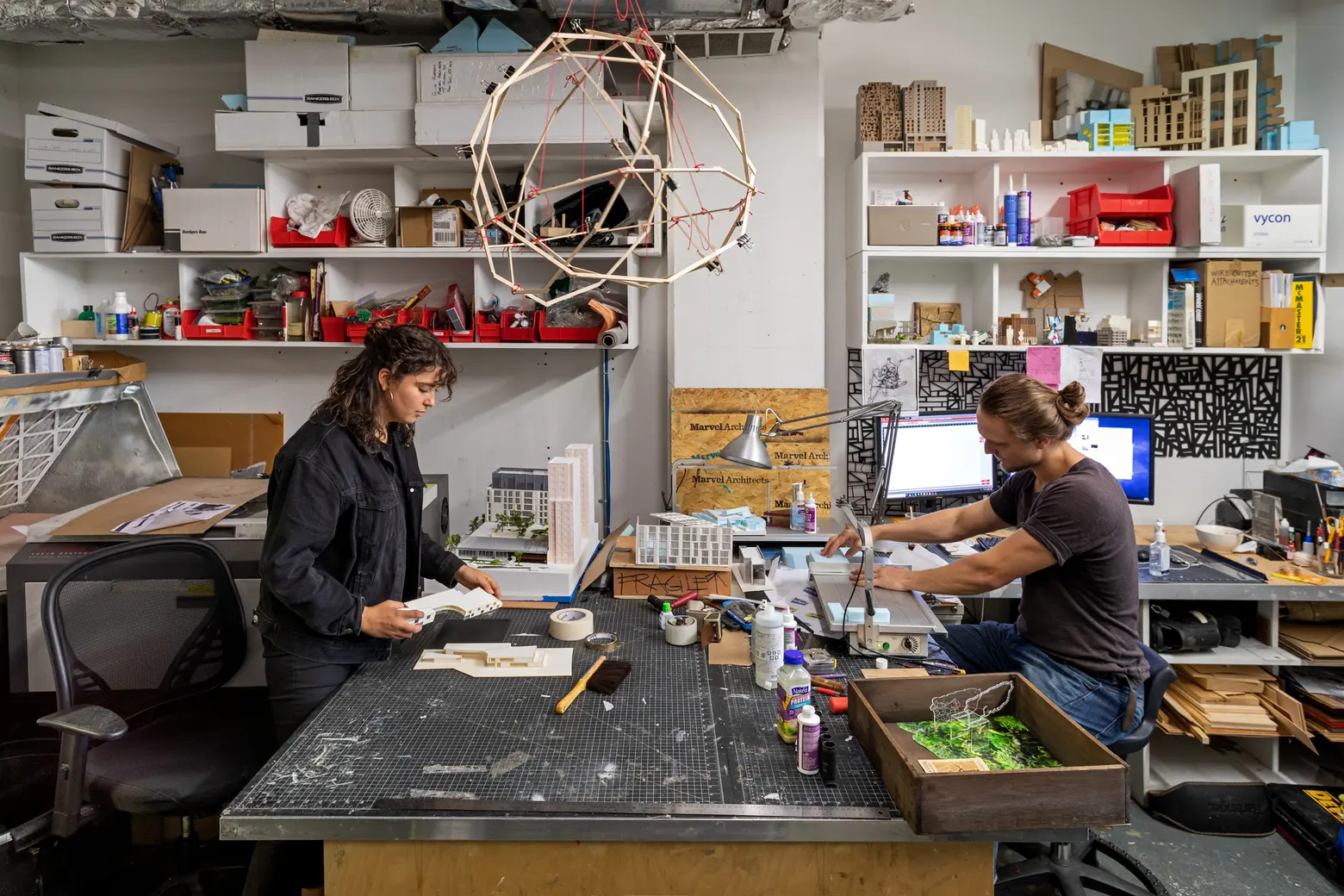 The model shop in San Juan is larger than the one in NYC, with a laser cutter and 3D printer.
To that end, the firm hopes that in the future they'll be able to take the pressure they've experienced being based in New York–"we think it's a creative pressure as well," says Guido–and apply it to other locations, infusing some of that "DNA" elsewhere.
+++
All photos taken by James and Karla Murray exclusively for 6sqft. Photos are not to be reproduced without written permission from 6sqft.