One Vanderbilt's observation deck named the Summit, will have two glass-floored overhangs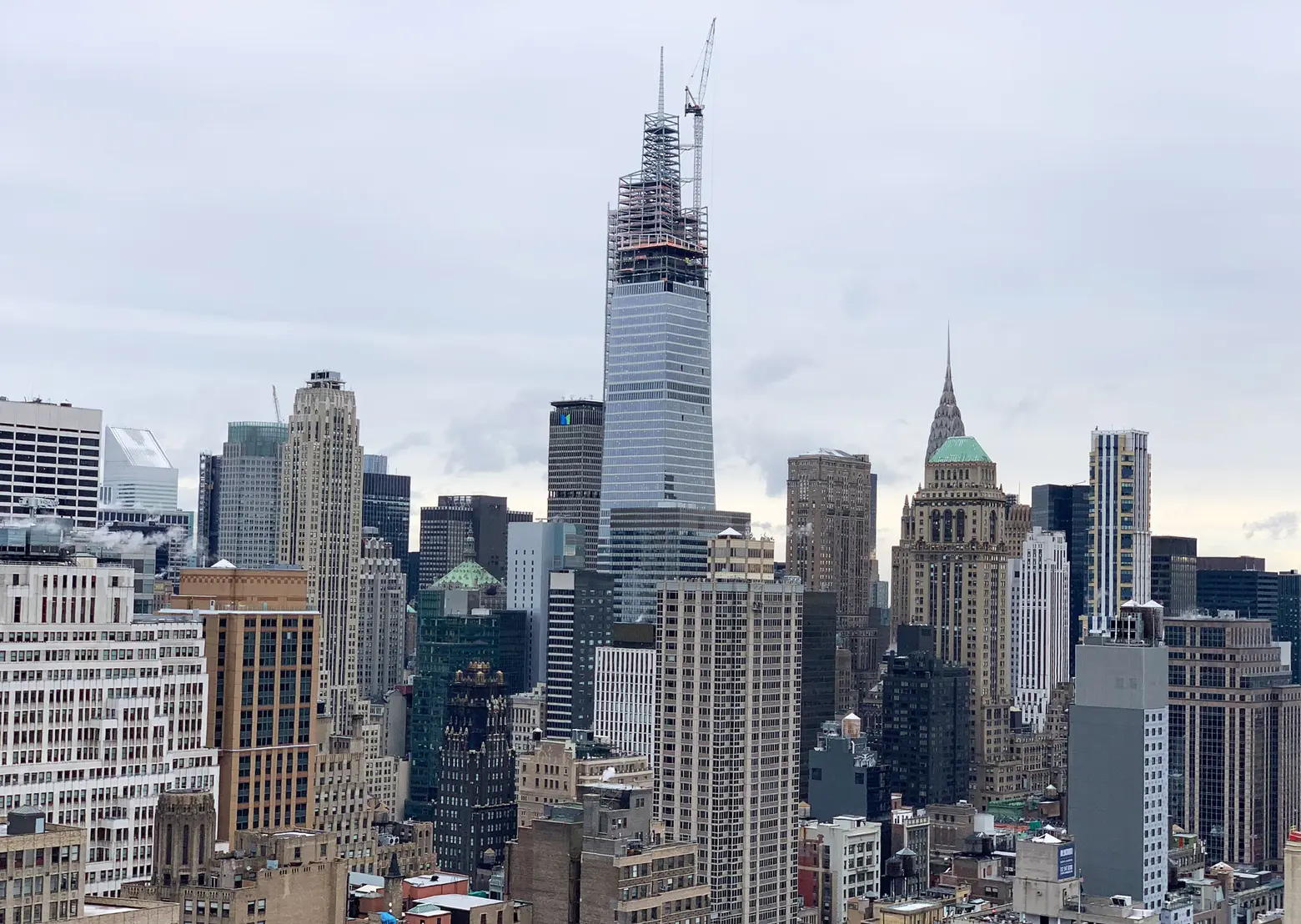 Photo of One Vanderbilt on December 11, 2019 © 6sqft
After attending a presentation by One Vanderbilt's developer SL Green, the Post was able to share some juicy new details on the office building's observation deck, which will be the second-highest outdoor deck in the city and is being designed by Snøhetta. Now known as The Summit at One Vanderbilt, the 59th-floor deck will have "two step-out, glass floor ledges that overhang Madison Avenue." Also on this floor will be food and beverage options, and on the floor below will be an "'infinity room' with 40-foot-high ceilings." The building is set to open in August 2020, while the Summit will begin welcoming guests (who will pay $35 for the experience) at the end of 2021.
At 1,401 feet, One Vanderbilt is Midtown's tallest office building and the fourth-tallest skyscraper in New York City (following One World Trade at 1,776 feet, Central Park Tower at 1,550 feet, and 111 West 57th Street at 1,428 feet). It broke ground in 2016 and topped out this past September. Designed by Kohn Pedersen Fox, the 77-story tower is adjacent to Grand Central, to which it will also have an underground connection. As 6sqft noted, "In exchange for zoning changes, SL Green invested $220 million in transit improvements, as well as a new 4,000-square-foot hall for commuters and pedestrian plaza on Vanderbilt Avenue."
The $3 billion+ supertall skyscraper has a total of 1.67 million square feet. According to the Post, SL Green has only 533,657 square feet left to rent, with prices coming in between $125 and $300 per square feet and nine to 12 months of free rent. In addition to SL Green's new headquarters, some of the tenants coming to One Vanderbilt include TD Bank, TD Securities, MFA Financial, law firms McDermott Will & Emery and Greenberg Traurig, German financial firms DZ and DVB banks, and the Carlyle Group.
The lower portion of the building will have 104,000 square feet of retail space, 11,000 square feet of which will be occupied by a restaurant concept from famed chef Daniel Boulud. As the Post reported previously, the restaurant will be on the second floor at the corner of Vanderbilt Avenue and East 42nd Street and will have a street-level entrance with 110-foot ceilings. In addition to a fine dining restaurant, there will be an outpost of Boulud's grab-and-go option Epicurie Boulud.
As for the dining options up at the Summit, details have not yet been released. However, SL Green is partnering with co-owner Hines to oversee the public space. The observatory is 71,938 square feet, occupying the 57th, 58th, and 59th floors. At just over 1,000 feet in elevation, it will be the city's fourth-highest observatory, coming in behind those at One World Trade Center (1,250 feet), Edge at 30 Hudson Yards (1,100 feet), and the Empire State Building (1,050 feet)–only those at 30 Hudson Yards and One Vanderbilt are outdoor decks. After opening at the end of 2021, the Summit is expected to pay $46.9 million in rent by 2024.
The official ribbon-cutting for One Vanderbilt is scheduled to take place on August 4, 2020.
[Via NY Post]
RELATED: