See Snøhetta's lush public garden now open at 550 Madison Avenue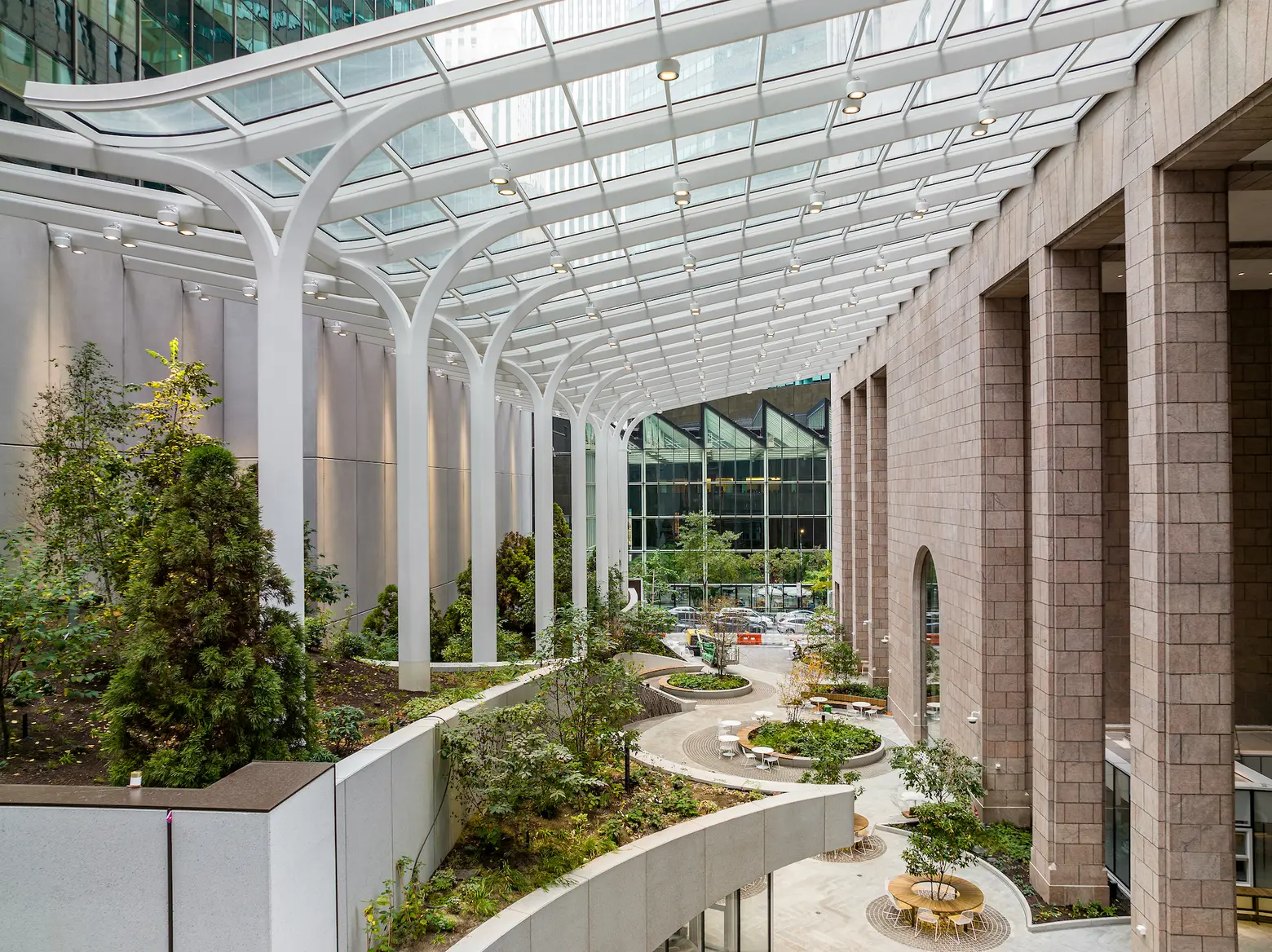 All photos courtesy of Barret Doherty unless otherwise noted
The new public garden at Philip Johnson's 550 Madison Avenue building opened this week, the final component of the postmodern landmark's renovation led by the Olayan Group. Designed by Snøhetta, the lush privately-owned public space (POPS) is located adjacent to 550 Madison in a formerly enclosed mid-block passageway. Increasing the public space at the site by 50 percent, the half-acre garden is now the largest in Midtown East.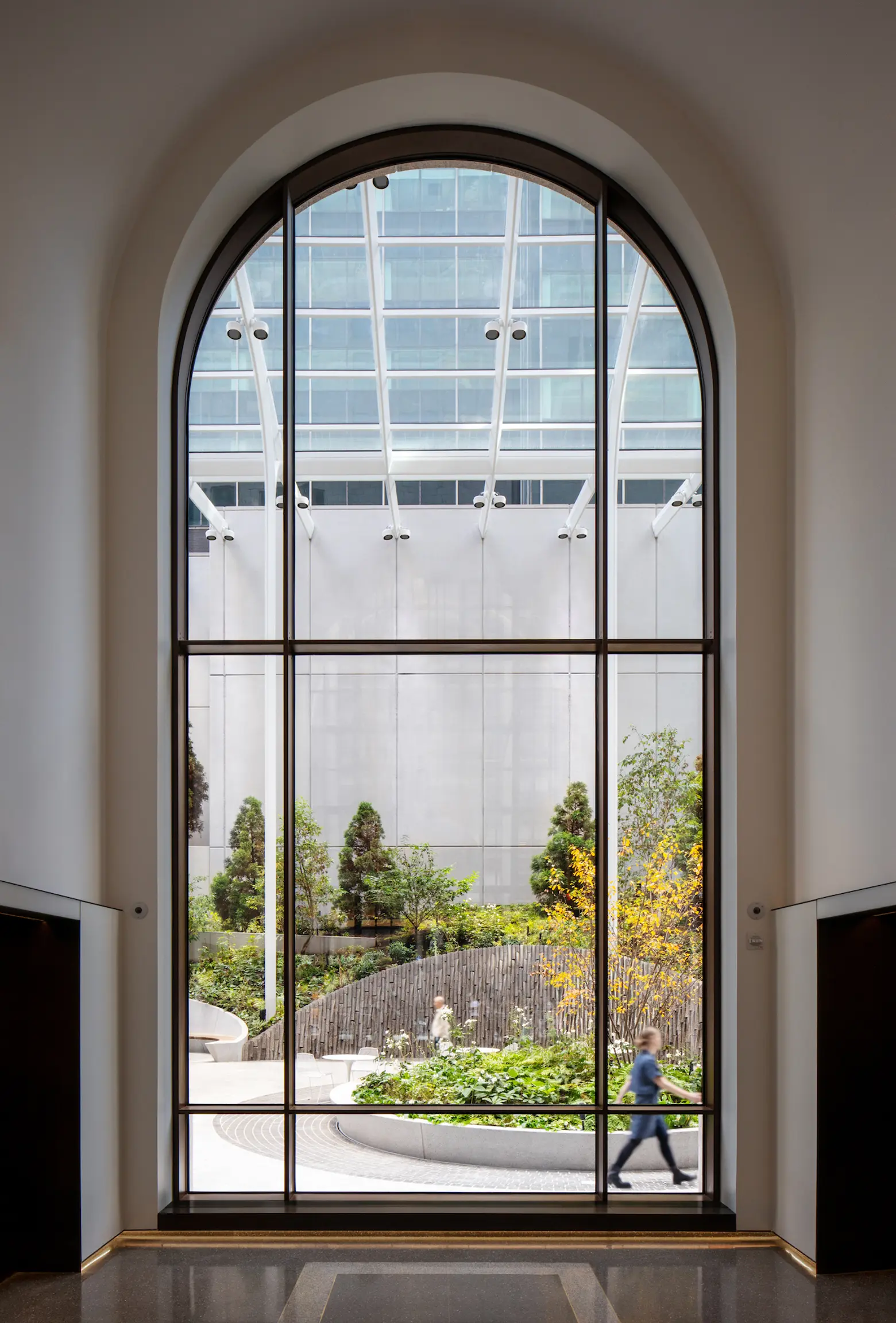 The garden connects to the newly renovated lobby, designed by Gensler to respect Johnson's original arcade. The architects added a rear window in the lobby that overlooks the landscaped garden.
The outdoor space has 48 trees, 200 shrubs, 6,300 bulb plants, and 10,000 herbaceous understory plants. The garden also offers gender-inclusive public restrooms and three food and beverage kiosks.
A 70-foot glass canopy covering the space can collect 93,000 gallons of rainwater every year to be used to sustainably water the entire garden. Snøhetta worked alongside landscape and horticulture companies Phyto, The Dirt Company, SiteWorks, Arup, and Adamson Associates Architects.
"Snøhetta's design for the new garden transforms the streets surrounding the iconic 550 Madison building into accessible, lavishly vegetated, and highly visible public space," Michelle Delk, partner and landscape architect at Snøhetta, said.
"A new lobby window and redesigned storefronts honor Philip John's original design. We are honored to help return this important part of Midtown to its visitors while contributing to the celebrated vibrancy of New York City."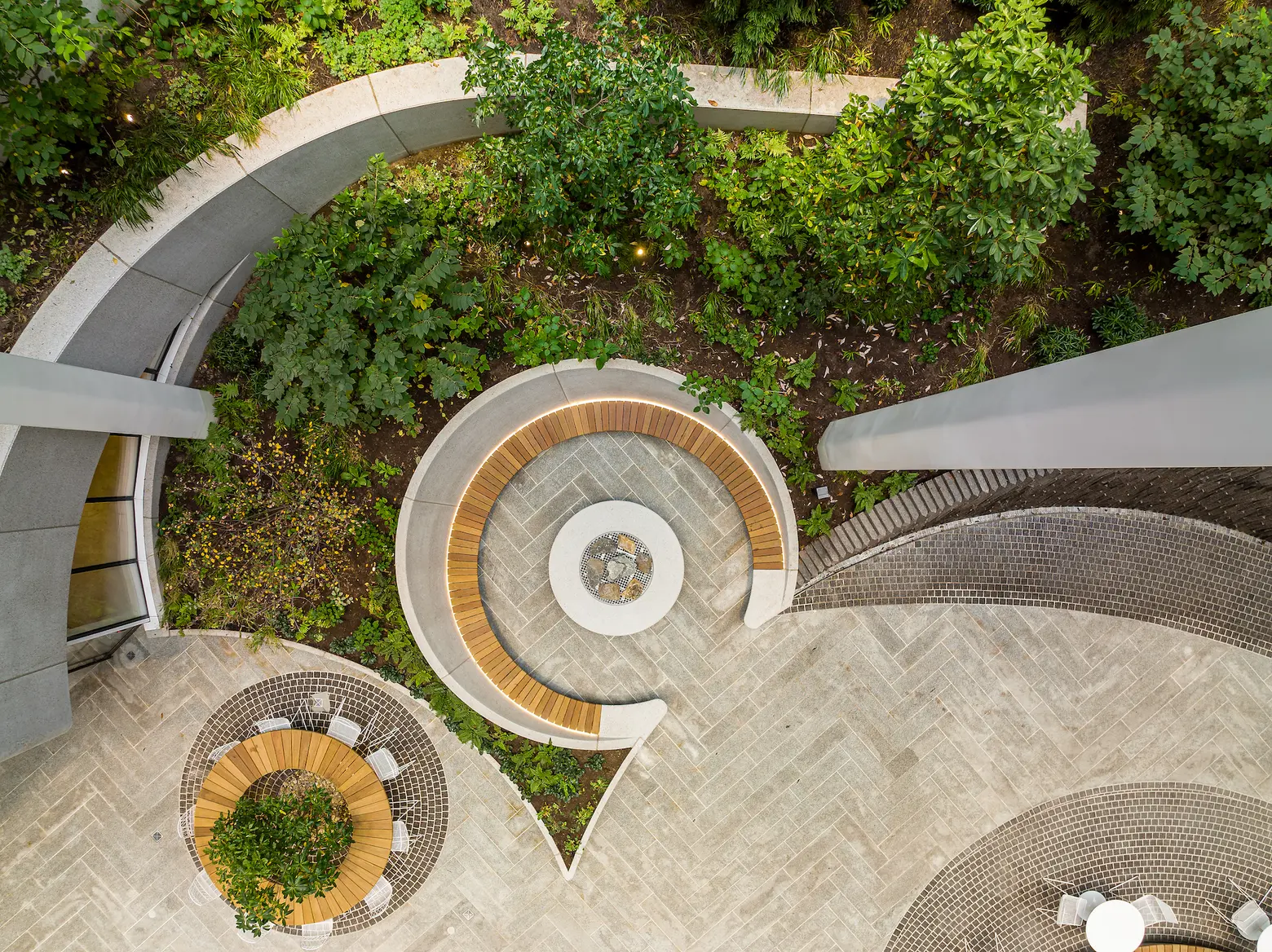 The public green space consists of five different sections centered around a tranquil body of water. These distinct sections feature "tree-filled backdrops" and "shrub skirts," inspired by vegetation found in America's Northeastern mountains.
Tree species found in the garden include Yellowwood, Sweetbay Magnolia, and River Birch, while the plants found in the garden's shrub skirt include Mountain Rosebay, Smooth Hydrangea, and Bottlebrush Buckeye.
Other plantings include a diverse cast of regional native species, including Soloman's Seal, Goatsbeard, Black Cohosh, Coral Bell, and Sword Fern.
The garden's bloom calendar has been timed to offer a beautiful array of colors, including shades of pink, purple, blue, and yellow, on different dates from February to October annually.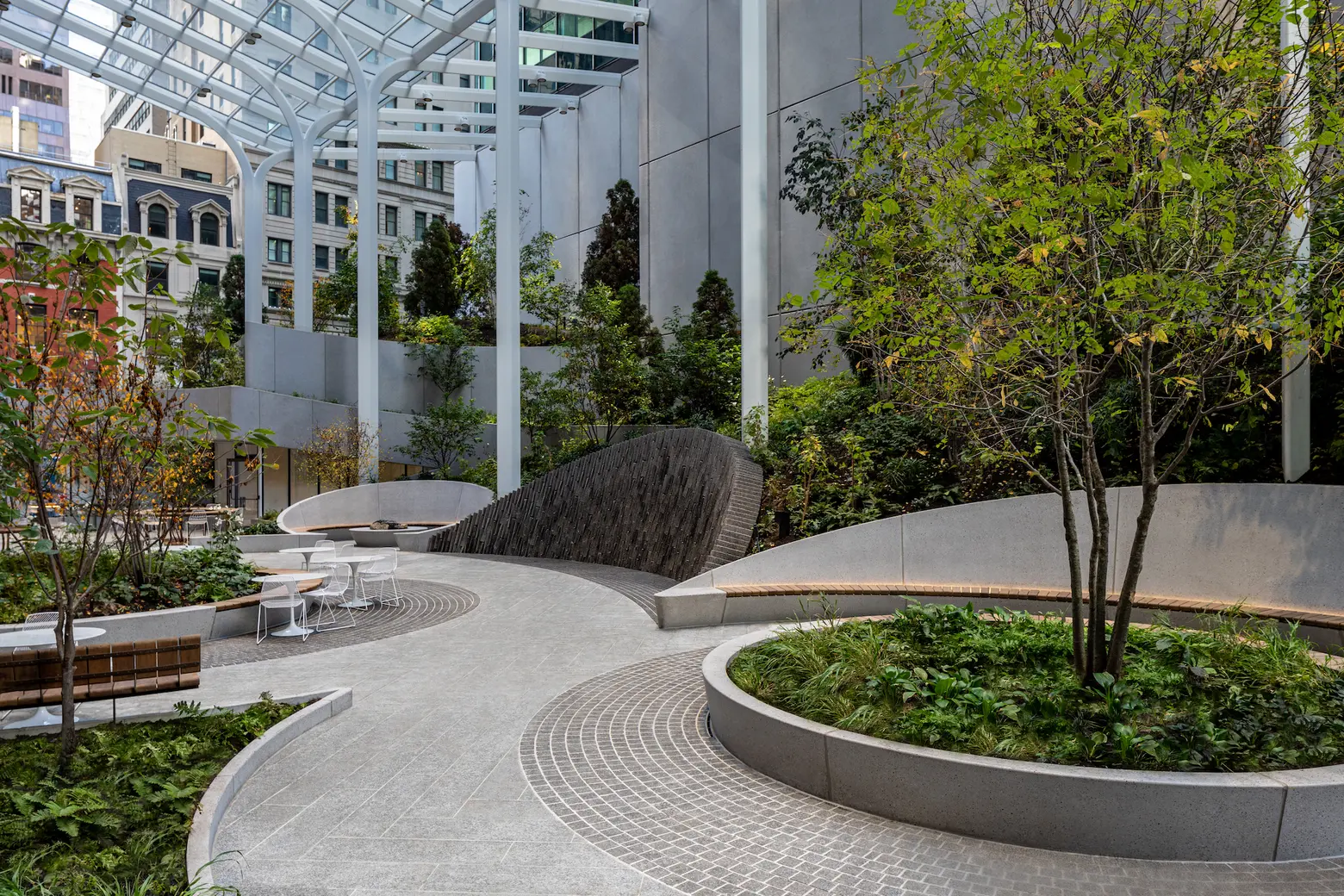 Setting up shop in the kiosks are Eat Offbeat, offering cuisines made by refugee and immigrant chefs, Local Roots NYC, offering farm-to-table Chinese food and bubble tea, and Black Fox Coffee Co., a local New York City coffee shop.
"The half-acre garden at 550 Madison is a welcoming new green space, offering a lush and elegant environment at the center of New York City," Erik Horvat, managing director of real estate at Olayan America, said in a statement. "The garden's cutting-edge design and meticulous maintenance positions it among the most beautiful public spaces in the city, while providing a dynamic amenity to tenants of 550 Madison."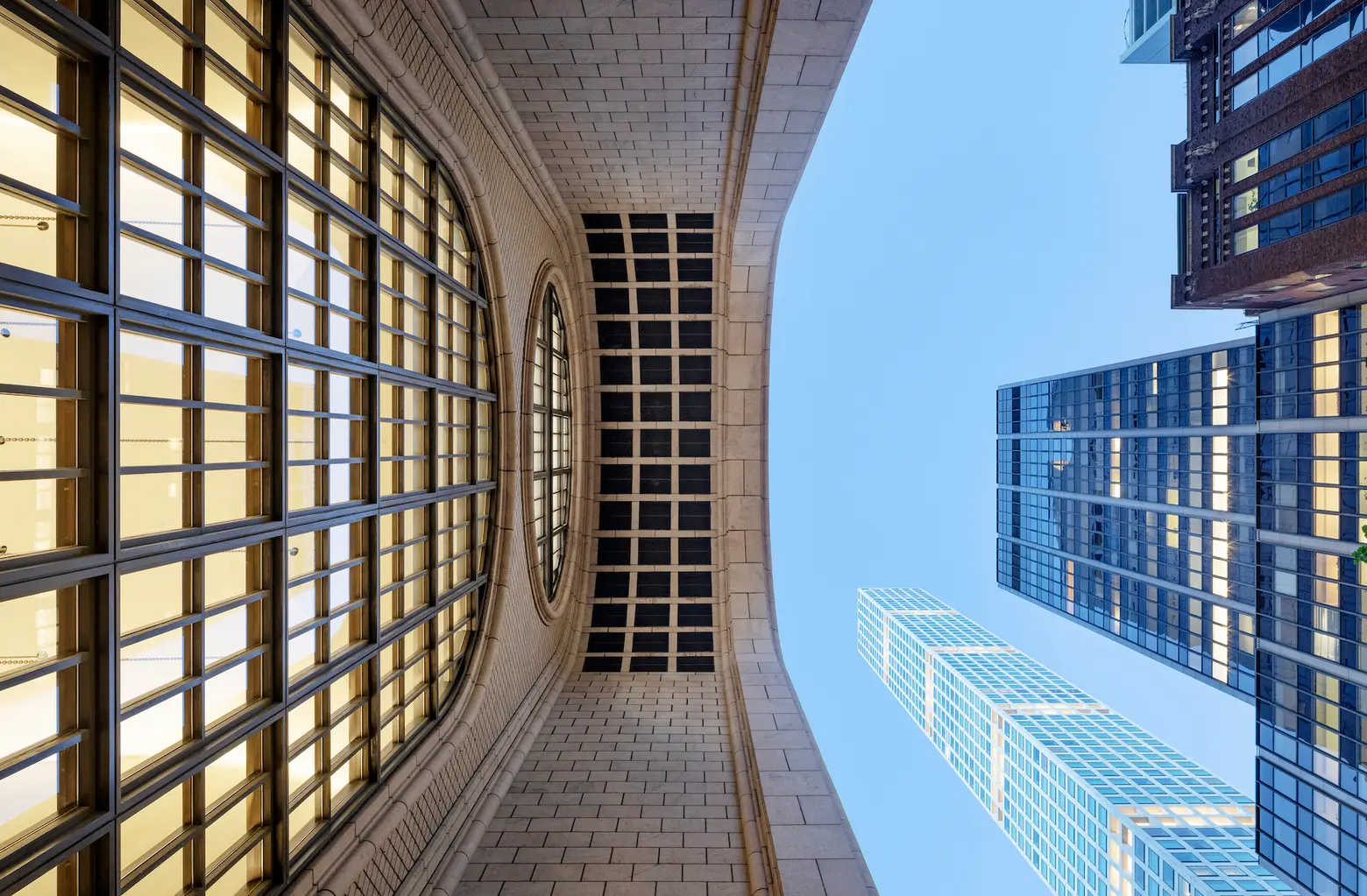 © James Ewing courtesy of Gensler
Philip Johnson and John Burgee designed 550 Madison in the early 1980s as the world's first postmodern skyscraper. The 41-story building first served as the headquarters for AT&T and later for Sony. It was acquired by the Olayan Group in 2016 for $1.4 billion.
The skyscraper was landmarked in 2018, protecting the structure's iconic facade and crown after the Olayan Group and its development partner RXR Realty announced plans to renovate it.
To draw in tenants, the building offers more than 30,000 square feet of luxury amenities. A Rockwell Group-designed 7th-floor amenity space includes health and wellness-focused perks for tenants like a fitness center and healthy food and beverage options.
The building is 50 percent leased. Corsair Capital, Hermès, and insurance company Chubb have signed on as tenants so far.
The garden is open to the public daily from 7 a.m, to 11 p.m. year-round.
RELATED:
All photos by Barret Doherty unless otherwise noted