My 500sqft: An advertising strategist perks up her Bushwick pad with pastel and pop art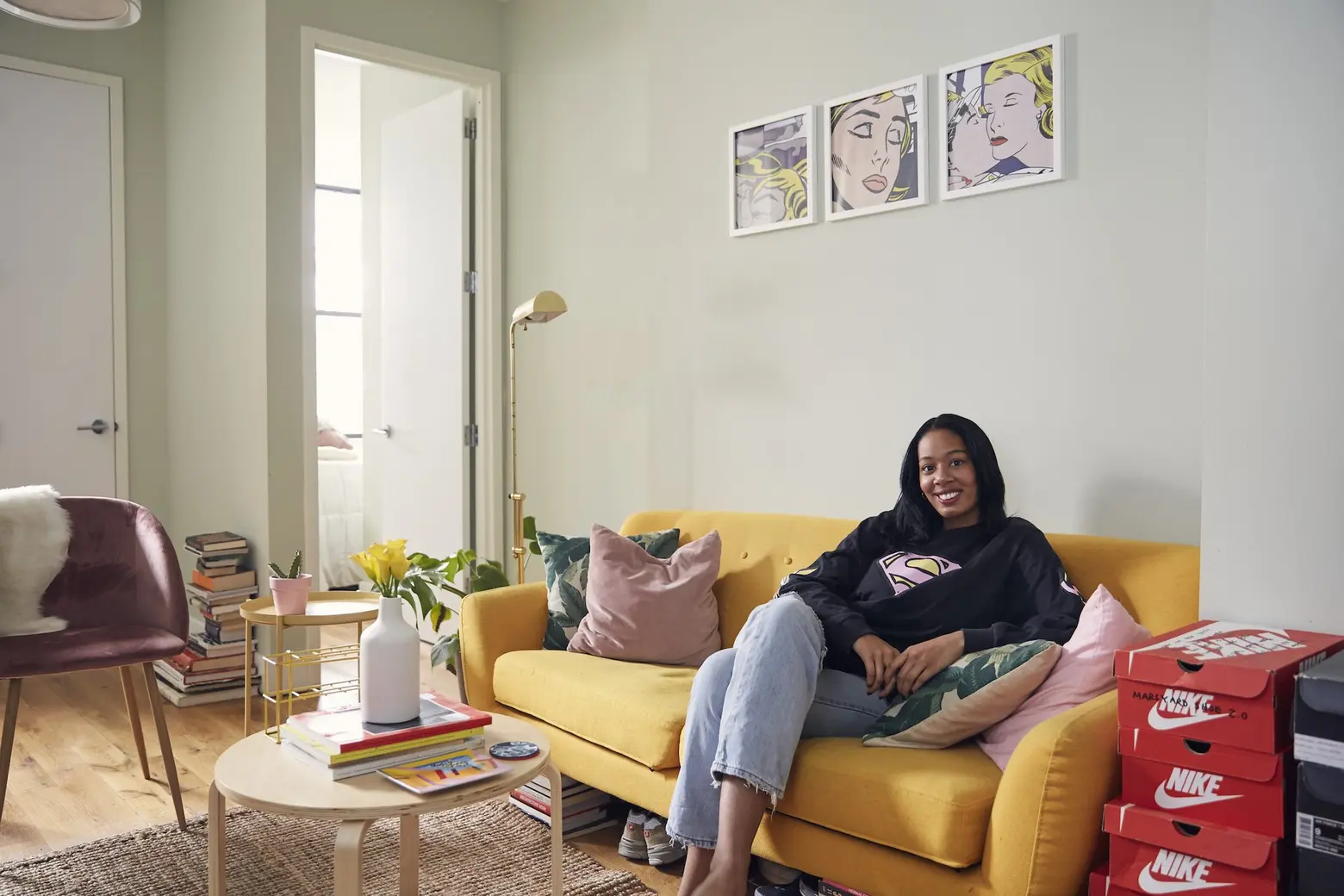 6sqft's ongoing series "My sqft" checks out the homes of New Yorkers across all the boroughs. Our latest interior adventure brings us to the Bushwick one-bedroom of advertising strategist Alyssa Neilson. Want to see your home featured here? Get in touch!
After growing up in Houston and studying in Austin, Alyssa Neilson was ready to make the jump to NYC. But unlike most transplants, she wasn't fulfilling a dream to become a lifelong New Yorker. Instead, she wanted to kickstart her career as an advertising strategist and experience, at least for a few years, the "arts, creativity, diversity and culture" that can only be found in New York. Once she landed a job, Alyssa settled in Bushwick and set up a home that reflects her creative spirit–think pop art prints and a killer sneaker collection–but also serves as a calming place to come home to after a long day thanks to a thoughtful pastel color palette and streamlined mid-century-modern furnishings.
Despite this lovely oasis that Alyssa created for herself in Brooklyn, she decided that she got her NYC fix and is now ready for warmer weather, outdoor activities, and more square footage. But before she heads out to LA, Alyssa invited 6sqft to take a tour of her home and learn a bit more about her path.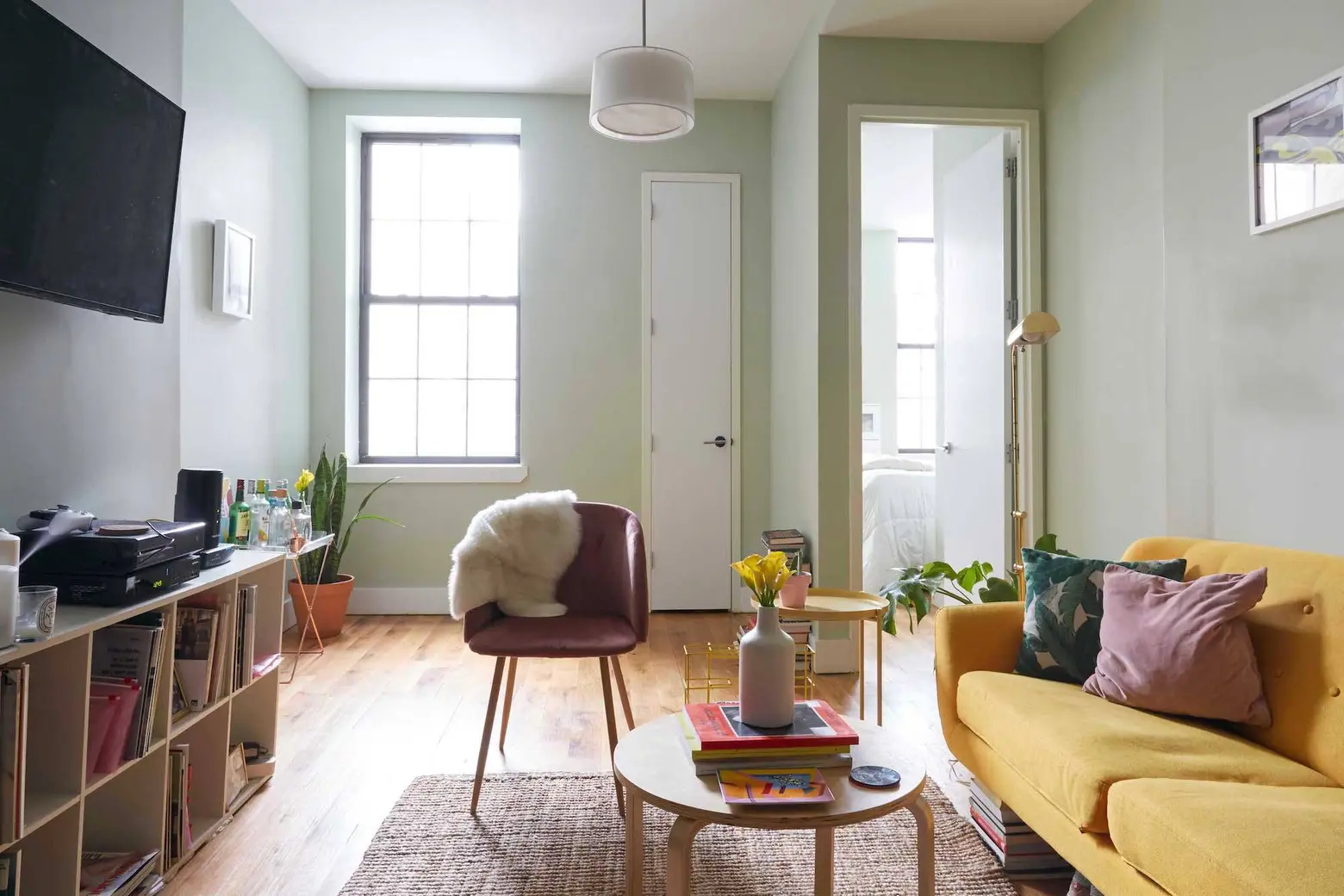 How long have you been in in this apartment?
I've been in New York for nearly three years post-grad. I lived in Prospect Lefferts Gardens for nine months and have been in this apartment for about a year-and-a-half ever since.
You're originally from Houston and went to school in Austin. How does NYC compare to both of these cities?
NYC is obviously a global epicenter for the arts, creativity, diversity and culture — but I honestly think Houston is not far behind. And I love that most people don't really know that because it allows for Houston to remain a bit more local in a good way. Houston is my favorite city in the entire world and the only thing keeping me from living there is the fact that I'm in advertising and not in oil, gas, or medicine.
I love NYC, but I've been very mindful of never getting totally enamored with it because I've always known I won't retire here or live here into my thirties.
Austin is super charming and a lot less of a mega-city than NYC or Houston, which is nice. It has such a small-town, local, outdoorsy vibe and when I lived there I was always doing something recreational. Or eating because the food and drink scene there is amazing and so crafty! My only regret was living there in college and not post-grad because I was on such a tight budget at 20 where I couldn't always take advantage of that. You cannot live there and not be a foodie. I really miss that sometimes, but I love being in a large mega-city with a high caliber of diversity. That's a priority for me.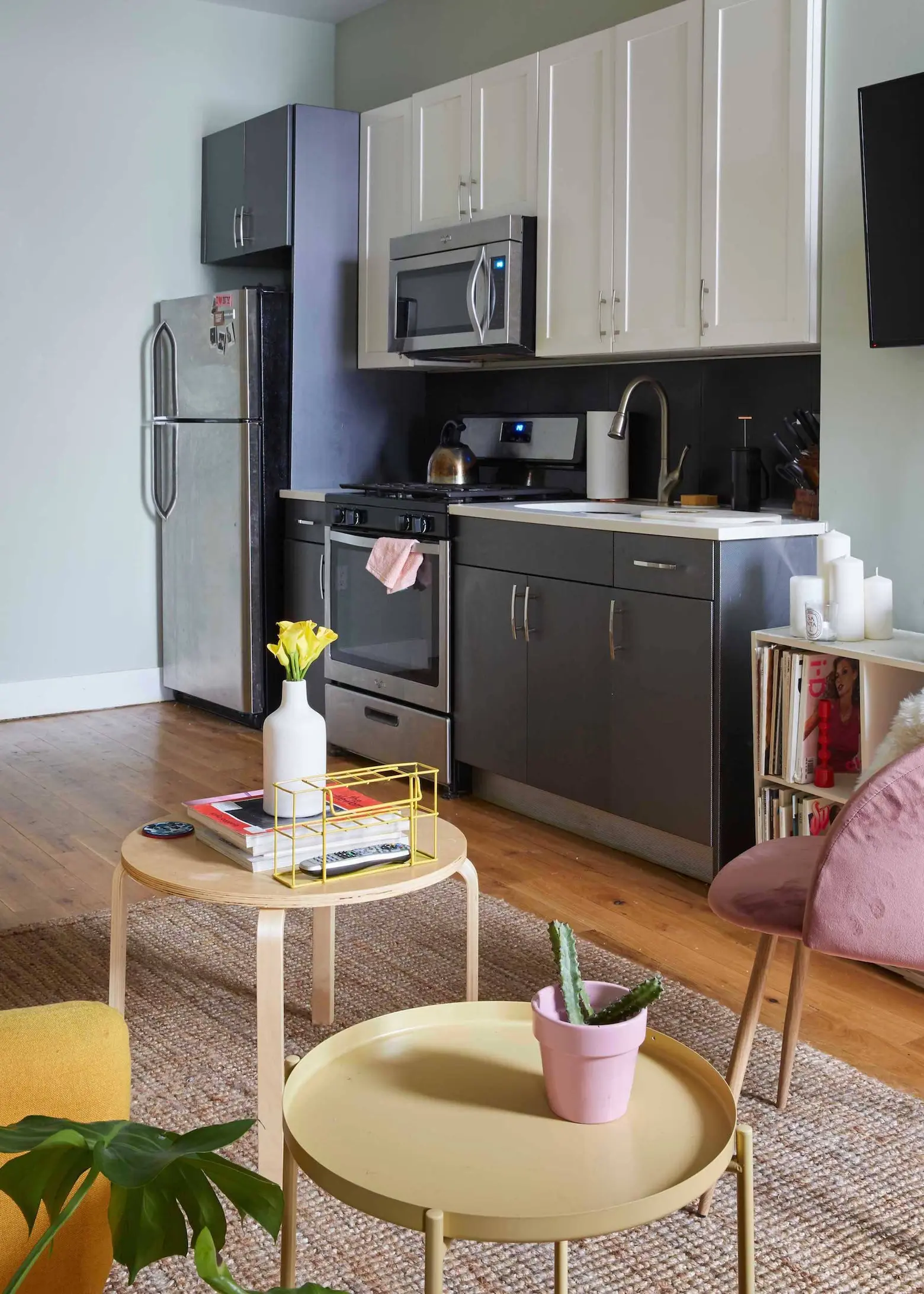 Why did you choose Bushwick?
Bushwick sort of chose me. I loved living in Prospect Lefferts Gardens but it was way too noisy for me. I love the art in Bushwick and it's a bit more desolate and quiet. I just ended up here via a realtor at Nooklyn who only showed me places in the area. There is also such a rich, authentic and inviting culture in Bushwick that I appreciate. Most of my friends are here or within a five-minute drive as well, which makes life so much more convenient (and late night Ubers!). I'm also super close to the city, so it's great accessibility-wise for errands and such.
Any favorite spots in the neighborhood?
I love Home Union for home goods on Hooper Street. I love 983, Roberta's, Peaches, Le Garage, Faro, and La Lupe for food, and Hearts and Baby Skips for coffee. I go to either of those coffee shops every Saturday morning for an espresso. I'm also super close to some cool spots in Bed Stuy that I frequent, like Casablanca on Malcolm X. I love that bar, they know how to make a good mezcal mule, which is the only cocktail I drink.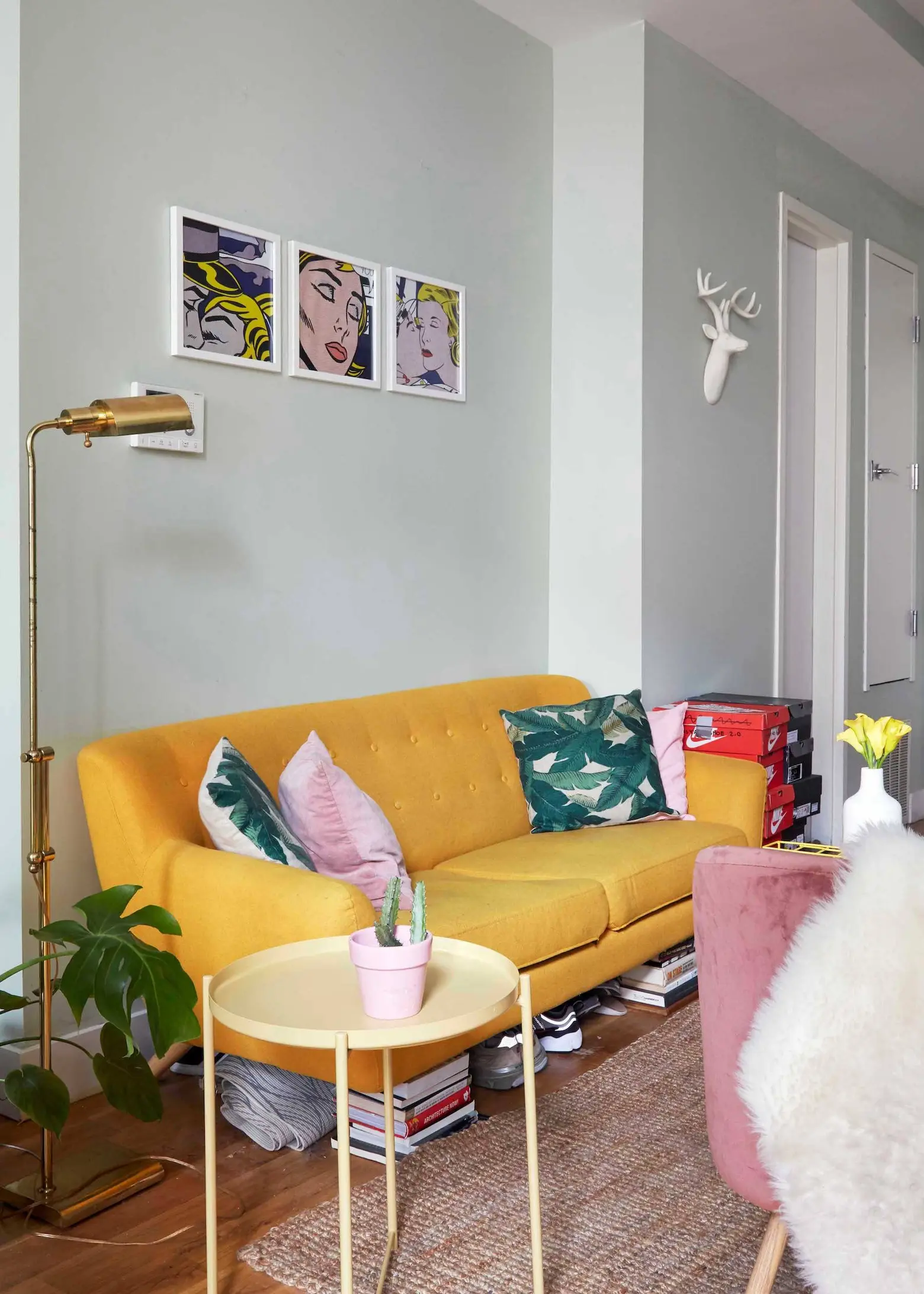 How does your career as an advertising strategist play into your design aesthetic?
I always said if I wasn't in advertising, I would have studied design in some capacity — whether industrial or interior, I'm not quite sure. I really want to design and build a table or something and start doing that on the side actually. I love working with my hands; I think that's the coolest way to work. I think being in advertising, I'm naturally very artistic and design-inclined and I have to have an inspiring, creative space to dwell. I also paint, so most of my apartment matches my artwork to the nines.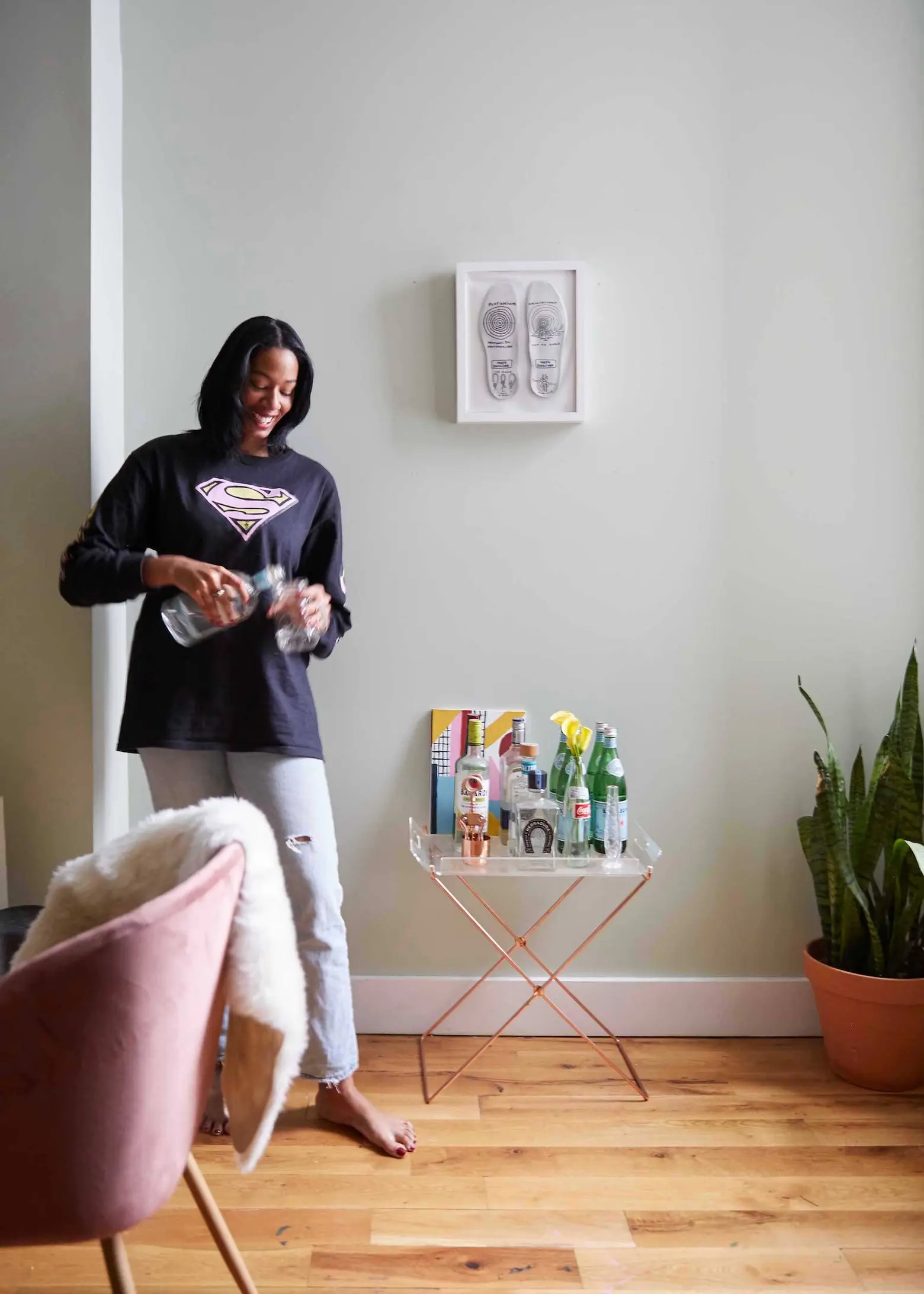 How did you go about deciding on a color palette?
I didn't know until I started furnishing my apartment "for real," but my beat is really just primary colors. When I was in college in Austin, my apartment was purposefully bare. I had my bed, a TV, a small sofa and table and just all of my sneakers — and everything was IKEA and temporary. So when I moved to New York and felt like I had a bit more of a permanent situation I got so much more keen on how I wanted to decorate and started to manifest a real style.
First, I bought a taxi-cab yellow sofa on a whim and really fell in love. I had already painted my walls mint green, so I figured I'd just keep pushing for a vibrant/tropical feel. I'll never have a sofa that's grey or a subtle color ever again because I think sofas can really add character and set the entire tone of your space because they're usually the largest thing in an apartment. From there, I started to incorporate artwork that I thought was fitting from some of my favorite pop artists such as Roy Lichtenstein. Now, there is just a lot of pink, red, yellow, green and navy blue in my apartment. Those are all my favorite colors. It helps me feel a bit better after a long day to come home to a place that isn't super dull.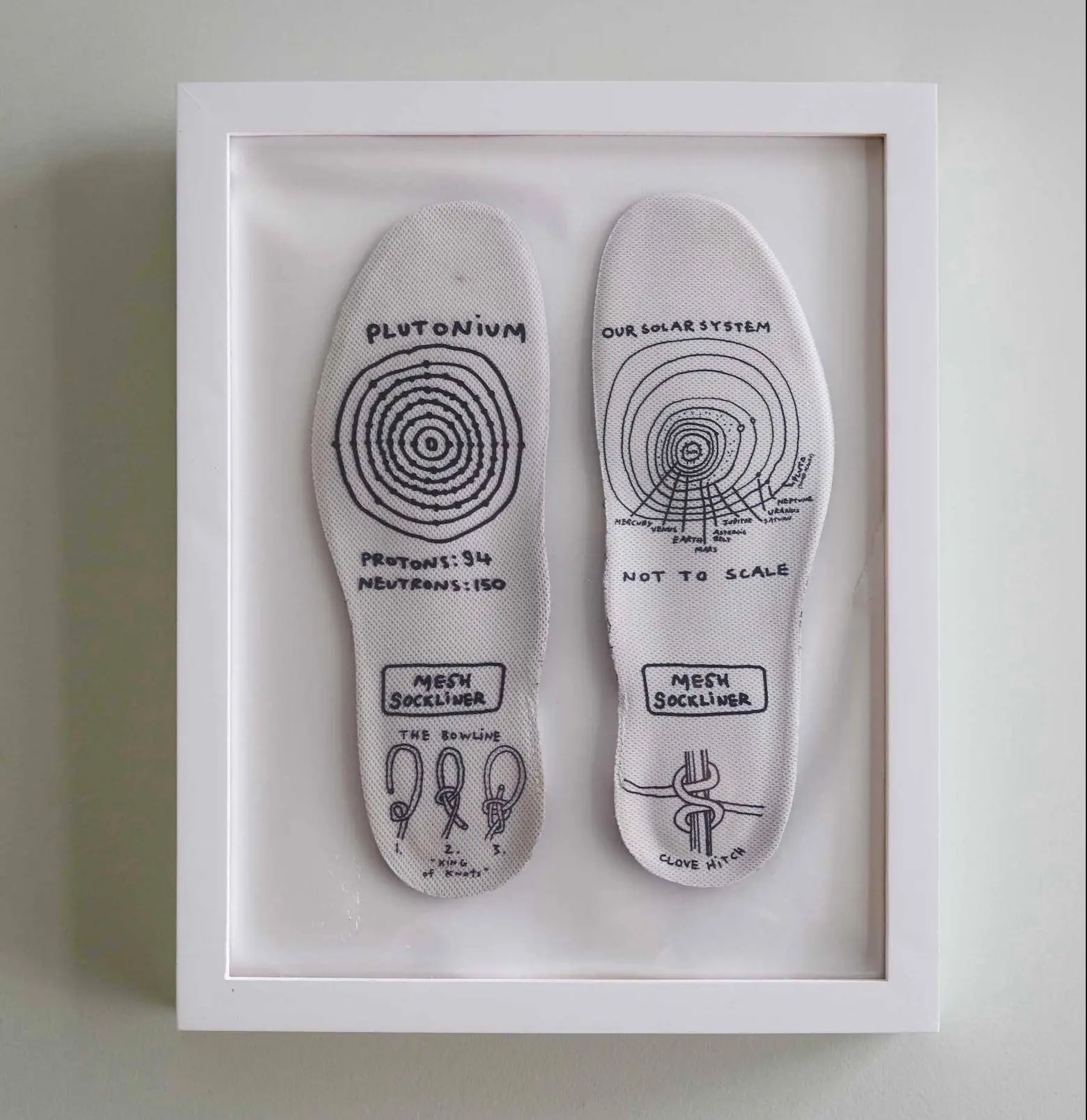 What are some of your favorite places to shop for home decor?
Coming Soon on Orchard Street in the city, Home Union on Hooper Street in Brooklyn, Article, Amazon and eBay, Consort Design, Tom Dixon, Nelly's Flower Shop on Broadway and Union Avenue in Brooklyn for all flowers and plants, Tictail Market and Cold Picnic (both of which I found on Instagram!) for accessories, West Elm, Jonathan Adler, Danish Design Store, and Hay Design.
Do you have a favorite piece of furniture or art?
Both my brass floor lamp in my living room and the gold mirror in my bedroom which I use as a vanity are hand-me-downs from the homes of my late grandparents. They are both items I'll keep no matter where I move and I'll incorporate them into any home or apartment I ever live in. Then I'd have to say the adidas comic strip print ads from 1962 I have framed above my bed. I found an old copy of Esquire magazine and literally tore the comic strip out to frame it. I have a collection of old magazines just for the print advertising archives. Plus I also work on Adidas now at work, so it's a bit more special. Things like that are just super timeless to me.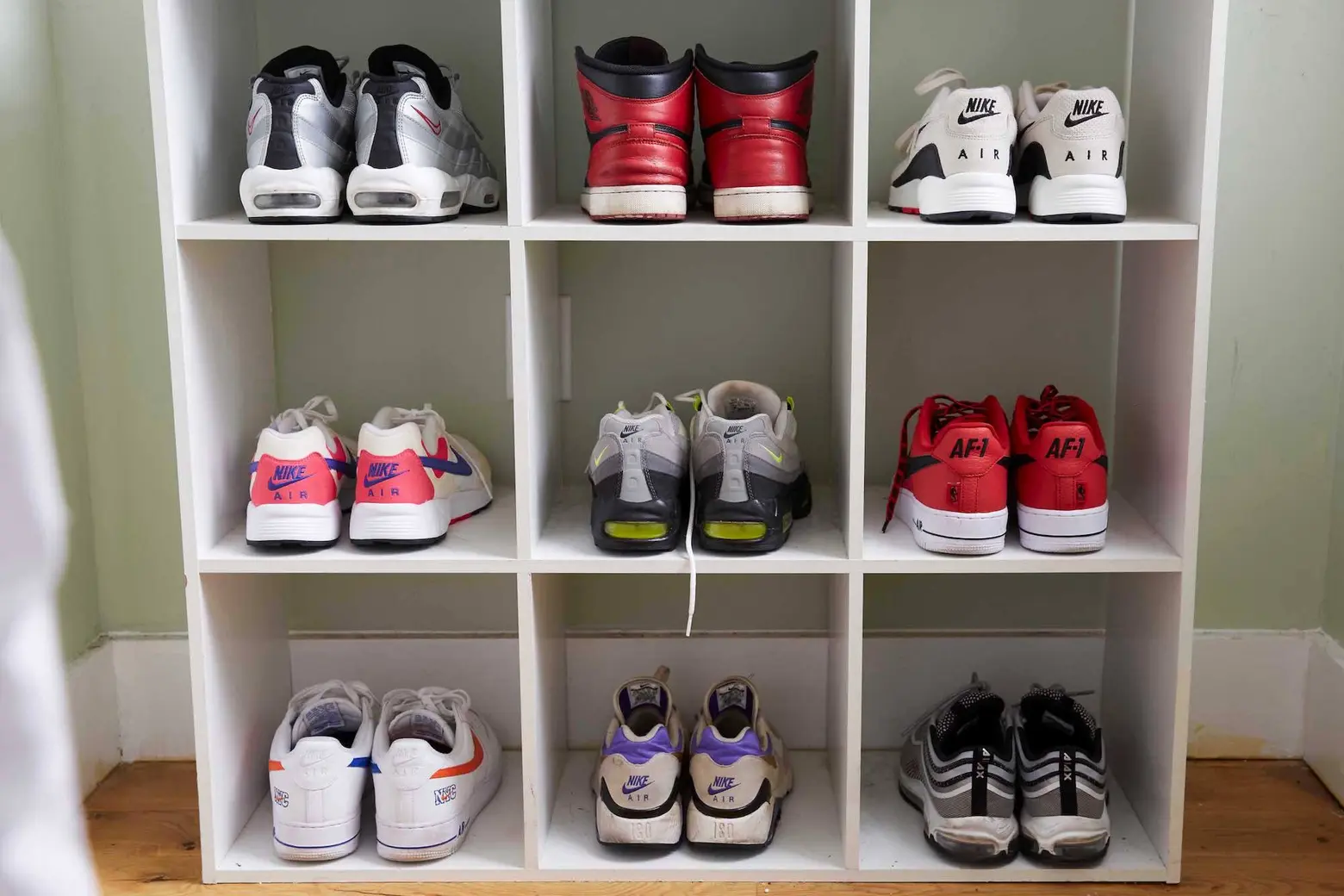 Alyssa has 70 pairs of sneakers in NYC and another 60 at her parents' houses! She won't wear about 30 of these because they're worth money or were too expensive to actually walk around in.
Tell us about your sneaker collection! How did you get started with it?
I have always been into sportswear and sports so liking sneakers as I grew more into my personal style in my teenage years was pretty seamless. My first job at 16 was in my local mall in Houston at Foot Locker, so I got a discount and started getting really hyped about Jordan releases at the time. I had no other expenses at 16 so I would work all summer for paychecks and just spend them there.
My first prized shoe was the Space Jam Jordan 11s that came out in 2009 — I was 16. I'm also 5'10", and at that age I was super uncomfortable with my height since I had just gotten the growth spurt that put me there, so I didn't really feel comfortable going out in heels like all my friends did in high school, so sneakers became an avenue for me to personalize my style and really add a cool element to my outfits. I still feel that they do that for me, 140+ pairs and almost 10 years later. But it's more so about just having an overall appreciation for the craft now that I'm older — sneakers are art to me, and I don't feel that way about any other type of footwear. The design, the technology, the years of development behind each shoe etc. makes each pair I own worth it.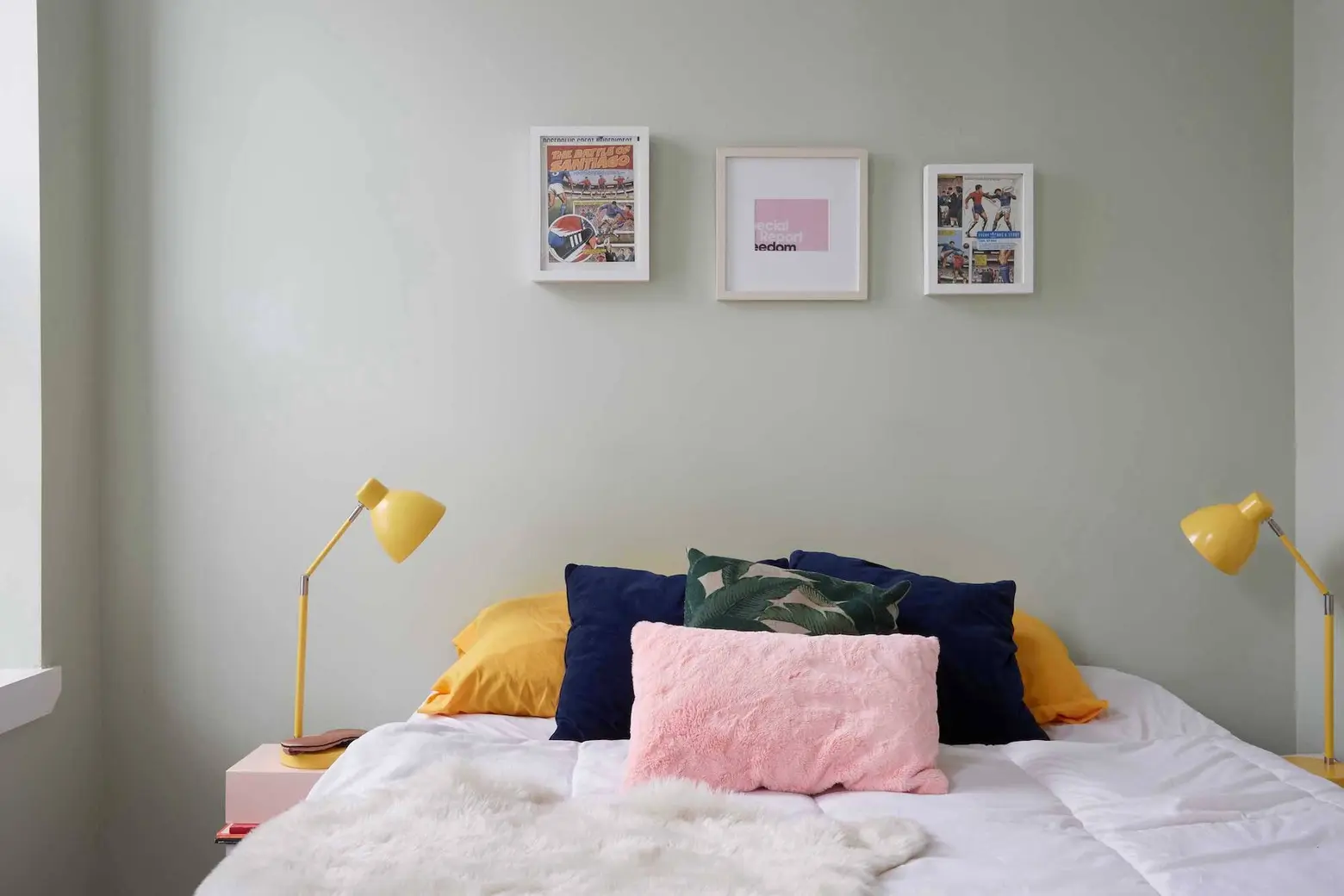 Alyssa hopes to have a similar aesthetic at her new home in LA, but she may swap her yellow couch for a red one.
You mentioned that you'll be getting a job transfer to LA after the New Year. Why did you decide to leave New York? 
As much as I love New York, living here is just not compatible with me. And I think it took me longer than necessary to accept that and develop an exit strategy, which is okay, because I had gotten so comfortable with being here. I'm sort of approaching moving cross-country like ripping a Band-Aid off. I'm just doing it super fast and on a whim, 100 percent on purpose. As I get older and further into my twenties, what I want housing- and living-wise is maturing as well — things such as more square footage, warmer weather year-round (I'm from Texas so half a year of cold weather and hardly any sunlight is something I can't deal with), driving and having some privacy versus the MTA, etc. I want more livability and comfort, simply. I also want to be outside all the time again like I was in Austin. I really need that — especially working in such a fast-paced industry with often such long hours.
I'm moving to either Venice or Mar Vista, both on the west side of LA and near the beach. I'm originally from Jamaica and I think that just suits me best as well.
What will you miss most about NYC?
Really, the only thing I'll miss about New York are my friends. They are so invaluable and I worry the distance will hurt my friendships the most. I feel like everything else I love about this city — the diversity, art, bustling creative culture, etc. are all things I can and will find in LA. I'm mostly looking forward to just better energy and more vitamin D. People in LA seem so much happier and freer and that really can affect your mood for the better.
RELATED:
All photos taken by Brett Wood exclusively for 6sqft. Photos are not to be reproduced without written permission from 6sqft.