My 900sqft: Artist Ehren Shorday adorns his Bushwick loft with 'trash' and treasures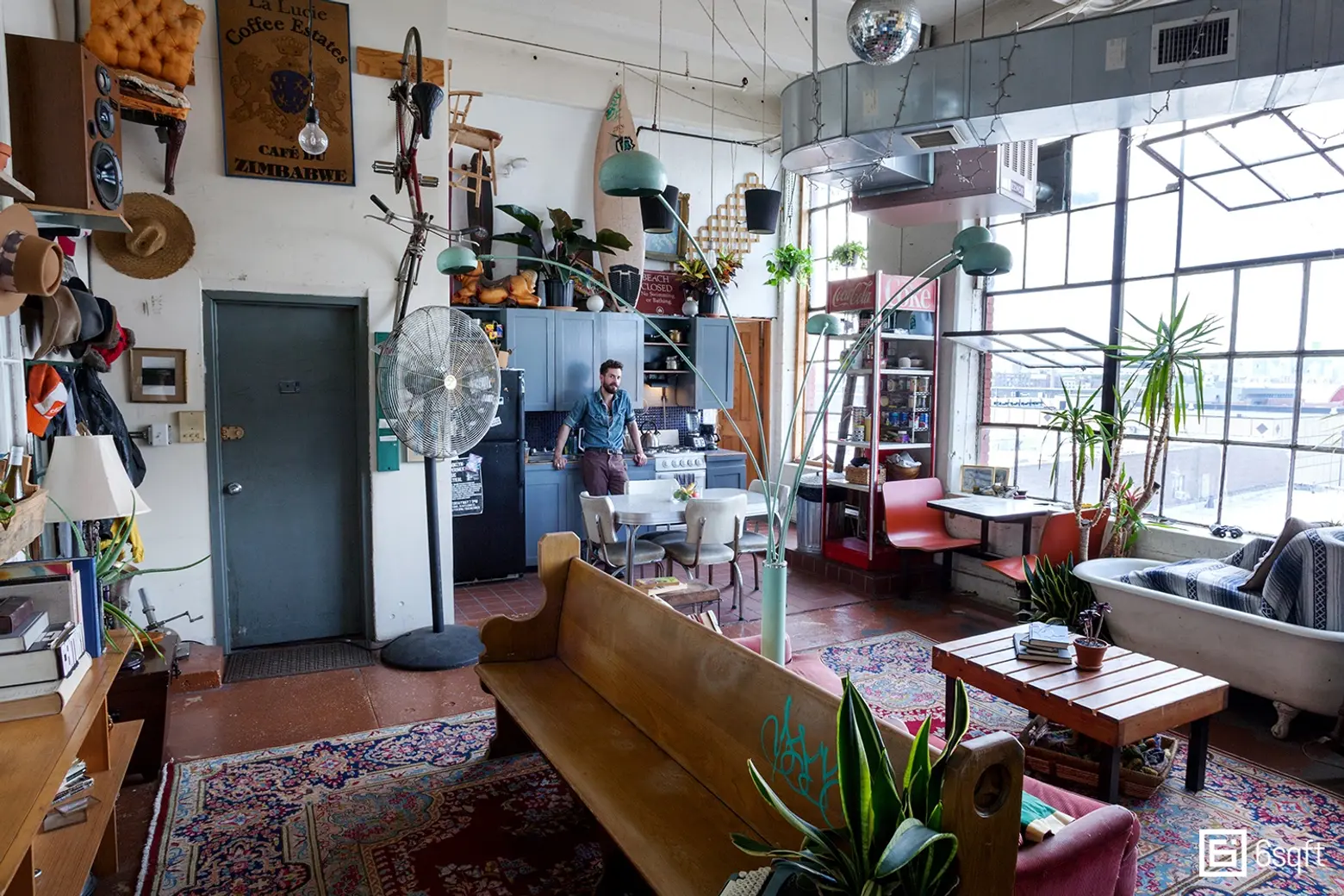 6sqft's ongoing series "My sqft" checks out the homes of New Yorkers across all the boroughs. Want to see your home featured here? Get in touch!
When Ehren Shorday moved into this giant Bushwick loft a little more than six years ago, his main focus was making the industrial space feel like a home. Originally from antique-haven New Hope, he chose to go with a "southeastern Pennsylvania river town vibe," but as an artist who didn't have a ton of money, he achieved this aesthetic by furnishing the 900-square-foot space with "trash," or perhaps more eloquently put, "found treasures." Aside from the rug and his parents' two club chairs, which he brought with him when he moved to New York 13 years ago, everything in the apartment was found, from the church pew and diner banquet table to the porcelain bathtub that's been repurposed as a chaise lounge. Ahead, Ehren gives us the grand tour and fills us in on the story behind his prized possessions.
Why did you start collecting "trash" to furnish your home?
I just like to keep around things that mean something to me and things that make me feel comfortable. I wish I could get rid of more things, but there's a story behind everything in here. There's not a single thing in here that I couldn't say, "Oh, this is from this point in my life, this is something that this person gave to me, this is something I found here, this is something I use a lot."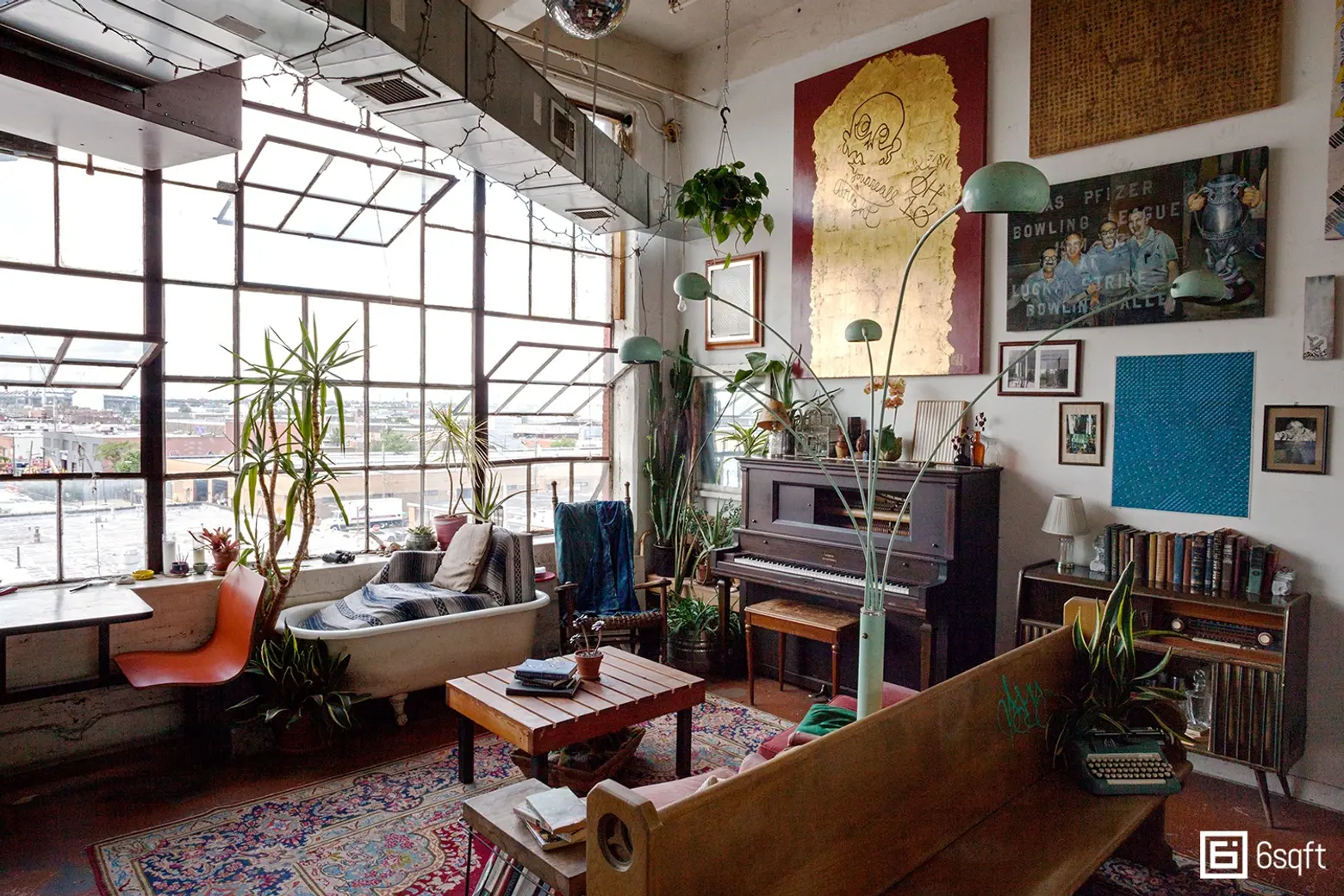 We've got to know about the bath tub.
I actually took this bathtub out of my old loft because they were going to bulldoze the building and throw everything away, and I couldn't let this big cast iron tub go to waste. I originally wanted it to be a planter, but my old roommate put this chair in it. I never really liked it, but everybody else does and I've grown to like it, too.  Now I spend a lot of time here; it's a great place to watch the sun set or drink coffee in the morning. And it's really comfortable actually.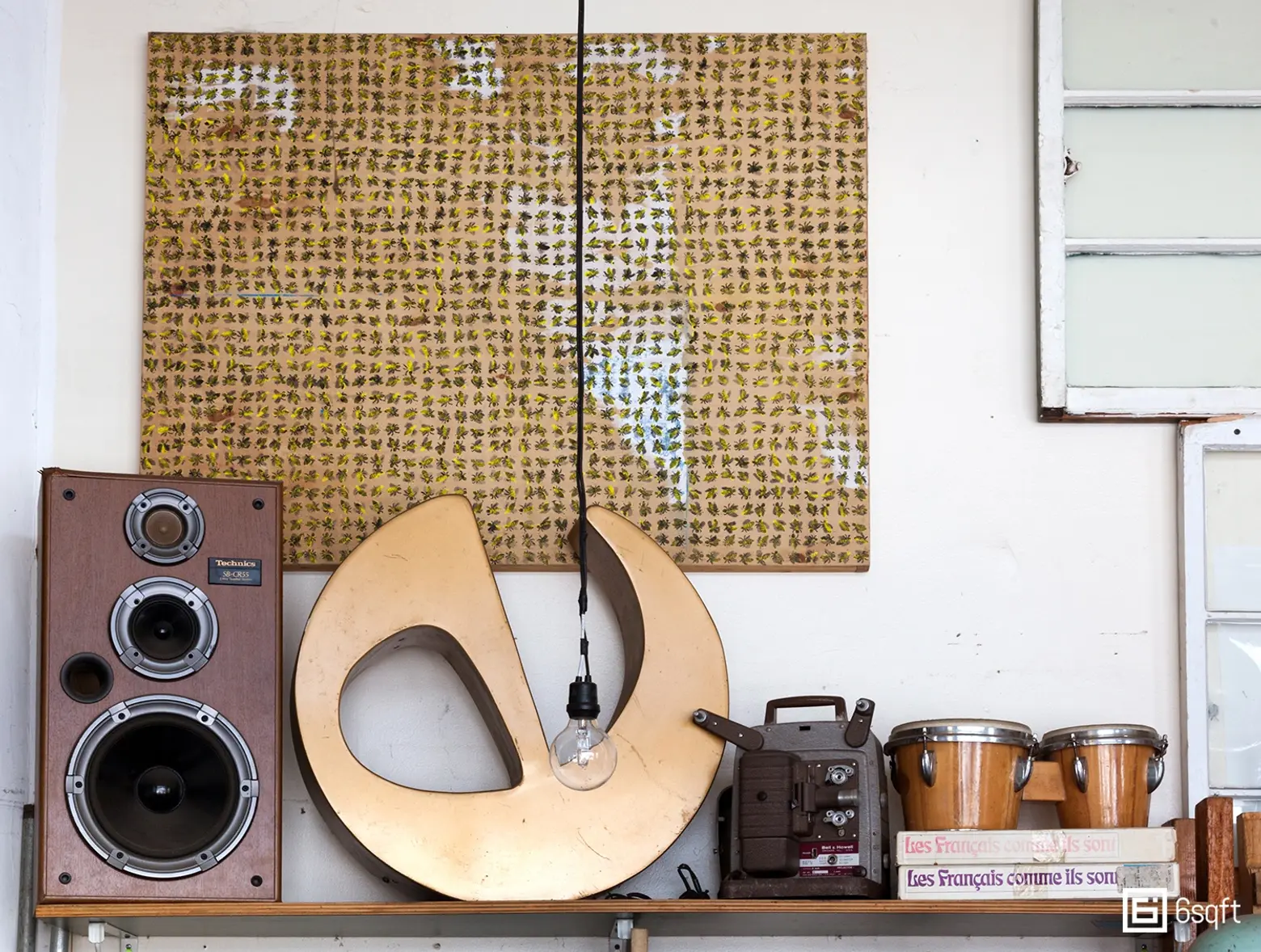 You mentioned that you could never part with your parents' chairs; are there any other items that are sentimental to you?
The "e" is a pretty interesting thing. My family used to own supermarkets, and once they were opening one and had a sign made and the sign makers accidentally made an extra lowercase e. It's actually a neon light that lights up behind itself. And because my name starts with an e, I always wanted to keep it.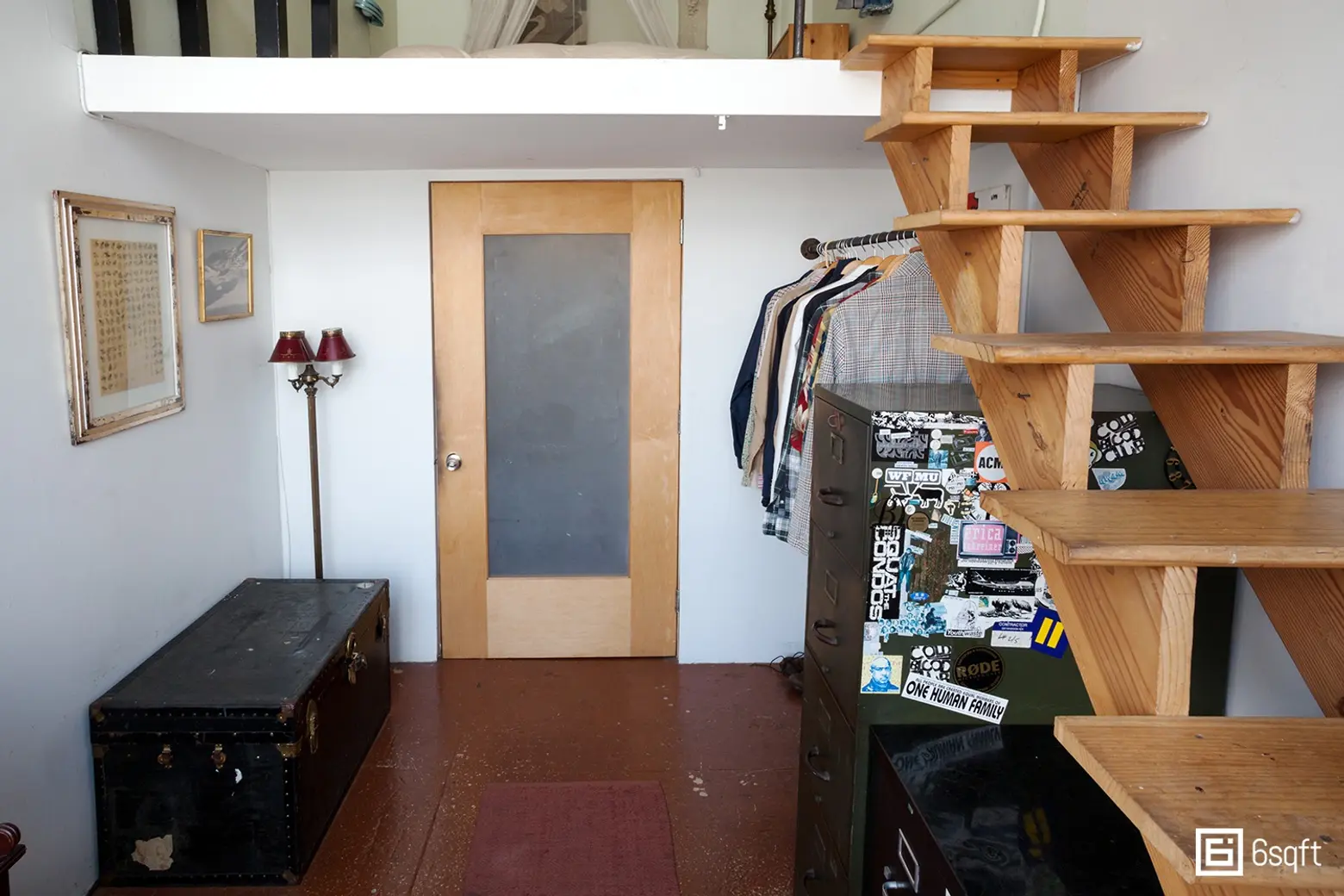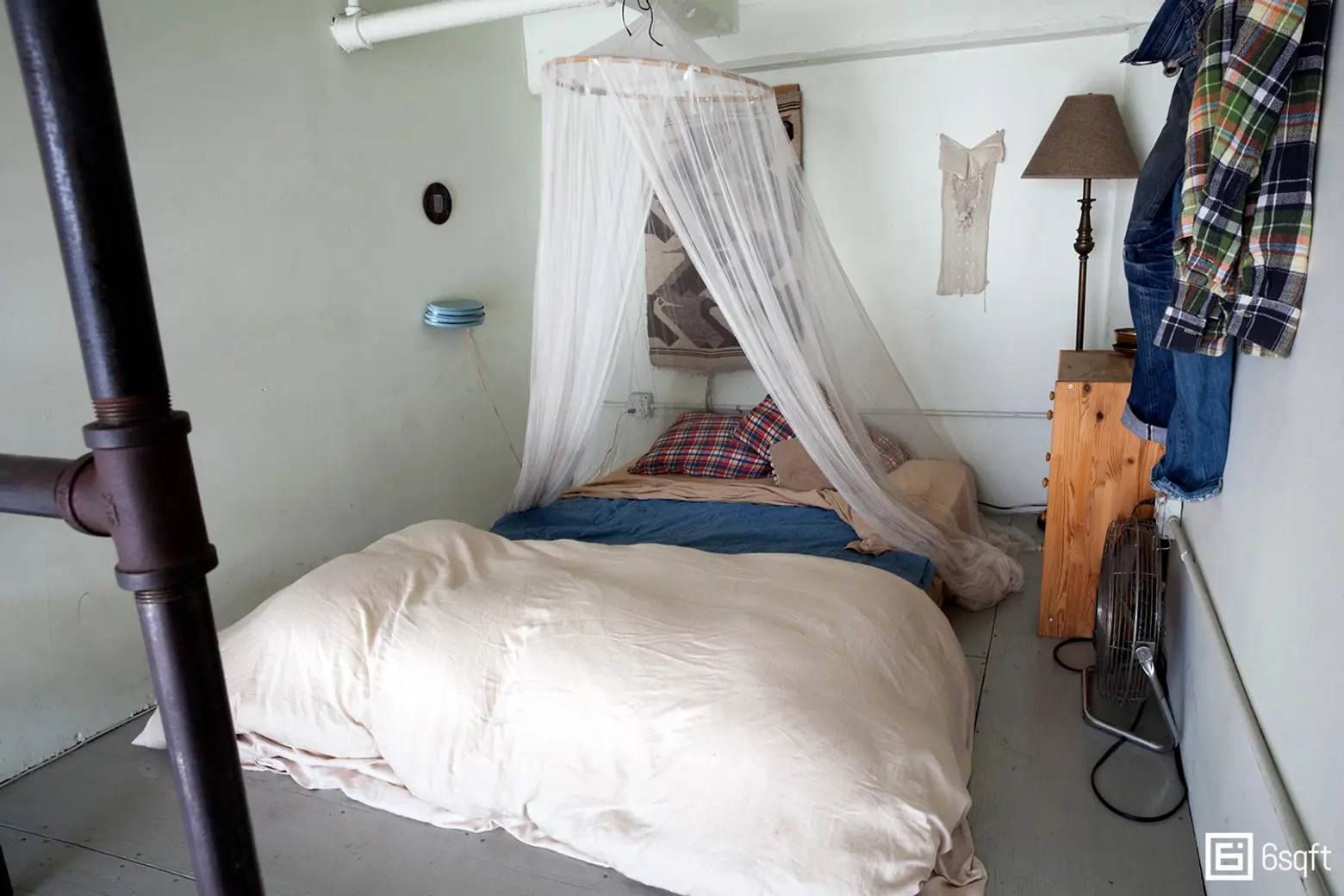 The mosquito net "looks cool," says Ehren, but also is functional since "this is still industrial Brooklyn" and with huge windows "you get stuff"
The bedroom seems a lot more subdued than the rest of the space. Was this intentional?
I like to keep this room simple. You don't want to have too much in the room where you crash. But I get to wake up to this view every morning, which is really great.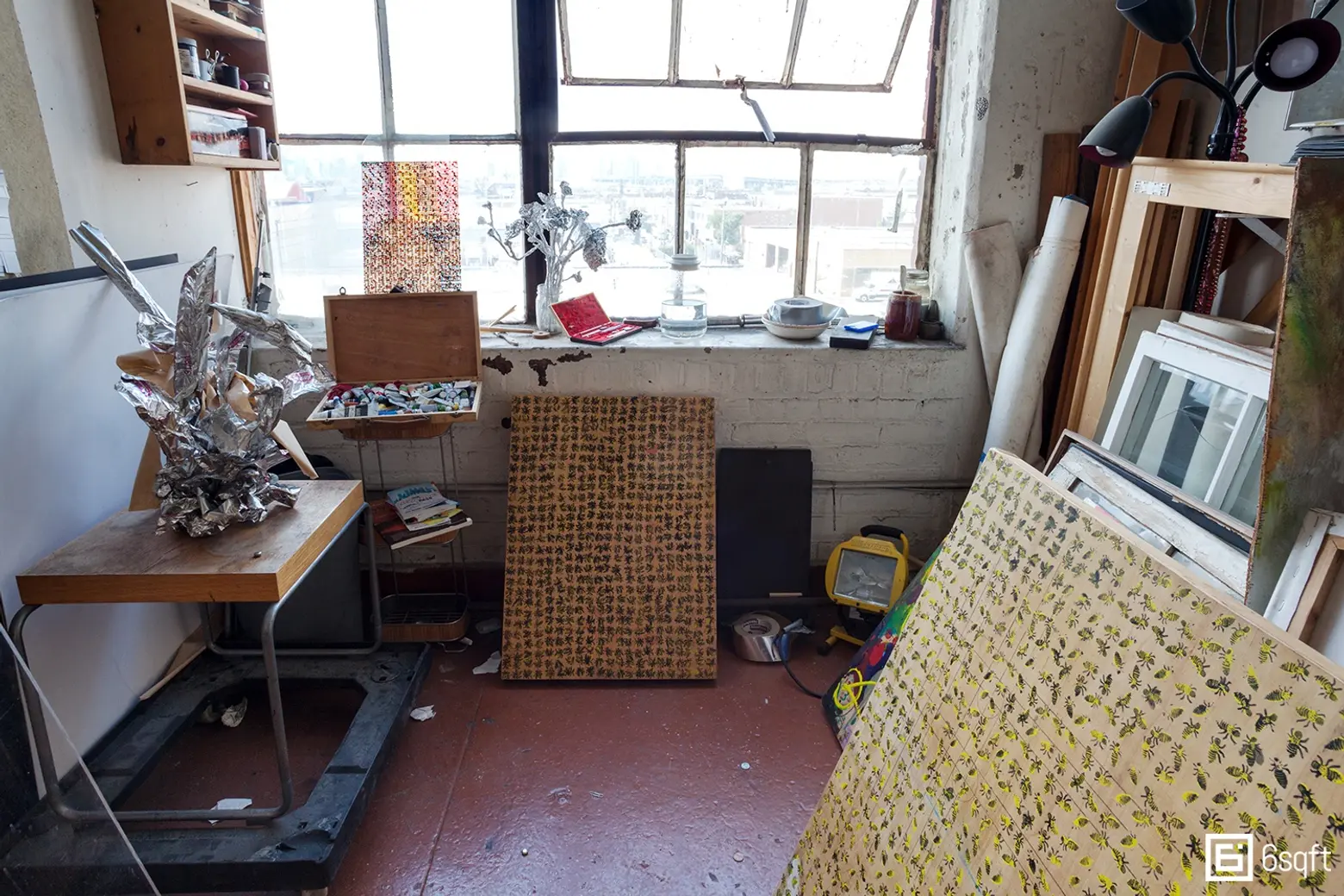 Ehren says his art studio/storage space is the "messiest spot" in his home, but it's where he gets all his work done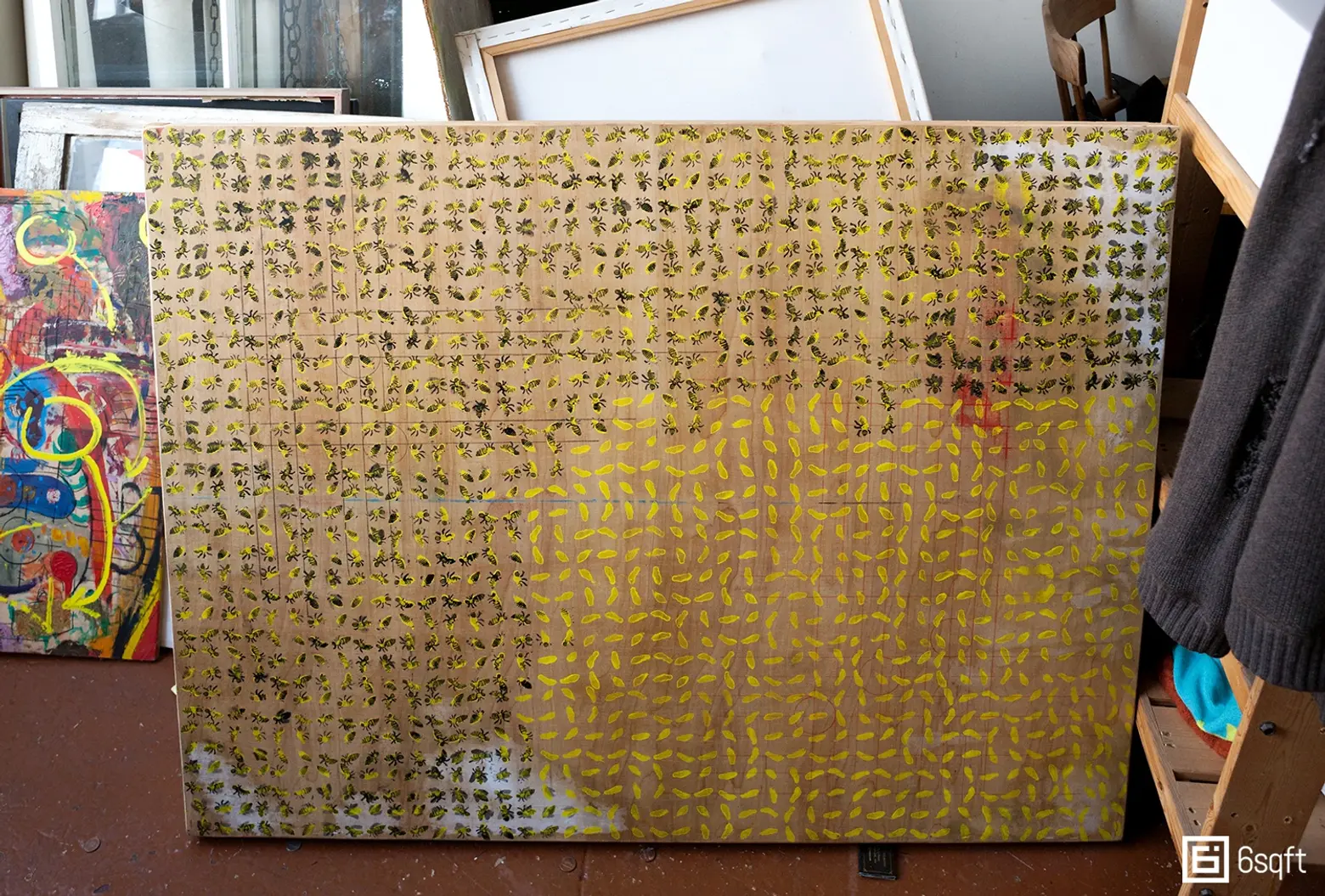 We've noticed your bee paintings around the apartment. Can you share a bit about them?
They're a project that I worked on for a really long time; it's thousands of bees. I called it "Colonial Collapse Disorder." It's a statement to the value of labor and value structures in general, and as an artist, I'm kind of obsessed with value structure.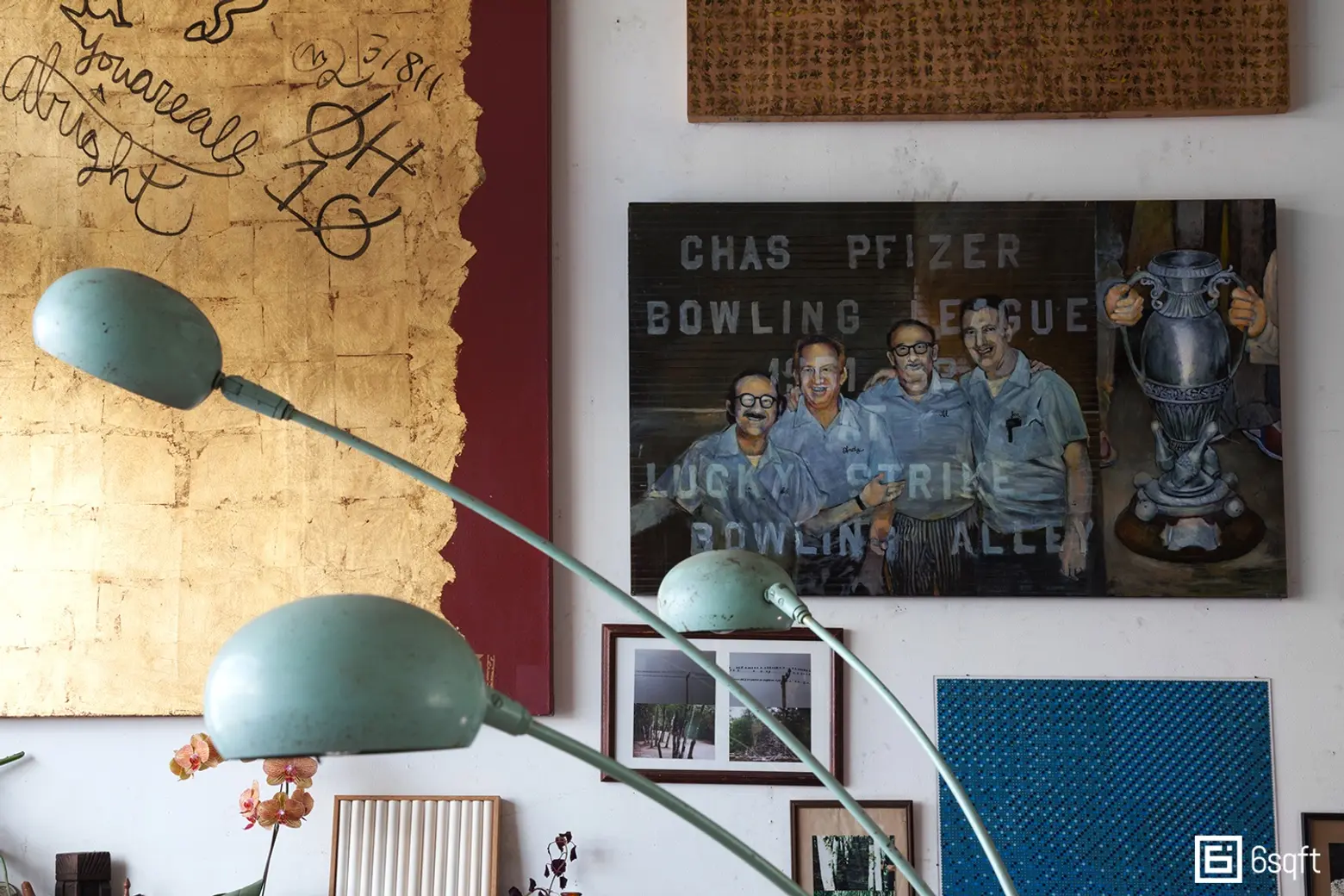 Ohio Mike's piece on the left and an oil painting by Ehren's good friend Bryan Sears on the right
You also have a lot of work by other artists. Any you'd like to point out?
The big graffiti piece is by a gentleman named Ohio Mike. Interesting story with that–the last place I lived was kind of this party loft and on one of our last nights Ohio Mike was there and he asked if he could tag things. We said, "sure, tag whatever you want," and he ended up literally tagging everything he wanted, including art that was on the walls. But it ended up being one of the coolest pieces that I have.
This tubular structure is maybe one of my prized art pieces. It's called "The Miraculous Cocoon." It's by a French conceptual artist Edgar Sarin.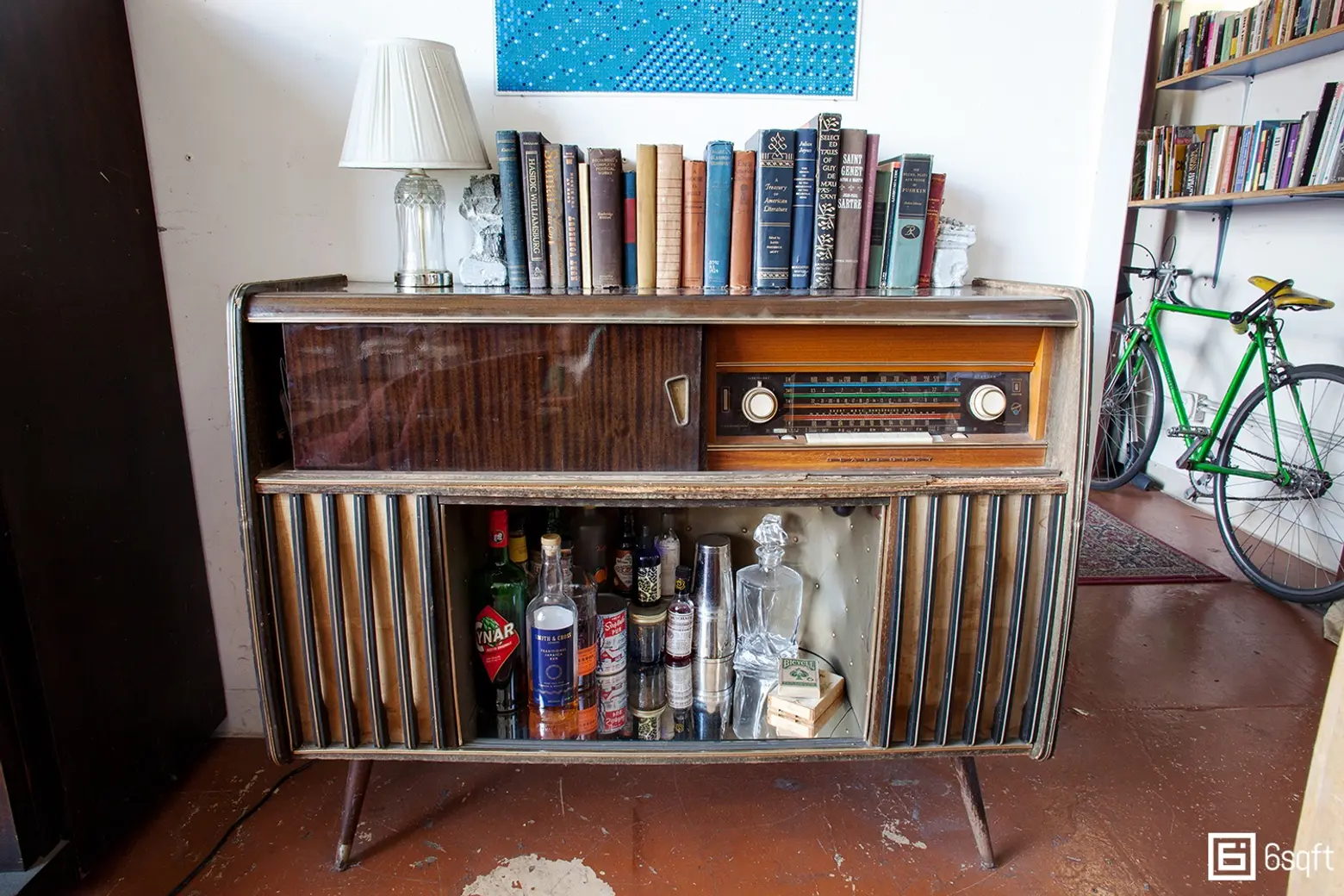 When Ehren found the tube-amp radio on the street it still worked. It now doubles as his personal bar.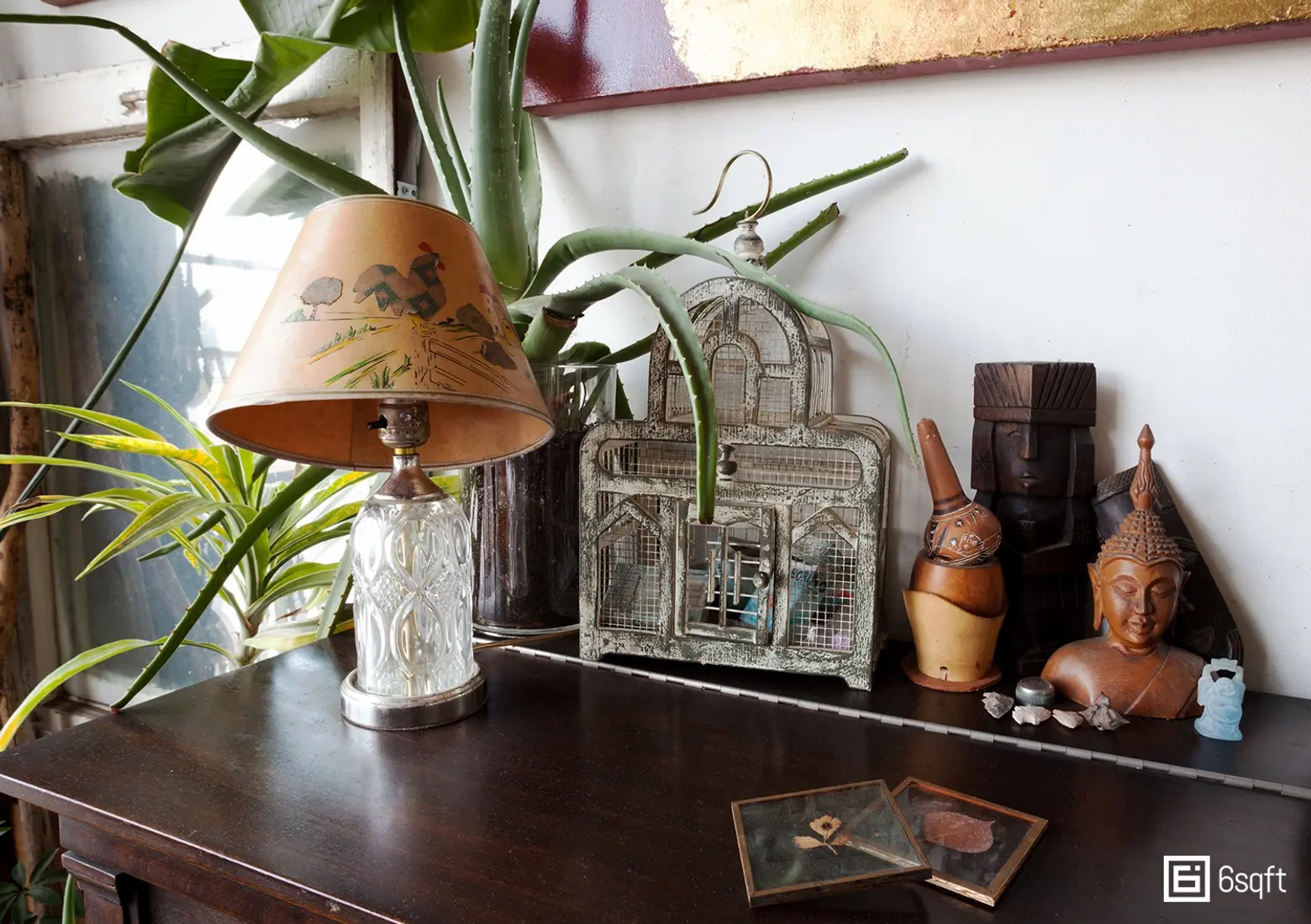 Aside from your art, what do you do?
I bartend at a hotel bar, which I really love doing. This is a portion of my home bar. I keep some rum around, a little Amaro, a little whiskey; I'm always working on stuff, trying new bitters here and there.

Ehren has a lot of religious history books; that was his college major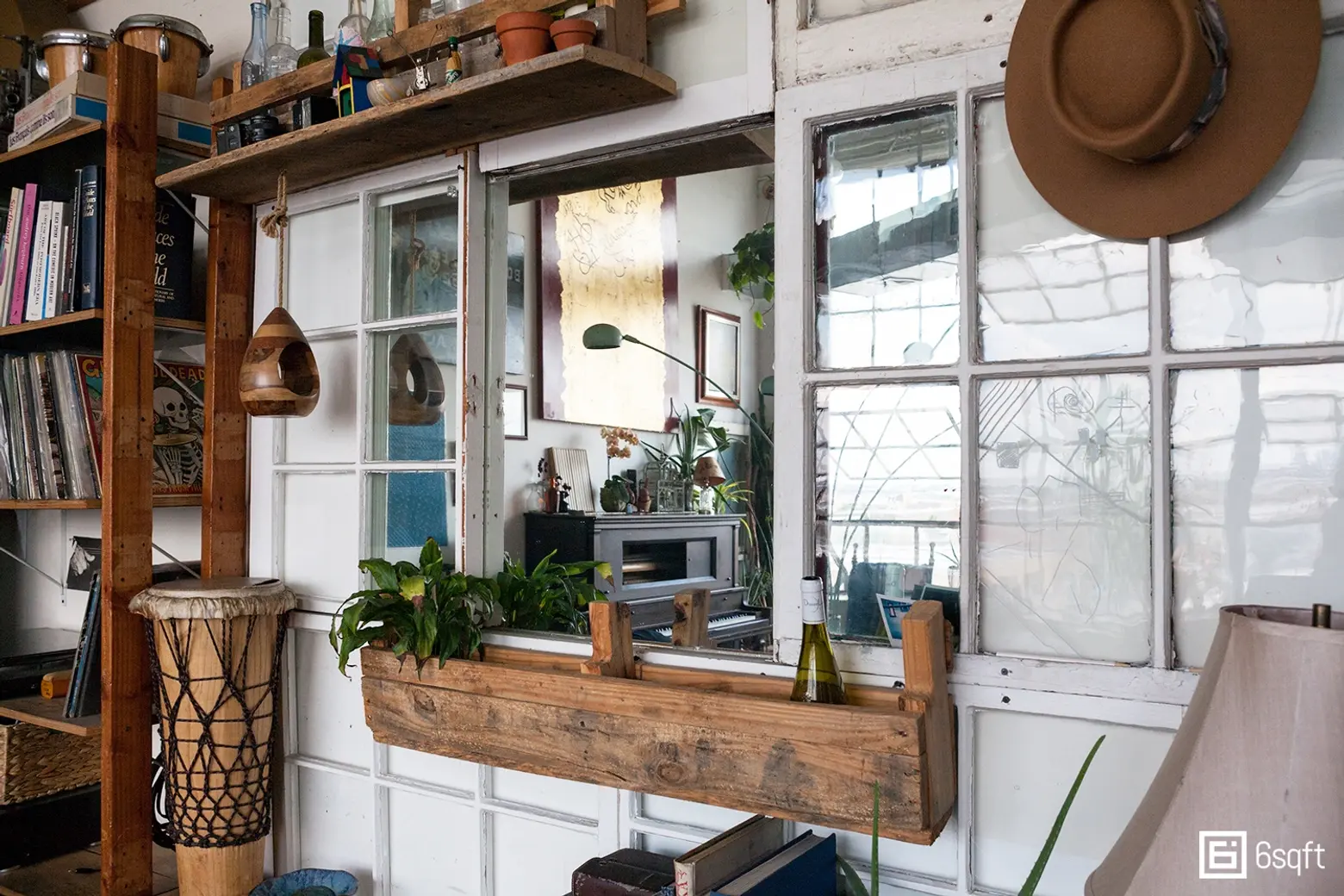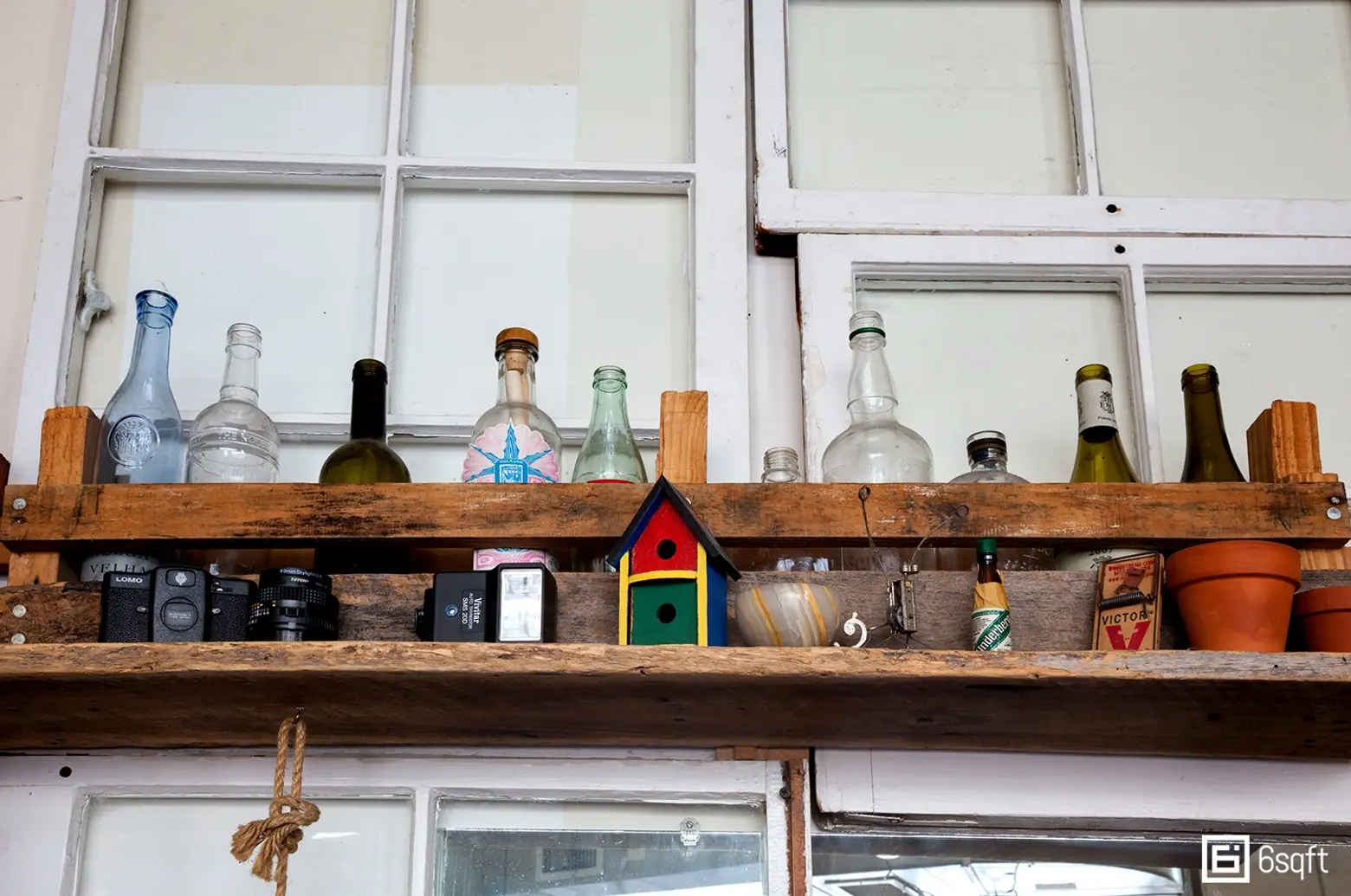 Is this where your bottle collection comes from?
I keep bottles around that mean something to me; if it was a bottle of wine or a bottle of liquor that I really, really liked, or even if it's just a bottle that I really liked.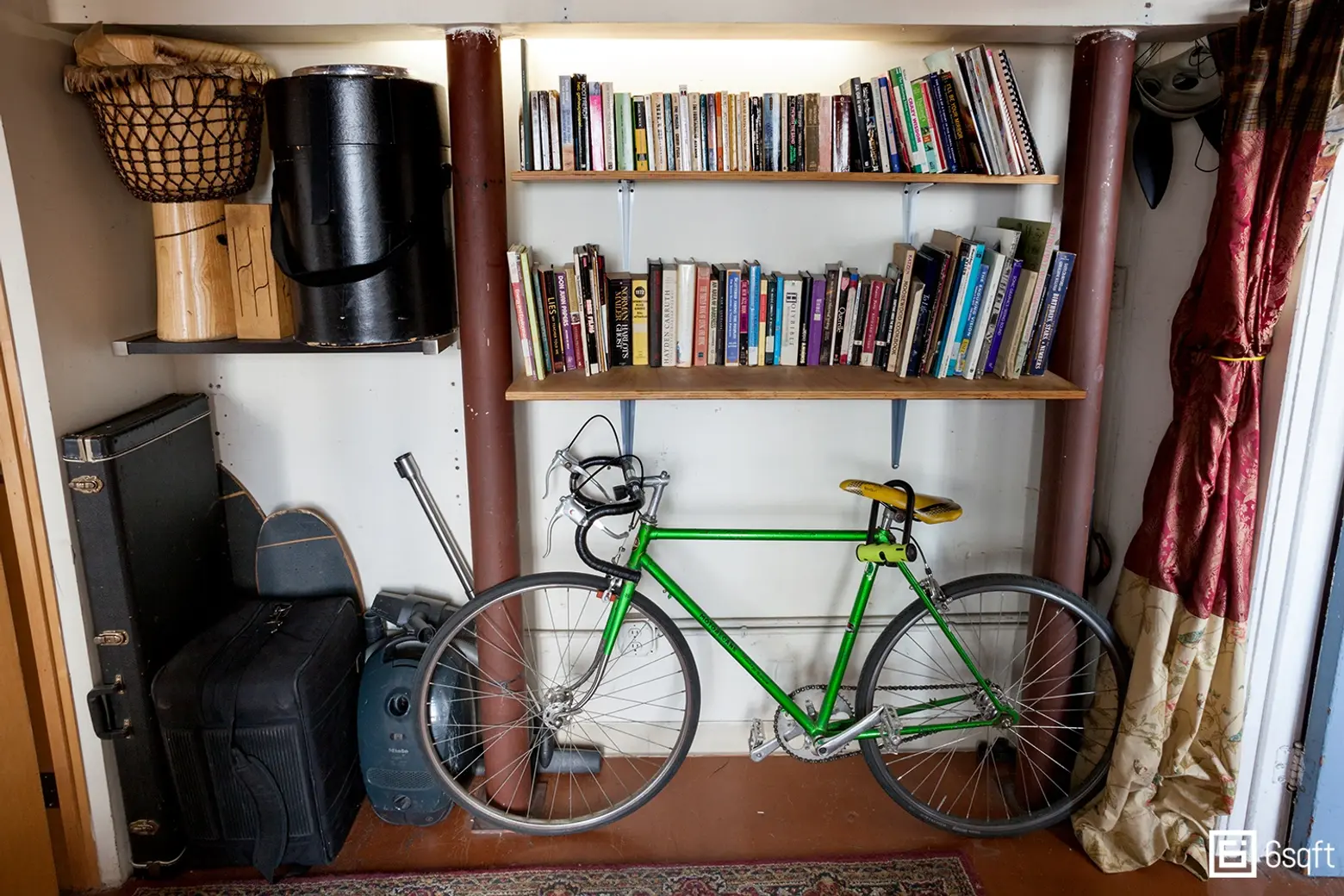 You also have a good number of instruments. Do you play them all?
I was a percussionist first, so there's a lot of drums around the house. I've got the piano, there's an electric guitar… I've got a sitar hanging out above the fridge. My neighbors and I are all really good friends and we gather in everybody's apartment and all of us have a piano and instruments, so we all just play music all the time. It makes it a really nice place to live; I feel really lucky to be in this building. It's a small community and we're all friends, and that's what's kept us here.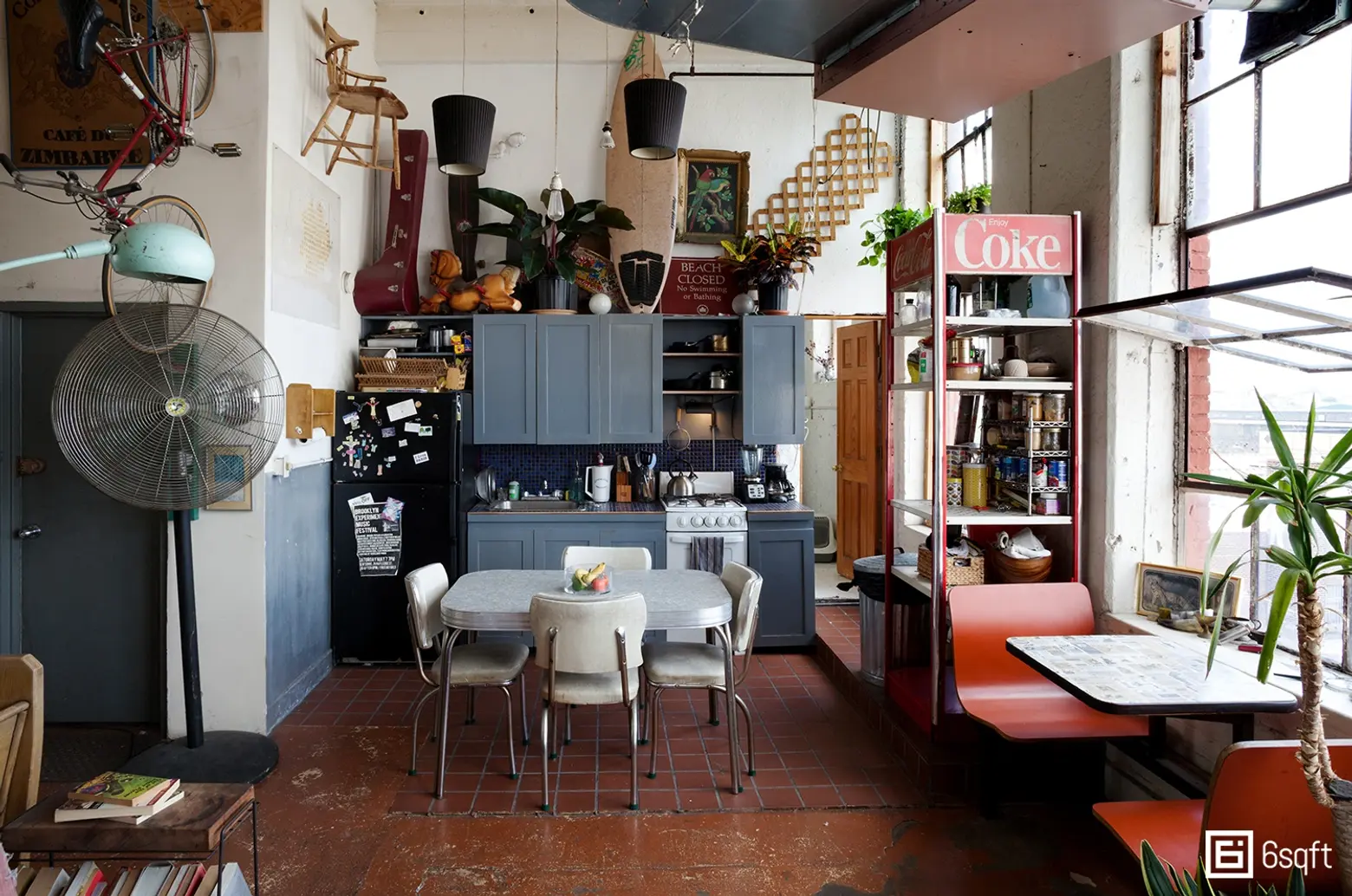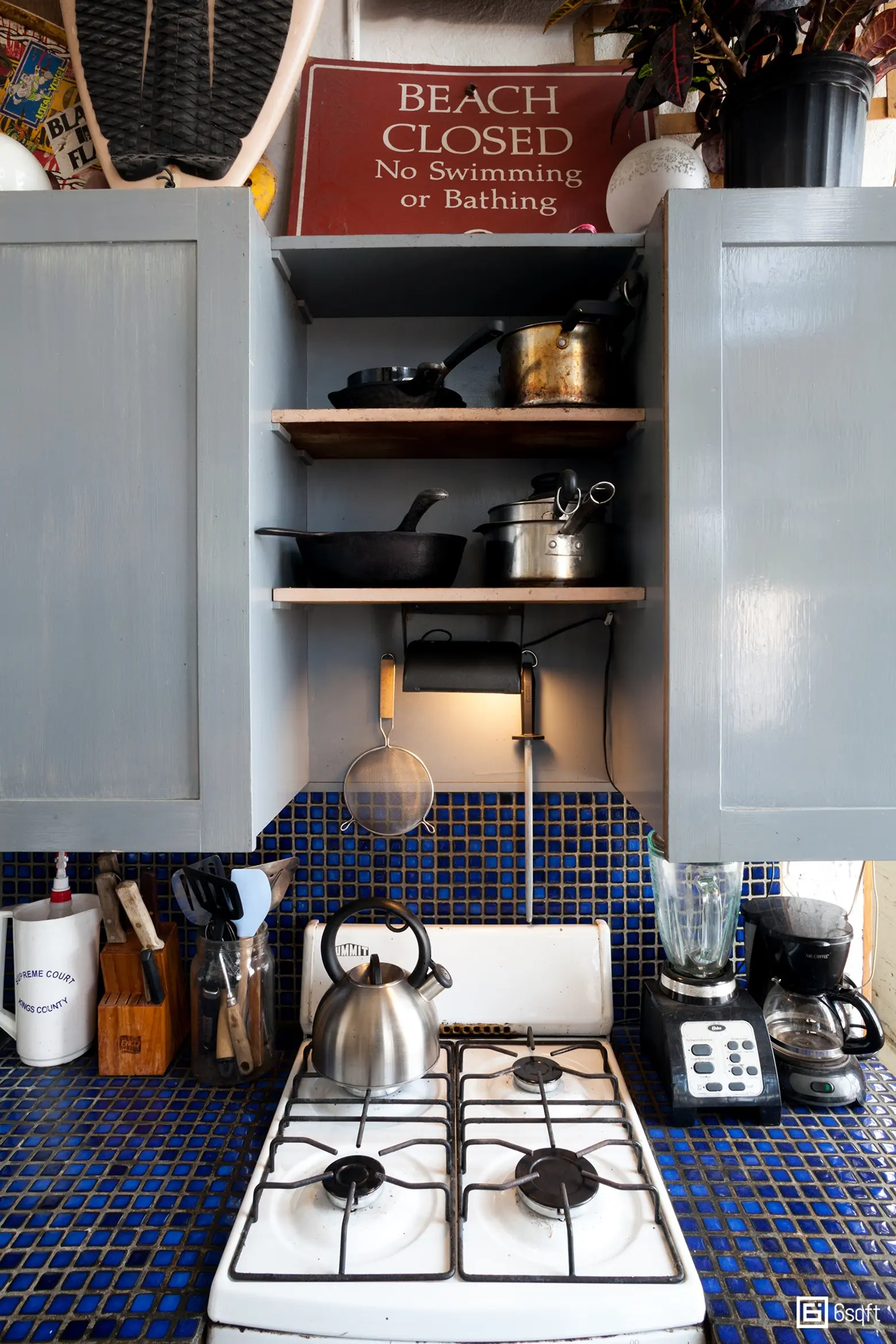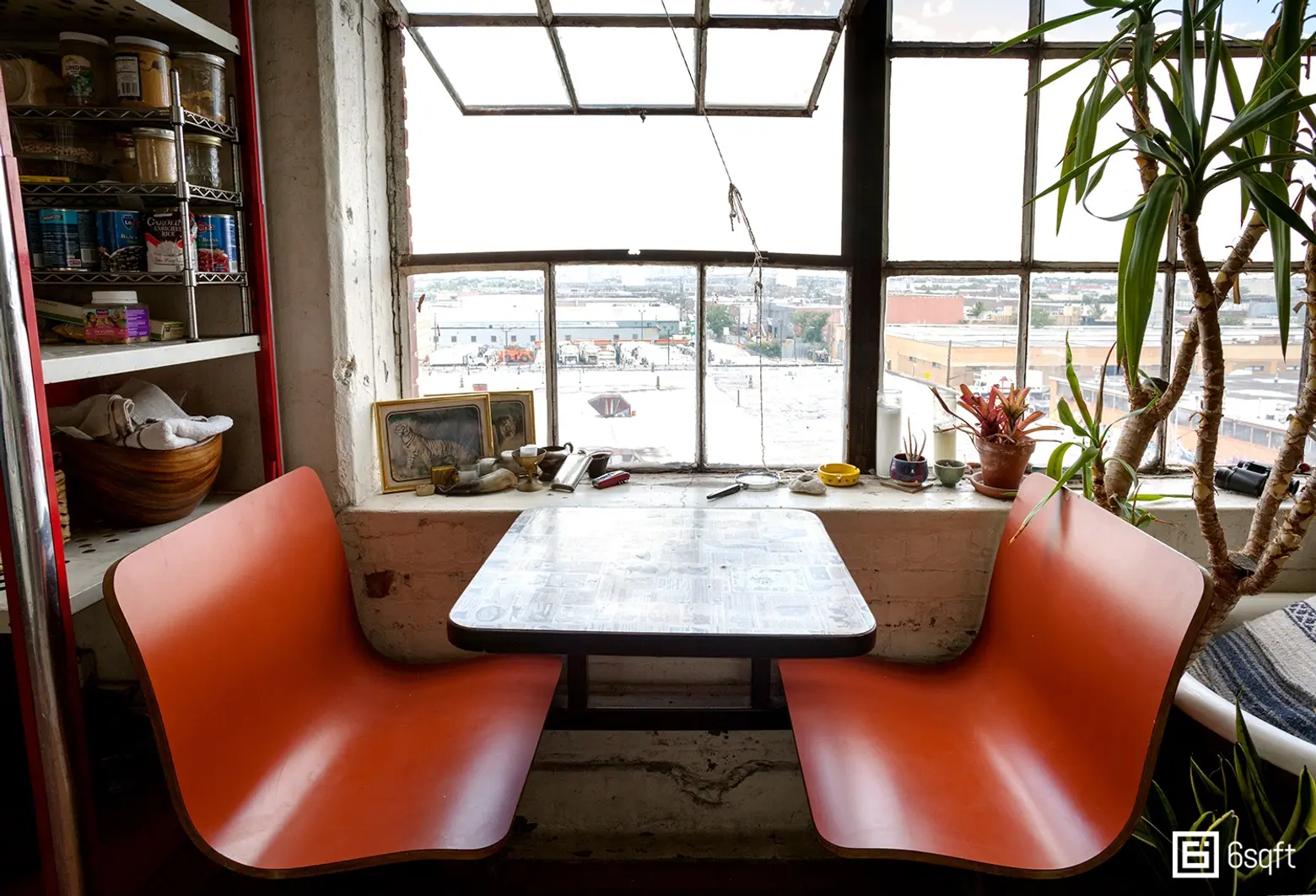 Speaking of community, do you feel Bushwick has changed since you first moved in?
Bushwick has changed a lot over the years and especially over the last four or five years. When I moved into this apartment it was almost dangerous; I got broken into one time. It was little local groceries and that was about it. And empty buildings and no people. Now there's a new restaurant or bar on every corner. There's three of them opening up every year and another three closing. I think it's changed for the better, and I'm glad that I've been here for the whole thing. And if I'm lucky maybe I'll stay longer and see it change more.
© All images taken by James and Karla Murray exclusively for 6sqft
RELATED: