My 1100sqft: Designers Laura Yeh and Zach Jenkins turn a blank Bushwick loft into a pastel dreamscape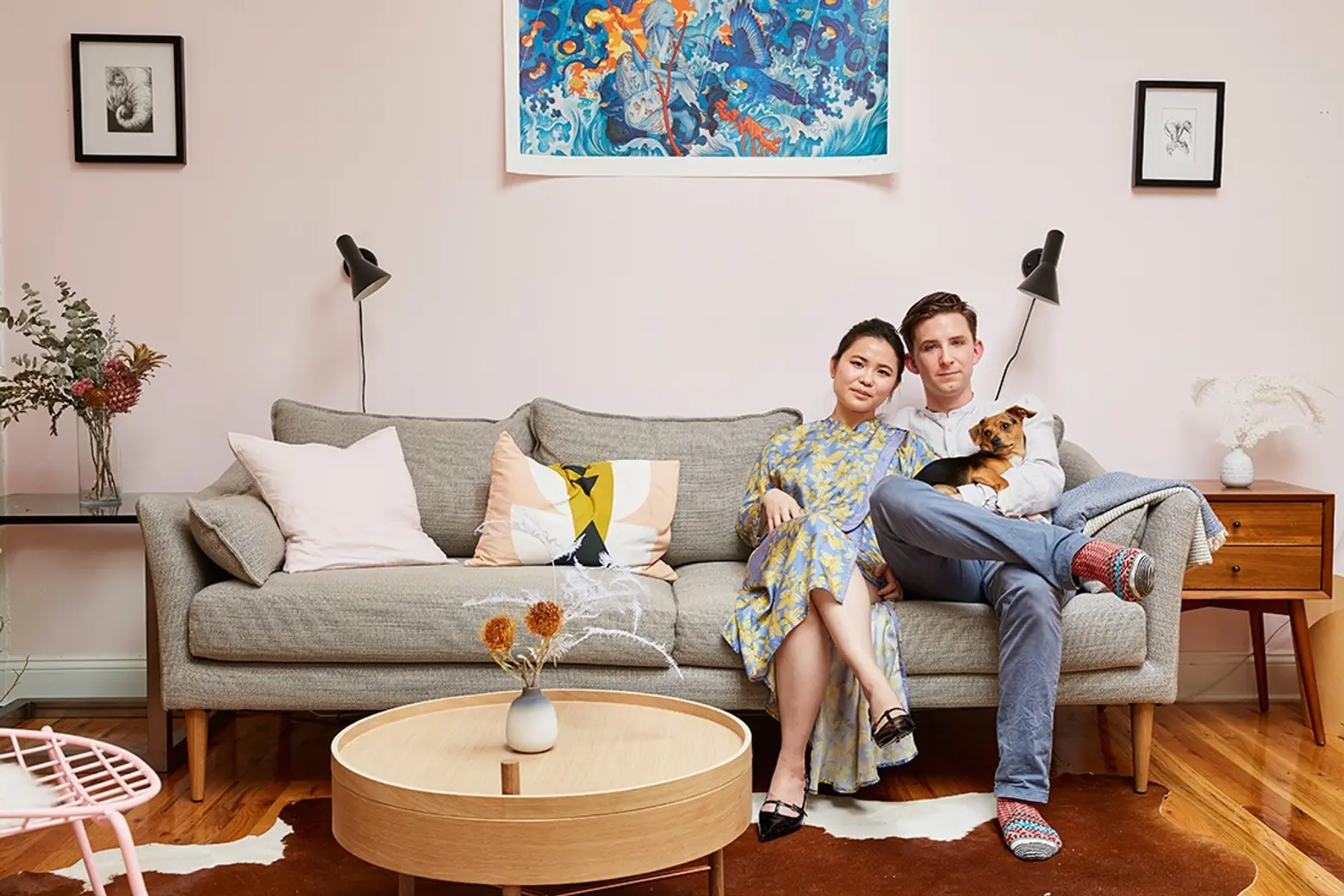 6sqft's ongoing series "My sqft" checks out the homes of New Yorkers across all the boroughs. Our latest interior adventure brings us to the Bushwick loft of designers Laura Yeh and Zach Jenkins. Want to see your home featured here? Get in touch!
Creativity runs high in this Bushwick loft, which comes as no surprise when you learn that it's the home of Laura Yeh, a designer at cult beauty brand Glossier, and Zach Jenkins, a furniture and lighting designer at the ultra-luxe Hellman-Chang. The duo moved into their space roughly one year ago following a cross-country road trip that brought them from their previous home in San Francisco to NYC. Although Laura, having studied at Parsons, was no stranger to the city, Zach had never lived in New York. Thus, as new beginnings go, the couple opted to start fresh in Bushwick with an 1100-square-foot cavern with plenty of room to flex their creative prowess. Ahead, see how Laura and Zach use airy style, refined textures, and beautiful furniture designed, built, or restored themselves to turn a nondescript space into a perfectly edited pastel dreamscape.
How did you two meet?
Laura: We met when we were both interns at William and Sonoma. At the time I was a sophomore and he had just finished school, and in our whole group of interns, Zach was really quiet. I was drawn to how aloof he was and I said to myself, "By the end of the summer I'm going to be friends with that guy." I tried really hard to be friends with him, but he thought I was hitting on him.
Zach: Yes, but apparently I wasn't too far off!
Laura: We were friendly at the end of the internship but didn't start dating until half a year later when I was in NYC and he was still in San Francisco. We did long distance for a little while.
Why did you choose Bushwick and how did you find this apartment?
Zach: We didn't pick Bushwick as much as Bushwick picked us! We were a day away from signing an apartment in Greenpoint when we got a text from the realtor that they couldn't sign any leases while they waited for rezoning approval. The owner of the building in Greenpoint owned a converted textile factory in Bushwick and in a last-minute scramble we signed the same day.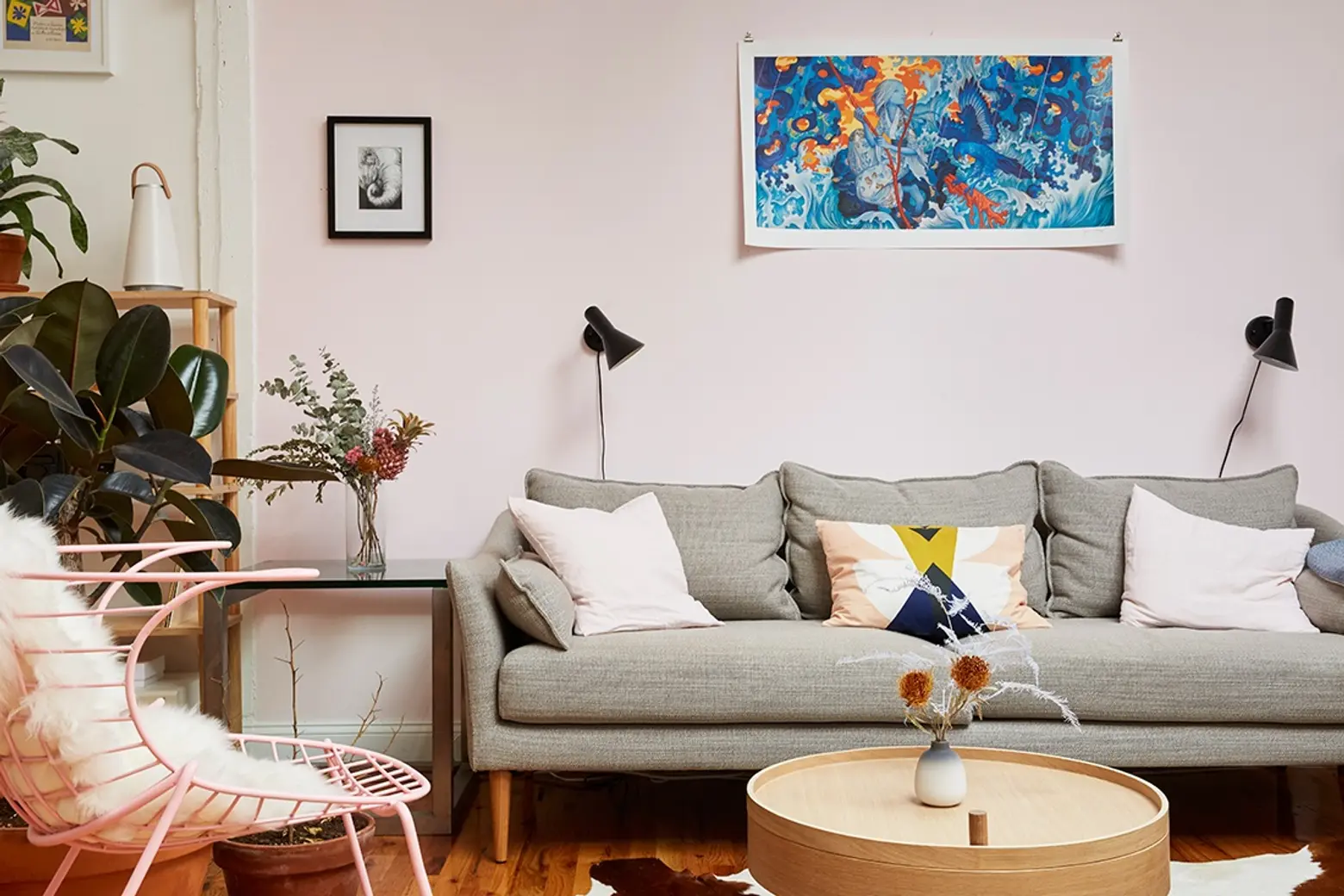 You essentially moved into one empty, continuous space. What were some of the first things you did to the loft?
Laura: We painted our doors. When we first moved in we didn't want to spend a lot of money on building things or putting something elaborate up because we weren't sure how long we'd stay. So one easy way to transform our apartment was to paint. When we painted the doors we started on a really random Saturday night at 9 PM and we stayed up painting until 5 AM.
Zach: Painting the pink wall was the very first thing we did when we moved into this apartment. We did it before we even had a bed.
How did you decide on the pink wall? Is that a result of working at Glossier?
Laura: There was a while where I hated all things pink and I go through phases with color. But I think when Glossier came out, that's when I started getting back into pink again. It used to be a very girly, soft color, and now I feel like it's stronger and means something different than when I was a little girl.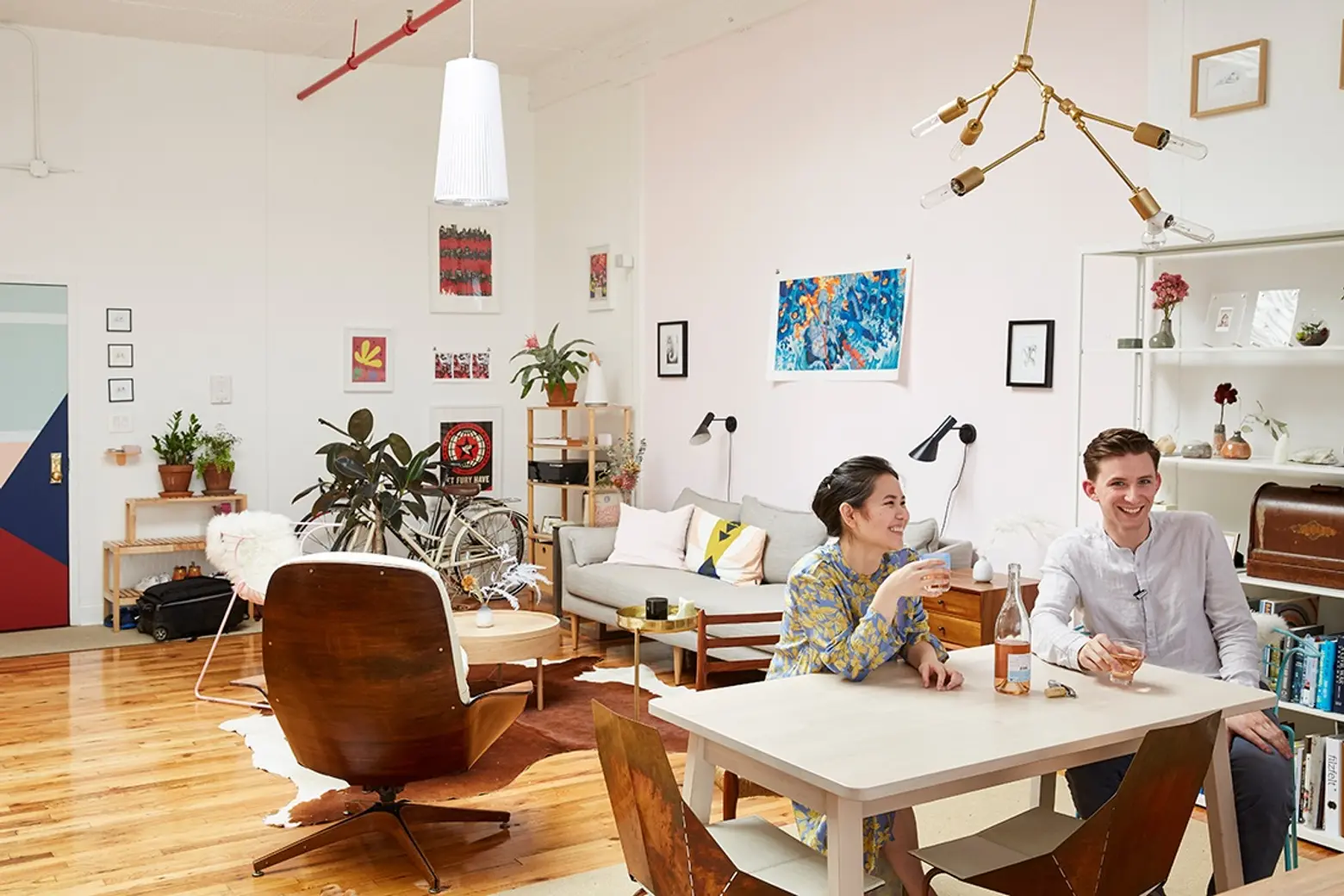 How would you describe your styles individually? Do you guys ever clash?
Laura: I think I like really crazy, outrageous, or even kind of ugly things. I have a soft spot for kitschy objects that a lot of people would consider awful, and sometimes Zach has to pull me back. When we first met I was really into florals, pink, patterns, and lots of colors. And Zach just wanted everything to be a steel blue. So there have been lots of compromises. I actually wanted to color block our pine dressers, and he was just like "No."
Zach: We have very different styles personally, but we find a good middle ground and we complement each other.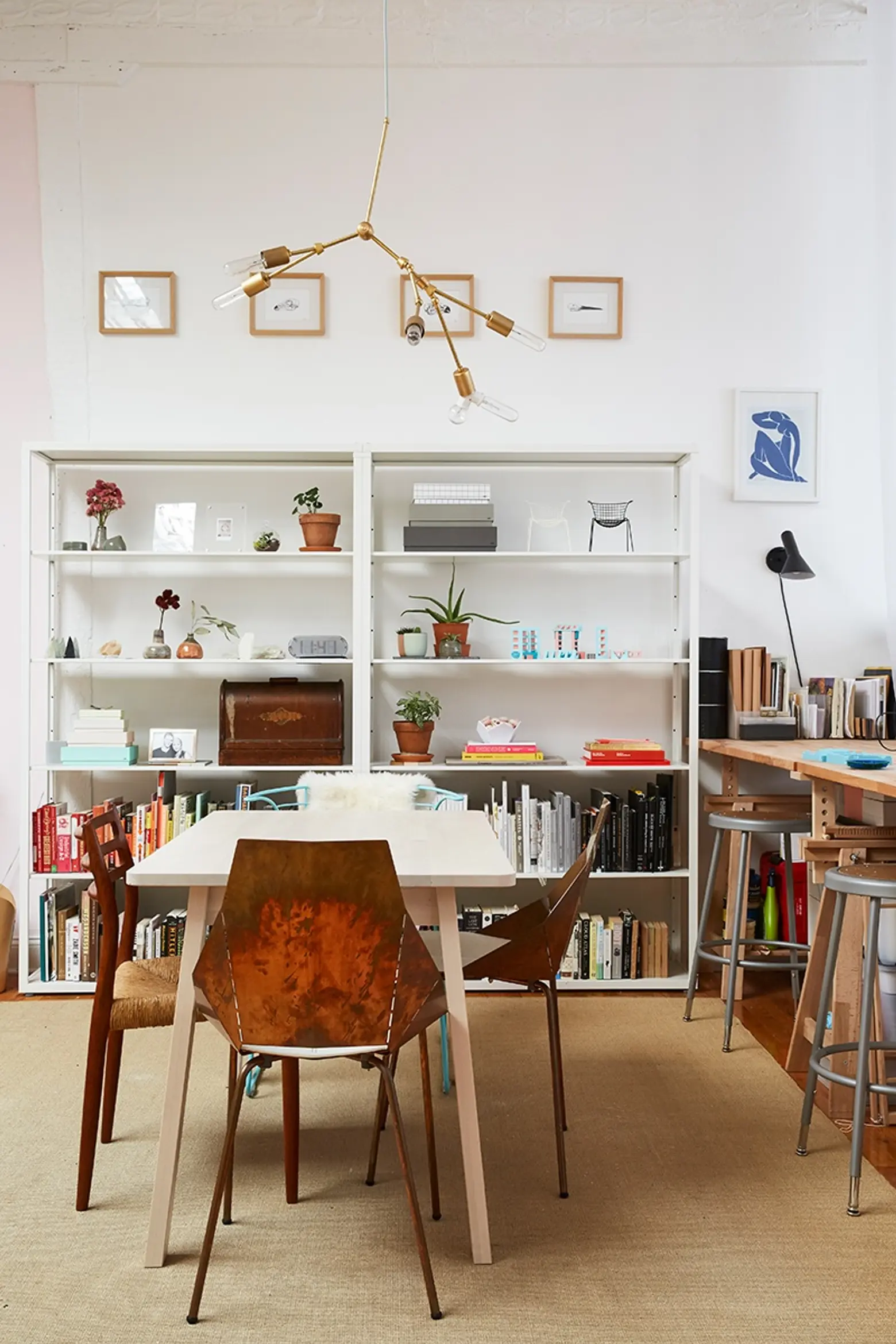 So who has had more influence over the other?
Zach: Laura has had more progress moving me to color. But we found a middle ground.
What are some of the special items here you've made yourselves or restored?
Zach: The white plycraft chair is definitely in my top five. That was my mom's parents' chair. My grandparents had that in their house when she was a baby. It was black leather back then and it had lived in my aunt's basement since before I can remember. One day my aunt said she had given up reupholstering it, so if I wanted it, then come take it. That was another couldn't-stop-working-on-it project. When we got it we tore it apart and finished upholstering it in just two days. I love it.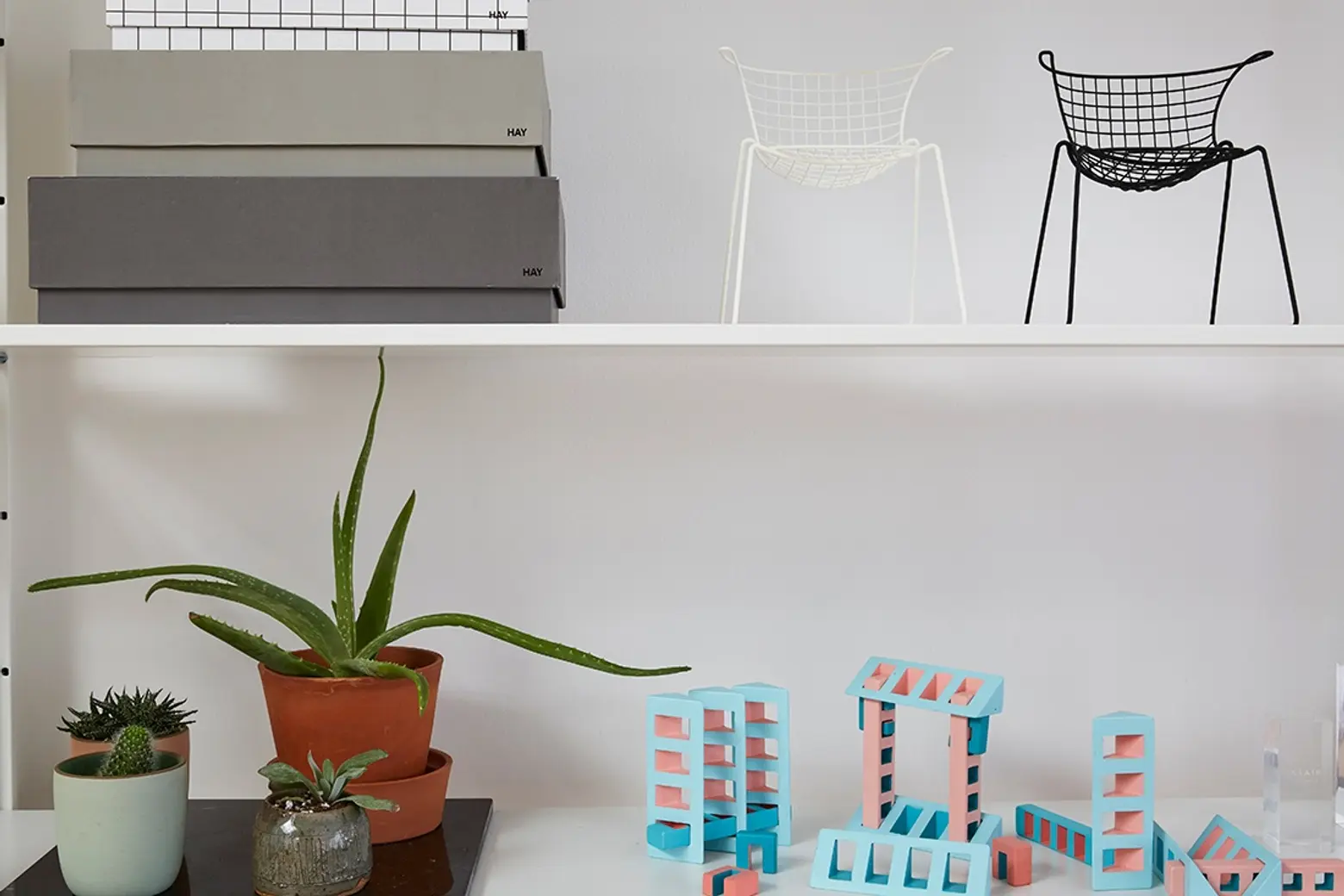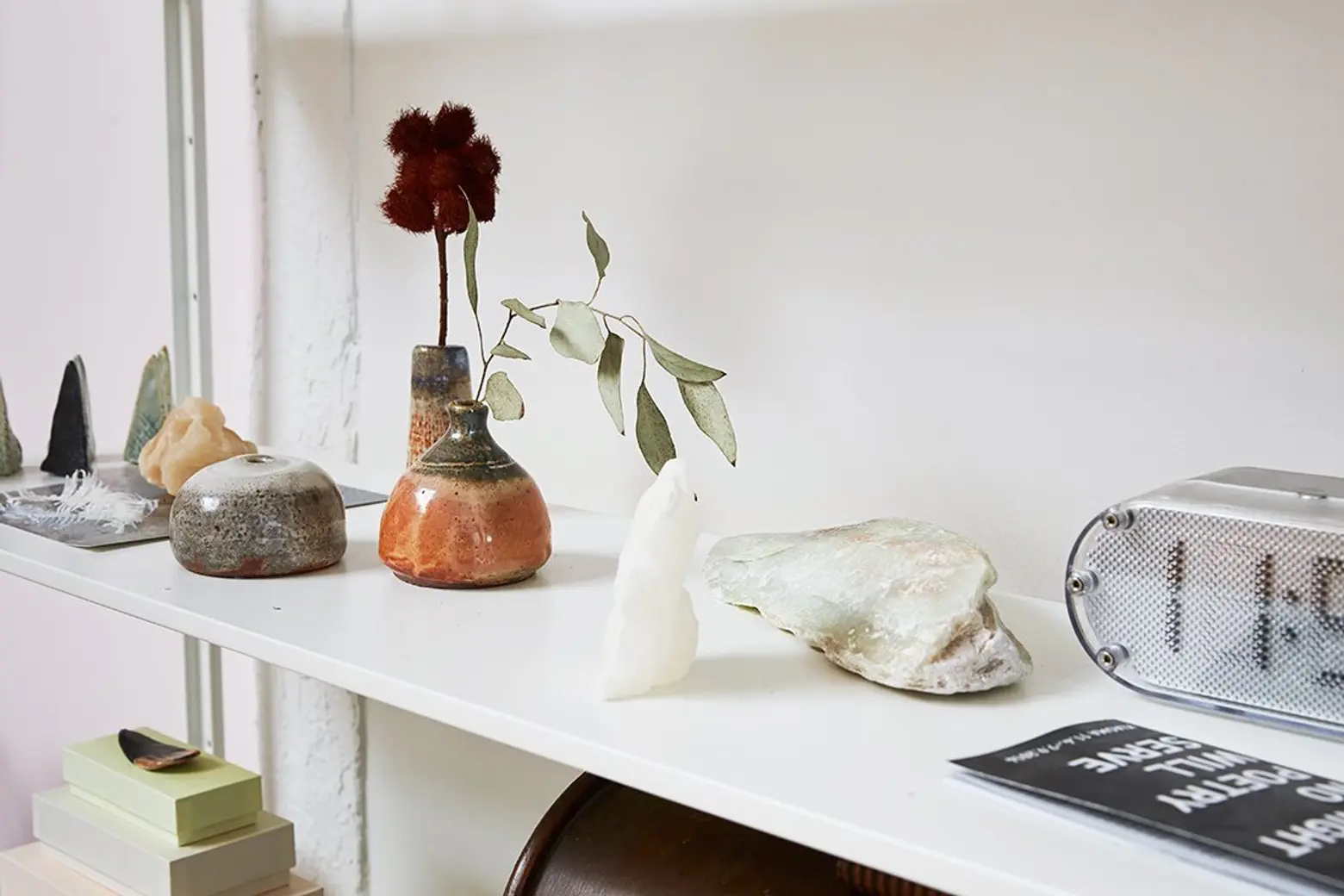 Laura: We have a lot of projects we created when we were really young—like 18 or 19—and it's just nice to have those pieces here to look back on and reflect. Before I started working at Glossier and in fashion design, I was a furniture designer. I designed a chair when I was studying abroad in Copenhagen. In Copenhagen what they do is put you in either a woodworking or metalworking class, and I was placed in metal. I had never worked with metal before and produced a few of these chairs, which are now scattered around the apartment. They look nice but they're not very comfortable!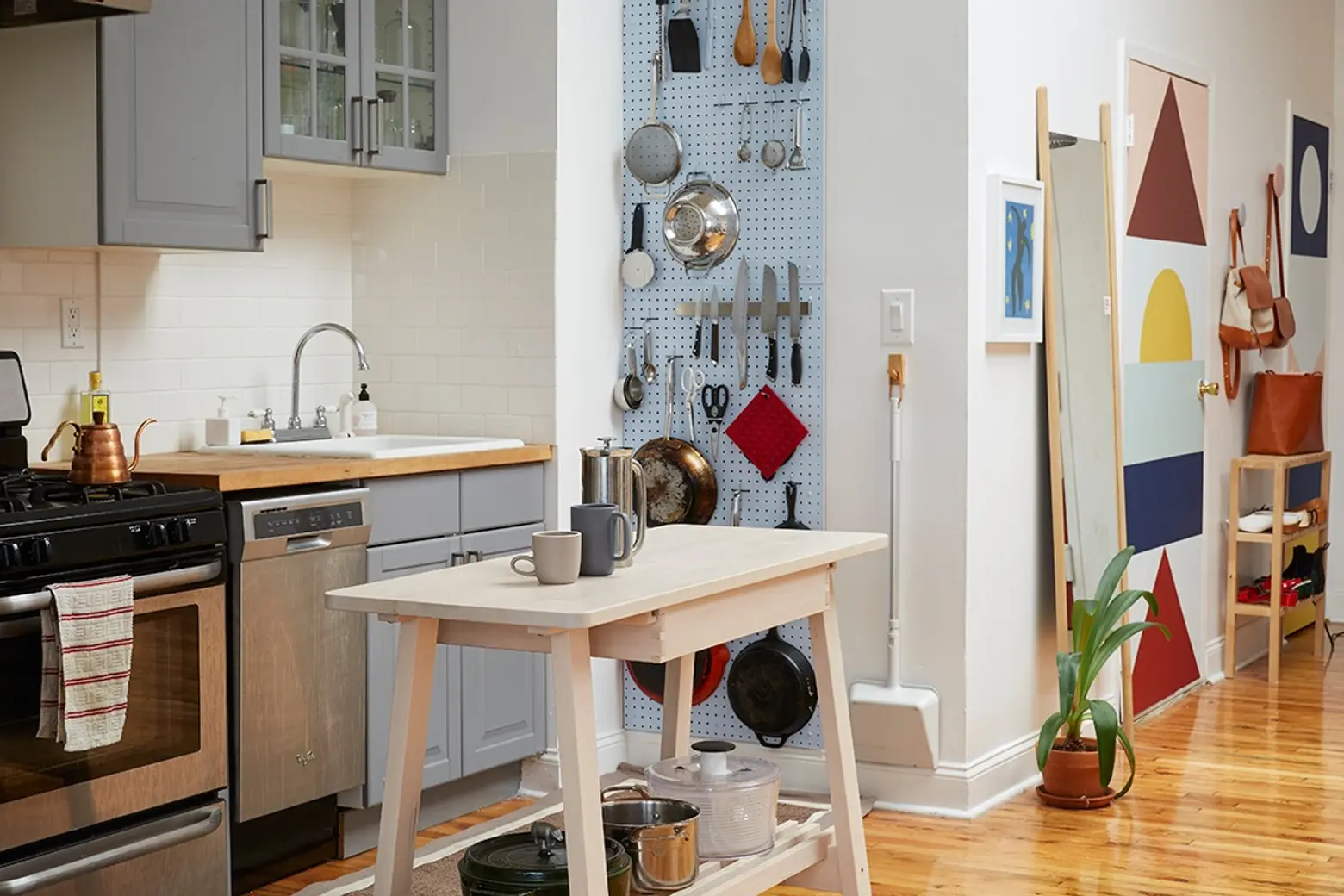 Zach: We made the peg board for all of our kitchen tools. In Julia Child's kitchen, almost every surface is peg board. I've been wanting to do that since I moved out of my house and finally had an apartment of my own to do it in. It's super handy.
Laura: My dream kitchen is a cross between Julia Child's kitchen and Blue Hill Farm.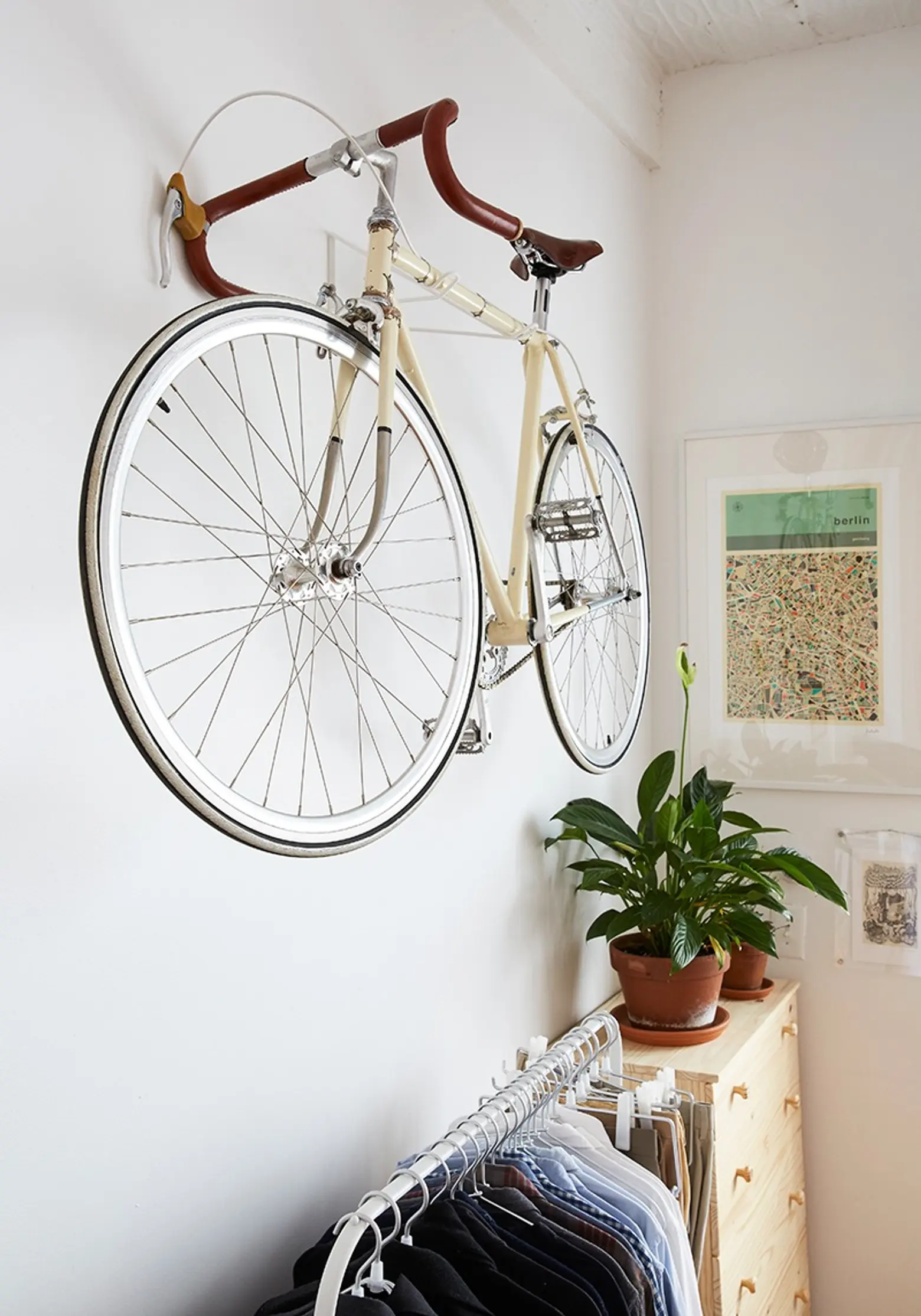 Zach: The bike is another big thing. It was a Craigslist find and it was just the frame which was completely rusted out. But it's a Peugeot 1964 PX10 which is the bike that has won the Tour de France more times than any other bike and has a very cool history. I decided I was going to save the bike and I spent most of the summer stripping it down, painting it, silver-leafing the lugs. And I can ride it now. But it sits on the wall.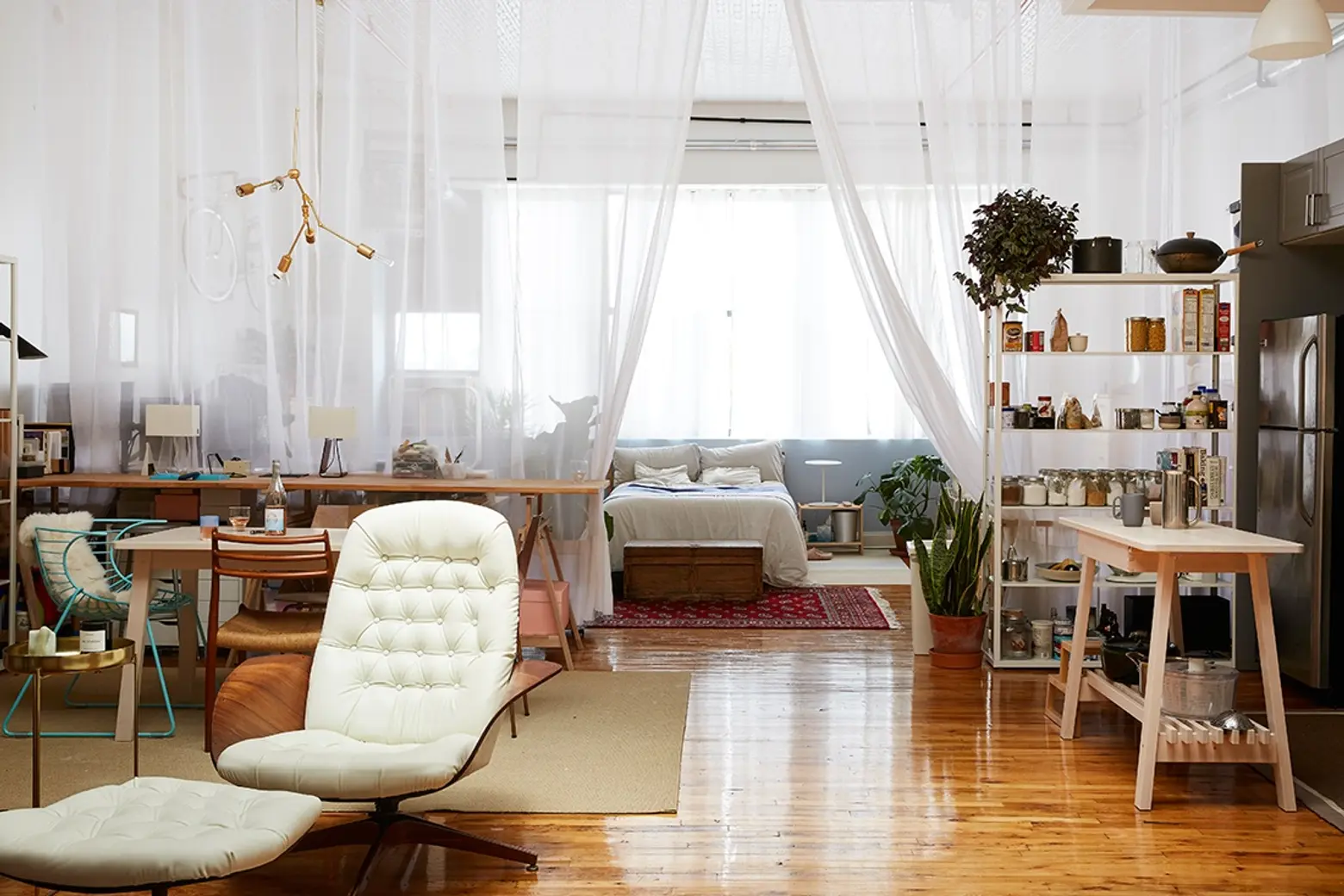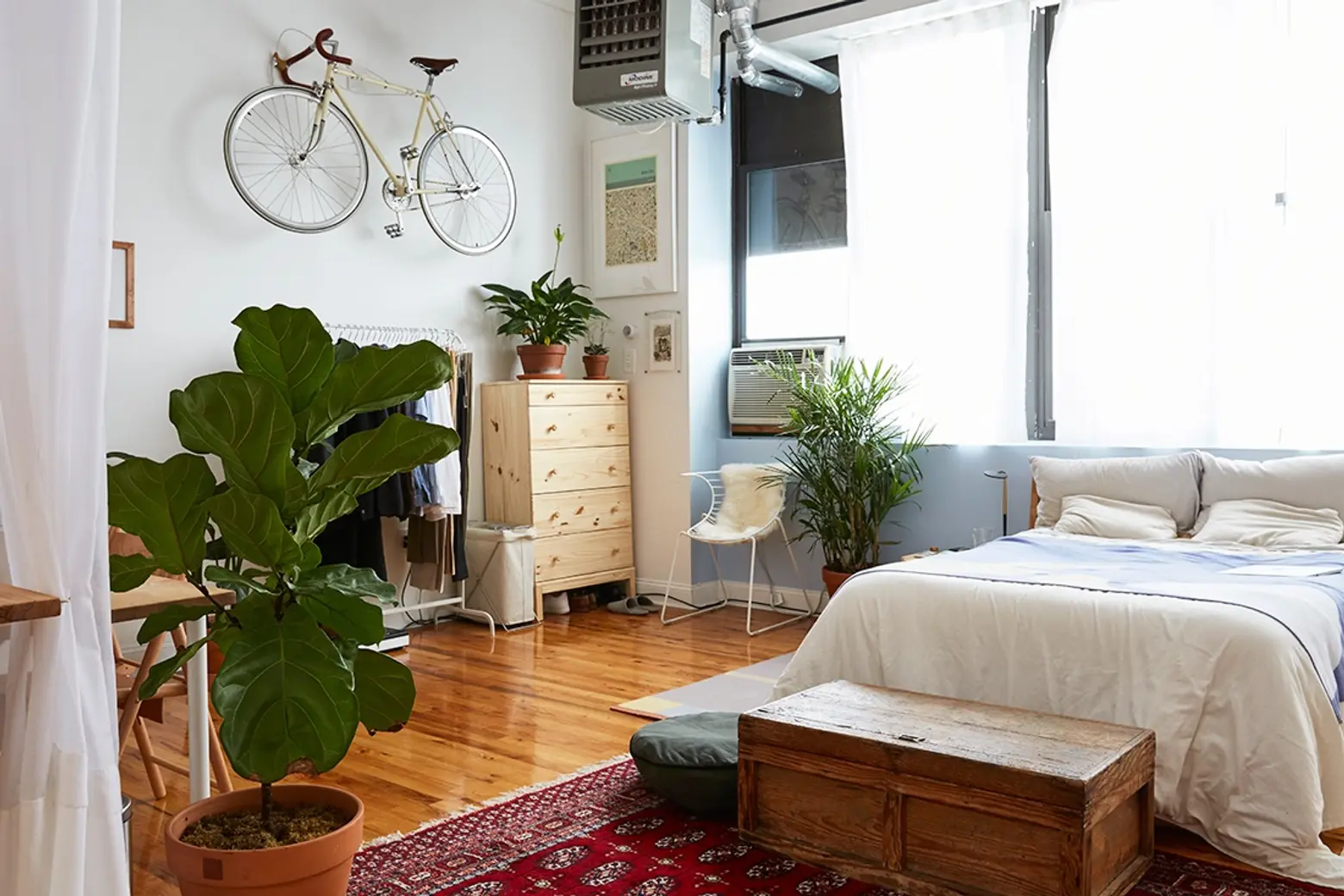 As two designers with the same training do you collaborate on projects often?
Zach: We do. We use the workspace often here, which is why it's kind of a mess. We created it about six months ago so we wouldn't need to keep things in the closet. We do some casting, leather work, and some small woodworking. Right now we have a couple of things going on together, but they're moving along very, very slowly.
Laura: Because I'm on the computer so much at work I'm not doing as much with my hands as I used to. It's something that I really love, so at home I'm very craft-oriented.
We made a vanity mirror earlier this week. We had a mirror cut and bought a remnant of a soapstone and just cut into it and stuck the mirror in. Vanity mirrors are so expensive, and this cost just $50 to make and is pretty cool looking.
Zach: Neither of us had ever played with soapstone before, but we cut the channel using just a Japanese wood saw. It was a really fun project for us.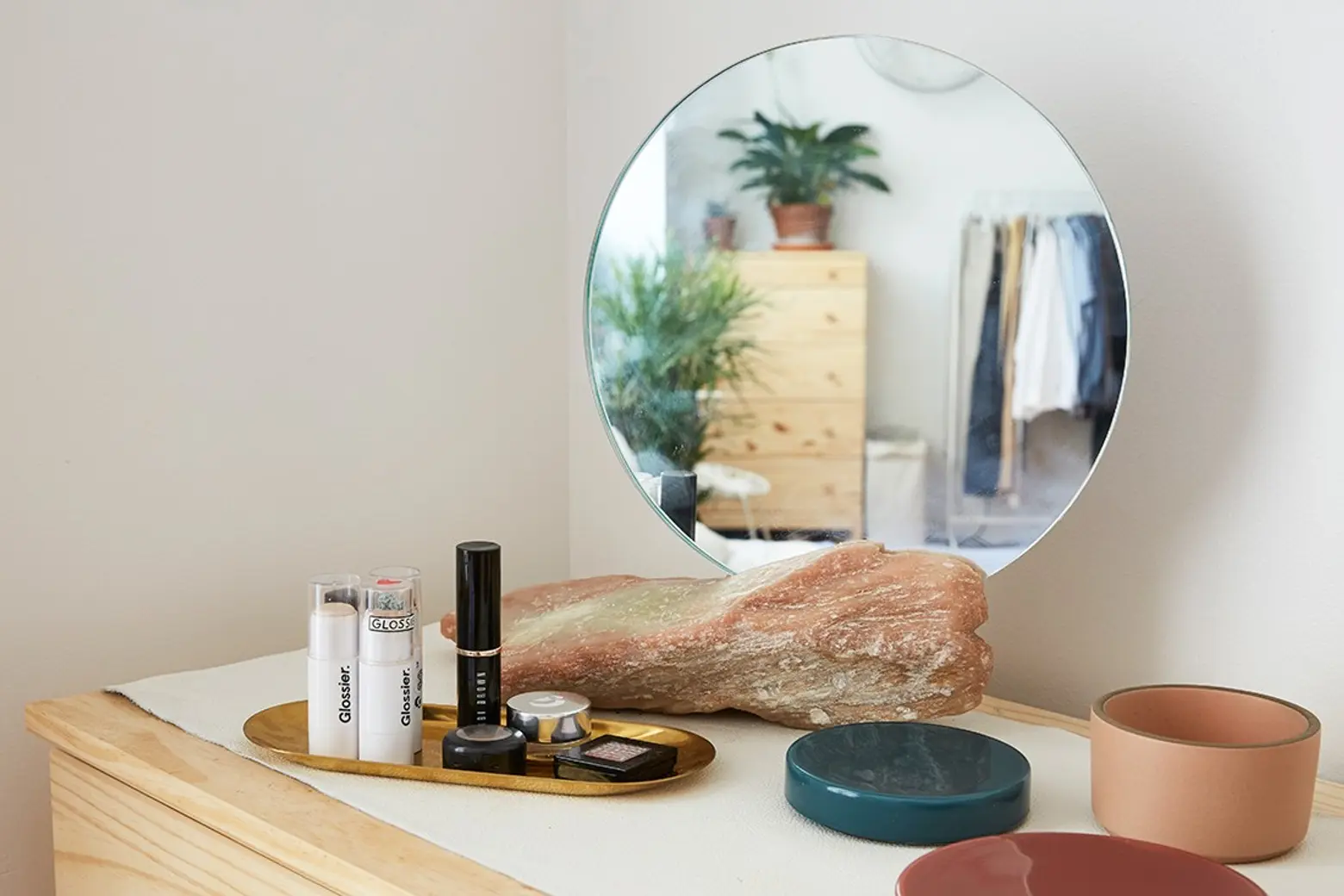 Where do you shop for the furniture you don't get from friends or make yourselves?
Laura: A lot of our furniture is actually from IKEA. We've only been out of school for a few years so we don't have a ton of money. When I was studying abroad, I went to IKEA's factory in Sweden and I was able to see how they test their furniture and how things are made. I like how transparent they are. A lot of furniture companies sell the same quality furniture at a very high price point and position themselves as "luxury" or "high-quality" when they're not at all. At IKEA it's very "what you see is what you get." They're not pretending to be something else. It's also very affordable and you can find really good items there.
Zach: We also shop at MUJI, HAY, and the Danish Design Store, which sells a lot of great brands that are both expensive and affordable. Craigslist is another place where we find items.
What are some of your favorite things about the apartment architecturally?
Laura: Definitely the skylight.
Zach: The high ceilings.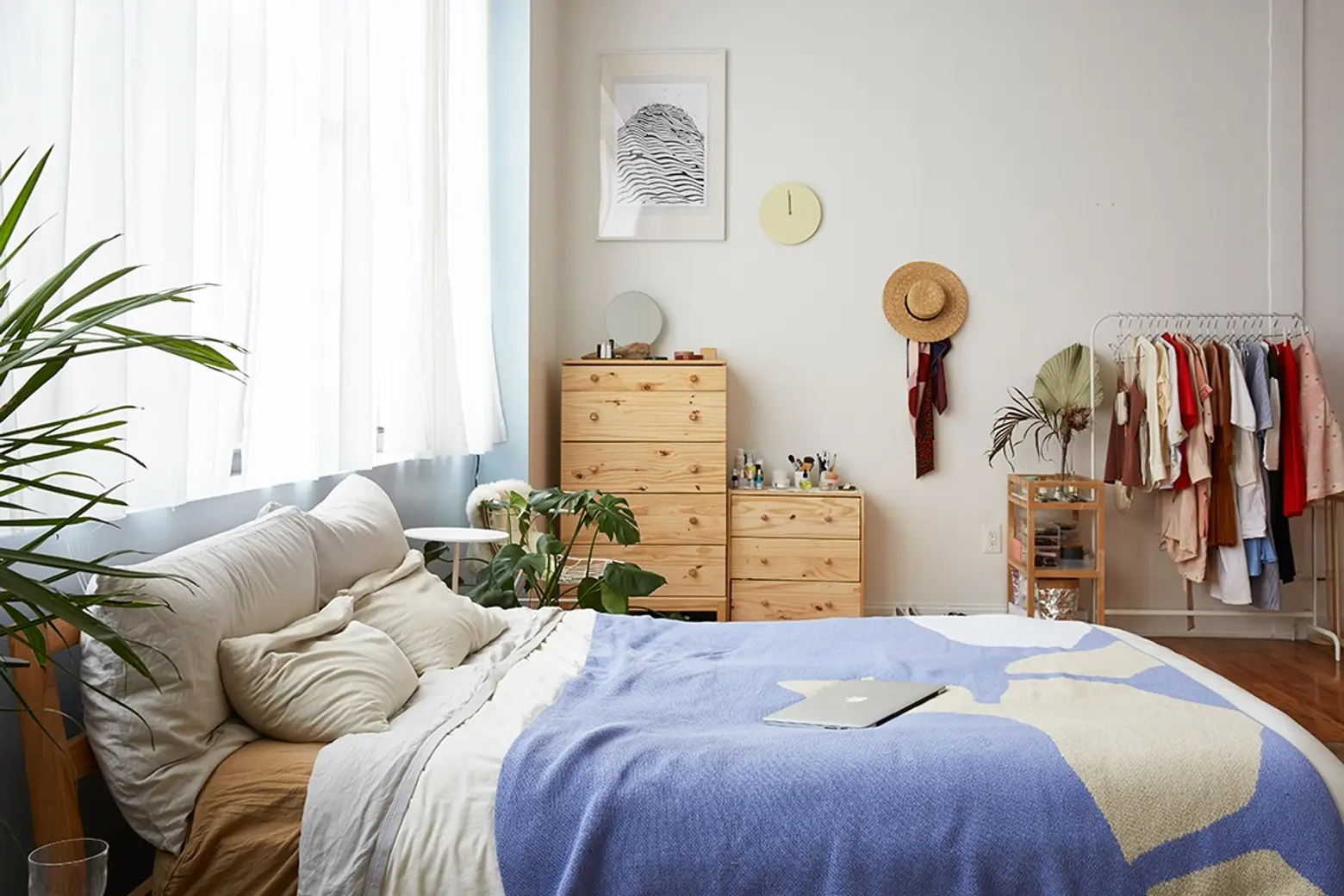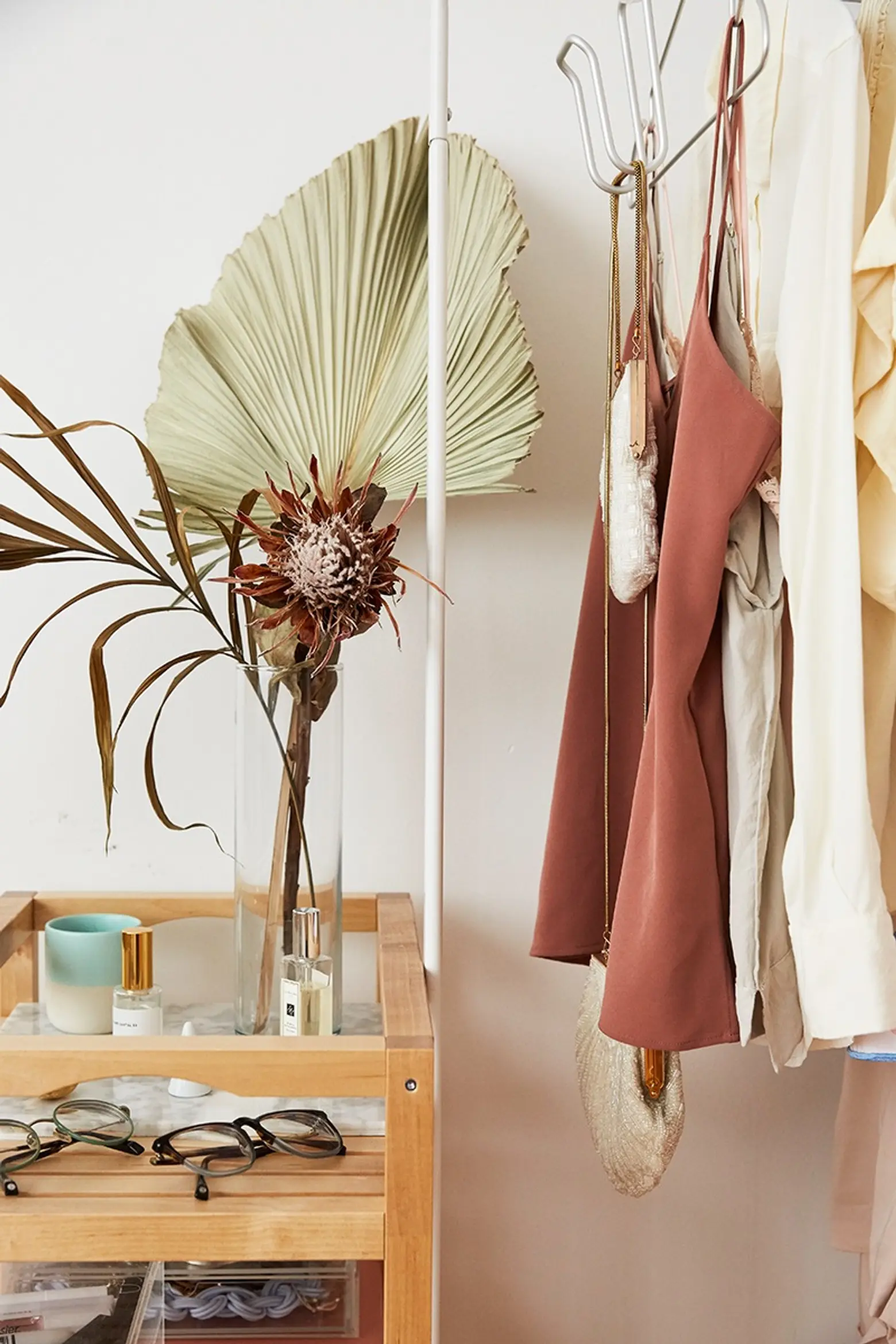 What do you love about Bushwick?
Laura: Zach's never lived in NYC before and this is my first time living in Brooklyn. When I was going to school at Parsons I always lived in the city: I've lived in Chelsea, Greenwich Village, and Midtown, which was miserable. Bushwick is very different from all those neighborhoods. Even though it's still pretty industrial it's a lot calmer and it feels much more like a neighborhood. You get the sense that everyone who's walking on it street lives or works around the area. There are no tourists here, which is a nice change.
Living in a building like this is also really interesting. All of the lofts are so different. I went to one downstairs recently and they had a giant tipi in the apartment.
Zach: We've just now started to get to know people here and say "Hi." There's something about having just one big open space—nothing forces you to have it look any particular way. You go next door and find yourself saying "Where am I?"
Favorite neighborhood spots?
Laura & Zach: Roberta's! Best pizza in the city and they have something called "Sticky Bun" that's amazing. Supercrown is a cool coffee shop/cafe we've been going to recently, they've got a great breakfast sandwich and iced chai. Bake Shop has some of the best chocolate cake we've had. Bunna Cafe is an amazing Ethiopian restaurant just a block away, the flavors are incredible. It's all vegan but you'd never notice if nobody told you.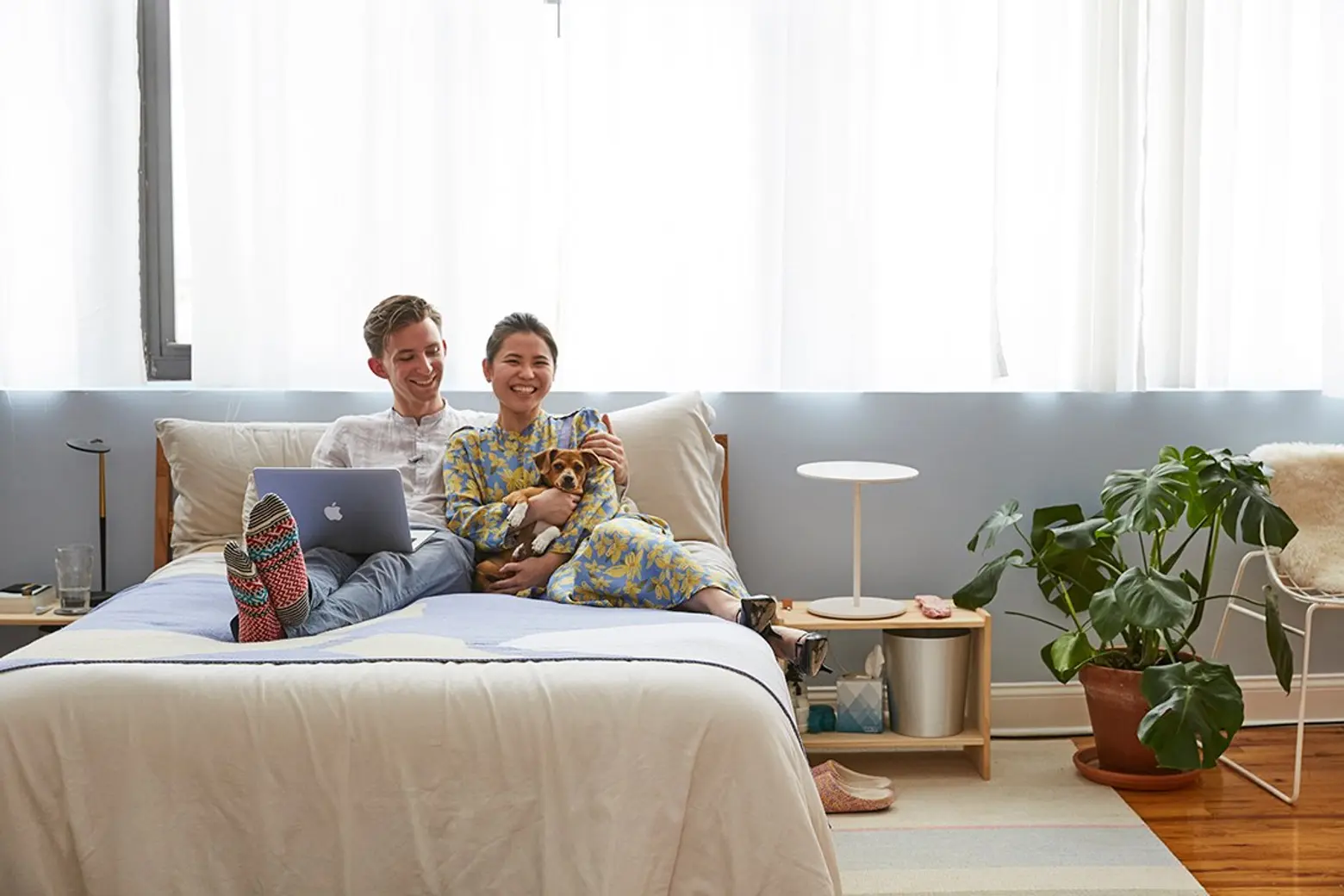 All photos taken by Brett Wood exclusively for 6sqft.
RELATED: