My 730sqft: It's a retro pink party at fashion designer Stella Rose's Bushwick pad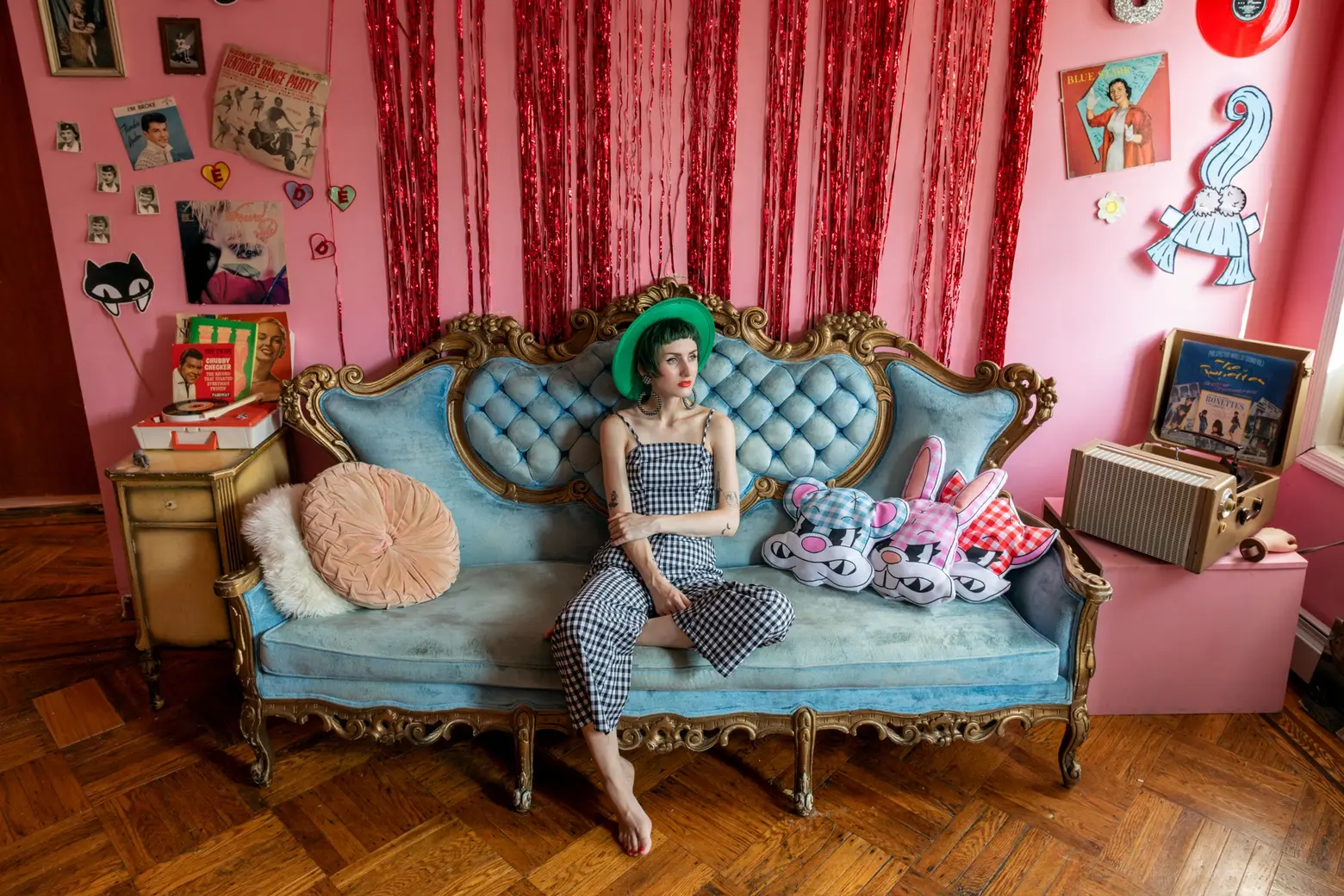 6sqft's series "My sqft" checks out the homes of New Yorkers across all the boroughs. Our latest interior adventure brings us to designer Stella Rose's bubblegum pink Bushwick apartment. Want to see your home featured here? Get in touch!
"Why not make your living space look like a party every day?" says fashion designer, stylist, and model Stella Rose Saint Clair. And that's exactly what she did in her unapologetically pink Bushwick apartment. In fact, she's painted every NYC apartment she's lived in this same hue because it makes her feel "optimistic, rebellious, wacky." When asked to sum up her fun and festive aesthetic, she explained, "I love over-the-top vintage interiors and the retro obsession around pink for household decorating. I am also a sucker for tropical plants and party supplies."
From the Rococo sofa she found on Craigslist and bought from an eccentric divorcée on Staten Island to the collection of vintage food packaging in the kitchen, everything in Stella's apartment has a story, many of which will make you laugh. But behind the giggles and bubblegum walls, Stella is not afraid to get real–"I don't have my shit together, and I'm okay with it."–and take a serious look at how obstacles in her life, such as being bullied as a teen, have shaped her into the creative force she is today. Ahead, take a tour of Stella's one-of-a-kind apartment and get to know her a bit better.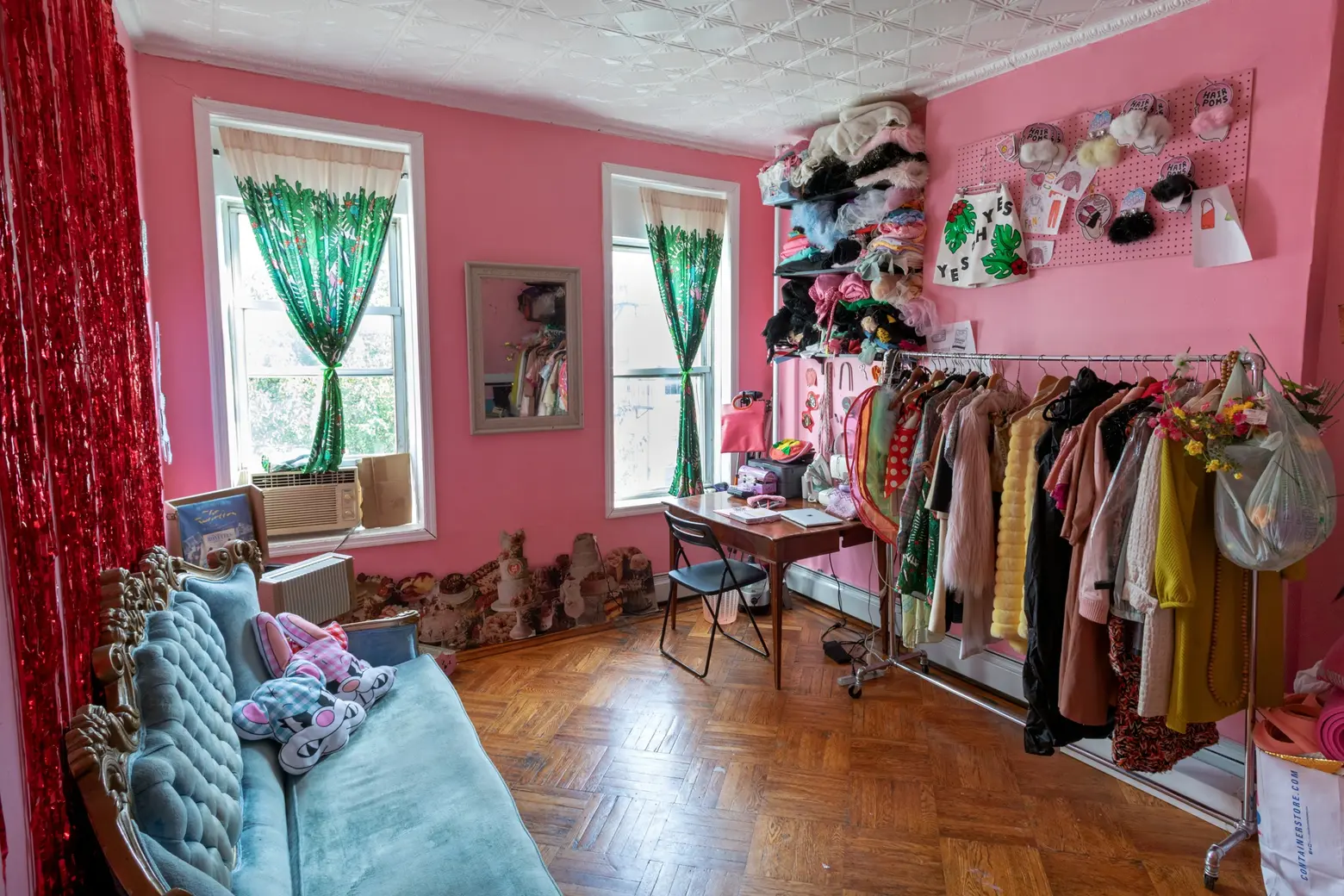 The angry bunny and angry bear pillows are a favorite combo of Stella's — "cute and scary." She illustrated them for a t-shirt collection and then had them made into cushions. She designed the tropical curtains as a collaboration with Print All Over Me. 
Stella Rose Saint Clair was actually born in the East Village in a rooming house that is today the only one surviving on the block. She and her mother then moved to Seattle, where she grew up and spent her formative years. She's been in New York City for seven years now, starting out in a rooming house in East Harlem, then moving to Soho and Chinatown, and finally, three years ago, moving into her current Bushwick one-bedroom. She found the place on Craiglist and was drawn to its natural light, an important factor since she works and designs from home.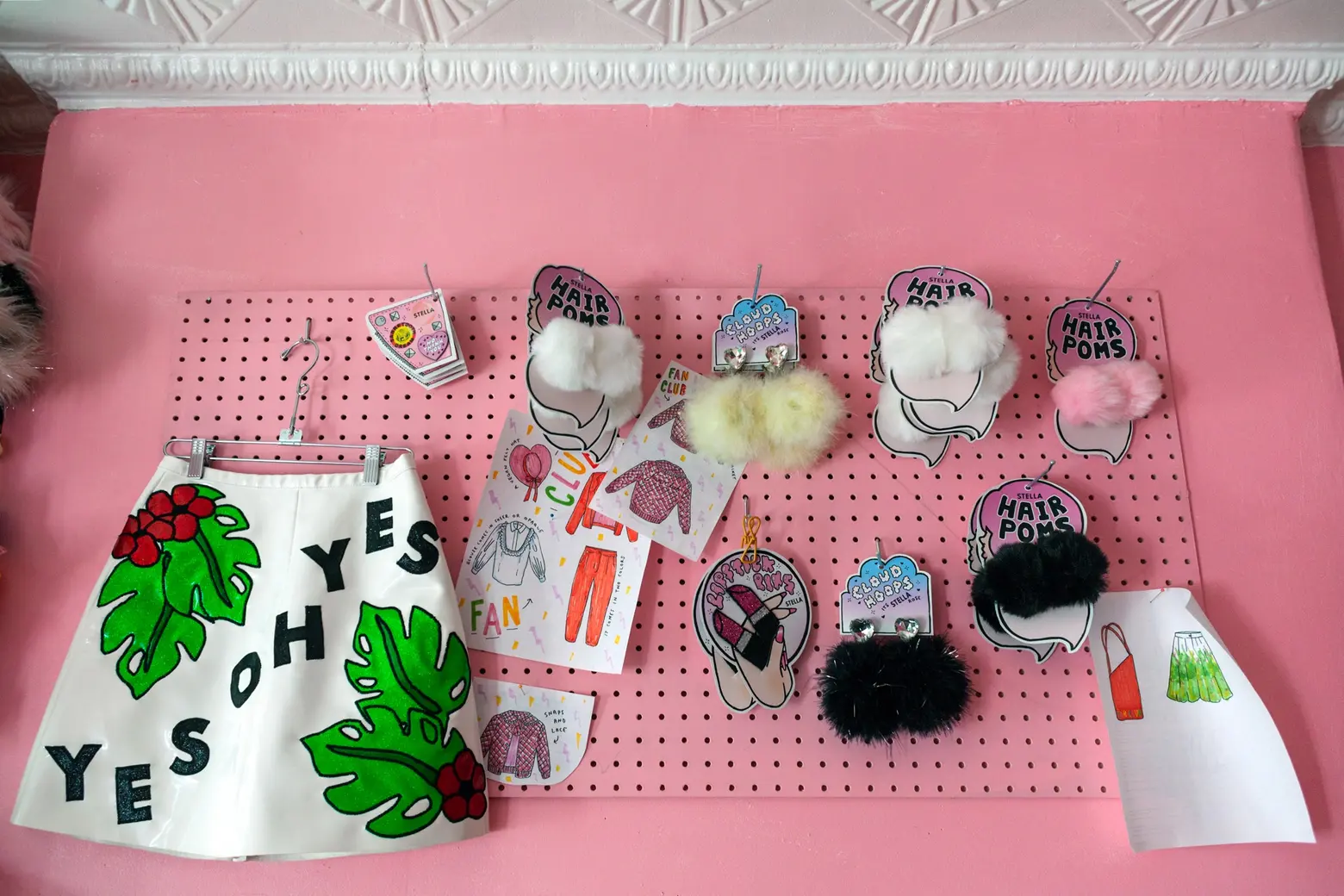 Stella uses a lot of faux fur poms to make hair accessories and jewelry. She's also very into putting words and typeface on clothing.
Speaking of designing, Stella's label, called It's Stella Rose–which she describes as "Kawaii-inspired with a heavy nod to retro detailing and then a little bit of punk rock"–is completely shoppable online, and she's currently working on expanding her clothing line "while having a variety of existential crises."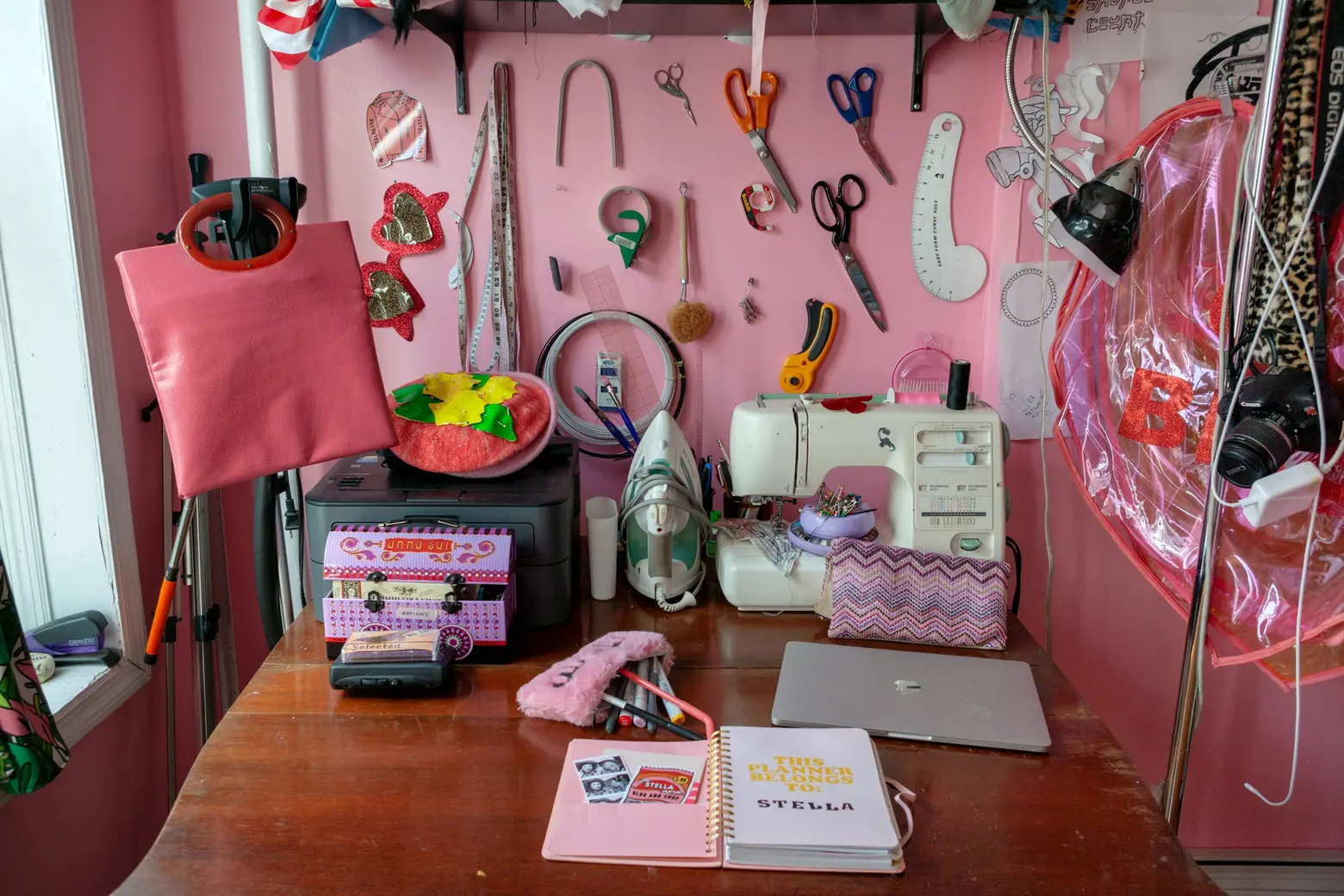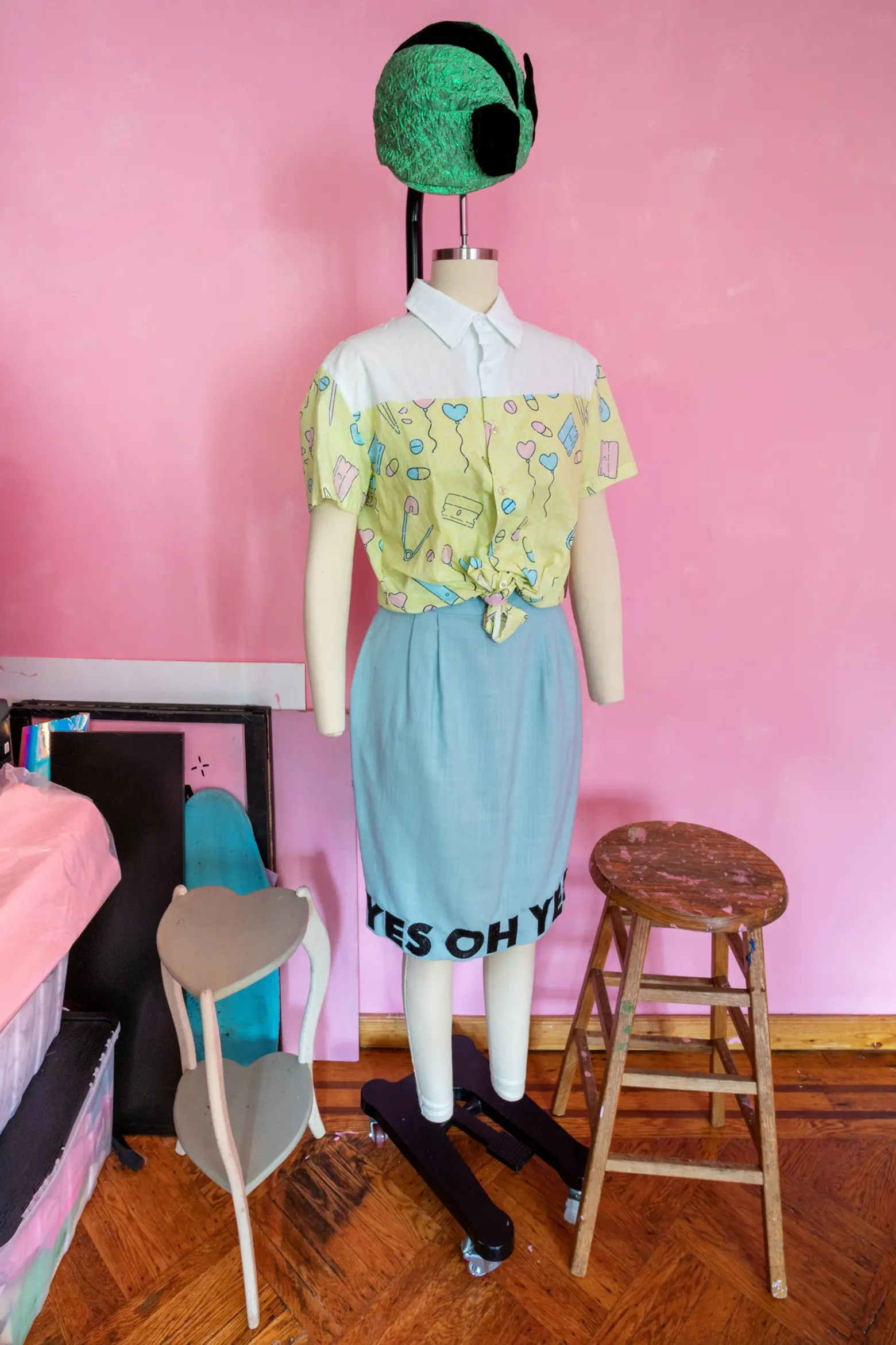 When asked how she got into fashion, Stella goes back to her childhood. "By age eight I was convinced I wanted to be a punk rocker like in 'Sid & Nancy,' and by age nine I was convinced I wanted to be a drag queen like in 'Priscilla Queen of the Desert,' and by age 10, I was kind of punked out." However, when she got to middle school and was bullied for her appearance, she stopped being creative with her wardrobe and felt very unconfident in who she was. But by 16, she had an epiphany that she had no reason to impress anyone and decided to stop worrying about how others perceived her. She got back into punk, learned how to sew, and made a splash when she arrived at school wearing a 1950s-style dress made out of a Twister board. Ironically, once Stella started dressing in her own way, she became popular in school. "This taught me how important personal style is," she says.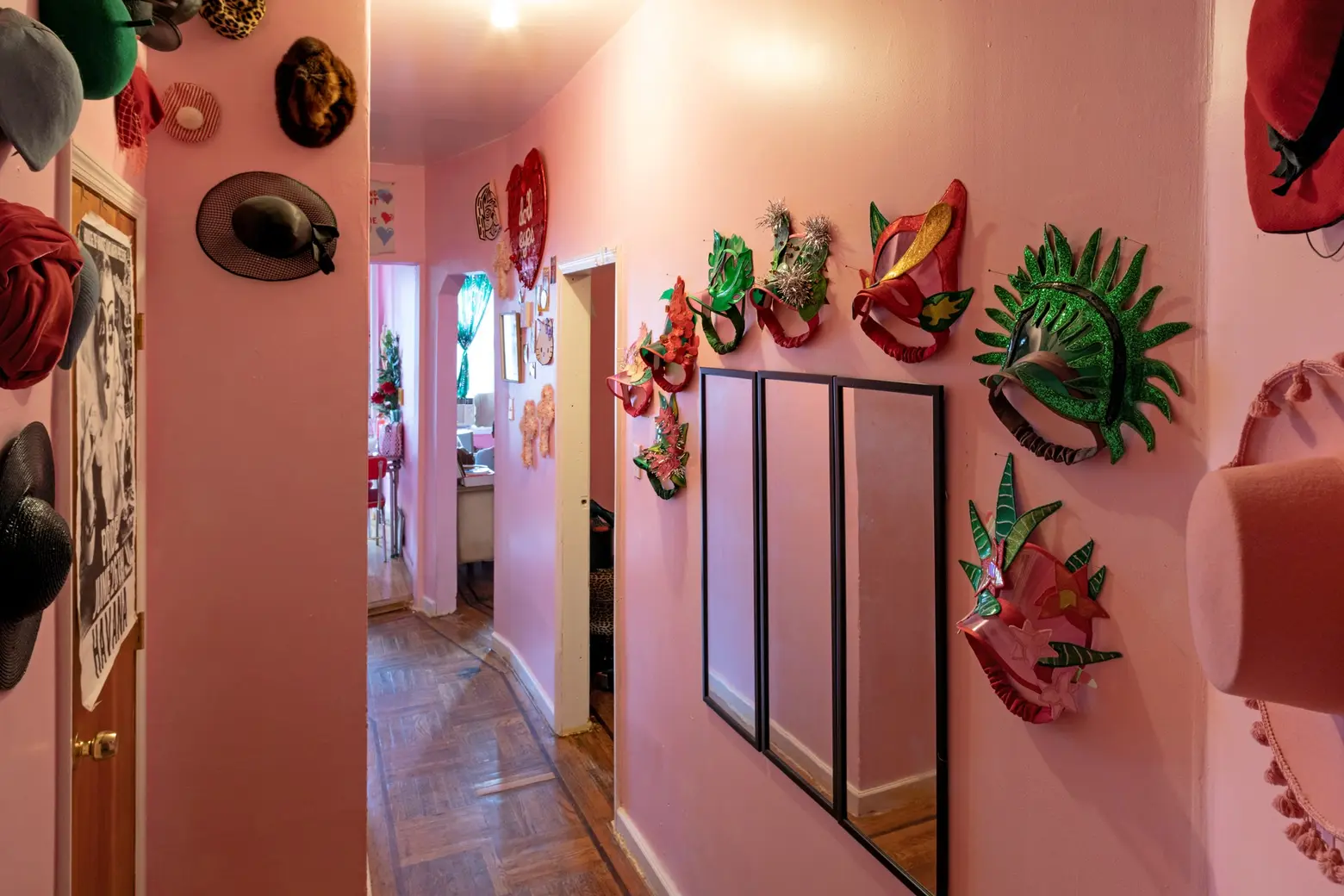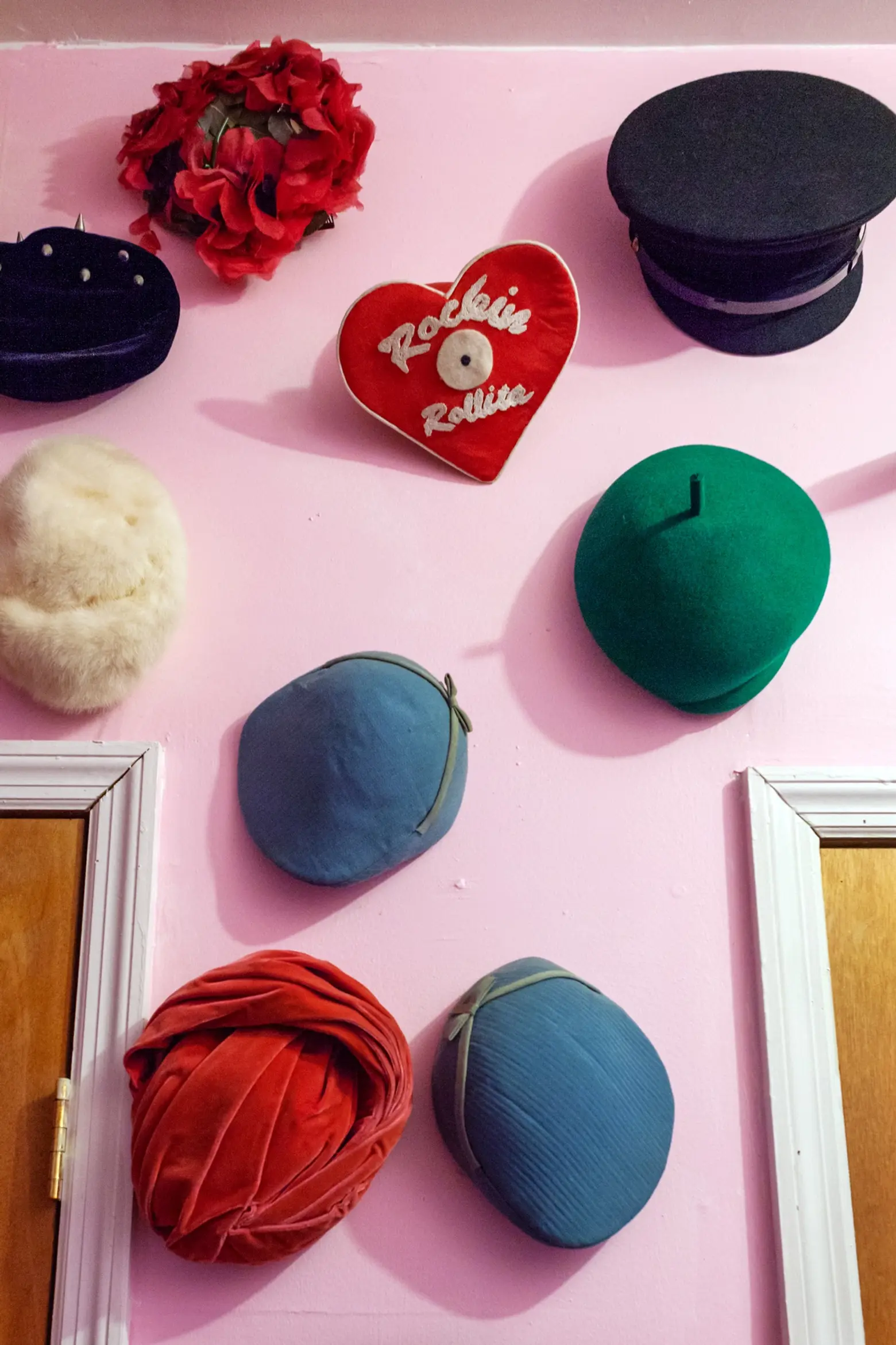 Though she never stopped making her own clothes, Stella's first foray into the retail market was about 10 years ago when she started producing heart-shaped hats that perched on the side of the head. She then moved to hand-dyed velvet turbans. Stella's so fond of hats, in fact, that for a long while you'd never see her without one (now sometimes you will, though). Even her hallway features a hat collection, both her own creations and vintage finds, as an art display.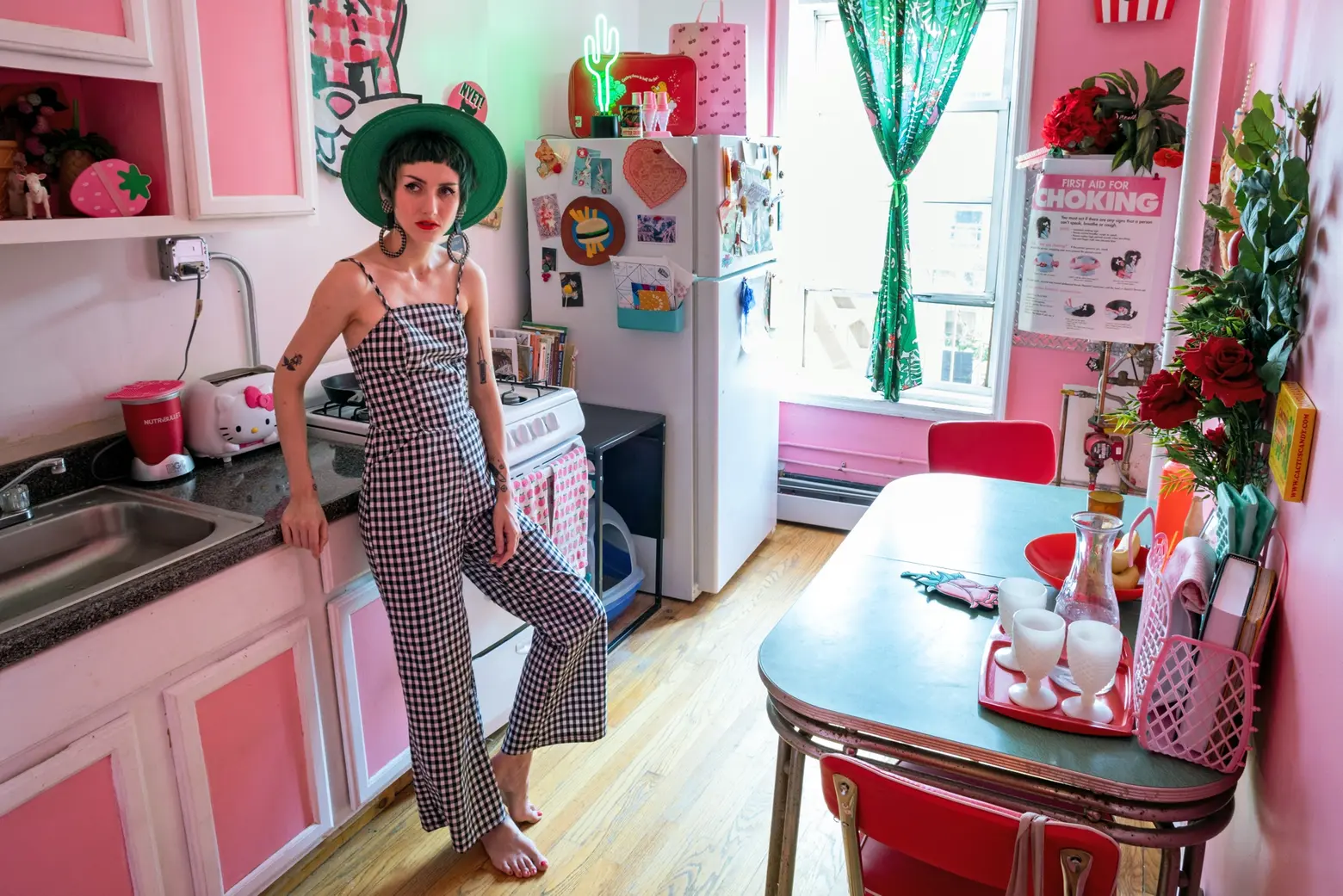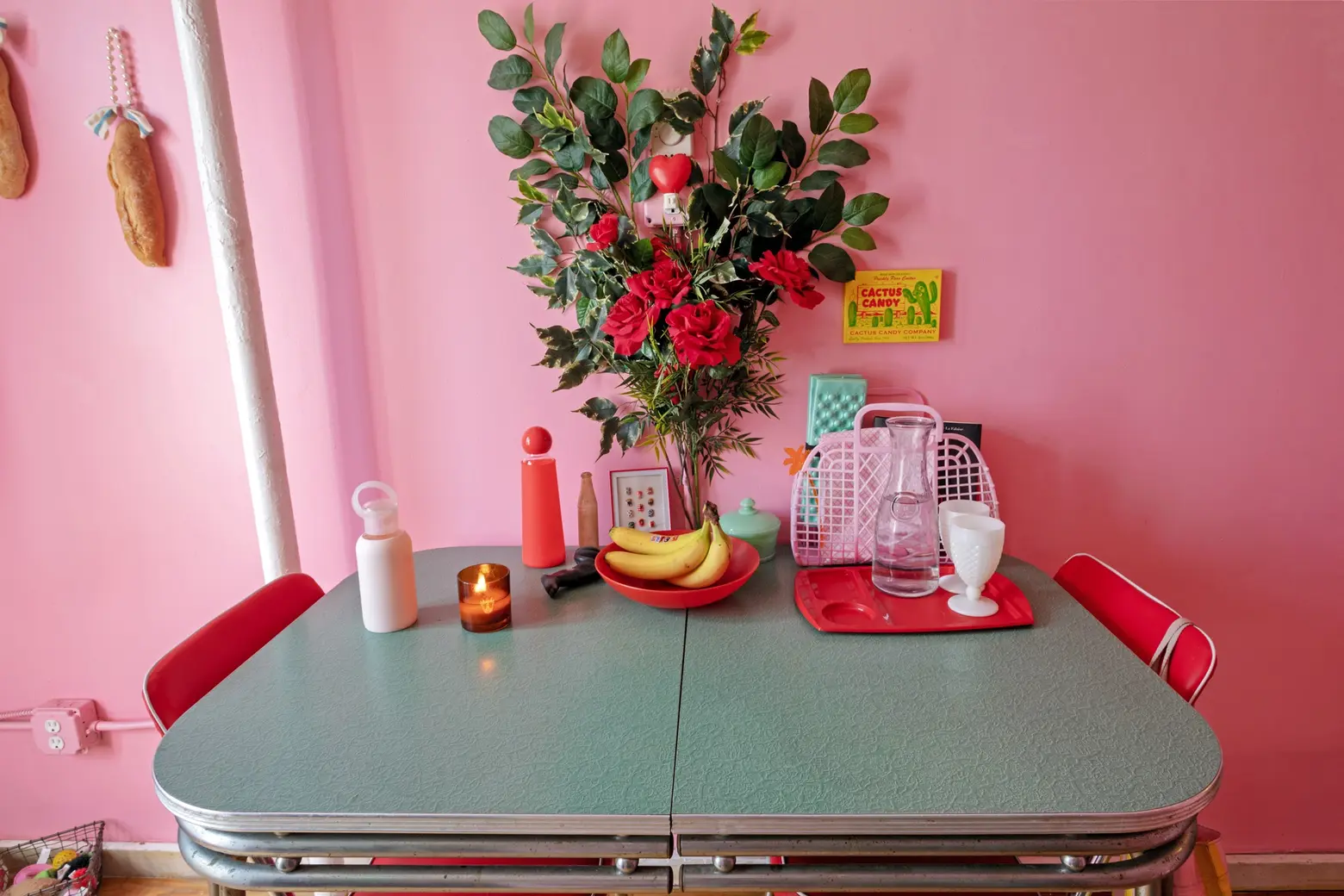 Of course, the couch is one of the biggest statement pieces. Stella's old roommate was a "Craigslist connoisseur" and after she scoured it online, they drove out to Staten Island to pick it up. They arrived at a "Golden Girls-meets-Marie Antoinette" mansion that was filled with fountains, cherubs, and spiral staircases. The owner, a recent divorcée, tried to unload all of her similarly opulent furniture on them, but Stella opted to stick with just one pastel, Rococo piece.
Her dinette table has a similar team-effort story behind it. When a friend saw it on the street in Queens and posted a photo on Facebook, Stella immediately commented that she'd been looking for one of these vintage tables, but had no way to get it. Another friend joined in and drove out with his car to pick it up.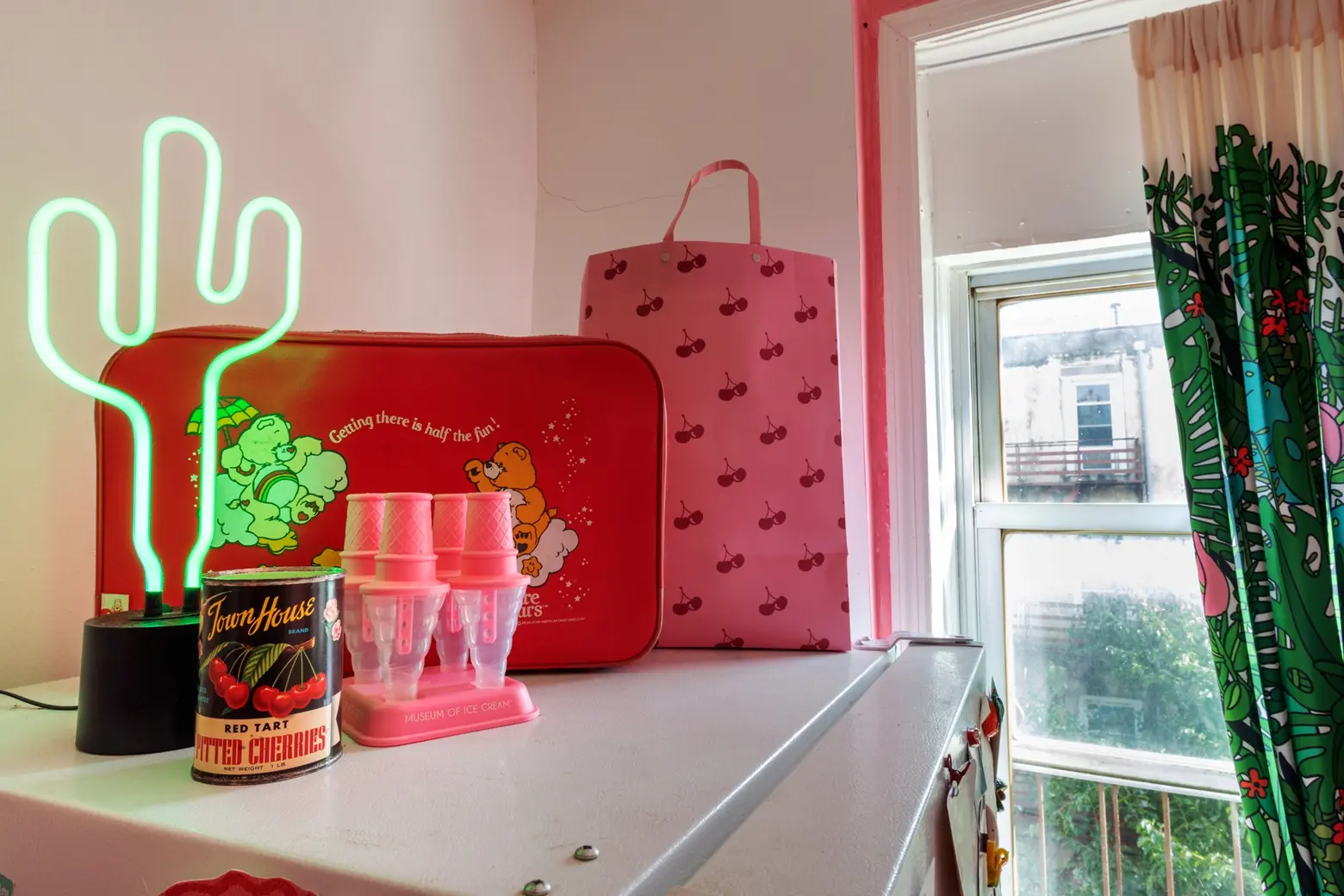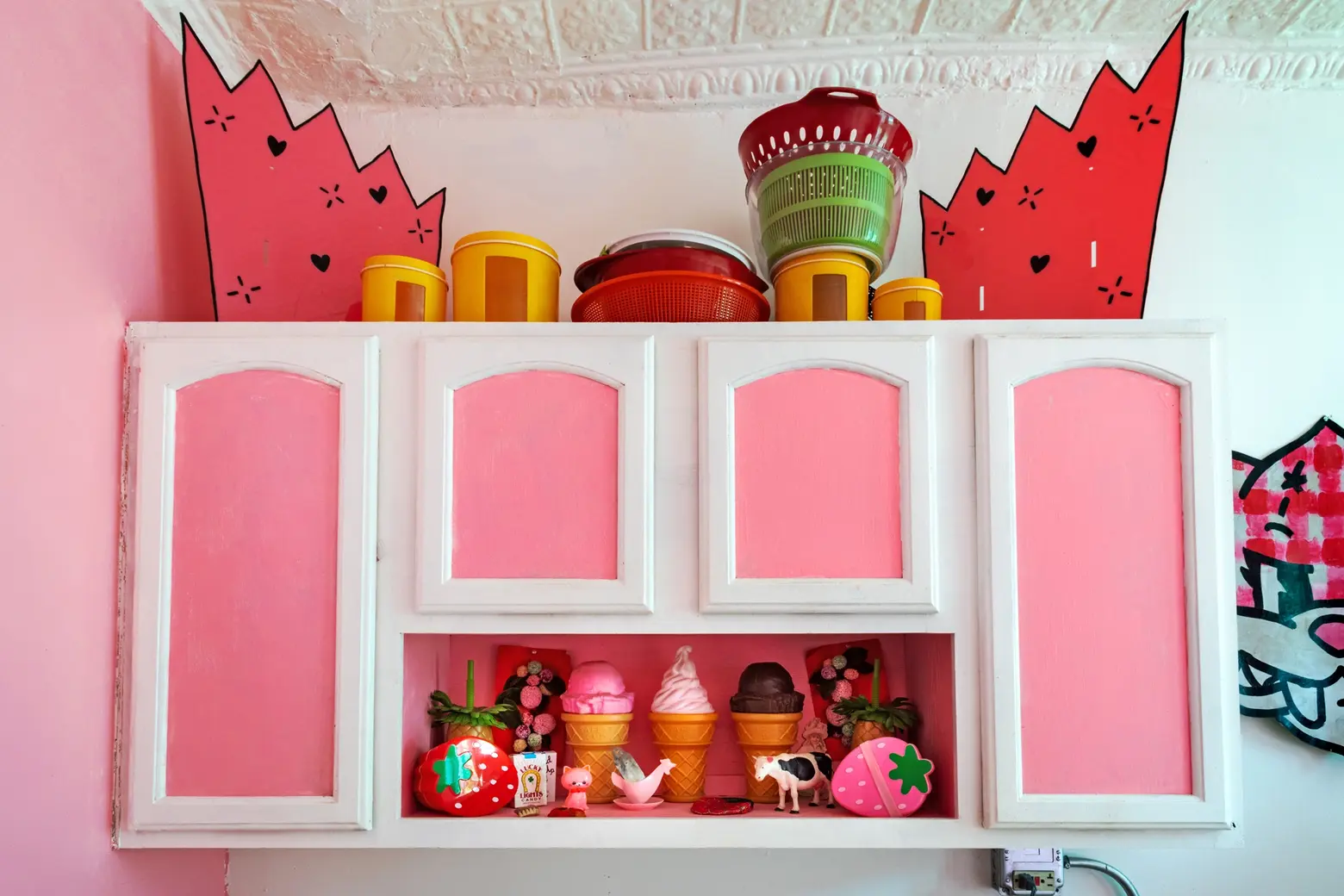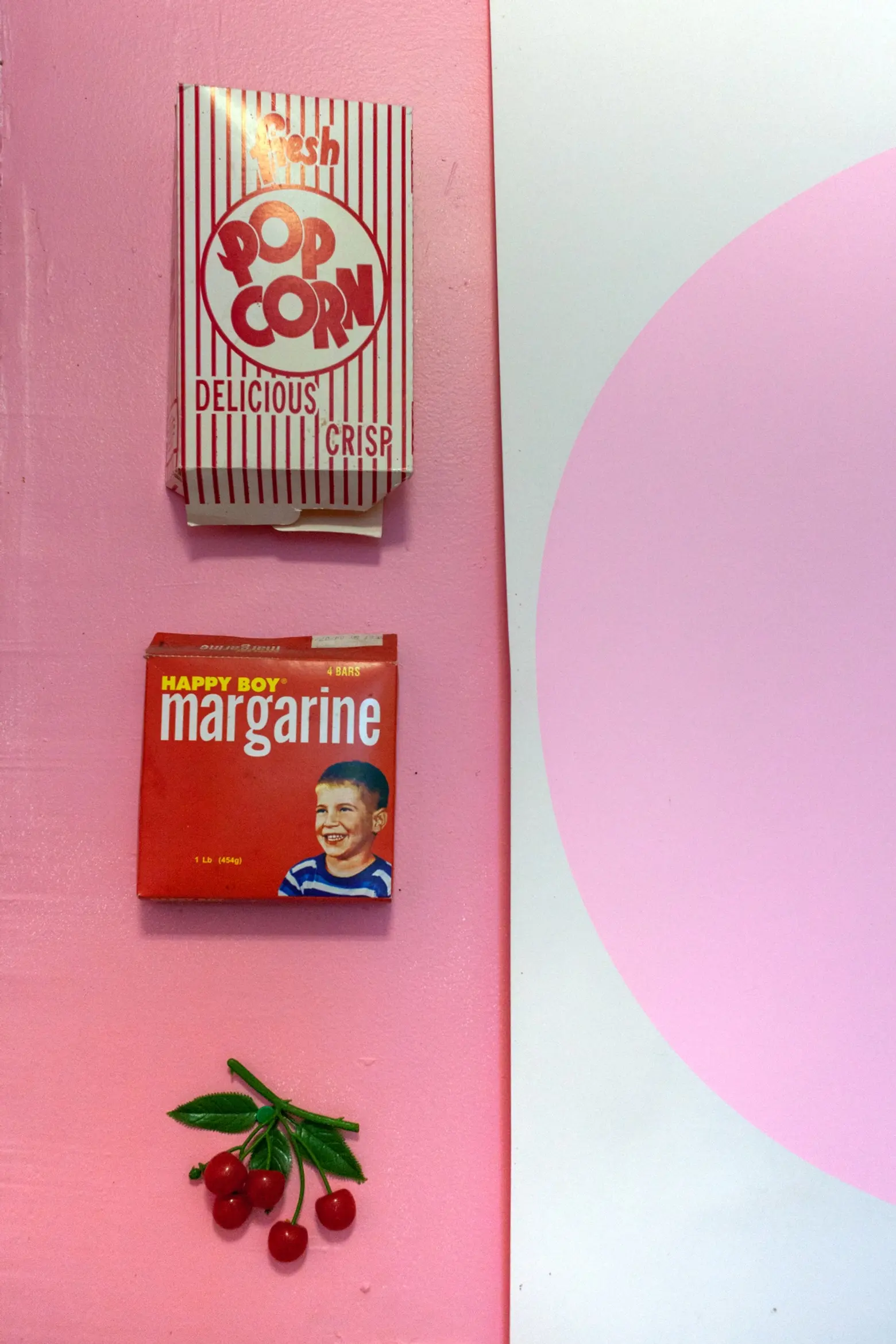 The popcorn box is from a birthday party at a movie theater Stella was working in; the cherries are from her mom's sewing kit; she bought the margarine box in Chinatown and couldn't believe they were still using that retro packaging.
This was a very lucky turn of events considering how perfectly the table fits with her kitschy kitchen decor that includes vintage packaging, fun mementos (the cow has been displayed in every kitchen she's lived in since she was a child), milk glass, and fun food-related tchotchkes.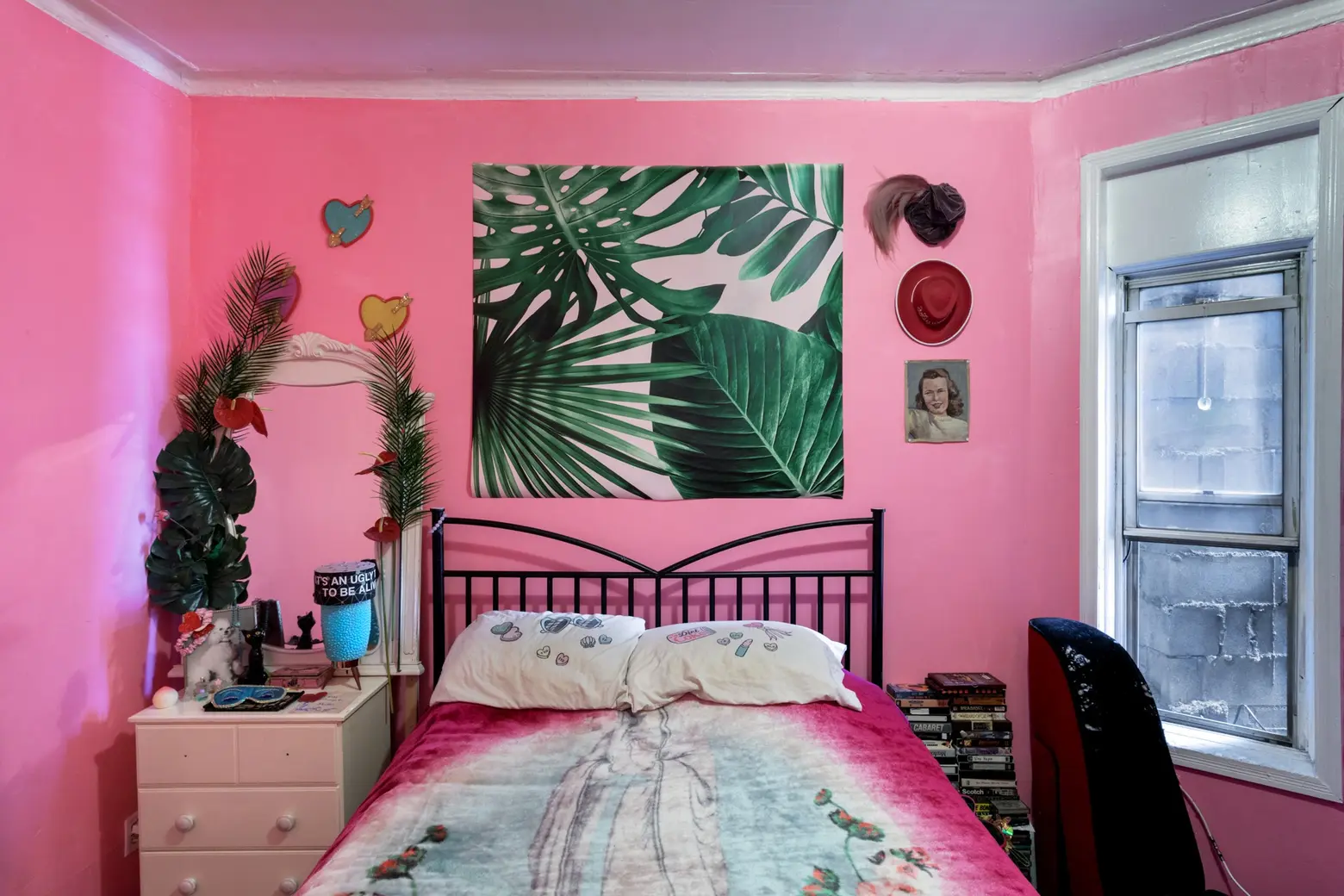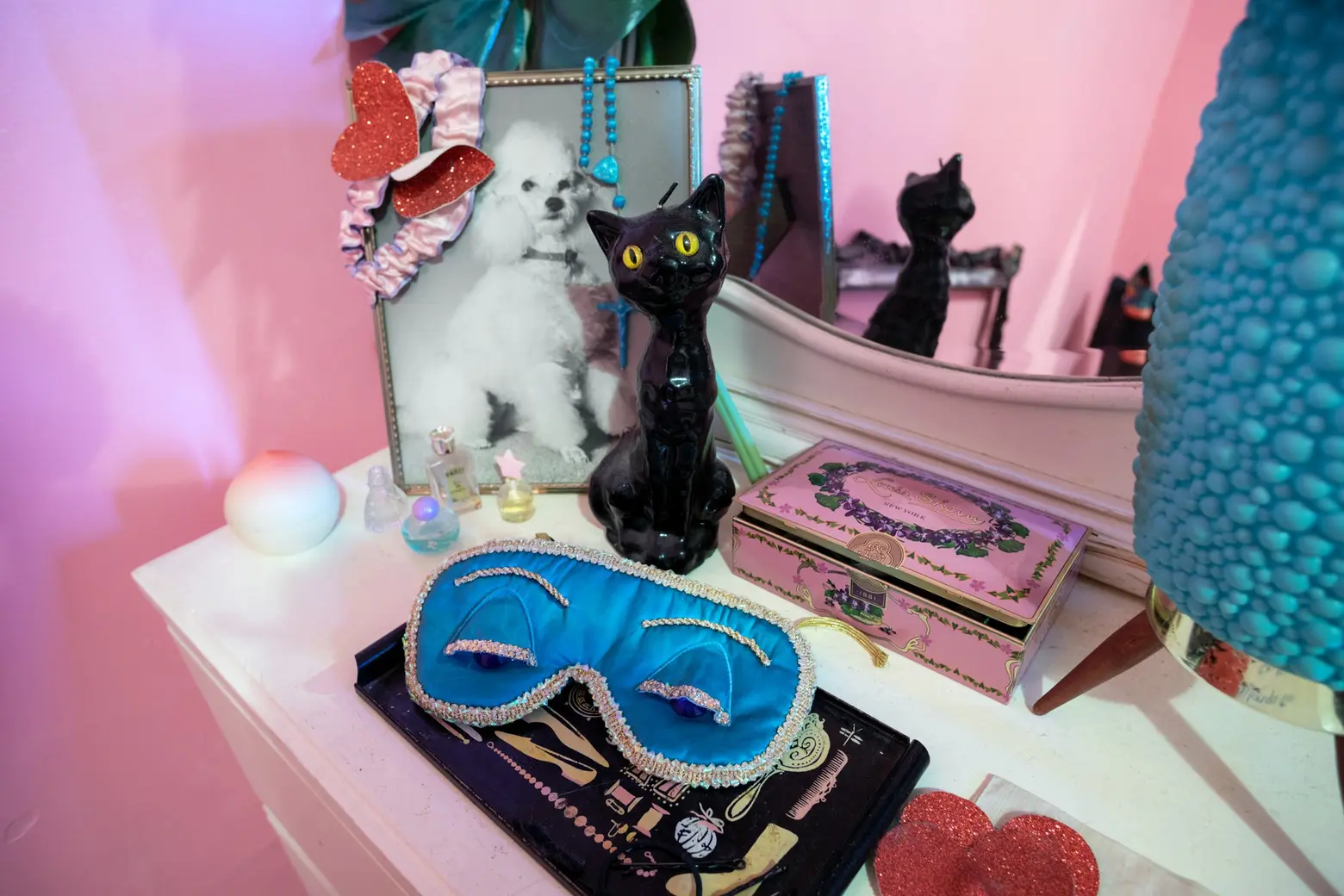 Stella first fell in love with the pink paint (Benjamin Moore's Blushtone, to be exact) when she moved into the original parlor of an East Harlem brownstone. It had 13-foot ceilings and crown moldings and when she went to the paint store she knew this pink would pop against those architectural features. "It looked like a big cake," she says. So when she finally had the opportunity here to personalize an entire apartment, she knew the pink was coming with her. "It's the perfect pink. It's pretty intense but not overwhelming. It's like me, it's not really an average pink-wall pink, but it's also not fuchsia."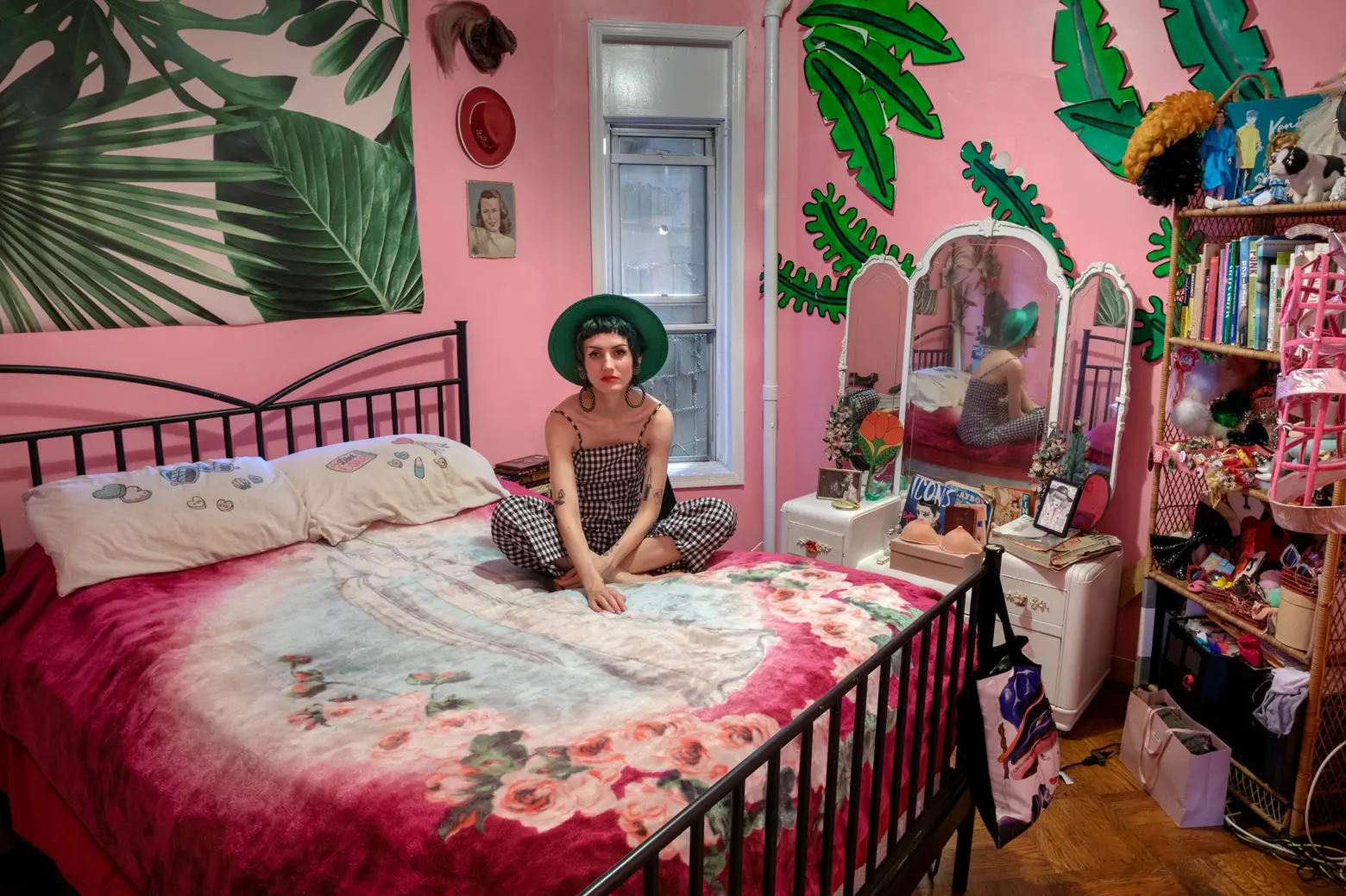 Another recurring theme throughout the apartment is big, bold tropical plants. "I'm sure if it were not for the internet I wouldn't have discovered that #plantsonpink is a beautiful combination. It's gorgeous, but also quirky and weird, like a tiki aesthetic."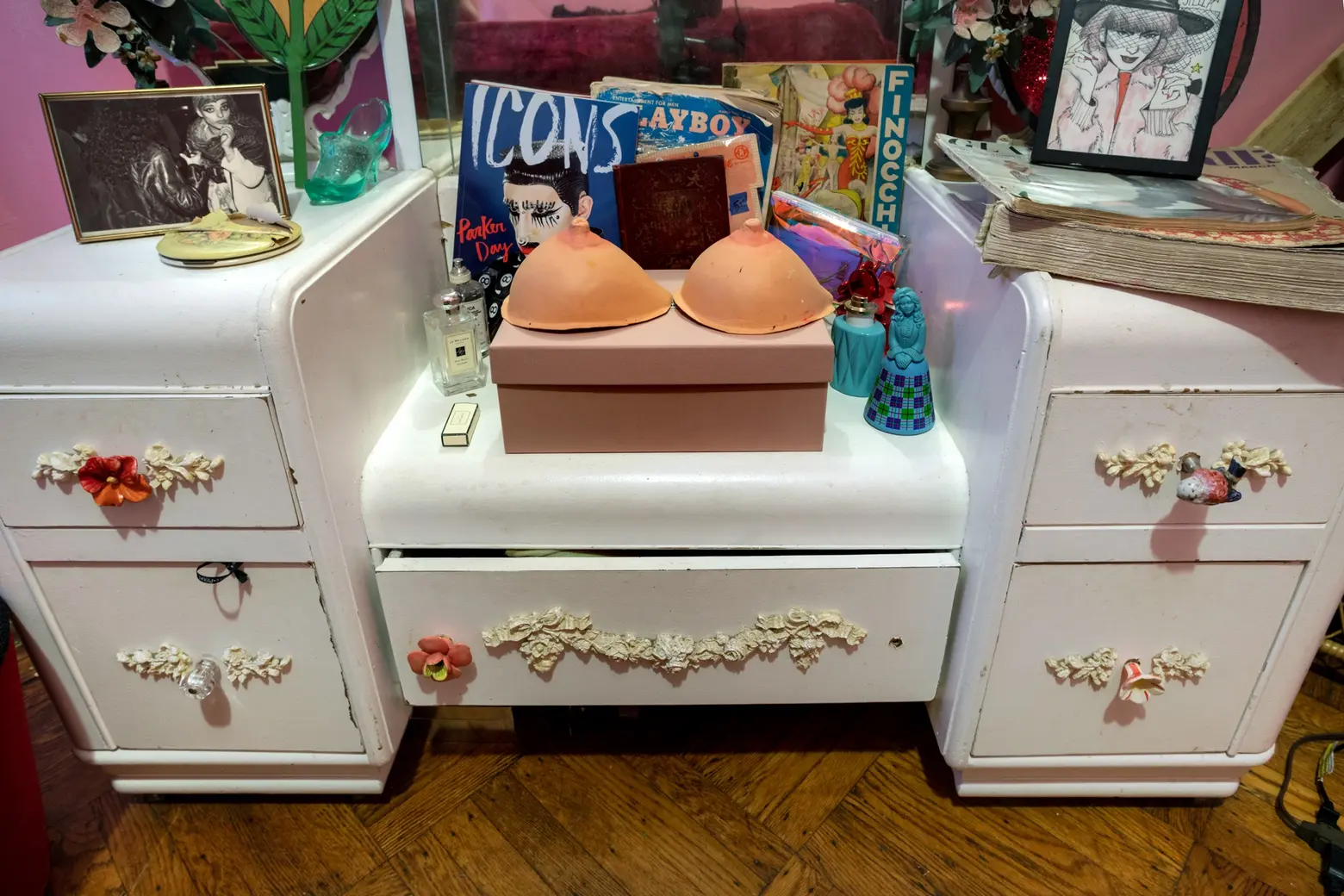 Though Stella certainly has a lot of fabulous objects in her home, when asked what three things she would take with her if she had to leave, her response was quite simple. "I've been journaling my whole life and my story, however exciting or mundane, is contained within a series of notebooks and binders. I need them to remind myself how I got here to this moment now. Other than that, a favorite dress, and a snack for the road (where are we going, again?)."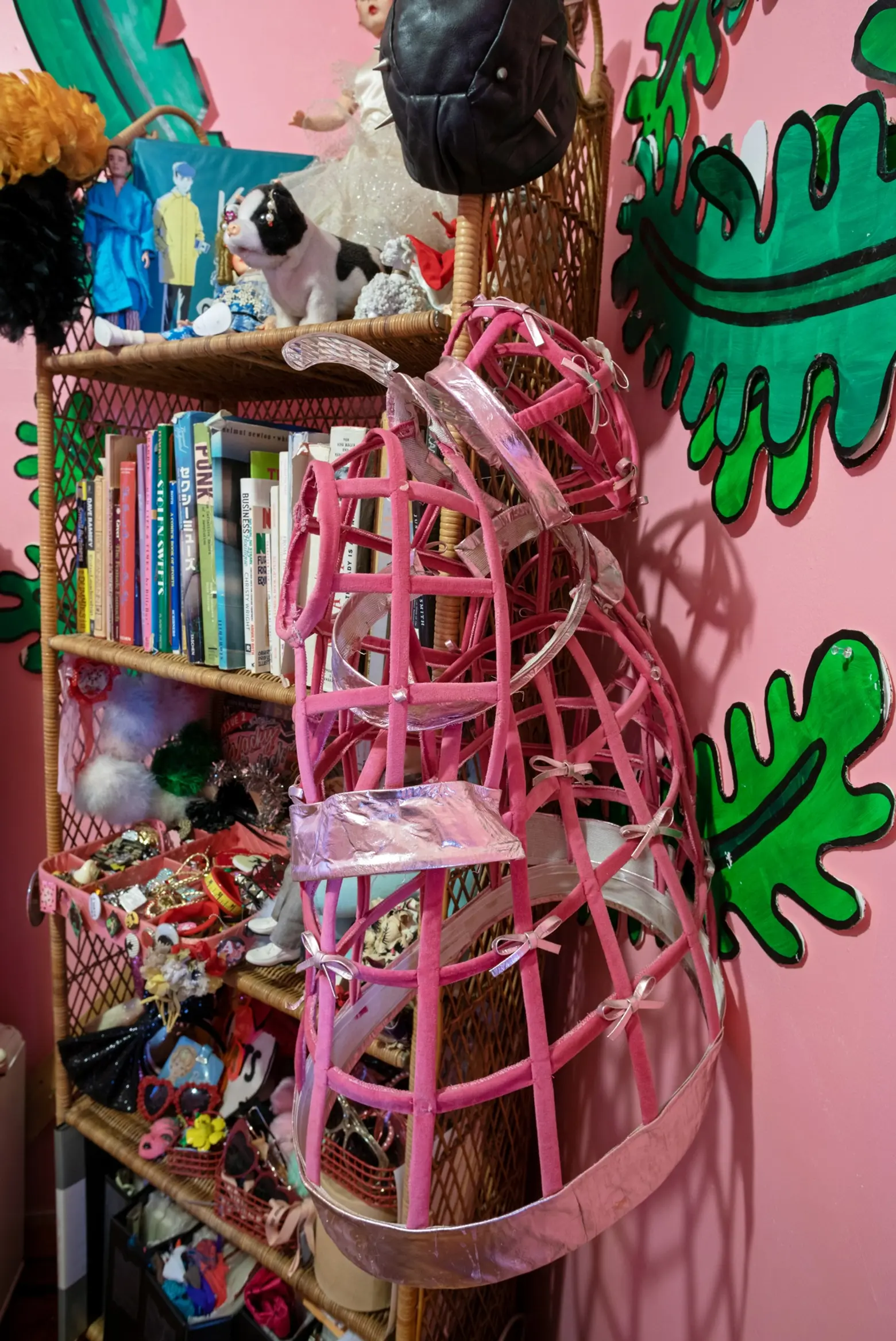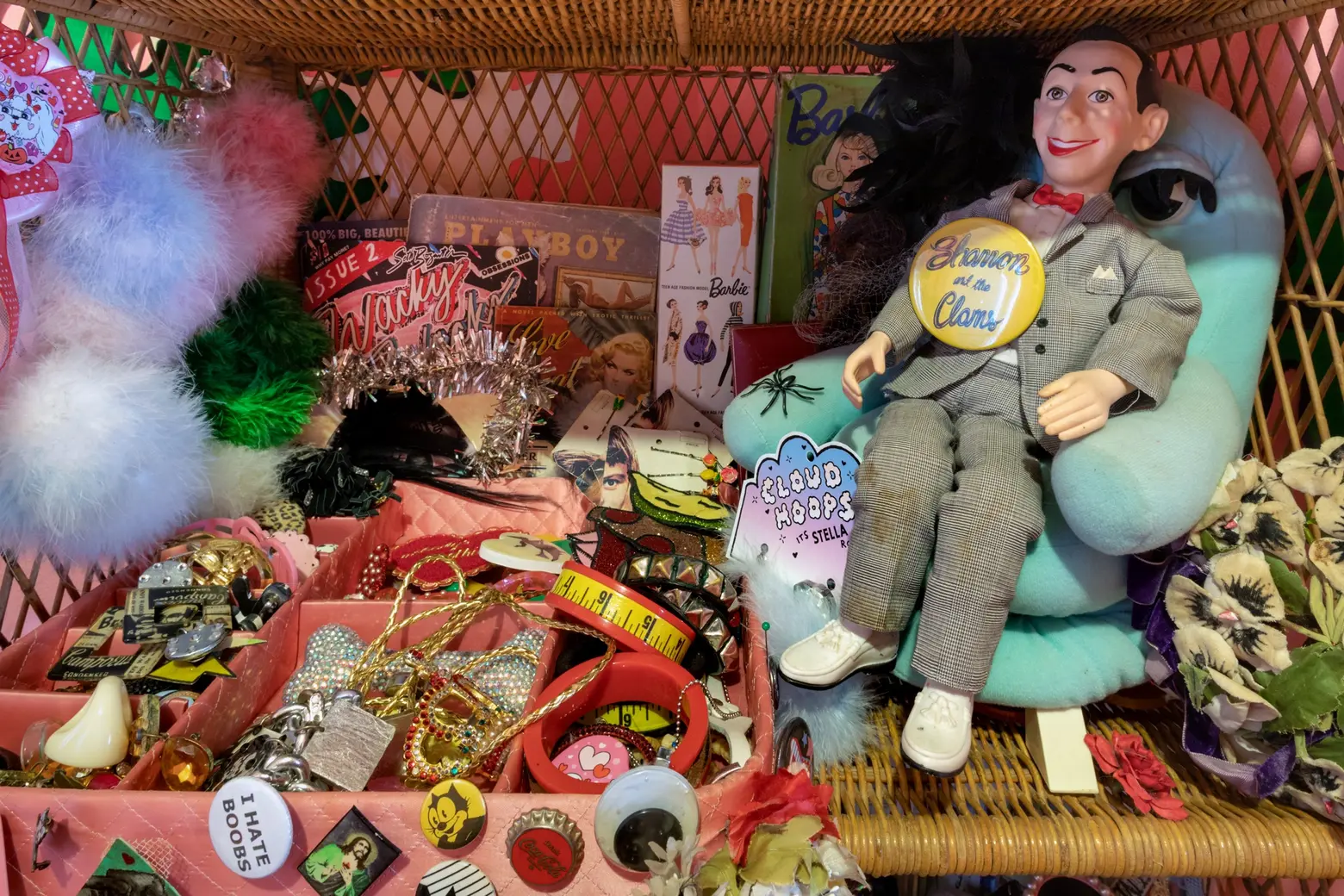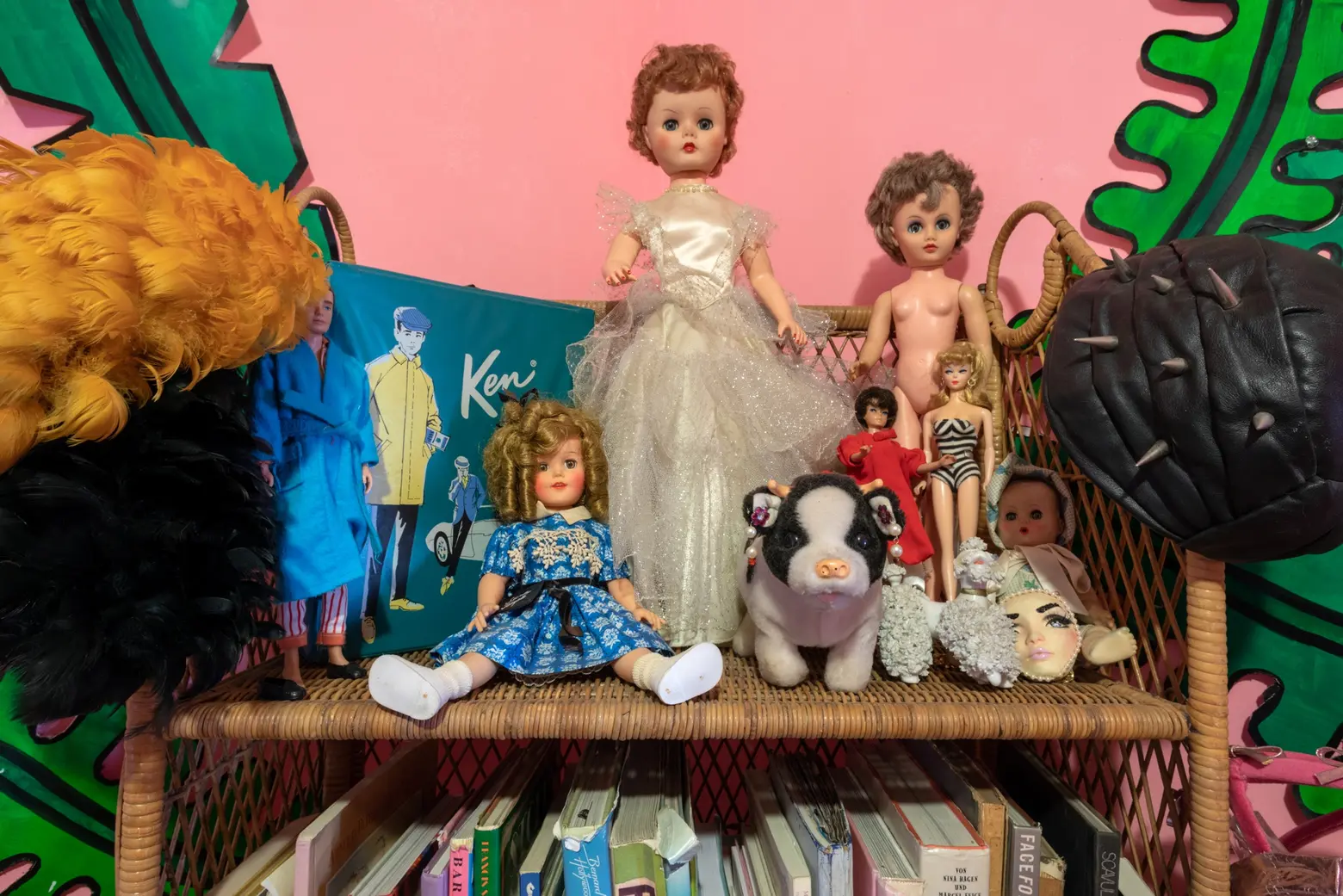 She also has a very straight-forward mindset when it comes to her wildly popular Instagram account (she has 82,000 followers!). "Instagram is elusive and I've given up figuring it out. Every time we do figure it out, it changes again. Have you ever seen that horrifying movie "The Cube?" Instagram is like that. A big endless puzzle that we are trapped inside with a bunch of strangers and everyone is clamoring to solve the mystery and win. I'm not even sure what we win though. If you want to win, just post consistently and keep your content high quality and relative. Like Gandhi said: create the Instagram you want to see in the world."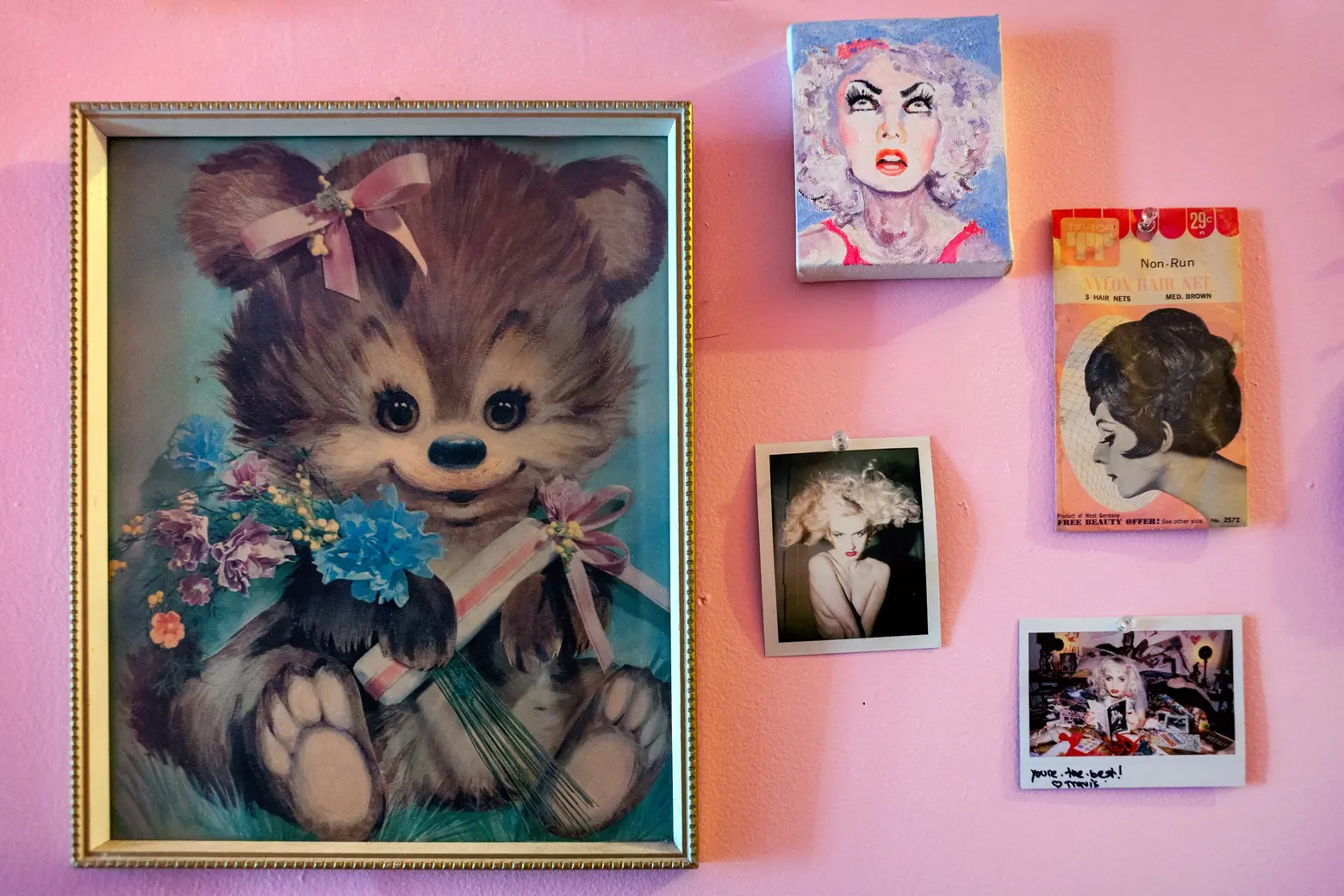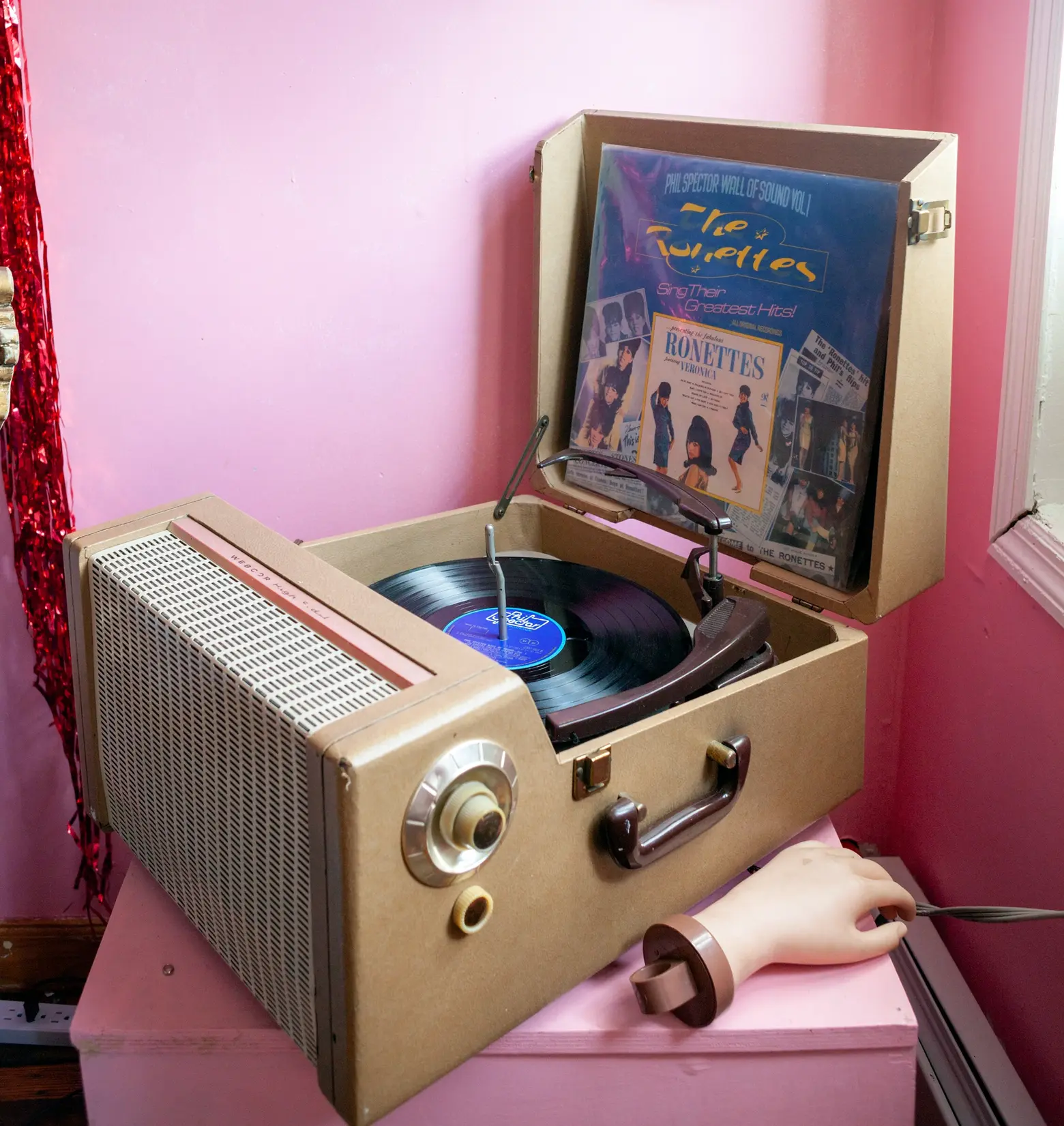 One of Stella's recent Instagram posts seems to sum up her philosophy on design and life pretty well:
It's easy to blindly follow the rules, but it's honest to break them. Rules are just a representation of someone else's reality that they felt the need to impose on you. There are no true experts- just egos. There is no such thing as perfection- just desire. Be true to your own path instead of yielding to the expectations of others. If the grass is always greener on the other side, grow pink grass and tell the other side to suck it.
RELATED:
All photos taken by James and Karla Murray exclusively for 6sqft. Photos are not to be reproduced without written permission from 6sqft.