The 14 best apartments near the High Line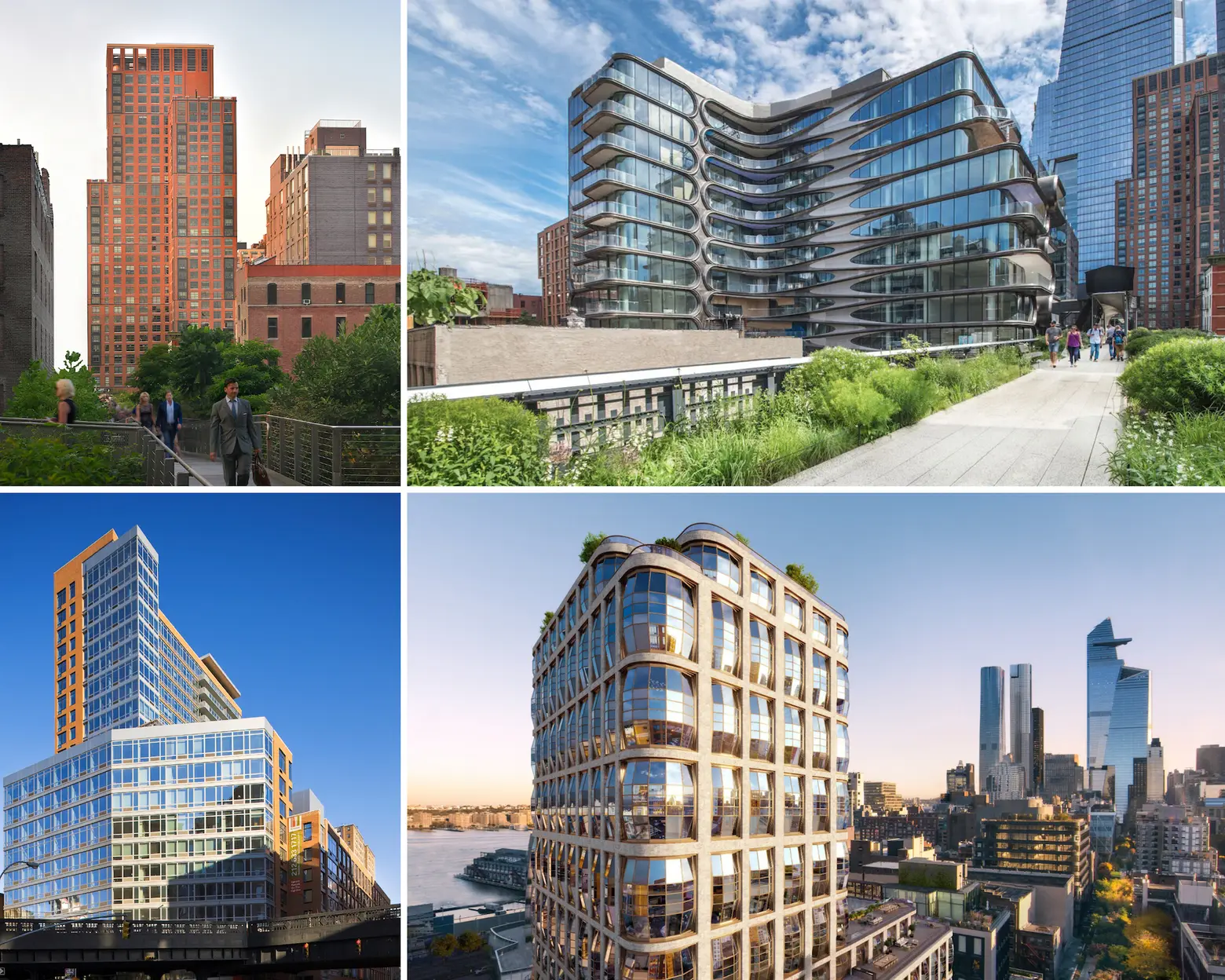 In the decade since the High Line opening, the surrounding area of West Chelsea has exploded into one of Manhattan's most desirable areas for developers building luxury real estate. (It didn't hurt that the opening of the now-famous elevated park coincided with a neighborhood rezoning.) These days, any walk along the park reveals a variety of development in different stages of construction right alongside buildings that have welcomed new, typically wealthy residents over the past several years. 6sqft has rounded up the 14 defining buildings now open around the High Line. There are the early trailblazers, like the energy-efficient condo HL23, as well as the starchitect standouts, like Zaha Hadid's 520 West 28th, and of course, the new kids on the block, including Bjarke Ingels' twisting towers The XI and Thomas Heatherwick's bubbled Lantern House condo.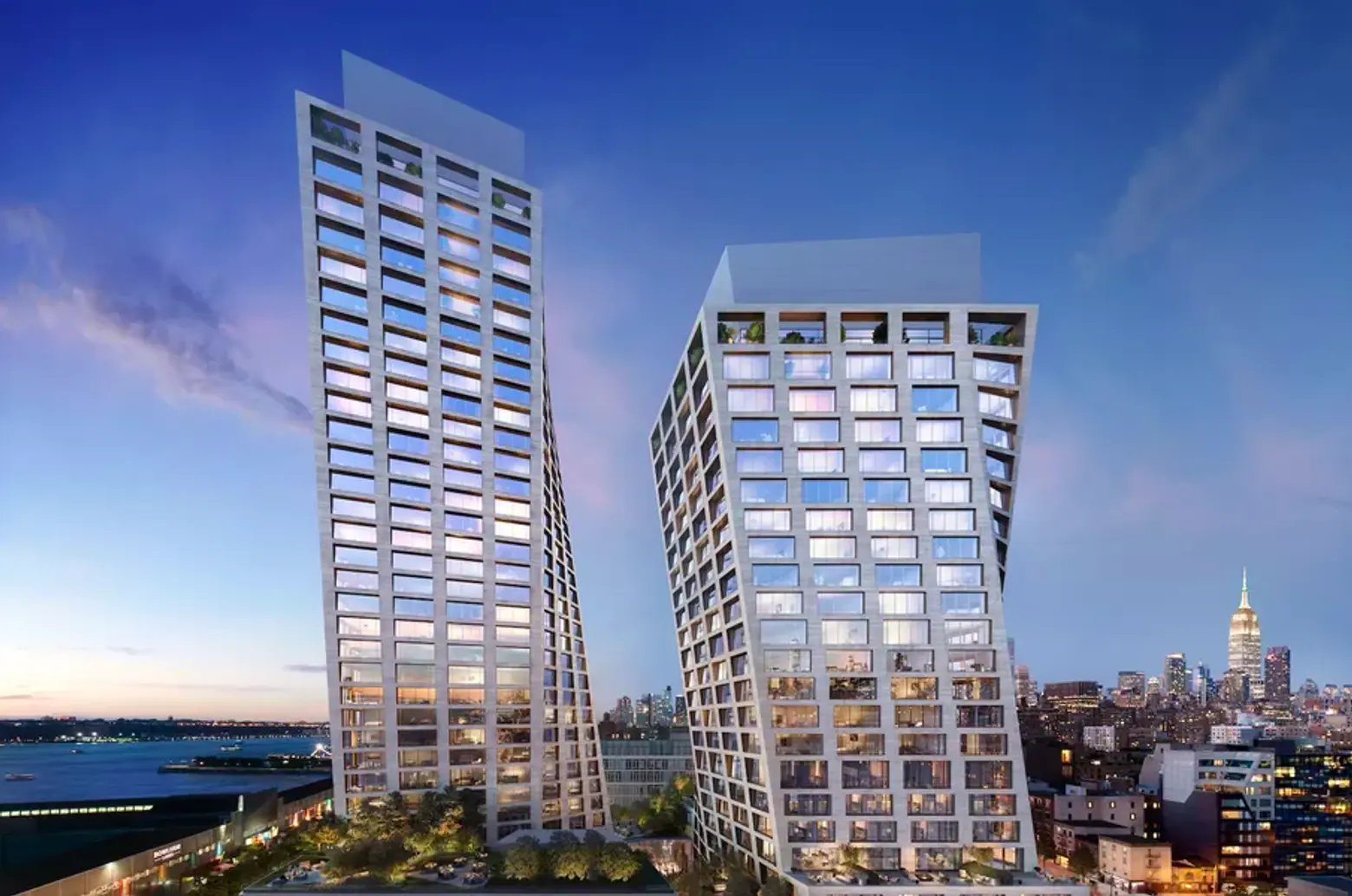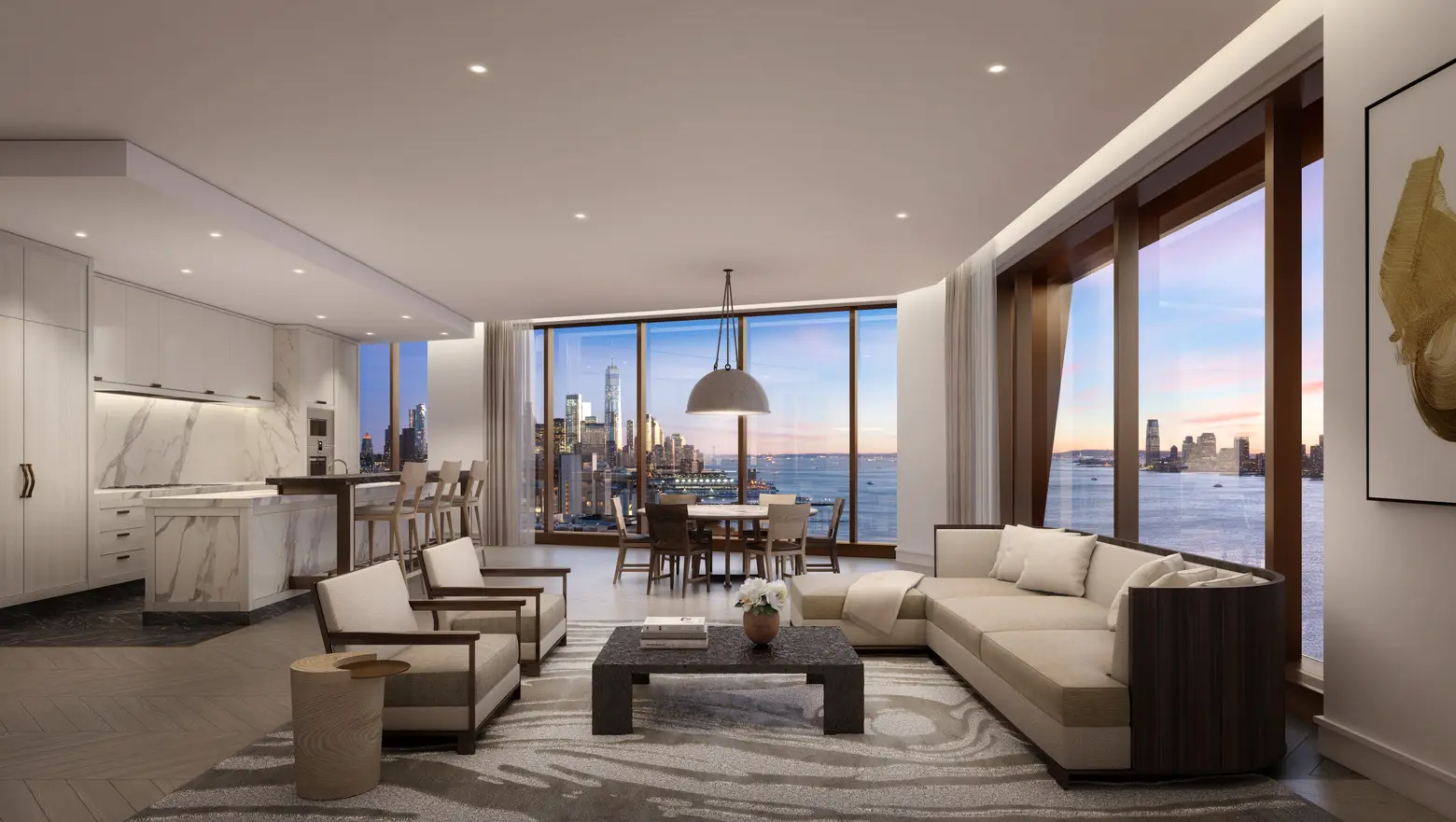 Dbox for HFZ Capital Group
1. The XI
Bjarke Ingels' twisting towers at 76 Eleventh Avenue cut a striking figure directly west of the High Line. Last year the project topped off, with one tower hitting 400 feet and the other at 300 feet. Facade work is still underway at the site. Both towers have identical exterior finishes and are joined together by a low-rise podium and motor courtyard.
The 36- and 26-story reinforced concrete towers, which total 908,250 square feet, will hold 236 condominiums and the first U.S. location of a Six Senses Hotel Resorts Spas. Condo prices are set to range from $2,575,000 up to $14,500,000. HFZ Capital Group is the developer of the complex, expected to open this year.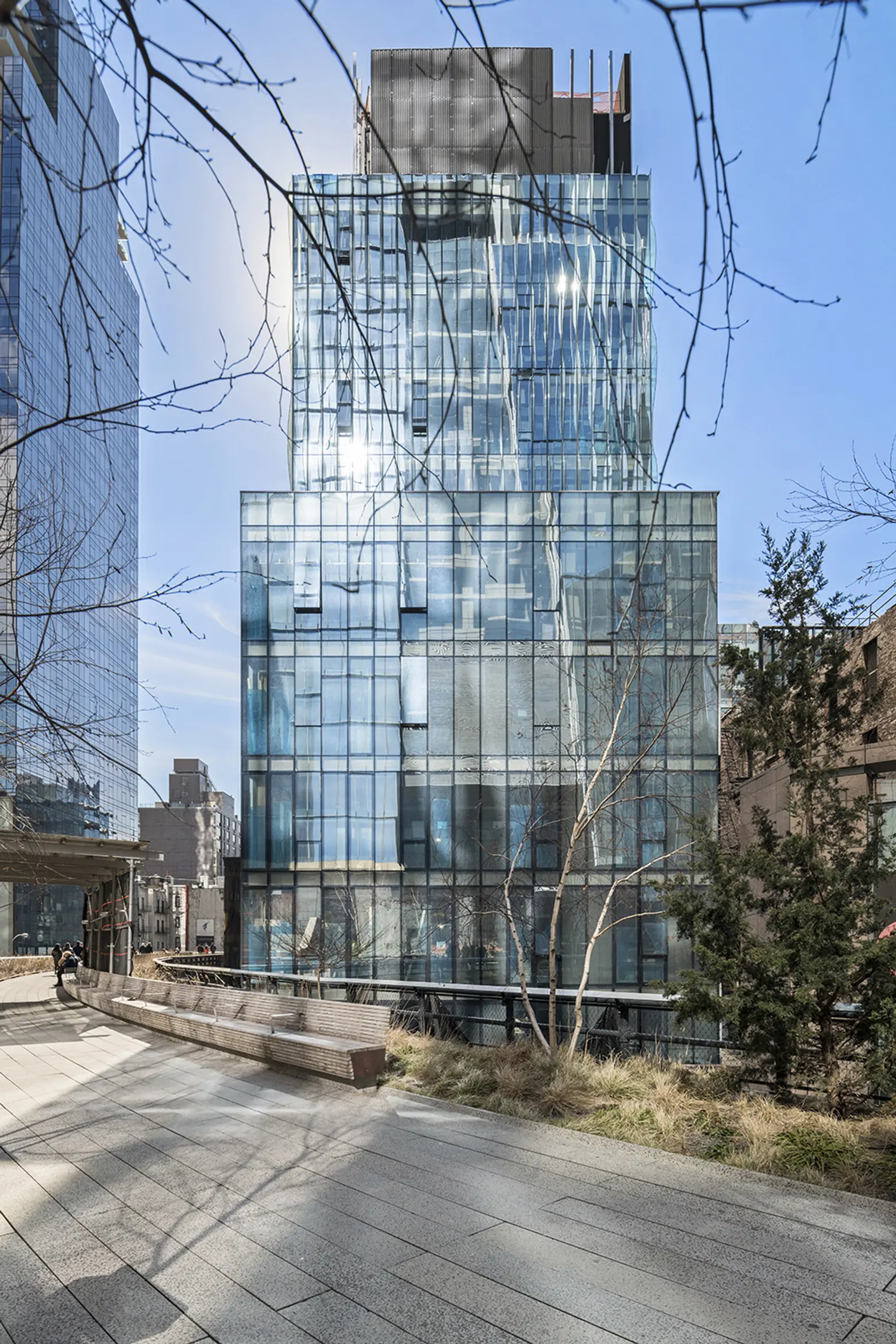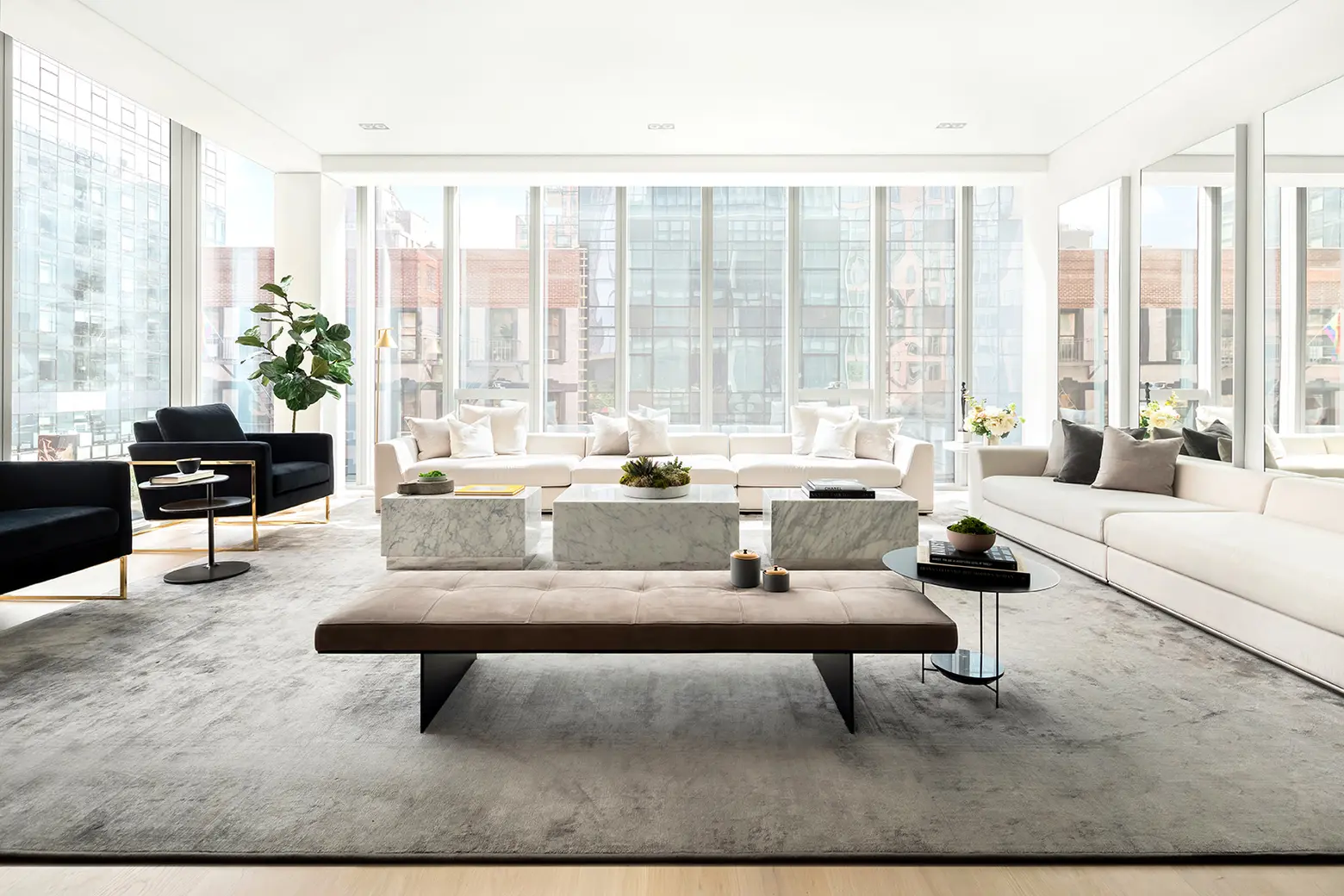 Courtesy of The Corcoran Group
2. 515 High Line
This 15-unit custom-designed condo is located within a converted former loft building at 515 West 29th Street. The glass-clad structure — designed by Singapore-based SCDA Architects — is comprised of two- and three-bedroom homes, as well as one penthouse with a private roof terrace. The glass on the exterior has a distinctive ripple effect.
Units feature 10-foot ceilings, light oak floors, temperature control, shades, and lighting with amenities like a gym and roof deck with a kitchen. Pricing starts at $3.75 million. Today there are a number of apartments still up for sale, with prices going up from $4 million.

Photo by Tim Fisher, Courtesy of Related Companies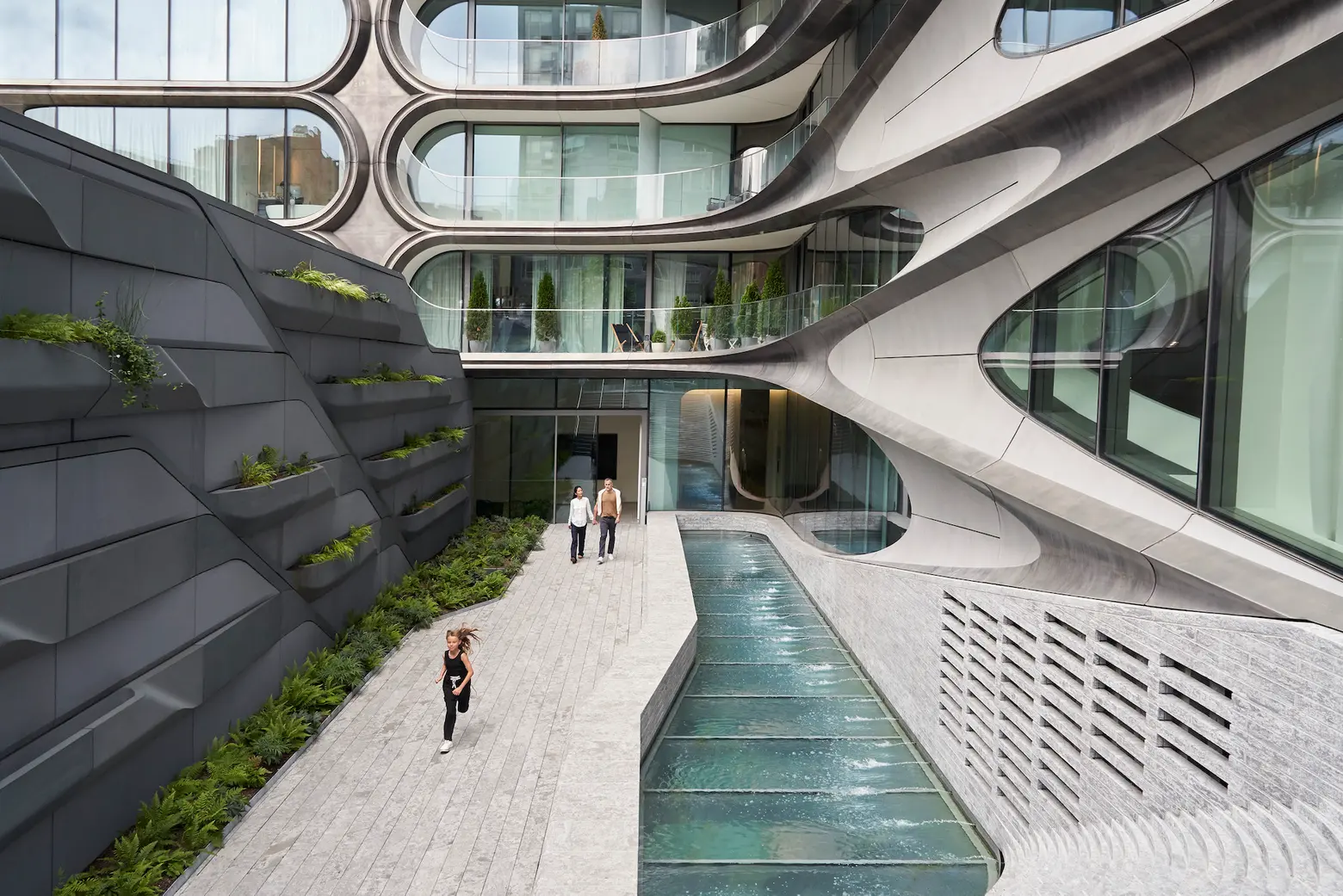 Courtesy of Related Companies
3. 520 West 28th Street
No building off the High Line has been as celebrated as Zaha Hadid's 520 West 28th Street, especially because it was one of her final projects before she died in 2016. The striking, curvaceous structure opened in 2017 with 39 apartments that hang over the elevated park. Packed within the building are balconies, sculpture gardens, and over-the-top amenities that include a 12-person IMAX theater. Hadid left her mark on the residential interiors, too, with glass walls and curved marble in kitchens. She also designed the sculptural staircase within the five-bedroom, 6,853-square-foot triplex penthouse.
Prices, unsurprisingly, were eye-popping high, ranging from $4,950,000 to the $50 million penthouse. As of last year, however, news broke that sales were lagging. The penthouse has also been on and off the market in the past few years and got a $10 million price cut in 2019. These days there are six units listed between $4.2 and $38.9 million.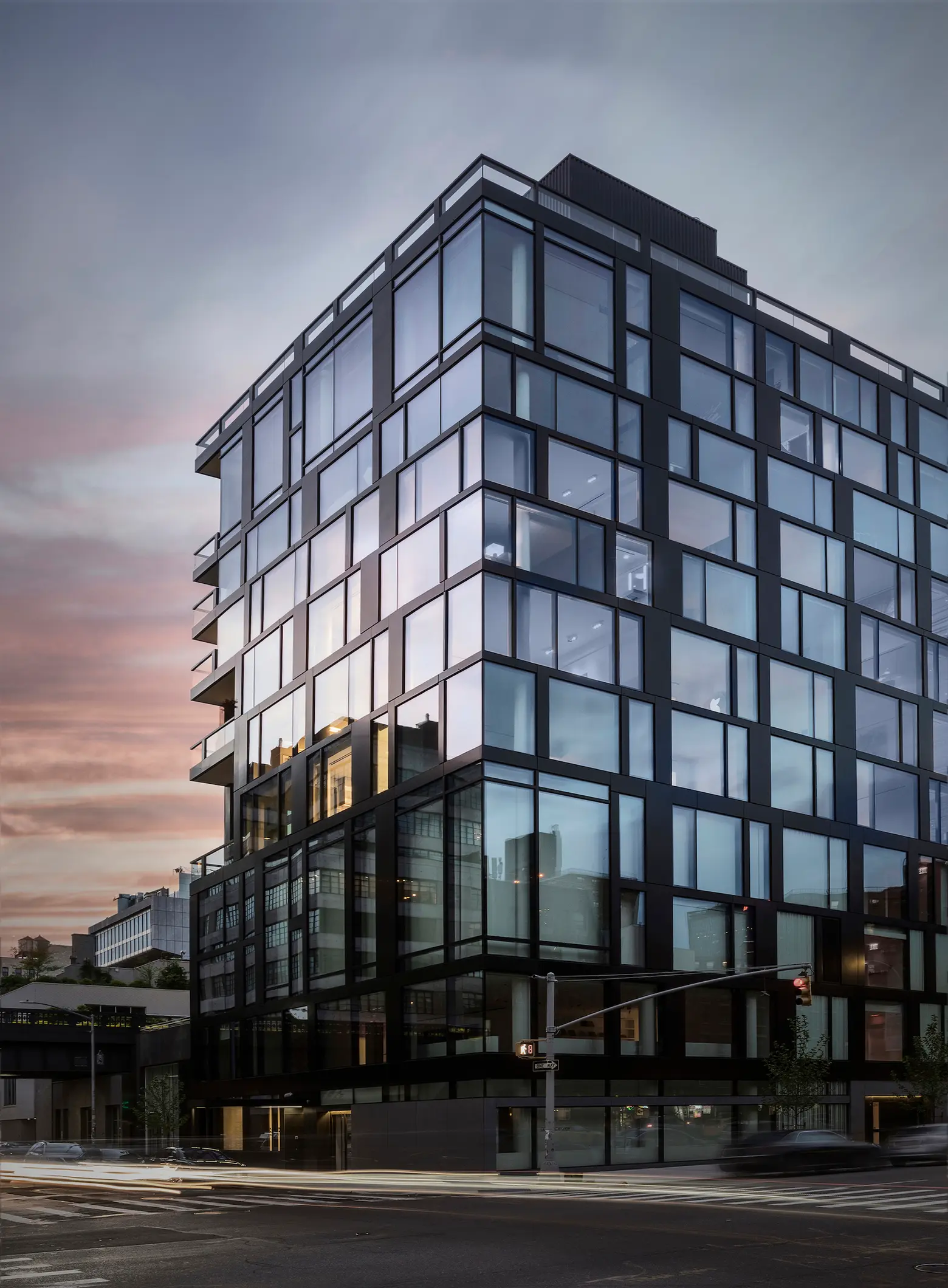 Photo credit: Manolo-Yllera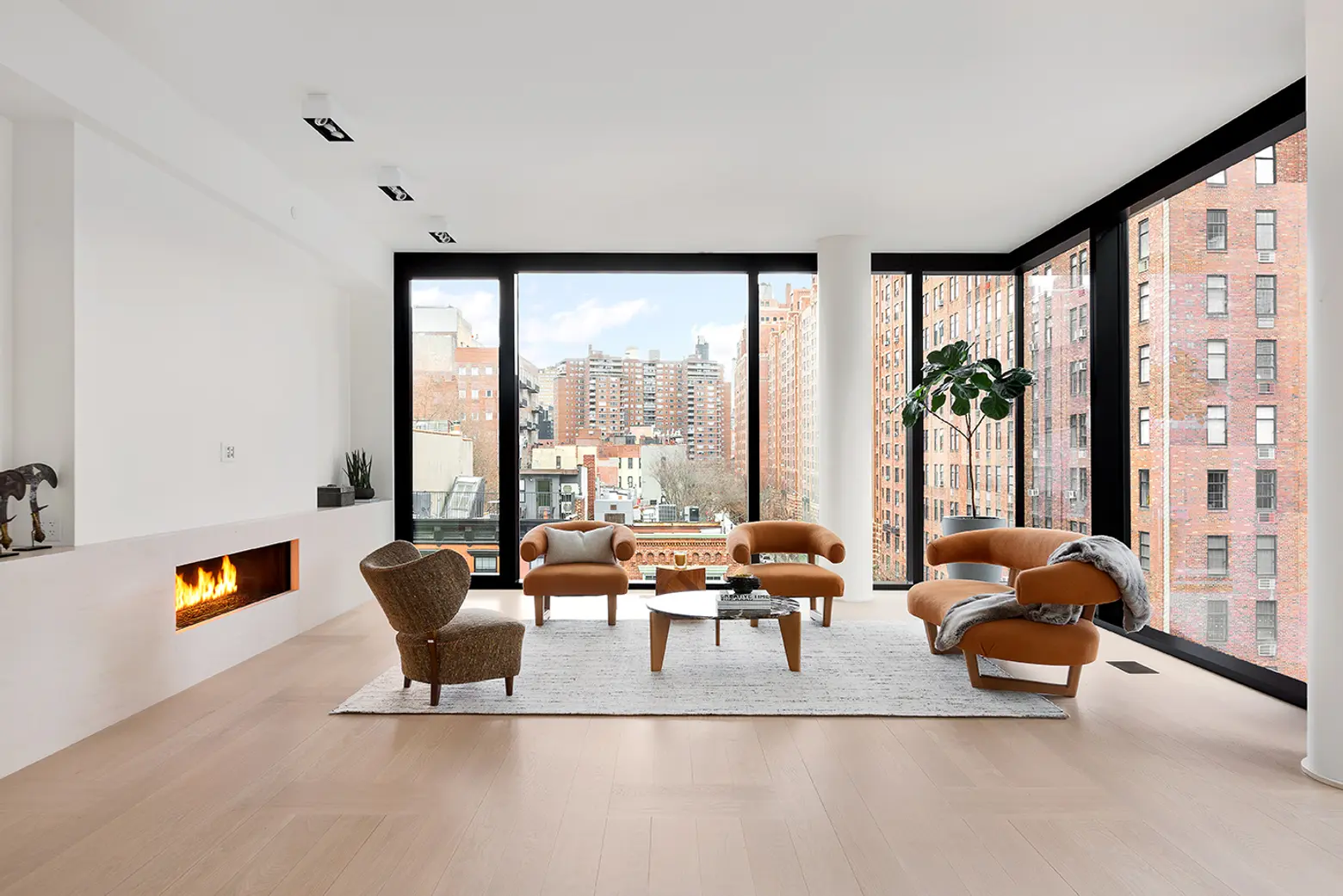 4. The Getty
The Getty is a 12-story residential building designed by Peter Marino, located at 501 West 24th Street to the west of the High Line. Marino designed the building as an architectural sculpture, with five condo apartments and an art gallery on the first and second floors. Sales kicked off in 2017.
There are now two apartments listed for sale, one asking $14.875 million and the other asking $17.15 million. Interior finishes include fireplaces designed with 60 different finishes of stone, marble and wood, clear-cut glass window panels up to 130 square feet, double-height ceilings in the living room, and dedicated reinforced art walls.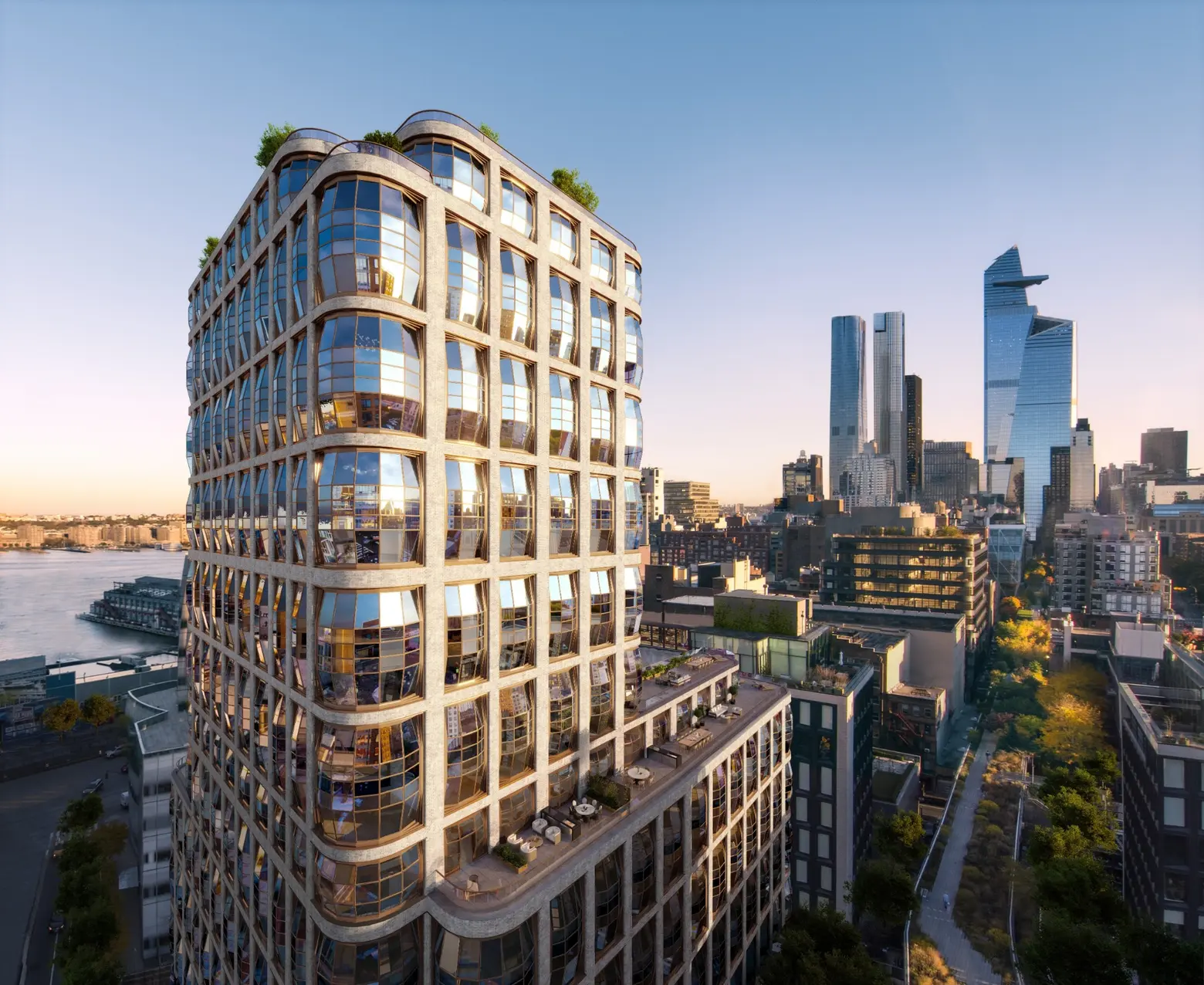 Rendering courtesy of Related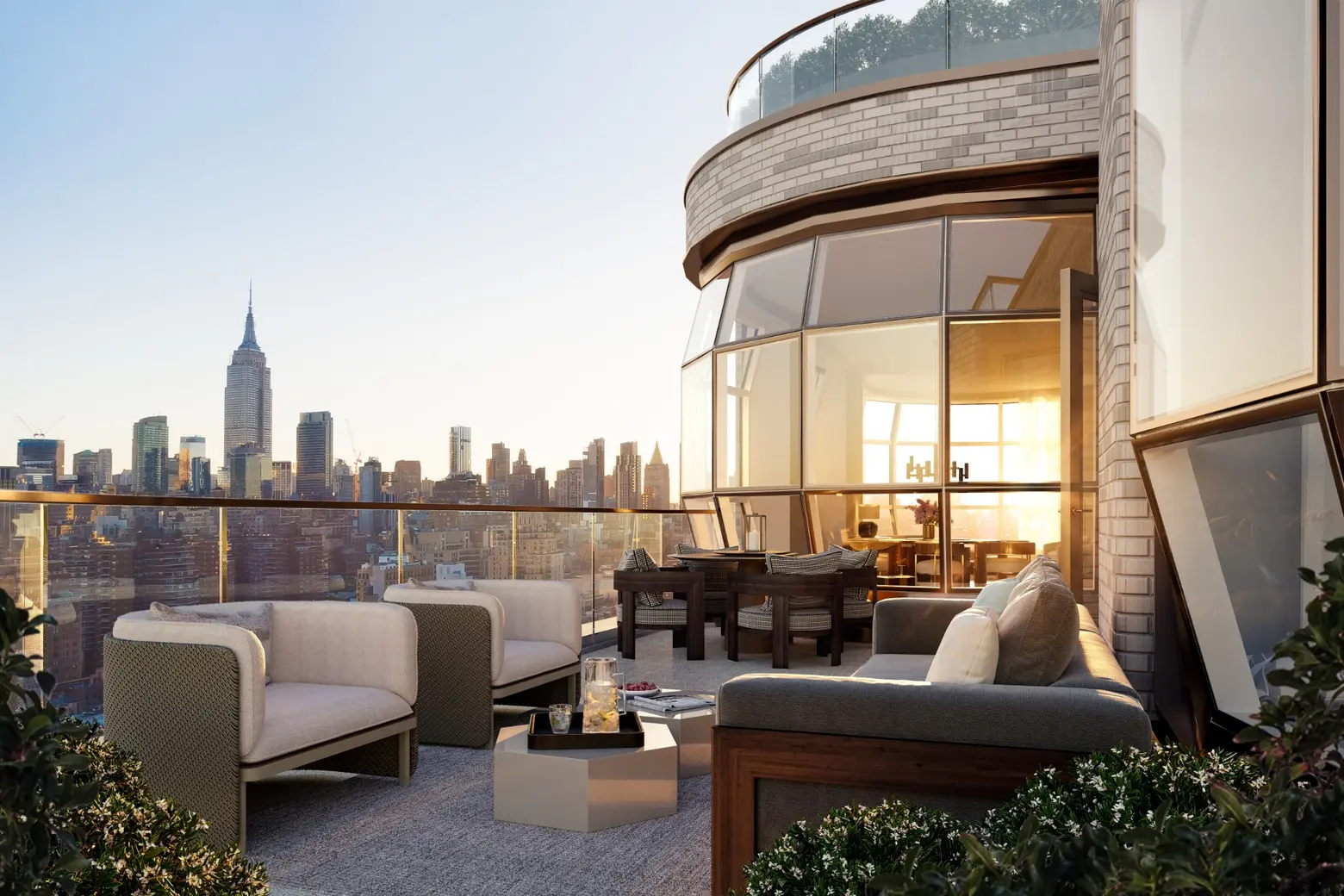 Rendering courtesy of Related
5. Lantern House
Thomas Heatherwick's Lantern House is officially the new kid on the block, with sales launching early this year. Located at 515 West 18th Street, the structure consists of two distinctive bubbled towers that straddle the High Line, at 10 and 22 stories. 181 residences are split between the two towers, with features like 11-foot ceilings, wide oak flooring, open-plan kitchens and custom-designed bronze hardware. This isn't Heatherwick's only notable project around the park; he is also the man behind Hudson Yards' Vessel.
Recently launched listings range from a $1.695 million one-bedroom apartment to an $8.75 million four-bedroom apartment. Floorplans at the uniquely-designed building allow for three-dimensional curved bay windows and open kitchens. March & White Design handled the interiors, which are offered in two finish palettes.

Photo via Pixabay
6. HL23
HL23 is one of the earliest condo towers that went up after the second phase of the elevated park was completed a decade ago. And you can't miss it: the 11-unit building, located at 515 West 23rd Street, is easily identifiable by its crisscrossing, glassy facade. It is also notable for its energy-efficient appliances and eco-friendly building materials.
Each of these residences is a full-floor unit with floor-to-ceiling windows and keyed elevator access, with one duplex and a two-floor maisonette. There's currently one on the market, a two-bedroom and two-bathroom home asking $3.45 million.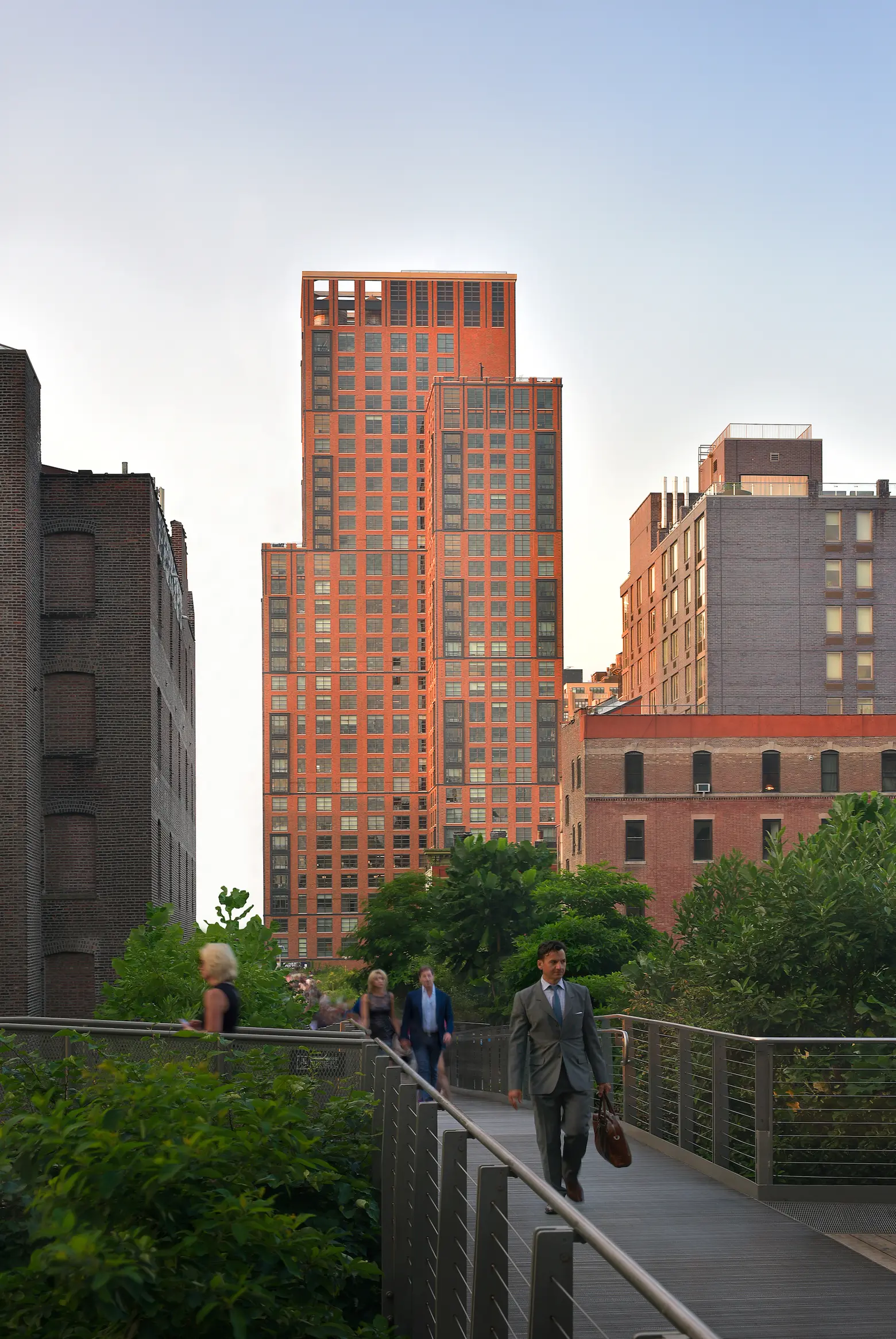 Courtesy of Related Companies
7. Abington House
The High Line was granted this massive 33-story, red-brick development at 500 West 30th Street in 2014. Some big names went into its development: Related Companies as developer, Robert A.M. Stern with Ismael Leyva Architects as designers, and interiors by the award-winning design firm Clodagh. The lobby and amenity spaces — which include a massive landscaped sun terrace — were all designed by Clodagh.
The 312 rental apartments have kitchens with walnut cabinetry, cedar stone baths, floor-to-ceiling windows, and views of West Chelsea and the Hudson Yards area. There are three available apartments on the market, with a one-bedroom asking $4,364/month and a two-bedroom, two-bathroom at $8,435/month.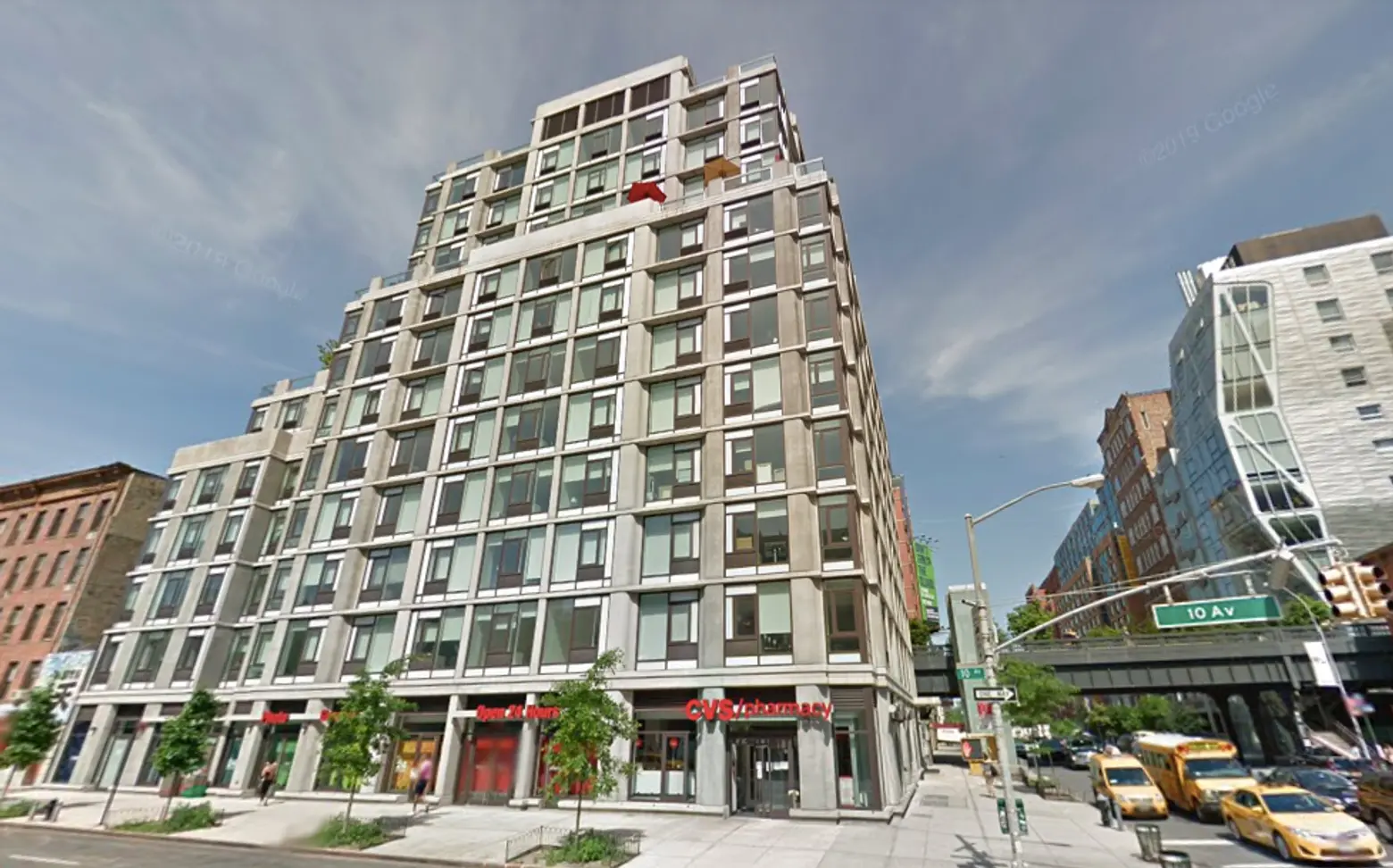 Map data © 2020 Google
8. Ten23
This 13-story rental at 500 West 23rd Street is situated on the southwest corner of Tenth Avenue, overlooking the High Line. It comes with a huge perk: elevator access to the park on the sidewalk in front of this building. The building also has tiered lawn spaces that play off the surrounding urban greenery.
Ten23 holds 111 apartments that debuted back in 2012 with floor-to-ceiling windows. There are a number of available listed units, including a studio priced at $3,211/month and a one-bedroom priced at $4,233/month.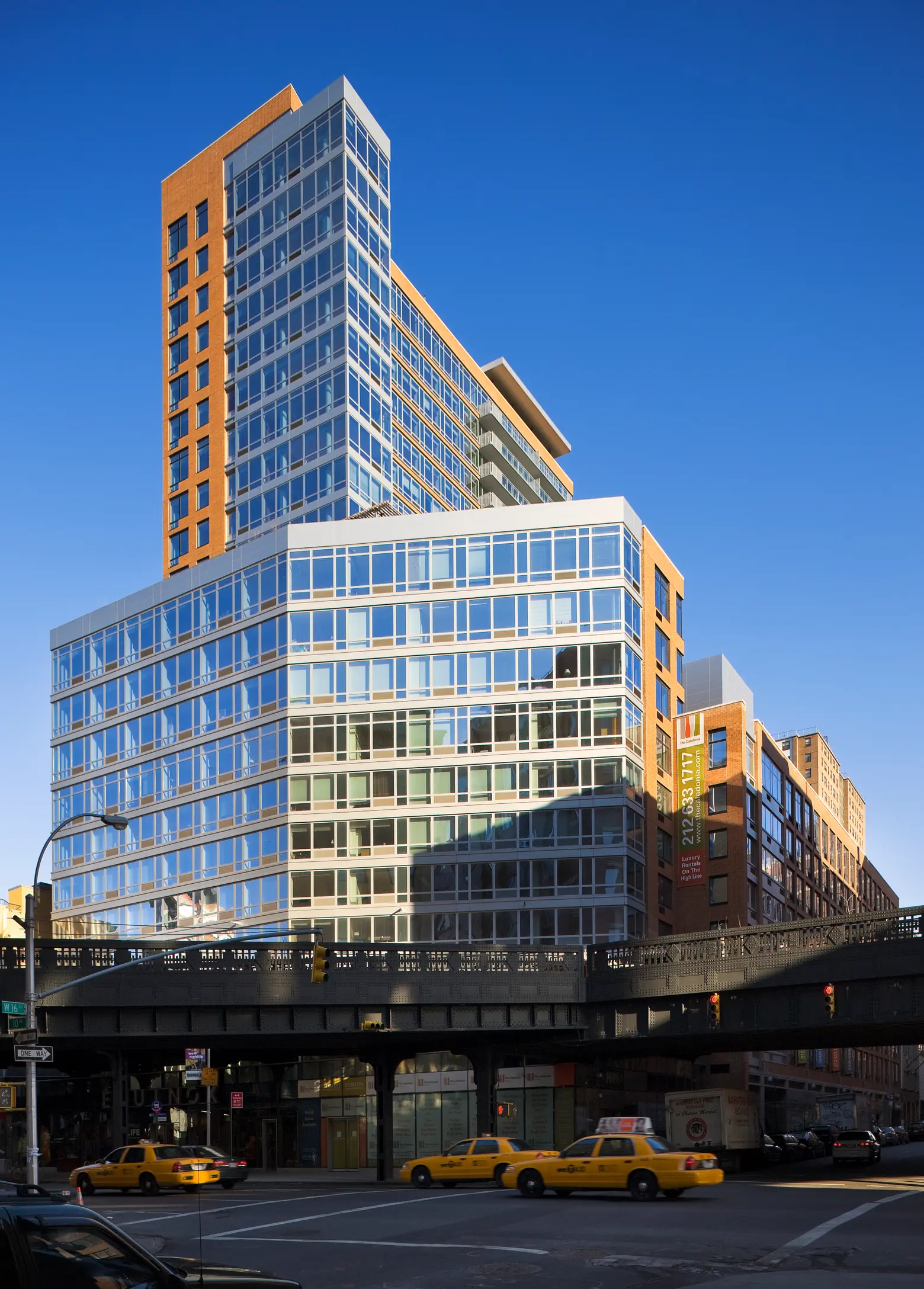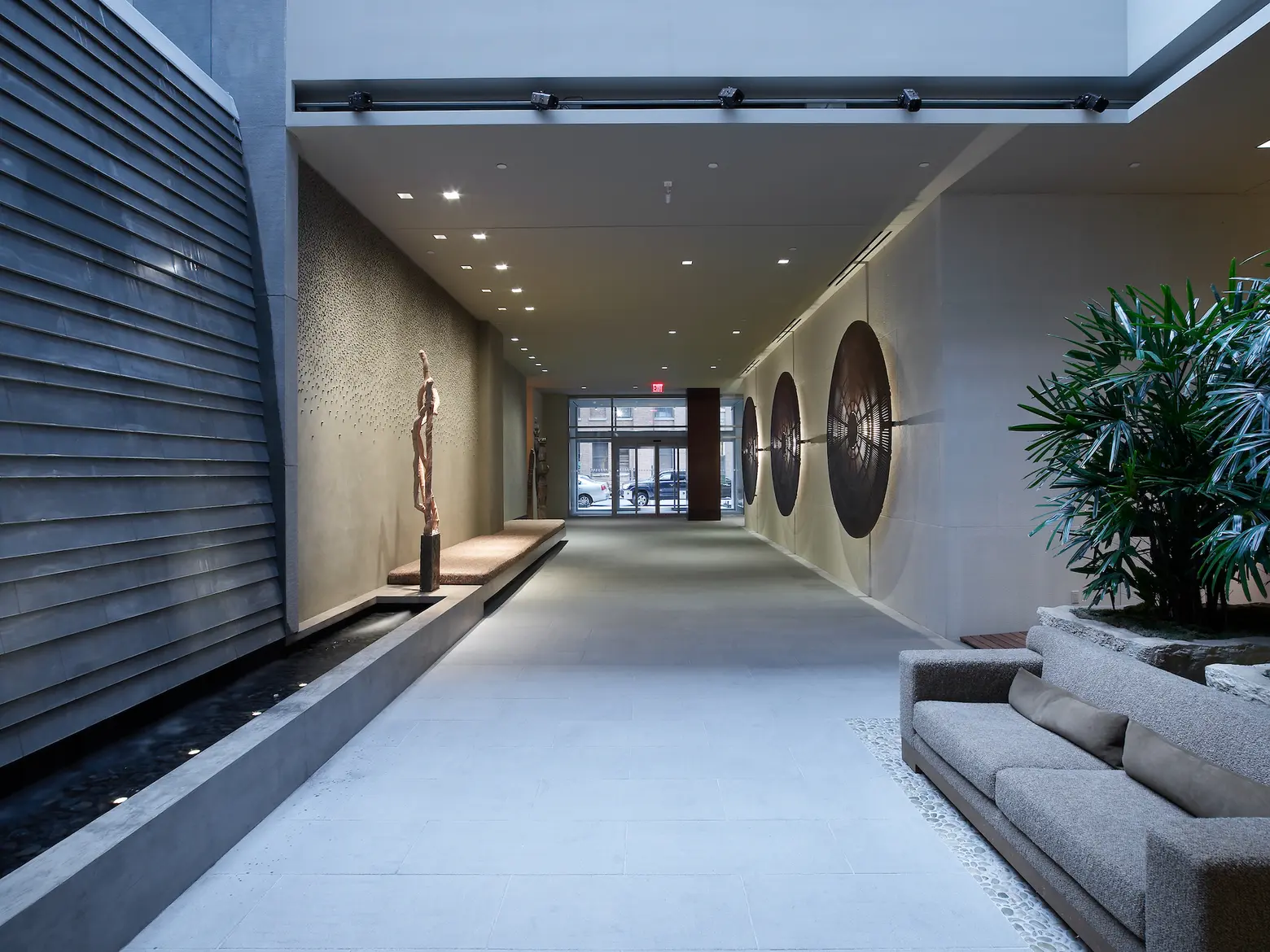 Courtesy of Related Companies
9. Caledonia
The Caledonia is another early arrival to West Chelsea, opening in 2008 at the former site of the Chelsea Garden Center. The 24-story building at 450 West 17th Street holds a whopping 478 units, a mix of condos and rental apartments. Though there is a common lobby, separate elevators whisk buyers and renters to their respective wings of the development. Apartments have bamboo plank flooring, kitchens with modern appliances and tiled bathrooms with custom fixtures.
There's quite a bit of apartment variety for move-in, with available condos priced between $1.1 and $3.5 million and rentals starting at $4,115/month.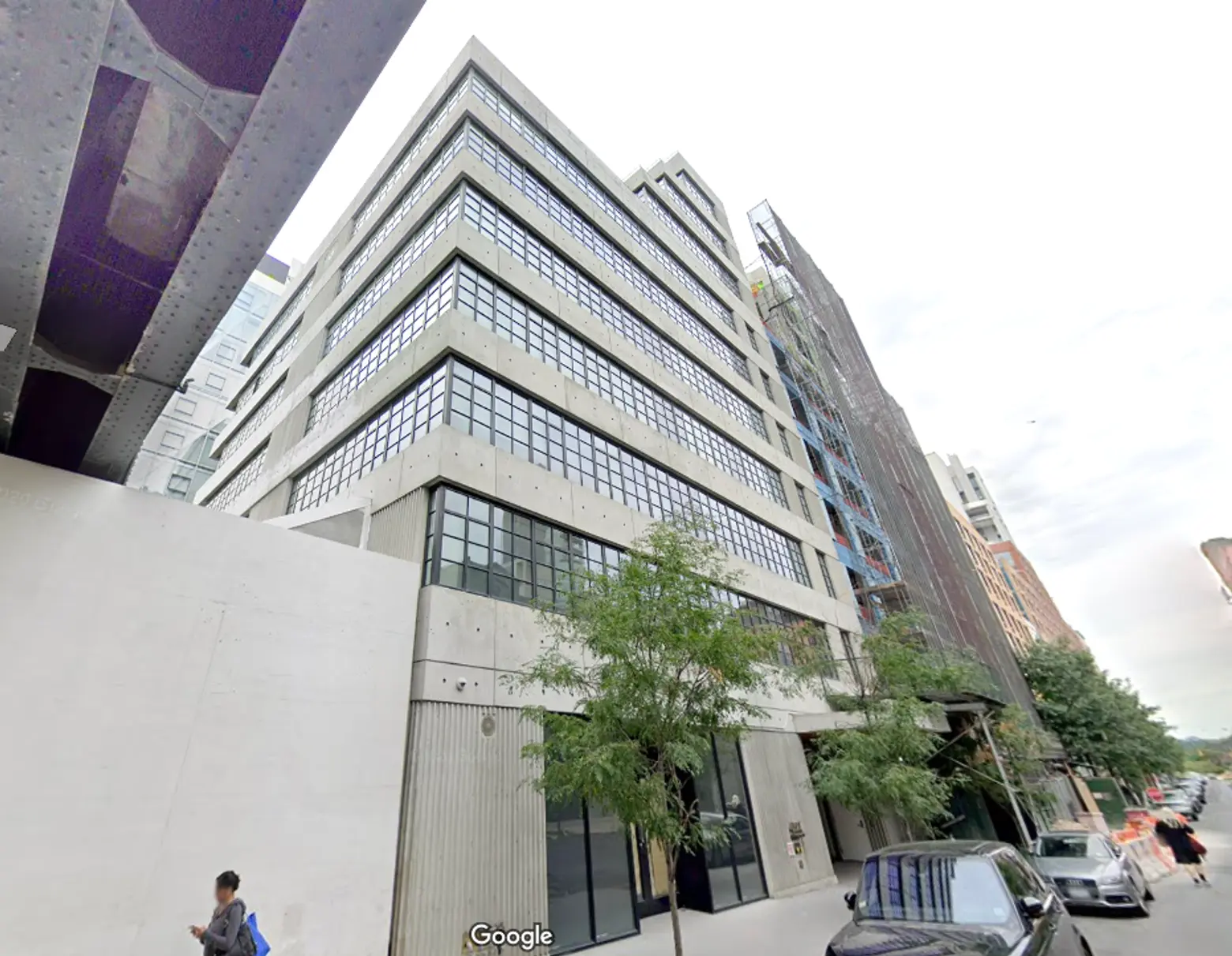 Map data © 2020 Google
10. 508 West 24th Street
You can recognize this 10-story apartment building directly neighboring the High Line by its industrial-style casement windows. Behind the façade of exposed architectural concrete at 508 West 24th Street, there's a modernist lobby clad in cypress wood, concrete and natural cleft slate, plus 15 luxury condos.
The building launched sales back in 2014 but was in the news more recently after Carmelo Anthony listed his swank apartment here for $12.85 million. (The full-floor pad overlooks the High Line, of course.) Units here are decked out with 10-foot-high ceilings and solid rift and quartered white oak floors. Penthouses boast wood-burning fireplaces and terraces. There's also a shared fitness room and courtyard.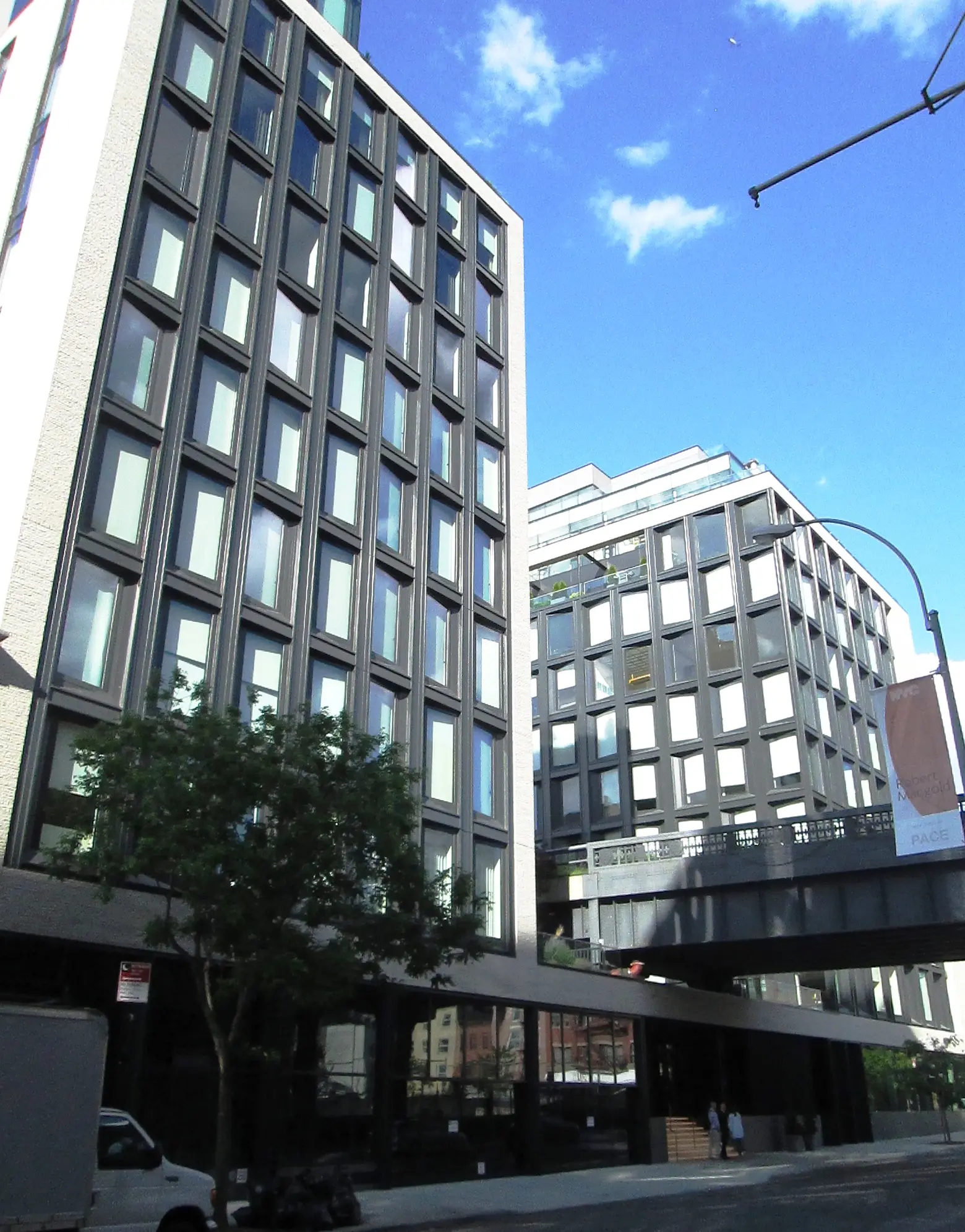 Photo by Beyond my Ken on Wikimedia
11. 505 West 19th Street
This two-tower condo at 505 West 19th Street is the only one that connects its twin buildings with a connection beneath the High Line. The structures — with light gray limestone masonry and oversized casement windows angled to enhance light and privacy — also have a seven-step-up entrance beneath the park.
The 10-story, 35-unit building was the first Manhattan project designed by Thomas Juul-Hansen, who previously oversaw interiors for the luxury supertall One57. It opened in 2015 with apartments boasting custom designed pieces by Juul-Hansen, and direct elevator entry and private outdoor space for several homes. There are now two units up for grabs, a $6.5 million condo and a three-bedroom pad asking a hefty $25,000/month.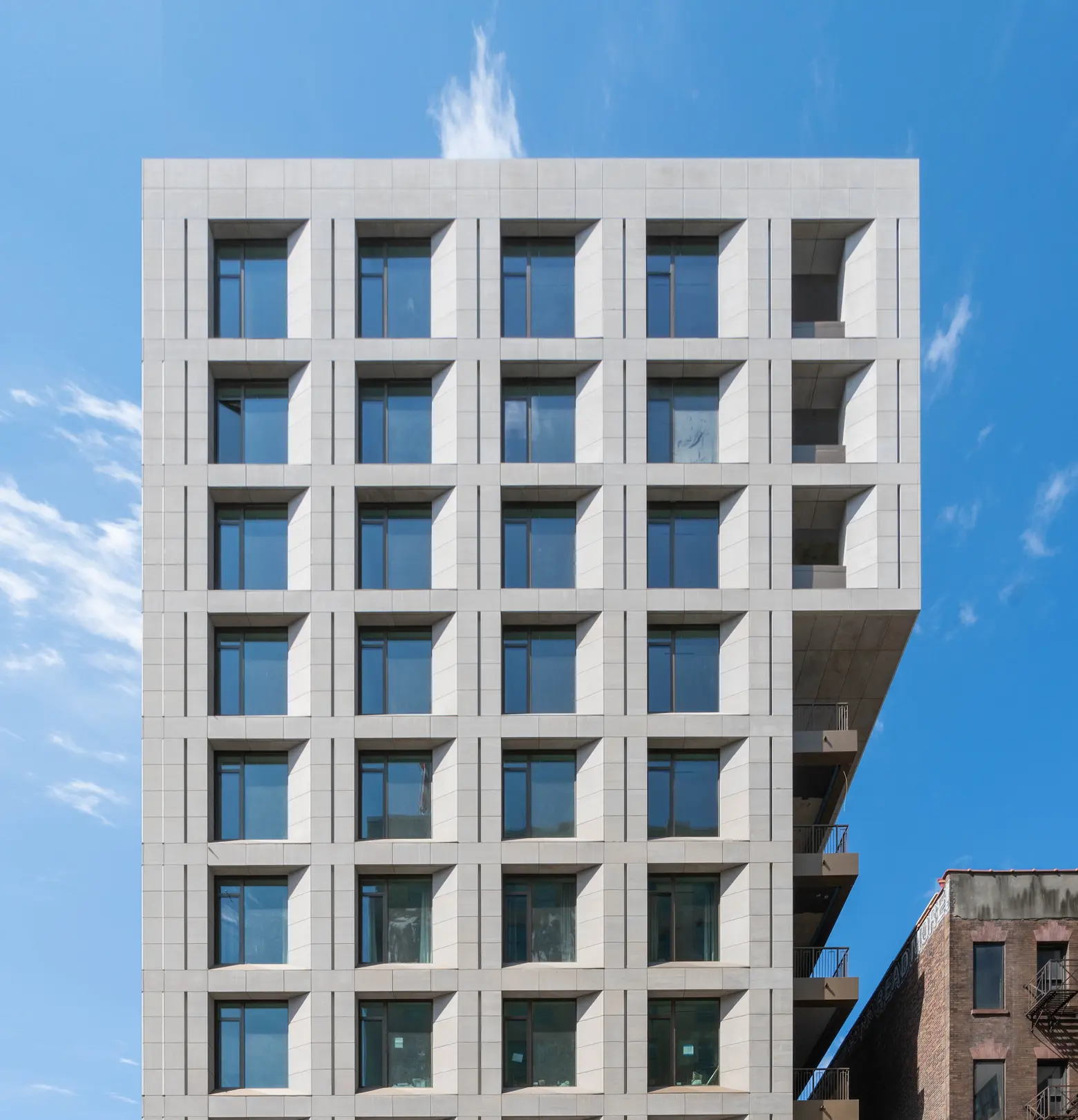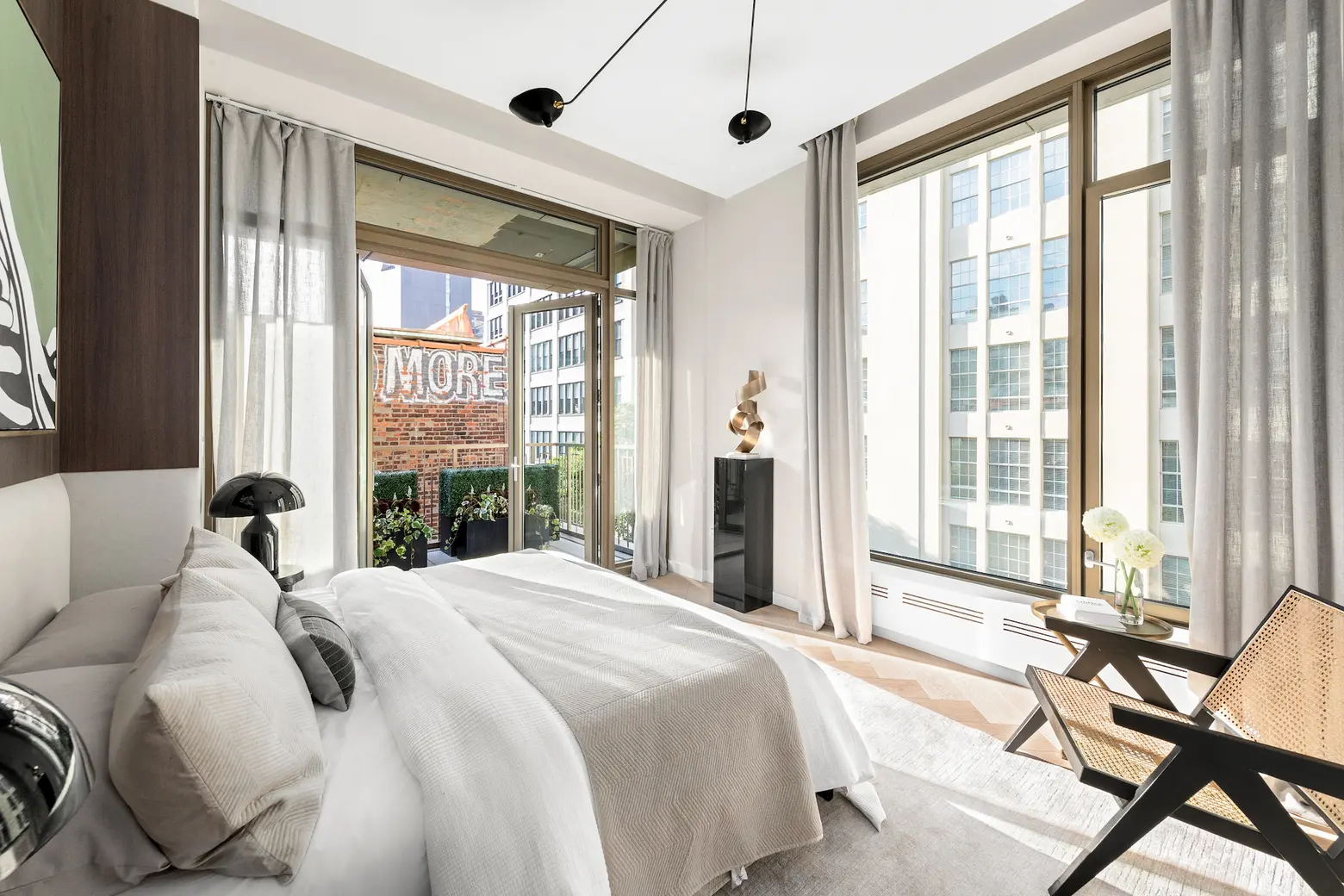 Photos courtesy of Douglas Elliman
12. 500 West 25th Street
Clad in limestone and glass, the new condominium at 500 West 25th Street provides every residence a view of the High Line. The 10-story building, named The EMERSON after Ralph Waldo Emerson, was designed and developed by GDSNY along with architecture firm GF55. In addition to coveted views of the elevated park and the Hudson River, every apartment boasts outdoor space and floor-to-ceiling windows. The building is also offering more amenities tailored to health safety, including high-grade filters for HVAC filters, individual trash chutes for each residence, and "anti-microbial materials" in elevator cab and entry door handles, according to the developer.
Comprised of just eight apartments, the EMERSON officially launched sales this week, with units priced between $4.995 million to $15.995 million. Fredrik Eklund, John Gomes, Justin Tuinstra, and Glenn Davis of the Eklund|Gomes Team at Douglas Elliman are handling the sales and marketing of the building. The EMERSON is expected to be completed and ready for occupancy in September.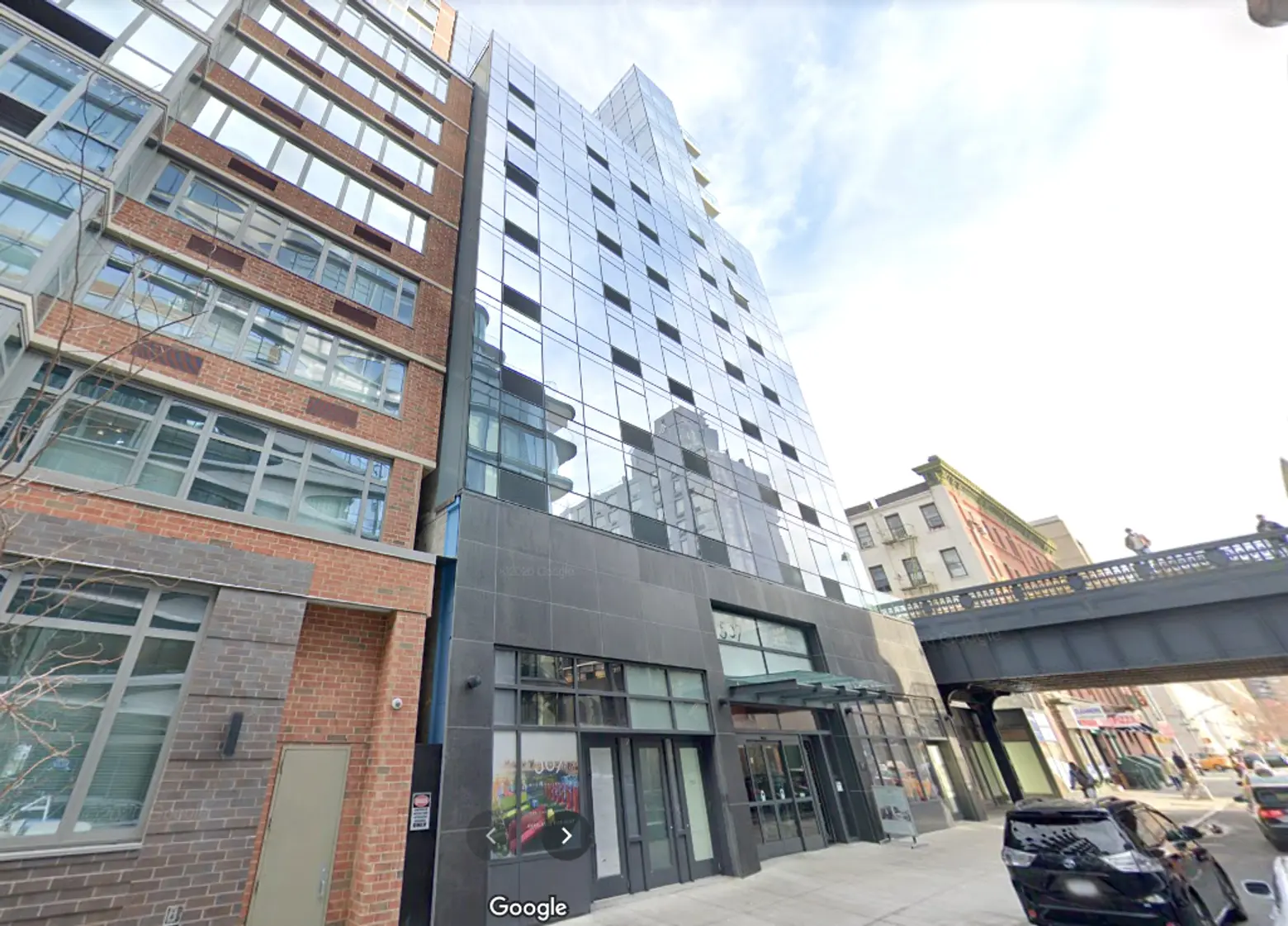 Map data @ 2020 Google
13. 507 West Chelsea
The High Line has no shortage of luxury condos, but 507 West Chelsea offers luxury rentals with some affordable apartments included. The three-building, park-hugging building at 507 West 28th Street boasts a 35-story tower fronting on Tenth Avenue and two 13-story towers fronting on West 28th and 29th Streets. There's a grand total of 379 apartments, 75 of which are affordable.
Apartment finishes include kitchens with stainless steel backsplashes and Caesarstone quartz countertops and bathrooms with white porcelain walls. Amenities are plentiful: a sunlit, heated indoor pool, fitness center, recreation room with catering kitchen, children's playroom and landscaped roof decks. While the affordable units were renting for as low as $596/month, the market-rate apartments are significantly higher with a studio currently asking $2,958/month.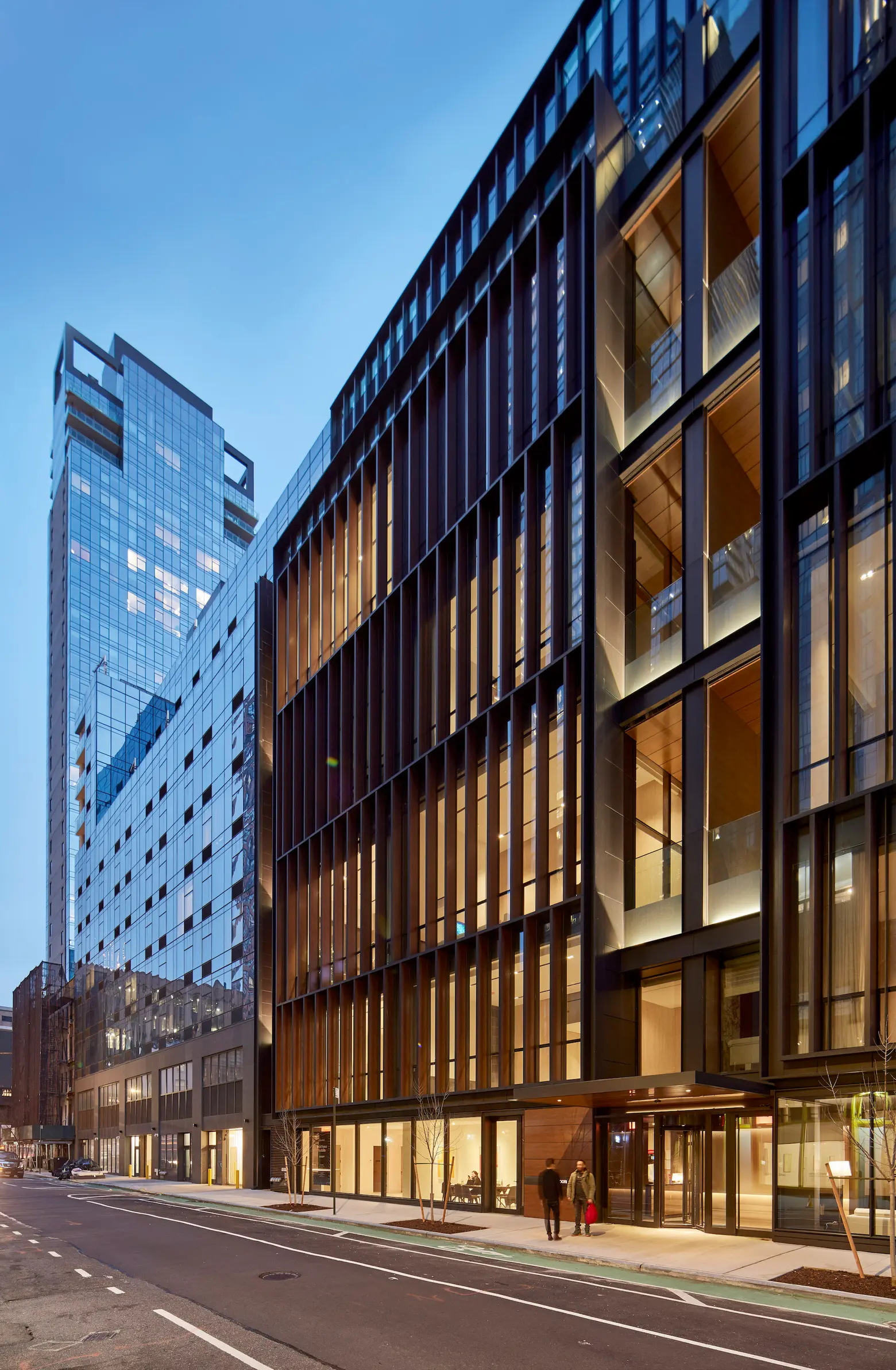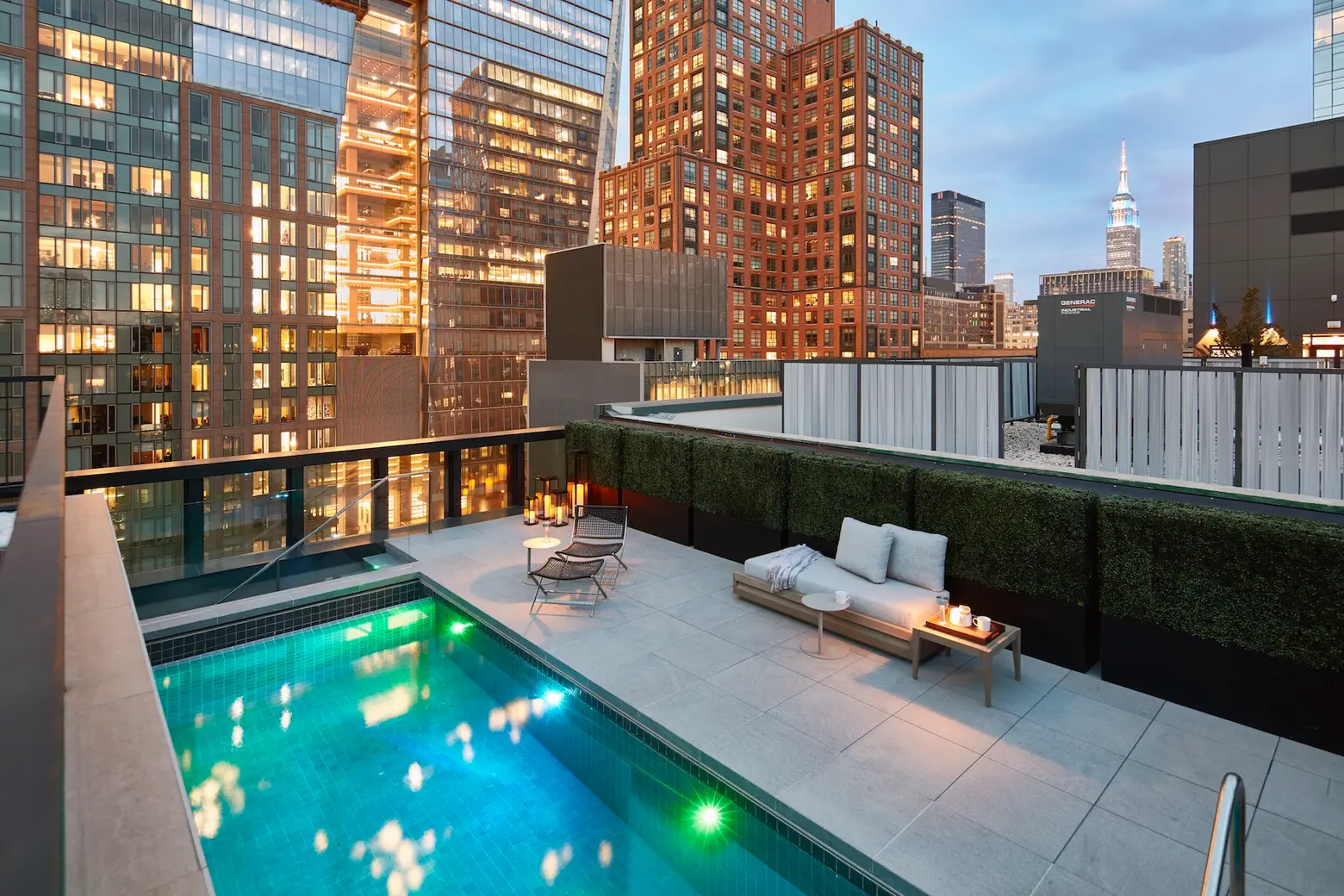 Courtesy of SCDA, Photography by Aaron Pocock
14. Soori High Line
The second building designed by SCDA Architects to make the list, Soori High Line is a condo building that exudes luxury. The 11-story building contains 31 units, with more than a dozen of the residences boasting private swimming pools. The heated saltwater pools are "tastefully integrated into the living spaces" of the lower-floor apartments. A triplex penthouse has access to a rooftop pool and incredible city views.
Besides the private pools, other amenities include a gym, spa, yoga and pilates studio, and some private parking for an additional fee. There are currently five apartments on the market, ranging from a $6.4 million three-bedroom to a $19.75 million five-bed, five-bath penthouse. A three-bedroom is also available for $34,000/month.