Macro Sea's David Belt takes us inside New Lab, an 84,000-square-foot thinkspace in the Navy Yard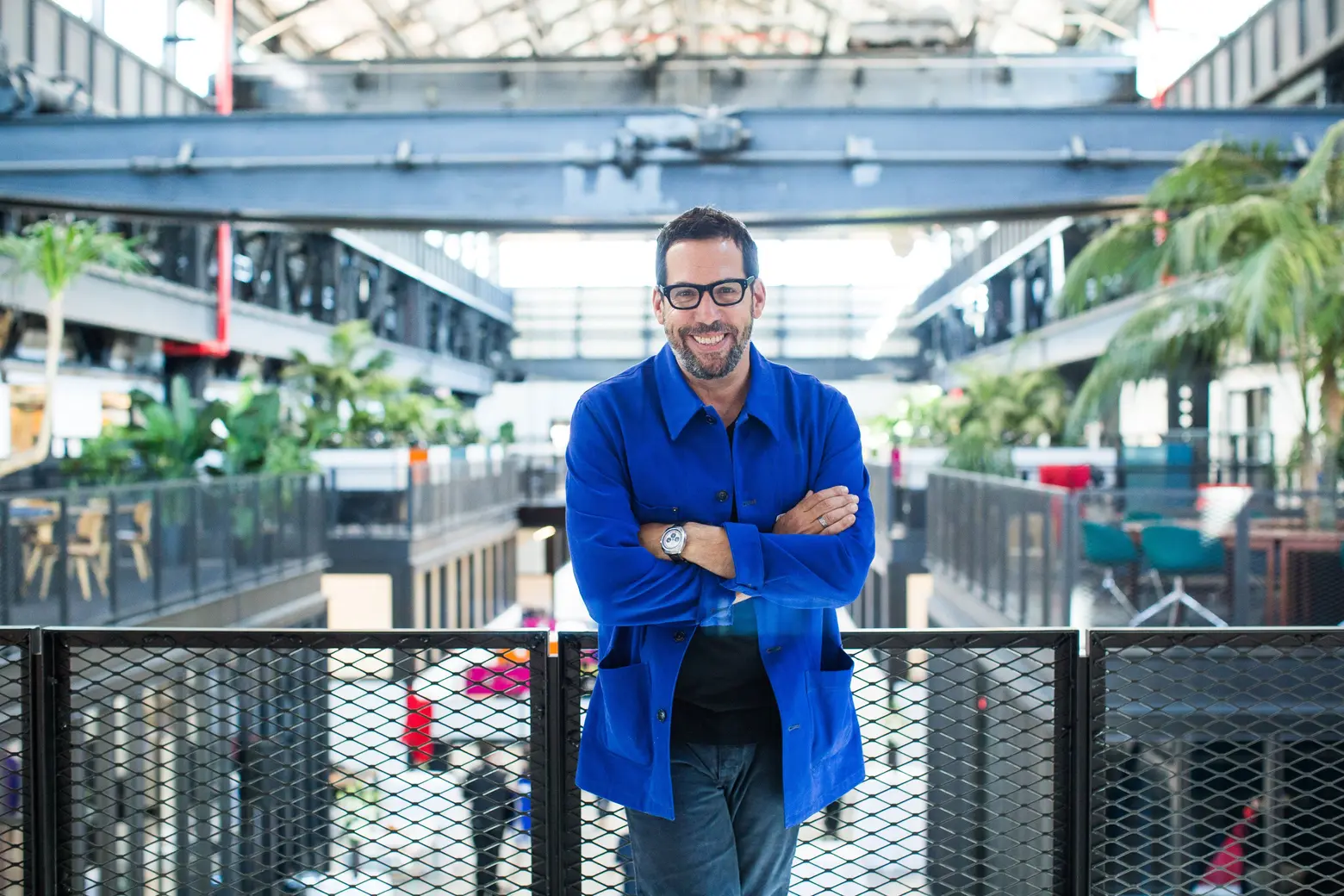 The Brooklyn Navy Yard has since its inception acted as a pole for the cutting edge and creative, from its time as the "The Can-Do Shipyard" where U.S. warships assembled, to present day as urban farmers, photographers and filmmakers carve out spaces for themselves on the campus' more than 300 acres. But the latest most notable addition to the Navy Yard is most certainly New Lab. New Lab is the creation of Macro Sea (who many will remember brought dumpster pools to NYC a few years ago) and is a revolutionary hub that turns an 84,000-square-foot former shipping building into a thinkspace for nearly 300 engineers and entrepreneurs working in advanced hardware and robotics. Here, members whose work include everything from designing nano microscopes to using synthetic biology to engineer cities can take their ideas from concept to prototype to production under one roof. It's what the founders are calling "a breakthrough ecosystem of shared resources."
In this 6sqft feature, we speak to New Lab's co-founder and Macro Sea Executive Director and founder David Belt. David is also the founder and Managing Partner of DBI, which is currently managing the realization of the Performing Arts Center at the World Trade Center, amongst other high-profile projects around the city. Ahead, he takes us through the new facility and gives us some intel on what inspired the design, the cutting edge companies that have taken up space, and what he ultimately hopes to achieve with New Lab.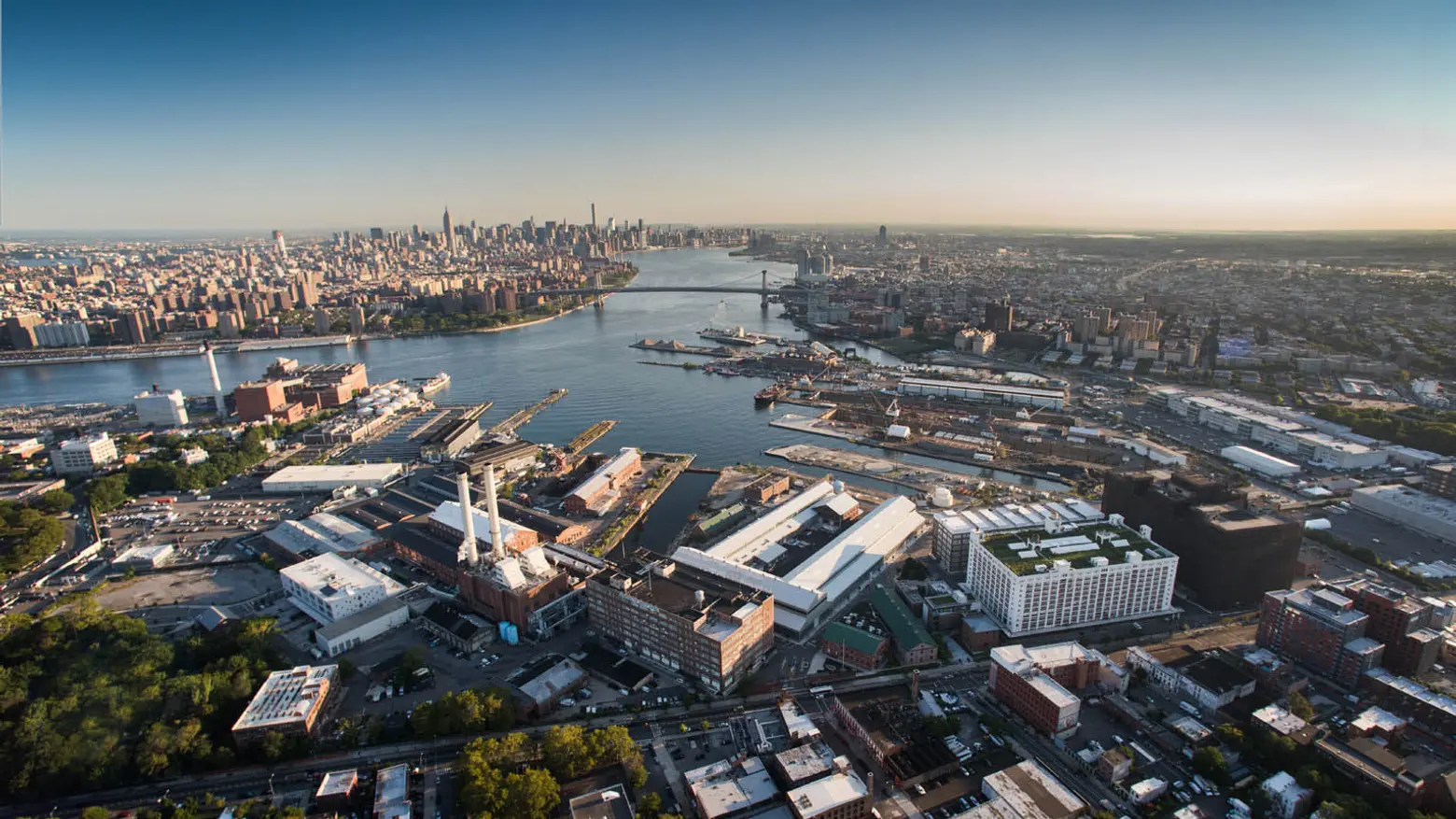 Image courtesy of the Brooklyn Navy Yard
Where did the idea for New Lab come from and why did you choose the Navy Yard over Sunset Park or DUMBO where a lot of tech and manufacturing work is already happening?
David: I think that the Navy Yard's a really special place and I really believe in its mission. It's this large campus surrounded by three rapidly gentrifying neighborhoods, but they can never be residential. It just seemed like it had so much potential for interesting things to happen. A friend of mine introduced me to the president of the Navy Yard at the time, Andrew Kimball, who is now running Industry City, and he took me into this incredible structure. It has 70-foot ceilings and when it was built it had state of the art of manufacturing. My team and I did a lot of research on the building and we learned about the warships that were built here and a lot of the other innovations that happened in this building. We just thought it was such great narrative to create something upon.
But, you know, ultimately it was a combination of things that brought us here. If I bought something in DUMBO or in Industry City, it would have been very, very expensive. But because this was a city-owned asset and it needed so much work, we thought we could raise a different type of capital for it. We could spend what we needed to make it a really impactful project, but at the same time keep the cost down for the members that we wanted to attract. We can afford to have really innovative companies here and not just big corporations or universities. So it's all of that combined with the fact that I really like the Navy Yard a lot.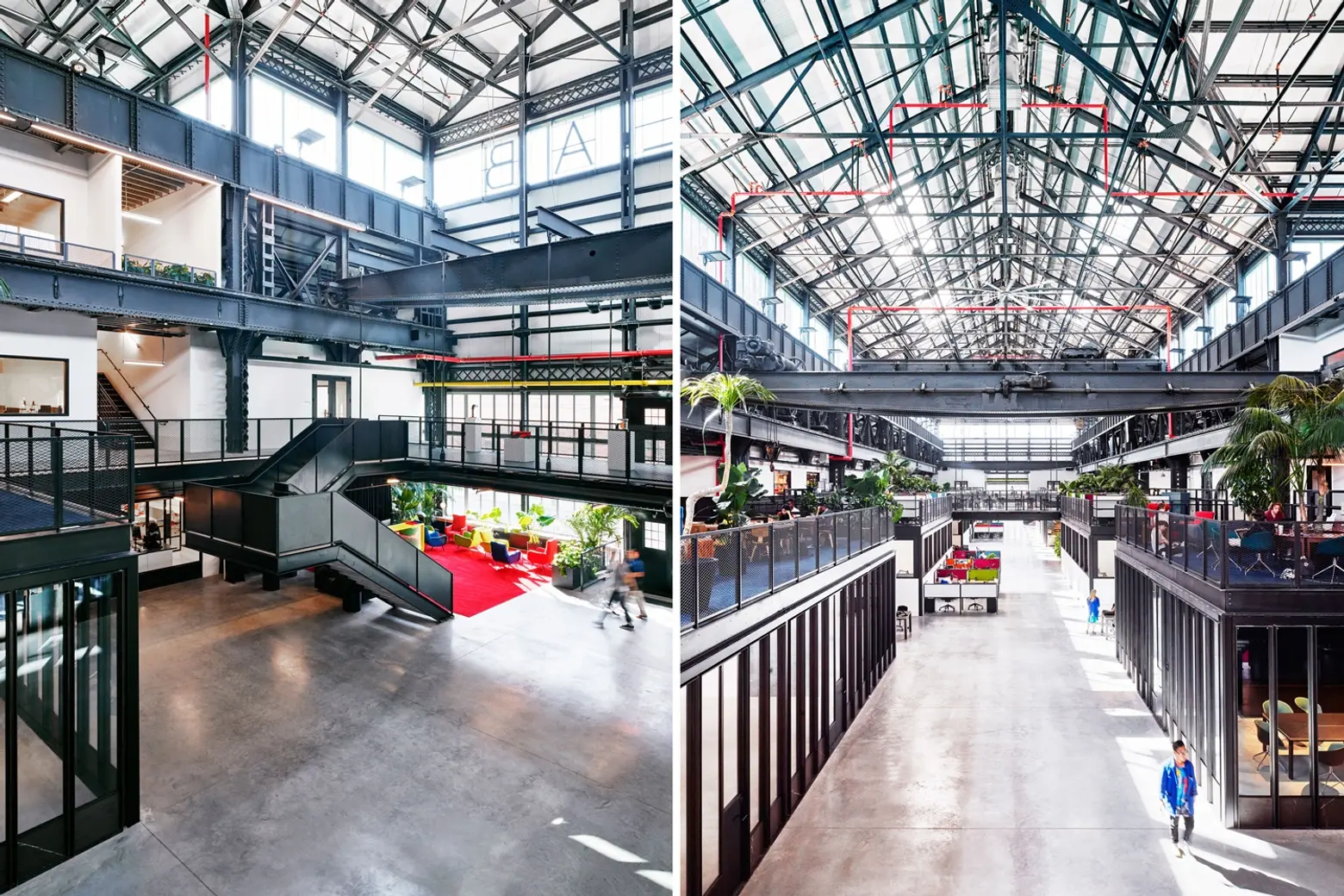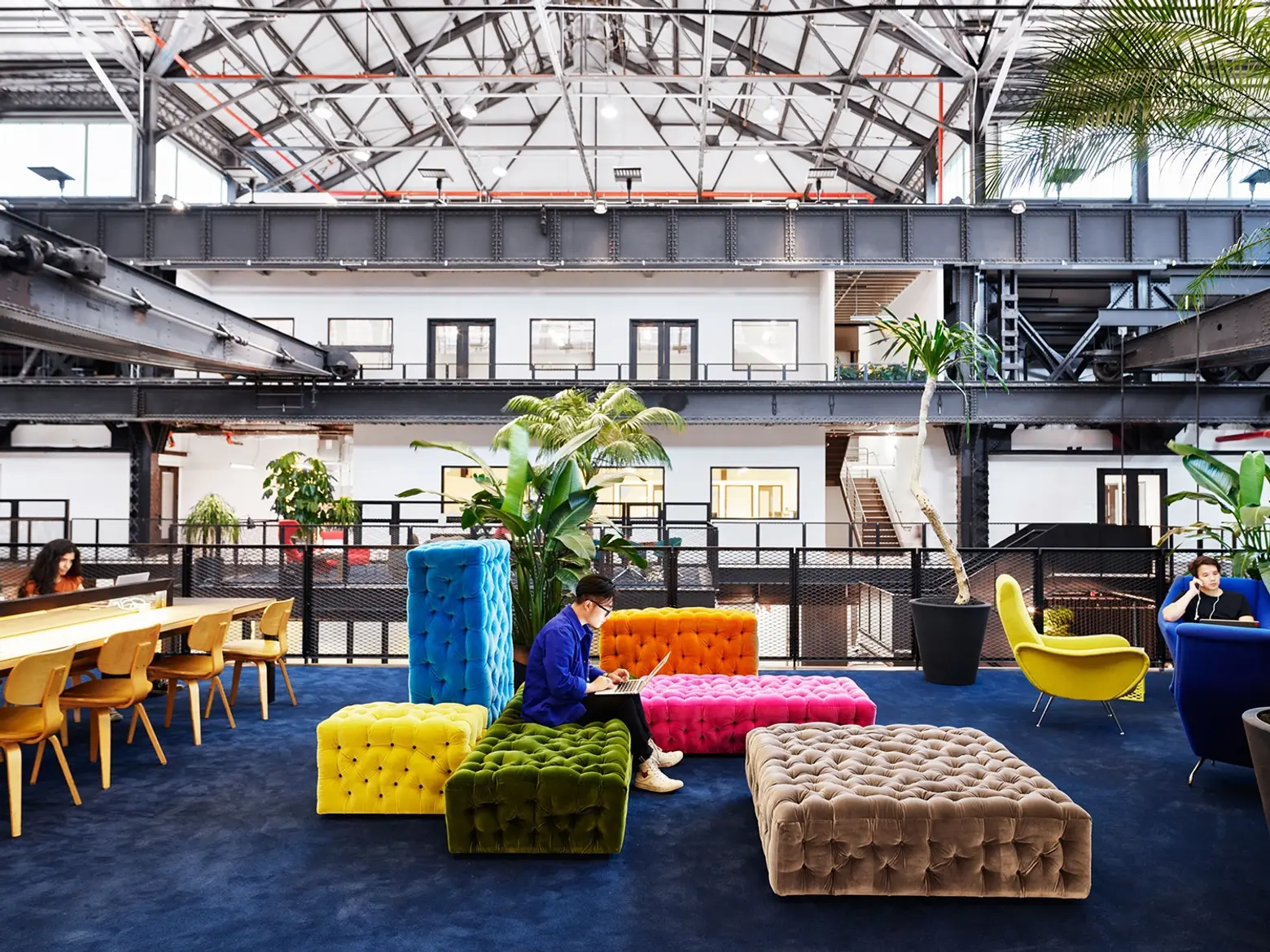 The interior incorporates a lot of color, plants and relics from the shipping yard. You started out with an empty shell. How did you approach design of the space?
David: For different projects we do different things, and for this project we did the design ourselves. We worked with Marvel as our lead architect and our architect of record, but Nicko Elliott, who is my design director, and his team and I really thought a lot about the design. We were aware of the fact that it would be very easy to dip into clichés and we wanted to avoid that. The two styles that always come to mind when you're building a tech space is Tech 4.0—or what we would say is like the "iPhone-ization" of something—where it's supposed to look really sleek and really clean. We didn't want that. On the other end, if you're building in a warehouse, it's expected to look really tough with steel and that sort of stuff, and we wanted to avoid that cliché as well. We were really inspired by having a space where the theme is "We don't know what the future's going to look like, but we know what the future looked like in 1973."
We like the optimism of the early '70s and all of our members are groups working on hardware and robotics and AI, so we wanted to create a sense of optimism, because there's a lot of pessimism in technology right now—all these ideas about the robot apocalypse and AI becoming smarter than humans. And so the most optimistic time we thought of was the early '70s. We had landed on the moon in the late '60s, the Vietnam War had ended, and it was before the '70s got really gnarly in terms of design. A lot of the furniture we designed ourselves and manufactured in Brooklyn. We also bought a lot of the chairs at auction and refurbished them in fabrics with very early-70s colors. A lot of the furniture we built is based on trestle architecture and that's very characteristic of the building, so we're also paying homage to the structure. As for the plants, in most of our projects we try to do a lot of plants. It just makes the air better and the space nicer.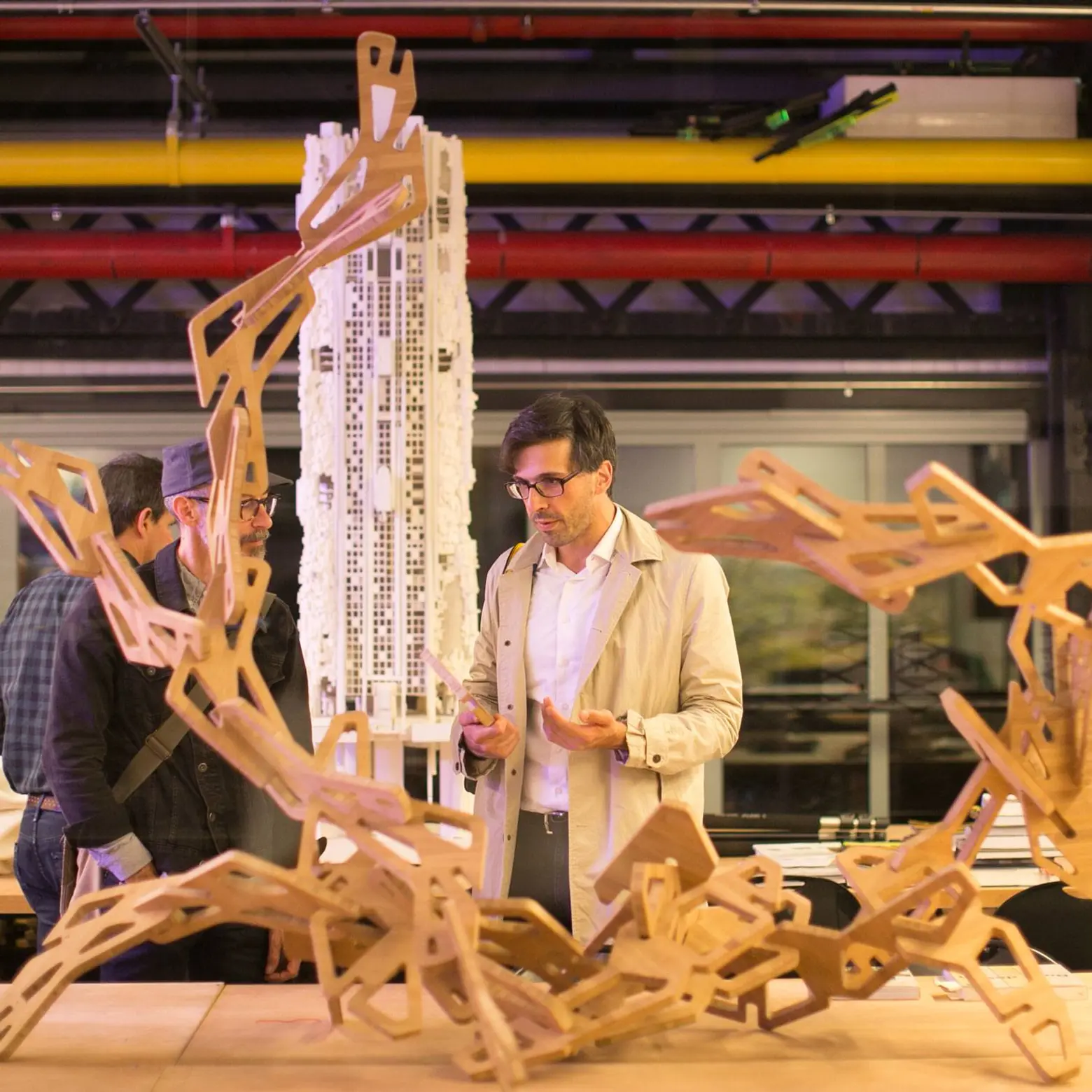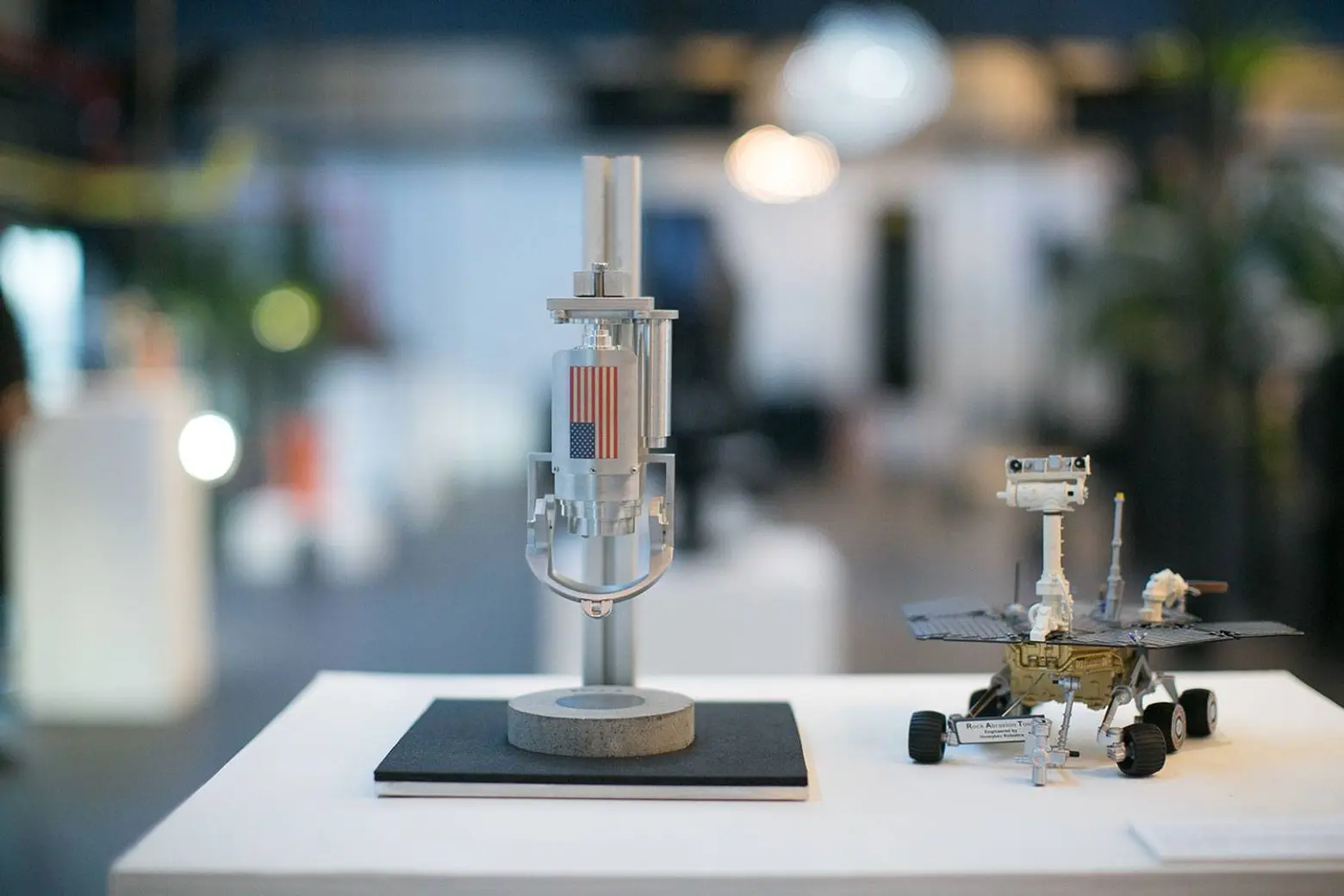 New Lab's roster of tenants is really diverse. How did you choose who would take up space here? I imagine you must have had a lot of applicants.
David: We have had a lot of applications. When we're full we can take around 60 companies depending on their size. We've had over 300 companies apply, but we've tried to really stick to our thesis. We're not a co-working space; you can't rent desks here by the month. We want people that are working in the fields that we're interested in, and we're very interested in what's going on in hardware. We believe there's a lot of support for software in New York and we think hardware is an important thing. We really want to be at the intersection of hardware and software and at the intersection of enterprise and entrepreneur.
But some of the companies we've chosen are some of the most interesting in their field and their people are at the top of their game intellectually. We have Nanotronics Imaging, which is a company I have invested in, and they make the world's best nano microscope. So they're doing work that covers everything from inspecting food for E. coli to inspecting cells for cancer to creating photovoltaic cells in paint. We also have Honeybee Robotics, which makes parts for the Mars Rover. A few of the anchor tenants [like the two mentioned] my partner Scott Cohen and I really worked hard to attract to New Lab. We invited them personally because we thought they'd be an important part of our team.
In terms of applicants, we have an application process and people apply online. If the company looks interesting, we have a panel of experts in the field evaluate them. We can vet the companies pretty well through our community and it's been working really well. We have about 230 people working here every day and I like all of them.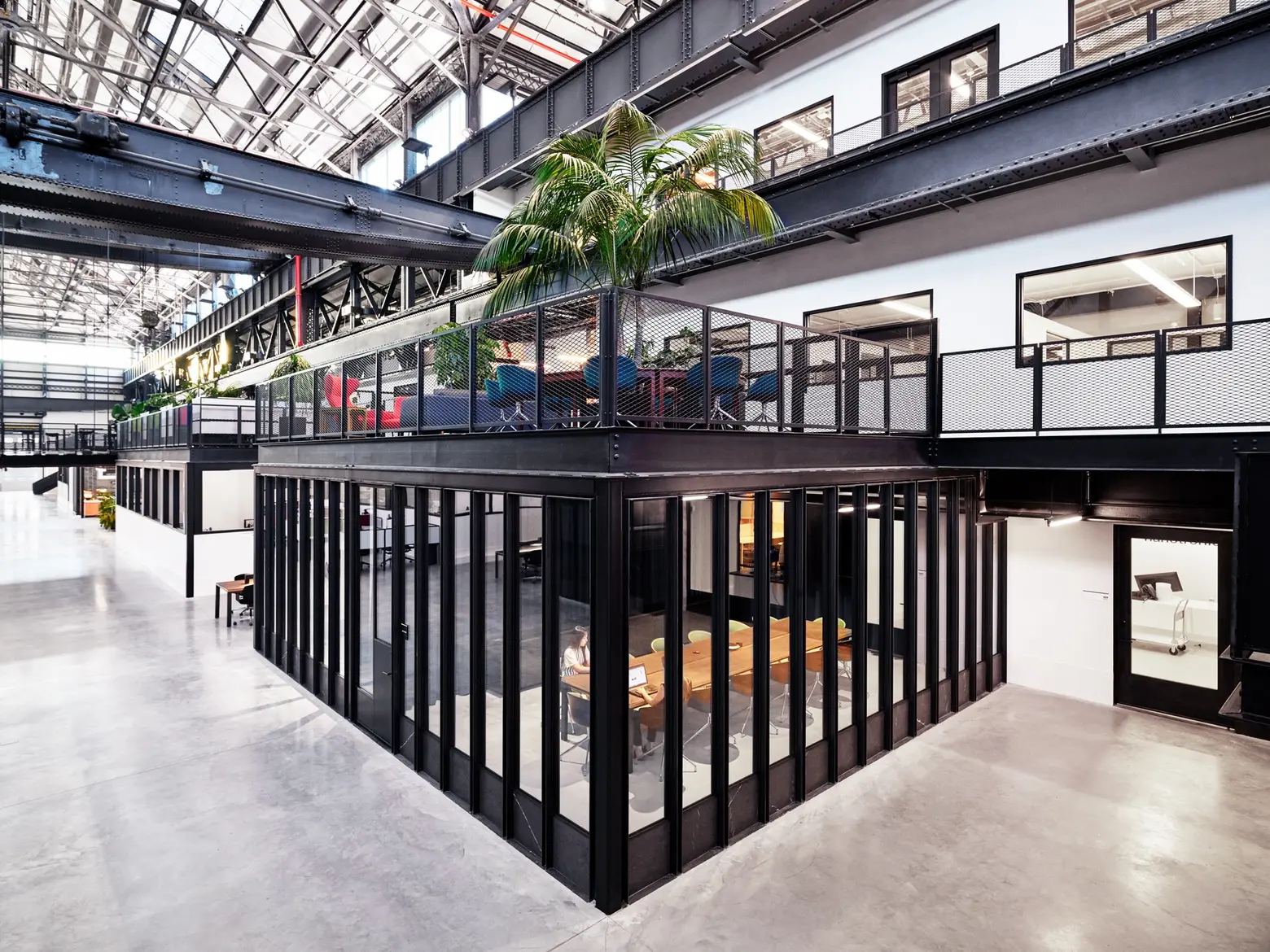 So what if you're just someone in the community who's interested in tech, or you're someone working in tech and you have ideas but not a lot of resources, are there opportunities to get involved with New Lab?
David: Definitely. For example, I'm in the big conference room and I'm looking into our event space and there's maybe 200 people in there for a workshop on financing hardware companies. So there are public events and meetups open to everyone. That's one. Two, as I mentioned, we're trying to be very specific about the types of companies we're inviting as it relates to hardware. But there are some hardware adjacent tech folks. So people working in software as it relates to sensors or big data that want to work with us on data collection can come in and be a flex member. So maybe we don't have room for them to be housed here, but we have a flex membership so that they can come to events, share resources, and they can use our shops.
But I don't want this to become a makerspace where someone comes in to build a cabinet. I think that makerspaces are amazing—and we have one in Philly called NextFab—but these people are doing serious work and need all the help they can get. I really want that equipment to be here for them. We want this to be a product realization space for people who are trying to create companies and grow meaningful products.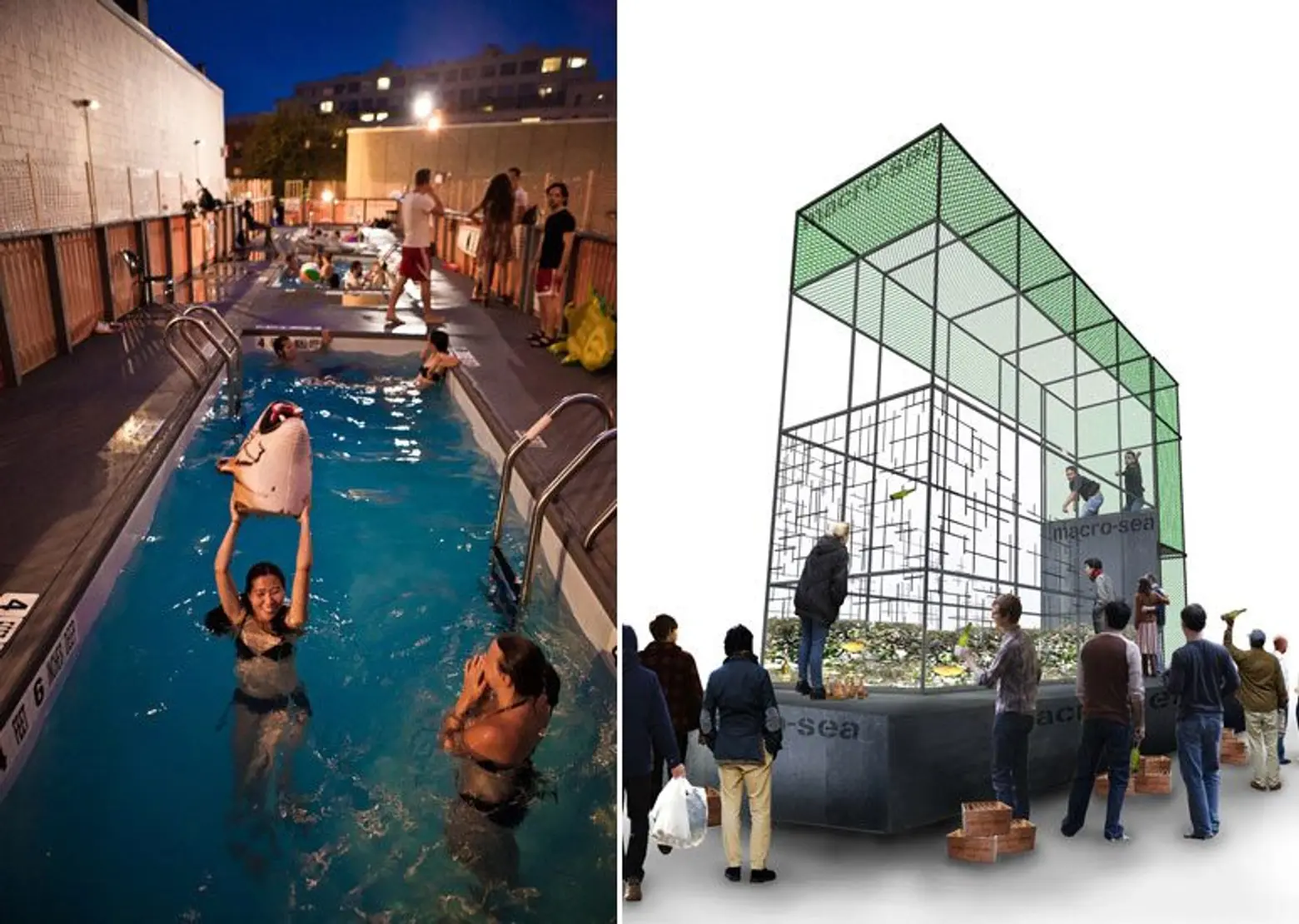 My last question is a throwback to some of the quirkier projects you've done in the past, like Glassphemy and the dumpster pools. Is New Lab a sign of Macro Sea "growing up," or is there a common thread that binds all of these projects together?
David: Well, our mission is to do projects that we find interesting. So it's actually a combination of things. I started Macro Sea in 2009 and I have a lot of experience building buildings. We really did the dumpster pools not as an art project, but as an experimentation for larger development project where I was trying to buy abandoned shopping centers to turn into recreation. But it became a little bit of a press magnet, and the same for Glassphemy.
For a while I was worried that because those projects were so popular that people would think I was just trying to do non-serious art projects, but that was never the intention. The intention was to build things that we found interesting and that we're thinking about. And while I thought I would do more projects like Glassphemy and the dumpster pools, what happened as a result of doing them was that more money-making projects opened up. We were sponsored by the Bloomberg administration for those dumpster pools and we made friends with a lot of people in the city and they've been great. These projects opened up doors for me that wouldn't have had I not done them. So, for example, a lot of the communities that I know at New Lab are made up of people that I met at Glassphemy or the dumpster pools because they thought they were cool and weird projects.
We also built St. Ann's Warehouse through DBI and we met a lot of people in Brooklyn that way, and they brought us to the Navy Yard. It's just all sort of weirdly connected, and that's creating a narrative in retrospect. But I did go through a period of time where I was kind of embarrassed that I did those projects. Now I realize that if wasn't for those projects, I wouldn't have been able to create something like New Lab. So I'm really grateful for that time.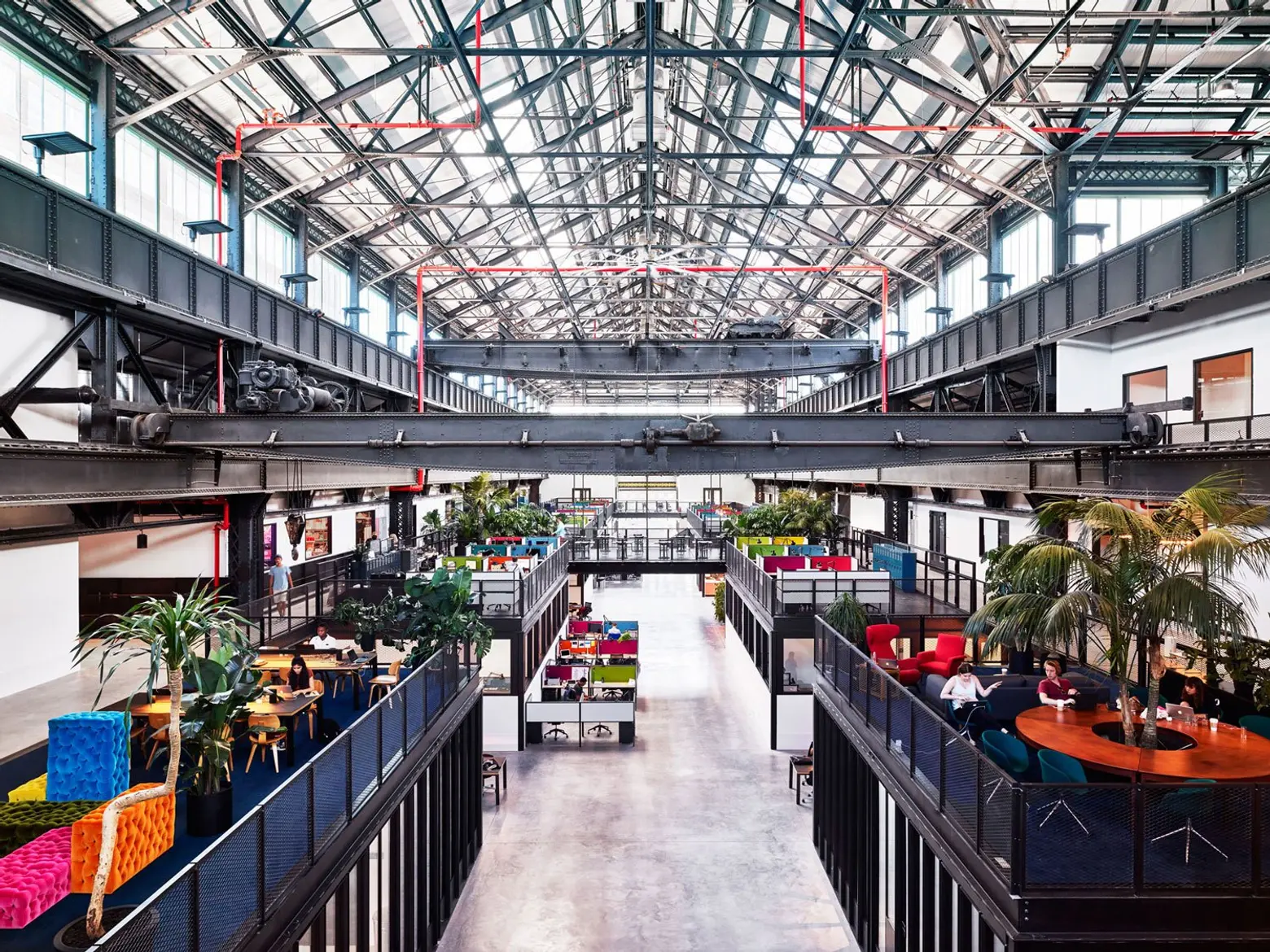 Photos by Spencer Lowell and Samantha Deitch courtesy of New Lab unless otherwise noted
RELATED: