New York's first fleet of self-driving cars launches at the Brooklyn Navy Yard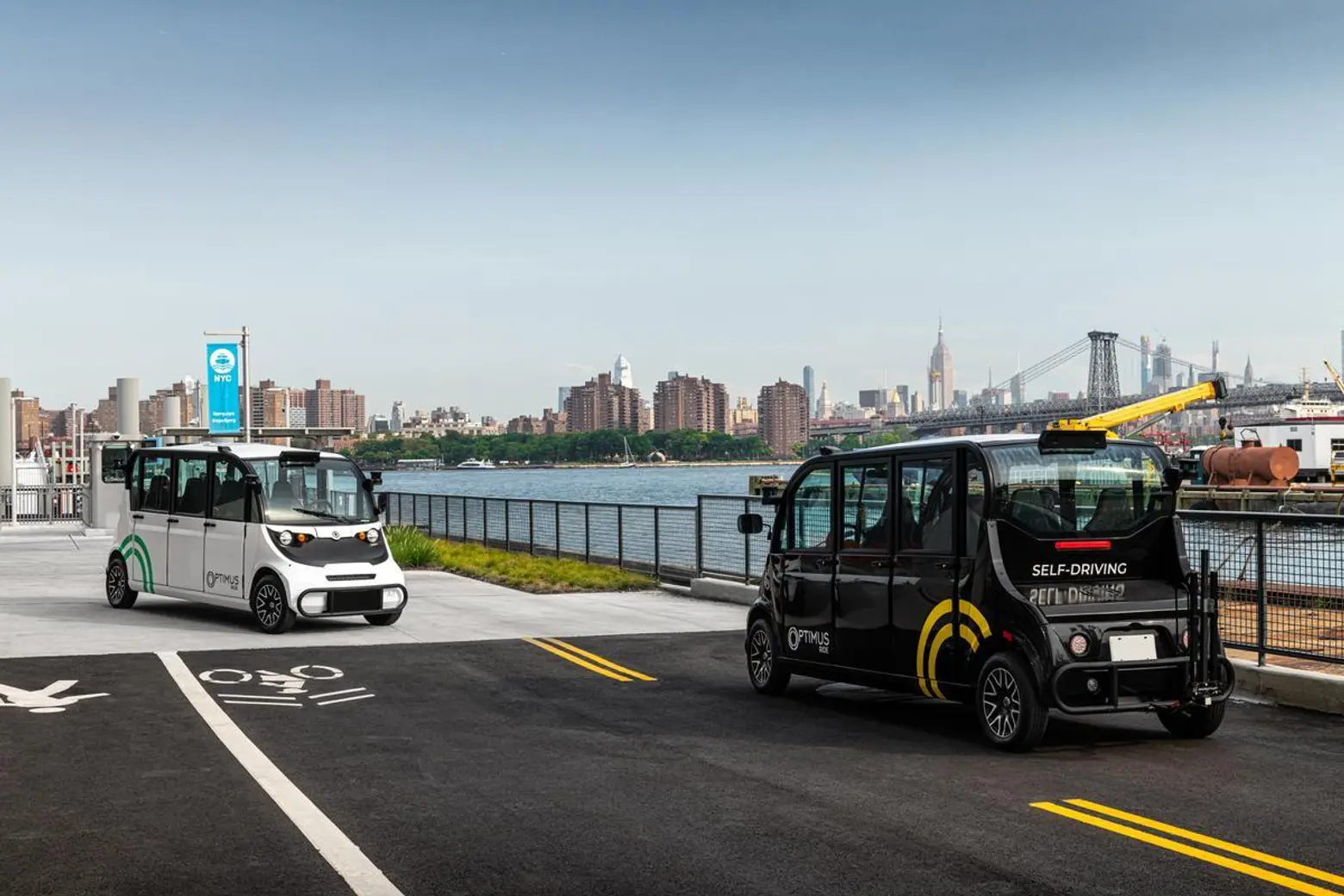 Photo courtesy of Optimus Ride
New York's first fleet of self-driving vehicles has officially landed in Brooklyn. Six autonomous vehicles will roll into the Brooklyn Navy Yard on Wednesday, shuttling passengers in a loop around the 300-acre industrial site for free. Optimus Ride, the Boston-based technology company behind the fleet, will run the autonomous shuttle between 7 a.m. and 10:30 p.m. on weekdays, between the NYC Ferry stop at Dock 72 and Cumberland Gate at Flushing Avenue.
Video courtesy of Optimus Ride
"We are excited to bring the future of transportation to New York with Optimus Ride, and provide 10,000 employees across the Yard and the Brooklyn community with greater access to convenient mobility," David Ehrenberg, the CEO of the Brooklyn Navy Yard Development Corporation, said in a press release.
The former warship building site is being transformed into a modern tech-hub. It now boasts more than 400 companies, with 10,000 workers on site.
The company expects to serve more than 16,000 riders per month. Passengers will not ride alone in the vehicles, with Optimus placing a safety driver and software operator in the car at all times. Each vehicle, which can carry between four and six people each, must adhere to speed limits and road rules.
Gov. Andrew Cuomo approved in 2017 the first application for a self-driving vehicle demonstration on public roads in New York. Audi ran a six-mile test around Albany in June 2017 and Cadillac also performed a hands-free drive from New York to New Jersey. But the Brooklyn Navy Yard fleet from Optimus serves as the first official self-driving vehicle program in the state of New York.
"Launching our self-driving vehicle system in New York at the Brooklyn Navy Yard is yet another validation that not only is Optimus Ride's system a safe, efficient means of transportation, but also that autonomous vehicles can solve real-world problems in structured environments–today," Ryan Chin, the CEO and co-founder of Optimus Ride, said in a press release.
Some critics, including Mayor Bill de Blasio, have expressed concern about testing self-driving cars on congested city streets. In a statement to amNY in March, mayoral spokesperson Seth Stein said: "If this pilot abides by insurance and other non-traffic laws and remains confined to the Brooklyn Navy Yard–which is private–then it can operate. The Mayor has voiced his strong opposition to testing a new technology on our busy streets."
RELATED: