Kushner Cos. vision for 666 Fifth Avenue has Zaha Hadid design and $12B ambitions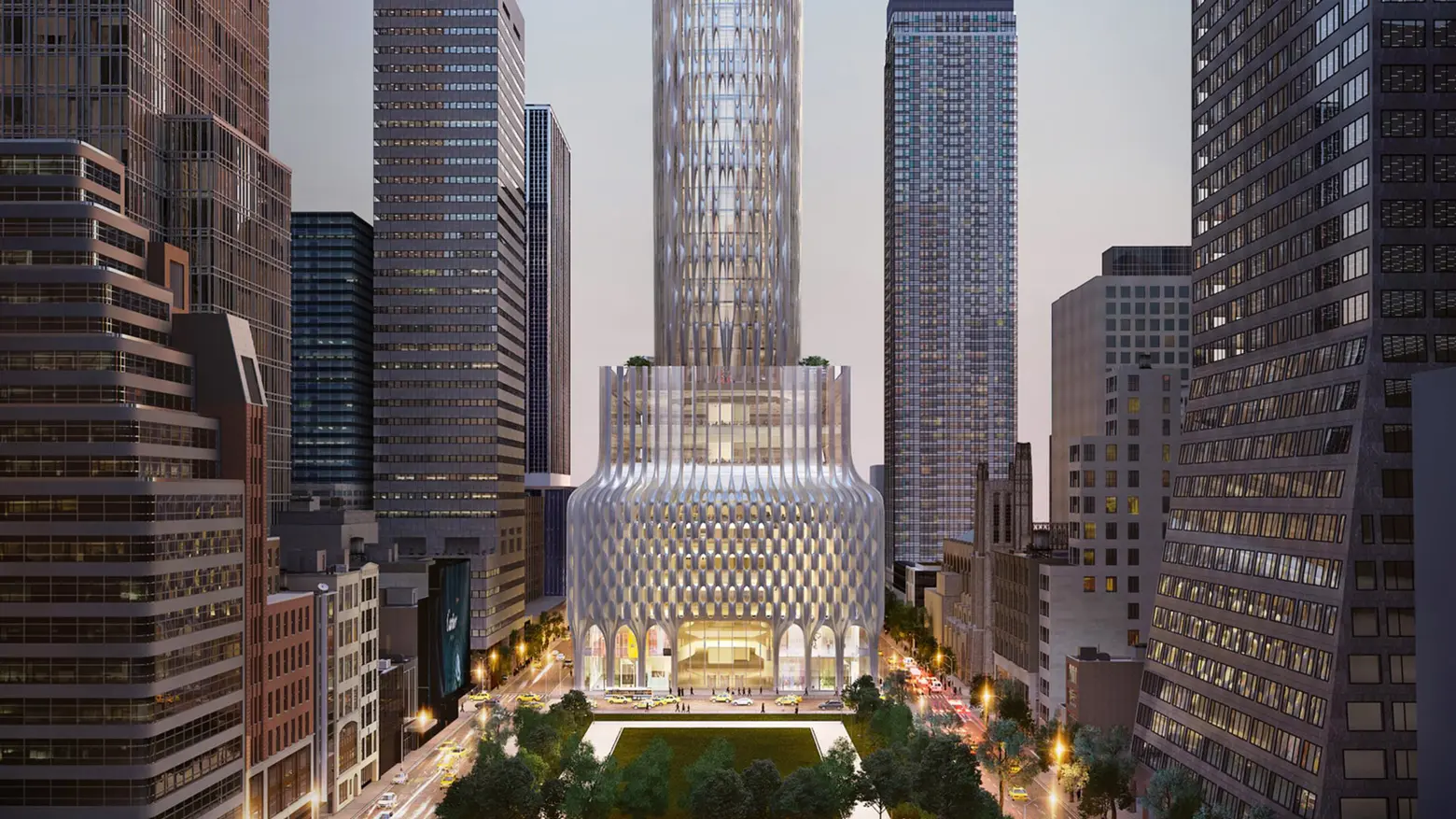 A rendering of 666 Fifth Avenue. Credit: Kushner Companies/Zaha Hadid Architects
As 6sqft previously reported, 666 Fifth Avenue owners Kushner Companies and Vornado Realty Trust have been seeking financing for a new skyscraper planned for the site of the Midtown office tower that Kushner purchased for $1.8 billion in 2007; Chinese company Anbang Insurance Group is said to have been considering a substantial stake in the tower. Though it was reported that the redevelopment could be valued at $7.5 billion, the Wall Street Journal now cites sources who say the value could be as much as $12 billion, and that a reported deal with Anbang may be far from a sure thing. That huge number represents the projected value of what Kushner envisions as a 1,400-foot-tall mixed-use luxury tower with a design provided by the late Zaha Hadid in 2015, nine floors of retail, a hotel and big-ticket luxury condos on its upper floors.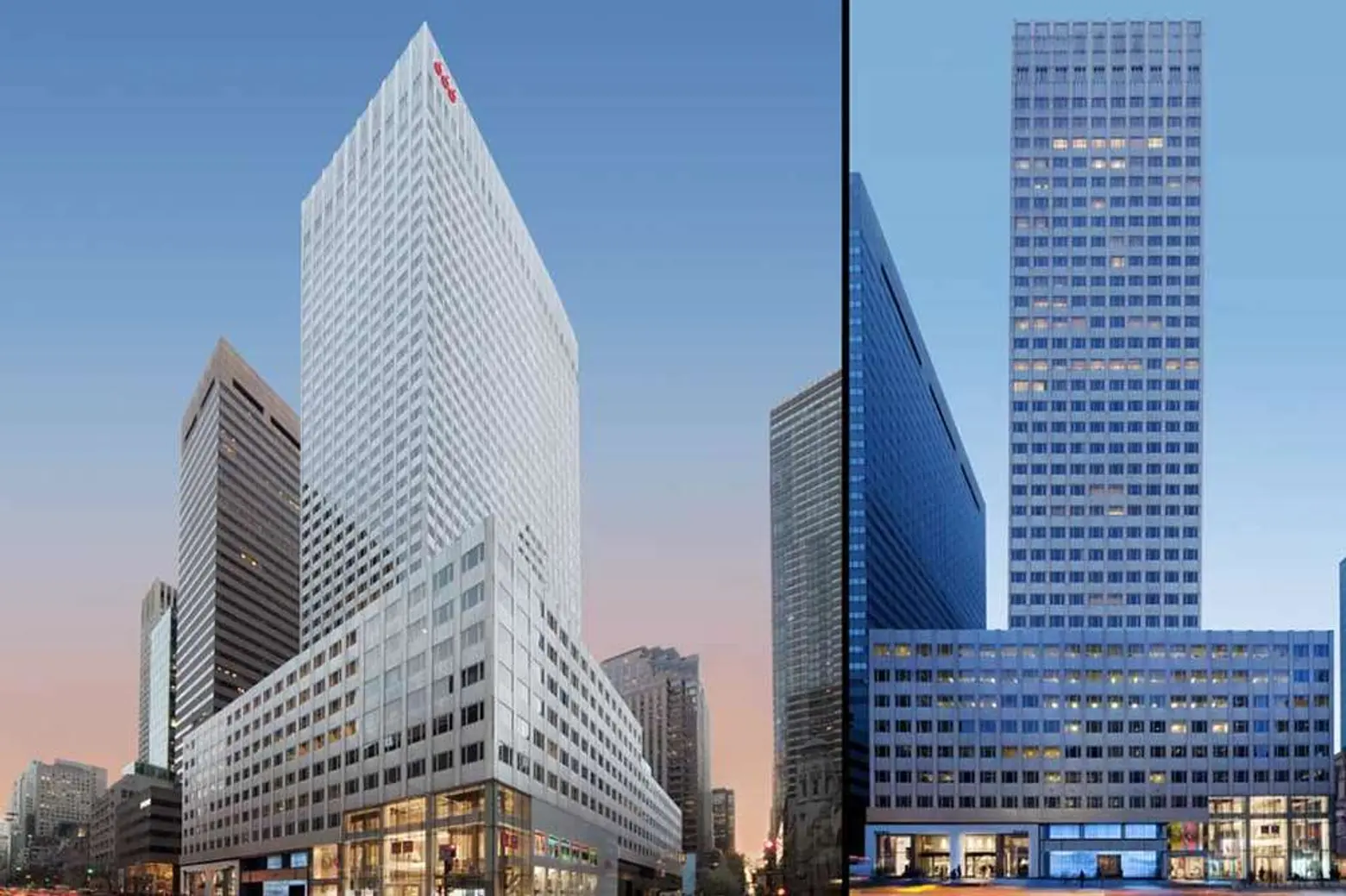 666 Fifth Avenue via Vornado Realty Trust
Before stepping down as CEO of his family's company to serve as an official advisor to his father-in-law, President Donald Trump, Jared Kushner is reported to have helped set up talks with Anbang, who bought the Waldorf Astoria in late 2014 for nearly $2 billion. Sources say that while the company is in "advanced talks to provide as much as half of the $2.5 billion in equity for the planned redevelopment," there are concerns over a conflict of interest around Jared Kushner's White House role: "Contrary to recent reports, Anbang has no investment in 666 Fifth Avenue," an Anbang spokesman told the Wall Street Journal. "Any suggestion that Anbang has signed a contract or made any kind of financial commitment is inaccurate." A decision on the matter may come as early as this week.
Regarding conflict-of-interest claims, a Kushner Cos. spokesperson said Jared sold his ownership stake in 666 Fifth Avenue to a family-operated trust; a White House spokesperson said he would recuse himself from "any matter where his impartiality could be reasonably questioned," including a determination on EB-5, which in this case is seeking $850 million in funds for the condo conversion. Ethical issues remain, though, not least of which is the fact that Anbang is closely tied to the Chinese government, highlighted by the fact that Anbang chairman Wu Xiaohui is married to the granddaughter of past paramount leader Deng Xiaoping.
Should the Anbang investment be off the table, Kushner says it will still forge ahead with the ambitious plans for the building situated between 52nd and 53rd streets on Fifth Avenue. "Extensive negotiations are under way between Kushner Cos., its partners on the building, potential investors, lenders and tenants who would have to move for the project to happen," the Wall Street Journal reports.
Details on the developer's vision for the new tower, which could take until 2025 to complete, include a complete rebuild that involves tearing out the current tower's steel frame and giving the building 40 more floors. Current zoning allows the construction of a 1.45 million-square-foot tower as-of-right, meaning the project wouldn't have to wend its way through a series of city approvals.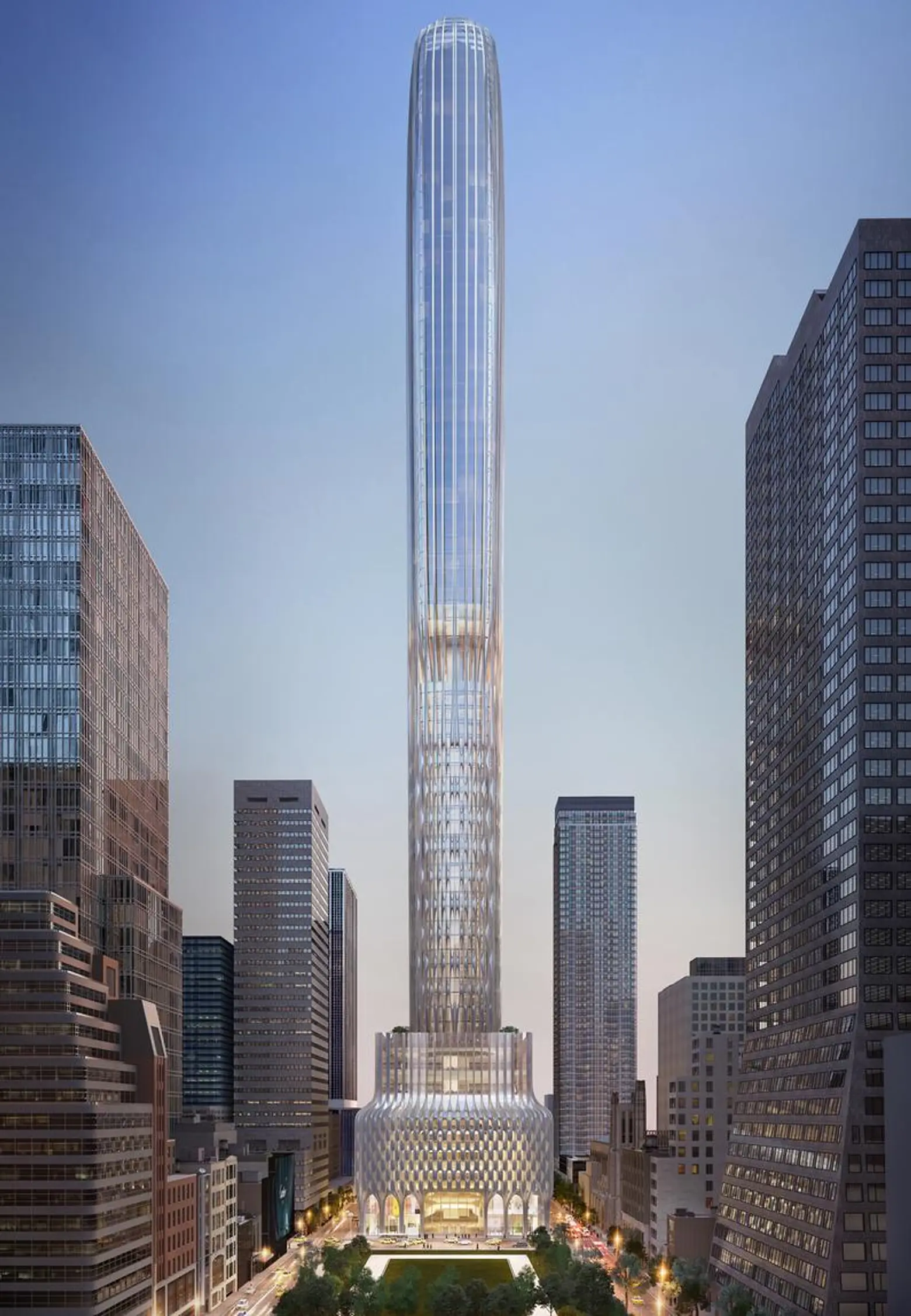 Renderings for the design by the late Zaha Hadid show a 1,400-foot skyscraper that's definitely a departure from Midtown's big-shouldered 20th-century towers. The "Burj Kushner's" lower nine floors would offer retail (four times the amount in the current building), dining and entertainment; the building would also harbor an 11-story hotel and 464,000 square feet of residential space. The considerable increase in height and of the building's retail potential are what leads Kushner Cos. to think it could be worth as much as $12 billion.
About that residential space: Though according to The Real Deal, Kushner Cos. said they expect condos to sell for around $6,000 a square foot (to compare, 432 Park Avenue has seen 33 past sales that averaged $7,774 per square foot), even to reach the $7.2 billion number, units would have to sell for at least $9,000 a square foot, an unprecedented number even on Billionaire's Row.
If the Kushners proceed with the $12 billion plan, they'll retain a 20 percent stake when the building is complete, with demo starting as soon as 2019. In addition to finding investors, Kushner Cos. will have to buy the stake owned by partner Vornado Realty Trust, who also owns most of the building's retail space. They'll also have to buy out all of the building's current tenants and refinance $1.15 billion in outstanding debt.
The building would also be partially stripped of its steel frame to accommodate the new construction, and in its new incarnation, the tower would bear the name 660 Fifth Avenue. It might be worth noting, though, that in Chinese culture, the number 666 means good luck.
[Via WSJ]
RELATED: