Hudson Valley's Storm King Art Center unveils $45M redesign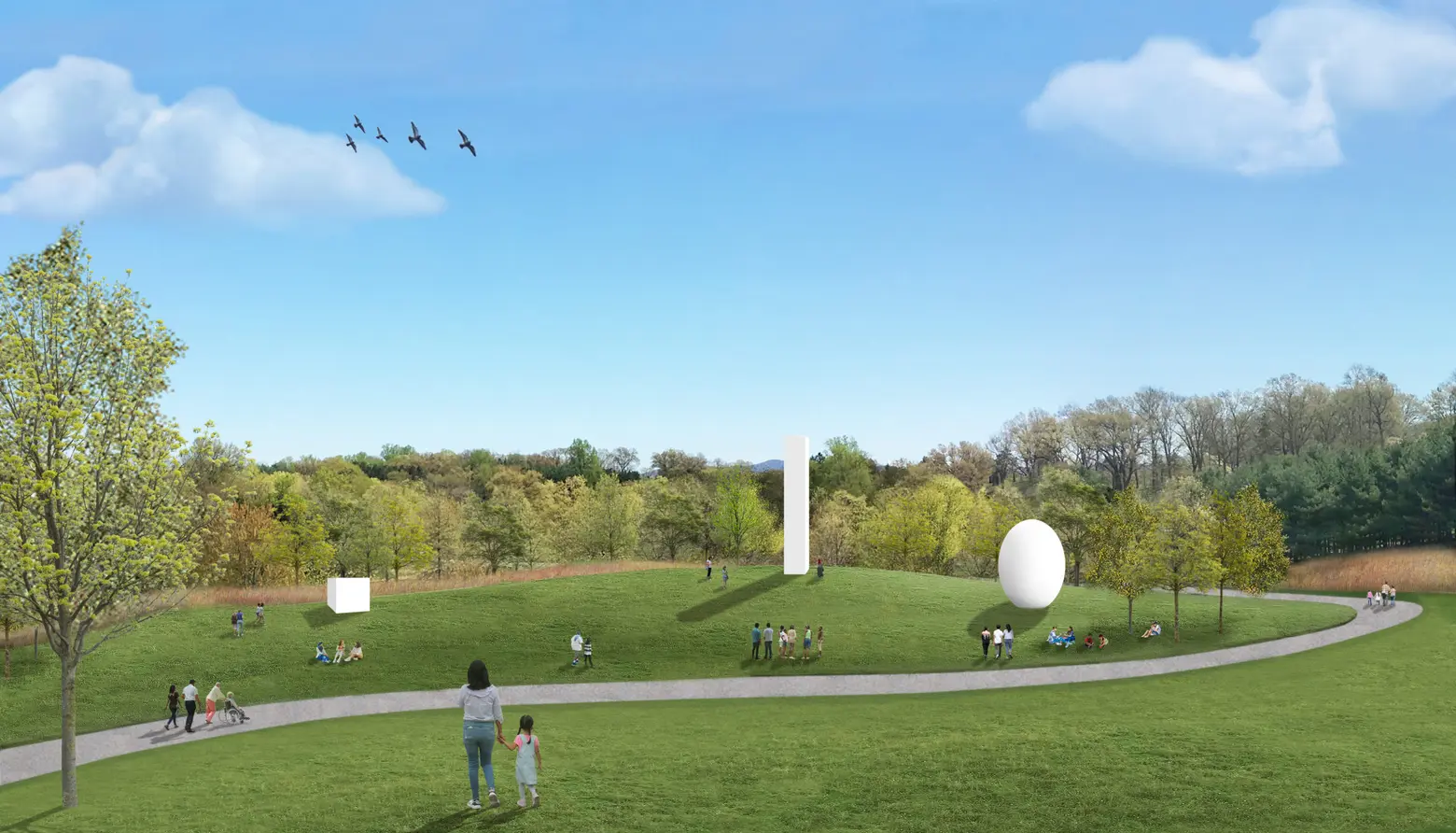 Rendering of the new South Meadow, to be reclaimed from a former parking lot. ©Storm King Art Center
The Storm King Art Center in the Hudson Valley will undergo a $45 million revamp this fall to enhance the visitor experience and better serve its growing community, the 500-acre outdoor museum announced last week. As first reported by The Art Newspaper, the project includes a new welcome area, improved parking and accessibility, and a new facility to support grand-scale works. Construction will begin later this year and the redesign is expected to be completed in 2024.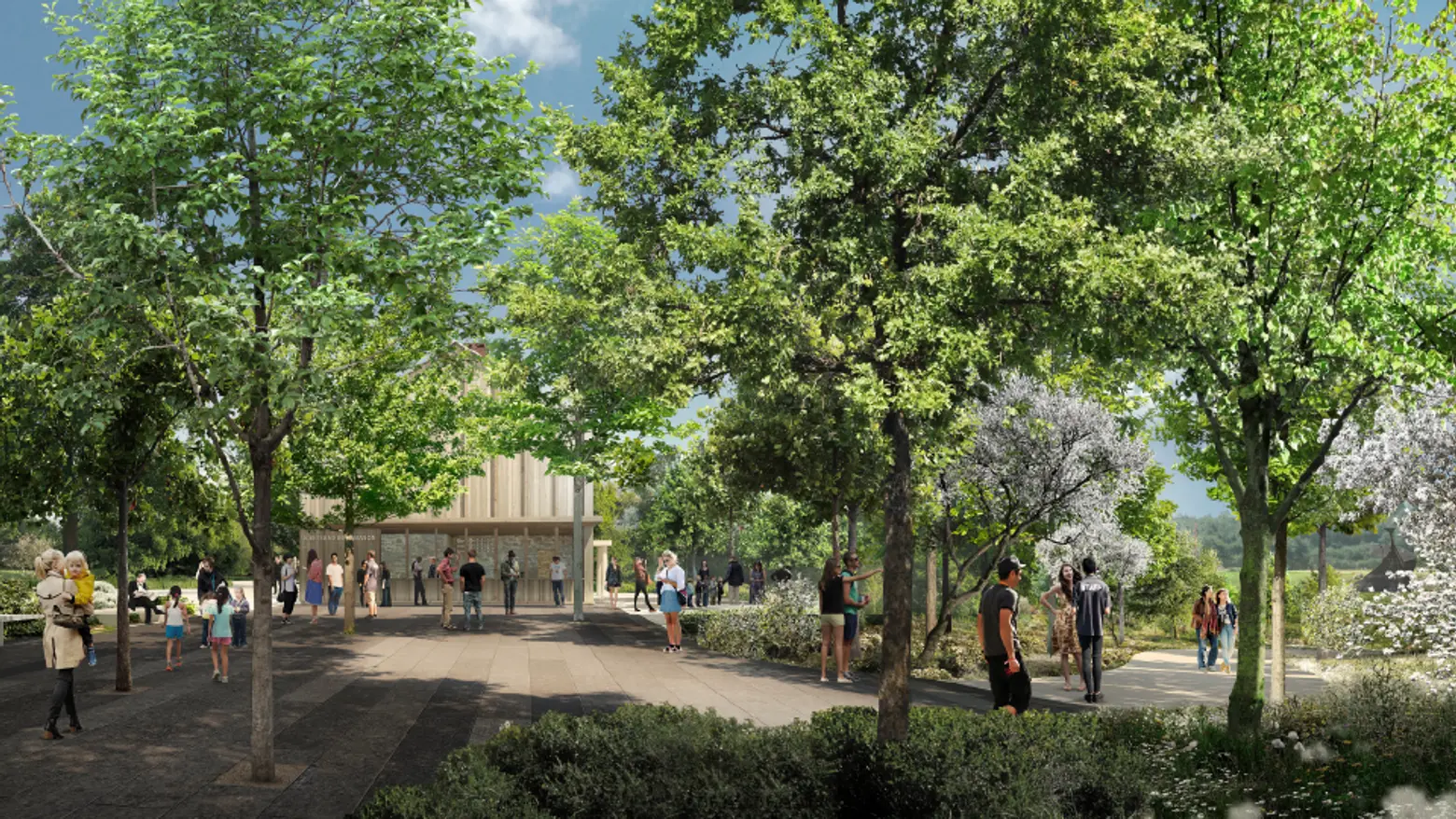 Rendering of new outdoor lobby and ticketing pavilion. ©Storm King Art Center
The museum's expansion follows rapid growth in its popularity, with the number of visitors a year increasing from 80,000 in 2012 to 222,000 in 2021. The art center is expected to accommodate up to 240,000 visitors this year, according to The Art Newspaper.
"Storm King is unlike anywhere else. Large-scale sculpture, trees, mountains—the combination is stunning. For people seeing it for the first time, that feeling of joy from a new experience can be life-changing," John Stern, president of Storm King, said.
"This ambitious capital project enriches the absolute best things about Storm King while helping chart our path to a more sustainable future. It allows us to advance all areas of our work and mission; to support our growing community of visitors, artists, and staff; and to preserve our extraordinary site and collection for future generations."
Led by heneghan peng architects and WXY architecture + urban design, the project's first major improvement to the grounds is the 4,700-square-foot outdoor lobby and welcome center, known as the "Welcome Sequence."
The new entry area will feature a series of accessible pavilions with several amenities, including orientation, restrooms, storage lockers, and covered gathering spaces. Surrounded by natural landscaping, the new entry area will allow for more visitors while consolidating vehicles to a secluded part of the grounds, reducing encounters with cars, according to a press release.
Designed by Gustafson Porter + Bowman and Reed Hilderbrand, the new landscape features will include the welcoming area's pathways to guide visitors through the park, which will feature native plantings, according to an official press release.
To further consolidate the park's different regions, more than four acres of former parking space will be converted into landscaped areas for art and related programming. Roughly 330 feet of culverted streams will be removed and a new, connected wetland system will be constructed.
"Anyone who has visited Storm King understands the importance of the relationship between landscape and art. This project places orientation and the visitor experience at the forefront of Storm King's ambitions," Neil Porter, founding partner of Gustafson Porter + Bowman, said.
"By consolidating the car parks from the meadows to the woodland fringe, we minimize the impact of vehicles on the landscape and vistas. The restored ground will provide opportunities for the reintroduction of plant communities and more space for art in Storm King's sublime landscape setting."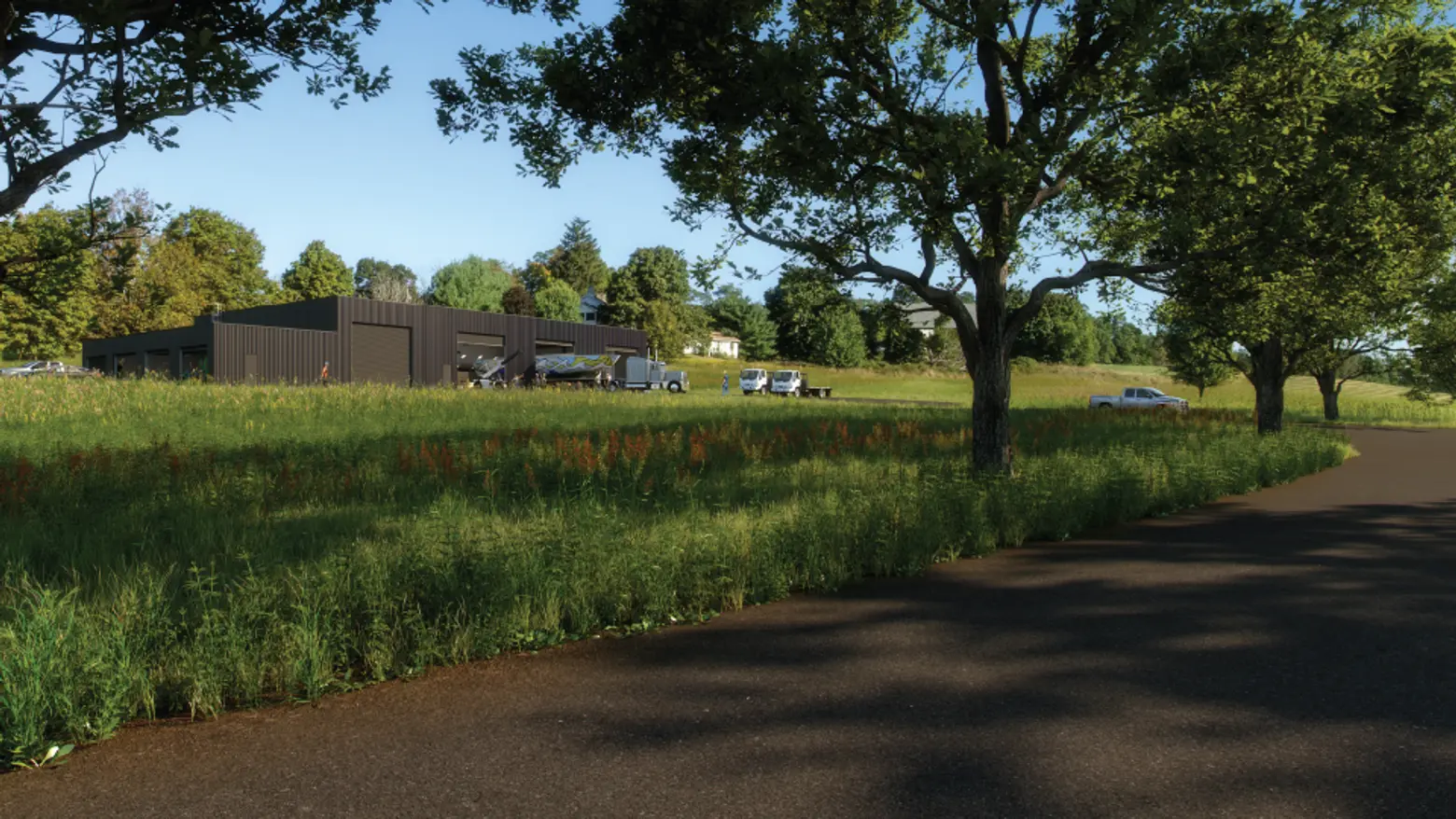 Rendering of the new Conservation, Fabrication, and Maintenance Building ©Storm King Art Center
The 7,200-square-foot purpose-built Conservation, Fabrication, and Maintenance Building will greatly the facility's ability to produce new art, providing a larger space for creators to collaborate. The building will feature 22-foot ceilings, a 1,000-square-foot wood shop, an 800-square-foot paint booth, and an "Energy Recovery workspace ventilation system."
The project will enhance the art center's sustainability features, including a LEED Gold certification for the new Welcome Sequence, efficient all-electric heating and cooling technology, sustainable and durable materials, mobility options that will reduce carbon and promote staff wellness, and the planting of over 650 new trees.
RELATED: