15 art museums outside NYC worth the trip
New York City is filled with amazing art so why go any further? Because there are some spectacular museums with extraordinary collections set in nearby locales that demand attention. Art can be appreciated for the work itself but taken within its context and history, it can be so much more. 6sqft found a variety of incredibly interesting art destinations in the tri-state area that are worth a trip. Perhaps when planning your next staycation or day-trip, choose one of these museums to set your itinerary.
Connecticut
1. The Yale University Art Gallery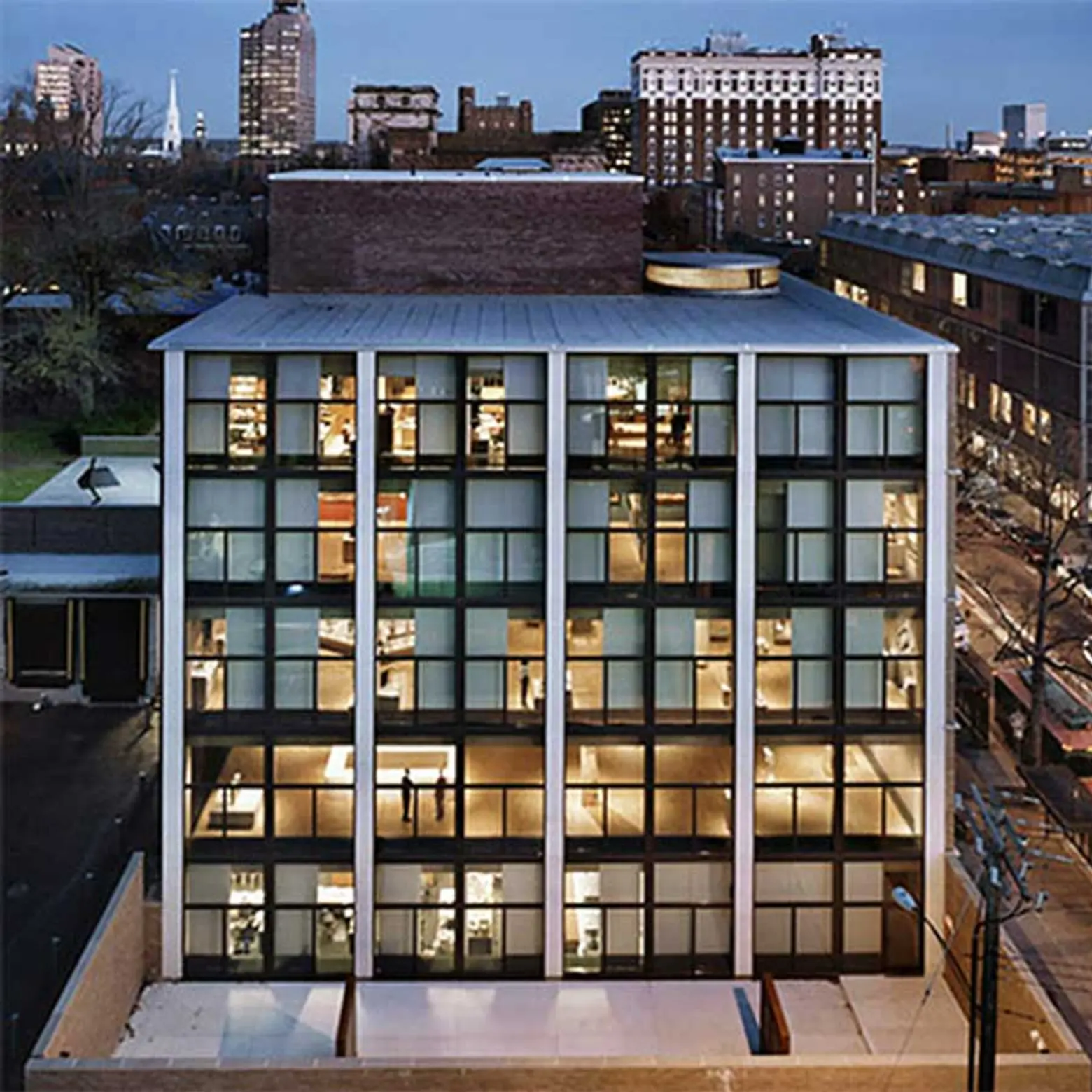 Photo © Pfeiffer Partners and Levin & Associates Architects
Housed in Louis I. Kahn's first ever commission, the mission of the Yale University Art Gallery is to "stimulate active learning about art and the creative process through research, teaching, and dialogue among communities of Yale students, faculty, artists, scholars, alumni, and the wider public." Free to the public with a constant variety of programs, talks and tours on schedule, the Yale Art Gallery is a vibrant player in the New Haven community.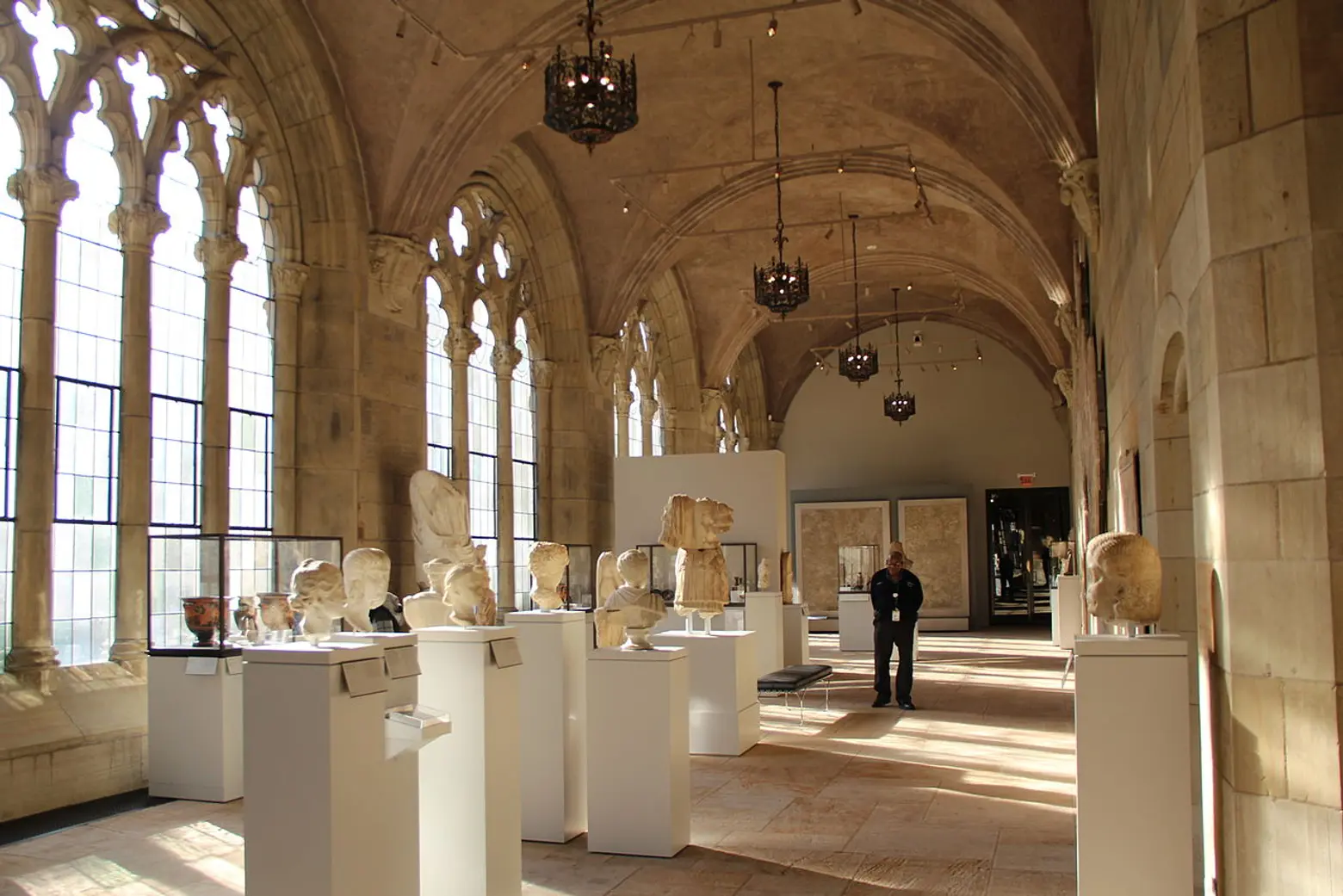 The Sculpture Hall of the Old Art Gallery after its 2013 renovation, exhibiting Greek & Roman statuary. Via Wiki Commons.
Some of the current exhibitions are Joel Shapiro's "Plaster, Paper, Wood, and Wire," which explores Shapiro's artistic practice through his engagement with specific materials, and Manuel Neri's "The Human Figure in Plaster and on Paper," which explores the artist's tireless fascination with the human form. There is also Pompeii on exhibit which includes photographs and fragments highlighting the changing representations of Pompeii over time.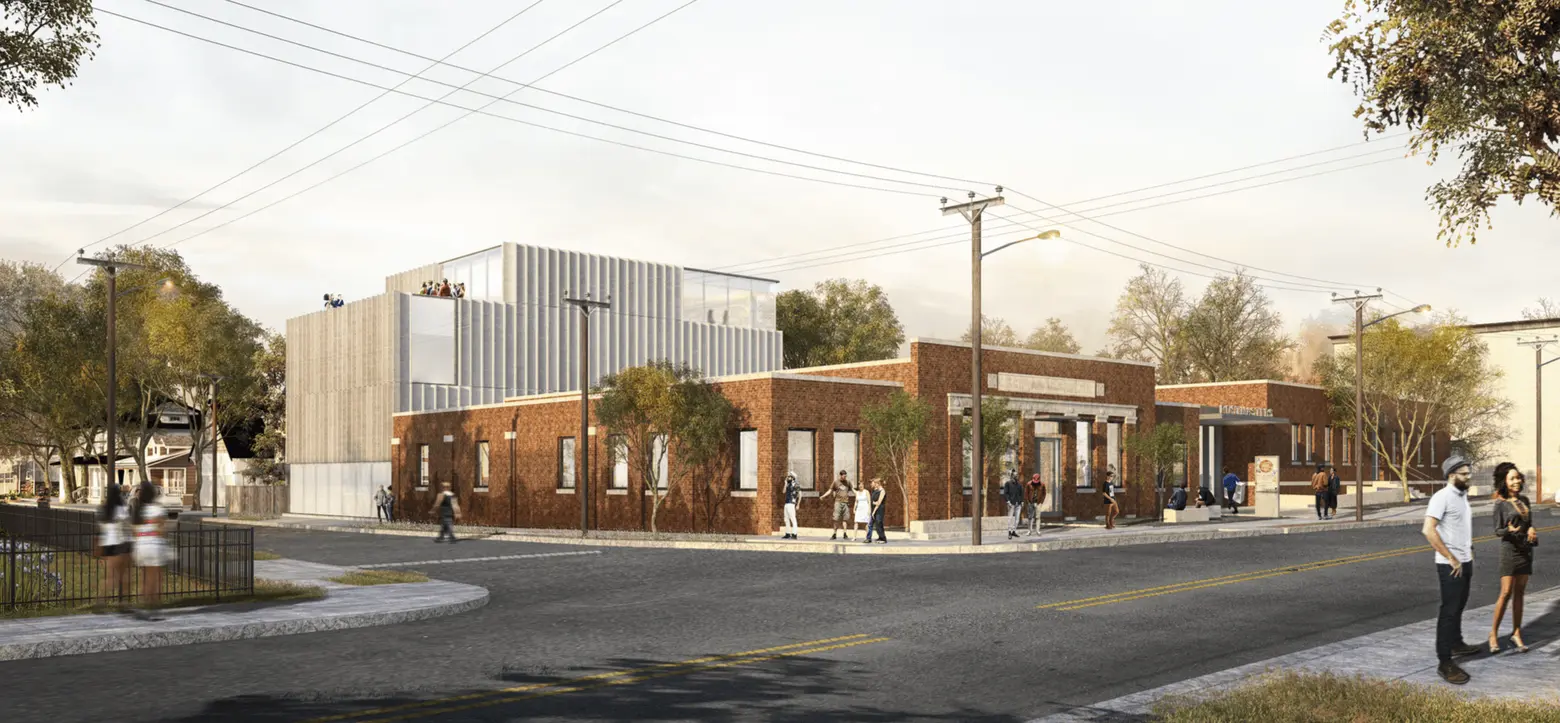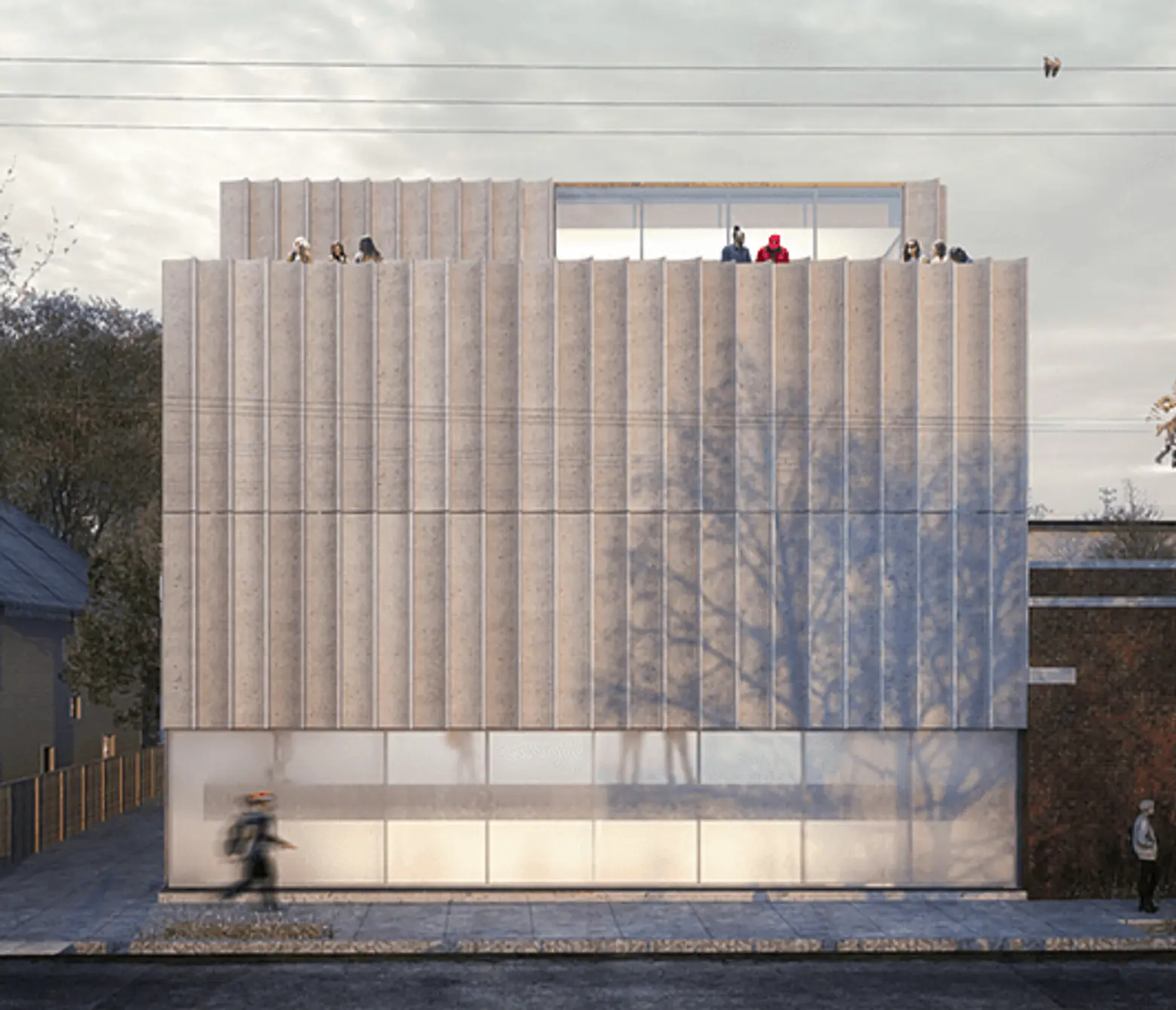 Renderings of the postmasters project © Deborah Berke Partners
The Yale Art Gallery has an enormous range of impressive work that spans the ages, from classic to modern. Two standout gorgeous Titus Kaphar works are on permanent display. Kaphar, who got his MFA in the Yale art department in 2006, has kept close ties with Yale, both with the art gallery and with his highly ambitious PostMasters Project.
When completed this fall, the PostMasters project will be a 40,000 square-foot arts incubator, gallery, makerspace and studio, and coworking space designed by the dean of the Yale Architecture School, Deborah Berke. The nonprofit will provide affordable workspaces for artists, mentoring local youth and contributing to the revitalization of Dixwell and surrounding community. The Elm City PostMasters occupies two former-factory buildings and includes a luminous new addition.
On Friday, April 6 at 1:30, the gallery will host "Mapping LeWitt," where gallery staff will lead hands-on exercises in mapping and drawing inspired by LeWitt's practice. This is presented in conjunction with the exhibition "Sol LeWitt Wall Drawings: Expanding a Legacy." Registration is required and space is limited.
2. Yale Center for British Art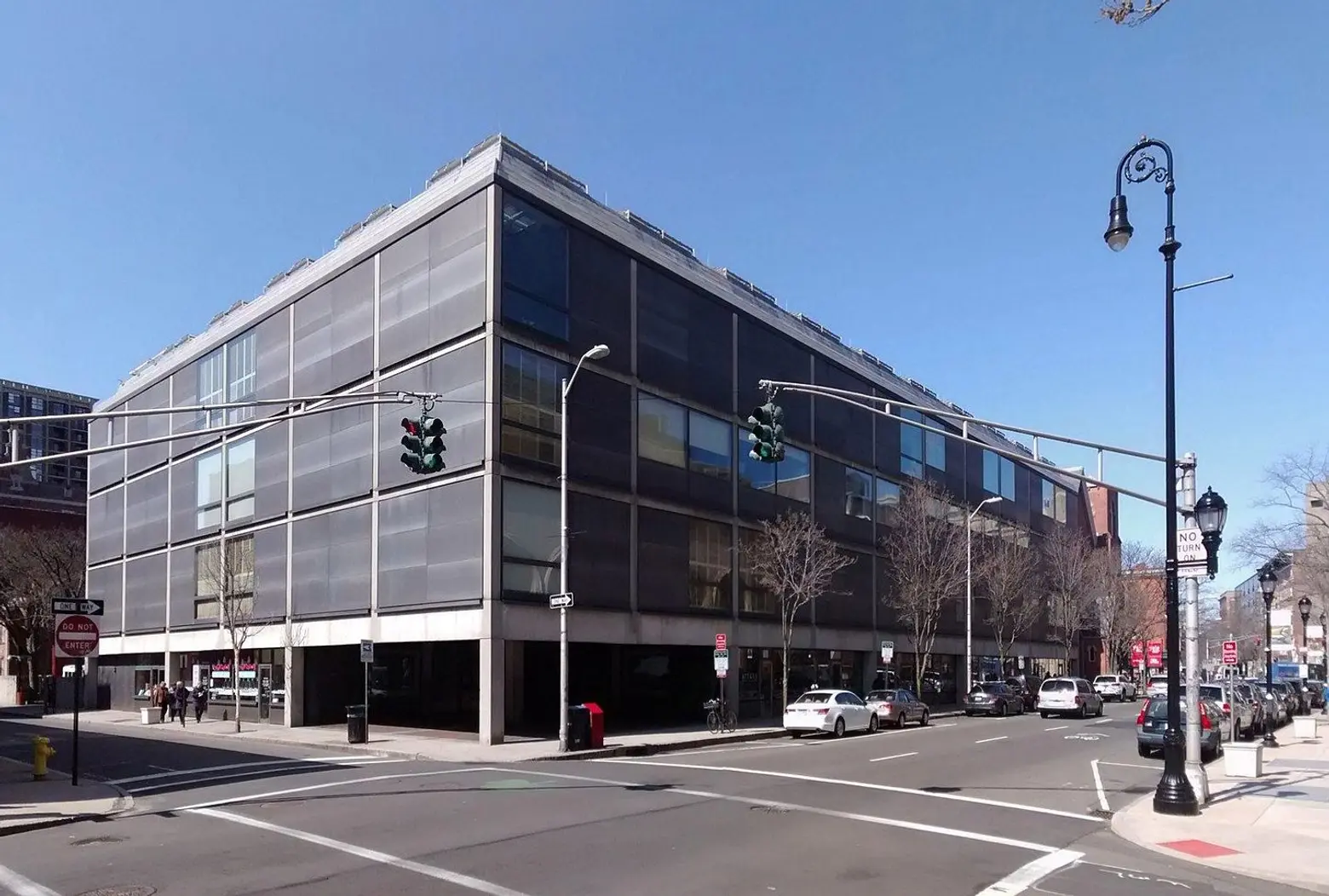 Via Wiki Commons
Housed in a Louis I. Kahn's final building, the Yale Center for British Art's building design is simple and dignified with intimate galleries around two interior courtyards. The museum's impressive collection consists of more than 2,000 paintings, 250 sculptures, 20,000 drawings and watercolors, 40,000 prints, and 35,000 rare books and manuscripts.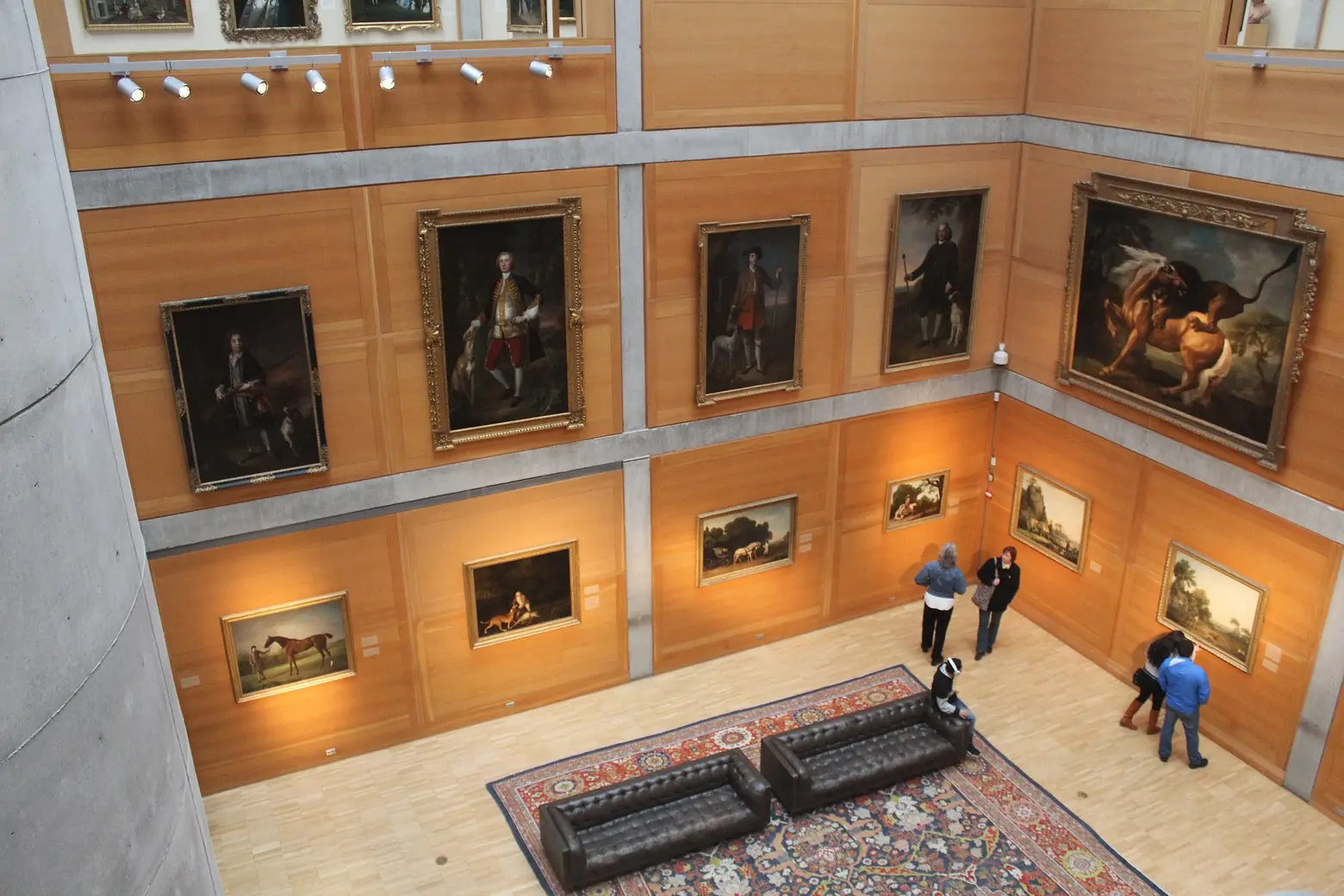 Via Shinya Suzuki/Flickr
Celia Paul and John Goto's "High Summer" are currently on exhibit. Celia Paul, through August 12th, features the contemporary British artist Celia Paul's paintings, authored and curated by the Pulitzer Prize-winning author Hilton Als, staff writer and theater critic for the New Yorker. The display focuses on Paul's recent works, which explore intimacy and inwardness.
John Goto's "High Summer," April 6 – August 19, is a portfolio of fifteen digital composite scenes prints in which the photographer places contemporary figures in landscaped gardens of eighteenth-century British country estates. "Goto's integration of contemporary characters into historic landscape gardens encourages the viewer to think critically about nature and culture both past and present, and the politics of these gardens then and now."
Before leaving New Haven, make sure to stop by Frank Pepe's Pizzeria and/or Sally's Apizza. No trip to New Haven is complete without some local pizza.
Via Wiki Commons
Located in Ridgefield, the Aldrich is the only contemporary art museum in Connecticut and it is is one of the few independent contemporary art museums in the country without a permanent collection. Located on Main Street near the charming downtown and among large traditional colonials, the Aldrich is eye-catching.
The museum's streetside art installations attract local passersby. The last installation was a Tony Matelli's Hera sculpture with watermelons strategically balanced.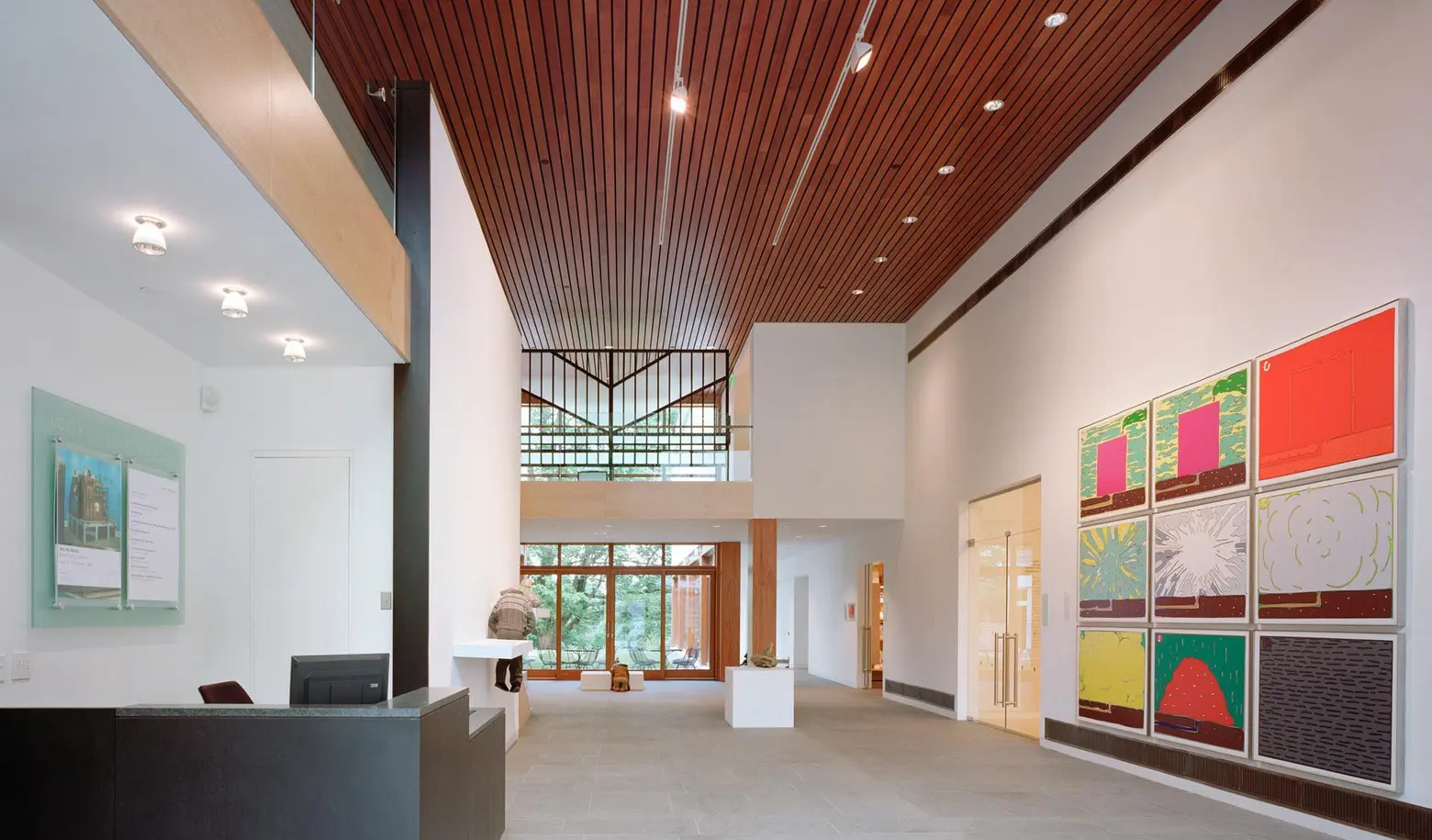 Via Aldrich Contemporary
On exhibit at the Aldrich is Anissa Mack's  Junk Kaleidoscope (through April 22nd) where the artist mined "Americana, its artifacts, folklore, and rituals, and explores American vernacular traditions, examining their shifting role in a dialogue between the history of art making and the culture of collecting." There is also Alex Schweder and Ward Shelley's Your Turn, an exhibition of photographs and video from 1987 through 2010 that considers the world's social, economic, and political climate over the past thirty years and how the growing impact of technology during this time.
4. Brant Foundation Art Study Center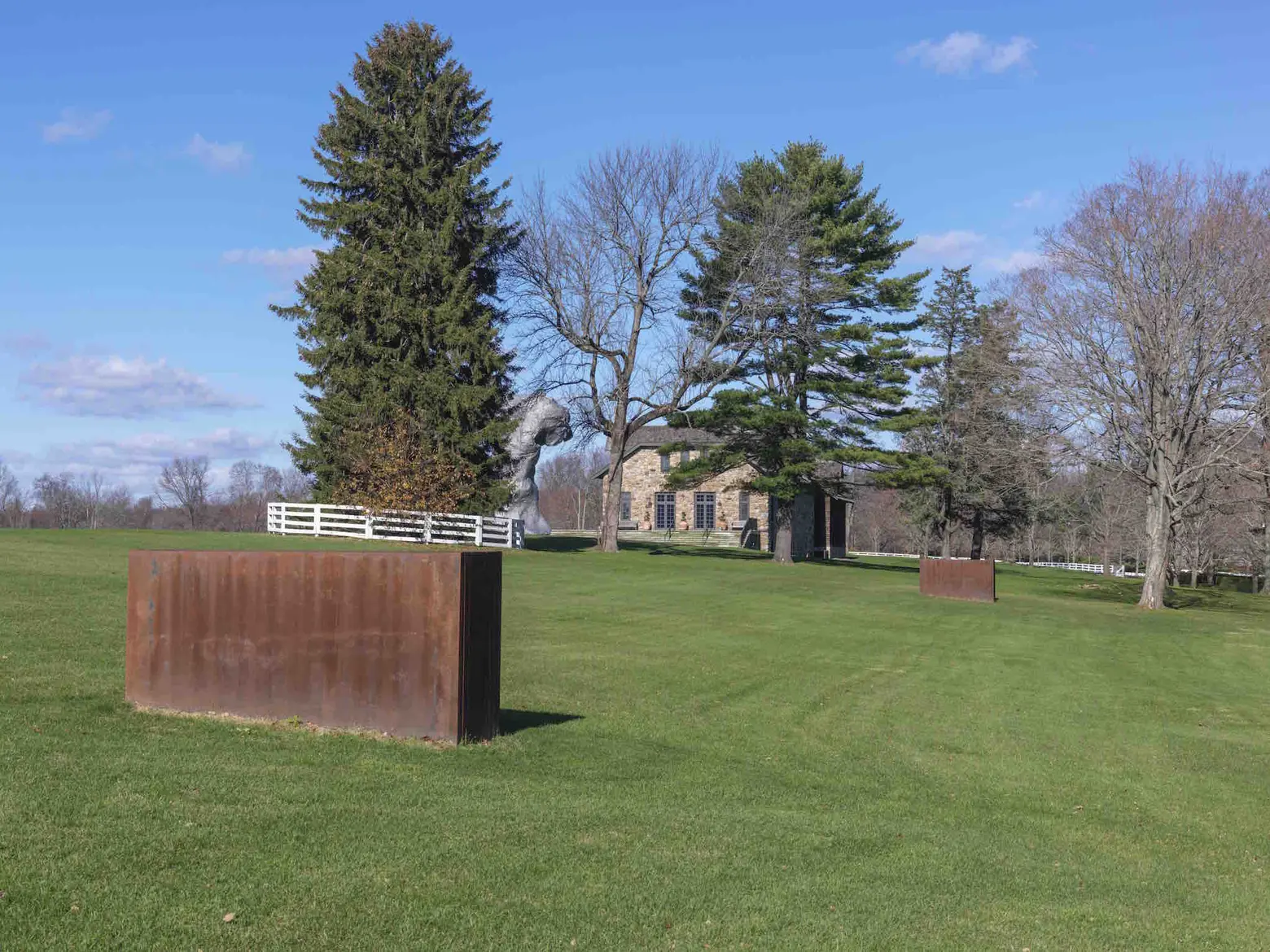 Courtesy of the Brant Foundation
Located in Greenwich, the Brant Foundation was founded by Peter Brant, an entrepreneur, manufacturing executive, publisher, philanthropist, sportsman and art collector. The foundation, run by Peter's daughter Allison, has a collection that offers a range of artists represented in depth, from the earliest period of their practice through their most recent works. The art center offers docent-led tours daily that are free of charge but you must book in advance.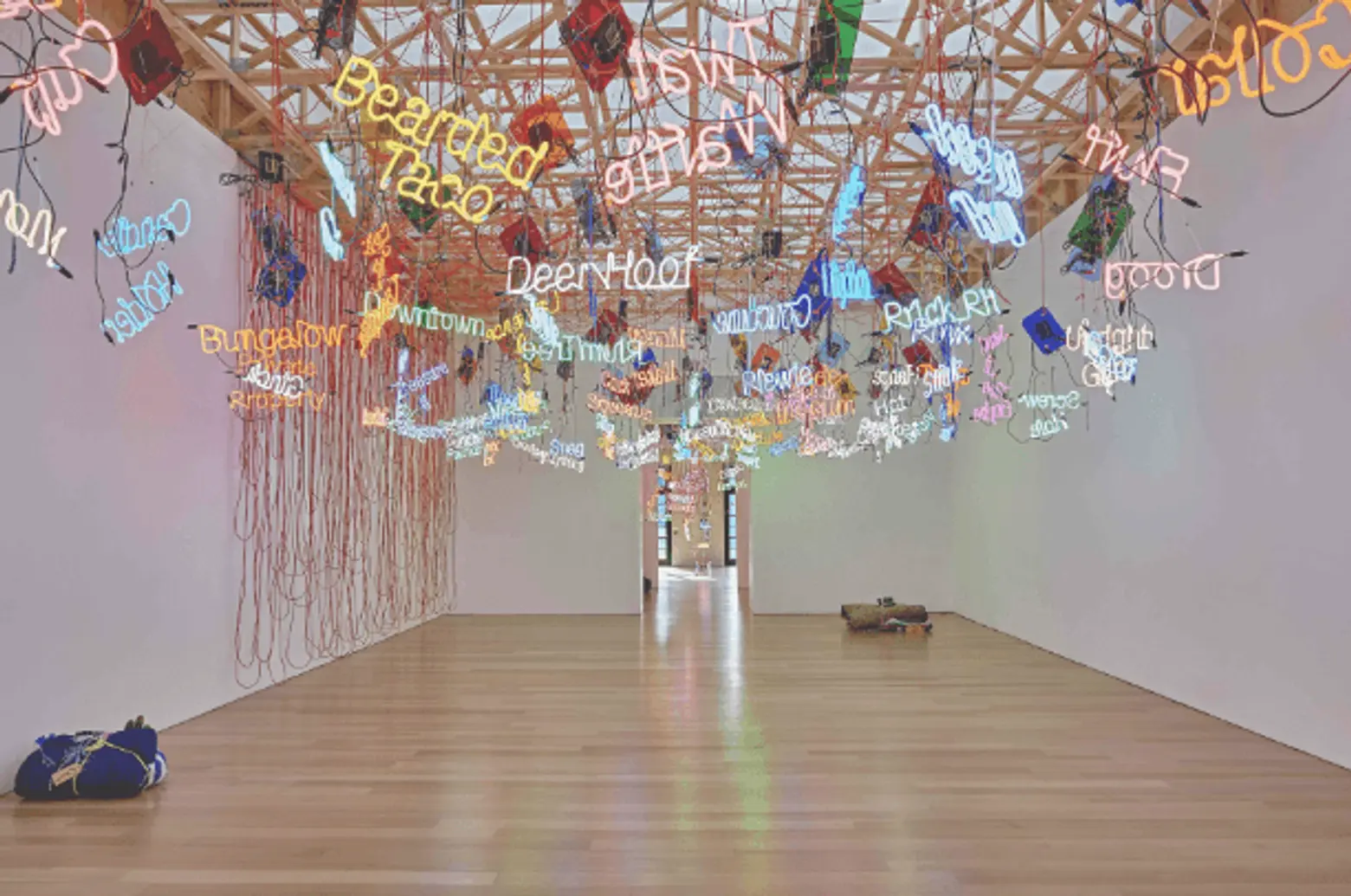 Courtesy of the Brant Foundation
In addition to the collection, the center also offers innovative classes to the public, like their recent art and yoga class. In March, they held a free "illuminated" yoga session held under Jason Rhoades's neon lights led by Kaia yoga studio's Susan Layden.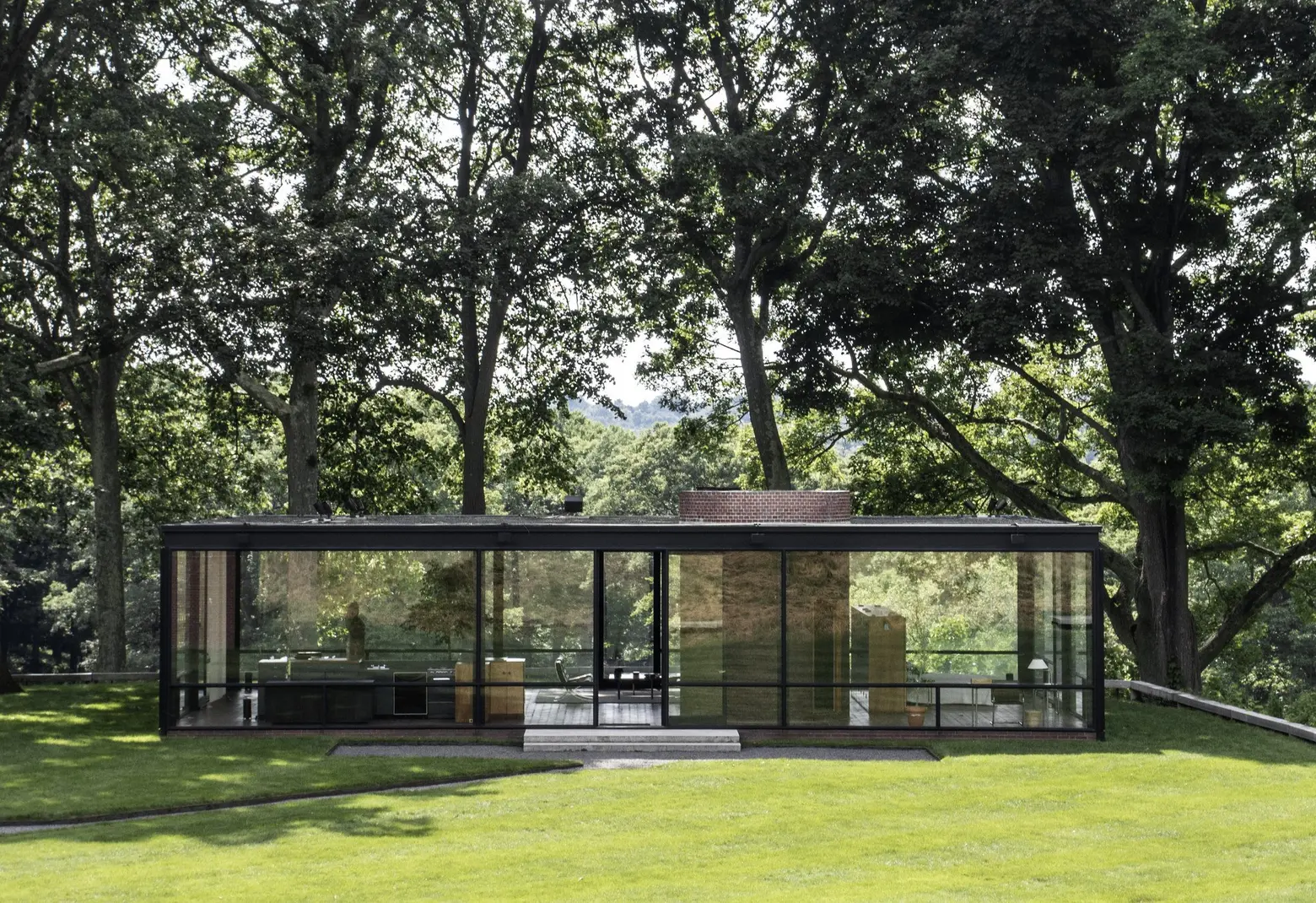 Photo via Thomas Nemeskeri/Flickr
Located in the picturesque suburb of New Canaan, the Glass House was built between 1949 and 1995 by architect Philip Johnson. It is now a National Trust Historic Site. Set amidst the 49-acre landscaped rolling hills are fourteen structures including the most notable, glass house.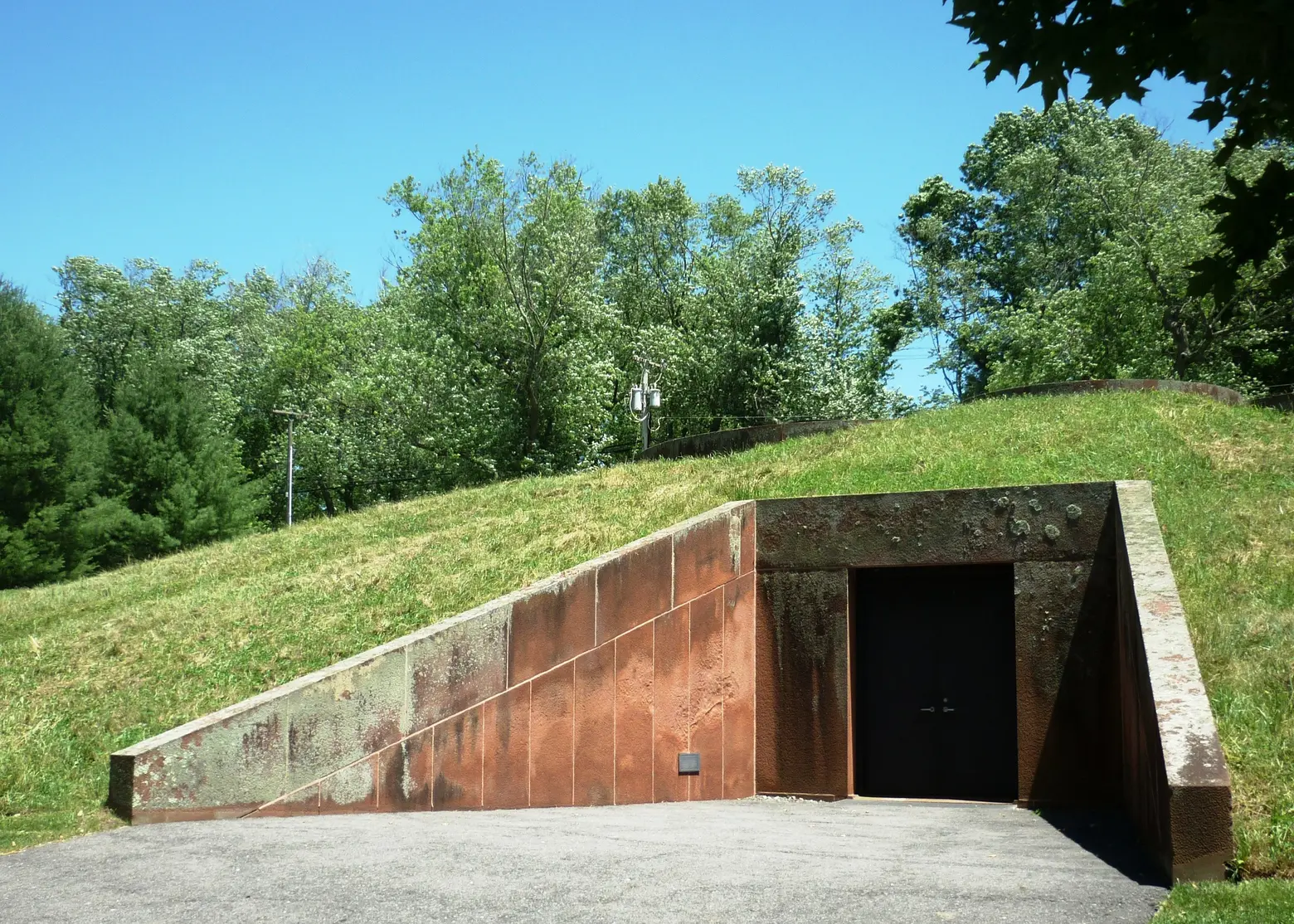 Entrance to the painting gallery via Mark B. Schlemmer/Flickr
But less well known is his art gallery built into the side of a hill with a permanent collection of 20th-century painting and sculpture, along with temporary exhibitions. The art is well worth the visit but all of the eclectic buildings dotting the property are works of art, too. Tours of the site are available in May through November and advance reservations are recommended.
Upstate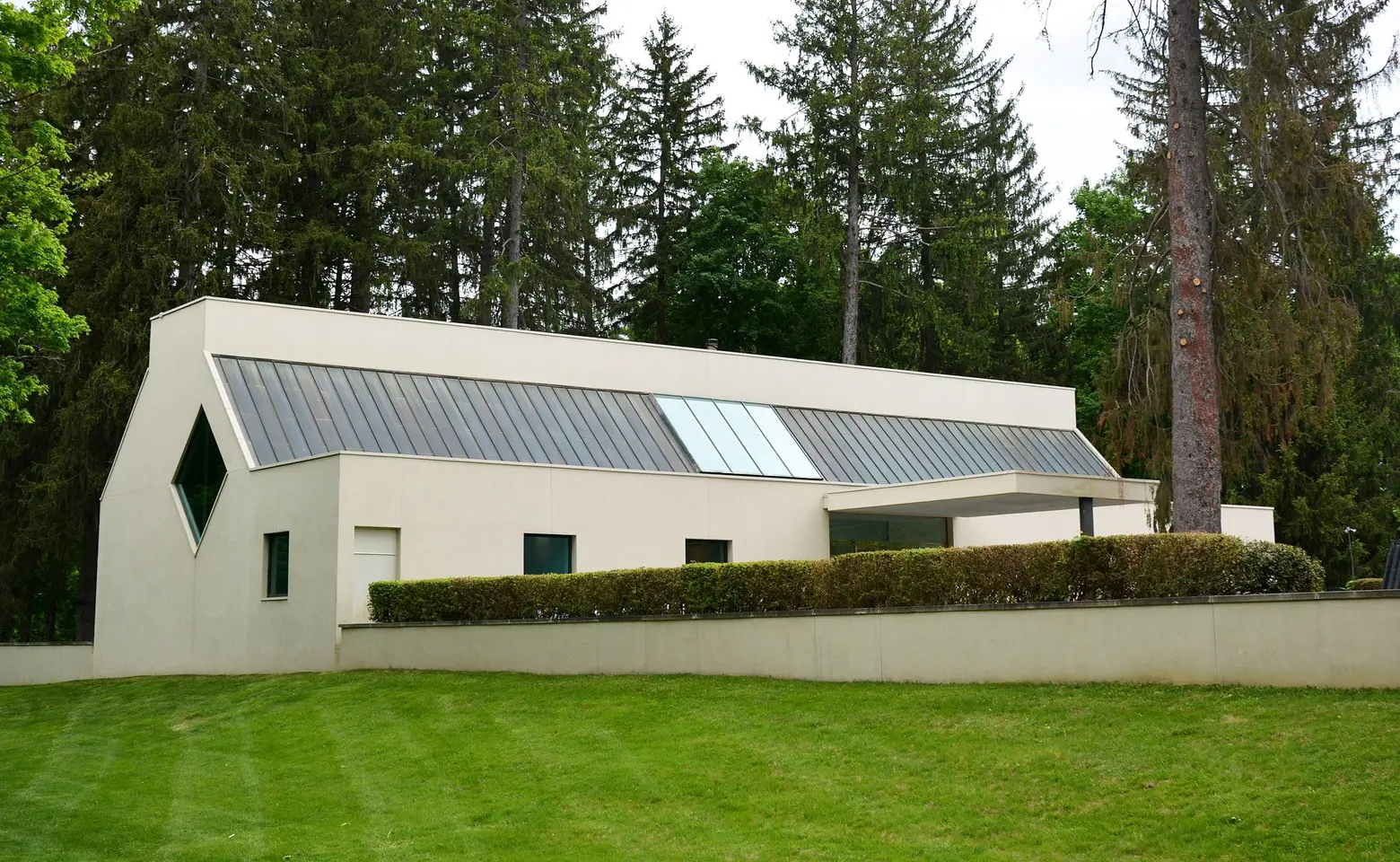 Via Wiki Commons
The Katonah Museum of Art (KMA), located walking distance from the Katonah train station and just down the street from Martha Stewart's estate, hosts three to four exhibitions annually that cover a broad range of art and humanities topics. Another "non-collecting" museum, the KMA offers lectures, films, workshops, concerts and other events, as well as a learning center and an outreach program.
Currently on exhibit is "Long, Winding Journeys: Contemporary Art and the Islamic Tradition" which focuses on a group of Middle Eastern and South Asian artists whose work engages the diverse forms of Islamic visual tradition to explore religion, culture, and socio-political issues today.
The Open Mind sculpture that was installed in November greets visitors at the entrance of the KMA. Open Mind, created by New York artist, Lawrence McGarvey, is "a profile of a human head with a cloud-like hole cut-out in the place of its brain, allows the viewer to see the changing world through a cleverly-placed negative shape…The sculpture is simultaneously emptied and filled and visually dependent upon the world that surrounds it. McGarvey explains that the sculpture is a monument to 'freedom of thought' as well as a lyrical homage to Rodin's The Thinker."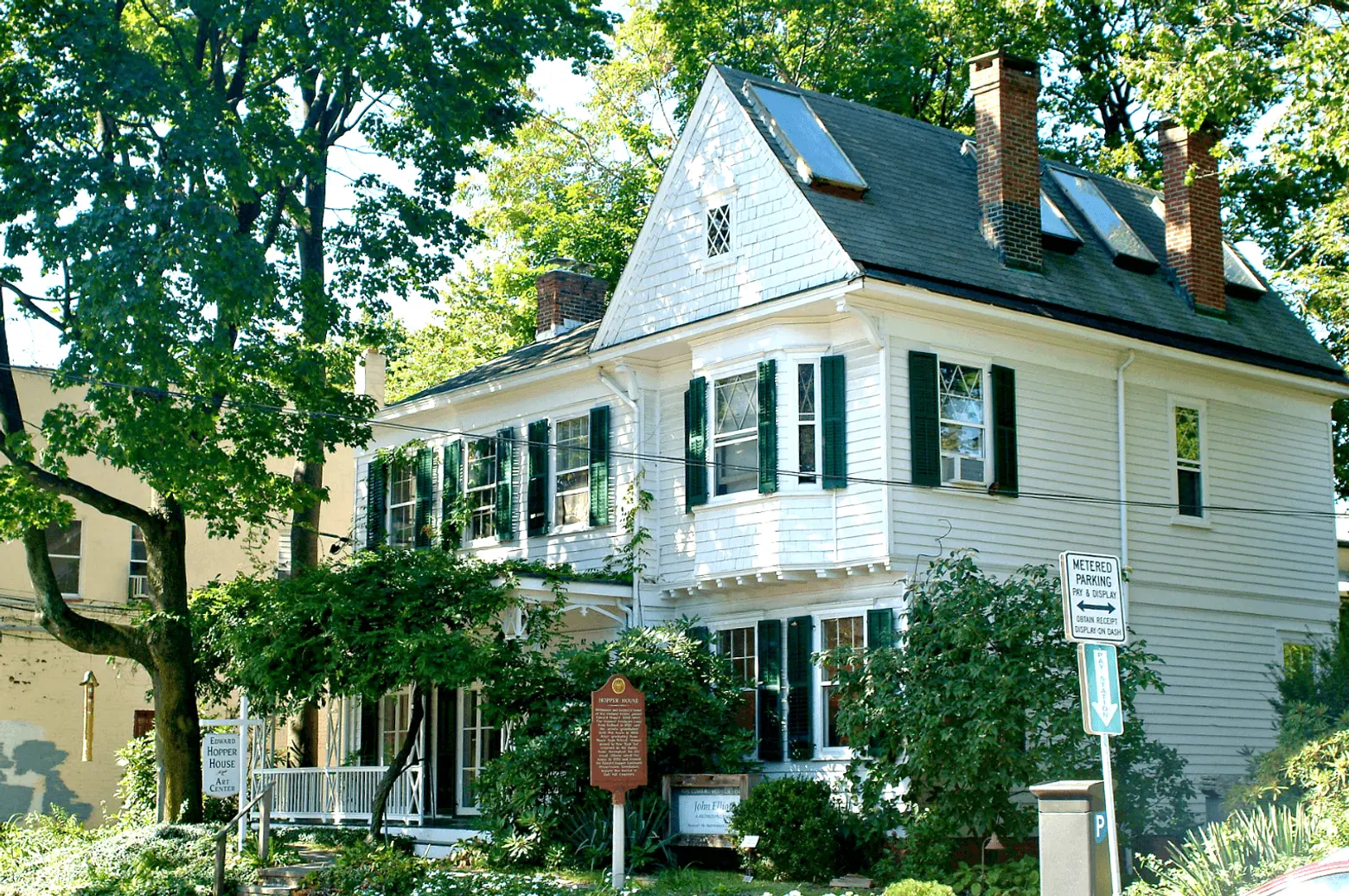 Via Wiki Commons
Visit Edward Hopper's childhood home in Nyack, built in 1858 by his maternal grandfather. In the 1960s, the house fell into disrepair but was saved from demolition by local residents and turned into a nonprofit in 1971. It is now listed on the National Register of Historic Places. The ground floor space features exhibitions of 20th century through contemporary art. One gallery in the house is dedicated specifically to early Hopper work and memorabilia and rotating exhibits relating to Edward Hopper. Concerts, lectures, and special events take place throughout the year.
The museum is extending Hop Into Art workshops April 2 – April 6 from 1-3pm and will celebrate upcoming Earth Day by exploring the work of Sean Scully through recycled art materials.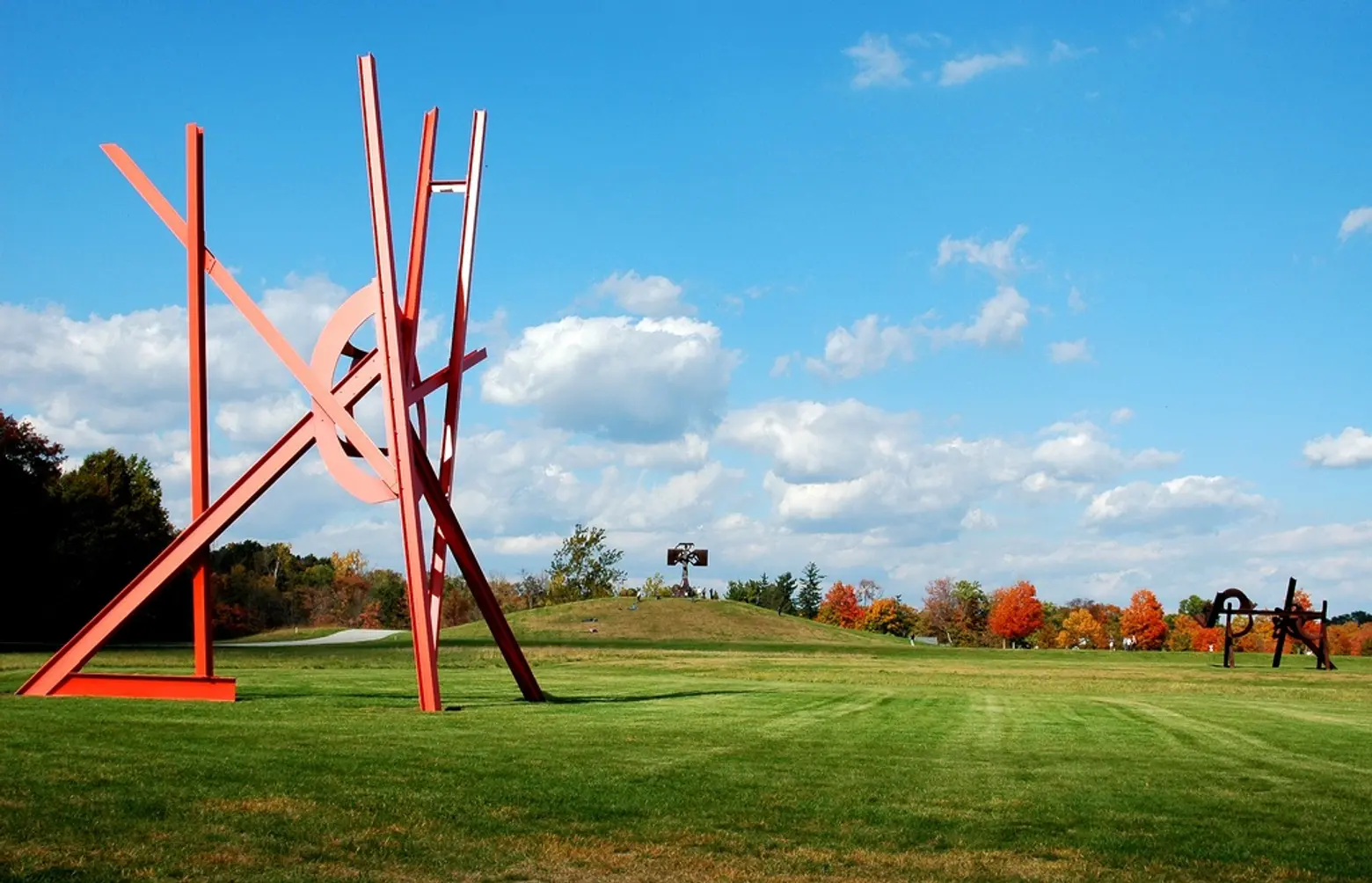 Via Melodie Mesiano/Flickr
Reopening for the season this Wednesday, April 4th, the stunning Storm King is a must visit sculpture park. Stroll Storm King's 500 acres of rolling hills, woodlands, and fields of native grasses and wildflowers and see a collection of more than 100 sited sculptures created by some of the most acclaimed artists of our time.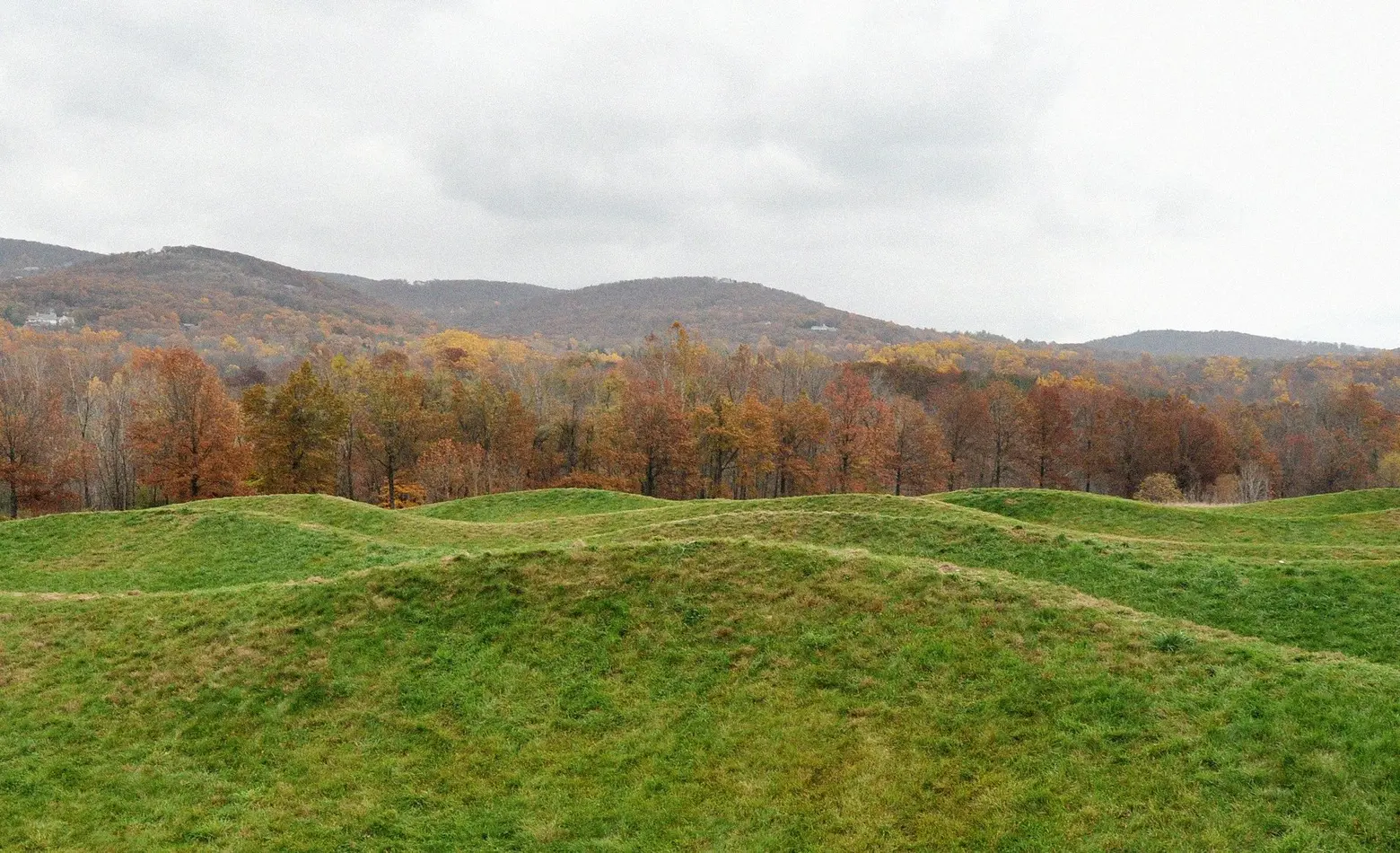 Wavefield via Kerry O'Connor/Flickr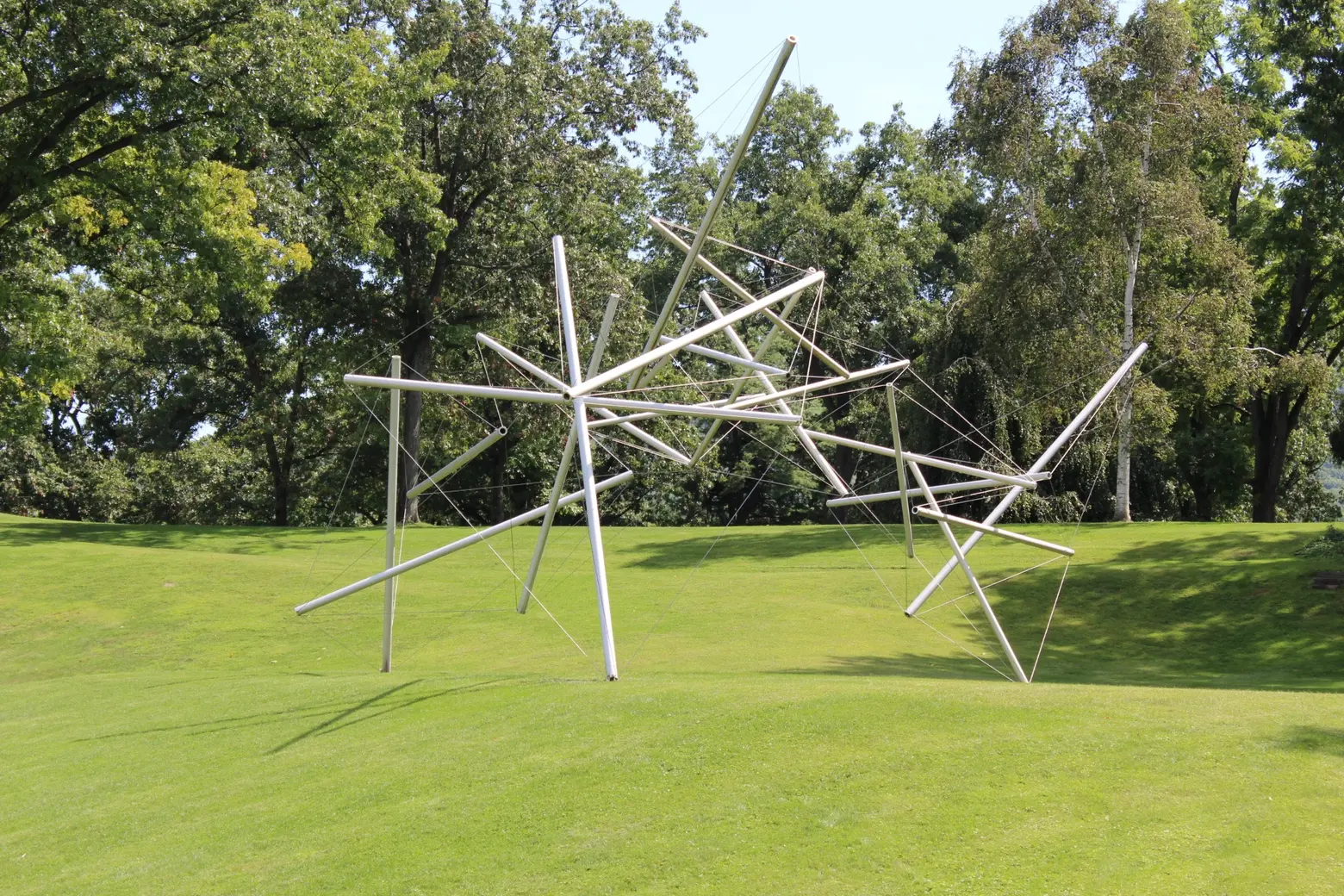 Free Ride Home via Shinya Suzuki/Flickr
Although too many magnificent works to mention, some of the most breathtaking are Andy Goldsworthy's serpentine "Stone Wall," Maya Lin's "Wavefield" and Kenneth Snelson's engineering marvel "Free Ride Home."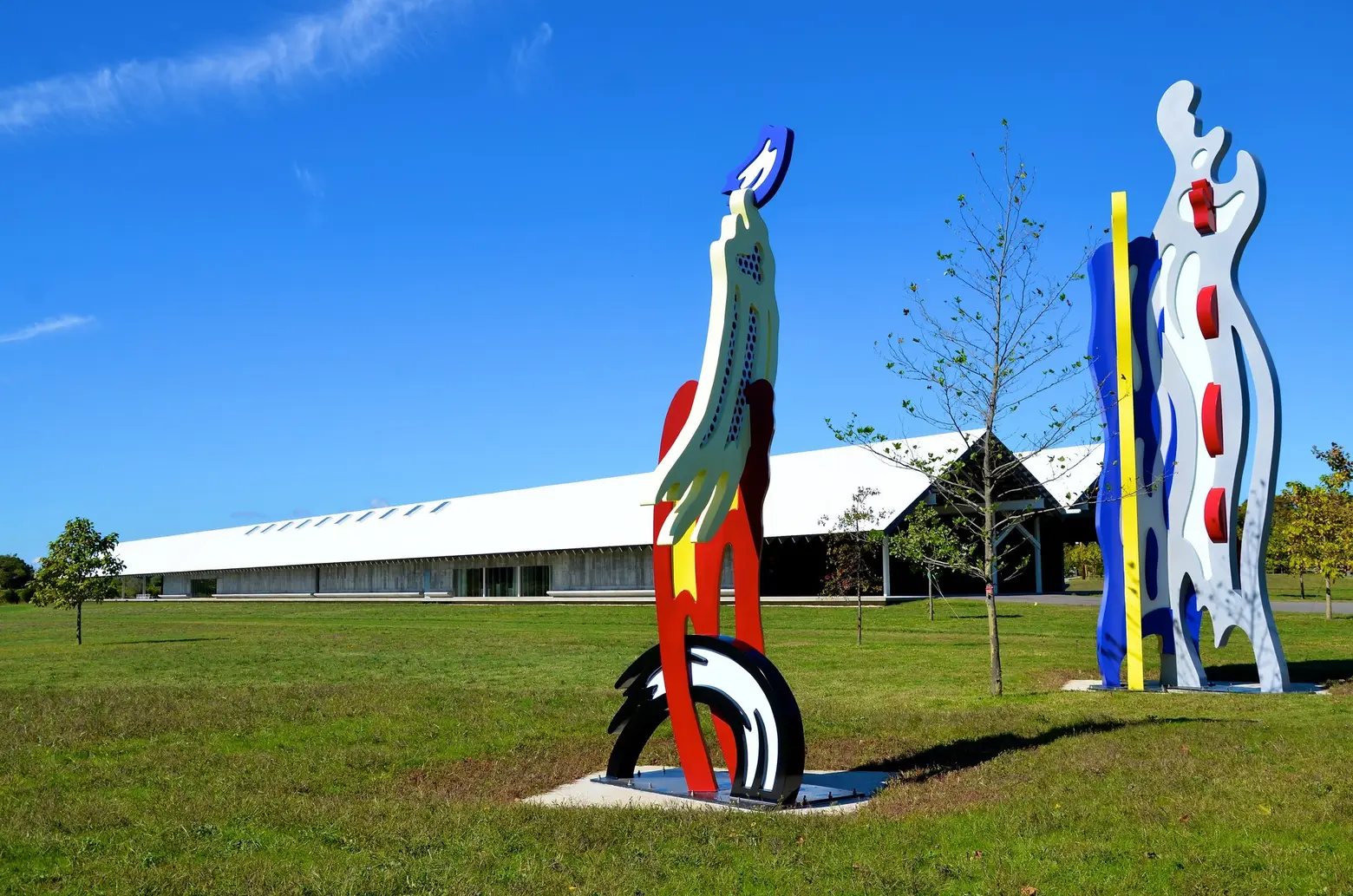 Via Joe Shlabotnik/Flickr
Located in Water Mill on Long Island's East End, the Parrish Art Museum "illuminates the creative process and how art and artists transform our experiences and understanding of the world and how we live in it." The building, designed by Herzog & de Meuron sits on a 14-acre site. The barn-like design inspired by a local artist studio  "respects and reflects the singular natural beauty and rich artistic legacy of Long Island's East End" and create a beautiful space to display art, both inside and out.
Last November marked the fifth anniversary of the Parrish in its current location. To celebrate the museum created an exhibit to highlight artists whose work represents the ongoing legacy of artists of the East End.
10. The School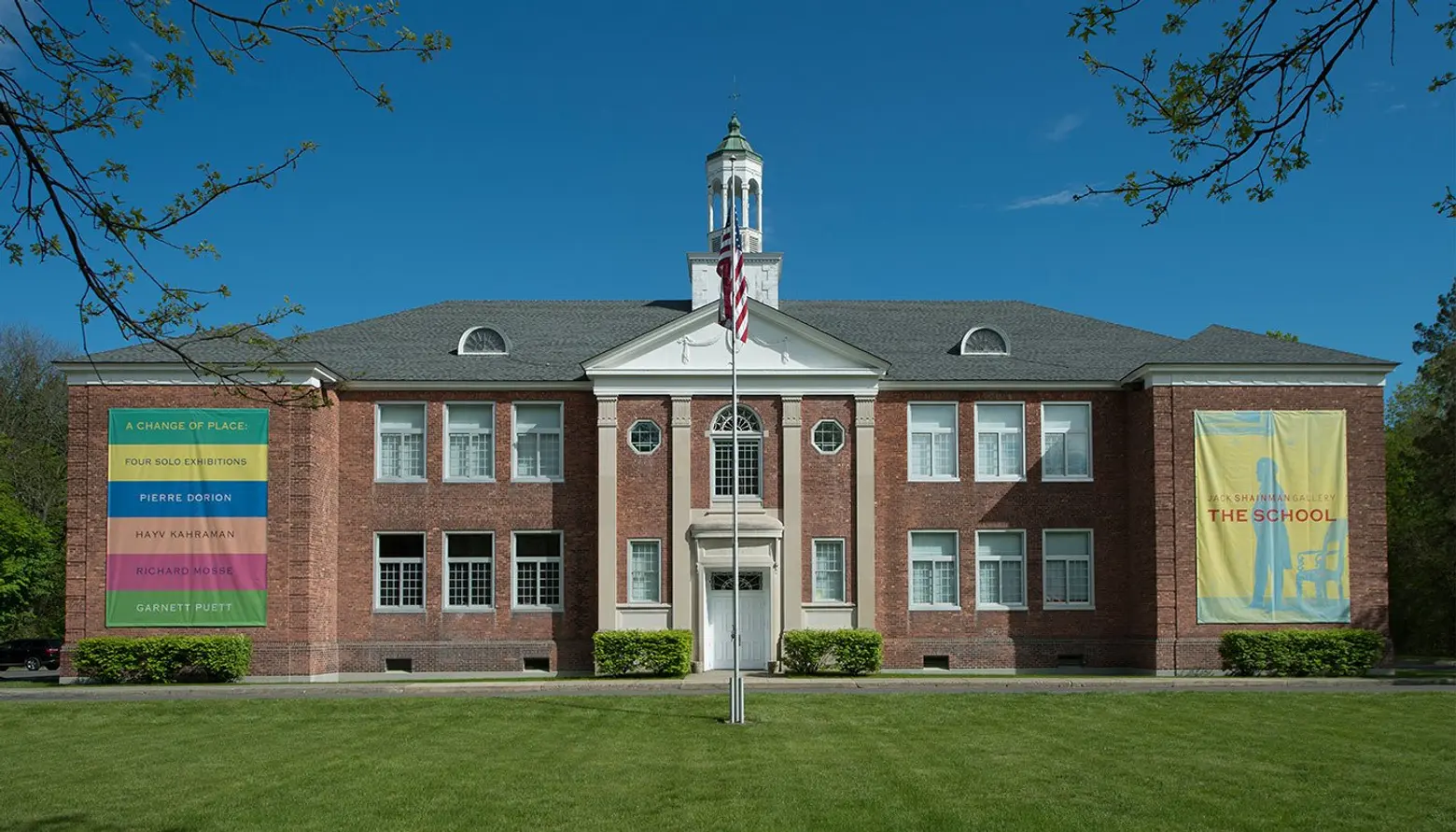 © The School/Jack Shainman Gallery
Jack Shainman is one of the top art dealers in the city, if not the world.  His original gallery was founded in 1984 in Washington, DC, by Shainman and Claude Simard. Soon after opening, the gallery relocated to New York City and in 2013, the gallery added two additional exhibition spaces, one in Chelsea at 524 West 24th Street, the other at "The School" in Kinderhook, New York.
"The School" was a vacant 30,000 square foot school building in Kinderhook that Shainman spotted while driving by. It is now an exhibition space compared to to the likes of MoMA PS1 with the goal "to exhibit, represent and champion artists from around the world, in particular artists from Africa, East Asia, and North America."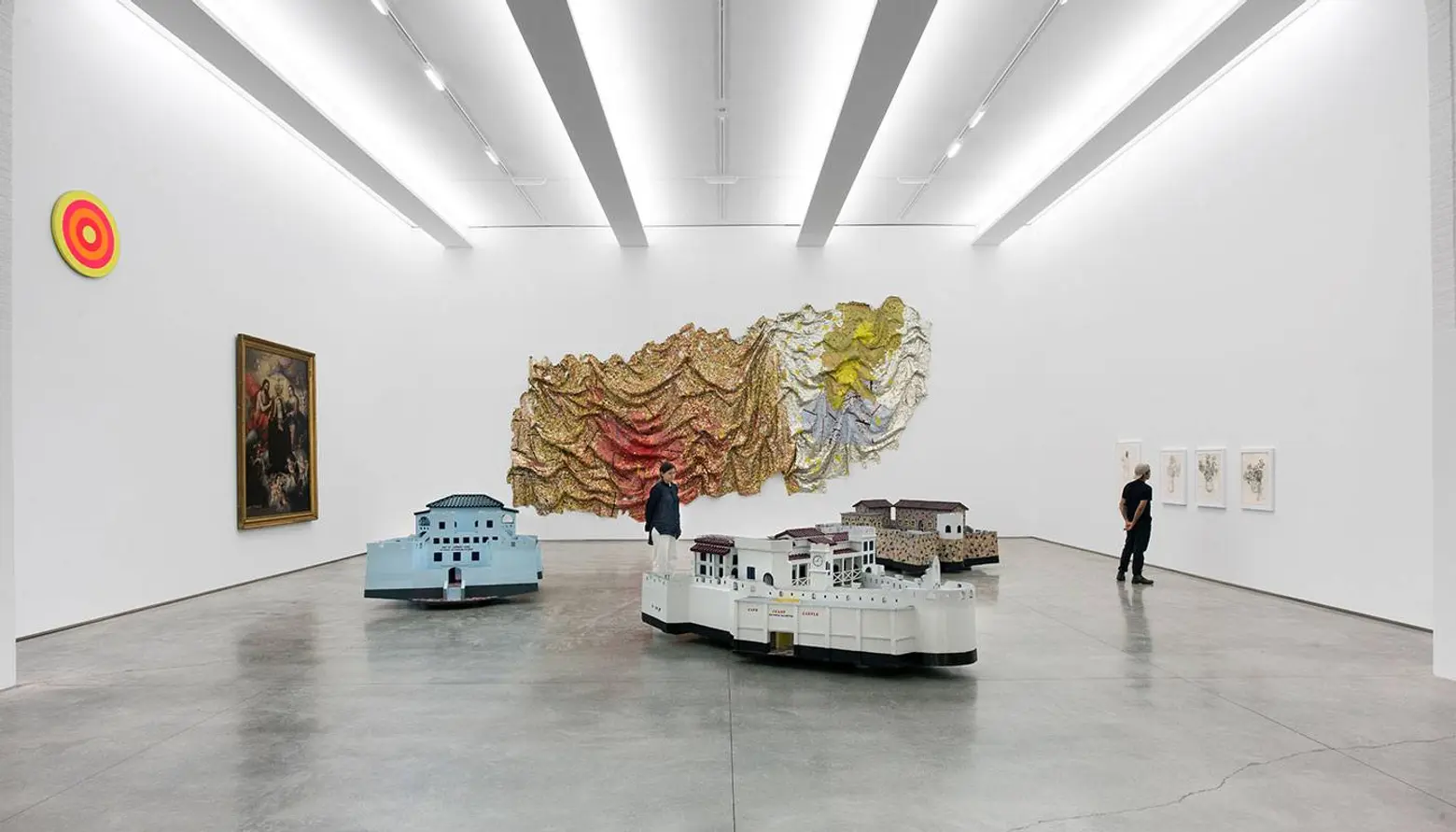 © The School/Jack Shainman Gallery
Currently on exhibit is The Coffins of Paa Joe and the Pursuit of Happiness. "This exhibition approaches the making and collecting of art as a means of transcendence. It operates as an inspired temporal and cultural journey, punctuated by two distinct thematic groups. The first is a collection of Gold Coast slave castles by the Ghanaian artist Paa Joe and the second is a private collection of historic oil paintings. Together these groups bookend a visual essay across disparate time periods and geographies that probe existential mysteries such as mortality, divinity, self, purpose, and the universal human quest to understand the world in which we live."
The School is open by appointment only during installation.
11. Art Omi
Via Robert Gray/Flickr
Located in Ghent, Art Omi is a nonprofit arts organization with residency programs for international artists, writers, translators, musicians, architects, and dancers. Art Omi's mission is, "artistic expression transcends economic, political, and cultural boundaries. To date, Omi has hosted more than 2,000 artists from over 100 countries."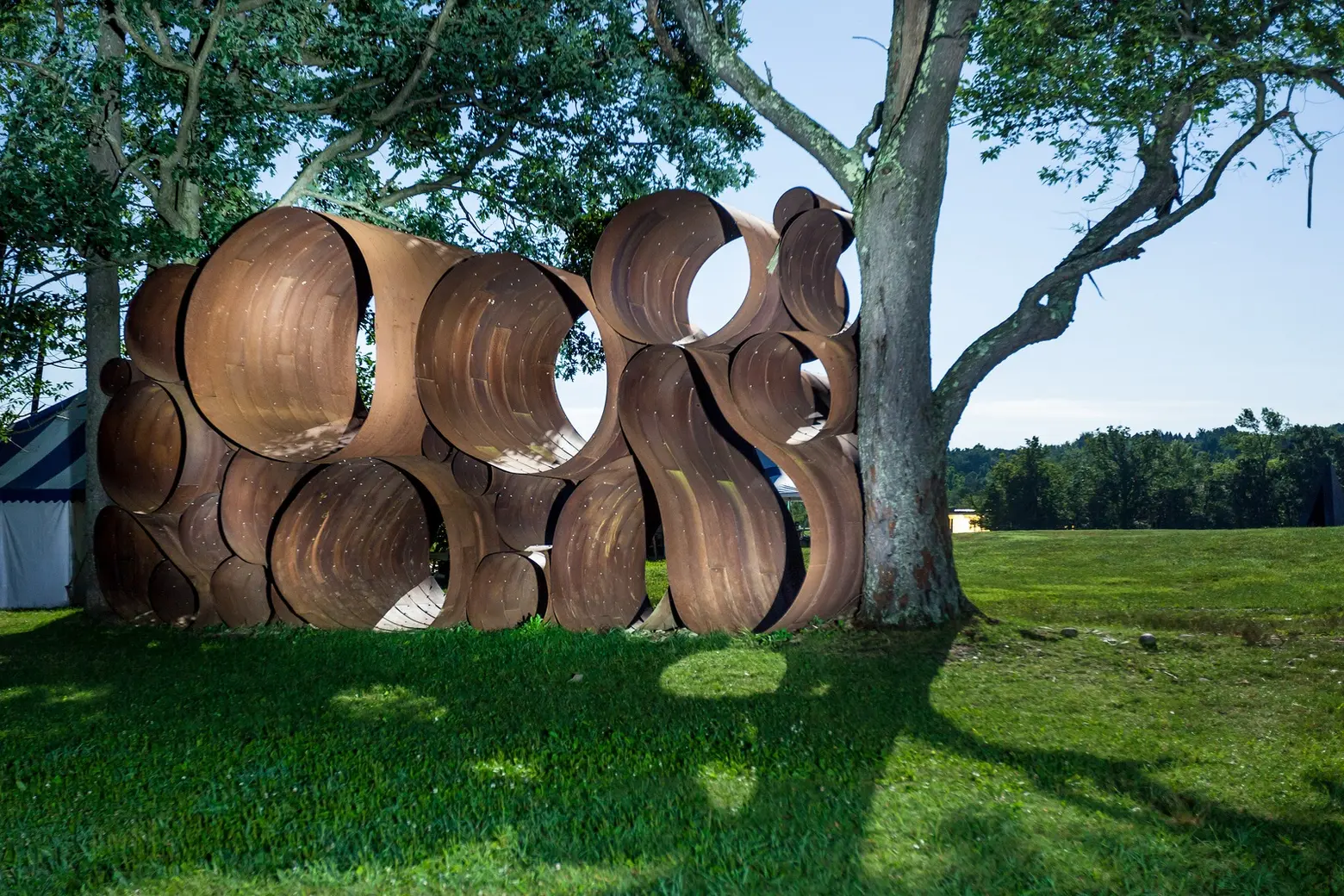 Dewitt Godfrey's "Picker Sculpture" via Sebastien Barre/Flickr
Art Omi offers indoor and outdoor exhibits. Currently, there is a temporary architecture exhibit called a "Primitive Hut." The installation challenges our notion of the permanence of architecture. The structure will decompose so the viewer can track the transformation "between states of solid, frame, and void, while, through its decomposition, it will assist the growth of trees, which will replace the physical geometric form with a comparable, but radically different and now living, form."
Another exhibit, closing May 13th, highlights two artists, Liliana Porter and Ana Tiscornia, in solo yet side-by-side exhibits. The two live together and share a studio space and these unique exhibits tell the story of their two intersecting worlds.
New Jersey
Via Wiki Commons
The Princeton University Art Museum's mission is to "educate, challenge, and inspire the students of Princeton University and members of a diverse local, national, and international public through exposure to the world of art." It's free and open to the public.
On Thursday, April 5th at 5:30pm, Jhumpa Lahiri, Princeton professor of Creative Writing and winner of the Pulitzer Prize for her story collection Interpreter of Maladies, will give a talk on migration and translation in her own writing, as well as in the prints and drawings of Leonora Carrington.
Opening in May, Frank Stella's "Unbound: Literature and Printmaking" highlights a four-print series that were each named after a literary work that had a distinctive narrative structure: the Passover song Had Gadya, a compilation of Italian folktales, Moby-Dick and the illustrated encyclopedia Dictionary of Imaginary Places. "Through these four bodies of work, Stella evolved printmaking projects of unprecedented scale and complexity that both transformed the artist's visual language—as well as his working process in all media—and represent a technical and expressive milestone in printmaking."
Via Simon/Flickr
Located on a former state fairground in Hamilton, the Ground for Sculpture is a 42-acre sculpture park, museum, and arboretum. The park was founded in 1984 by sculptor Seward Johnson, who wanted to create a contemporary sculpture accessible to people from all backgrounds and give them the opportunity to become comfortable with contemporary art.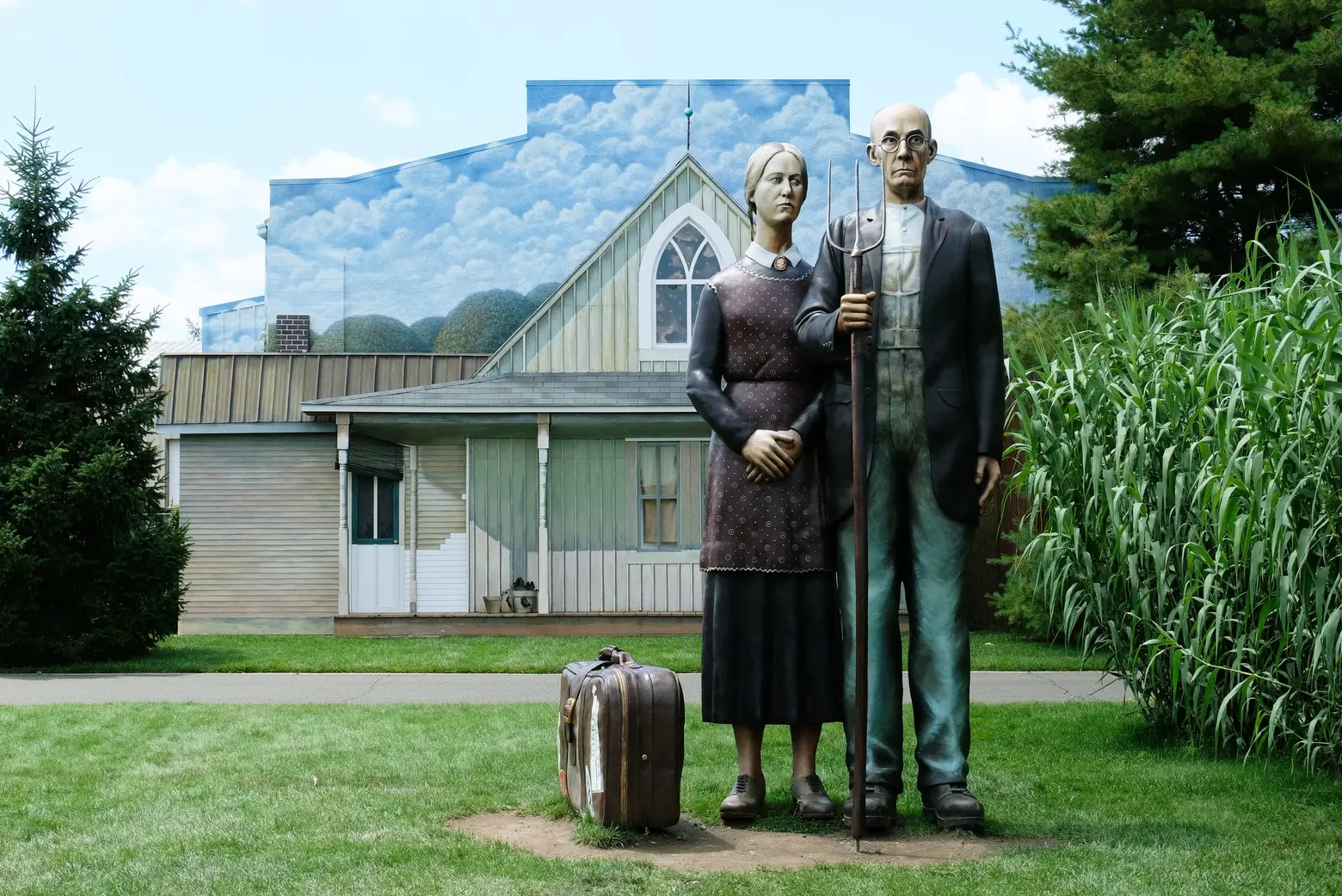 An interpretation of "American Gothic" by Seward Johnson. Via Simon/Flickr.
In addition to Johnson's own work, there are hundreds of artists' works on view as well as temporary exhibits, classes, and tours. Also, there are three restaurants on the grounds (one with the not-so-enticing name of "Rat's") where you can dine in or buy a picnic basket. And there are endless choices of perfect picnic spots.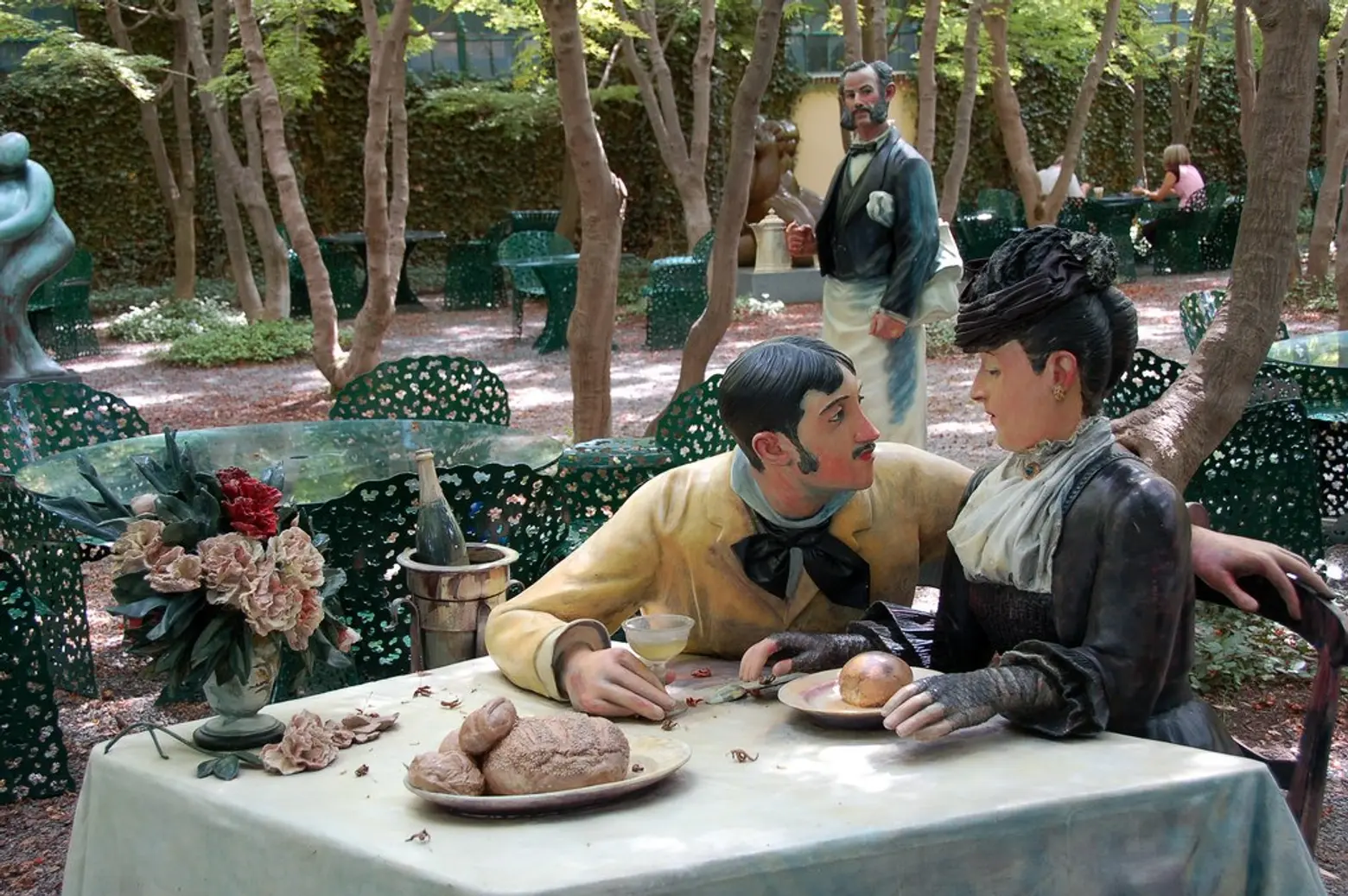 Sculptures on the grounds by Seward Johnson, via Simon/Flickr
The current exhibit focuses on "the Johnson family's passions, their belief in the spirit of innovation and the power of community, and how the founder's vision for the Seward Johnson Atelier shaped Grounds For Sculpture's early years.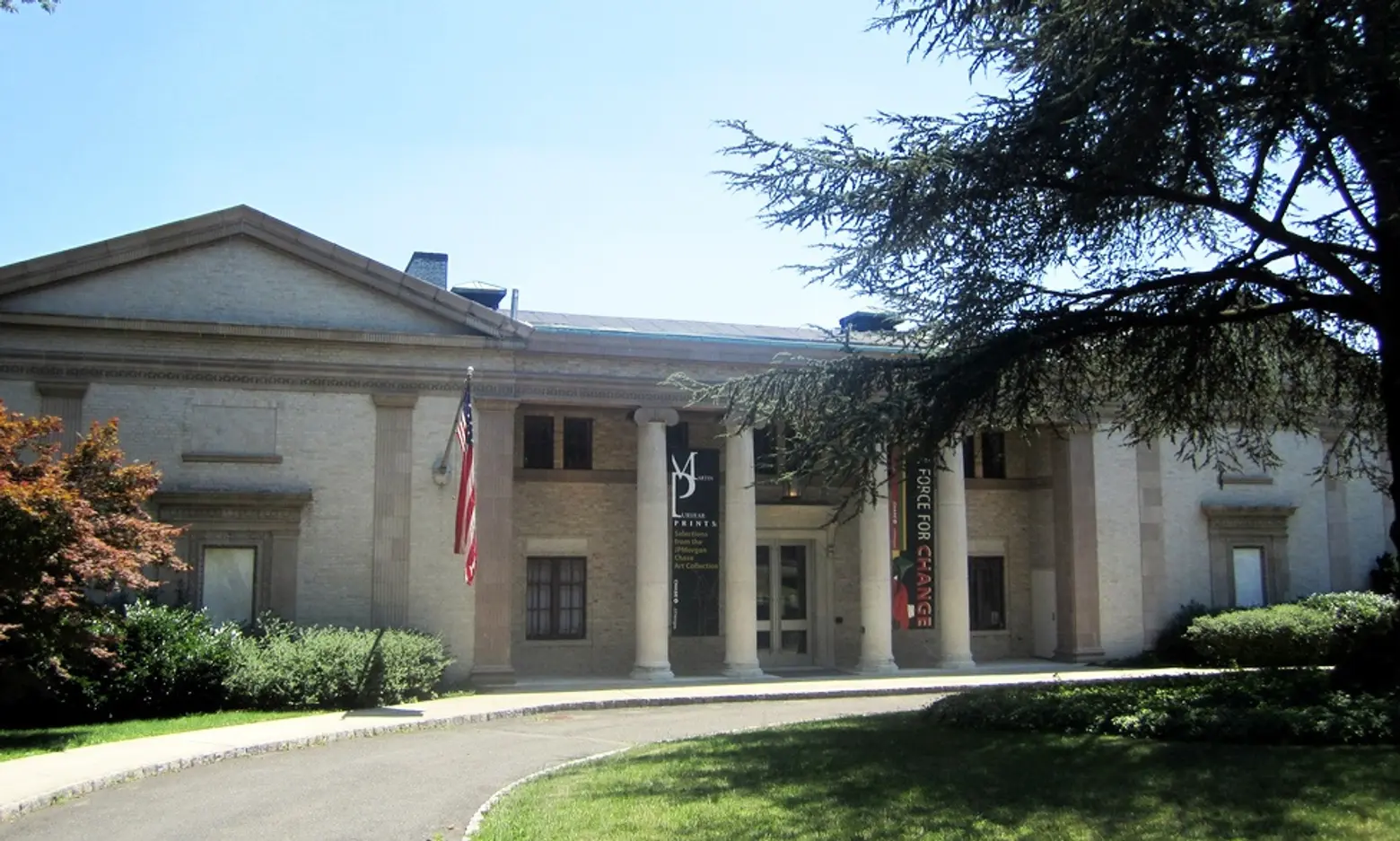 Via Wally Gobetz/Flickr
The Mission of the Montclair Art Museum is "to inspire and engage people of all ages in their experience with art, including the rich inter-cultural and global connections throughout American history, and the continuing relevance of art to contemporary life."
Photo of the Kay WalkingStick exhibit via Montclair Art Museum/Flickr
"Kay WalkingStick: An American Artist" is on exhibit at as the final stop of the national tour. This is the first major retrospective of the artistic career of WalkingStick, a citizen of the Cherokee Nation and one of the world's most celebrated artists of Native American ancestry.
Also on exhibit is contemporary artist and Montclair resident Philemona Williamson. Williamson's dynamic paintings "feature adolescents engaged in evocative poses and actions fraught with mystery and universal significance. They suggest various transitions and stages of life from childhood to adulthood. Of indeterminate age, gender, and ethnicity, the figures often seem caught in awkward, enigmatic moments which seduce the beholder into a labyrinth of open-ended questions. Poetically titled, these works invite the viewers to use their imaginations to try to decipher their complex narratives."
Farther afield
15. Mass MoCA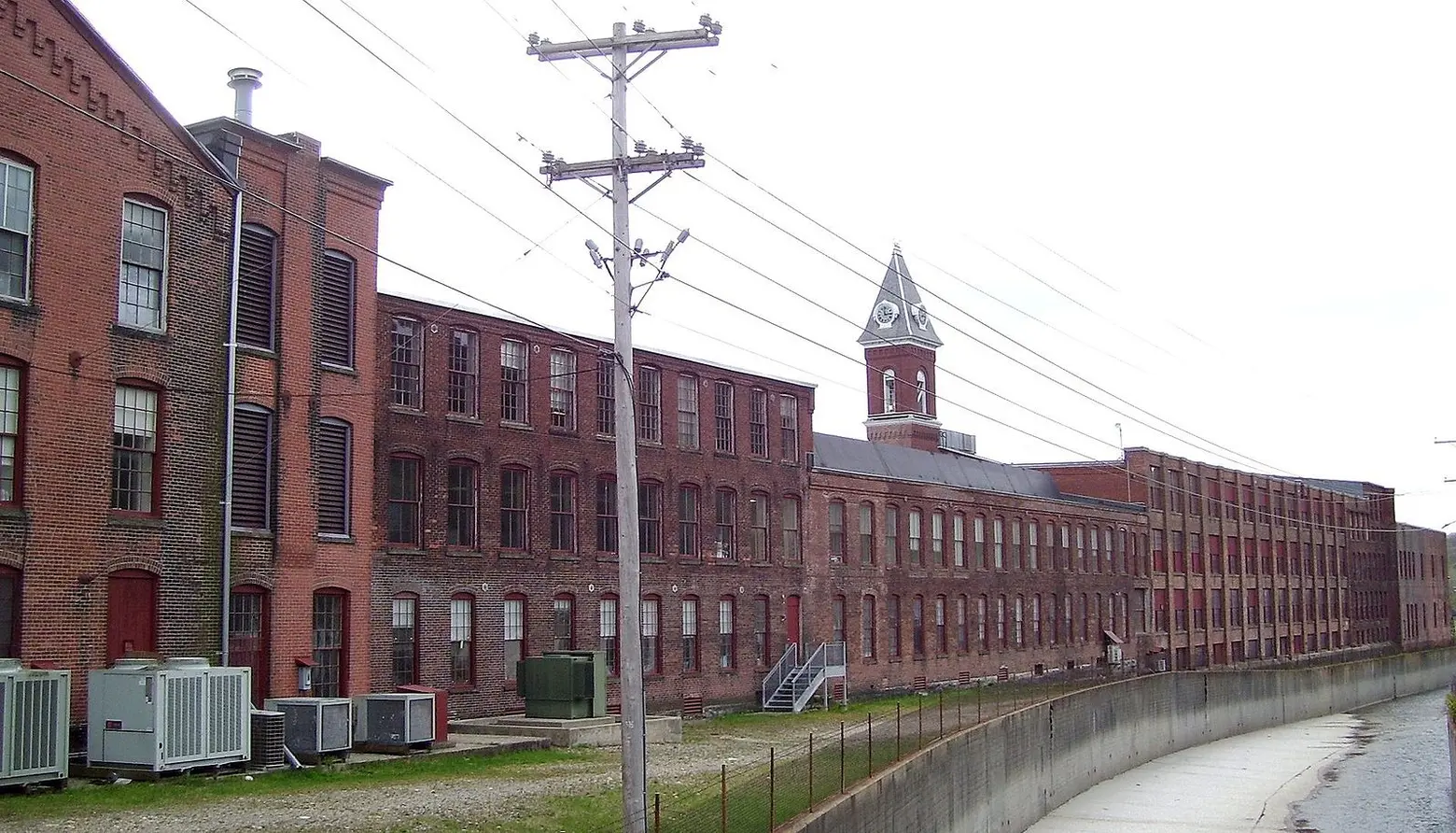 The Mass MoCA building via Wiki Commons
Despite being a bit far from New York City, Mass MoCA cannot be overlooked. Located in North Adams, Massachusetts, Mass MoCA thrives "on helping artists make work that is fresh, forward-looking, and engaging of the mind, body, and spirit…but we also believe that both our guest artists and audiences should enjoy their time with us." It's located in the uber-industrial former Arnold Print Works building right on the Hoosic River.
Additionally, they note their "campus features free parking, affordably priced cafés, a full-service restaurant, delicious ice cream, great coffee, and an innovative microbrewery that spotlights locally malted grains and hops grown in our own Berkshire valley."
Sol Lewitt's "Whirls and Twirls" via C-Monster/Flickr
In May of last year, MASS MoCA opened its newly renovated and restored B6: The Robert W. Wilson Building, adding 105,000 square feet of space, nearly doubling the institution's current gallery footprint and adding new art fabrication workshops, performing artists' support facilities, and music festival amenities.
Current exhibits include Jenny Holzer, Laurie Anderson, the Half-Life of Love exhibit and so much more. On August 3rd at 7pm, Mass MOCA will host '70s rocker Debbie Harry "Blondie" with Northampton-natives "And The Kids" for a night "channeling existential crises into pop euphoria."
RELATED: