Top 10 architecture day trips just outside NYC for Modernism lovers
Summer is the perfect time to get out of town and explore what's beyond the borders of the city. While there is certainly no shortage of nature escapes and historic hideouts nearby, just outside of Manhattan in about every direction are also numerous modernist treasures to admire. Ahead is 6sqft's round-up of the 10 best destinations for architecture enthusiasts with a penchant for modern design.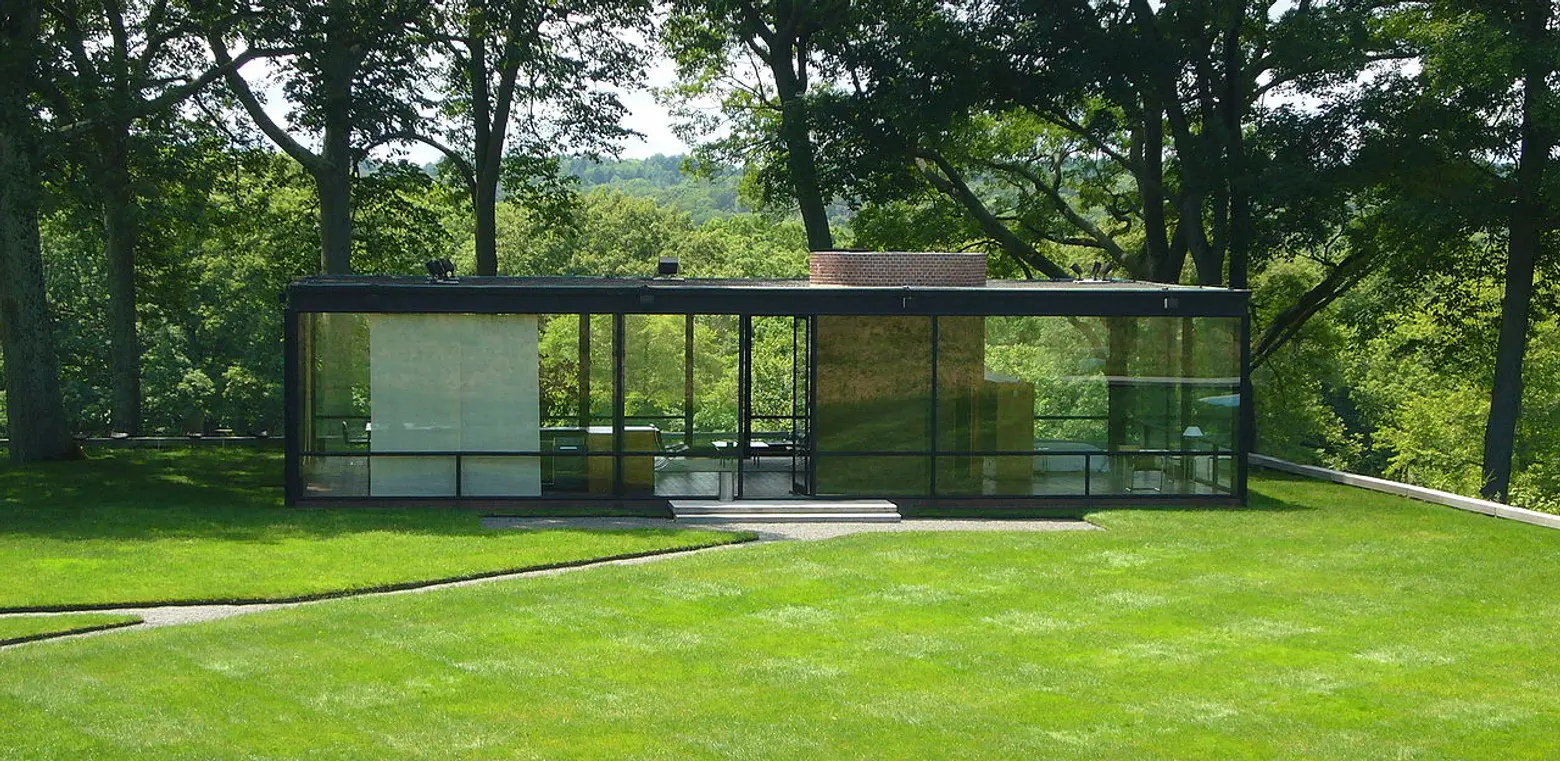 Image via The Glass House
The Glass House ↑
199 Elm St, New Canaan, CT 06840
Travel Time: 1 hour 15 minutes from Penn Station 
This Phillip Johnson-designed masterpiece has been written about in hundreds if not thousands of art and design books worldwide, and lucky for us, it's just a short train ride from the city. Tour the grounds which cover a pastoral 49 acres highlighted by 14 structures, including the iconic Glass House. Just be sure to book tickets in advance as they often sell out quickly.
Grace Farms, ↑
365 Lukes Wood Rd, New Canaan, CT 06840
Travel Time: 1 hour 15 minutes from Penn Station. Tack it onto a trip to the Glass House to maximize your efforts.
Just five miles north of the Glass House is Grace Farms, an 80-acre expanse that's been dedicated to the community by the Grace Farms Foundation. The former equestrian farm boasts open meadows, woods, wetlands, and ponds for the public to enjoy, and most notably a SANAA-designed pavilion and complex that winds through the idyllic landscape like a river. According to the Grace Farms site, this refuge is a place "to experience nature, encounter the arts, pursue justice, foster community, and explore faith." And it's completely free to enter.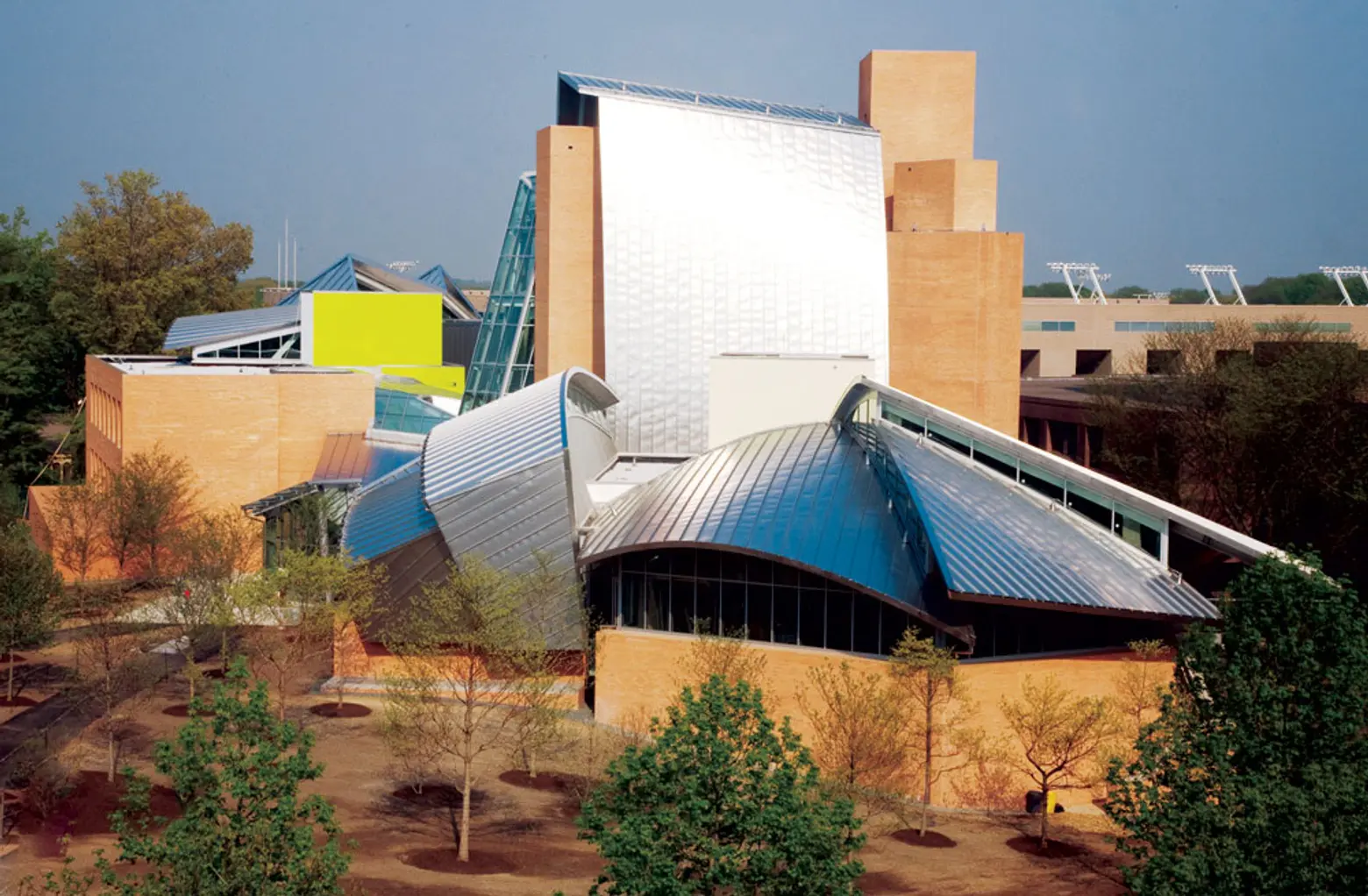 Image via Princeton University
Princeton University ↑
Princeton, NJ 08544
Travel Time: 1 hour 40 minutes from Penn Station
Princeton is one of the nation's oldest universities, and its campus architecture beautifully reflects its historic significance. In addition to buildings that span styles ranging from colonial, Collegiate Gothic, Italianate, and Romanesque, Princeton also boasts a number of modern works by the likes of Frank Gehry, I.M. Pei, Cesar Pelli & Associates, Rafael Viñoly, Stephen Holl, TEN Architectos, and numerous others.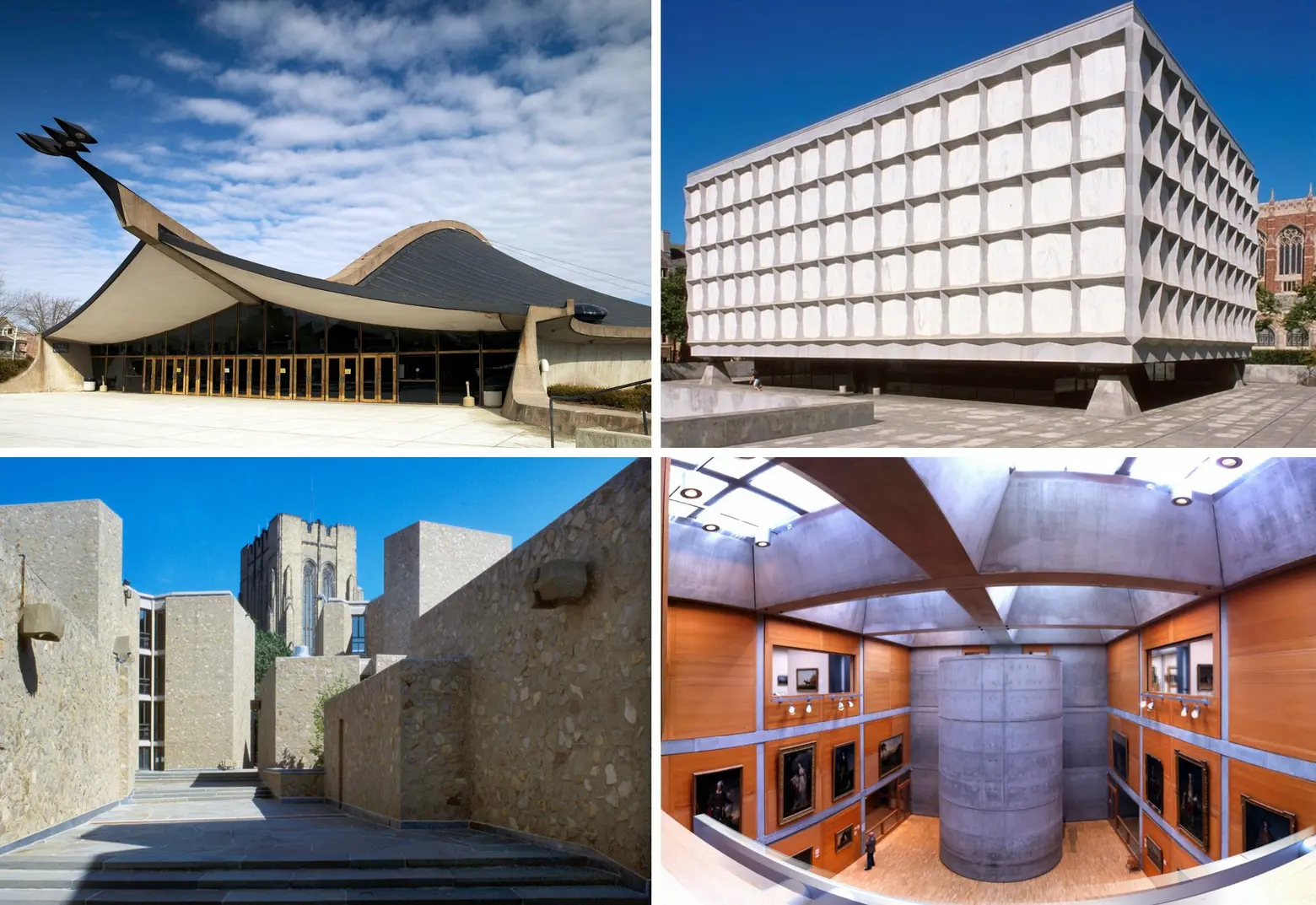 Images via Yale Architecture
Yale University ↑
180 York St, New Haven, CT 06511
Travel Time: 2 hours 20 minutes from Grand Central
Like its above-mentioned ivy league rival, Yale boasts a world-class architecture program and a campus to match. The grounds are often described as an "outdoor museum of architecture," and as such, you'll find a healthy dose of gothic planted alongside plentiful modern works. Spend the day taking in unique structures like an Eero Saarinen-designed ice rink, a psychiatric center by Frank Gehry, a brutalist beauty from Gwathmey Siegel, and an unexpected concrete and wood art gallery from Louis Kahn—just to name a few. The campus is open year round, but keep in mind that some buildings can only be accessed by students and staff.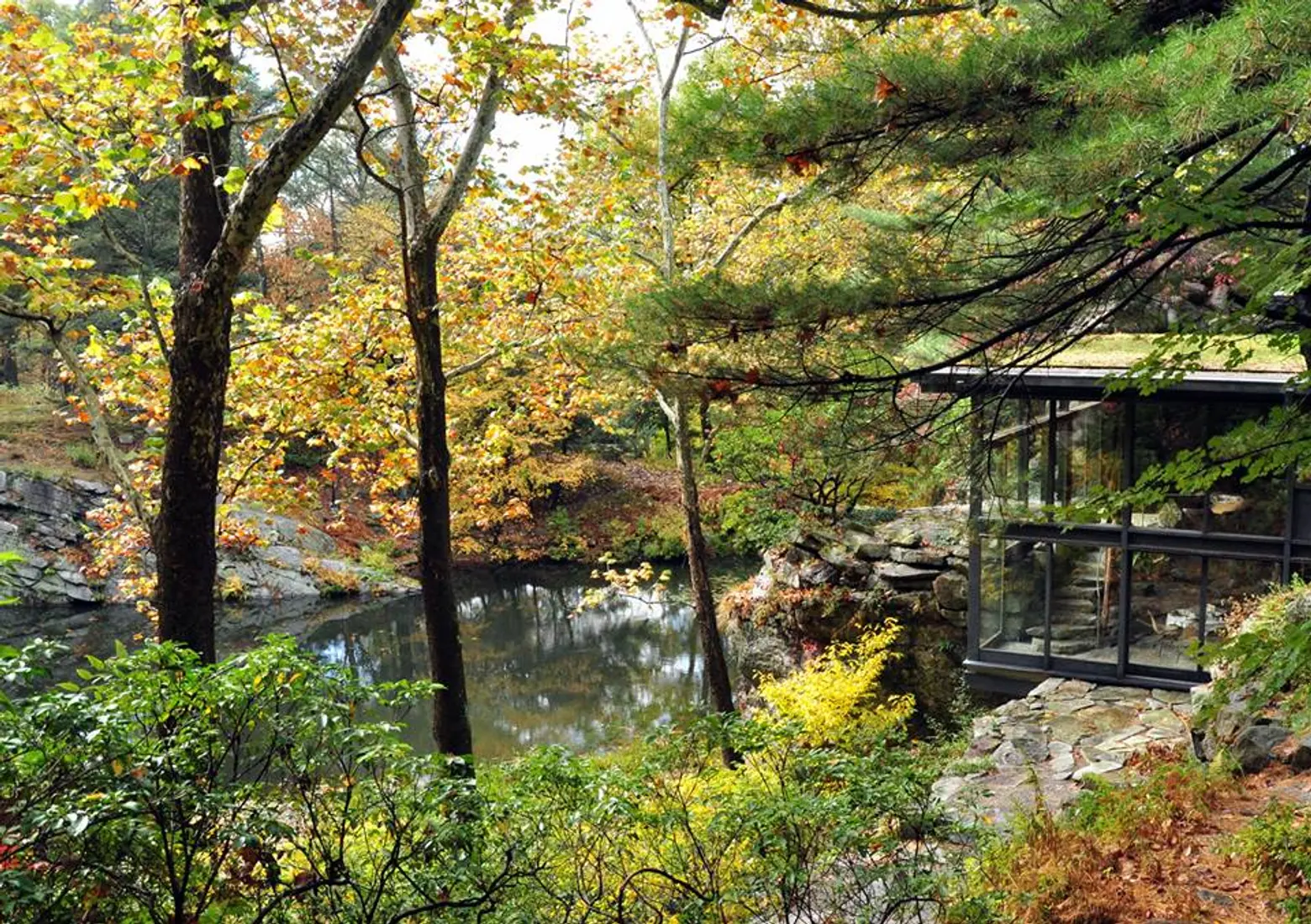 Photo courtesy of Manitoga/The Russel Wright Design Center, Facebook
Manitoga / The Russel Wright Design Center ↑
584 NY-9D, Garrison, NY 10524
Travel Time: 1.5 hours by car
Russell Wright was a pioneer for modern living, best known for designing housewares and a dinnerware collection that found its way into hundreds of millions of American homes. Lesser known, however, is that beyond industrial design, Wright also excelled in architecture. Just an hour-and-half drive outside of the city, Wright constructed one of the finest examples of organic mid-century architecture. Today the residence is one of the few 20th-century modern homes open to the public in New York State. Keepers of the National Landmark host tours, hikes, performances, and an artists' residency. (More on the home's history can be read here.)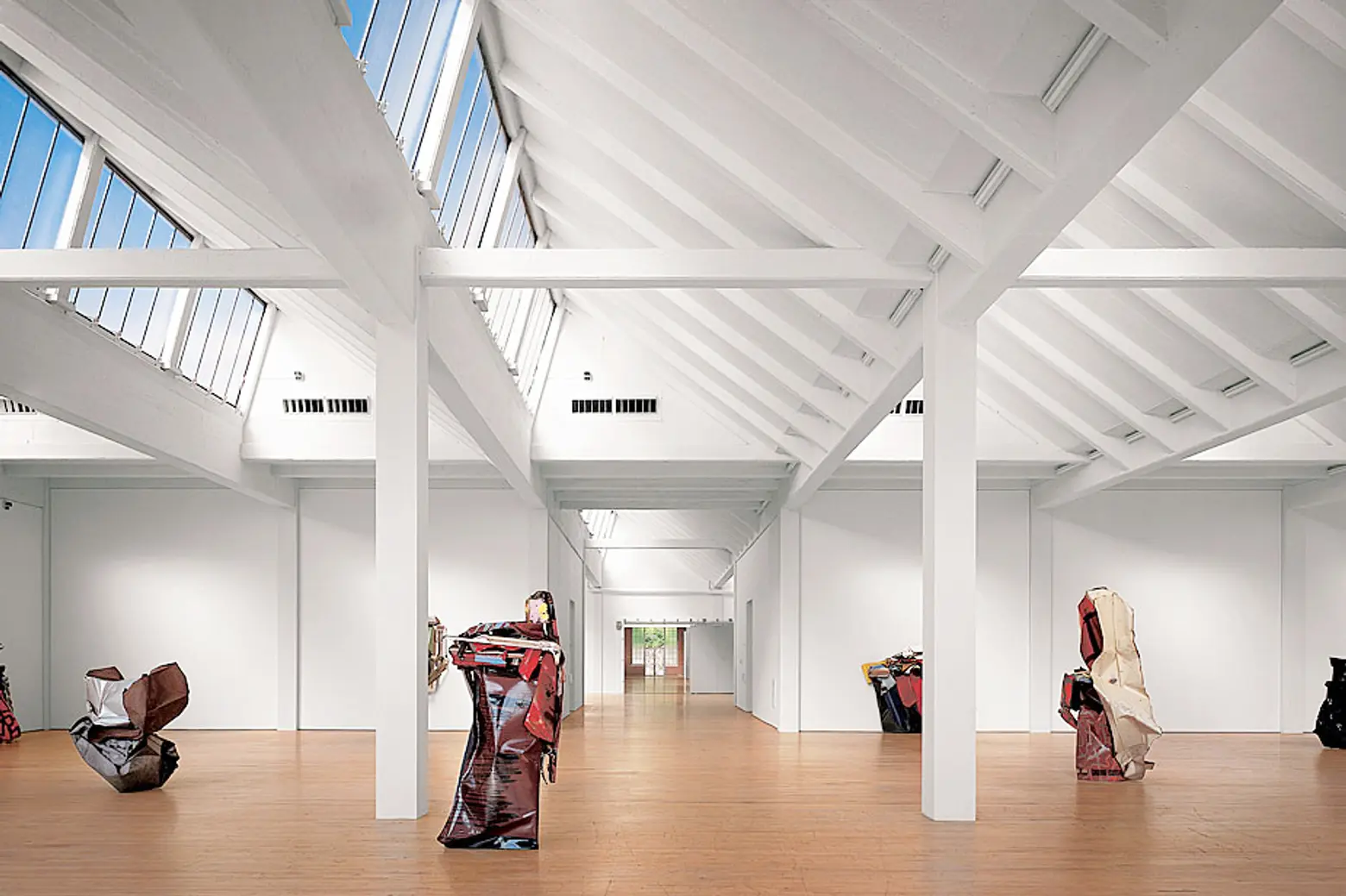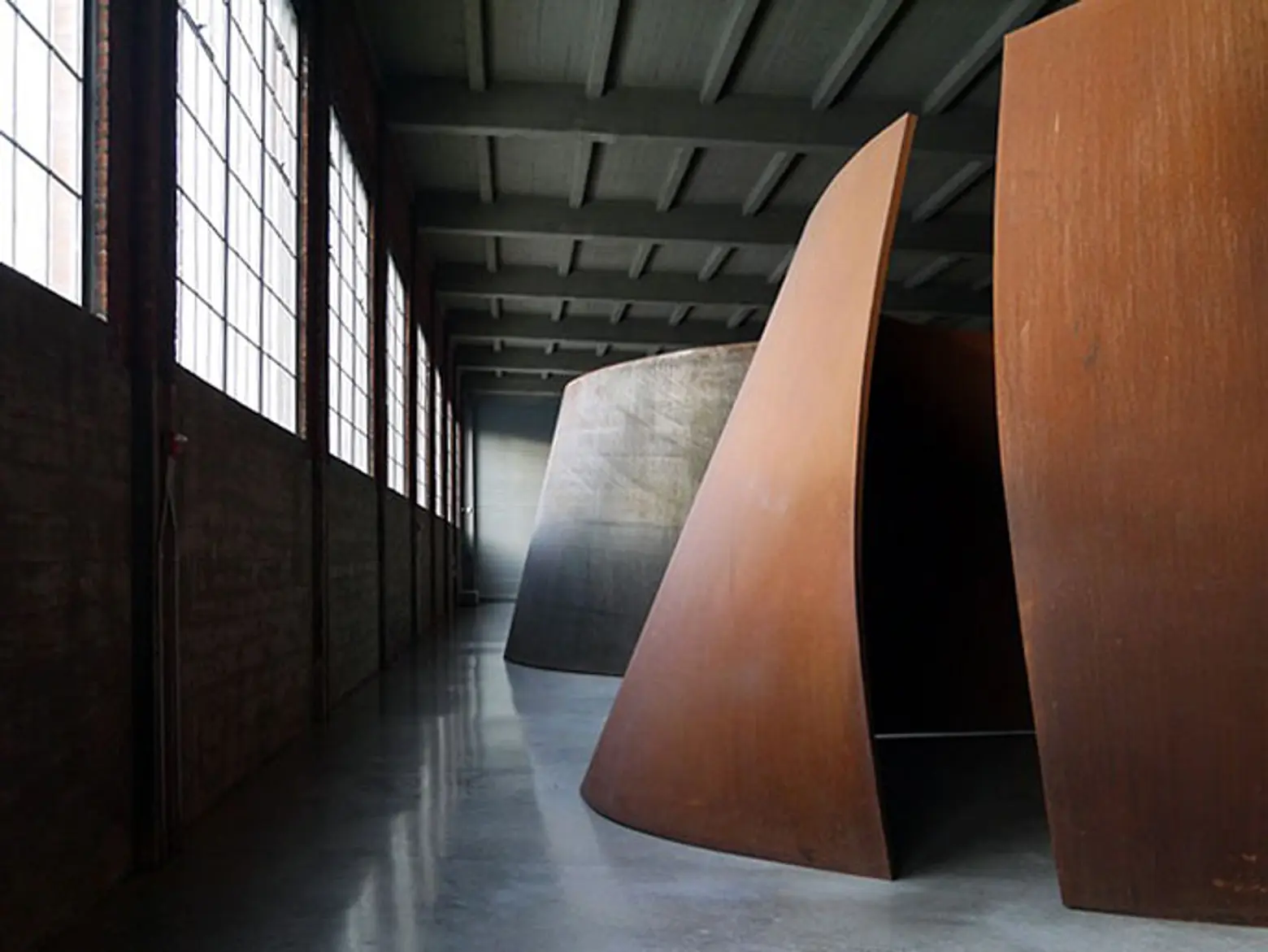 Images courtesy of Rice+Lipka Architects (top) Wiki Commons (bottom)
Dia Beacon, Beacon, NY ↑
3 Beekman St, Beacon, NY 12508
Travel Time: 1.5 hours from Grand Central
This former Nabisco box factory received a major renovation nearly 20 years ago that turned it into one of the most impressive gallery spaces showcasing larger than life art. Alongside a permanent collection that includes engulfing steel structures by metal master Richard Serra, Dia Beacon also hosts temporary exhibits, talks, dance events, and an arts education program. A well-sited location along the Hudson also offers dramatic river views.
*Side trip: Storm King also provides a wonderful complement to Dia Beacon as an outdoor sculpture park featuring many of the same artists. Cross the Hudson and head south 30 minutes by car to reach it.
Image courtesy of Herzog & de Meuron; Photo by Matthu Placek
Parrish Art Museum ↑
279 Montauk Hwy, Water Mill, NY 11976
Travel Time: 2 hours by car
The Parrish Art Museum is a stunning design by starchitects Herzog & de Meuron that forgoes the use of glass and expressive forms for a reserved design that minds the landscape and local aesthetic of the hamlet of Water Mill. Settled atop 14 acres, the building employs two very long and thin parallel wings connected at the center and topped with two pitched corrugated metal roofs. Inside you will find over 34,500 square feet of gallery space showcasing art by Long Island artists including Jackson Pollock and Lee Krasner.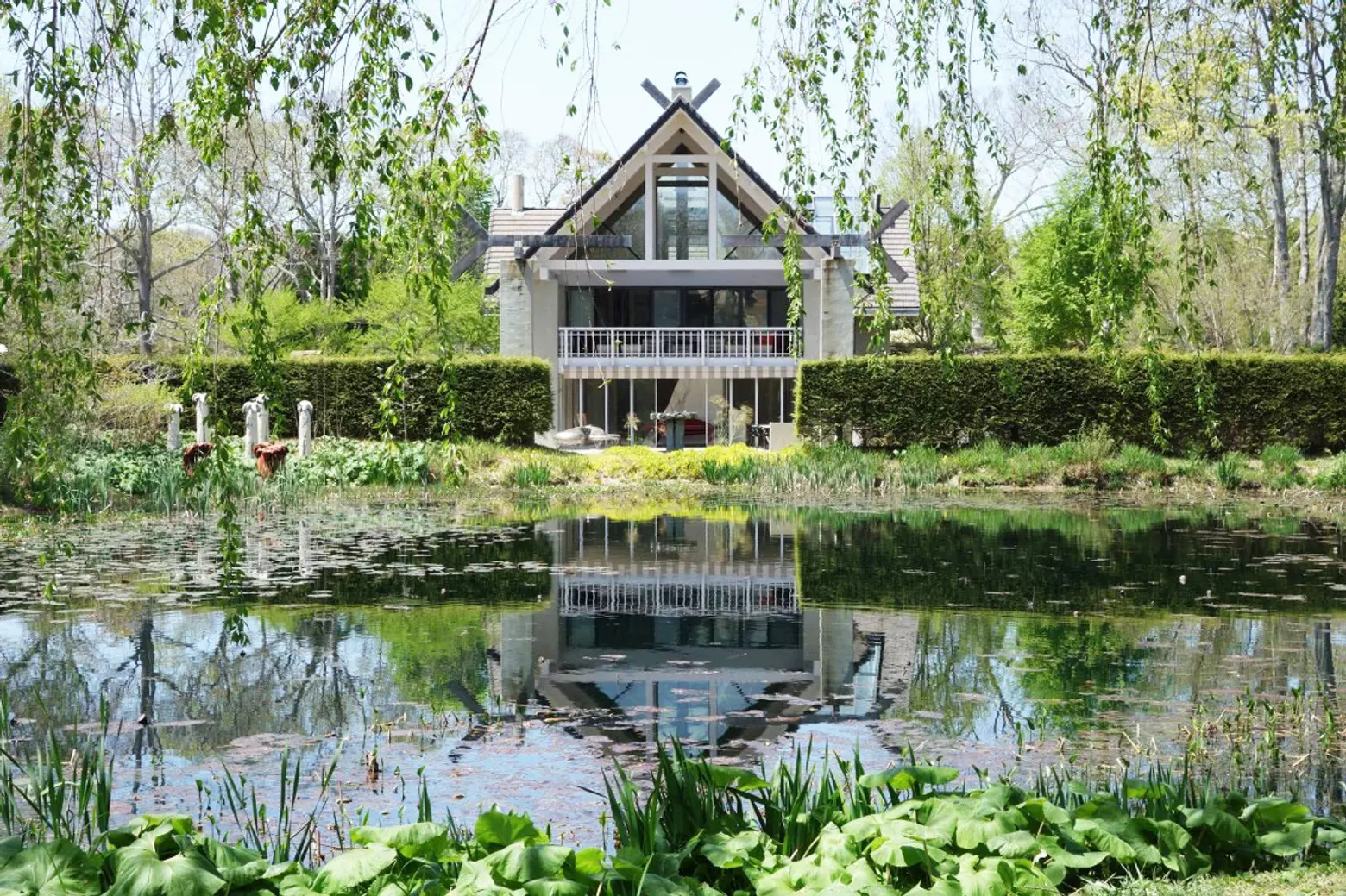 Image via LongHouse Reserve Facebook
LongHouse Reserve ↑
133 Hands Creek Rd, East Hampton, NY 11937
Travel Time: 2.5 hours from Penn Station via LIRR
Constructed "as a case study to exemplify a creative approach to contemporary life," the LongHouse reserve is a unique home located on 16 acres in East Hampton. The home was built by textile designer Jack Larsen alongside architect Charles Forberg and takes a cue from the famous Japanese shrine at Ise. The influence can be seen in the building's thatched roof and use of sliding partitions to define spaces. The house maintains 13,000 square feet across four levels, as well as an incredible 16-acre garden highlighted by works from notables such as Willem de Kooning, Buckminster Fuller, Yoko Ono, and Lynda Benglis.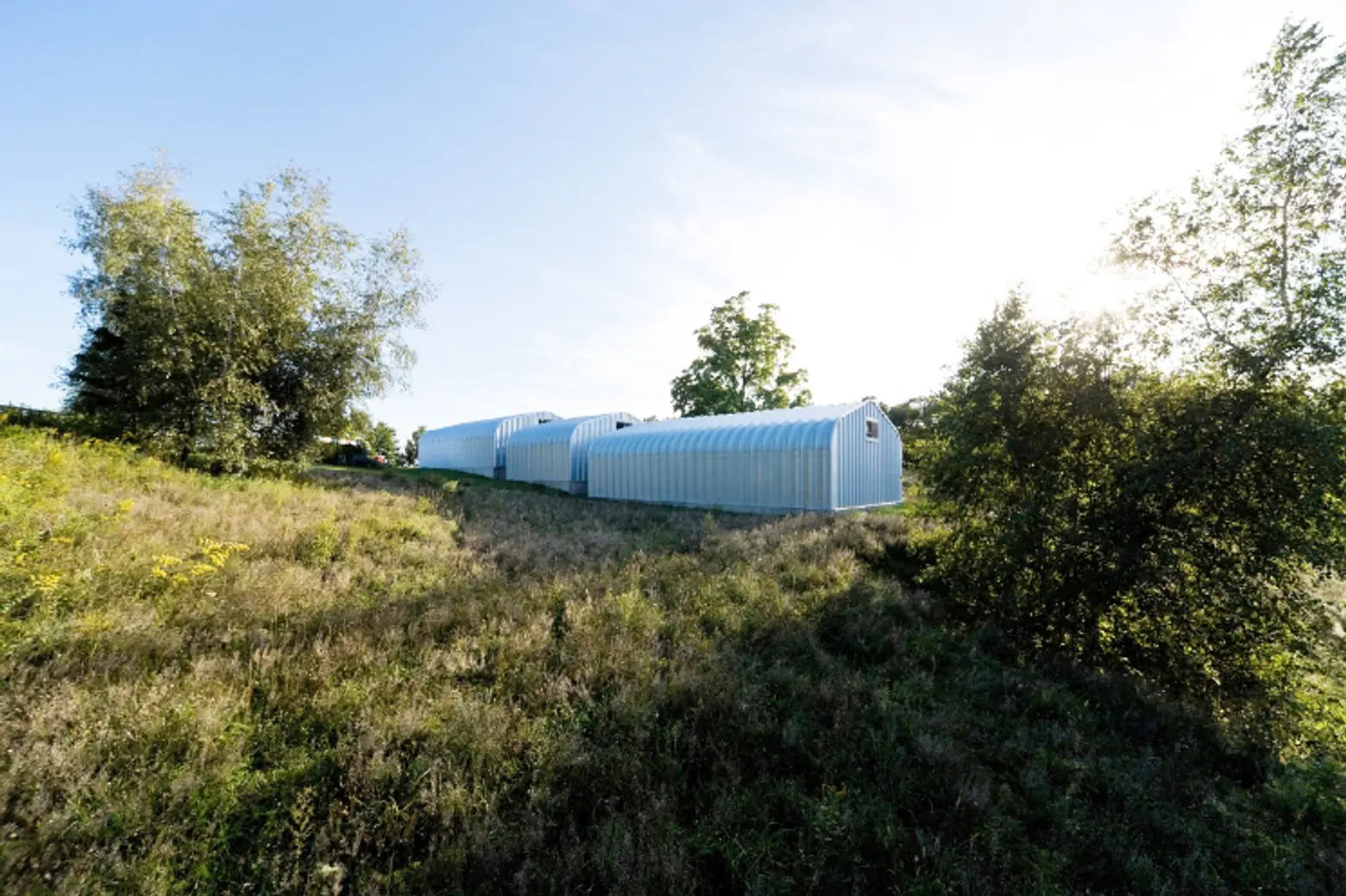 Images courtesy of Chambers Fine Art New York by Iwan Baan
ArtFarm, Salt Point, Hudson Valley, NY ↑
Travel Time: 1 hour 45 minutes by car
ArtFarm is one the few architectural works by famed artist Ai Weiwei that can be found in the U.S. The structure itself is an innocuous pre-engineered agricultural structure common to the area, but inside you will find an incredible space highlighted by sleek gallery walls, lots of light, and a pillowy roof of insulation. Access to ArtFarm is by appointment only, but once in a while, the Chambers Fine Art New York (who commissioned the structure as an annex for its archives and owner Christophe Mao's private collection) will open the space up for special exhibits.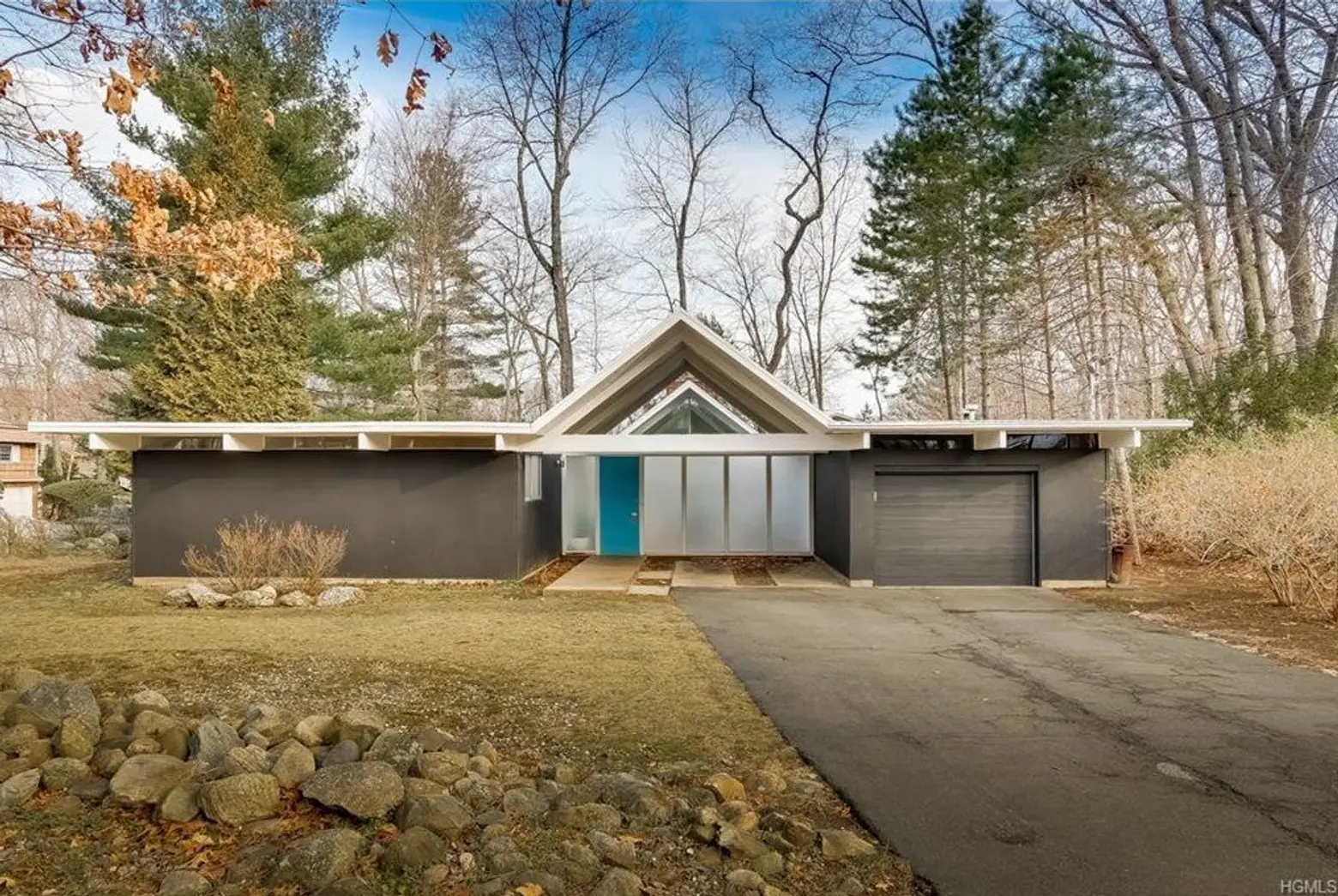 Images courtesy of Coldwell Banker
The Lost Eichlers ↑
Rockland County, NY
Travel Time: 45 minutes by car
Noted mid-century architect Joseph Eichler made a name for himself on the West Coast, but unbeknownst to many, Eichler hoped to bring his "California modern" sensibilities to the East Coast (more on that here). Known as the "lost Eichlers," there are three custom-built Eichler houses, including one double A-frame, in the Rockland County, NY community of Chestnut Ridge. Though these are privately owned homes, in 2016, one of the gems hit the market for $490K. While you might not be in the market for a new house, this rare event does offer up an opportunity to get inside—just keep an eye out for the home's next open house.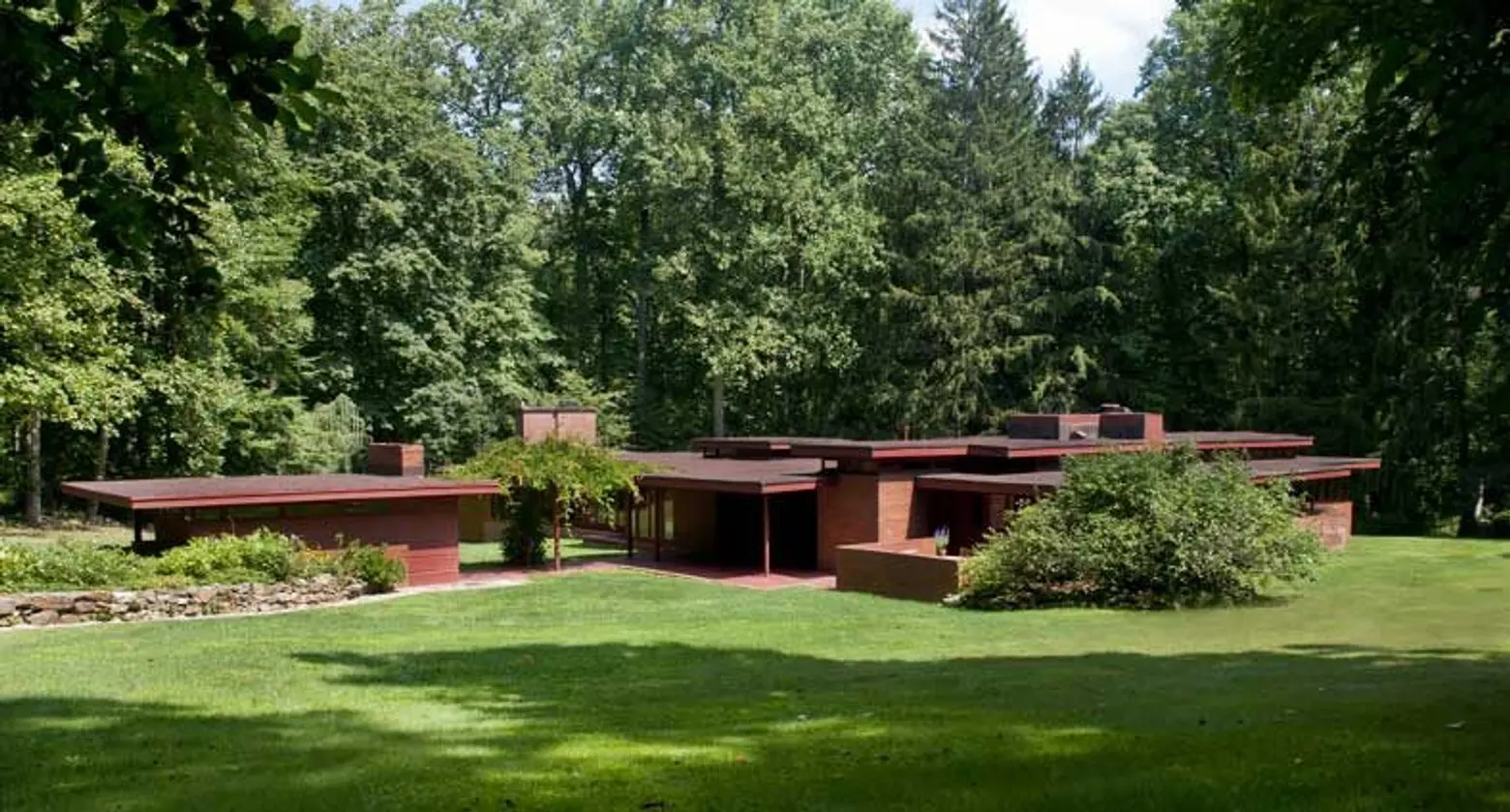 Image via Weichert
Frank Lloyd Wright's James B. Christie House, Bernardsville, NJ ↑
190 Jockey Hollow Road, Bernardsville, NJ 07924M
Travel Time: 1 hour by car
Also recently listed is this spectacular Frank Lloyd Wright home in New Jersey—although for a much pricier $2.2M. The home represents Wright's oldest and largest residential commission in Jersey at 2,000 square feet, and is built in his Usonian style with a generous open plan and plenty windows that open up to the property's seven-acres of secluded woods.
*Side trip: Upstate you can also find another unique Wright construction at 48 Clausland Mountain Road in Blauvelt, just a half-hour outside the city. The Prairie-style home was put on the market about two years ago for $795K.
Did we miss any of your favorites? Tell us which in the comments below.
RELATED:
* Editor's note: This story was originally published on May 26, 2017.