The Hudson Valley's Governor Mario M. Cuomo Bridge is getting an artsy makeover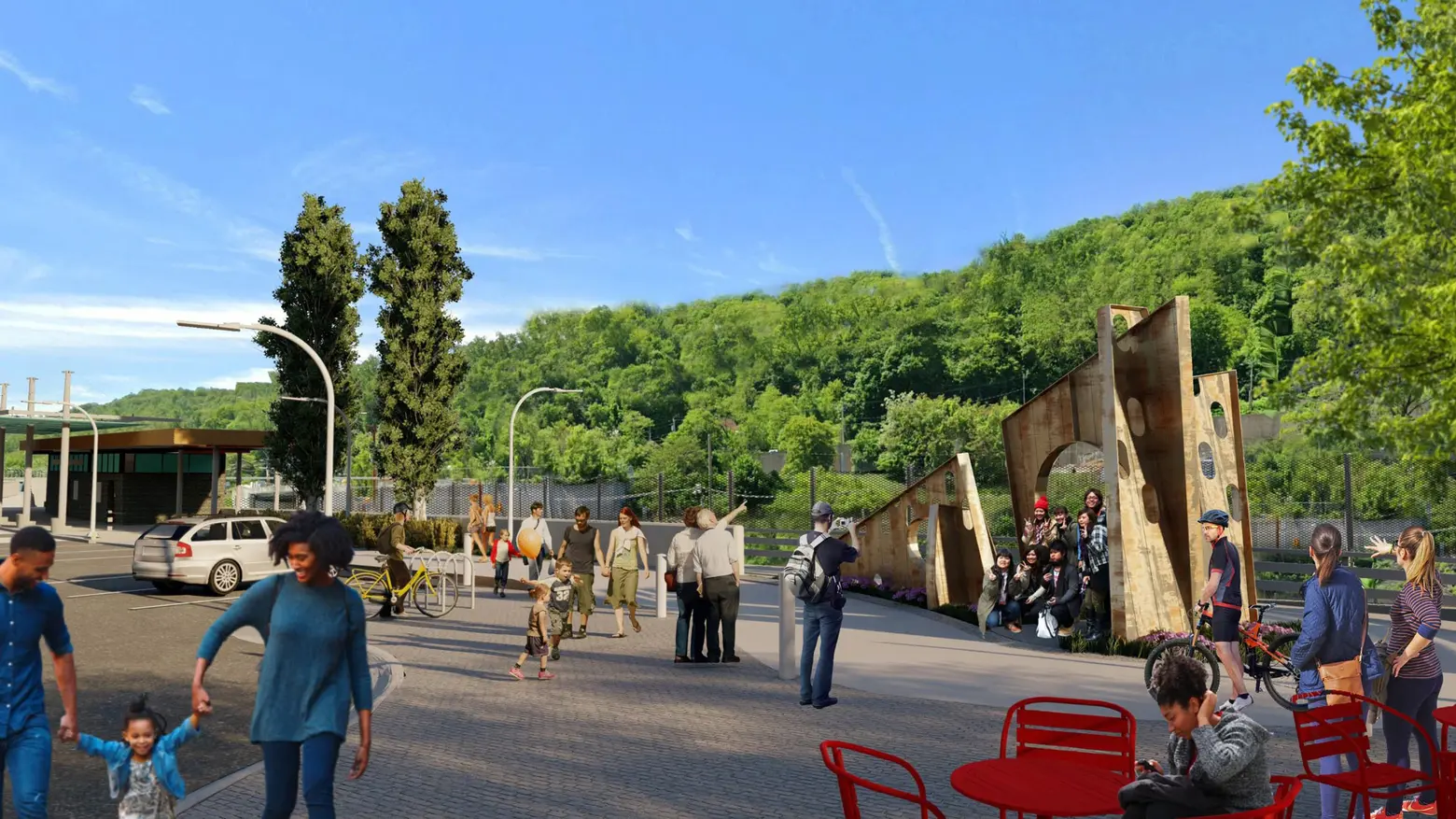 Fitzhugh Karol's "Approach" sculpture, installed at the beginning of the bridge path in Rockland County; rendering courtesy of The New York State Thruway Authority
Eight local artists have been selected to install artworks along the Governor Mario M. Cuomo Bridge's 3.6-mile bicycle/pedestrian path. The New York State Thruway Authority partnered with ArtsWestchester and the Arts Council of Rockland to commission the works, which include five sculptures, four bicycle racks, and one mural. They'll be placed at both ends of the bridge, at the Rockland and Westchester Landings, and along the side path in South Nyack. All of the commissions are currently underway and will be installed in the Spring.
"The new Governor Mario M. Cuomo Bridge is an iconic gateway to the Hudson Valley," Governor Cuomo said in a statement. "These 10 planned art installations along or near the bridge's scenic biking and walking path will not only celebrate the rich history of the region but showcase the new twin-span crossing and the world-class artistic talent New York has to offer."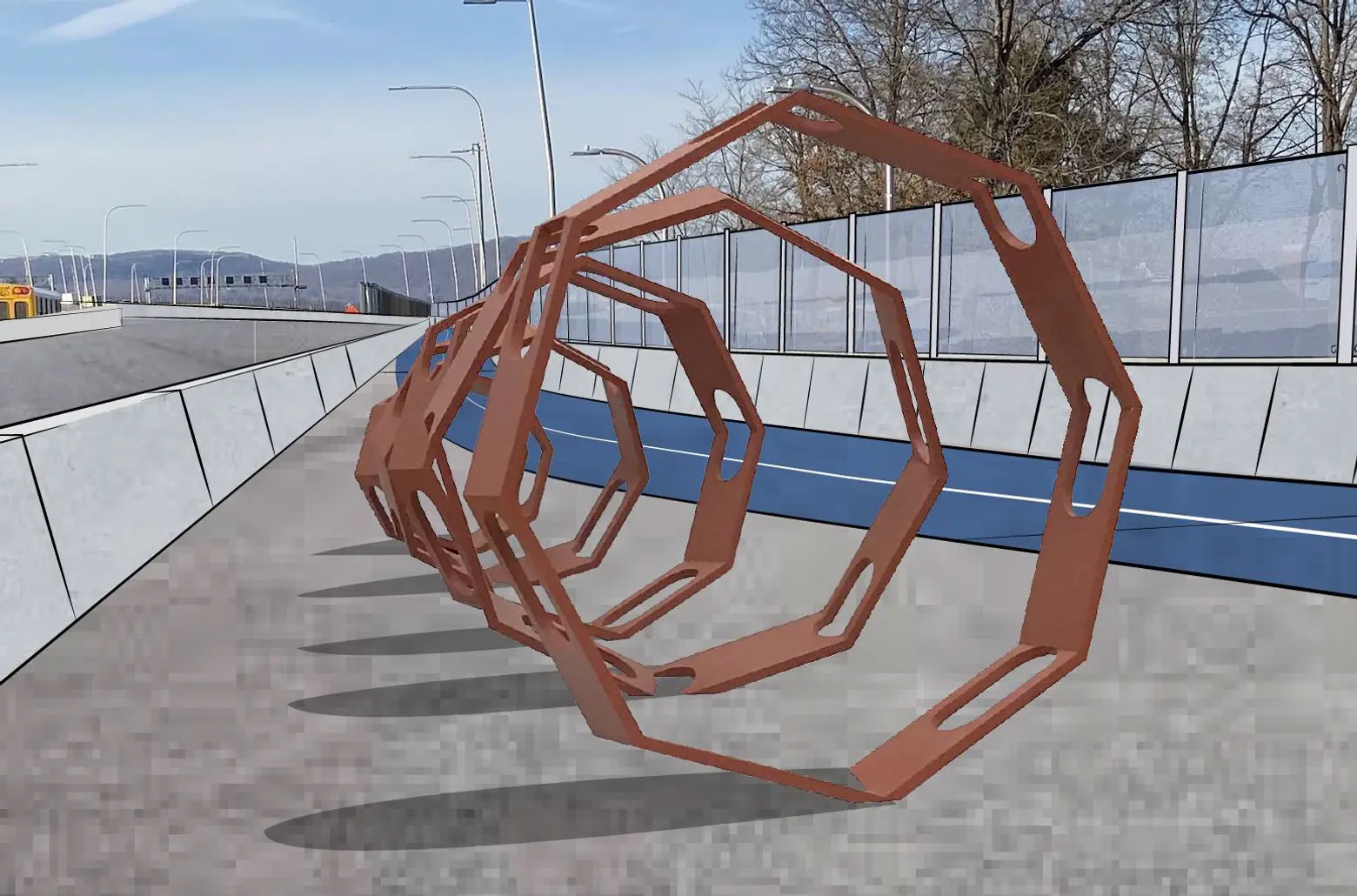 "Untitled, For Imre Lendvai" by Thomas Lendvai; renderings courtesy of The New York State Thruway Authority
Three of the sculptures are made with steel salvaged from the decommissioned Tappan Zee Bridge, paying homage to the Cuomo Bridge's predecessor. These include Fitzhugh Karol's "Approach" sculpture anchoring the beginning of the bridge path in Rockland County and Thomas Lendvai's octagonal forms that frame the towers of the Cuomo Bridge.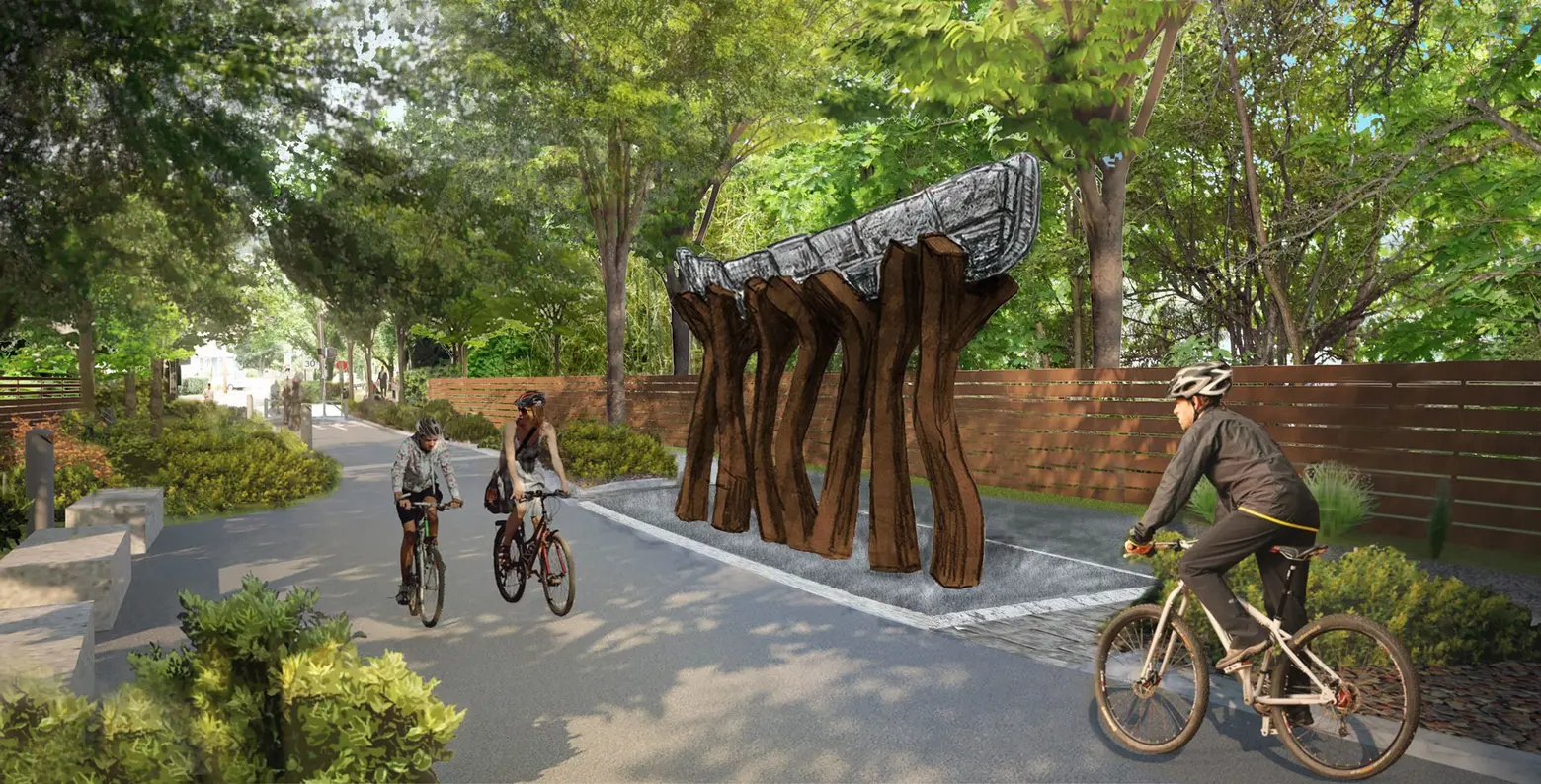 "Tappan Zee" by Ilan Averbuch; rendering courtesy of The New York State Thruway Authority
Other pieces nod to the area's history. Ilan Averbuch's Tappan Zee sculpture—which will be located between the Esposito Trail and the parallel bike path in South Nyack—depicts abstract figures carrying a canoe in homage to the Lenape and their history along the Hudson River. The piece symbolizes "the value of collaboration in crossing rivers, building communities, and reaching new horizons," according to a project description.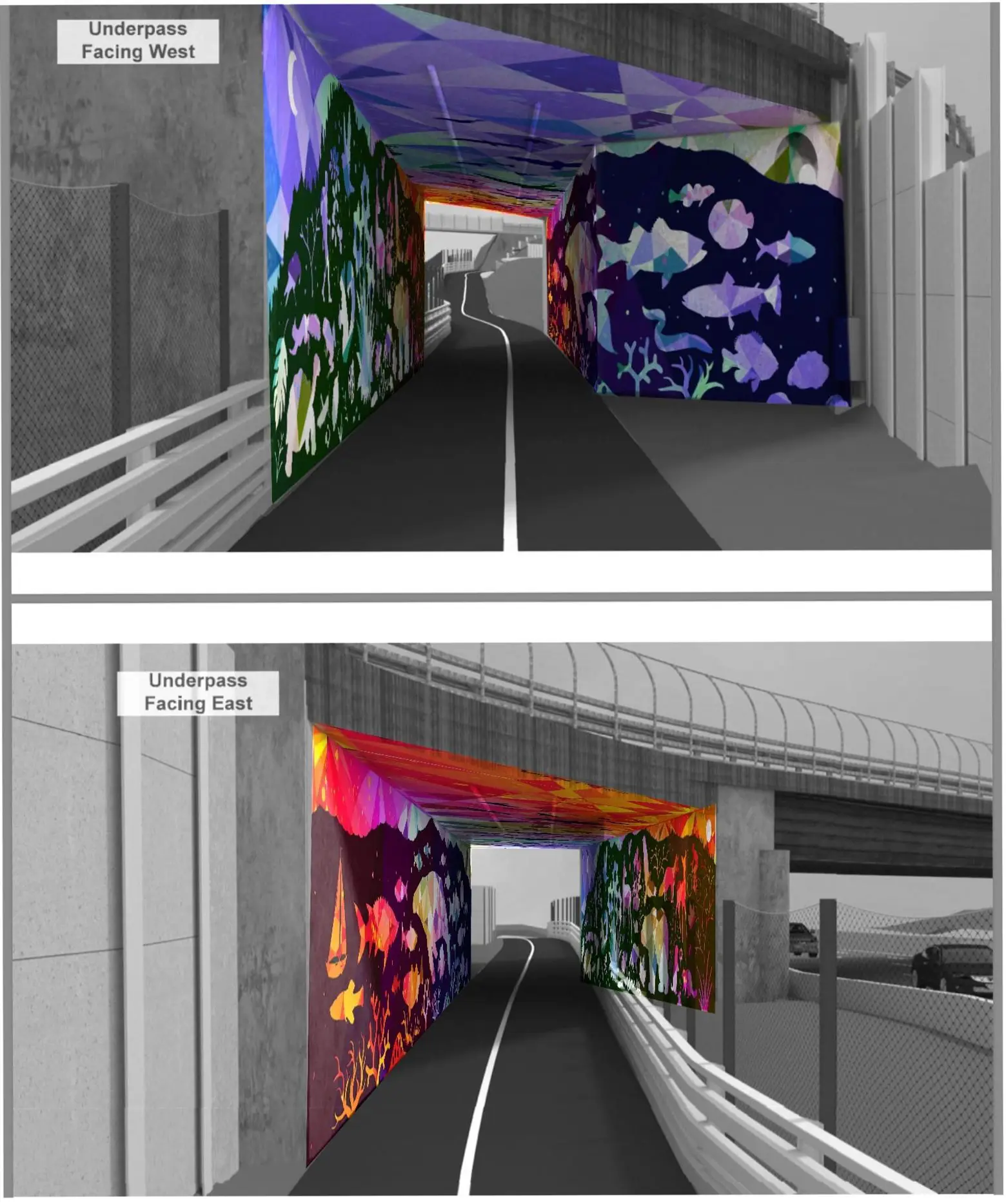 Chris Soria's mural, "The Flux of Being"; rendering courtesy of The New York State Thruway Authority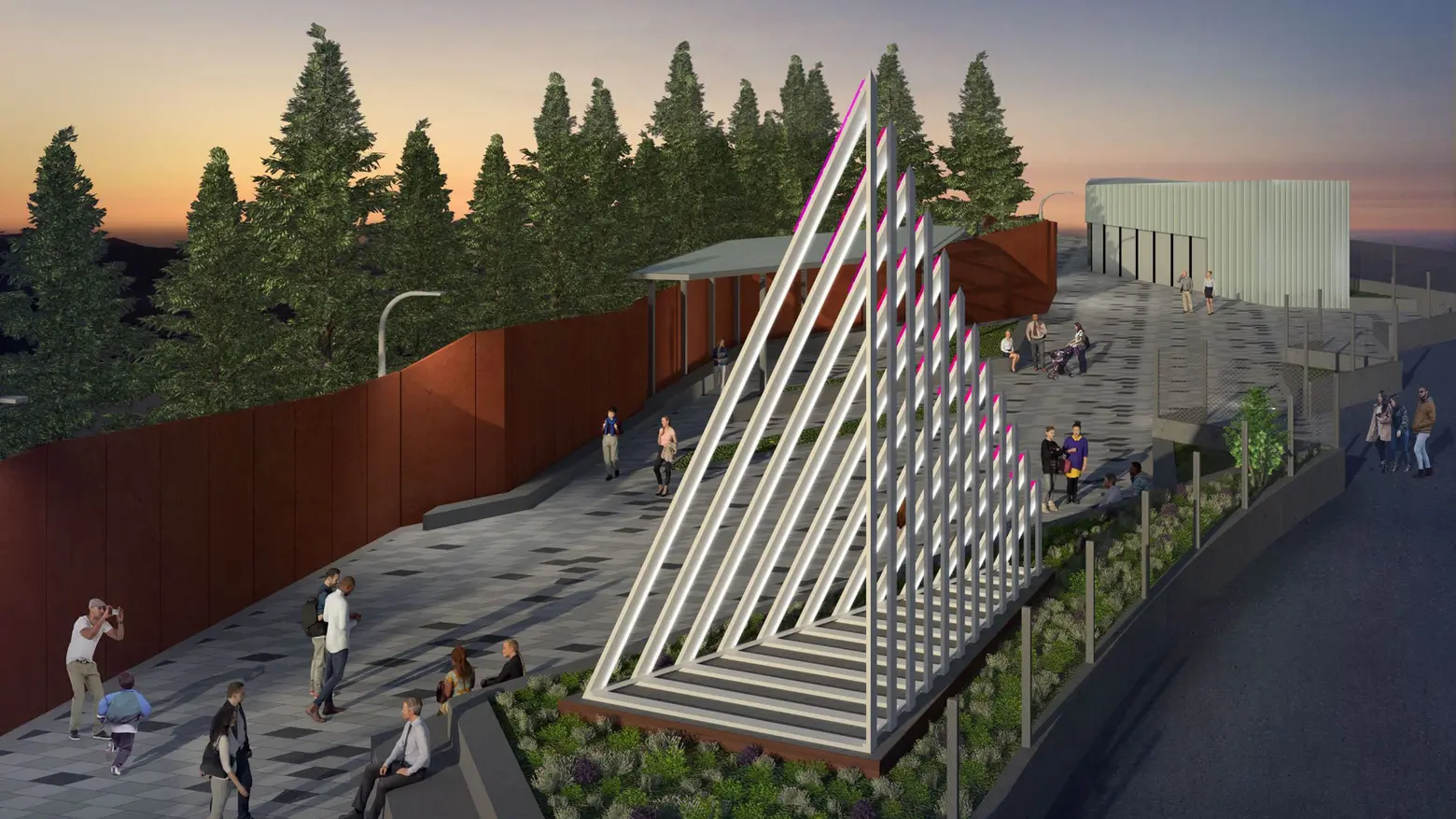 "CURRENT" by Cheryl Wing-Zi Wong; rendering courtesy of The New York State Thruway Authority
Nyack artist Chris Soria will create a colorful mural in the South Broadway underpass showing the varied biodiversity of the area. Meanwhile, Brooklyn artist Cheryl Wing-Zi Wong will bring an interactive sculpture to Westchester Landing composed of 12 illuminated steel arches that respond to the movements of passersby.
The public art program aims to make the bridge more of a destination and drive tourism to the area. "Art along the path will attract new visitors and encourage others to return, benefitting our local economies," Thruway Authority Executive Director Matthew J. Driscoll said. "Honoring the legacy of the decommissioned Tappan Zee Bridge by including its steel in their work truly brings this project full circle."
RELATED:
All renderings courtesy of The New York State Thruway Authority