Chelsea Market opens massive outdoor dining experience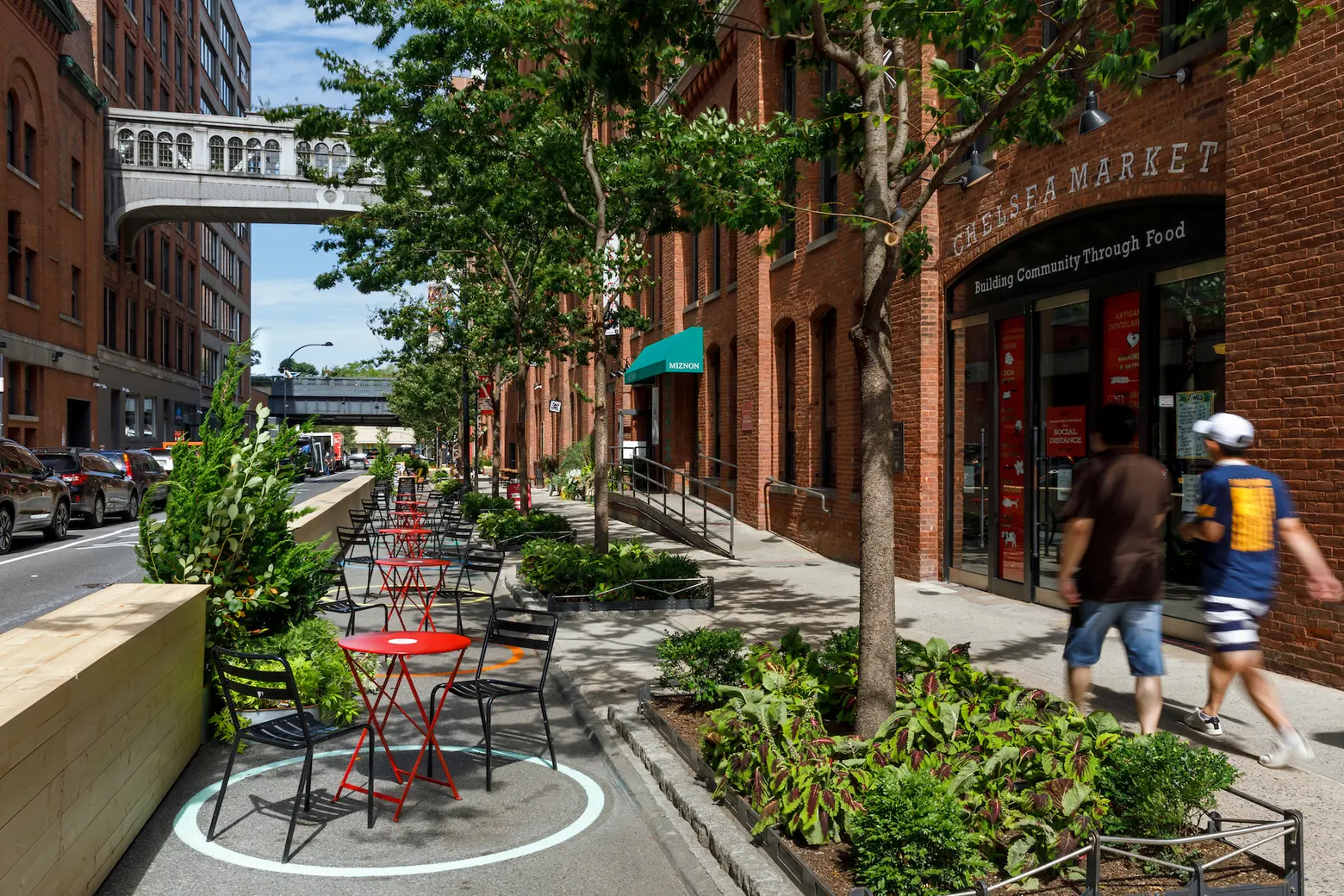 One of New York City's first food halls moved outside this week, offering one of the largest outdoor dining spots in the city. Chelsea Market on Monday launched a block-long dining experience on 15th and 16th Streets with more than 115 socially-distanced tables and food and beverage options from more than a dozen vendors.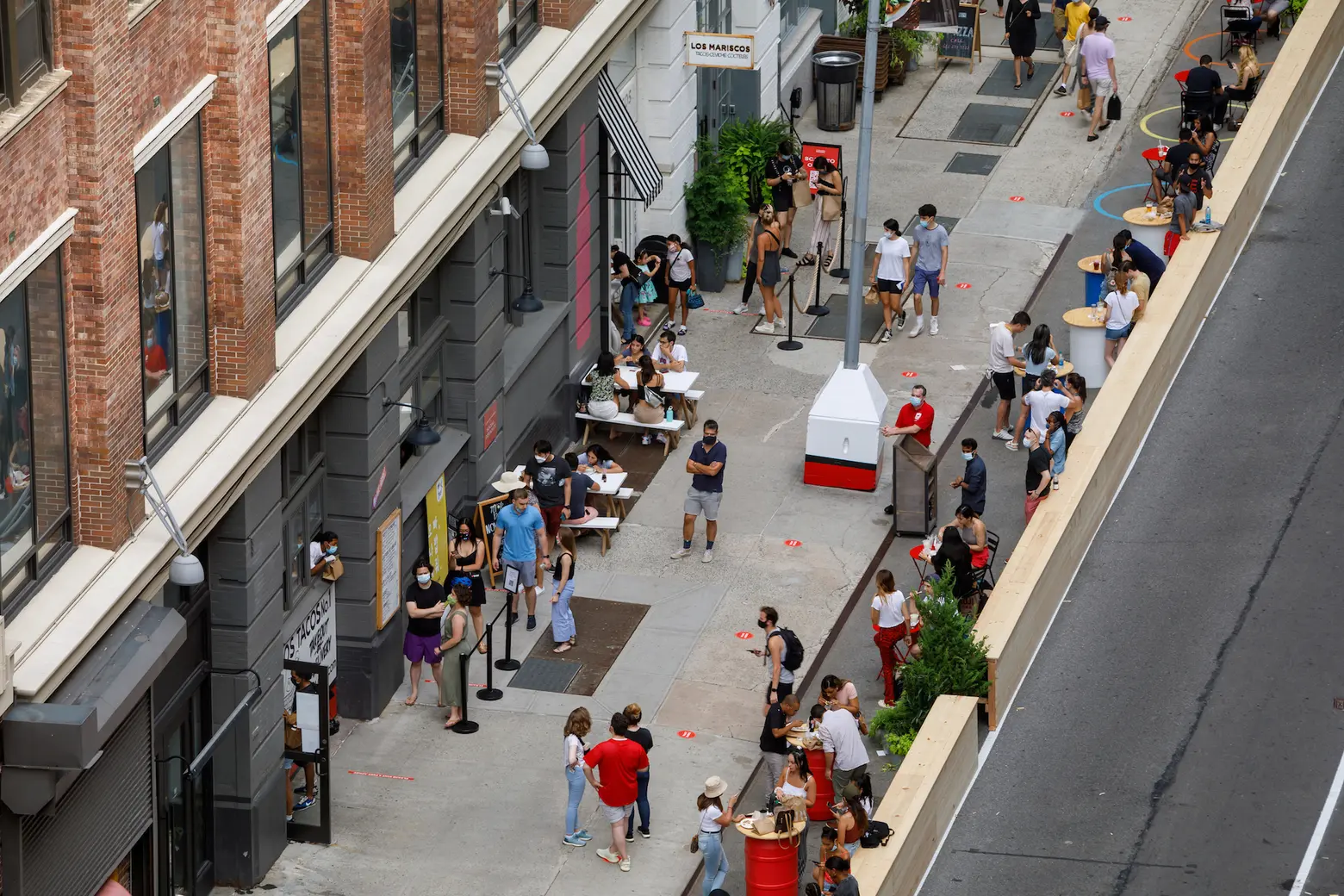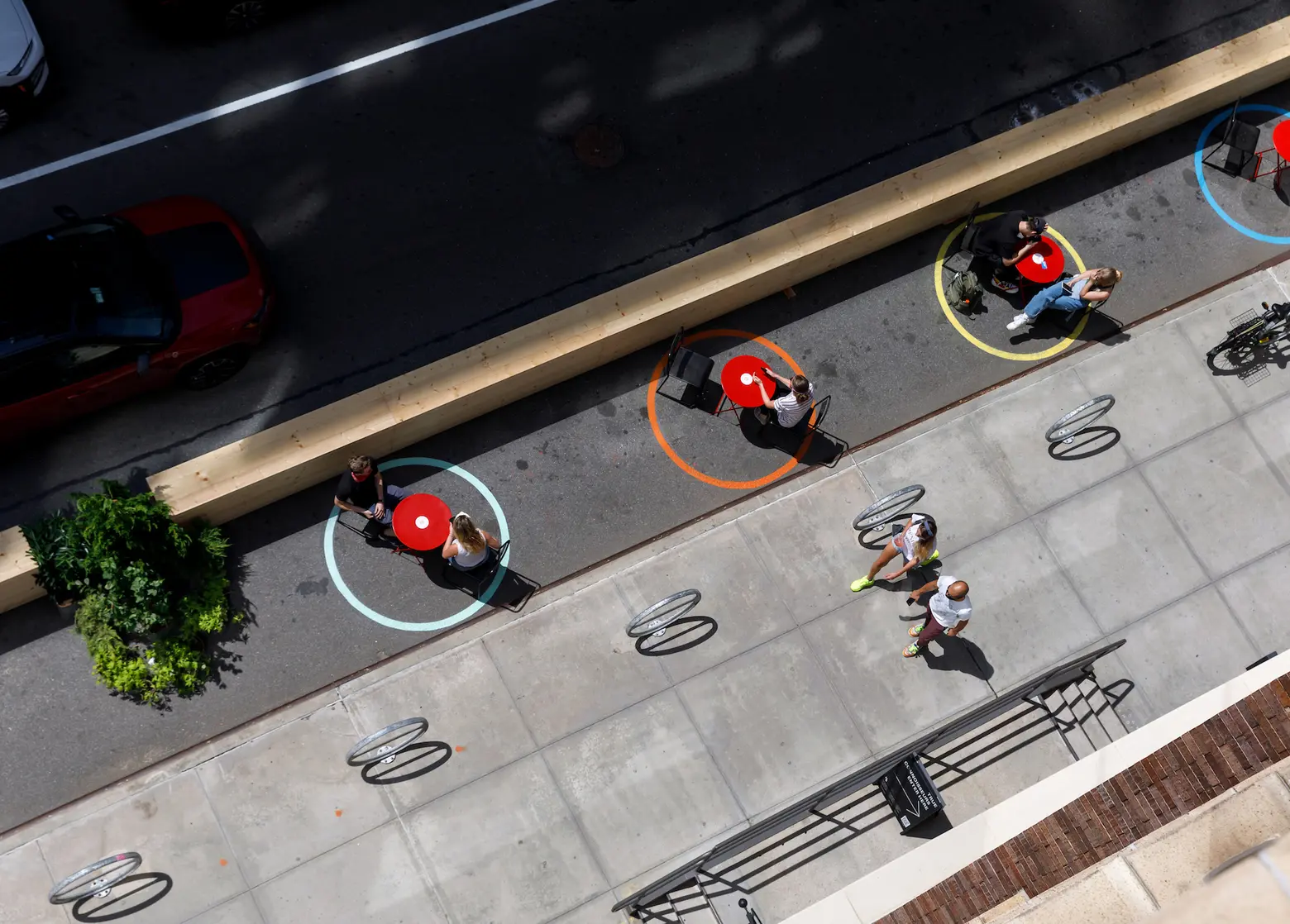 Tables are set up across more than 1,000 feet on 15th and 16th Streets between 9th and 10th Avenues. More than 200 guests will be able to enjoy full table service, self-service, takeout, and delivery.
The market has wood-clad poles and steel planters with landscaping to enclose the seating on the expanded sidewalk. Colorful circles drawn six feet apart help guests maintain distance from one another.
Diners can also scan a QR code to get a mobile directory that provides all menus and items for sale at each restaurant. The codes, found on each table, directs customers where to pick up meals. Two windows on 15th Street feature pickup windows for to-go orders.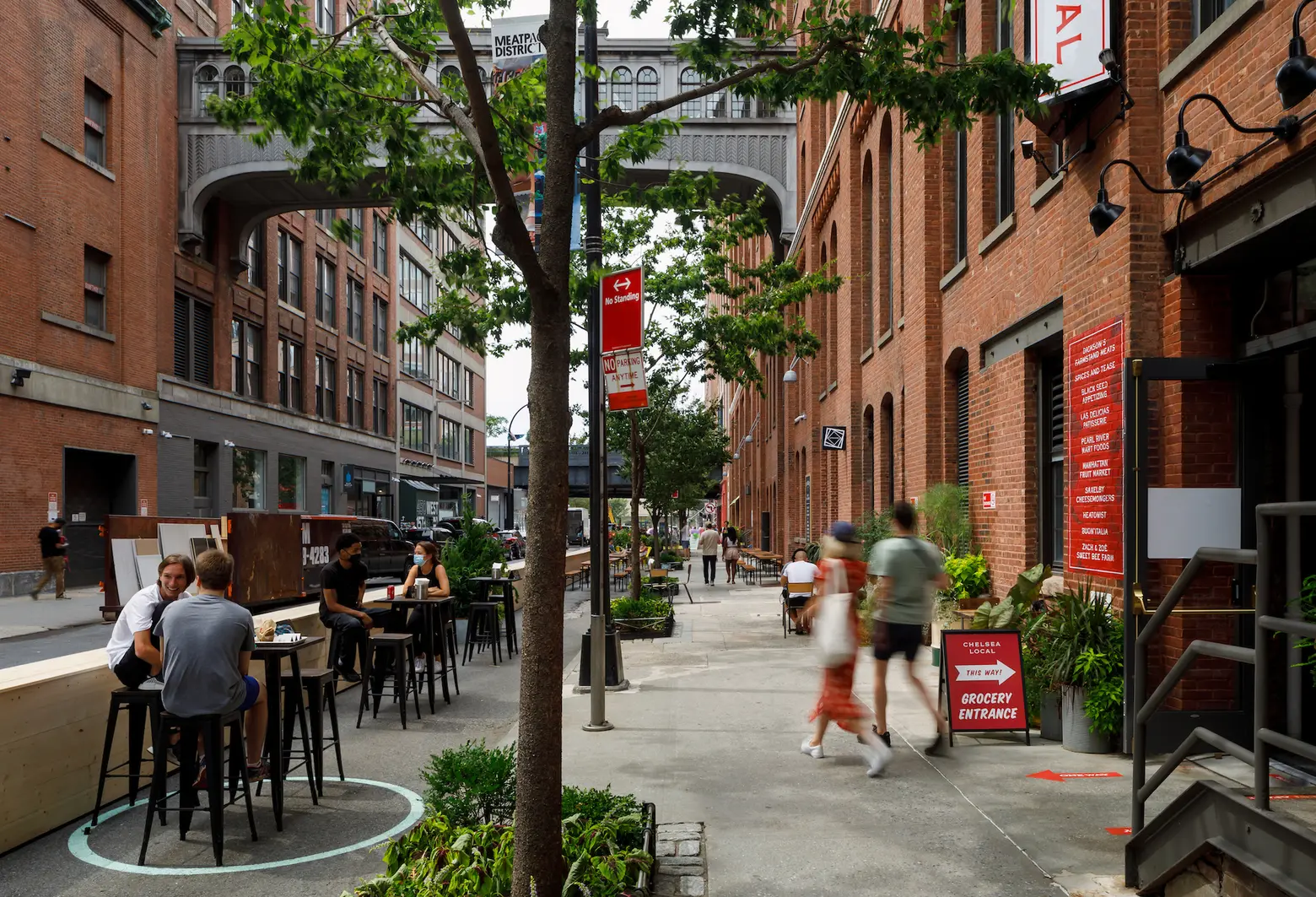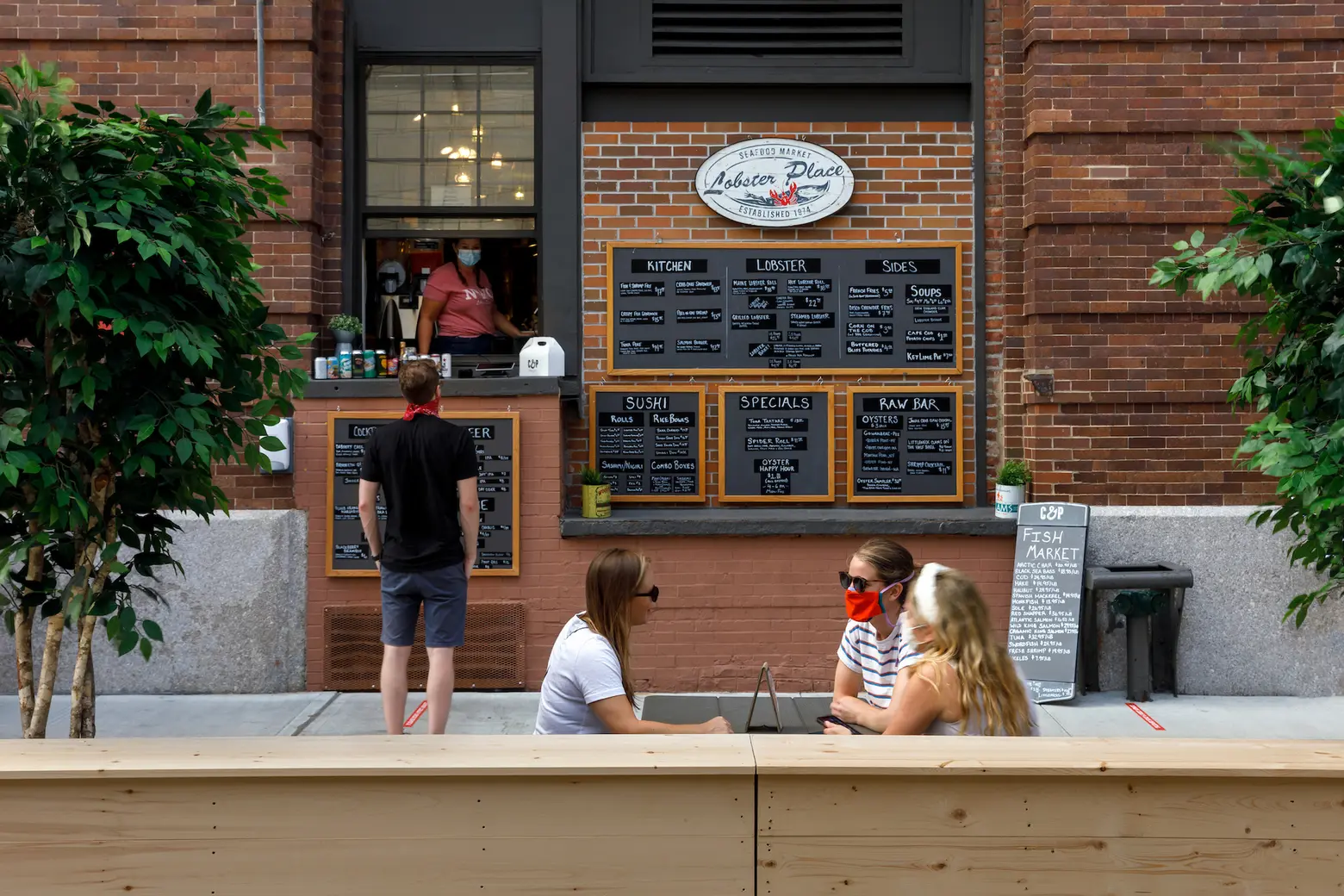 Throughout the pandemic, 17 of the market's vendors have continued to serve the community by providing delivery through Mercato. Now restaurants offering table service outside include Ayada, Buddakan, Dickson's Farmstand Meats, Lobster Place, and Miznon.
Seating for online orders and pick up is available at Creamline, Buon'Italia, Doughnuttery, Filaga, Los Tacos No.1, Los Mariscos, Mŏkbar, Sazelby Cheesemongers, Seed+Mill, Tings, and Very Fresh Noodles. And an outdoor gelato cart from L'Arte del Gelato will be available for all artisanal gelato needs.
"Having a safe outdoor space to relax and eat is such an important amenity for the Meatpacking District community," Jeffrey LeFrancois, executive director of the Meatpacking Business Improvement District, said. "Chelsea Market helps make our neighborhood one of the most enjoyable and unique in the city and being able to once again experience the wonders of the market will go a long way in making everyone feel more at home."
Other NYC food halls have taken advantage of the city's open restaurants program. Earlier this month, The Market Line at Essex Crossing on Friday opened a spacious outdoor patio and a menu made up of a mix of vendors from the Lower East Side food hall. Time Out Market last market reopened its fifth-floor rooftop and seating along the Dumbo waterfront.
RELATED: 
All photos by Colin Miller