Outdoor dining comes to two NYC food halls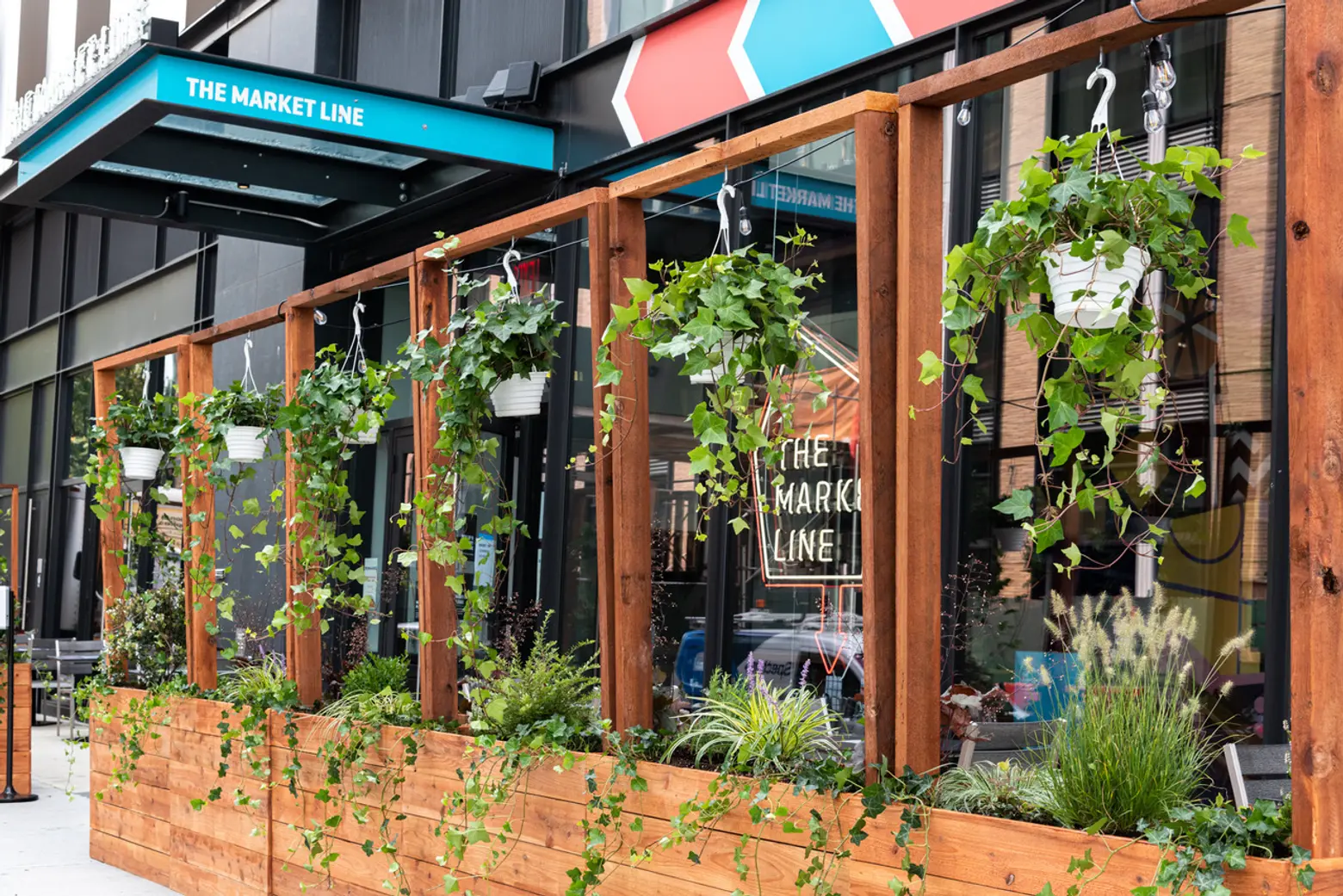 The Market Line Patio; Credit: Greater Studio
With nearly 10,000 New York City restaurants open for outdoor dining, now even food halls are getting in on the Open Restaurants program. The Market Line at Essex Crossing on Friday opened a spacious outdoor patio and a menu made up of a mix of vendors from the Lower East Side food hall. And Time Out Market will reopen its fifth-floor rooftop and seating along the waterfront in Dumbo this week.
The local vendors of the Market Line, which officially opened last November, are joining forces as part of the food hall's al fresco experience. The open-air "Market Line Patio" on the corner of Delancey and Norfolk Streets features enough space for 40 people across socially-distanced tables.
A dozen vendors will operate as a shared kitchen within the Market Line, with the menu offering a collaborative from participating businesses. Project Eats, the community rooftop farm at Essex Crossing, will provide fresh basil and tomatoes for Slice Joint's stracciatella. Slice Joint's new focaccia will serve as the base for End Meat's salumi sandwiches and Essex Pearl's shrimp salad.
"While many restaurants and bars are taking advantage of the loosening of outdoor seating regulations, The Market Line Patio is different in that it is a true collaborative effort," Rohan Mehra, co-founder and principal of the Prusik Group, said. "All of the vendors have stepped up and chipped in here to create a unique and incredible experience for our customers. We have vendors who are preparing food on behalf of other vendors who are not in a position to staff their kitchens."
The Market Line Patio will be open from 4 p.m. to 10 p.m. Wednesday through Friday, from 2 p.m. to 10 p.m. on Saturday, and 2 p.m. to 8 p.m. on Sunday. It will be closed on Mondays and Tuesdays.
Earlier this month, the market opened for produce and product delivery and pick-up from vendors on Mercato. Vendors offering to-go options include Cafe Grumpy, Doughnut Plant, Ends Meat, Essex Pearl, Nom Wah, People's Wine, Que Chevre, Schaller & Weber, Slice Joint, Southeast Asia Food Group, Substance Vitality Bar, The Grand Delancey, The Pickle Guys, Tortilleria Nixtamal, and Veselka.
Time Out Market will reopen in Brooklyn at 55 Water Street on Thursday with more than 10,000 square feet of outdoor space available to diners. The food hall's fifth-floor rooftop and riverside seating will offer more than 250 seats. Plus, the food hall is located just steps from the Brooklyn Bridge Park for even more socially-distanced seating.
Guests can order through a new app or through the market's website, both of which let you track the progress of their order and pay without contact. Certain menu items will also be available for delivery via DoorDash.
During the first week of reopening, seven eateries will reopen including Ivy Stark, Pat LaFrieda Meat Purveyors, Bessou, Jacob's Pickles, FELICE Pasta Bar, Fish Cheeks, and Ice & Vice. The two full-service bars will open on the first and fifth-floor rooftop will offer a new summer menu, with a daily happy hour from 4 p.m. to 7 p.m. with $8 cocktails, $7 wine, and $5 beer.
"Our team — alongside Empire Stores and renowned chefs and restaurateurs — is excited to welcome back our guests to taste incredible dishes and beverages from local favorites and embrace New York's unique and iconic culture," Didier Souillat, CEO of Time Out Market, said. "Time Out Market offers guests a true Time Out Tastecation, the ultimate staycation destination where guests can send their taste buds on a culinary voyage."
RELATED: 
Editor's note 8/3/20: This story has been updated to reflect a new opening date for Time Out Market, which will open on Thursday, August 6 instead of Wednesday, August 5 due to Tropical Storm Isaias.