Beloved Colombian coffee roaster Devoción opens new cafe in Dumbo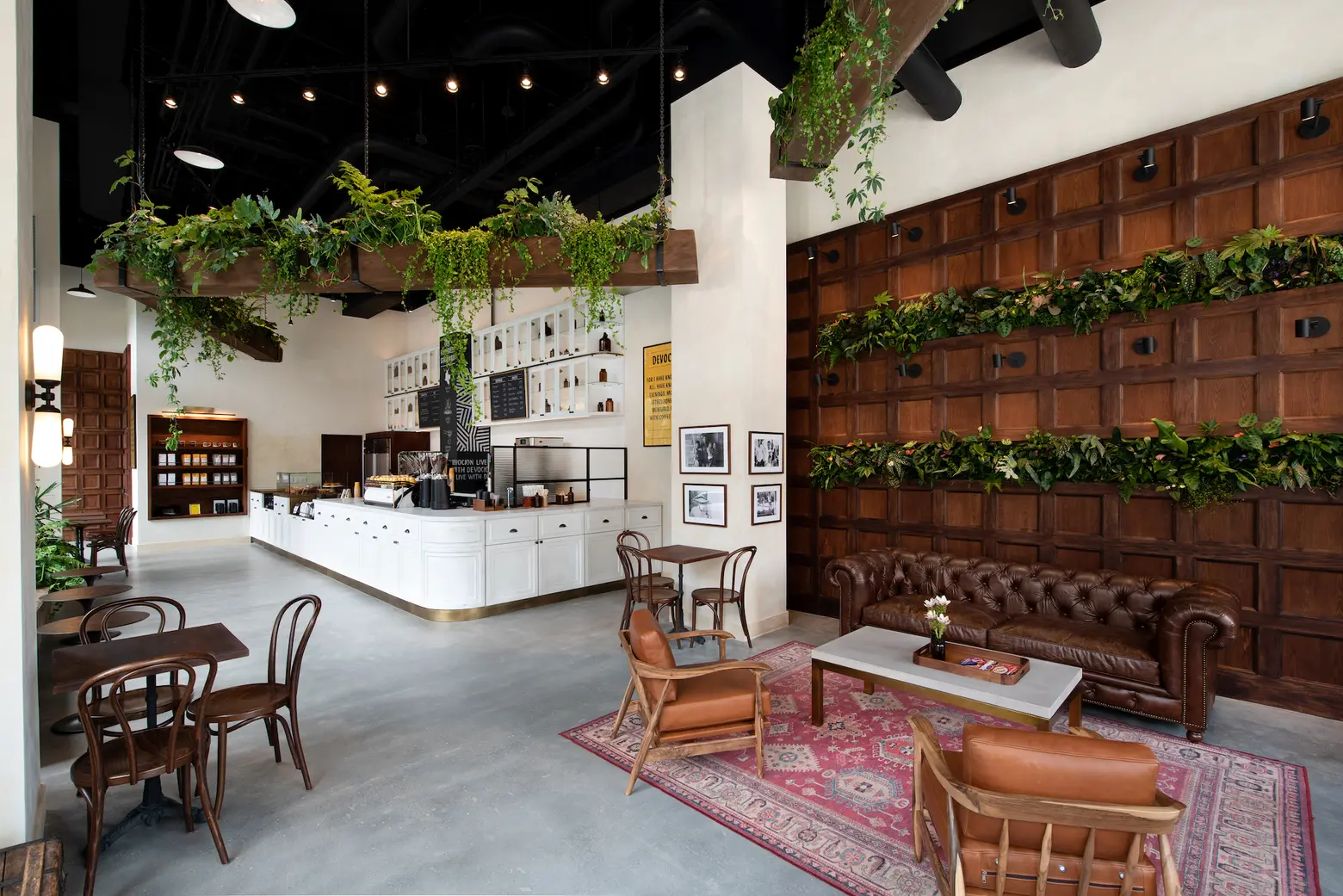 All photos courtesy of Liz Clayman
Colombian coffee roaster Devoción is bringing its ultra-fresh coffee to a new Brooklyn neighborhood. The Bogotá-based company has opened a new location in Dumbo on the ground floor of the mixed-use development Front & York. As the fourth Devoción in New York City, the coffee shop boasts an industrial, yet warm, vibe thanks to design elements like concrete flooring, wood paneling, and tons of plants and flowers.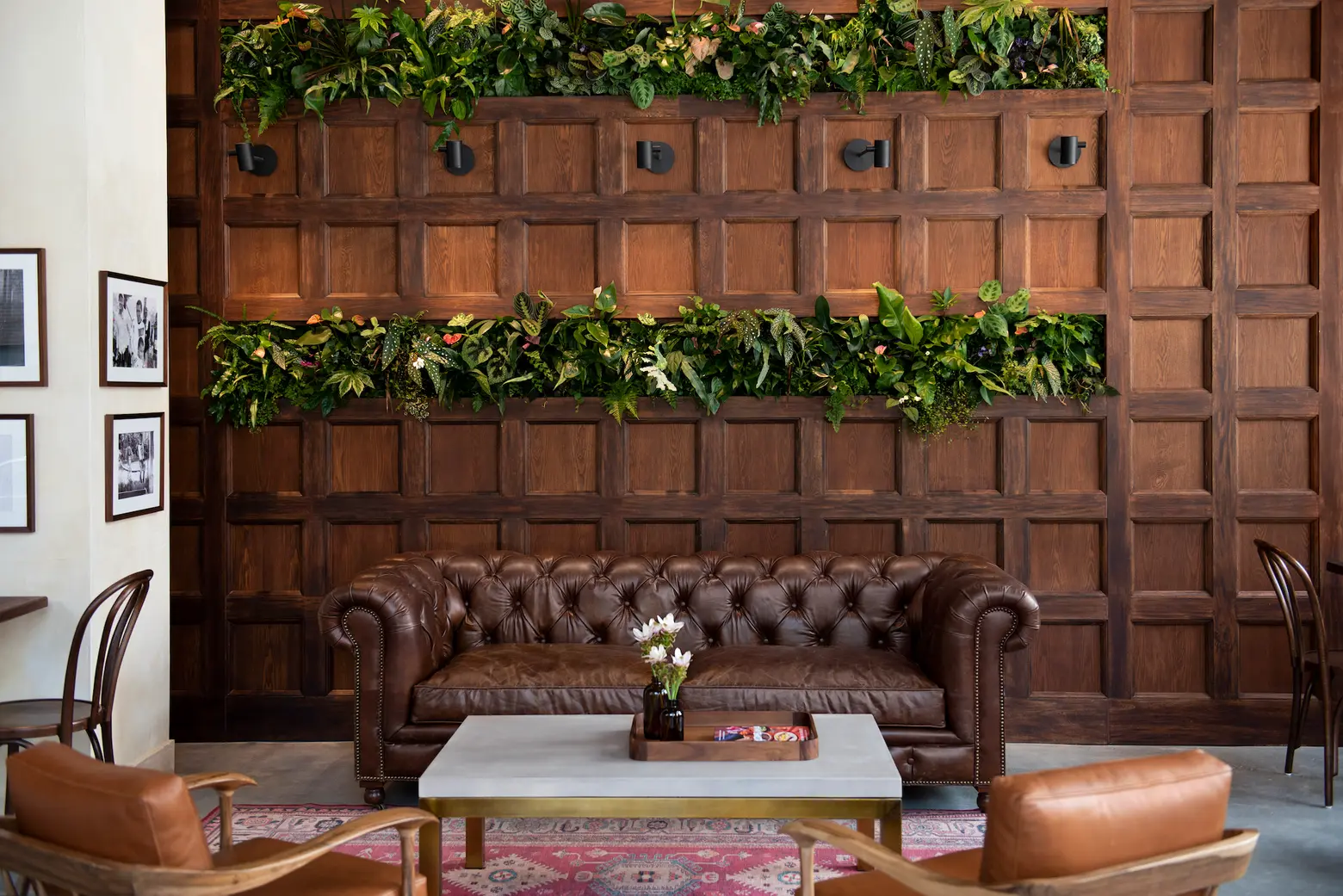 Devoción is considered the country's only true farm-to-cup coffee roaster serving "fresh" coffee; the beans are FedEx from Bogotá to New York for roasting in as little as 10 days from leaving origin.
Designed by Silvia Zofio from SZProjects, the 32-seat Devoción Dumbo flaunts soaring 20-foot ceilings and floor-to-ceiling windows. Like all of the brand's other locations, greenery is everywhere. There are three 16-foot planters made of Colombian Pine trees that hang from the ceiling by steel chains and are filled with "jungle-like" plants and flowers. The design is a nod to Colombian colonial architecture and the country's abundant forests, according to a press release.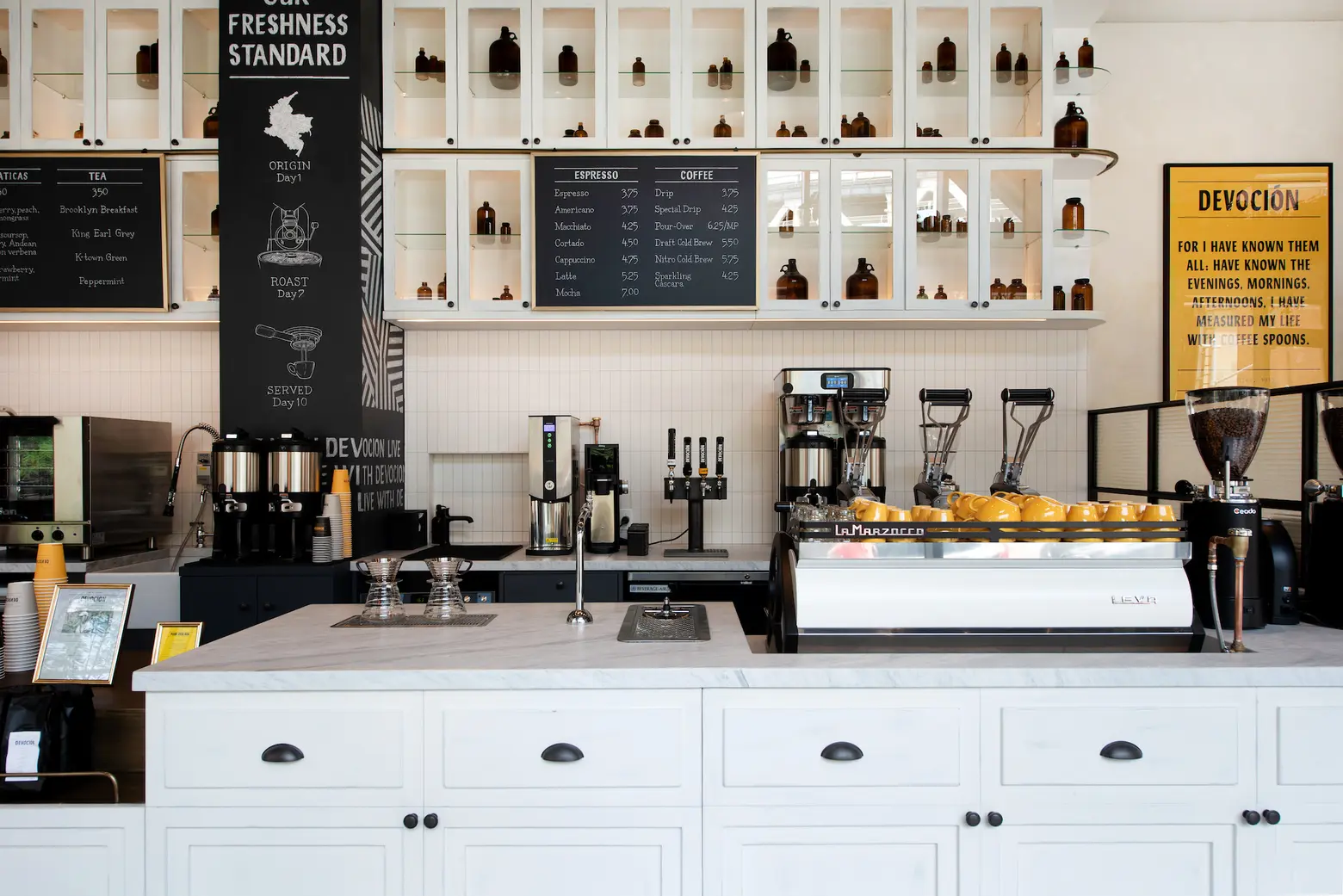 In the cafe's main lounge, custom wood wall paneling made of Colombian white oak was inspired by the pattern of house doors found in Bogotá. Various cut-outs in the paneling reveal different plants. The sleek coffee counter features marble countertops and wood cabinets.
Devoción will serve its signature farm-fresh direct trade coffee, pastries, and a selection of specialty food items, a first for the brand. The cafe will be open from 7:30 a.m. to 6 p.m. during the week and 8 a.m. to 7 p.m. on weekends.
The cafe is hosting an "Open House Happy Hour" on Monday, August 1 from 2 p.m. to 6 p.m. benefitting PS 307, a local public school.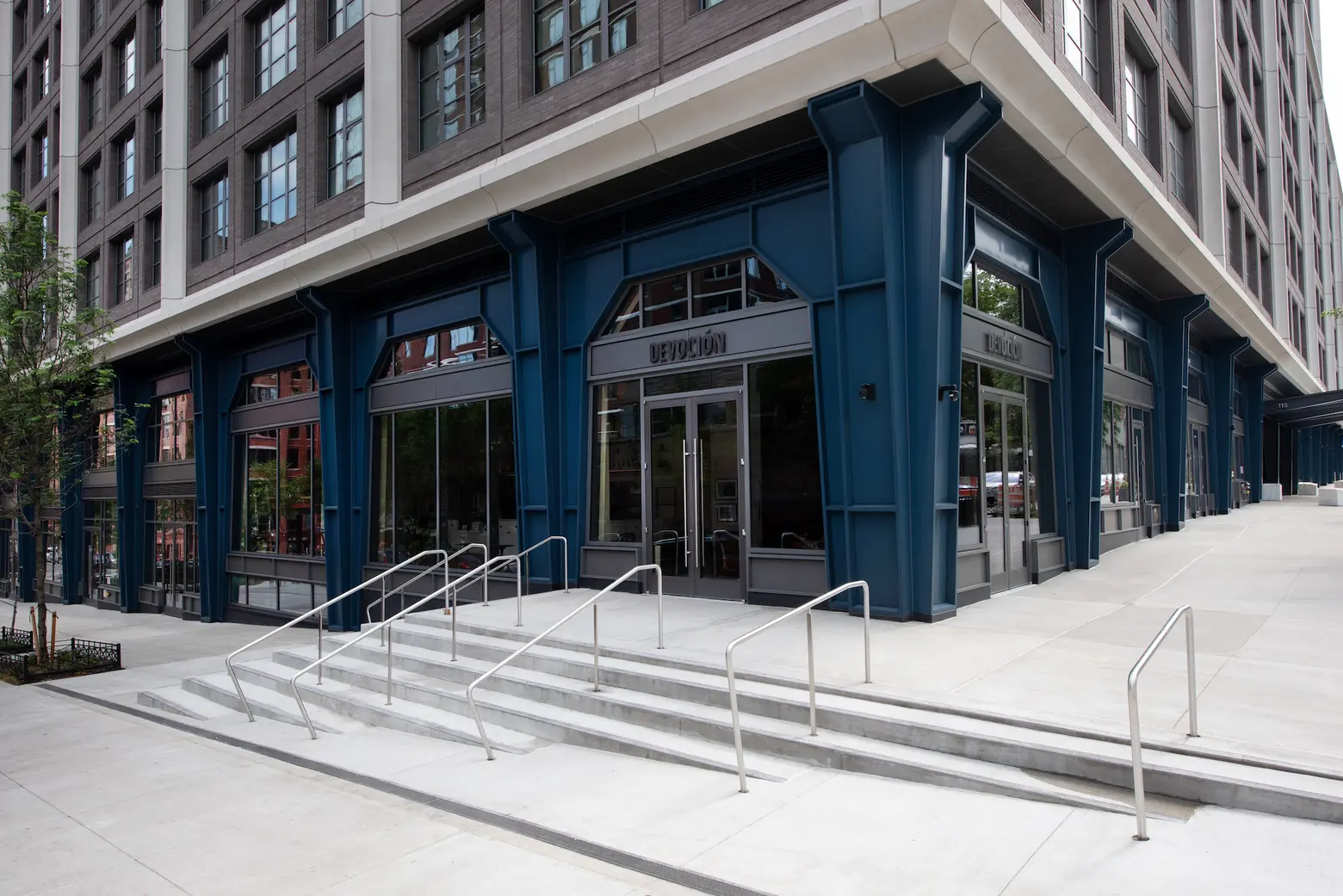 "Our goal since opening our first location in Williamsburg in 2014 has been to deliver the world's freshest coffee to the sophisticated coffee drinkers of New York," Devoción CEO Steven Sutton said. "As development across New York City has expanded, so too have we. We are thrilled to expand our Brooklyn footprint to one of the hottest neighborhoods in the five boroughs – Dumbo."
Devoción first opened in Bogotá in 2006 and then came to the United States in 2014 with a cafe in Williamsburg. The roaster has locations in Downtown Brooklyn at 276 Livingston Street and in Flatiron on East 20th Street.
Designed by architect Morris Adjmi, Front & York is a two-tower development with condos and over 150,000 square feet of amenities. Current availabilities at the building start at $1,050,000 for a one-bedroom.
RELATED: 
Photos courtesy of Liz Clayman