Indoor dining at City Winery will require $50 on-site COVID test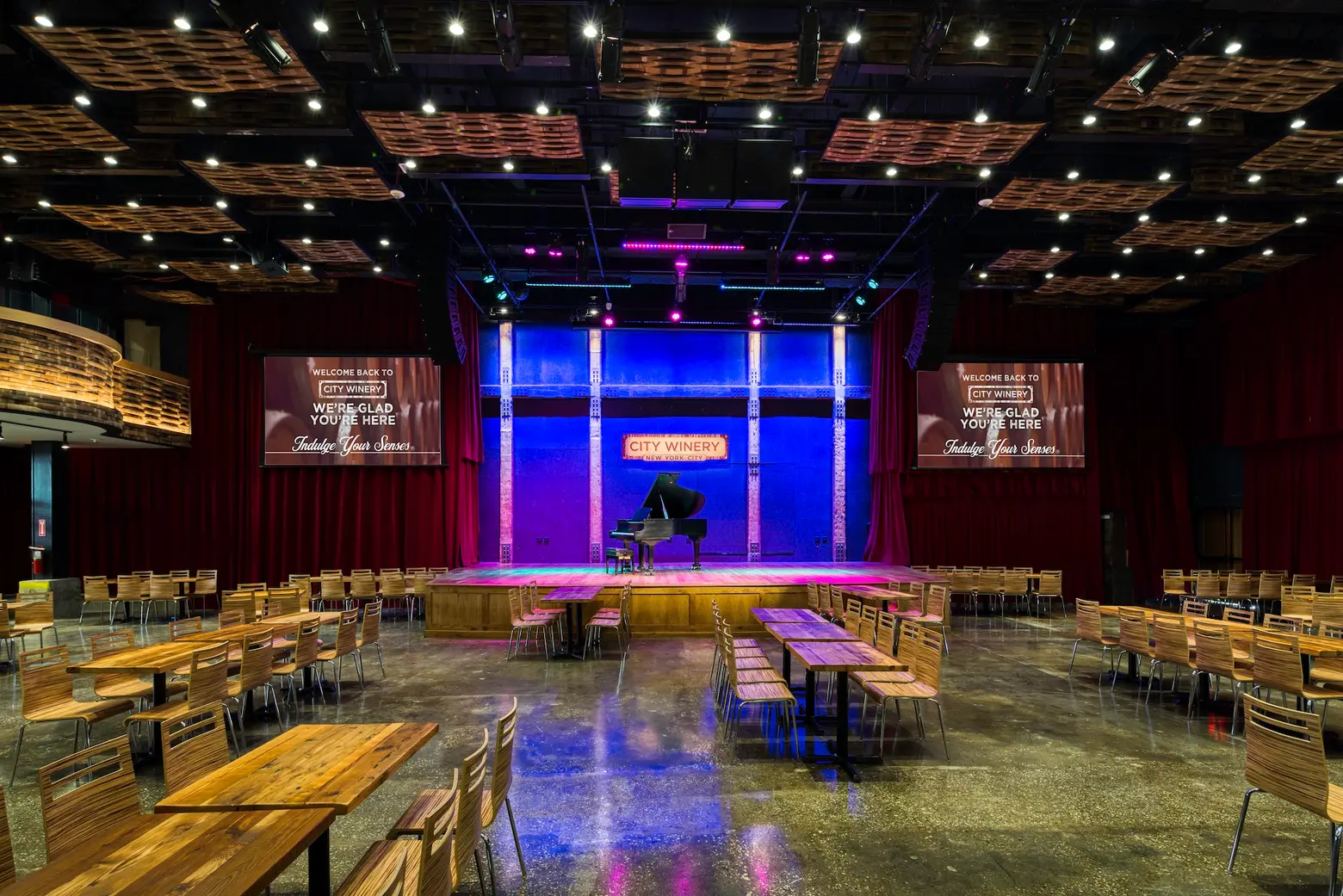 Photo of the main venue by Adam Pass
Entertainment venue and restaurant City Winery will launch next week a coronavirus testing pilot program for guests who want to dine indoors. The Pier 57 establishment, which just opened its new flagship location last month, will require all patrons and staff to take a rapid COVID-19 test before entering on Tuesday and Wednesday evenings only. Those visiting City Winery on those two days will make a reservation via Resy online and make a payment of $50 per person for the test. It's the first restaurant to create a COVID testing program for indoor dining, according to City Winery.

Photo of dining room by Adam Pass
According to a press release, upon arrival "guests will participate in the mandatory wellness check, then receive a shallow nasal swab by a certified practitioner, a glass of City Winery Bubbles, and be asked to wait the 10-15 minutes for their results outside of City Winery."
If results are negative, guests can enter and follow regular regulations, including wearing face coverings and practicing social distancing. Those who test positive will not be allowed to enter. City Winery is still open Thursday through Monday, but will not require the rapid COVID-19 tests on those days.
The pilot program will officially kick off on Tuesday, November 24, with reservations available beginning on November 18. Testing windows of every 15 minutes will be available starting at 4:30 p.m. City Winery will use Antigen tests with BD Veritor analyzers, authorized by the U.S. Food and Drug Administration this summer.
"We believe that hospitality is all about making our customers comfortable and given the pandemic, that is all about feeling safe. Given the change of the seasons, finding the next level of safety and comfort level for people to dine indoors is critical for us today," Michael Dorf, the founder and CEO of City Winery, said in a press release.
Dorf added: "A COVID-19 test is one of the only solutions to get patrons inside restaurants for the next five months until the springtime."
City Winery's new Hudson River Park location includes 32,000 square feet of dining space and two performance spaces: a 350-seat concert hall and a loft space that can fit 150 people, at full capacity. Diners will have views of the Hudson River and the new public park Little Island, found next door at Pier 55.
While current restrictions prevent full capacity and live ticketed-events, City Winery will continue to move forward with new offerings like communal experiences, as permitted. The restaurant currently offers heated outdoor seating on its uncovered patio.
RELATED: