Your guide to the West Village: New York City's downtown heart of cultural history
It may seem challenging to navigate the winding, narrow streets in one of the few Manhattan neighborhoods not arranged on a sensible grid. Fortunately, it's also hard to make a wrong turn no matter where you end up in the West Village. And there's so much to see and do in this iconic and charming neighborhood, that you may find it even harder to leave.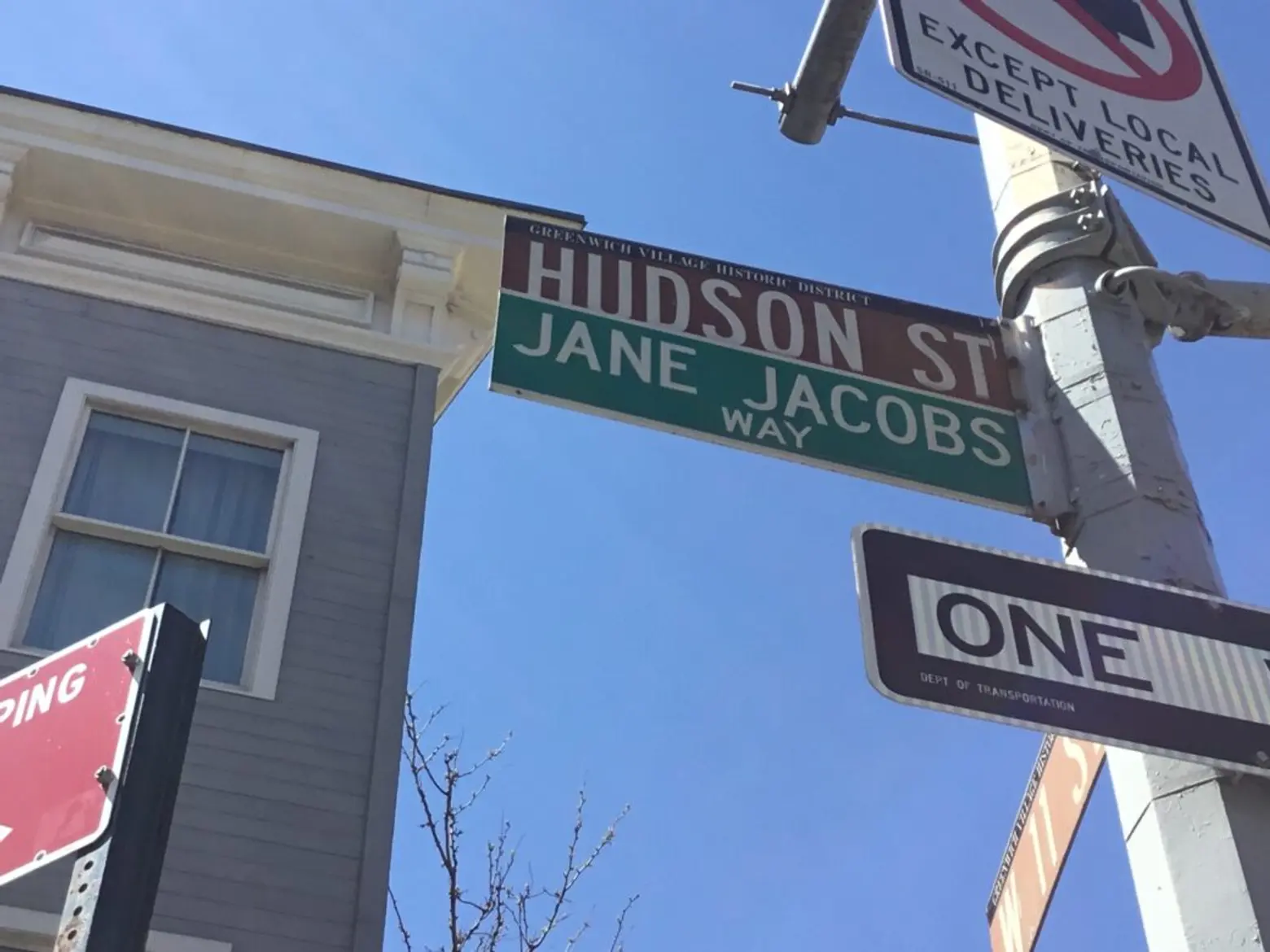 The West Village is the urban paradise at the heart of a downtown Manhattan that represents a dream for many (not least because it's one of the city's most expensive neighborhoods to live in). To the north, the neighborhood meets the infamous Meatpacking District, transformed in the 21st century into a dazzling destination for nightlife, culture, and innovation, topped by the High Line. To the south are the celebrity-filled lofts of Tribeca. The "Village" in the neighborhood's name refers to Greenwich Village to the east.
The neighborhood's (unofficial) boundaries are 6th Avenue to the east, 14th Street to the north, the Hudson River to the west, and pretty Gansevoort, Horatio and Jane Streets to the south. Ironically, the aforementioned orderly Manhattan street grid was born within these irregular and eccentric streets: John Randal Jr., surveyor and chief engineer for New York City's street commissioners, met with the commissioners to create the Commissioners' Plan of 1811–more or less the street grid of Manhattan–at his office at the corner of Bleecker and Christopher streets.
A European city vibe defines the neighborhood's alleys and avenues; beyond chic boutiques and quaint and cozy restaurants, you'll find landmarks that herald some of the nation's most important cultural shifts, from LGBTQ+ pride to art, literature, and music that defined genres.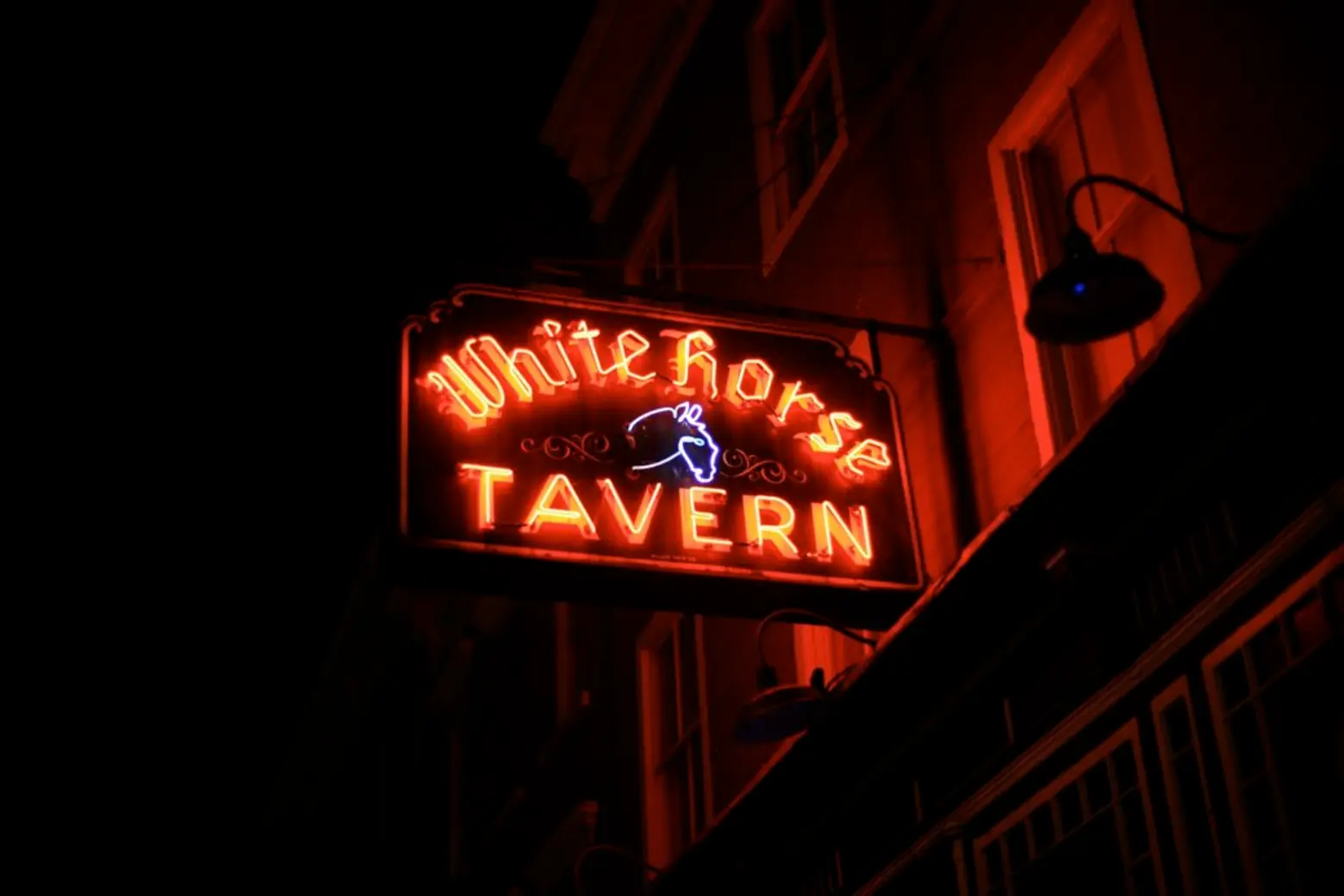 The neighborhood's literary pedigree includes the White Horse Tavern, host to Dylan Thomas, Allen Ginsberg, Norman Mailer, and others in the early 1950s. Musicians–from Bob Dylan and Woodie Guthrie to John Lennon and John Cage–filled the neighborhood's nights with conversation and song.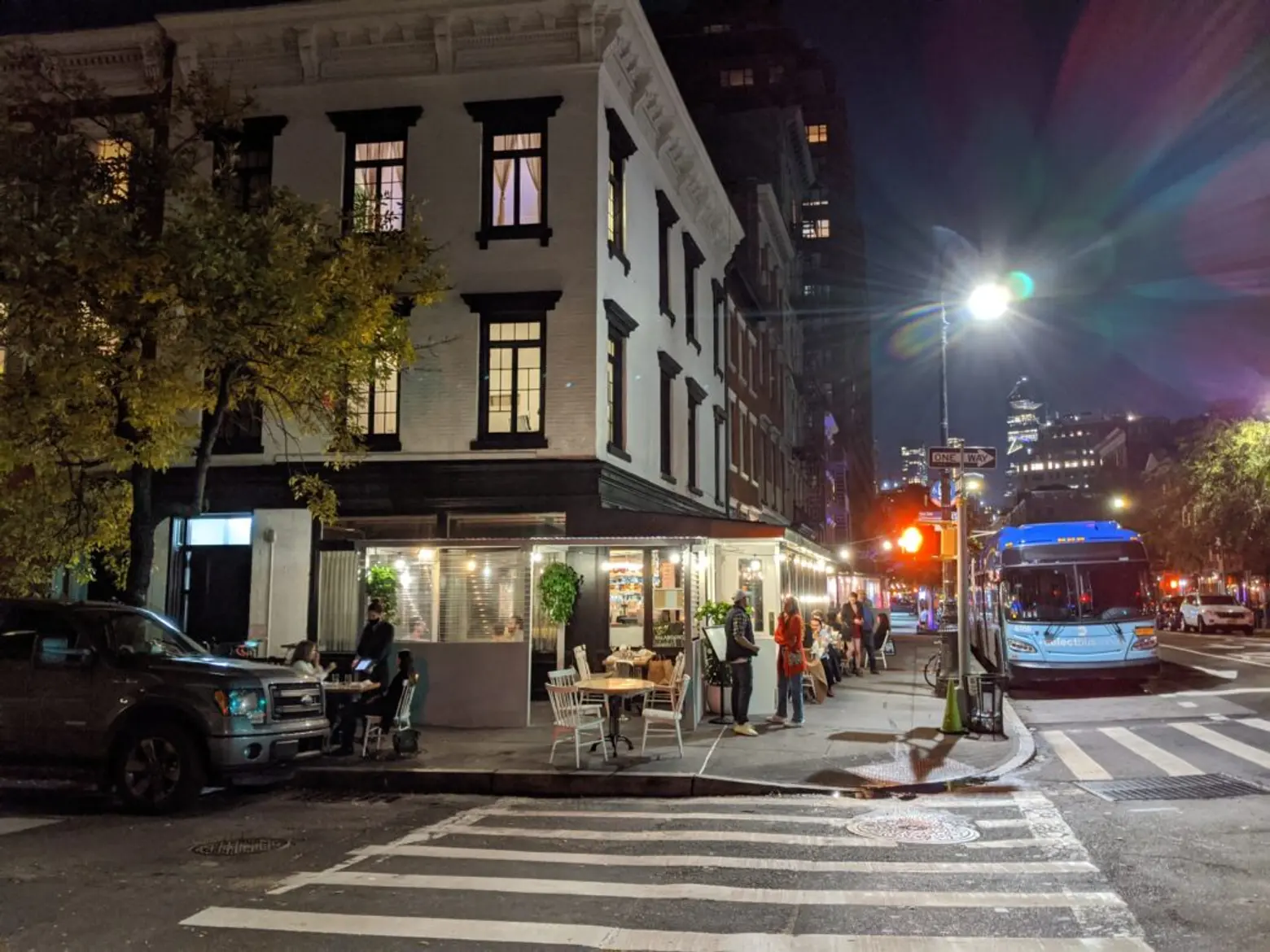 Lining these leafy streets are meticulously preserved Federal, Greek Revival, and Anglo-Italianate townhouses–including too many celebrity homes to count, from Taylor Swift's carriage house to Sarah Jessica Parker's townhouse–connected by landscaped pocket parks and public squares. Apartment buildings include coveted Emery Roth & Sons-designed buildings from developers Bing & Bing.
Beyond stylish residents and star-struck tourists, the 21st-century West Village appears both unchanged by time and completely transformed. As the backyard of New York University, students and faculty continue to call its campus home, bringing a steady flow of new faces and young voices.
The most recent additions have been luxurious developments like The Greenwich Lane, attracting a new wave of residents that value high-end amenities and river views from on high as well as the timeless charms of cobblestone streets and lively parks. Despite constant change, the neighborhood still draws crowds to international cultural celebrations like the annual Pride March and Halloween Parades, which continue to grow and evolve to meet the changing times.
Things to see and do in the West Village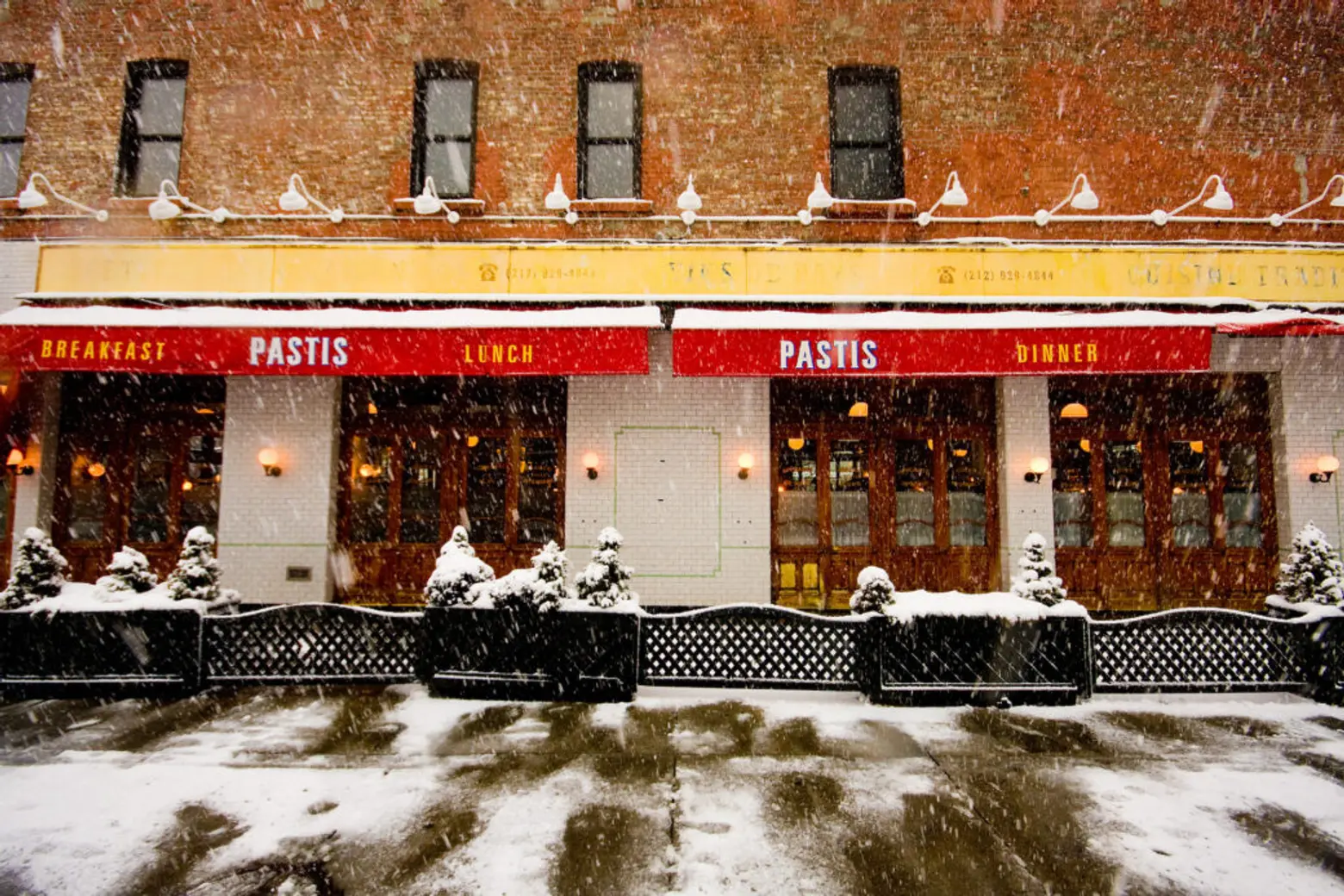 Where to eat and drink
Pastis
Keith McNally's legendary Pastis has been a fixture on the New York City dining scene since it opened in 1999, replicating the vibe of an early 20-century French brasserie in the middle of the Meatpacking District and known for serving steak frites to an A-list celebrity crowd and making regular appearances on "Sex and the City." After the original shut its doors in 2014, the much-anticipated Pastis 2.0 was hailed as a suitably stellar comeback when it reopened just around the corner at 52 Gansevoort Street in 2019.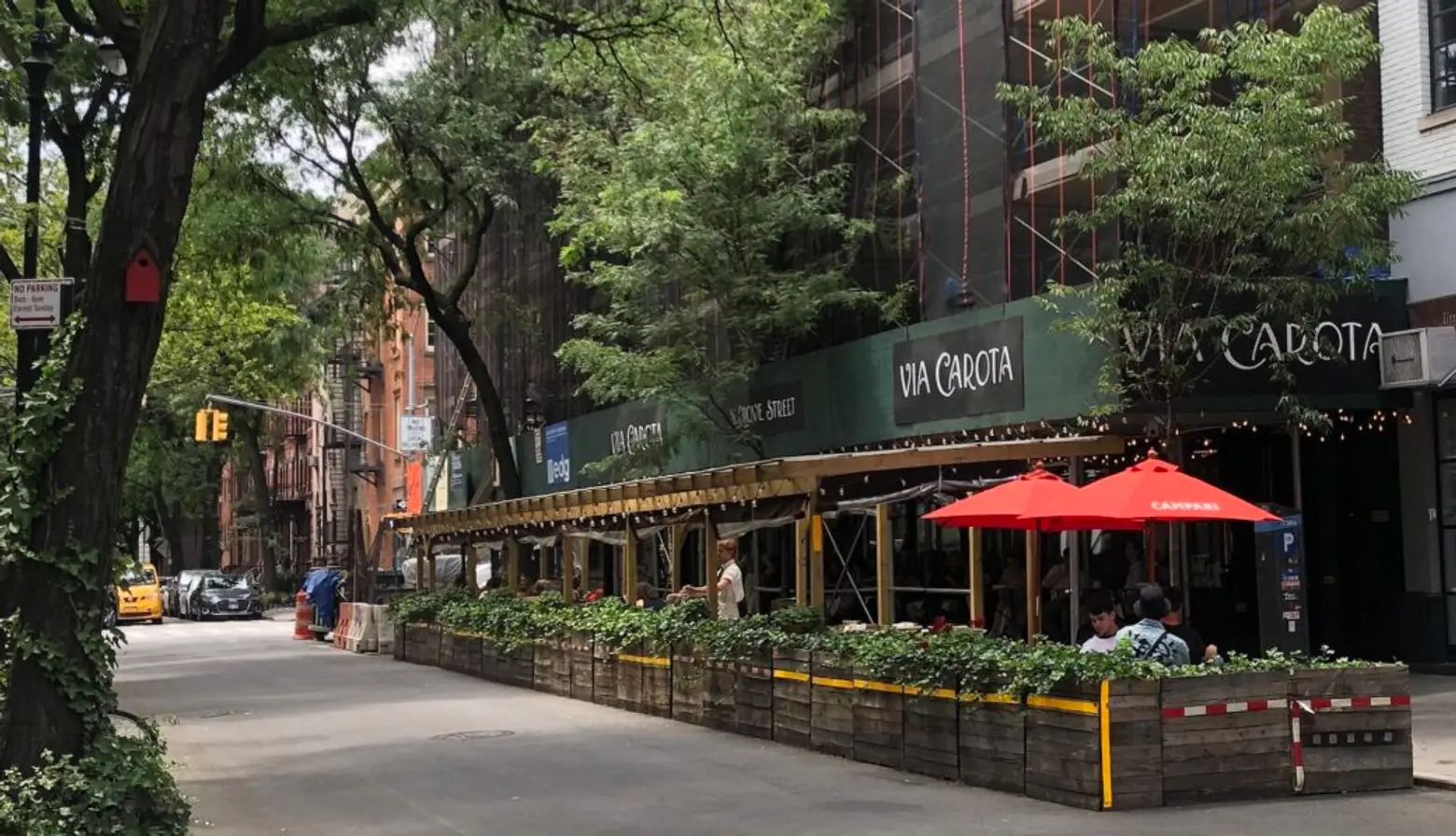 Via Carota
As one of the many homespun Italian trattorias that line the streets of the West Village, Via Carota, helmed by beloved downtown chefs Jody Williams and Rita Sodi, is also one of the city's top dining destinations of its kind. Inspired by a 17th-century villa in the hills near Florence, Via Carota is true to its old-world Italian roots, lifestyle, food, and décor, from the reclaimed wooden floors to the crisp white shirts and long linen aprons worn by servers as they bring baskets of fresh, crusty bread to the room's communal tables. In fair weather, eight outdoor tables provide a perfect Village viewing spot on the tree-lined sidewalk.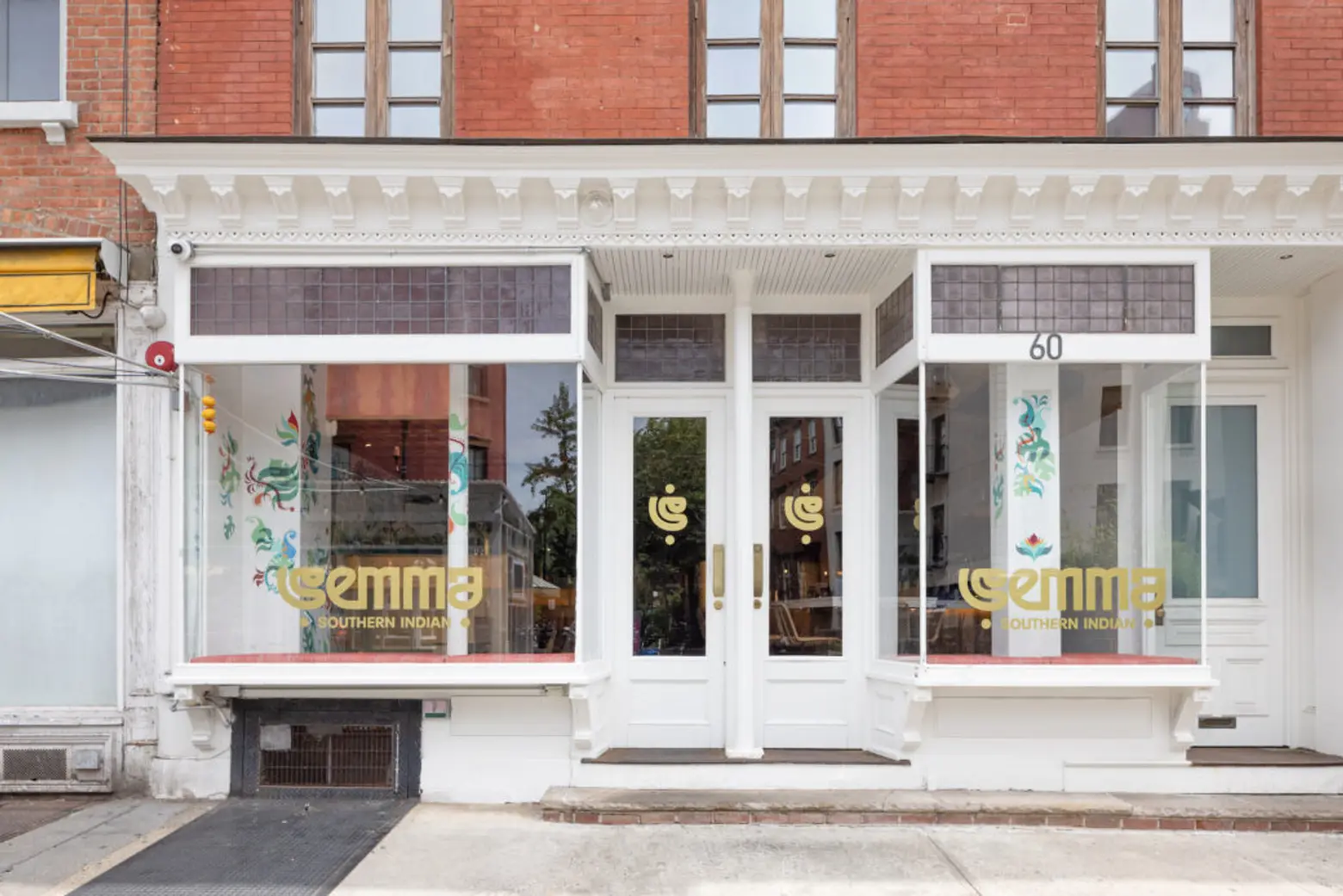 Semma
"Semma" in Tamil means "fantastic;" and by all accounts and reviews, this downtown Manhattan restaurant is a suitably fantastic reflection of the soul of southern India courtesy of chef Vijay Kumar. Serving cuisine that is rarely encountered outside local homes and neighborhoods, the Tamil Nadu native brings authentic moments of the country's rural life to the plate with unforgettable flavors and regional ingredients.
The Little Owl
Known as much for perfectly succulent pork chops as for impossibly romantic ambiance, this cozy corner destination has been a West Village favorite for over two decades. Serving distinctive Mediterranean cuisine, the menu features seasonal and daily specials that include seafood from chef Joey Campanaro's fishing trips. An equally lovable wine list features full and half bottles to match the cuisine as well as the diner's budget.
I Sodi
Along with nearby Via Carota, this trattoria from James Beard Award finalists Jody Williams and Rita Sodi is considered one of the city's very best Italian dining destinations. A recent move to a larger space on Bleecker Street means it may be slightly easier to snag a table–but don't count on it. Stunningly simple Tuscan food like artichoke salad, lasagne, and tagliatelle al limone in a rustic farmhouse space with a charming backyard are just as much of a treat as ever.
Libertine
Indulge your Francophilia at this classic bistro, where you'll find the day's menu on chalkboards around the room. Equally classic menu items are perfectly paired with wine, and big corner windows look out on the lively Christopher Street scene.
The Noortwyck
Noortwyck is the Dutch word for North District; this recently-opened restaurant from Eleven Madison Park alums Andy Quinn and Cedric Nicaise occupies what was once the nothern tract of New Amsterdam. A New American menu highlights local New York producers and vendors and adds a robust wine list.
Kosaka
This Michelin-starred West Village omakase sushi spot features celebrated chef Yoshihiko, recognized as one of the city's top sushi chefs. The atmosphere here is tranquil and restrained, the fish is flawless and the service is perfectly attentive.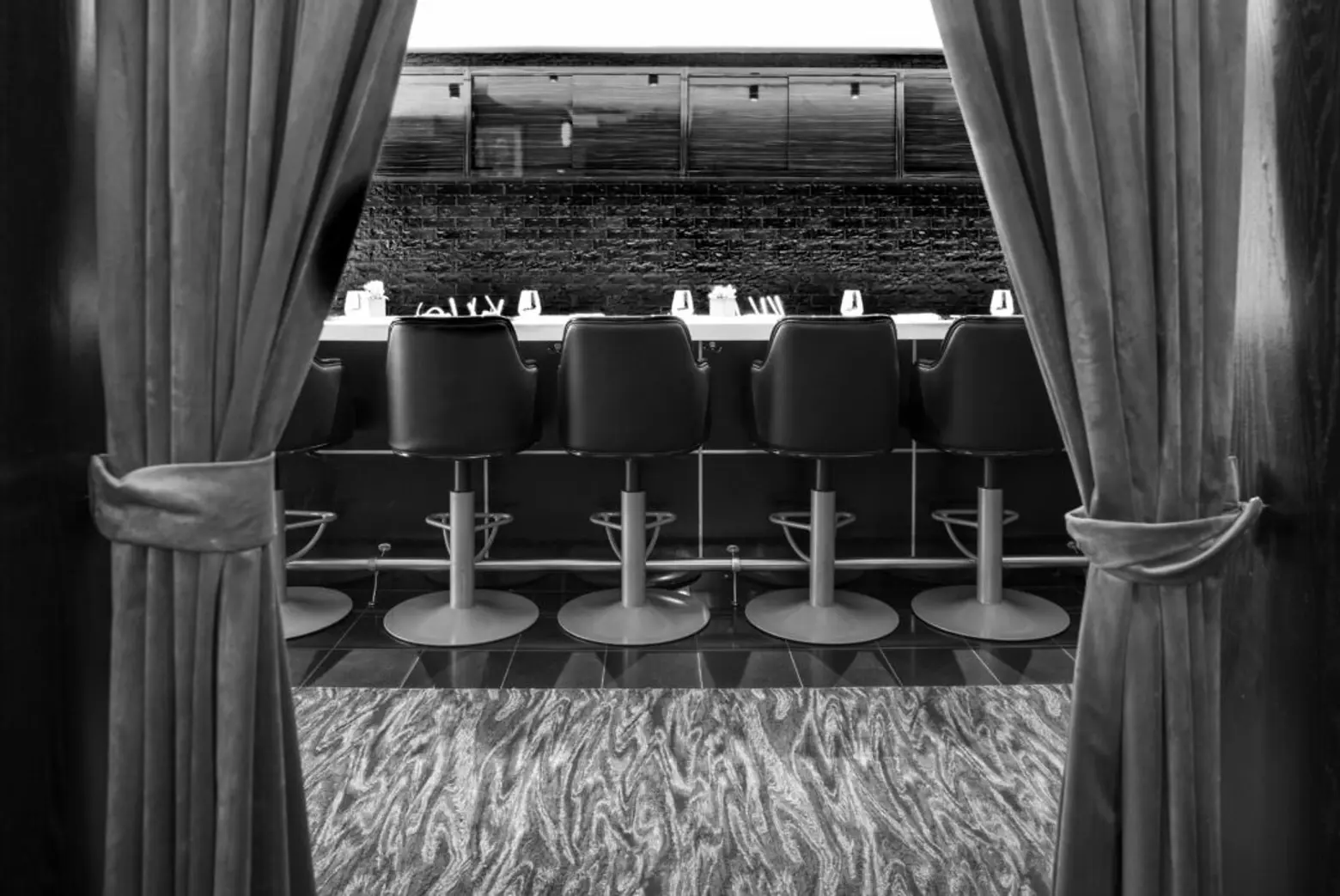 Sushi Nakazawa
Since opening in 2013, this upscale West Village sushi destination has featured a 21-course omakase meal with fine-dining-style service. The sushi, of course, is sublime; the sophisticated space has two chef's counters and a small dining room. If you're craving sushi perfection or marking a special occasion, you'll get your money's worth.
Don Angie
Rave-worthy home-style Italian cuisine in the West Village isn't exactly a rarity, but it's still tough to get a table at places like Don Angie, where the food is both exciting and accessible: big plates of cheese-stuffed garlic flatbread join a panoply of pasta, grilled and cured meats and much, much more.
Sushi Katsuei
Known for its foodie-favorite affordable omakase in Park Slope, Brooklyn, where $65 gets you nine sublime pieces of fish and a handroll. The newer West Village outpost means sushi lovers don't have to cross the East River for some of the city's best sushi–and best value.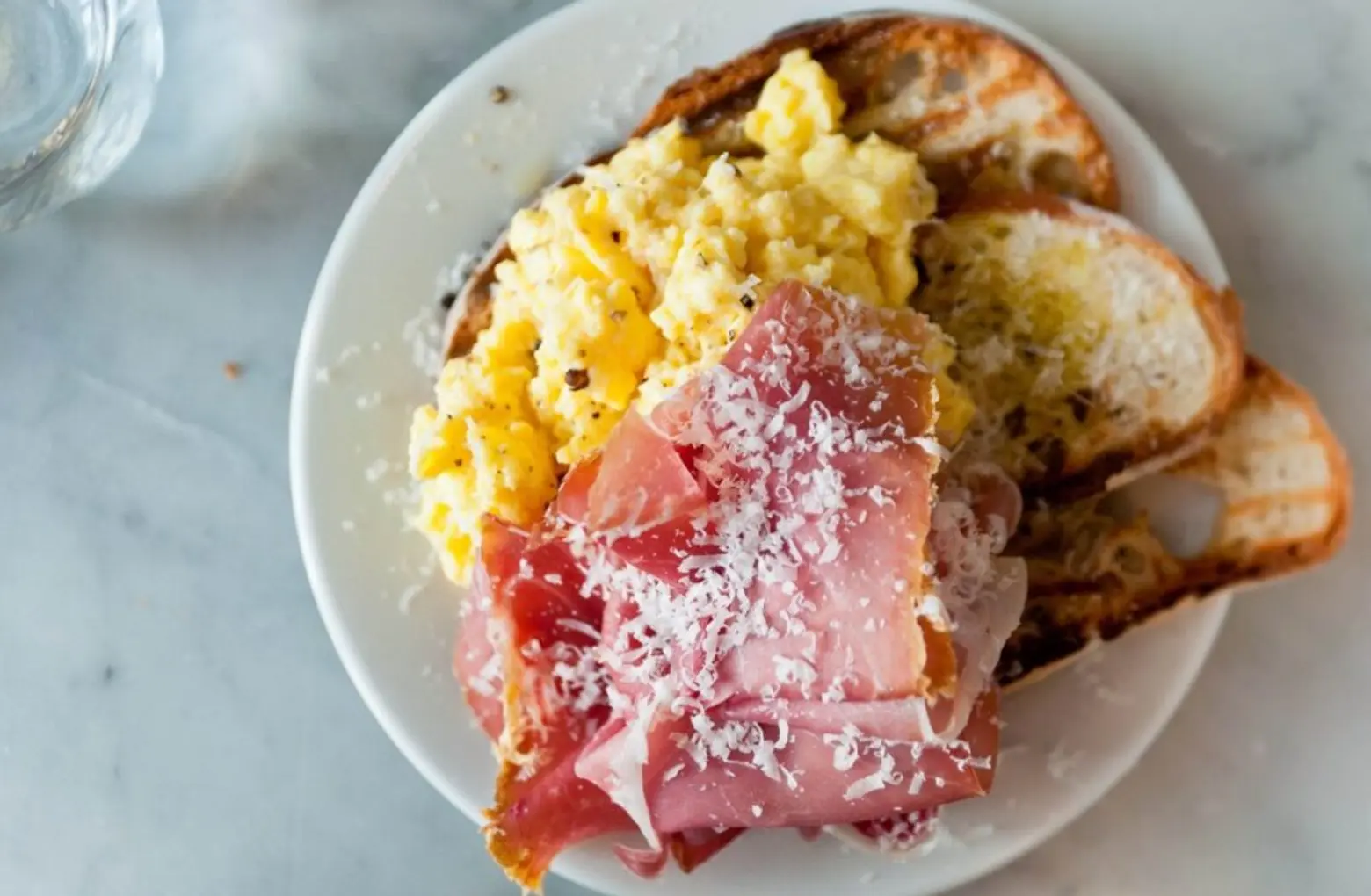 Buvette
Buvette is part bar, part bistro, and part cafe, open, as the restaurant promises, "from sunlight to candlelight." The enthusiasm here embodies that of the neighborhood surrounding it, with a French accent and plenty of personality. It's a popular brunch spot, so prepare to wait with a crowd who knows the wait is worth it.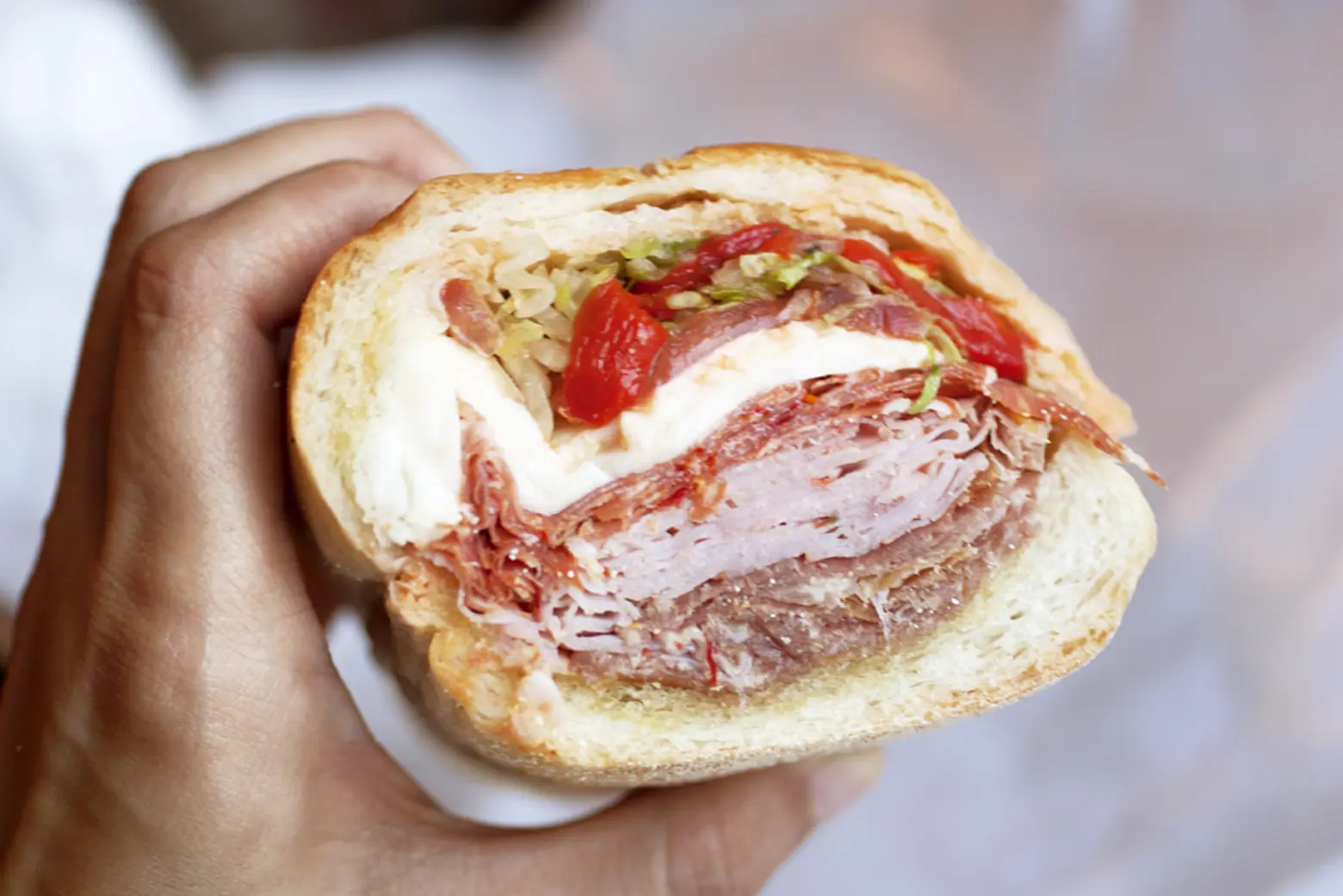 Faicco's Italian Specialties
Open since 1900 and run by the Faicco family's fourth generation, this Italian deli is known more to locals than tourists. You'll find top-quality meats that make their way into top-notch sandwiches, and we're told that the chicken cutlet sandwich tops them all.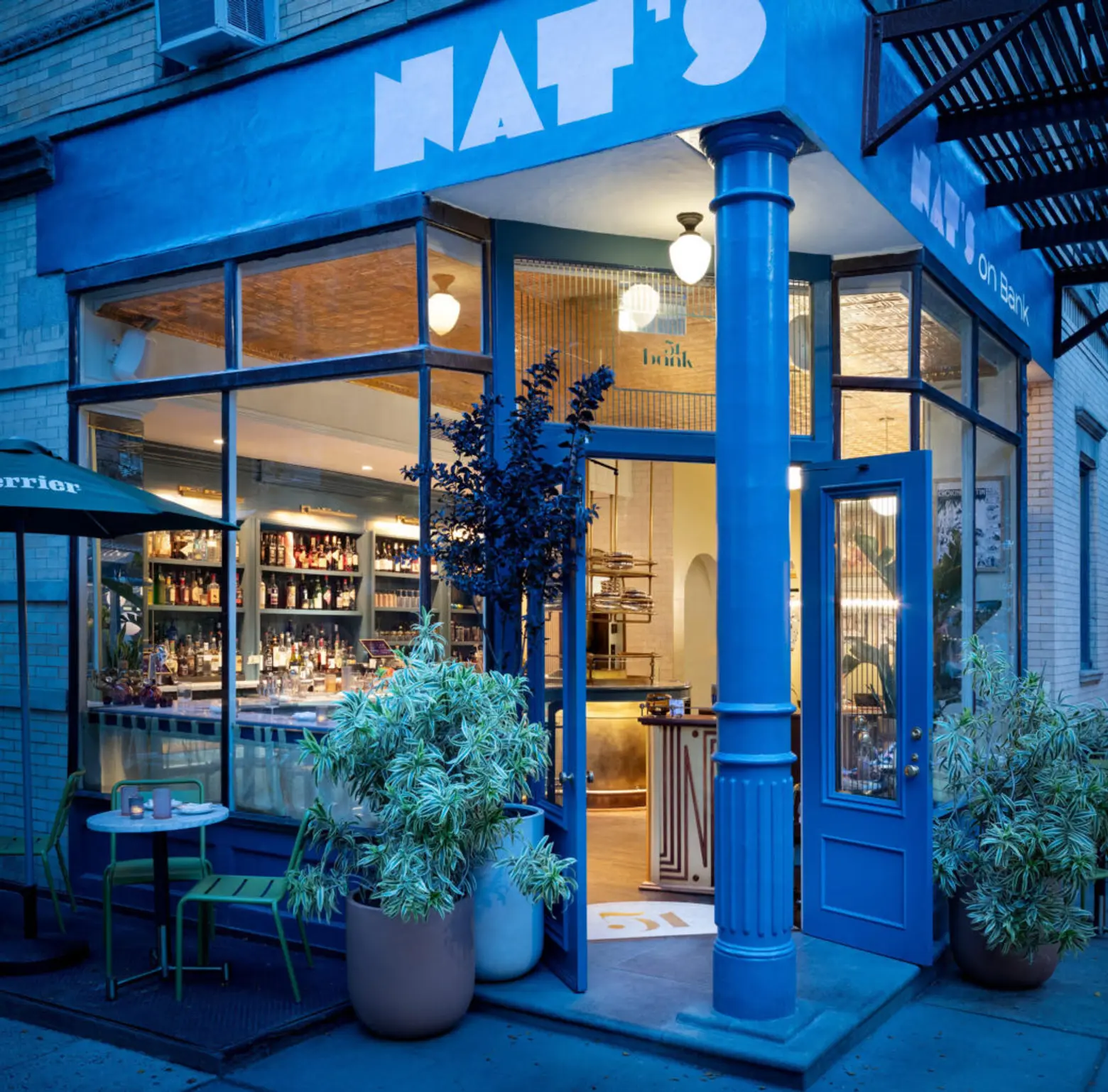 Nat's on Bank
Nat's is a different kind of neighborhood spot: In the establishment's own words, "a fun, artful environment" where New York classics are expertly prepared, but not taken too seriously. Whimsical tableware, a bright yellow menu, and a party vibe provide an electric alternative on cozy, sleepy Bank Street.
Tea & Sympathy
This West Village treasure has been serving British comfort food and properly done tea since 1990. Check out their next-door shop for popular British groceries, sweets, loose tea, teapots, cups and saucers, and more.
Mary's Fish Camp
This beach-shack-style seafood mecca on Manhattan's west side has been filling its tightly packed space with happy, raucous diners since 2000. The lobster roll is famous, the mussels are reliably fresh, and the chalkboard special is always worth trying.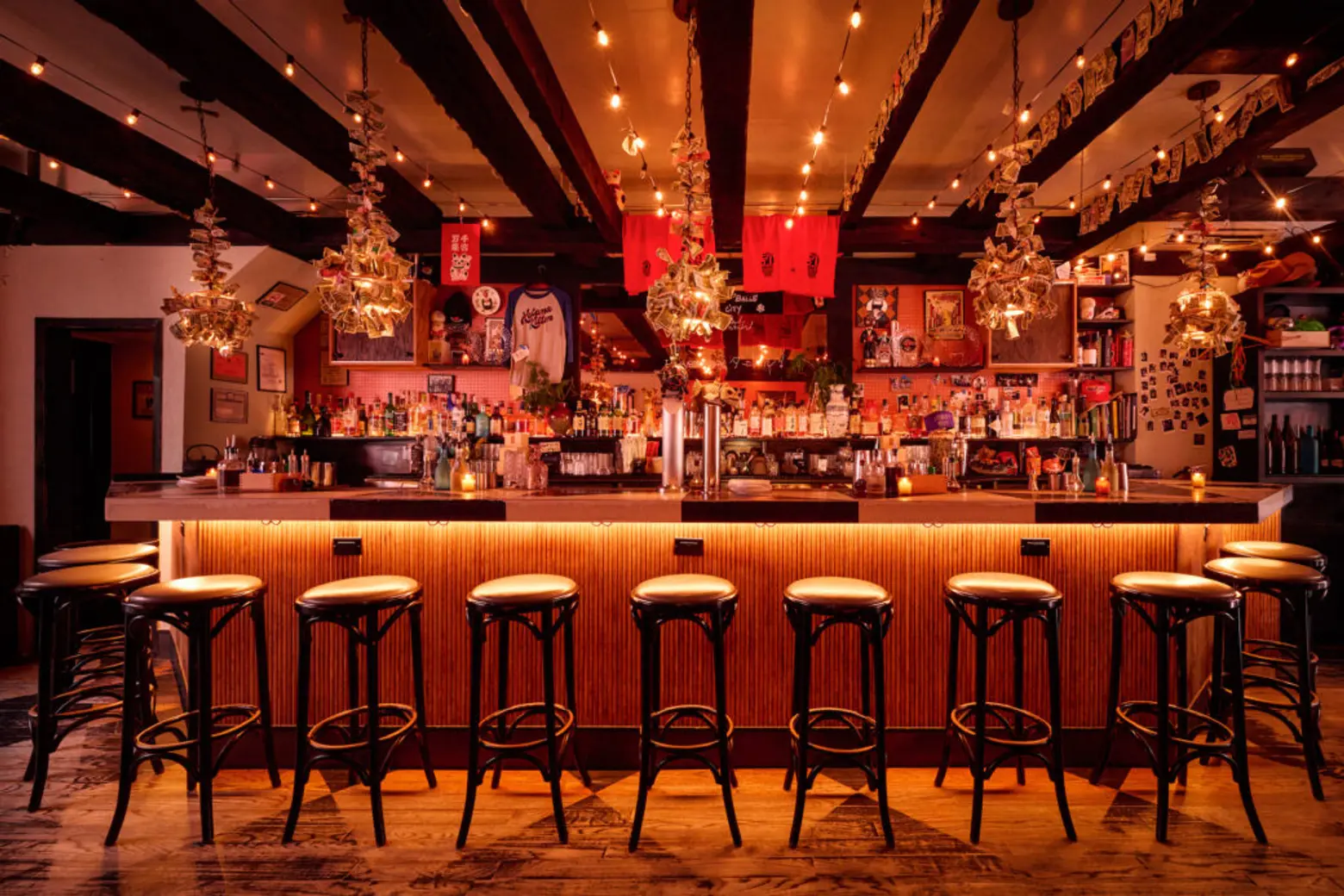 Katana Kitten
Katana Kitten, considered one of the world's best, is a trendy-right-now cocktail bar on two floors; the clean, minimal space with walls lined with Japanese movie posters and an upstairs room hung with string lights is the rare chill spot that isn't a dive bar and isn't a fancy, fluffed-up watering hole. In addition to stellar signature cocktails, the bar menu is well beyond the average burgers and fries.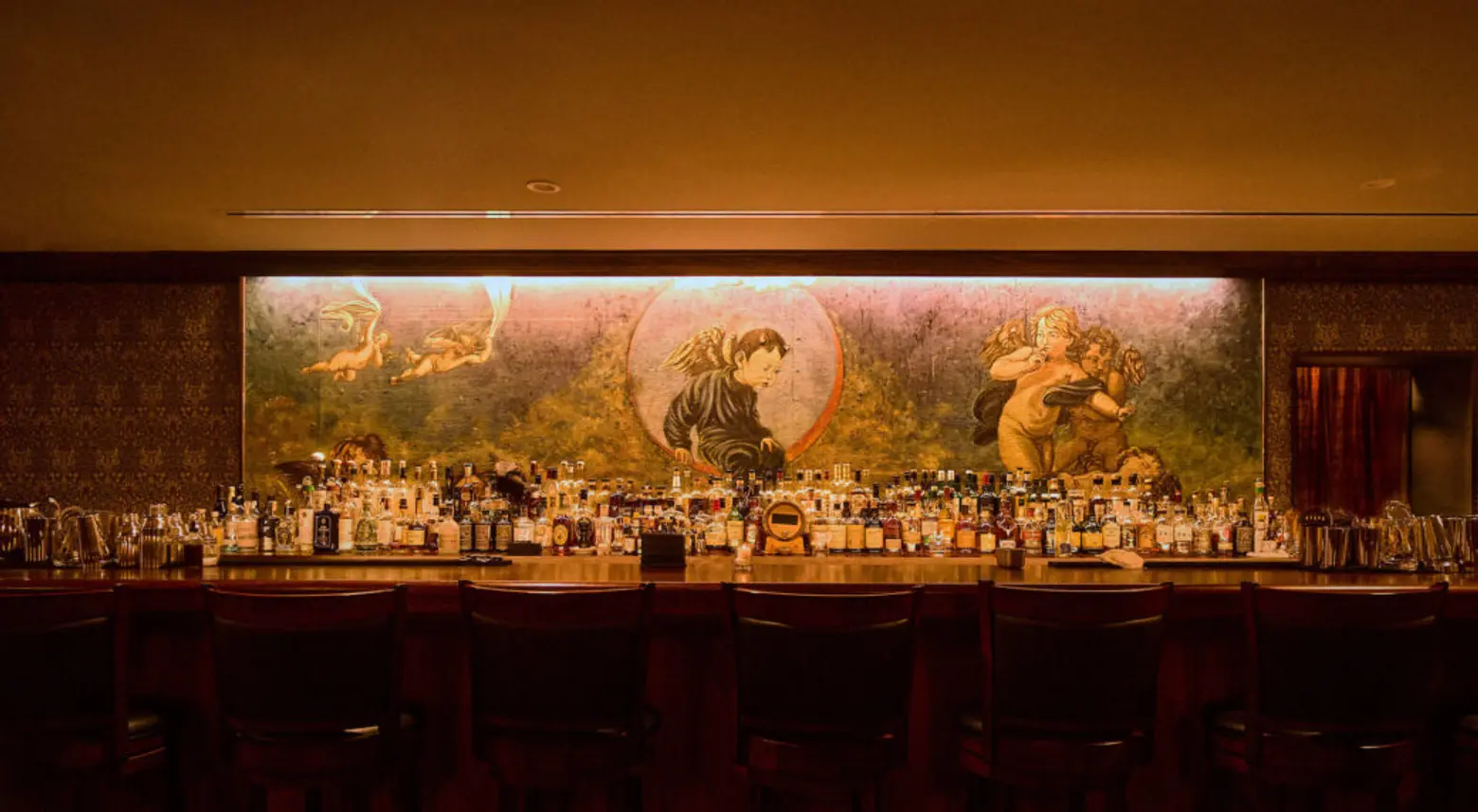 Angel's Share
Perched above an evolving East Village street scene for nearly three decades, Angel's Share ushered in cocktail bar culture in downtown New York City. The "secret" bar behind a Korean eatery was a favorite of everyone, from journalists and newly-minted media moguls to students looking for a grown-up spot to bring the folks. After shutting its well-hidden doors in 2020, the beloved bar re-opened recently in the basement of a Grove Street townhouse, where it continues the tradition of being a no-fuss establishment with killer cocktails, often packed to capacity, with a four-person maximum for party size.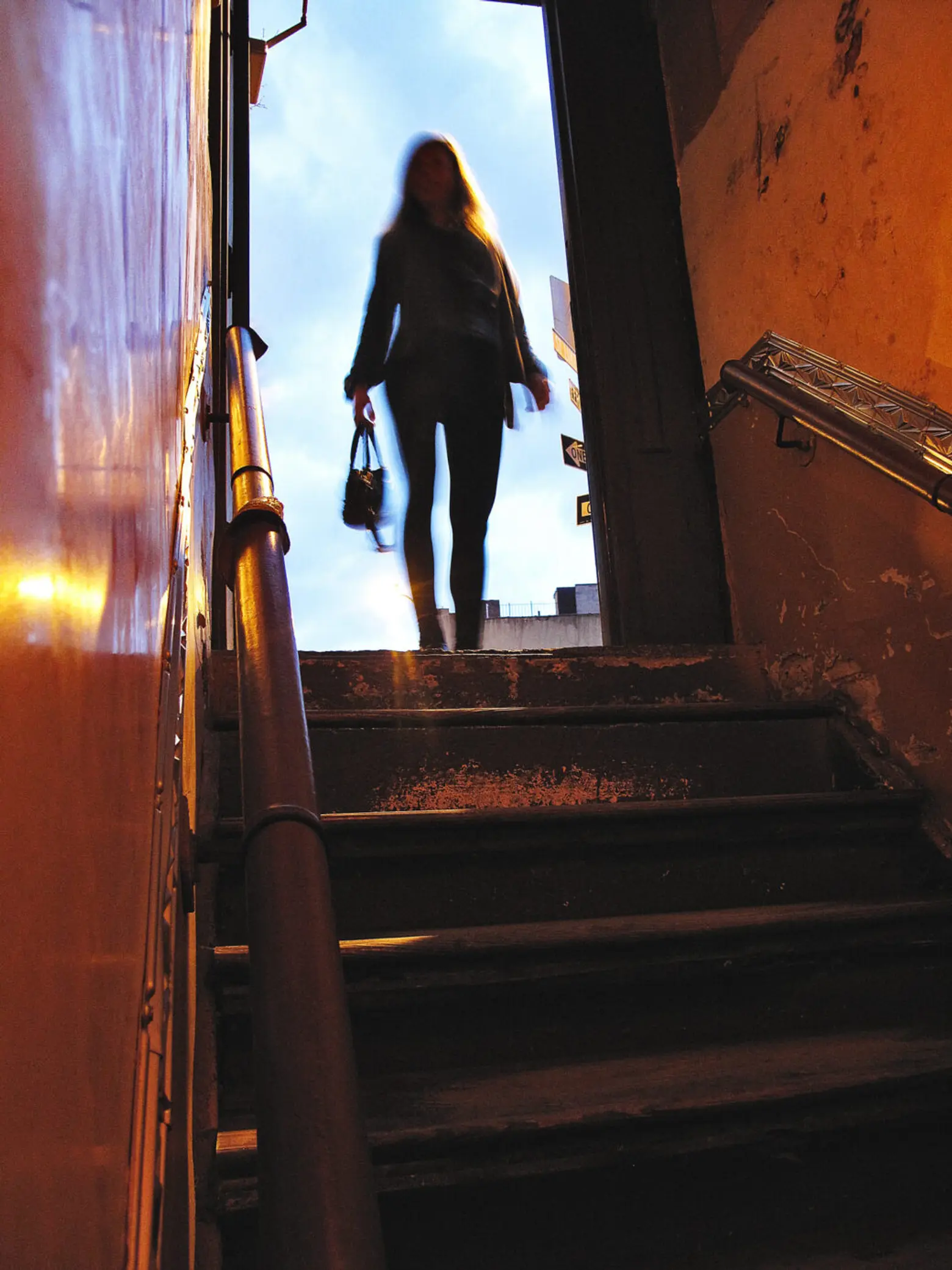 Little Branch
This pioneer of the modern speakeasy scene is located in an actual underground space hidden down a rickety staircase. Live jazz is an occasional treat, and it's first-come, first-served, so have a backup plan if you arrive at peak bar time.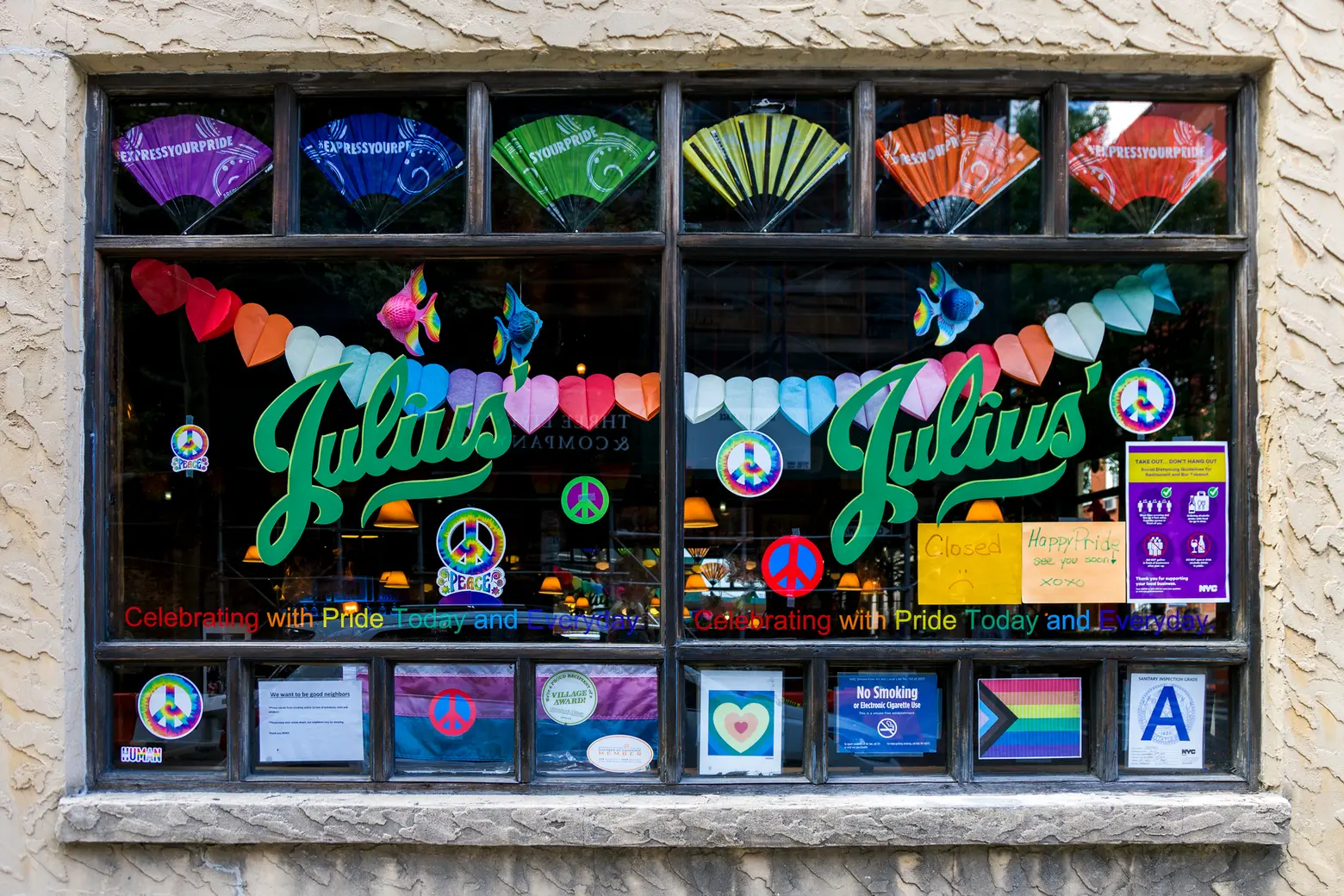 Julius'
At first home to a grocery store, the landmarked Greenwich Village building that houses New York City's oldest gay bar was built in the middle of the 19th century. In addition to being one of the oldest continuously operating bars in the city, Julius' is also known for its historic "Sip-In" on April 26, 1966, when members of the Mattachine Society–one of the country's earliest LGBT rights organizations–protested the state law that prohibited bars from serving "suspected gay men or lesbians." Recognized as one of the most significant instances of gay rights activism before the Stonewall Riots in 1969, the demonstration led to the 1967 ruling that gay people had the legal right to assemble and be served alcohol. The iconic bar became a New York City landmark in December.
Blind Tiger Ale House
Sometimes it's all about the beer. While New York City bars excel at fancy cocktails and organic wines, there are fewer choices for brew connoisseurs. Blind Tiger offers an extensive microbrew selection, excellent food, and, because these things are no secret, plenty of company.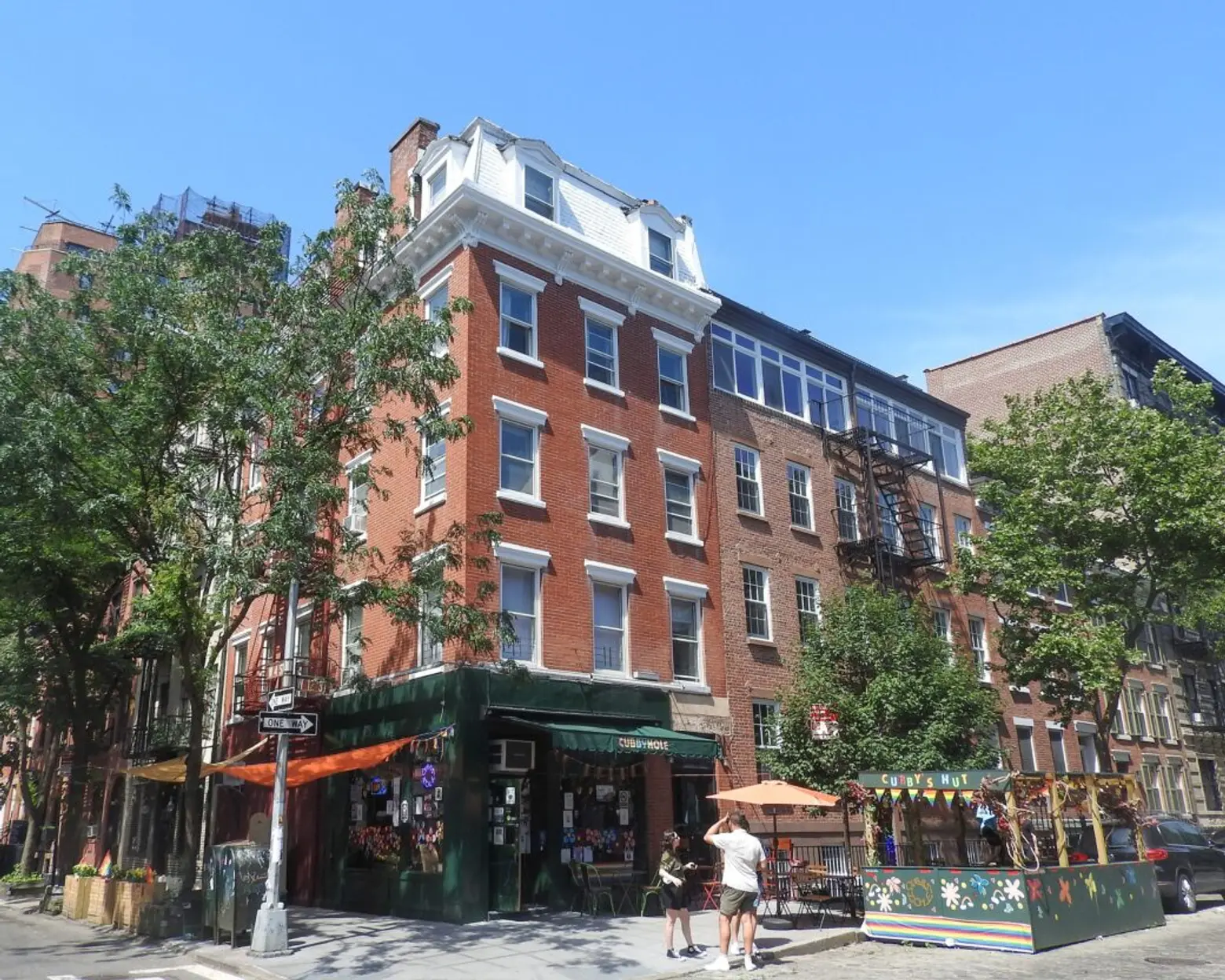 Cubbyhole
New York City's best-known lesbian bar is as much a stop on many a gay travel itinerary as it is a local West Village go-to. A daily happy hour with free pizza is just an added perk. Weekdays are best for avoiding lines outside and crowds within this good-natured dive-ish bar.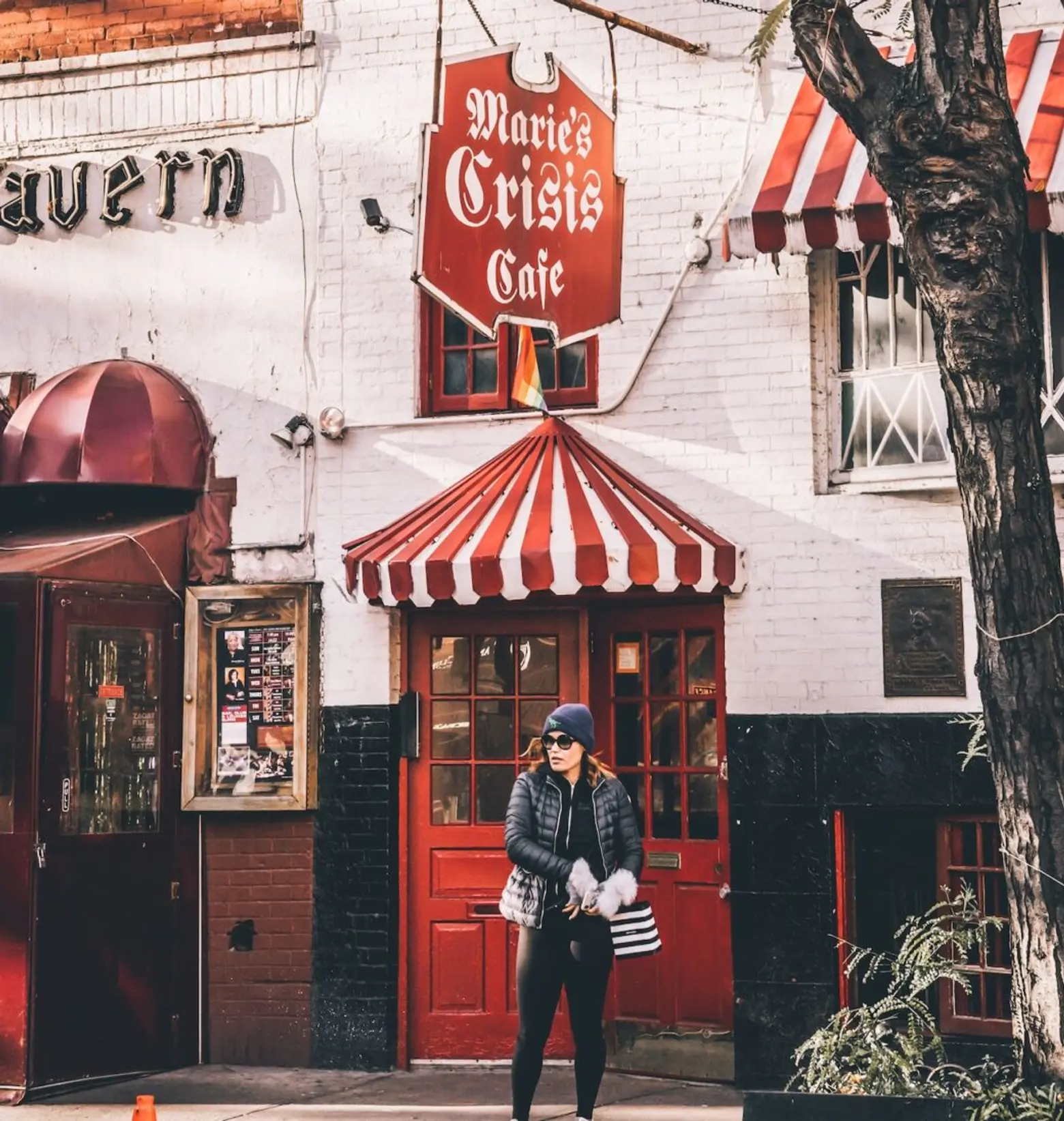 Marie's Crisis Cafe
Who doesn't dream of a small, elegantly seedy piano bar in a West Village basement where you can sing along to a night's worth of show tunes with the regulars?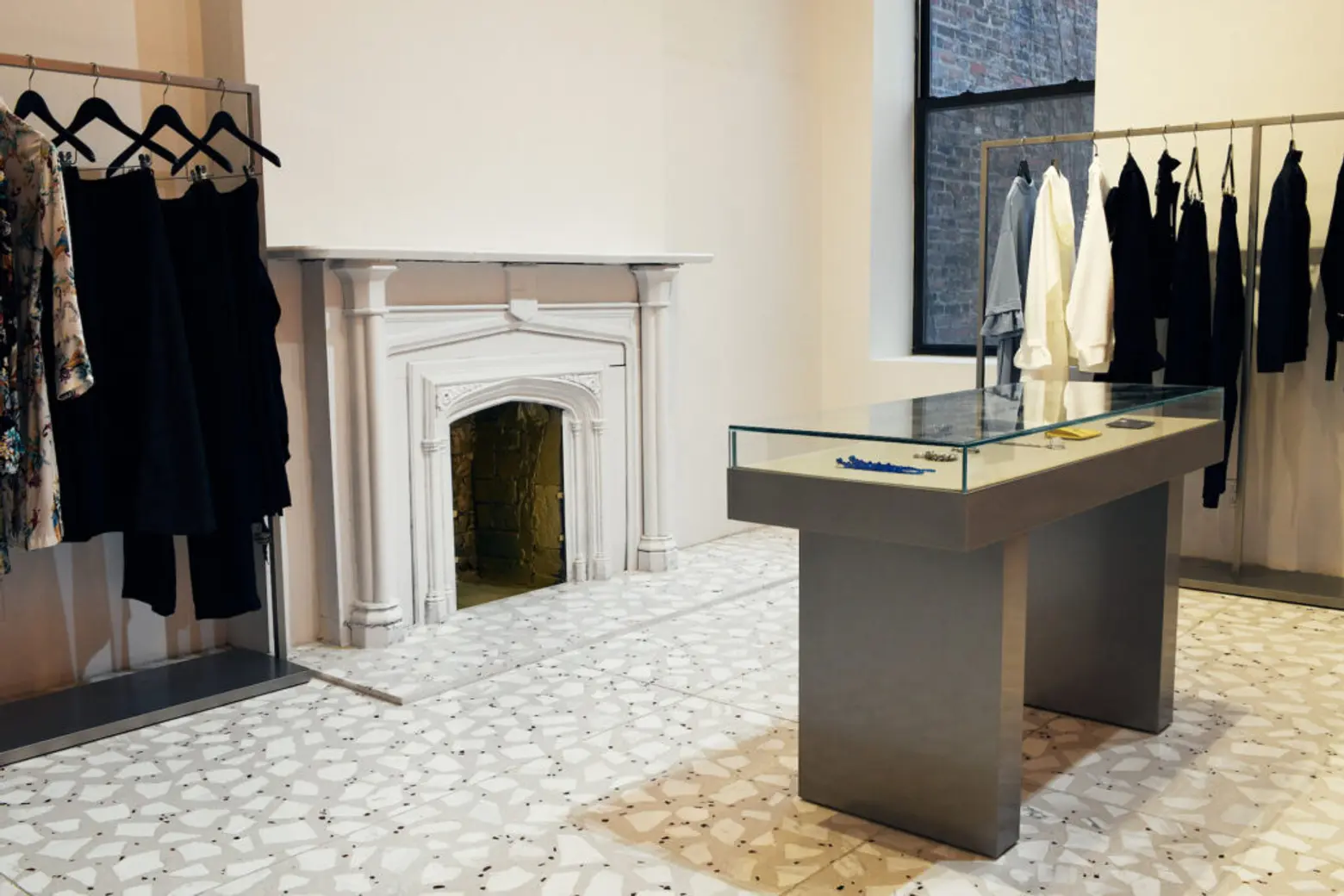 Where to shop
Maison Margiela
Martin Margiela's first U.S. boutique occupies a sprawling, minimalist loft-like space, where the Belgian designer's irreverently stylish creations for men and women are artfully displayed.
Atelier
This high-end cutting-edge fashion boutique can provide some solace–along with the latest from designers like Rick Owens, Acne Studios, Alexander Wang, and dozens more–for those of us who miss the pedigreed avant-garde paradise that was Barney's.
Hudson Grace
Though it's now owned by Crate and Barrel, chic home goods chain Hudson Grace fits right in on Bleecker Street. Filled with a carefully curated assortment of scented candles, tableware and home accents, the San Francisco-based brand offers just the sort of unobtrusively stylish items that residents of today's Village seek for their townhouses, lofts and condos.
The End of History
Purveyors of 20th-century decorative arts since 1997, this gem of a vintage shop is just the place to go for an unusual gift or the perfect coffee table topper. The store features one-of-a-kind vintage art glass and many other rare and beautiful pieces.
Bookmarc/Marc Jacobs
In 2010, as bookstores were becoming a thing of the past, Marc Jacobs opened the first Bookmarc store on Bleecker Street in the West Village, stocking photography, fine art, fiction, music, pop culture, and rare titles. Locations have since opened around the globe, all of which serve as top venues for book launches and other events as well as celebrity go-tos for buzzy books.
Big Night
This growing empire features all of the ingredients required to throw a fabulous dinner party of any size as well as gifts for anyone who loves to eat, cook, or host. The West Village location takes the form of a cool and cozy apartment; wander from dining room to pantry to kitchen, bar, and bath, finding goodies that would be perfect for your own home.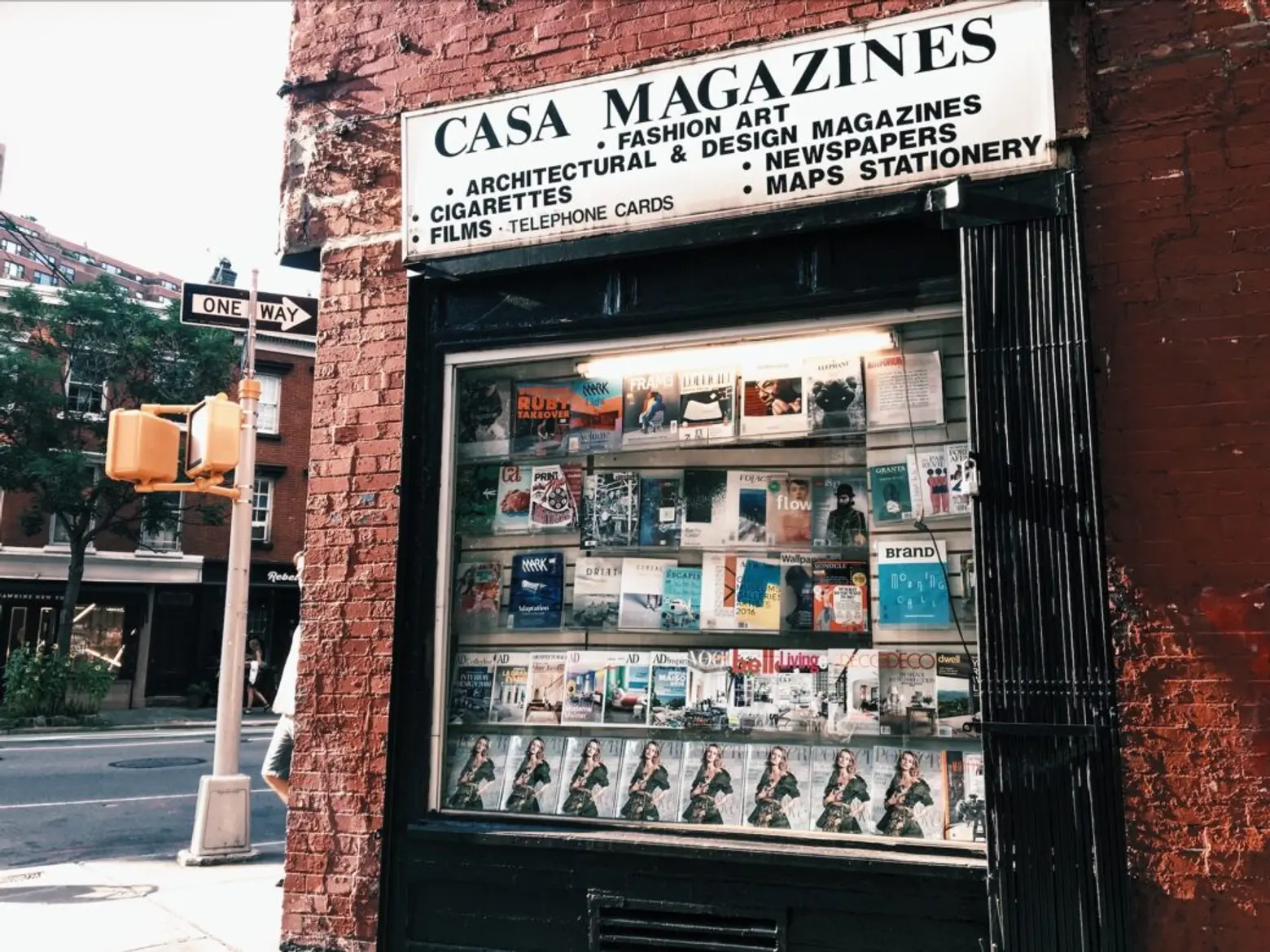 Casa Magazines
Old-fashioned glossy magazines might be a niche item today, but every so often we crave the colorful, fabulous magazine experience. Fortunately, there are equally old-school stores like this one, featuring a veritable candy store of print titles from the worlds of fashion, design, art, and more.
Three Lives and Company
More than a mere bookstore, Three Lives is a place to discuss books, culture, and events of the moment. The Greenwich Village Historical Society called the shop a "pocket of civility" in a sea of big chains and online instant gratification.
Nordstrom Local West Village
One of only a few such locations, this retail department store outpost is a veritable Swiss army knife for Nordstrom customers, including a convenient service hub for online order pickups and returns, express alterations, and gift wrapping; you can even return items purchased at other online stores, making a trip to the post office unnecessary.
Left Bank Books
Tucked away on a historic tree-lined block of Perry Street, Left Bank Books buys and sells used, vintage, and rare books in literature, culture, and the arts in an intimate, friendly space.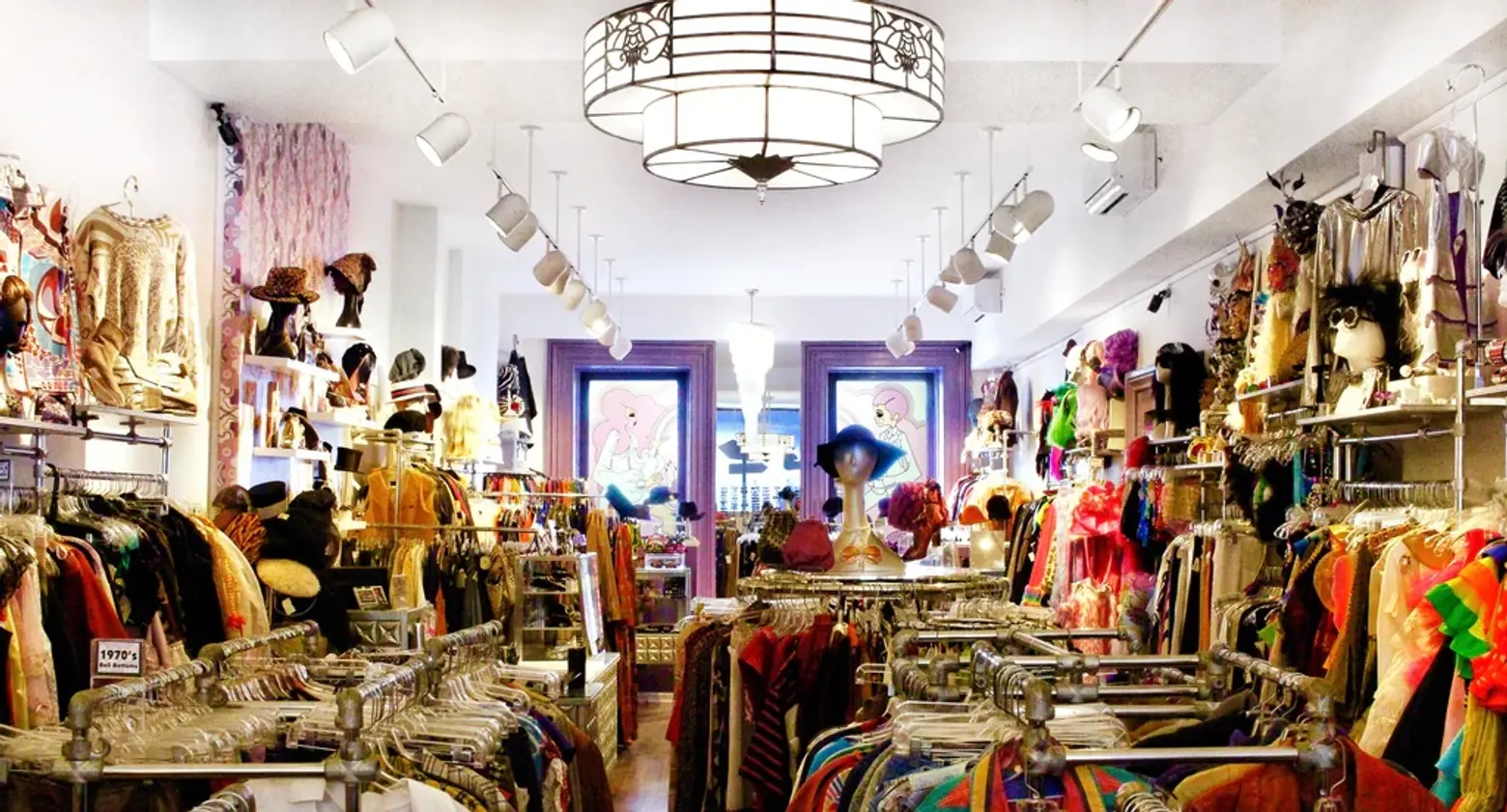 Screaming Mimi's
Anyone excited by the prospect of finding the perfectly cool vintage outfit or club costume will be over the moon to discover this trove of designer–and otherwise distinctive–vintage apparel. The 14th Street store on the parlor level of a townhouse is the second chapter for Mimi's, whose Lafayette Street emporium was a fashion mecca since it opened in 1978.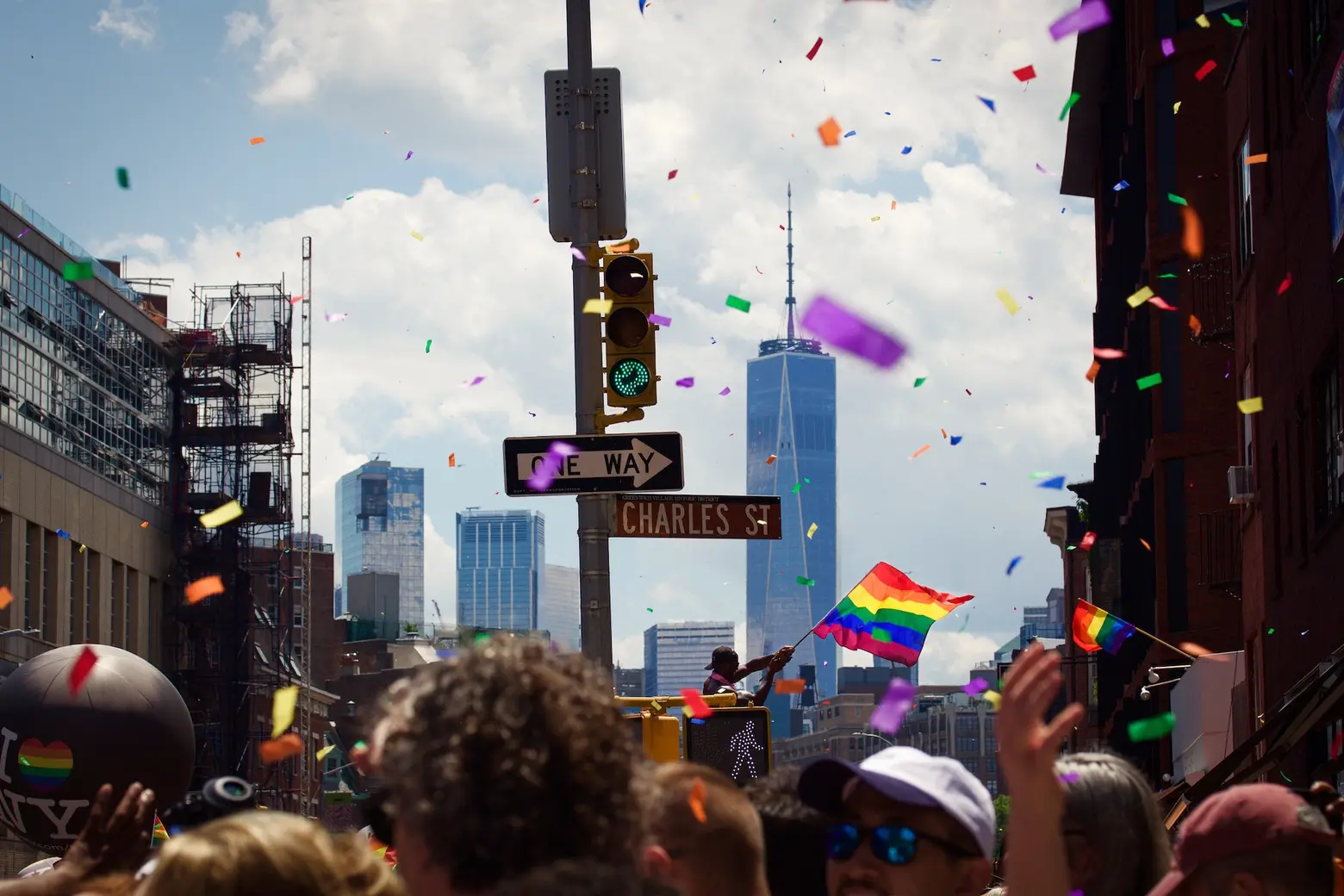 Events and culture
New York City Pride March
A year after Stonewall, the first Gay Pride March was held by the Christopher Street Liberation Day Committee to commemorate the riots. The New York Times reported that the marchers took up the entire street for about 15 city blocks. The celebrated NYC Pride March has been a symbol of the LGBTQIA+ presence in the community for more than a half-century.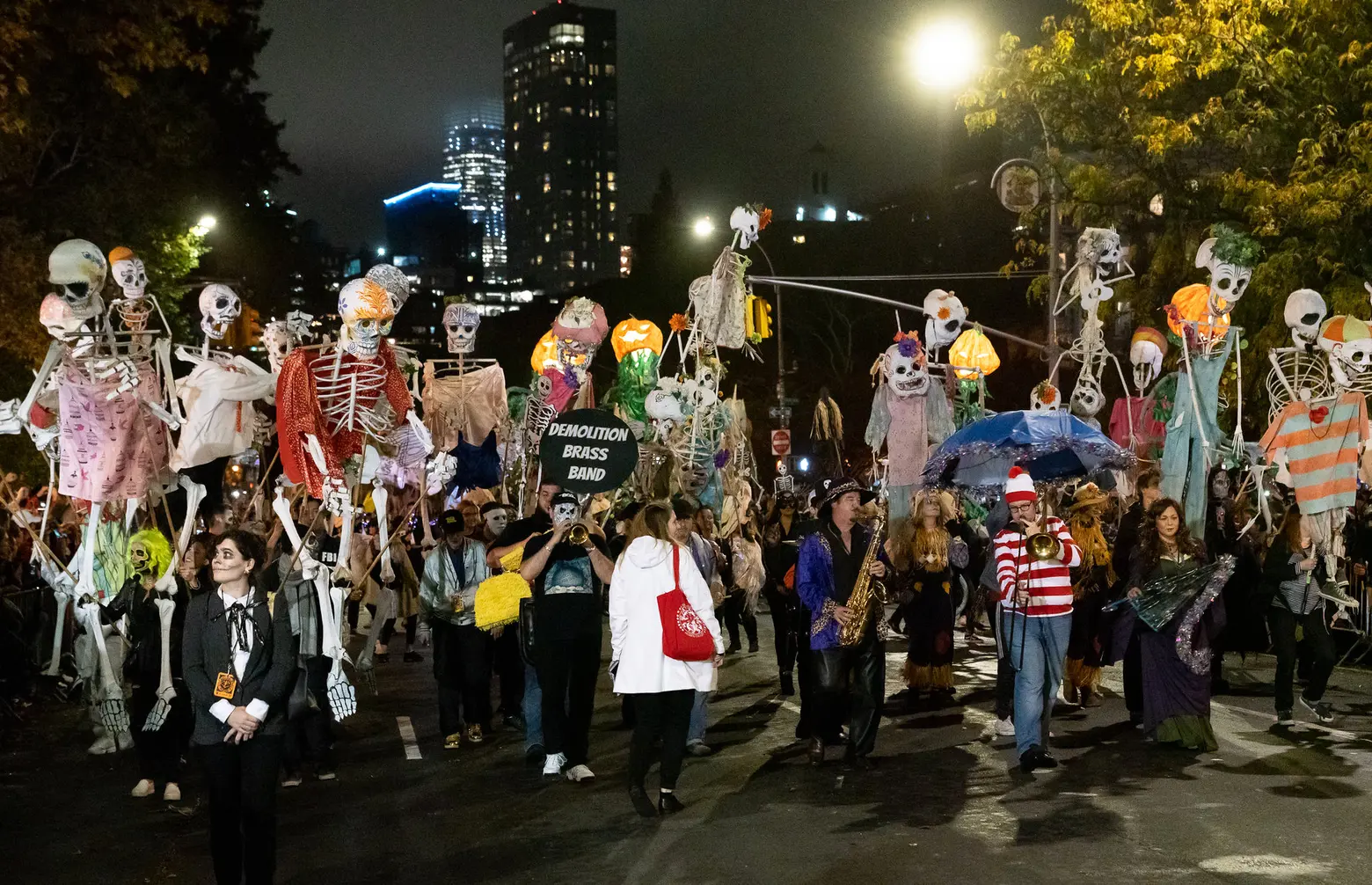 The Village Halloween Parade
As the brainchild of Greenwich Village mask maker and puppeteer Ralph Lee in 1973, the first Halloween parade began as a walk through his West Village neighborhood with his children and their friends. In its subsequent years, the event attracted creative backers from the theater world. Today, the annual parade is the world's largest celebration of its kind. Fifty years on, the event now attracts 70,000 costumed participants and an estimated two million spectators. More than just an art parade, the celebration of creativity is broadcast live via every kind of media, local, national, and worldwide.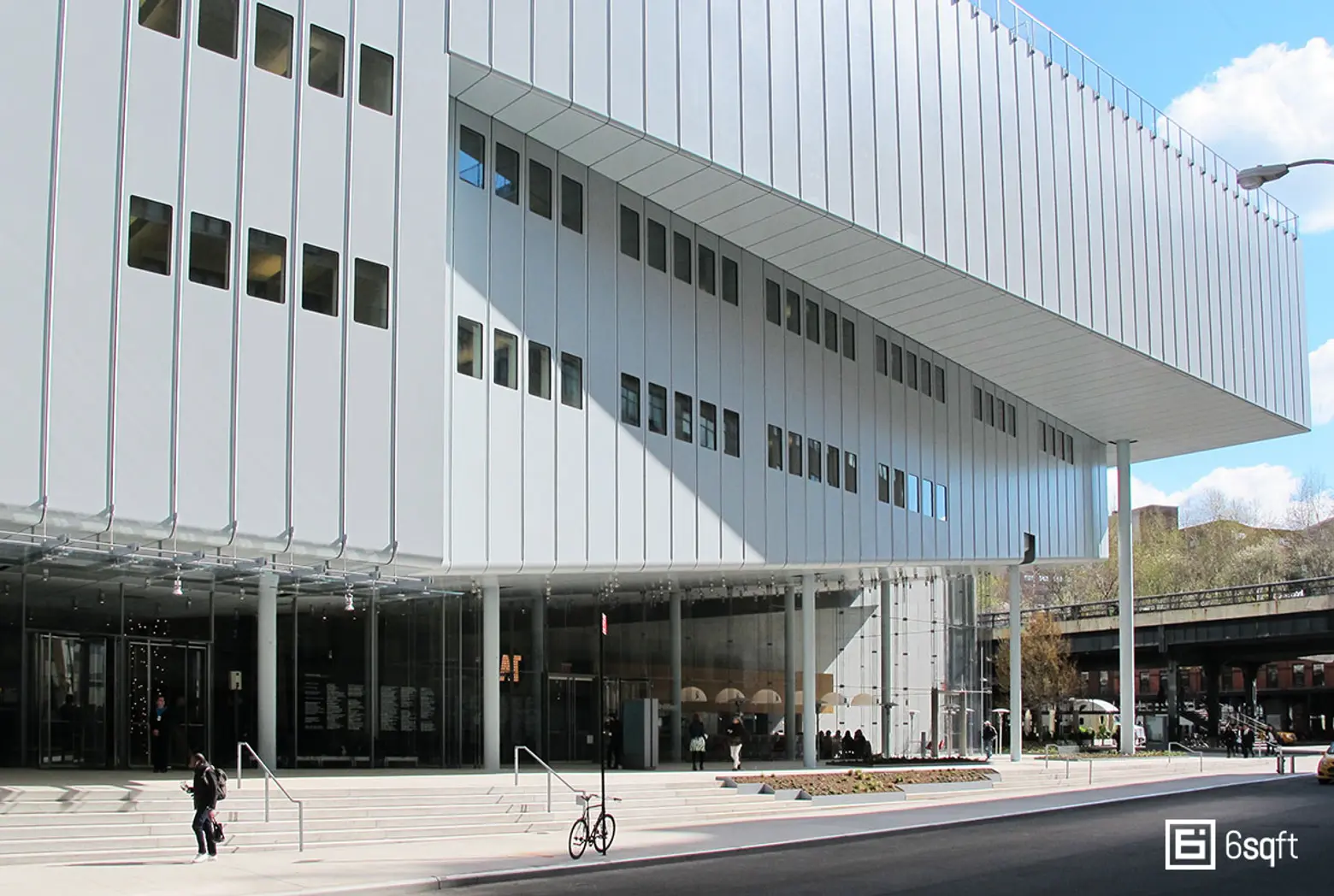 The Whitney Museum of American Art
It's entirely fitting that the first museum dedicated to contemporary American art, which began its life in the West Village, has returned to its original home for the 21st century. The internationally celebrated museum opened in 1931 at 8 West Eighth Street. After stints in Midtown and the Upper East Side, the Whitney returned to Greenwich Village in 2015 to a new home in a $422 million Gansevoort Street building designed by Renzo Piano.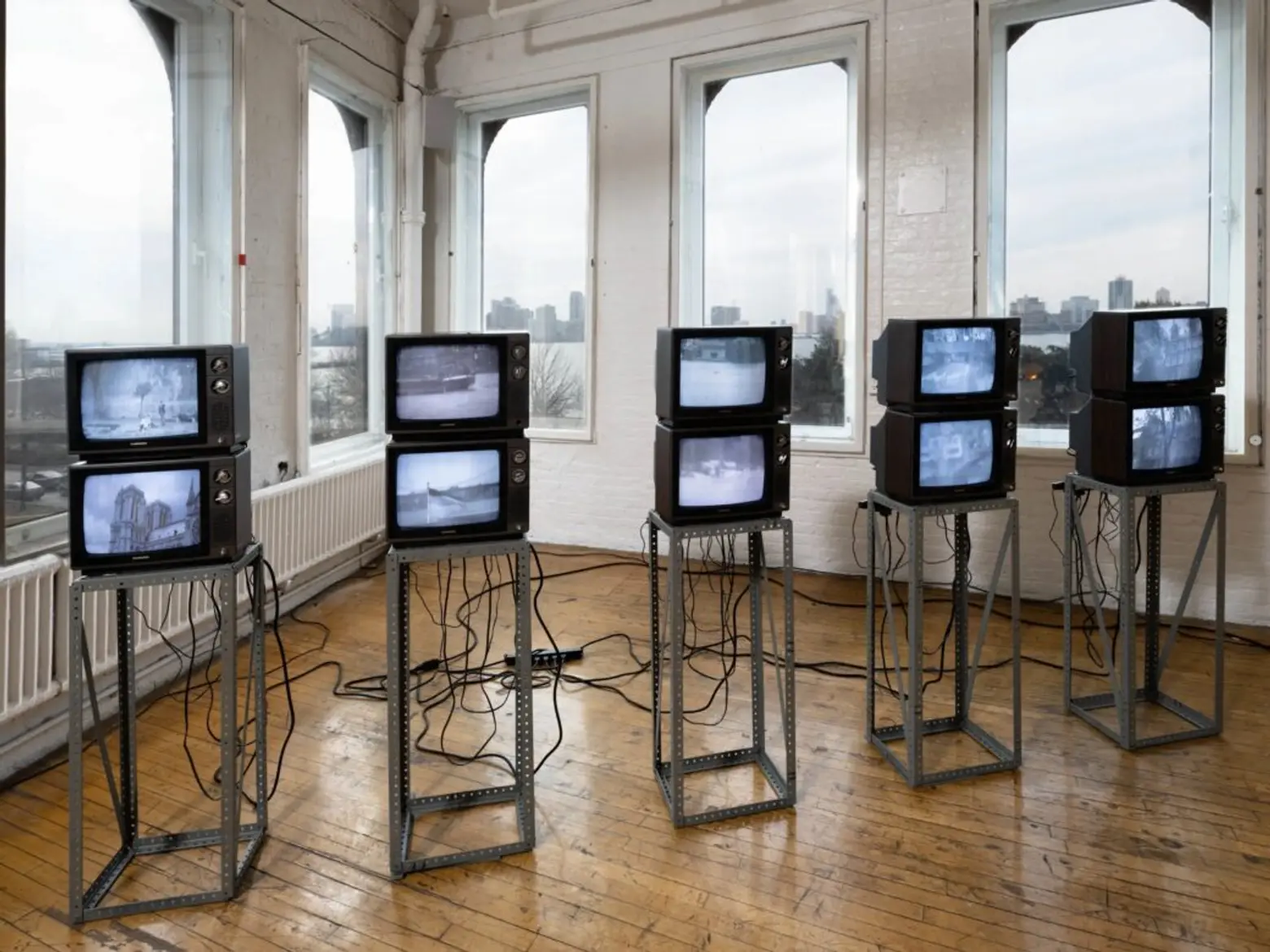 The Kitchen
Founded in 1971 as an artist-driven collective, The Kitchen continues to be a dynamic cultural institution featuring programming in a kunsthalle model that combines live performances, exhibition-making, and public programming under one roof. The celebrated New York City arts venue encourages artists and cultural workers alike to defy boundaries and catalyze creative change.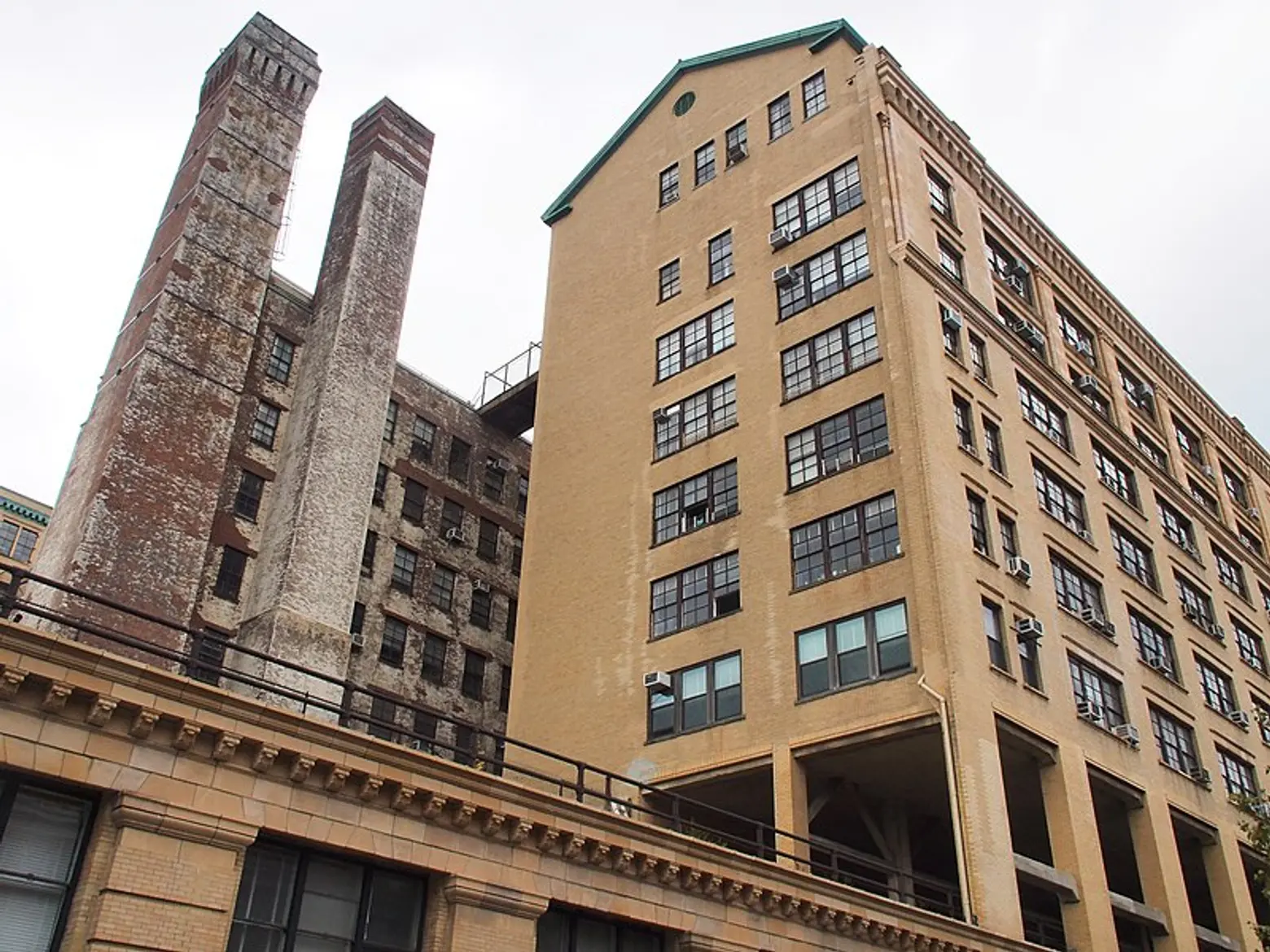 Westbeth Artists Housing
Westbeth Artists Housing at 55 Bethune Street in the West Village opened in 1970 to provide affordable live/work spaces for artists. Then-unknown young architect Richard Meier took the project on as one of his first commissions, transforming the former home of Bell Laboratories into 384 units open to artists of all disciplines. Today, Westbeth remains home to many original residents, as well as others who arrived between 1970 and 2007 when the community closed its waitlist.
Because of the building's prime Hudson River-front location, storied creative past, and collection of 384 units–most of which feature open, loft layouts and high ceilings perfect for a working artist–Westbeth Artists Housing has become one of the most coveted addresses in NYC. In 2019, the community reopened its waitlist for working artists and their families for the first time in over a decade. The space is also home to a gallery and hosts frequent performances and arts events.
Minetta Lane Theater
This 391-seat off-Broadway theatre on Minetta Lane opened in 1984. Since then, the intimate venue has offered critically appraised and successful productions including Carey Mulligan in "Girls and Boys," Billy Crudup in "Harry Clarke, The Last Five Years," and many more.
IFC Center
The current IFC Center was previously the Waverly Theater–original home of the midnight audience-participation film "The Rocky Horror Picture Show"–in its former life. Since 2005, the movie theater, owned by AMC Networks, has positioned itself as an extension of the cable network Independent Film Channel. In addition to regularly scheduled independent and art-house films, the center hosts special screenings, premieres and festivals such as the DOC NYC festival and the Human Rights Watch Film Festival.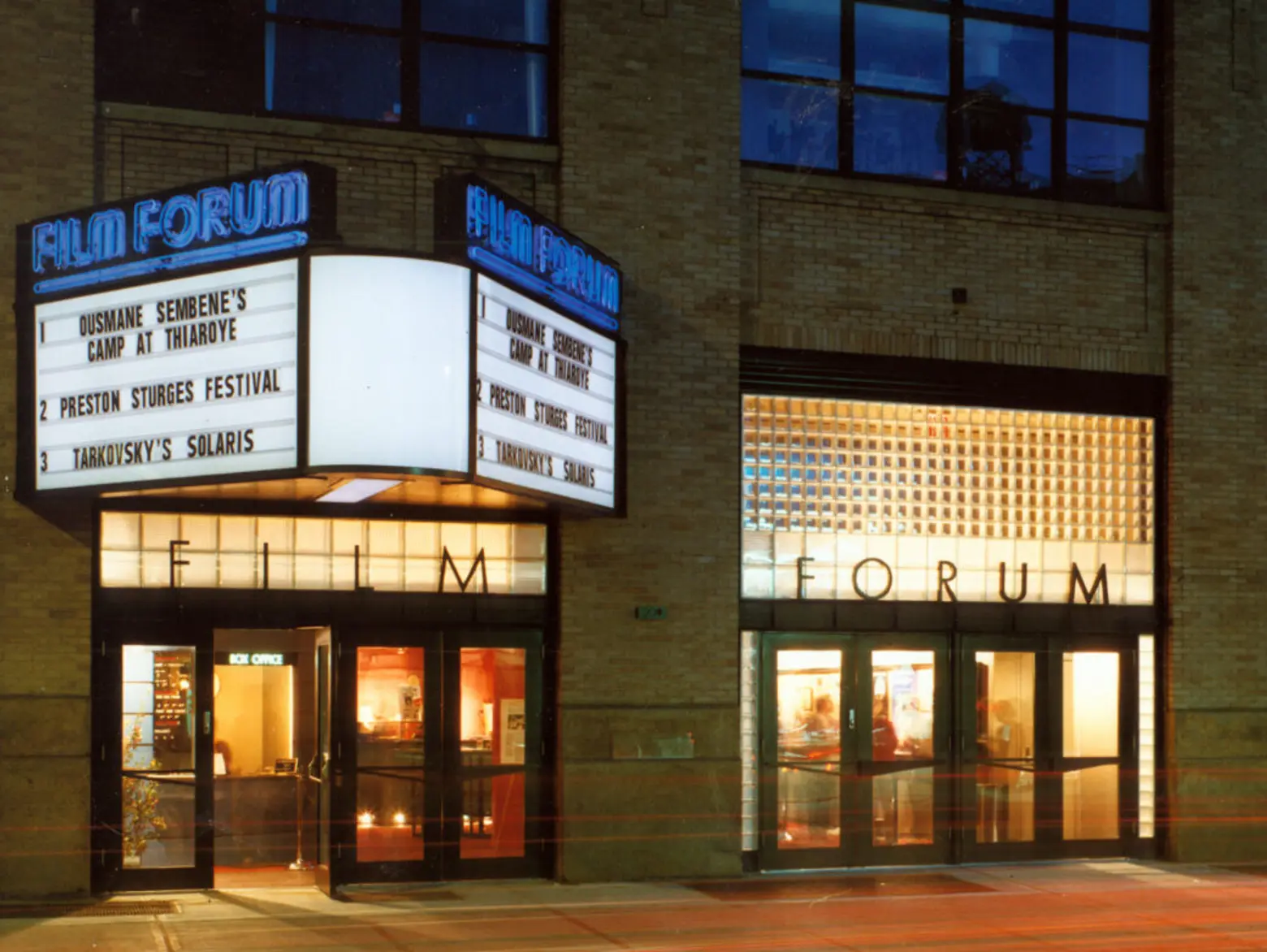 Film Forum
This nonprofit movie theater opened in 1970 with 50 folding chairs, one projector and a $19,000 annual budget as an alternative screening space for independent films. Today the four-screen cinema is open 365 days a year, with 280,000 annual admissions, nearly 500 seats, and an operating budget of $5 million. As the only autonomous nonprofit cinema in New York City (and one of the few in the US), Film Forum features premieres of American independents and foreign art films as well as repertory programming, including foreign and American classics, genre works, festivals, and directors' retrospectives.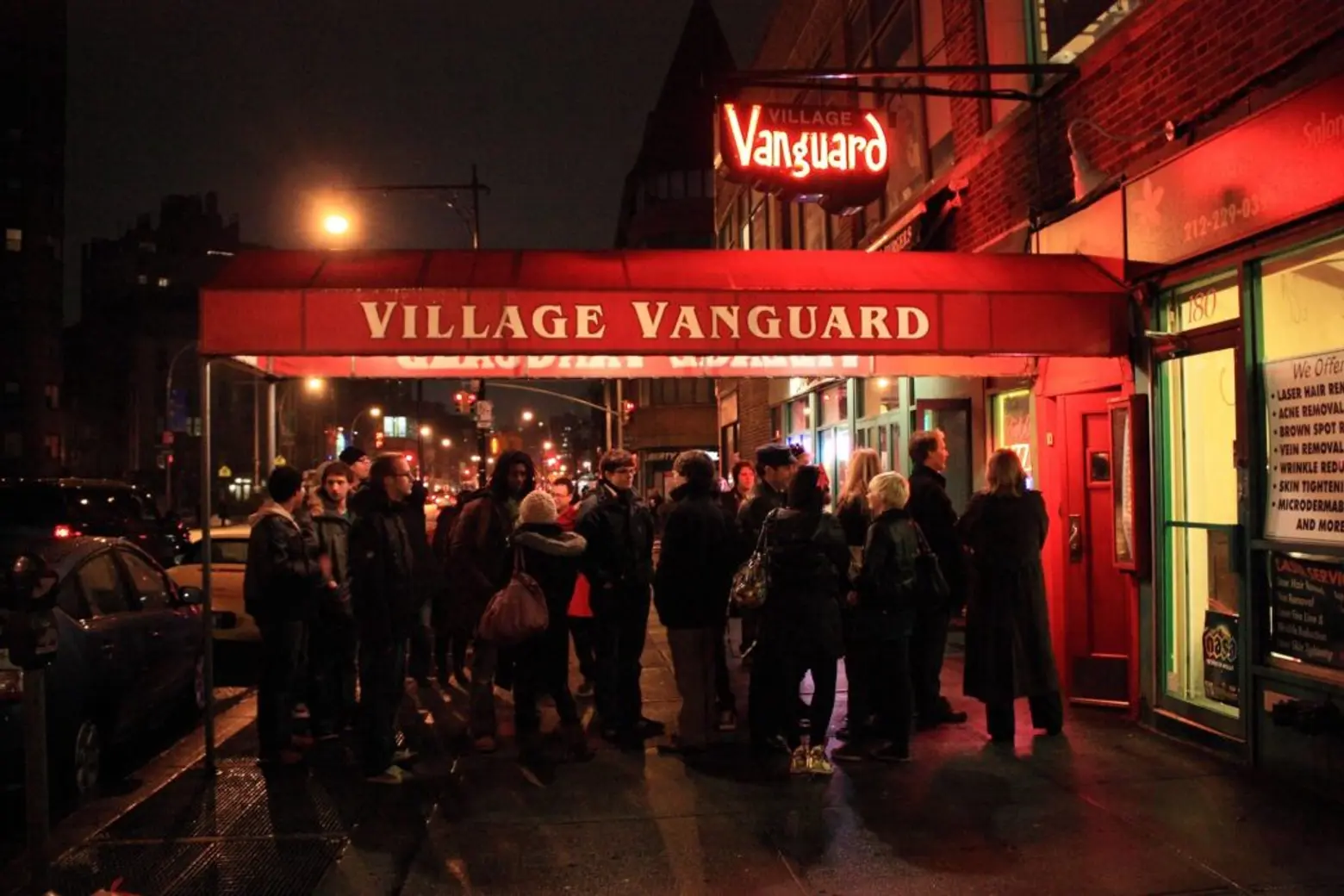 Village Vanguard
When Max Gordon opened the Village Vanguard on Seventh Avenue South in 1935, the new club presented folk music and beat poetry; it became a jazz music venue in 1957 (during some of the first recording sessions at the club, tenor sax player Sonny Rollins, recorded three LPs). In the years since, the legendary club has hosted scores of famous jazz musicians, earning its current position as the oldest operating jazz club in New York City.
The Blue Note
In addition to being one of the premiere jazz clubs in the world, Blue Note has been a cultural touchstone of downtown New York City life since it opened in 1981. Founder/owner Danny Bensusan created an enviroment in which the world's most celebrated jazz musicians could perform in an intimate, casual setting. Artists like Sarah Vaughn, Lionel Hampton, Dizzy Gillespie, Stanley Turrentine, Oscar Peterson, Ray Brown, and Tito Puente, who hadn't played in jazz clubs in decades, soon called Blue Note home.
Parks and public places to gather
Washington Square Park
With 12 million visits a year from tourists and residents alike, Washington Square Park is known as the heart of Greenwich Village, instantly recognizable by its iconic arch. It's a perpetual gathering spot, where students mingle and chat around the fountain and on benches while street performers entertain and local children splash about in the water. The park was once a burial site for the indigent, and a roadbed carried vehicles through the Park for nearly 100 years (and it was almost turned into a parking lot).
The Stanford White-designed marble arch that anchors Fifth Avenue's southern terminus commemorates the centennial of George Washington's inauguration; it has become a symbol of the many protests that have been held in its shadow. The arch also holds an annual tree-lighting that has been a holiday tradition for almost a century.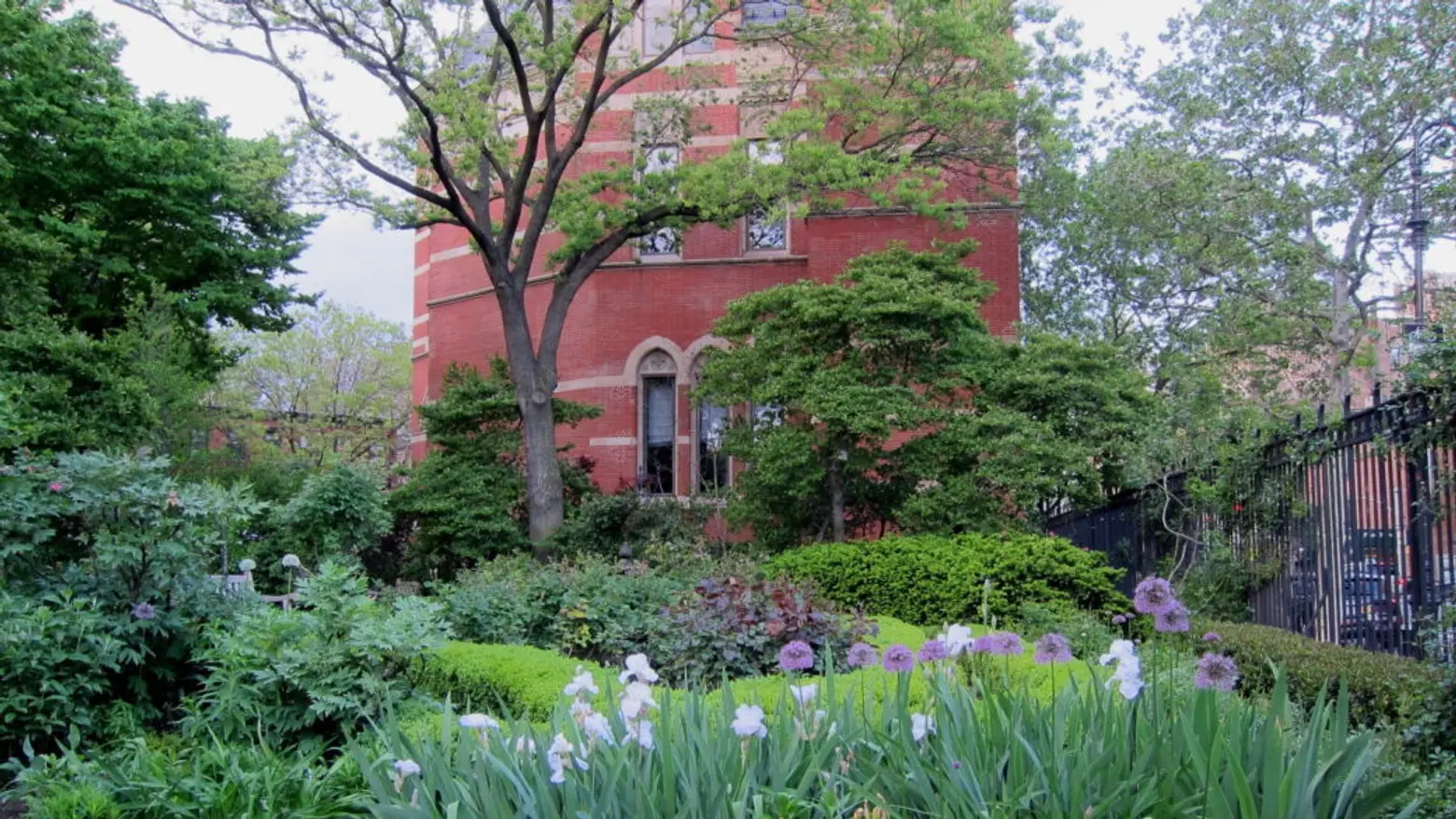 Jefferson Market Garden
In 1973, the Women's House of Detention, long a controversial institution and neighborhood menace, was demolished to make way for the tranquil Jefferson Market Garden, a verdant oasis just steps from the grit and bustle of Sixth Avenue. Its colorful plantings are maintained by a volunteer community group; the grounds are surrounded by a wrought iron fence, but regularly open to the public.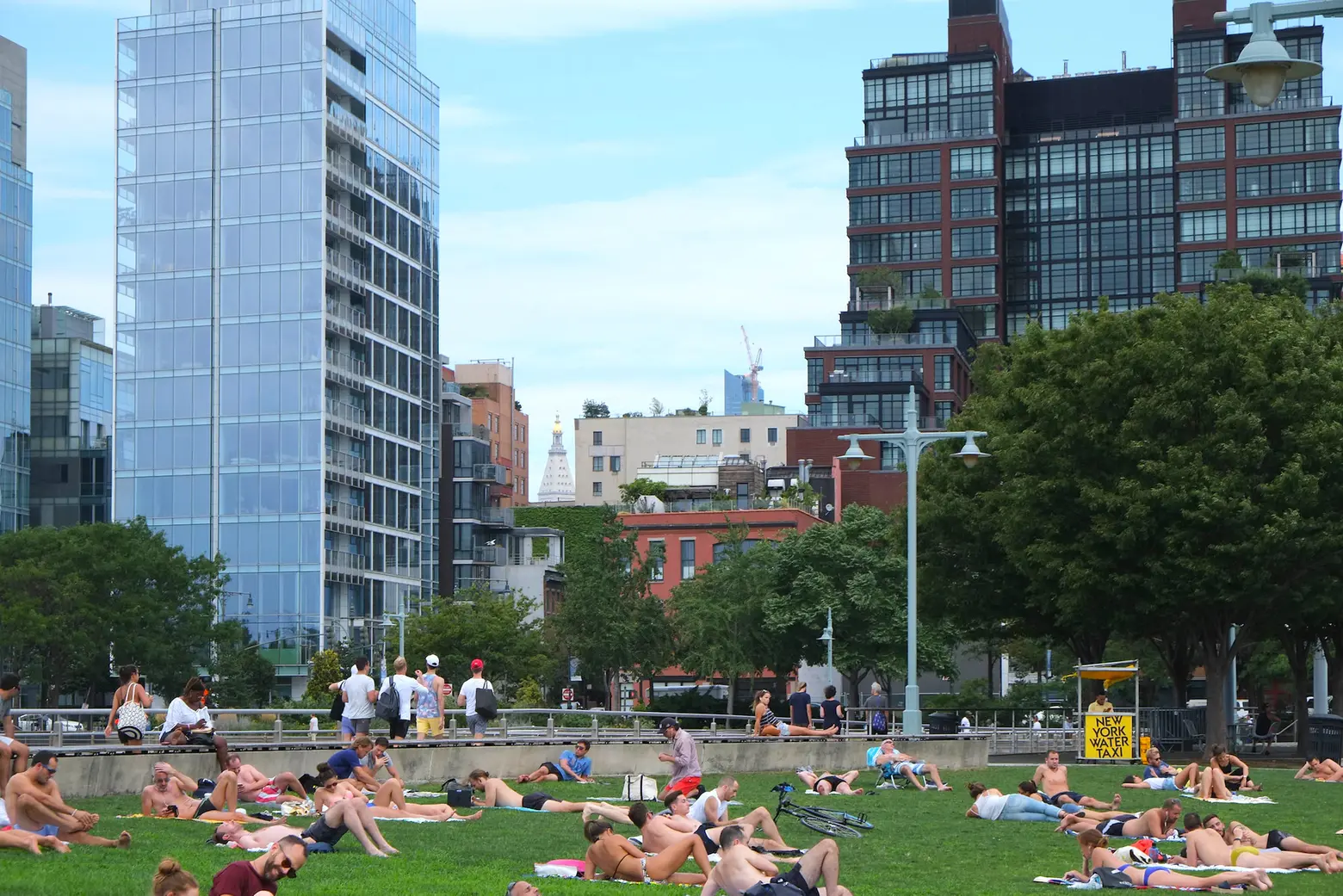 Pier 45 at Hudson River Park
Amenities on this 900-foot-long pier include a promenade, artful shade structures, spray showers, seating areas, wood decking, and an expansive grass lawn. Known as the green beach by day during the summer, Pier 45 hosts free Sunset on the Hudson concerts during the Park's programming season.
James J. Walker Park
This two-acre park bound by Varick Street, Leroy Street, Hudson Street, and Clarkson Street has a baseball field, bocce courts, playgrounds, handball courts, and Wi-Fi hotspots–and a bathroom.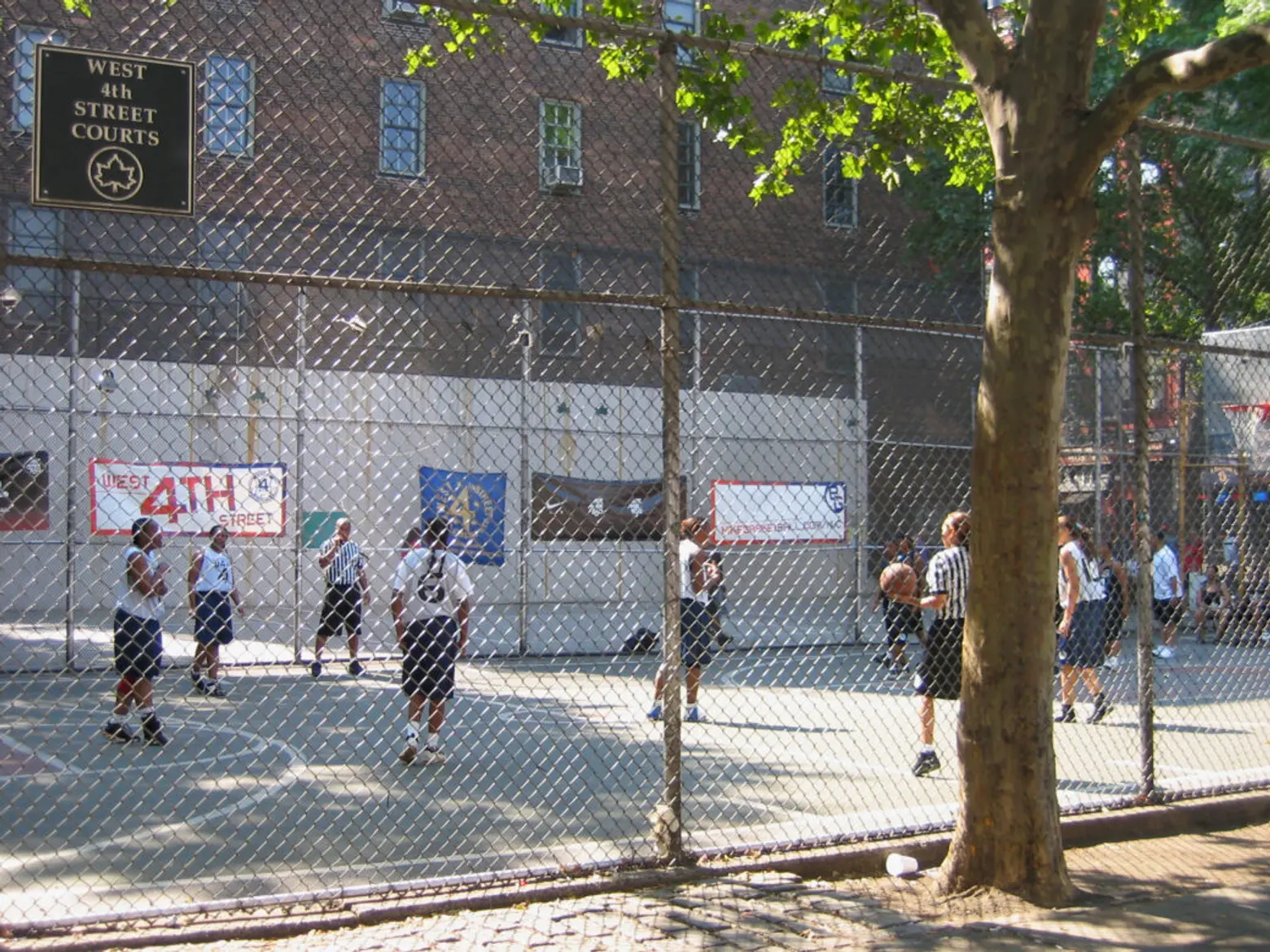 Notable neighborhood highlights
West 4th Street Basketball Courts
Also known as "the cage," the West 4th Street public basketball courts are a well-known venue for amateur basketball in the Village. The courts form an iconic image of urban life, and the way in which sports competition can be an inclusive and shared cultural language. The non-regulation-sized courts regularly host lively pickup games and are an important tournament site for citywide "streetball" competitions. Given the court's small size and the high number of players usually participating, competition for playing time is intense.
Among the notable figures who have spent time in the cage are Dr. J, Walter Berry, and Jayson Williams–and NBA players sometimes spar with locals. West 4th Street League games attract more than 100,000 spectators each summer; a number of national commercials feature the cage as a location, and the court is depicted in "NBA Street V3" as a playable court.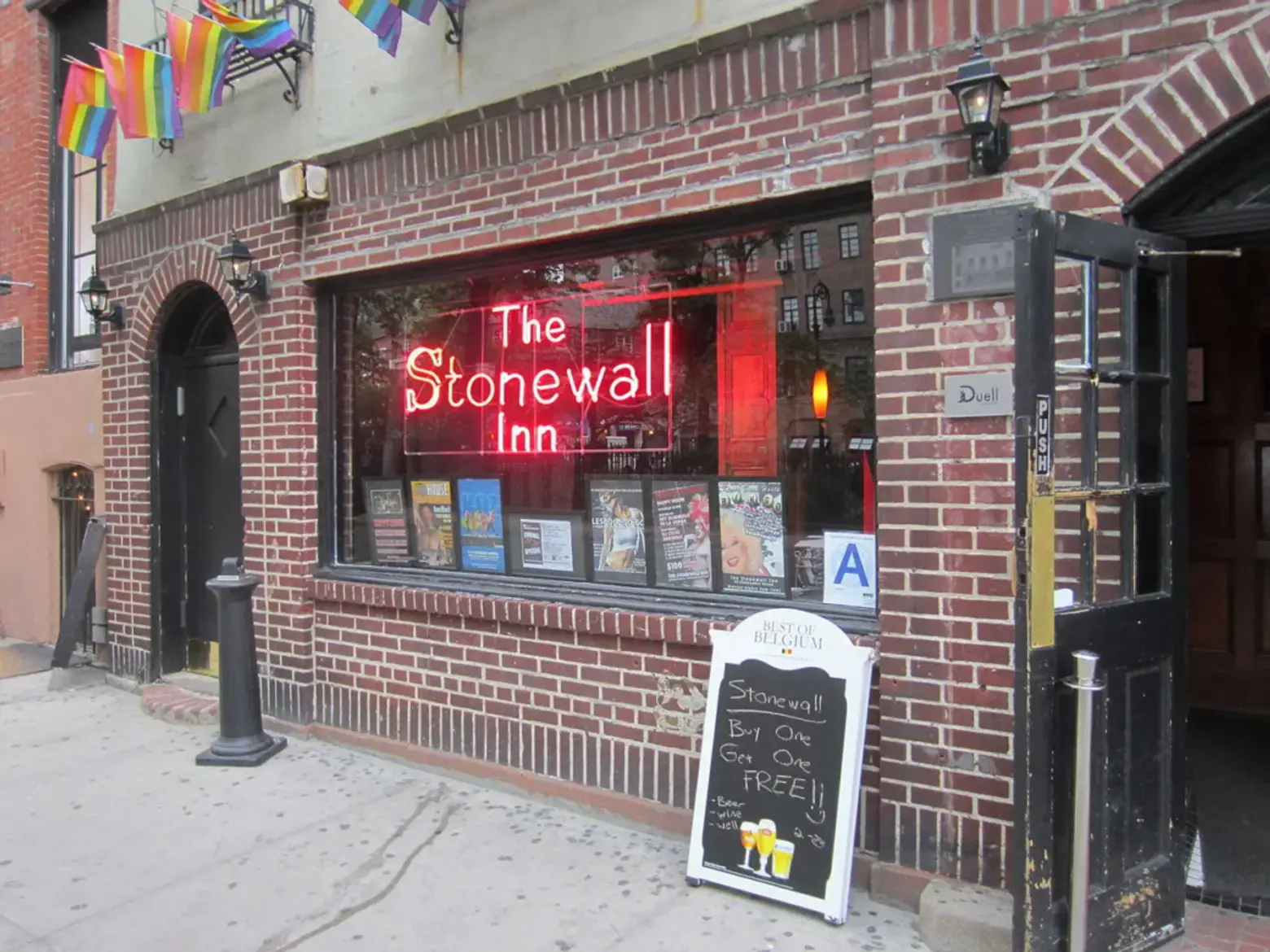 Stonewall Monument/Stonewall Inn
The resistance to the police raid on the Stonewall Inn at 53-55 Christopher Street and the ensuing nights of riots in late June 1969 heralded the birth of the modern LGBTQ+ rights movement. Police raids on gay bars were nothing new in 1969, but rather than just let themselves be arrested, Stonewall Inn patrons fought back; they gathered for two more nights with their supporters outside Stonewall, demanding an end to persecution and discrimination.
Starting in New York, a march each year marked the anniversary of what is now often referred to as an uprising. Today, cities throughout the world celebrate the anniversary of the Stonewall Riots every year.
Where to live
The construction of The Greenwich Lane condominium complex marked the dawn of a new era for the historic West Village neighborhood, bringing in new residents that value high-end amenities and river views from on high as well as the timeless charms of cobblestone streets and verdant community parks. New buildings designed by some of the world's most celebrated architects have arrived in the years since; the neighborhood has maintained its unique–if expensive–charms, with the addition of choices beyond historic brick. The next wave of projects brought West Village luxe to a new level, with massive penthouses and private five-story townhomes among the big-ticket offerings.
150 Charles Street
The residential mega-development known as Greenwich Lane, which rose on the former site of St. Vincent's Hospital in 2016, is known for changing the face of the historic West Village and ushering in a new era of luxury living to a storied and sought-after neighborhood. A well-known celebrity magnet, the development has attracted A-listers and boldfaced names from Jon Bon Jovi and Ben Stiller to top model Irina Shayk.
The 15-story, 91-unit condominium at 150 Charles Street overlooks the Hudson River and features interiors by Alan Wanzenberg. Homes have hardwood floors, soaring ceilings, loft-style windows, abundant closet space, and top-of-the-line kitchens.
Amenities include an attended lobby, hotel concierge service, a state-of-the-art fitness center, pool, spa, an event room with a catering kitchen, a drive-in entry, a courtyard, and a Zen garden.
Sales prices average $3,727 per square foot; available units include a two-bedroom home for $6.35 million and a three-bedroom unit for $11.9 million.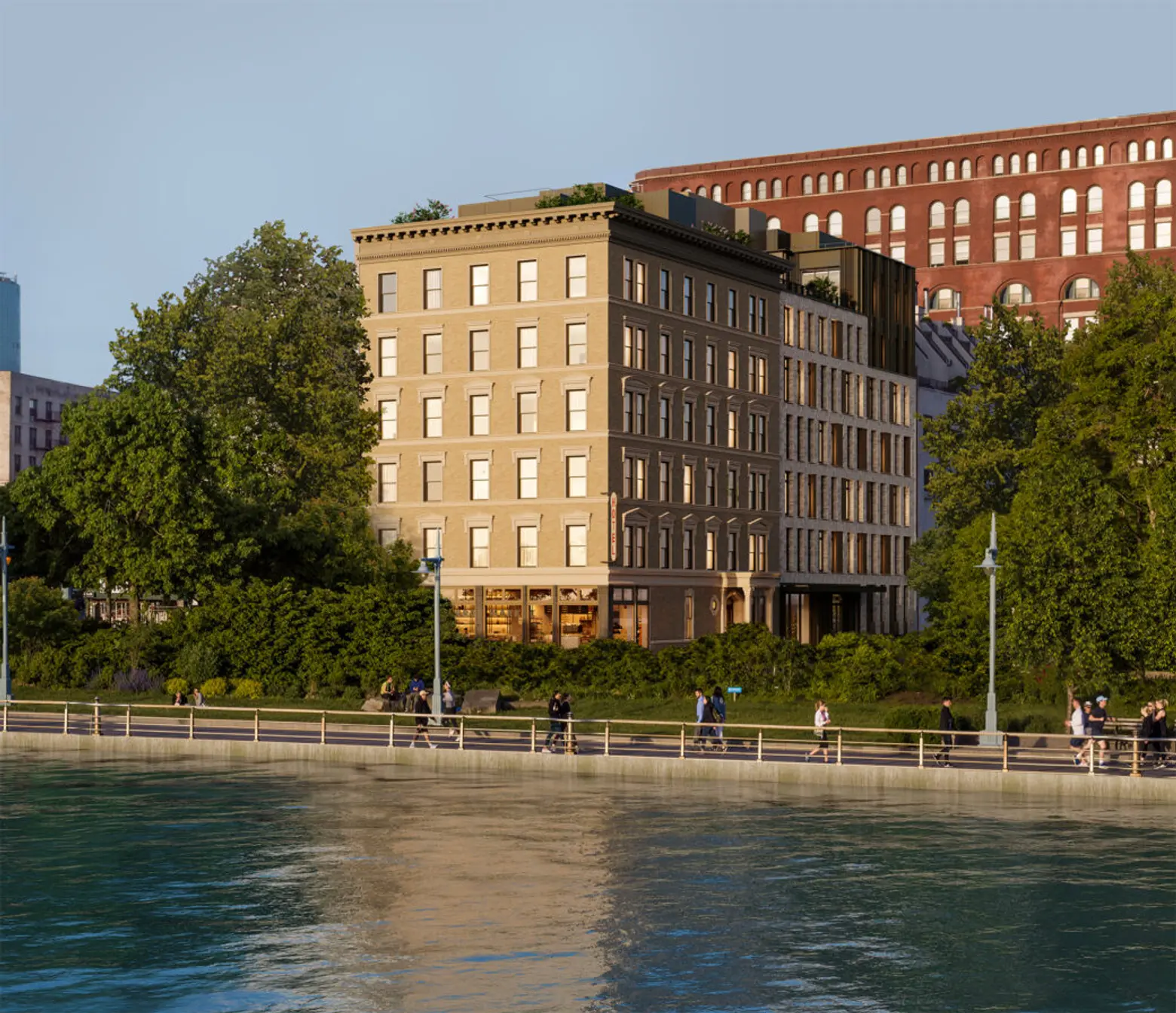 The Keller, 150 Barrow Street
The 125-year-old building at 150 Barrow Street on the West Village waterfront appears to embody the timeline of New York City in one site: It was built as a maritime hotel catering to seamen and cruise ship travelers from the nearby docks; the building was converted to a single room occupancy hotel in the 1980s and transformed into its current life as a luxury condominium in 2023 by BKSK Architects.
The seven-floor condominium residence may be a New York City Landmark on the outside, but the interiors are all-modern spacious apartments with top-of-the-line finishes and appliances, and sweeping Hudson River views from oversized windows. Bespoke kitchens feature custom cabinetry with a quarter-cut walnut finish and honed White Macaubas slab countertops; apartments have private laundry facilities, and private storage units are available.
Amenities at the full-service building include an attended lobby, concierge, full-time doorman, residents' lounge, a rooftop terrace, a 1,108-square-foot fitness center, a landscaped courtyard terrace with BBQ and kitchenette, a children's playroom, a laundry room, bicycle storage, and a package room with cold storage.
Sales prices in the 24-unit condominium average $3,045 per square foot and range from a $2.3 million one-bedroom to a four-bedroom unit for $9.75M.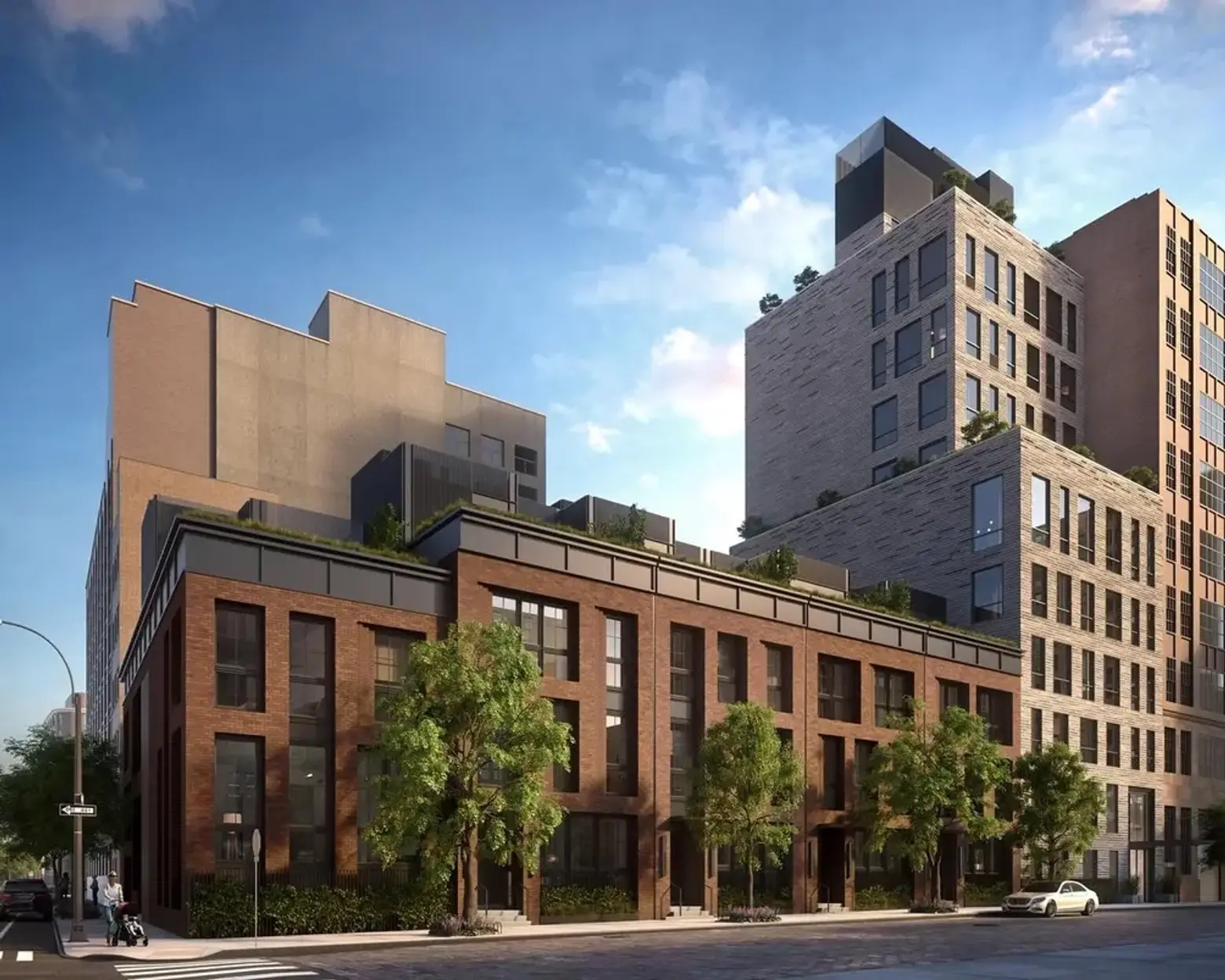 111 Leroy Street
Designed by Workshop/APD, this all-new luxury mid- and low-rise development was completed in 2019. The condominium complex situated on a cobblestoned West Village street contains 14 units divided between a pale-brick-faced 10-story building and five townhouses with inset, multi-paned windows.
Each townhouse unit features a private landscaped terrace with a fire pit, outdoor kitchen and a hot tub; one townhouse boasts five floors with a 42-foot-long game room on the garden level. Residences in the taller building have open, light-filled and loft-like full-floor units with high ceilings; at the building's apex is a duplex penthouse with wraparound city and Hudson River views. Amenities at the pet-friendly building include a 24-hour doorman and a concierge, a fitness center, a bicycle room, parking, a residential lounge and storage.
Recent sales average $2,208 per square foot, and range from $1.15 million for a studio to the aforementioned two-bedroom penthouse, which sold for just over $8 million in 2022.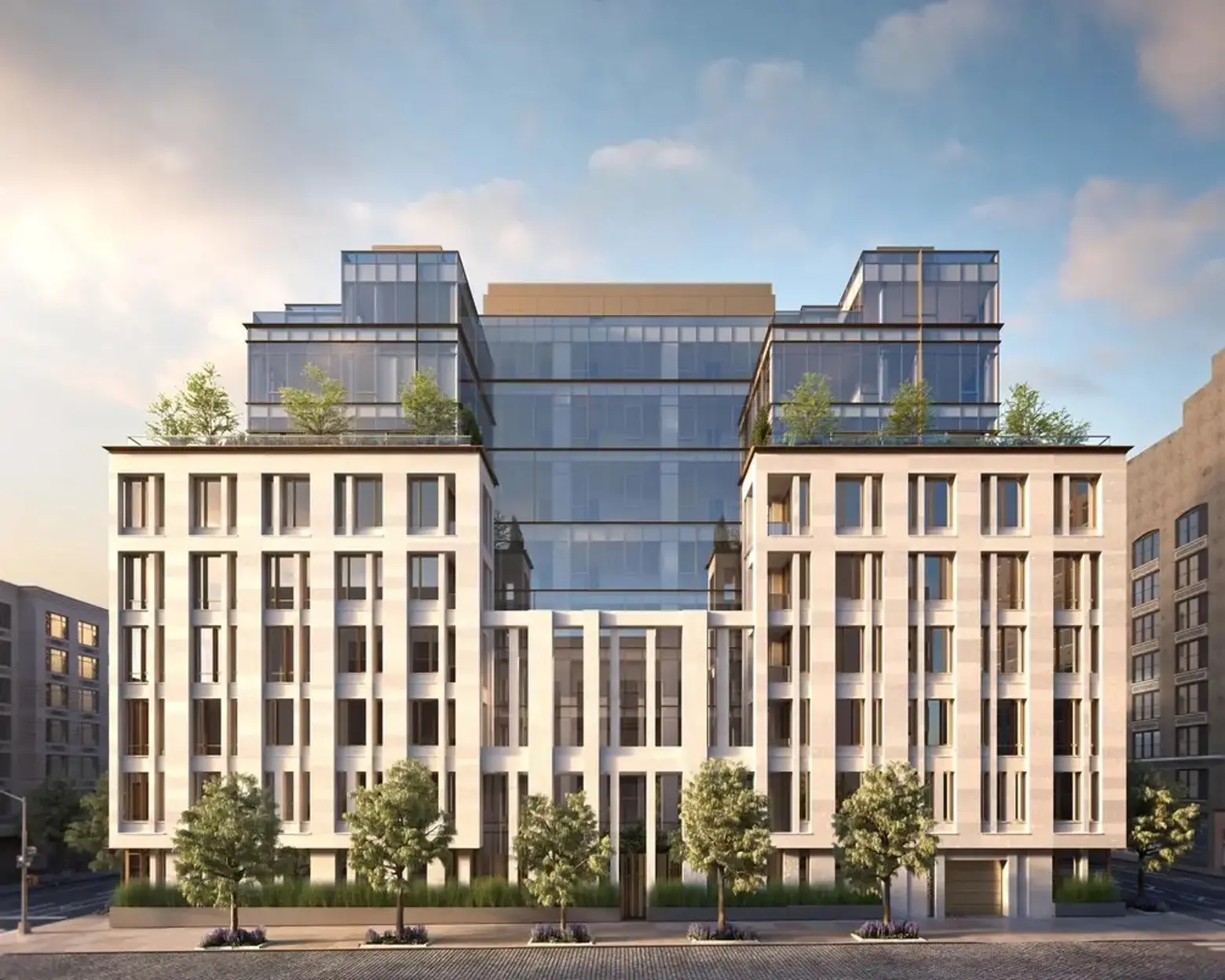 601 Washington Street
601 Washington is a 10-unit condominium residence designed by BKSK Architects and completed in 2020. Atop a Mankato Kasota limestone façade, faceted glass wraps the building's upper floors. The building's 10 townhouse and penthouse residences represent the absolute pinnacle of luxury urban living, each with its own private gym and internal elevator; townhouse homes feature private garden entrances and wine cellars; penthouses have rooftop soaking tubs.
The full-service building offers a 24-hour attended lobby, a fitness center, rooftop meditation space, and bicycle storage.
Recently-sold units average $2,833 per square foot, with sale prices that range from $6.7 million for a three-bedroom home to a 6+ bedroom penthouse for $30.7 million.
175 West 10th Street
Designed and built by BKSK Architects and completed in 2017, this newly-constructed condominium building on a triangular lot in the heart of the West Village weaves brick, brownstone, glass and steel together in its facade, reflecting the architecture of the surrounding historic district. With only five full-floor units within, residences have open triangular layouts. Kitchens are fitted with oak cabinetry, Calacatta gold marble slab countertops and Gaggenau appliances. Amenities include private elevator access, storage space, and the services of a part-time doorman.
Sales prices average $2,624 per square foot, and available units include two three-bedroom homes for $6.2 million and nearly $9 million.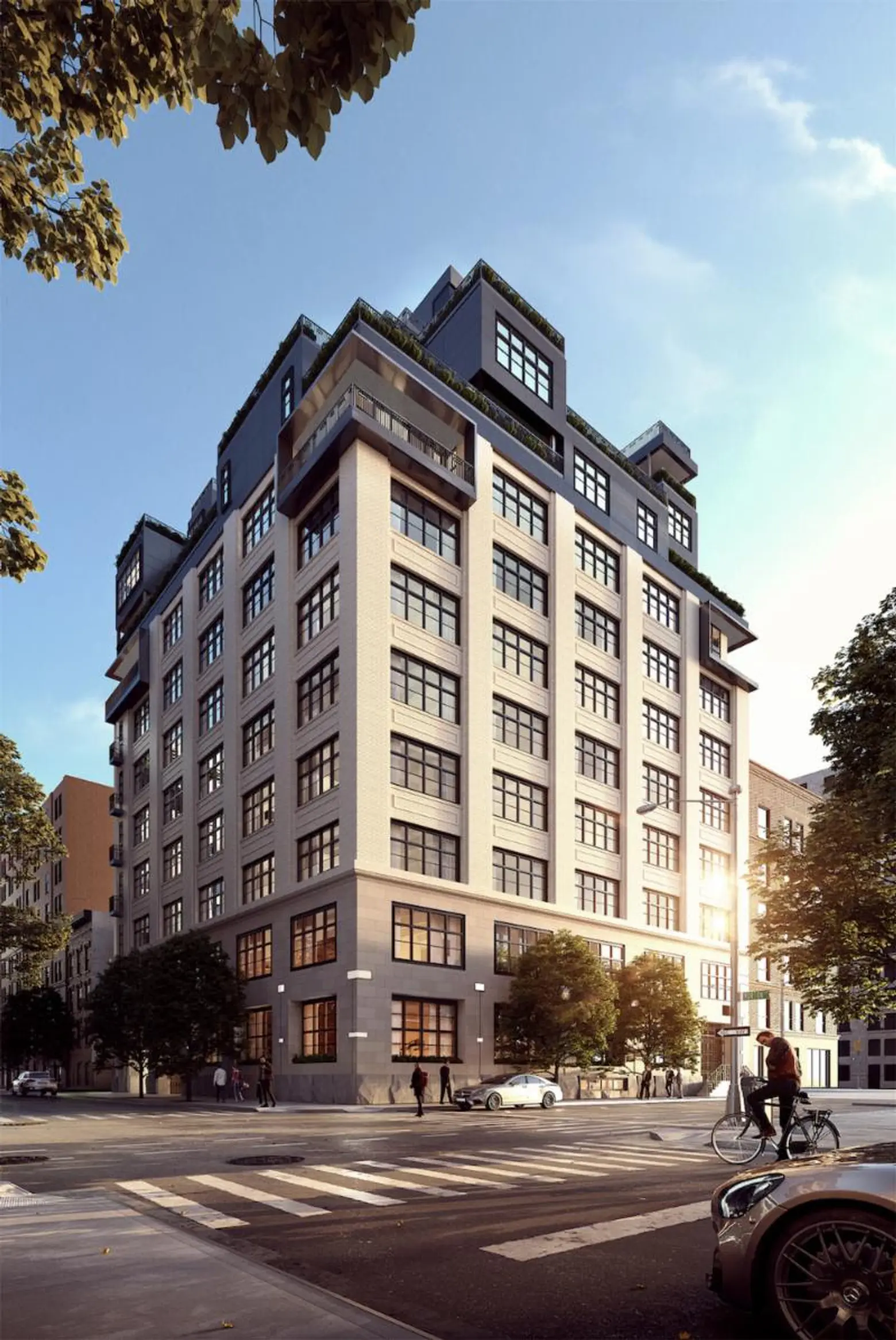 90 Morton Street
The condominium conversion at 90 Morton Street began life in 1912 as a printing factory; it was converted to 35 condominium residences in 2019, with several floors added to the original 12-story building. Above a limestone block-clad two-story base, layers of light brick and dark metal are punctuated by large, multi-paned windows that reference the building's industrial past.
The residences and townhomes within feature interiors by Leroy Street Studio and feature the sort of high, beamed ceilings you'd expect to find in a printing factory framing top-of-the-line finishes. All units on the eighth floor and above have private terraces.
Amenities include a landscaped roof terrace with an outdoor kitchen, a 24-hour attended lobby, cold storage, a library, a fitness center with a 64-foot-long pool, a children's playroom and a private car drop-off.
Sale prices average $4,427 per square foot. Available units range from a three-bedroom unit for $7.75 million to a sprawling four-bedroom penthouse asking nearly $20 million.
160 Leroy Street
Located on a cobblestoned street in the heart of the West Village, this full-service condominium was developed by star hotelier Ian Schrager (of 40 Bond fame) and designed by Pritzker Prize-winning starchitect firm Herzog & de Meuron. The statement-making, all-glass, gracefully curving waterfront building contains 49 residences that feature floor-to-ceiling windows, soaring ceilings, open floor plans, chef's kitchens, smart home technology–and sunset views over the Hudson
Completed in 2017, the 12-story building is staffed by a concierge, 24-hour doorman, on-site resident manager, and porter. Though the neighborhood may be known for its bohemian charm, amenities at this contemporary residence embody pure luxury, including a private cobblestone driveway, landscaped park by Madison Cox, professional spa with 70- foot pool with floor-to-ceiling glass, whirlpool, state-of-the-art fitness center, yoga/pilates studio, clubhouse with catering kitchen, and children's playroom.
Sale prices average $3,445 per square foot. Currently available units include a two-bedroom unit for just under $5 million and a three-bedroom unit for nearly $8M.
100 Barrow Street
Completed in 2017, the luxury residential building, developed by Toll Brothers City Living and designed by Barry Rice Architects, has 26 units total and sits at the corner of Barrow and Greenwich Streets in one of Manhattan's oldest landmark districts, with some units overlooking the Barrow Street Garden.
Spacious interiors were designed by Bernheimer Architecture, framed by large floor-to-ceiling windows and wide-plank oak floors, and featuring, custom kitchen and bathroom fixtures, oil-rubbed bronze doors and window surrounds. Amenities include bike storage, a children's playroom, a gym, pet wash, sauna and wine room.
Sale prices average $2,758 per square foot with recent sales ranging from a two-bedroom unit for $3.46 million to a tenth-floor three-bedroom unit for $7.5 million. The building has the rare distinction–especially among condominiums–of having offered affordable units for sale, ranging from a $90,000 studio to $170,000 two-bedrooms–via lottery for qualifying New Yorkers.
RELATED: