The ultimate guide to Dumbo, a neighborhood that led the way to Brooklyn's 21st century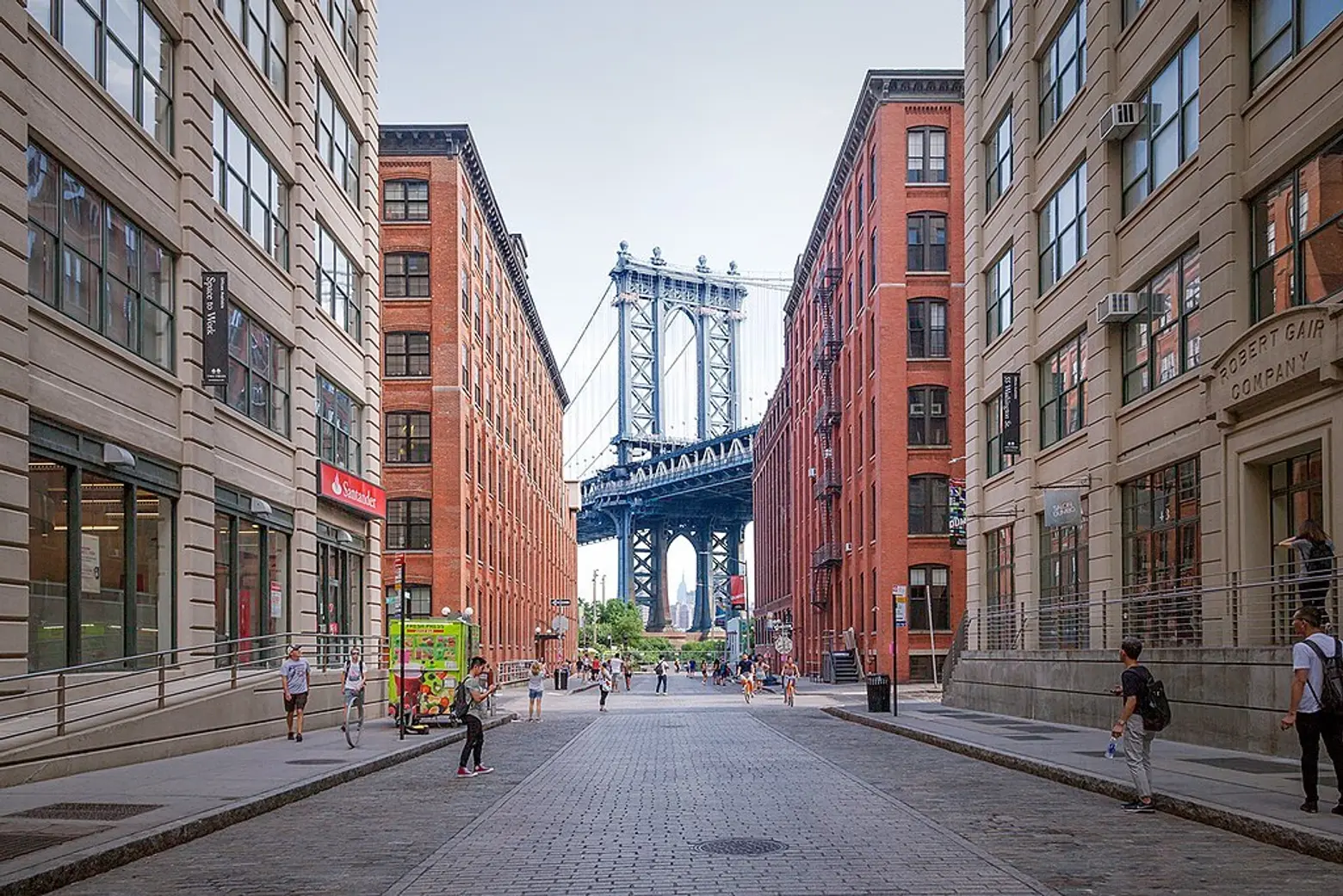 Brooklyn's 25-block Dumbo neighborhood gets its name from where it can be found: Down Under the Manhattan Bridge Overpass, which explains not only the neighborhood's location, but its cultural and residential evolution. The waterfront district's iconic East River and Manhattan views and its stunning bridge-framed architectural vistas have defined it long before its current acronym and status as a coveted residential choice. Unlike many other Brooklyn neighborhoods, the area it occupies is quite small, but its architecture, infrastructure, and economic status are formidable.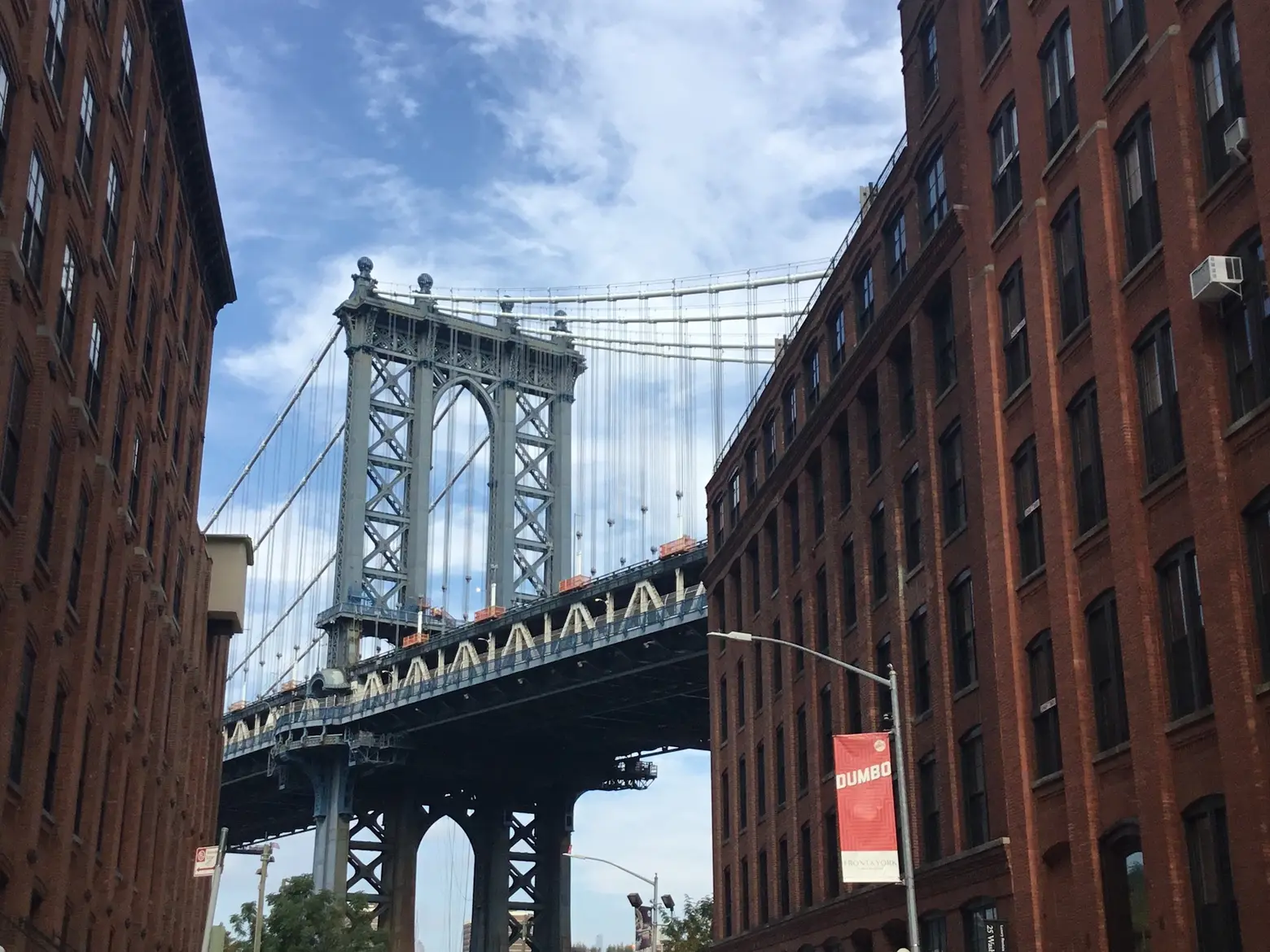 Photo credit: Kidfly182 via Wikimedia cc
The neighborhood is made up of a section of land between the Manhattan and Brooklyn Bridges and another section that runs east from the Manhattan Bridge to Vinegar Hill. Its boundaries are Brooklyn Bridge Park to the north, the Brooklyn Bridge to the west, Brooklyn Heights to the south, and its tiny sister enclave of Vinegar Hill to the east.
Originally a ferry landing, until the 1990s the historic streetscapes of Dumbo were comprised of little-used 19th- and early 20th-century warehouse buildings that lined wide Belgian-block streets–reminders of the waterfront neighborhood's industrial past. In its former glory, the neighborhood witnessed the invention of the cardboard box, first created by Scottish emigrant Robert Gair–whose subsequent fame gave it its previous moniker, Gairsville.
In the late 20th century, artists and craftspeople began taking advantage of the bounty of available space, looking for room to create rather than a place to party. The neighborhood began to be known for its working artist and artisan community.
An annual arts festival, which ran from 1997 to 2014, was many New York City residents' first foray into the neighborhood. Artists, furniture makers, and other creatives opened their studios for visits and hosted performances. Early cultural anchors like St. Ann's Warehouse and Smack Mellon gallery fostered organic cultural growth that helped usher in the subsequent economic boom. Like the earliest residential developments, the neighborhood's unique, big-shouldered warehouse architecture was as much a part of the experience as their cultural offerings.
The now pricey, sought-after neighborhood was among the first outside Manhattan to attract major residential real estate development. David Walentas, a New York City real estate developer and founder of Two Trees Management Company, was perhaps the most important driver of the neighborhood's 21st-century story. His vision for the 20-plus warehouse blocks-with-a-view resulted in what is today a unique (for NYC), carefully planned neighborhood.
Despite years of New York-style controversy, the self-made developer became a billionaire in the process of purchasing a significant swath of Dumbo real estate for $12 million and developing much of the formerly industrial enclave, transforming it into one of the city's most expensive neighborhoods. In the late 1990s, the iconic Clock Tower building at 1 Main Street became the first of many manufacturing-to-residential conversions.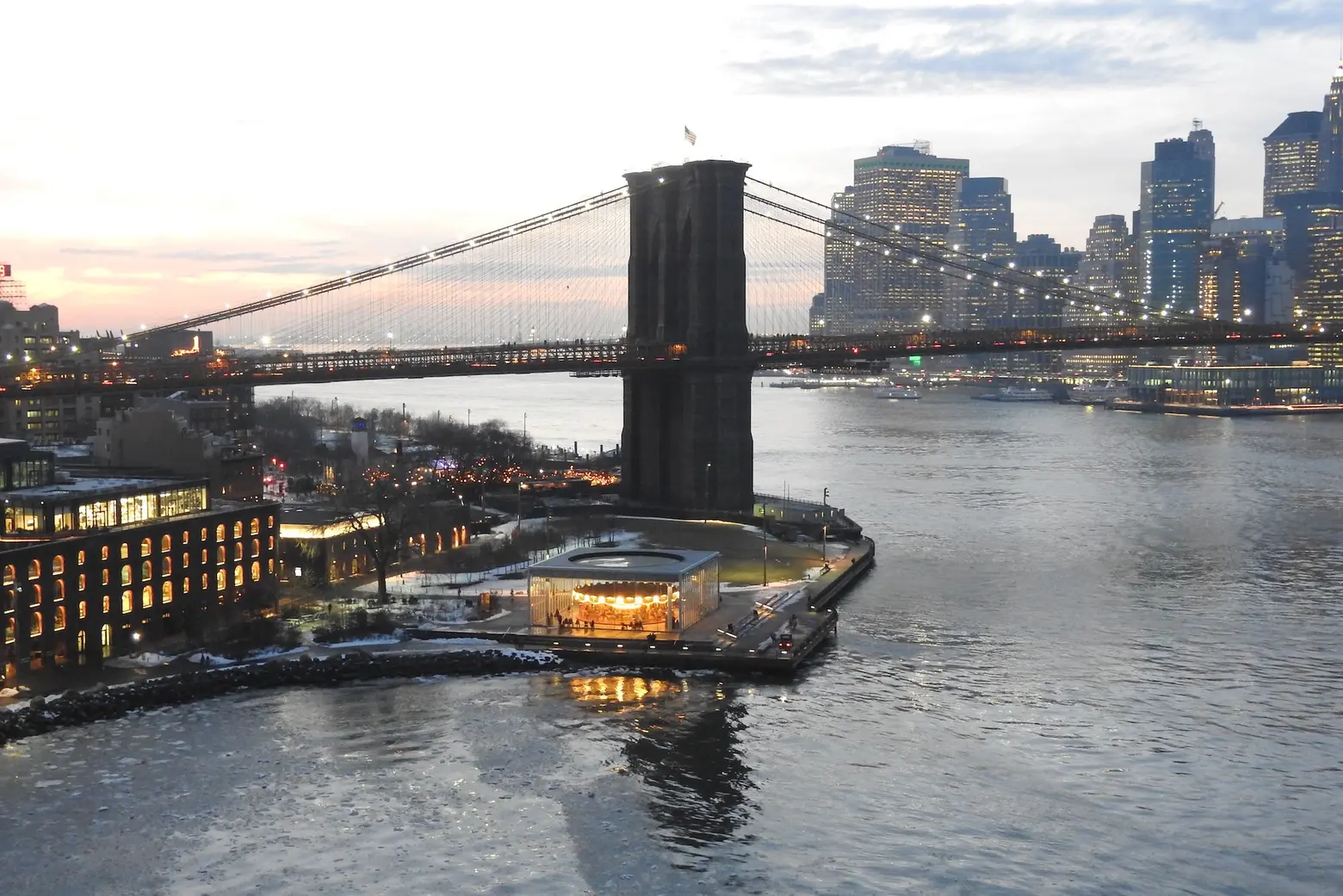 Photo credit: Caroline Culler via Wikimedia cc
Walentas and Two Trees (Walentas' son, Jed, shares the family business) acquired a reputation for encouraging creativity and community as well as commerce. Walentas' late wife, Jane, was instrumental in fueling the neighborhood's cultural engines. Jane's Carousel, an antique carousel imported from Youngstown, Ohio and painstakingly restored to become an anchor of Brooklyn Bridge Park, is a well-known symbol of her efforts and legacy.
In the ensuing decades, developers have launched new Dumbo conversions and new construction projects, many of which have followed the loft blueprint, attempting to honor the neighborhood's warehouse history. In the 21st century, home goods and furniture brands like West Elm made use of massive building proportions to open studios and stores.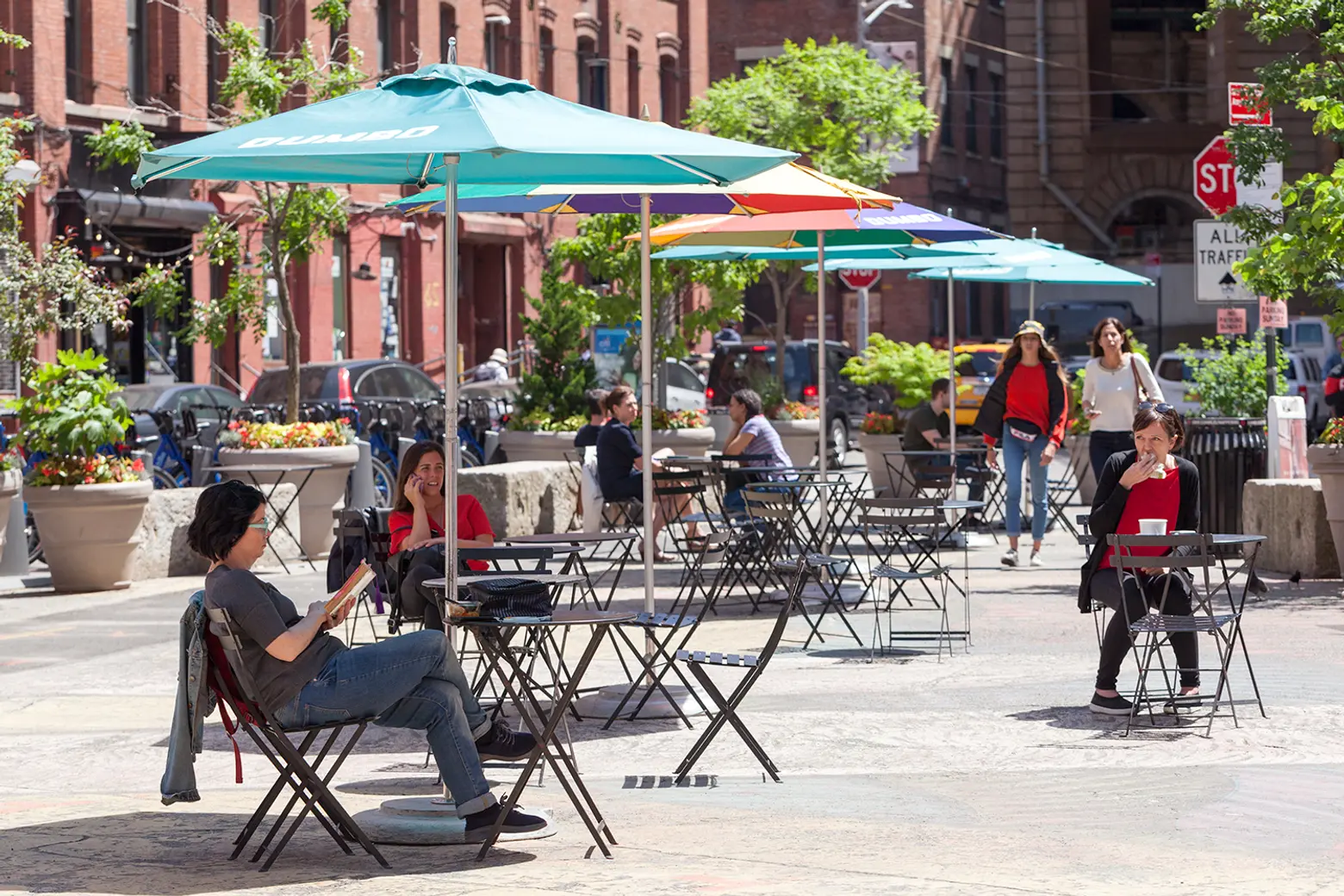 Photo credit: Caroline Culler via Wikimedia cc
A new generation of creative professionals made Dumbo their HQ. The neighborhood became known for cutting-edge technology, design, and media firms. The neighborhood's high concentration of technology companies has made Dumbo one pole of what is known as the Brooklyn Tech Triangle.
In addition to being a speedy commute from downtown Manhattan via the F and A subway trains or by Water Taxi from the Fulton Ferry landing, the neighborhood's fortuitous location makes Dumbo an unbeatable place for beholding the wonder of New York City's architectural achievements. City activists and planners saw the need for greenery and public space to preserve the sweeping vistas and waterfront vibe so close to Manhattan's densely-populated shores.
The neighborhood's first public space to open was Fulton Ferry Landing. In a fitting continuance of the neighborhood's history, David Walentas' first civic role in the neighborhood was to reconstruct the Fulton Ferry Landing as a public space. This was followed by Empire-Fulton Ferry State Park. The first six acres of 85-acre Brooklyn Bridge Park were opened in March 2010.

Photo ©Sean J. Rhinehart
The two East River bridges, and the architecture that supports them, make an awe-inspiring backdrop for events (including Brooklyn's most photographed block). The celebrated Brooklyn Flea makes its summer home under the Manhattan Bridge Archway, a venue that also hosts concerts and other celebrations.
Dumbo was a vanguard in the borough's wave of change, before many of the city's biggest transformations took place. But the neighborhood continues to evolve on a micro-level almost daily, having been given a sky-high platform on which to grow. A collection of new residential buildings has followed the city's luxury building boom. A combination of new businesses, restaurants, cultural additions, and peerless public parks has continued to attract attention, visitors, and residents.
Things to see and do in Dumbo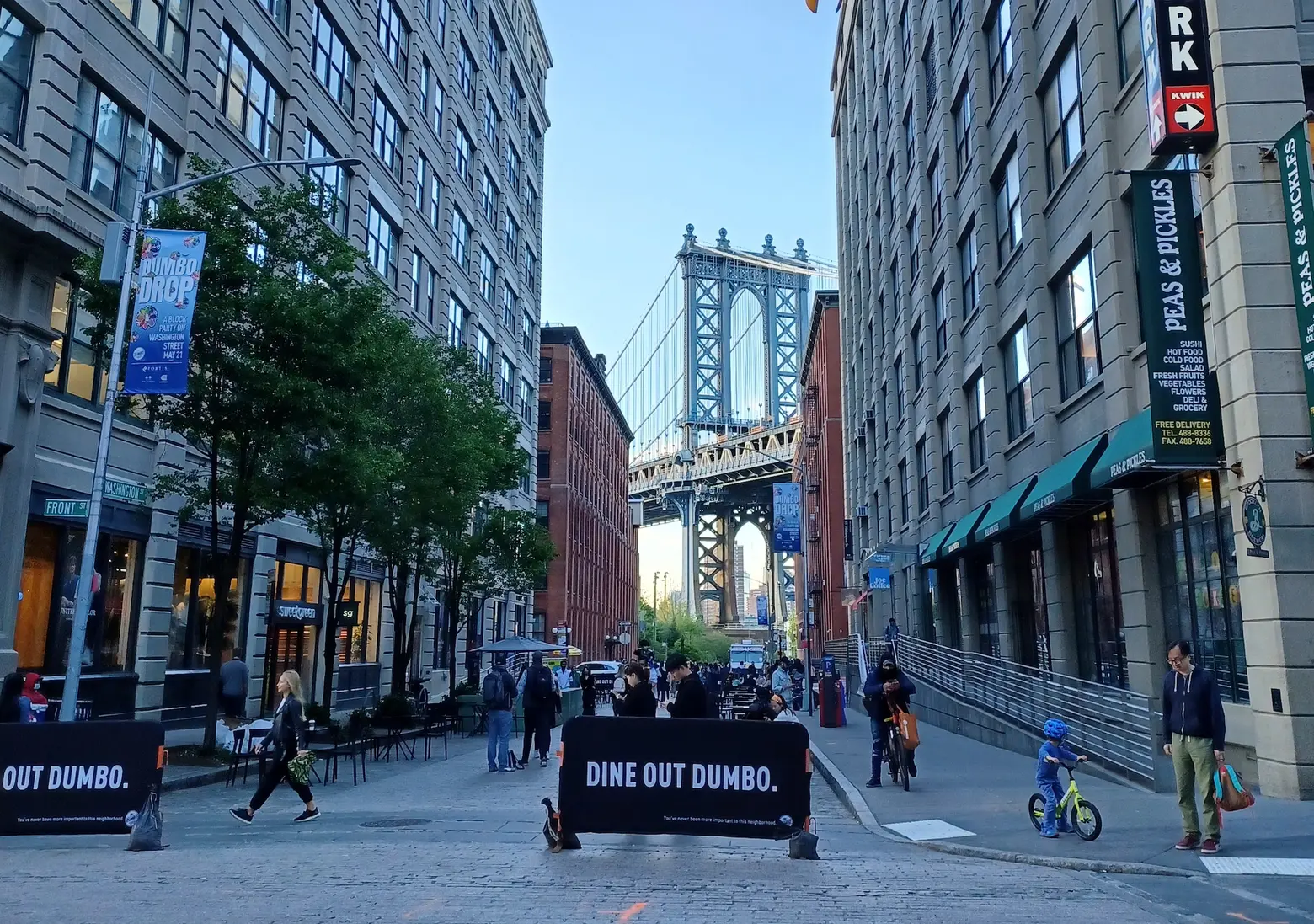 Courtesy of the Dumbo Improvement District
Where to eat and drink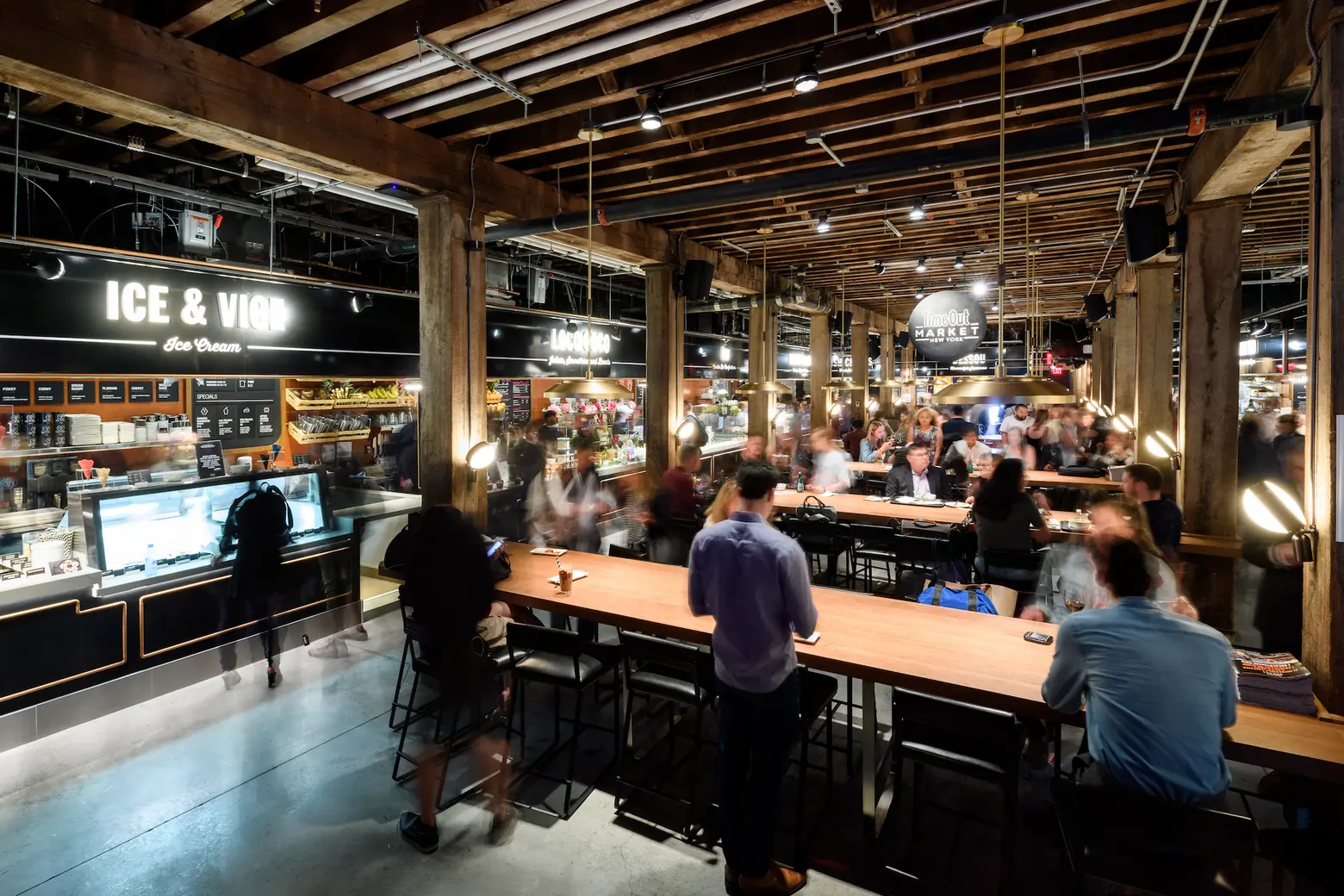 Photo by Filip Wolak courtesy of Time Out Market
Time Out Market
A relatively recent addition to the neighborhood, this food hall courtesy of Time Out New York events magazine opened in 2019. Located in Dumbo's waterfront Empire Stores complex, the space is comprised of 21,000 square feet over two floors, with 24 food vendors, 520 indoor and outdoor seats, three bars, a performance stage, and of course, the fifth-floor rooftop area with amazing views. Dining and drinking options include the beloved Clinton Street Baking Company, Ess-a-bagel, Sugar Hill Creamery, Time Out Bar, and many more.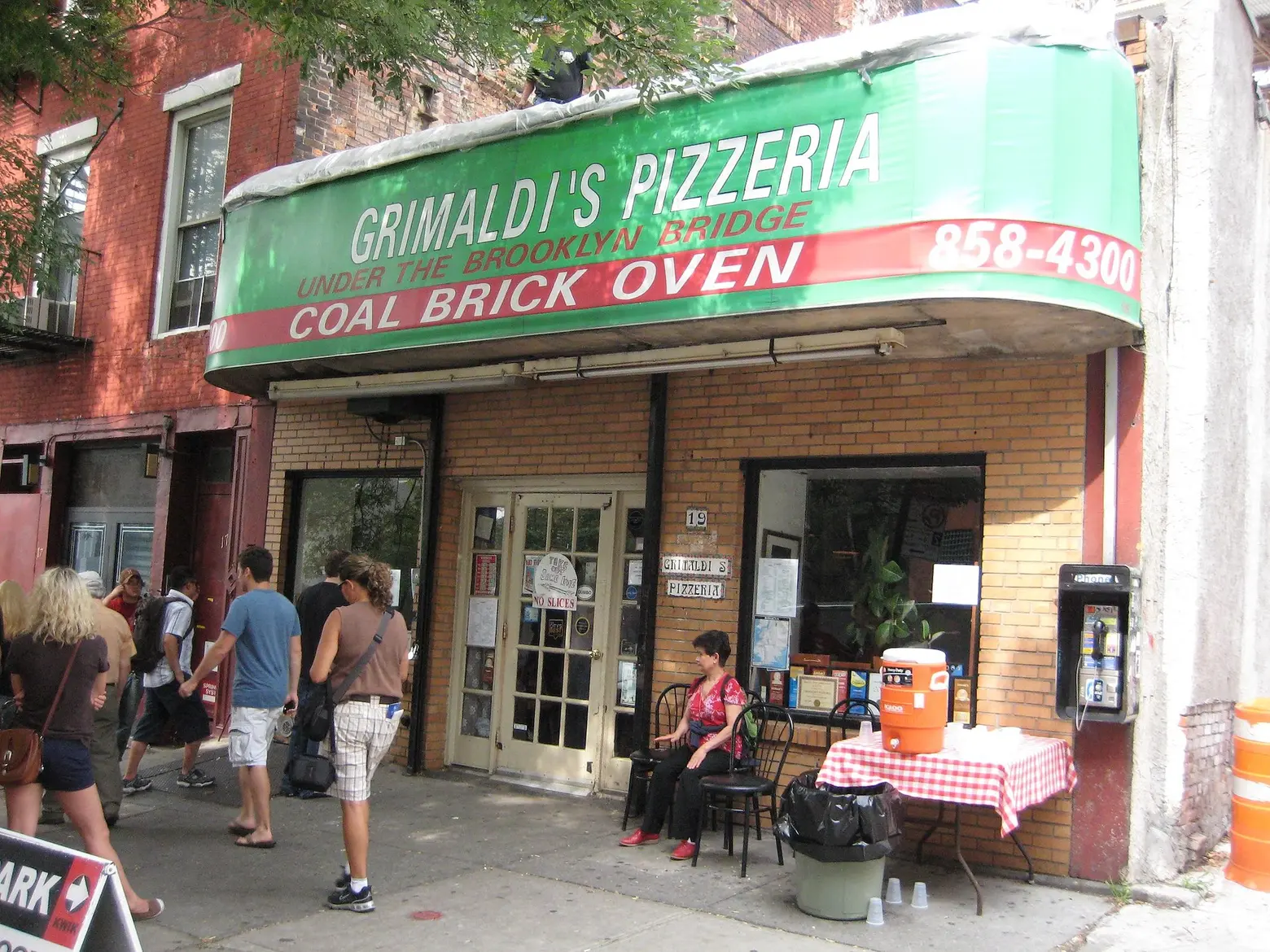 Photo via Wikimedia cc
Grimaldi's
Perpetually topping the city's "best pizza" lists year after year, the coal brick-oven pizzeria's modest location at 1 Front Street has an also-perpetual line of hungry diners waiting every day–and they don't do slices. It's worth the wait, though, and you'll want the whole pie.
Celestine
This Mediterranean-influenced restaurant tucked into a photogenic spot under Manhattan Bridge, offers seasonal fare and sweeping views of both bridges and the downtown city skyline. The vibe is elegant-casual, perfect for a romantic evening or a weeknight break.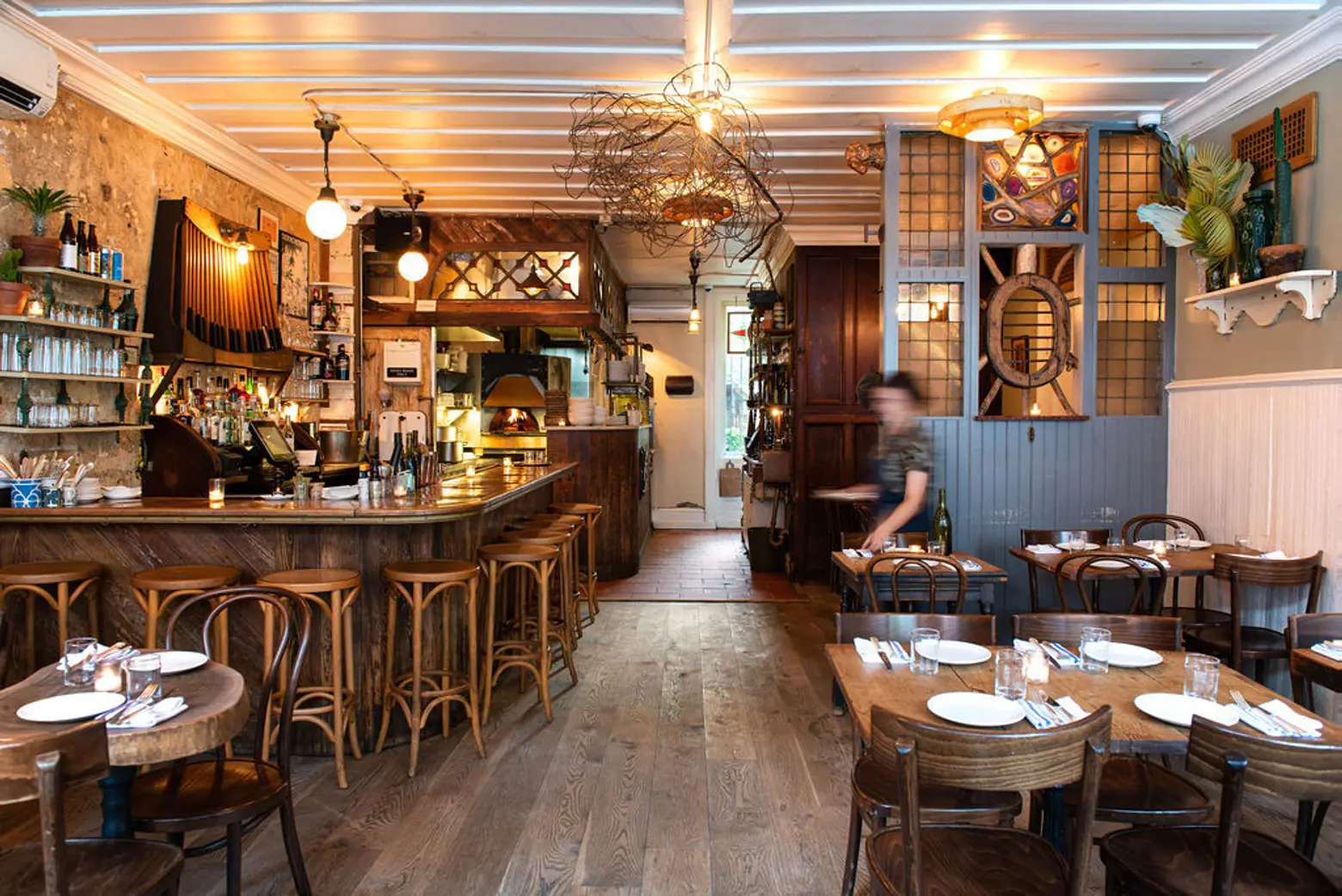 Photo by Liz Clayman
Vinegar Hill House
Tucked away in the tiny Vinegar Hill neighborhood that lies between Dumbo and the Navy Yard, this seasonal American restaurant was one of the first destination eateries to open along this stretch of Brooklyn's waterfront. The food and wine are still just as excellent as when it opened in 2008, and the backyard is just as charming for outdoor summer dining.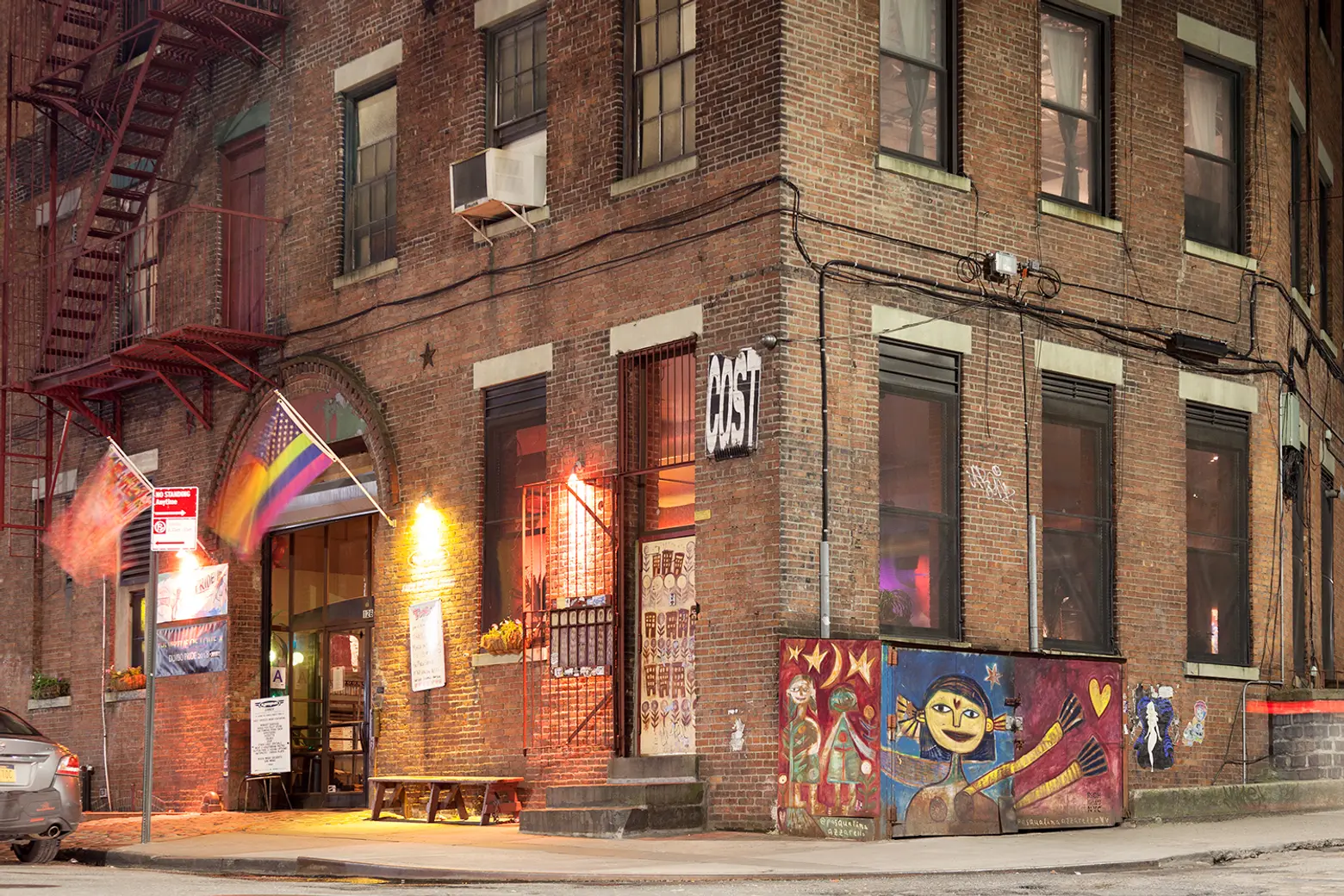 Photo credit: Caroline Culler via Wikimedia cc
Superfine
This Dumbo pioneer was, at one time, among the only choices in the neighborhood for brunch, dinner, or dining with a crowd. Now that the choices are many, the 20-year-old eatery is still serving farm-to-table organic fare to large, happy crowds daily and featuring events and art on their stage and gallery.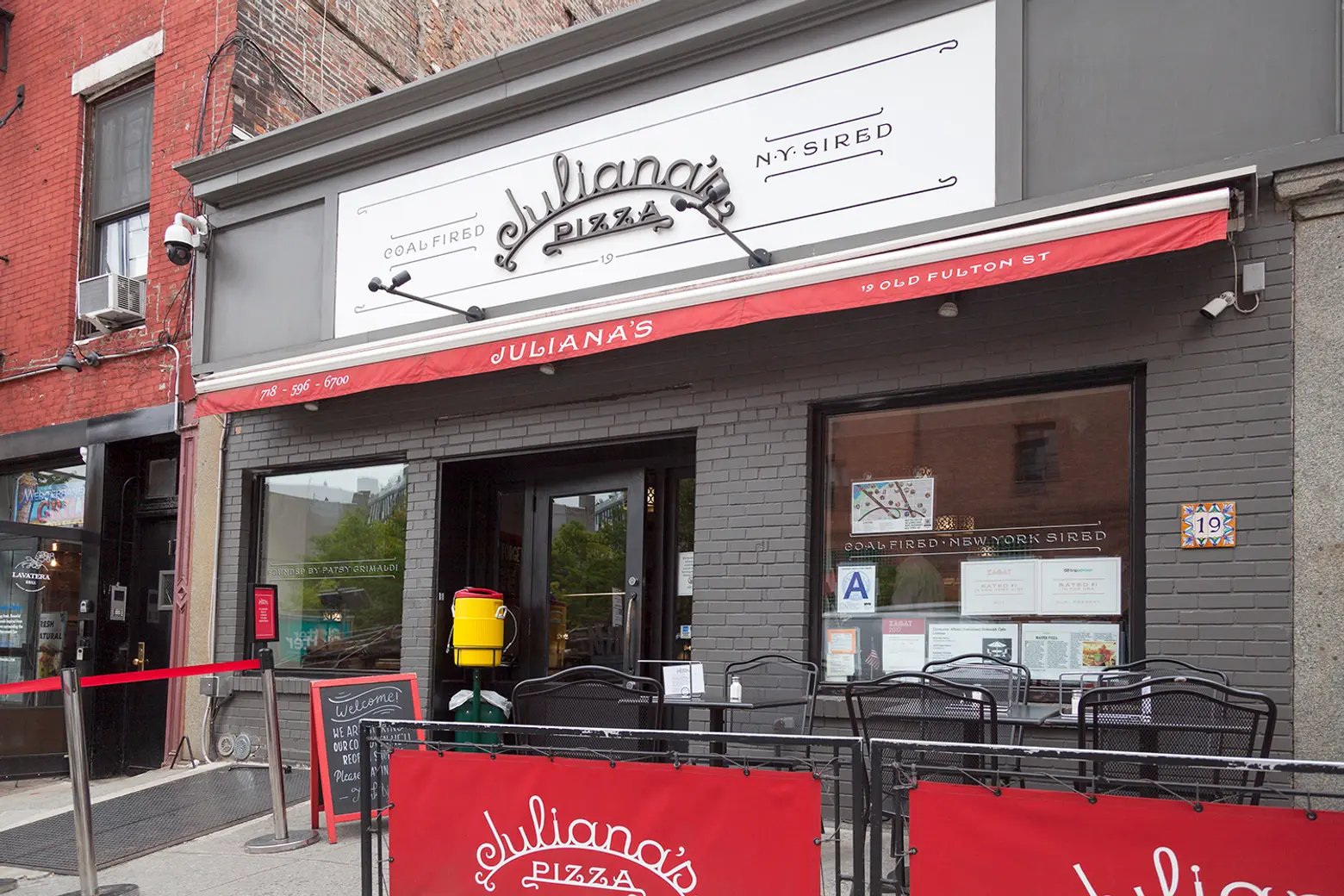 Photo credit: Caroline Culler via Wikimedia cc
Juliana's Pizza
The wait isn't as long as Grimaldi's just down the block, and if the thin-crust, coal-oven-fired pies at Juliana's taste remarkably similar, that's because Patsy Grimaldi is also the man behind this excellent pizzeria.
Gran Electrica
The neighborhood go-to spot for Mexican food and mezcal under the Brooklyn Bridge is more than just a watering hole. The regional Mexican food is authentic, courtesy of the folks behind Brooklyn Heights favorite Colonie. The back garden is fabulous for outdoor dining, and the Day of the Dead-themed art will keep you on your toes.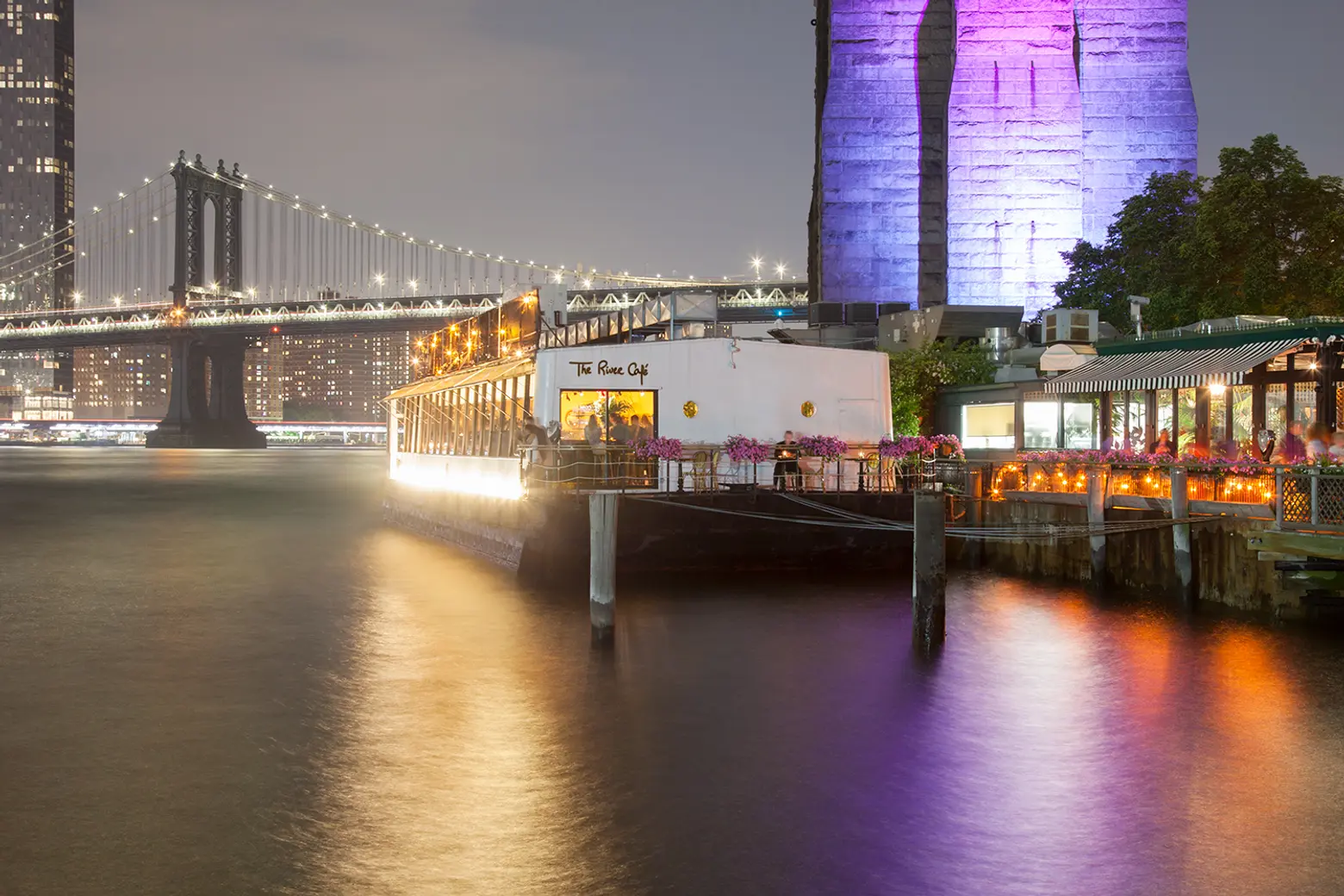 Photo credit: Caroline Culler via Wikimedia cc
River Cafe
This floating fine-dining establishment has been through ups and downs, but the atmosphere and views from the windows of this impossibly romantic boat on the shores of the East River are unsinkable.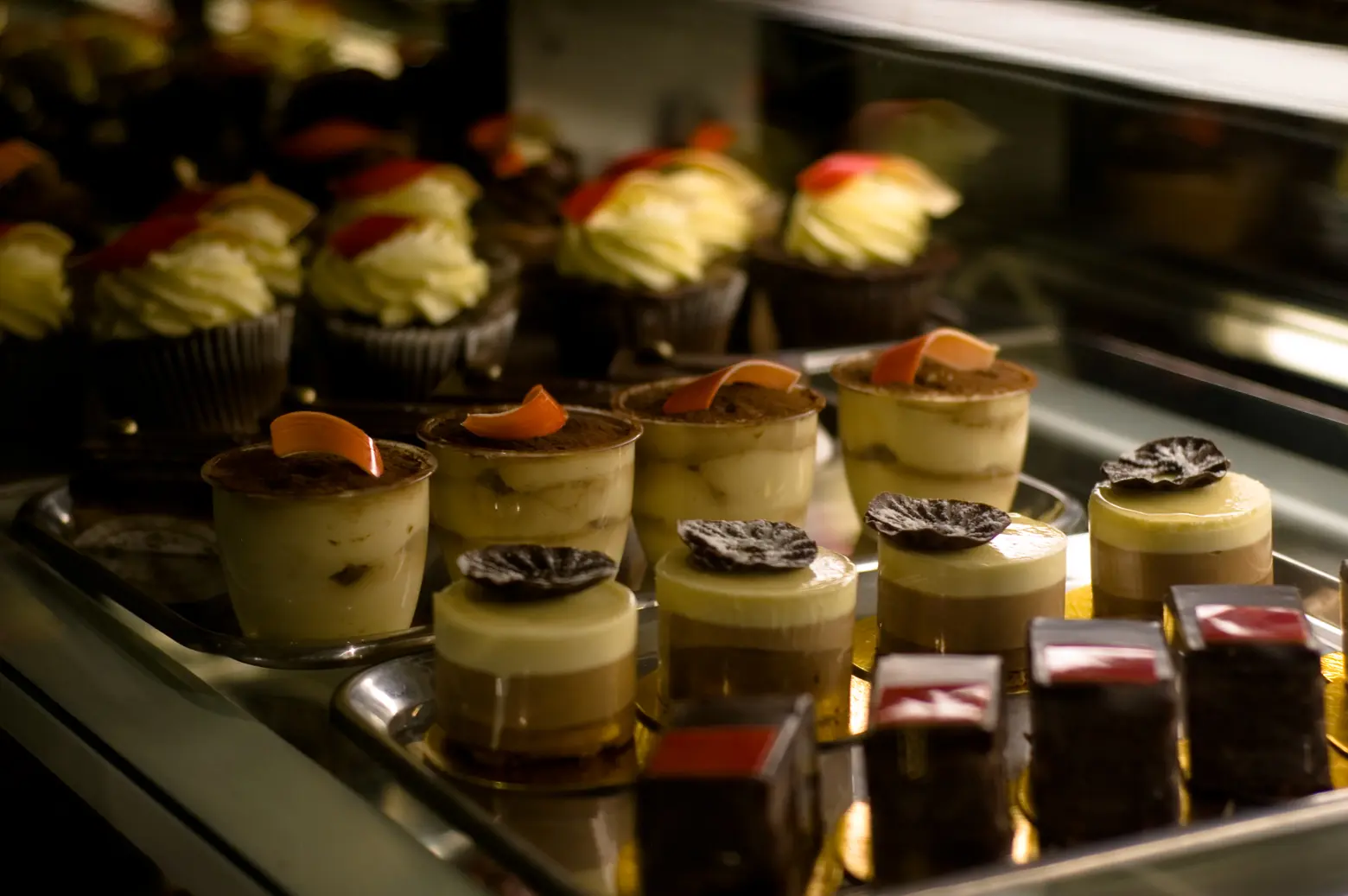 Photo credit: Caroline Culler via Wikimedia cc
Almondine Bakery
Established in 2004, this artisan French bakery offers exquisite pastries in the classic style–think perfect croissants, tarts, eclairs, and madeleines. In addition to a fabulous selection of breads and baked goods, you can also get lunch and coffee at this old-school Europe-in-Brooklyn establishment.
Ample Hills Creamery at Fulton Ferry Landing
The beloved ice cream purveyor's Brooklyn flagship is perched on the water's edge in a historic fireboat house. It's a perfect place to indulge in a Brooklyn-made scoop while gazing at the Brooklyn Bridge on a summer day.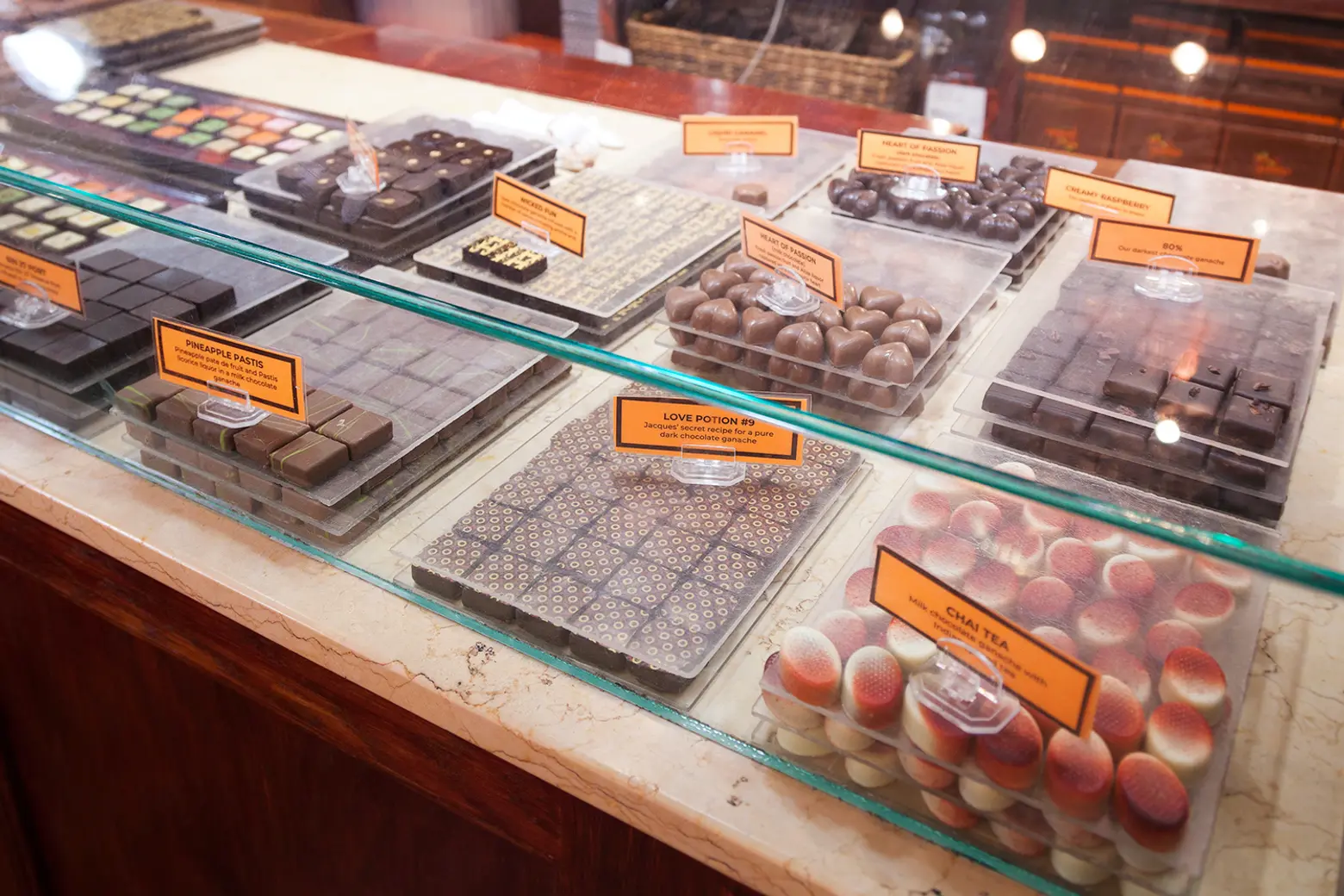 Photo credit: Caroline Culler via Wikimedia cc
Jacques Torres Chocolate Shop
Since 2000, Jacques Torres–A.K.A. Mr. Chocolate–has been sharing his creations through what has grown to a mini-empire of shops around the city. After relocating from France and working as a pastry chef at Le Cirque, he devoted himself to chocolate full time. The Dumbo location has the honor of being the first of Torres' locations, and you'll still find the same mouth-watering handmade chocolate treats.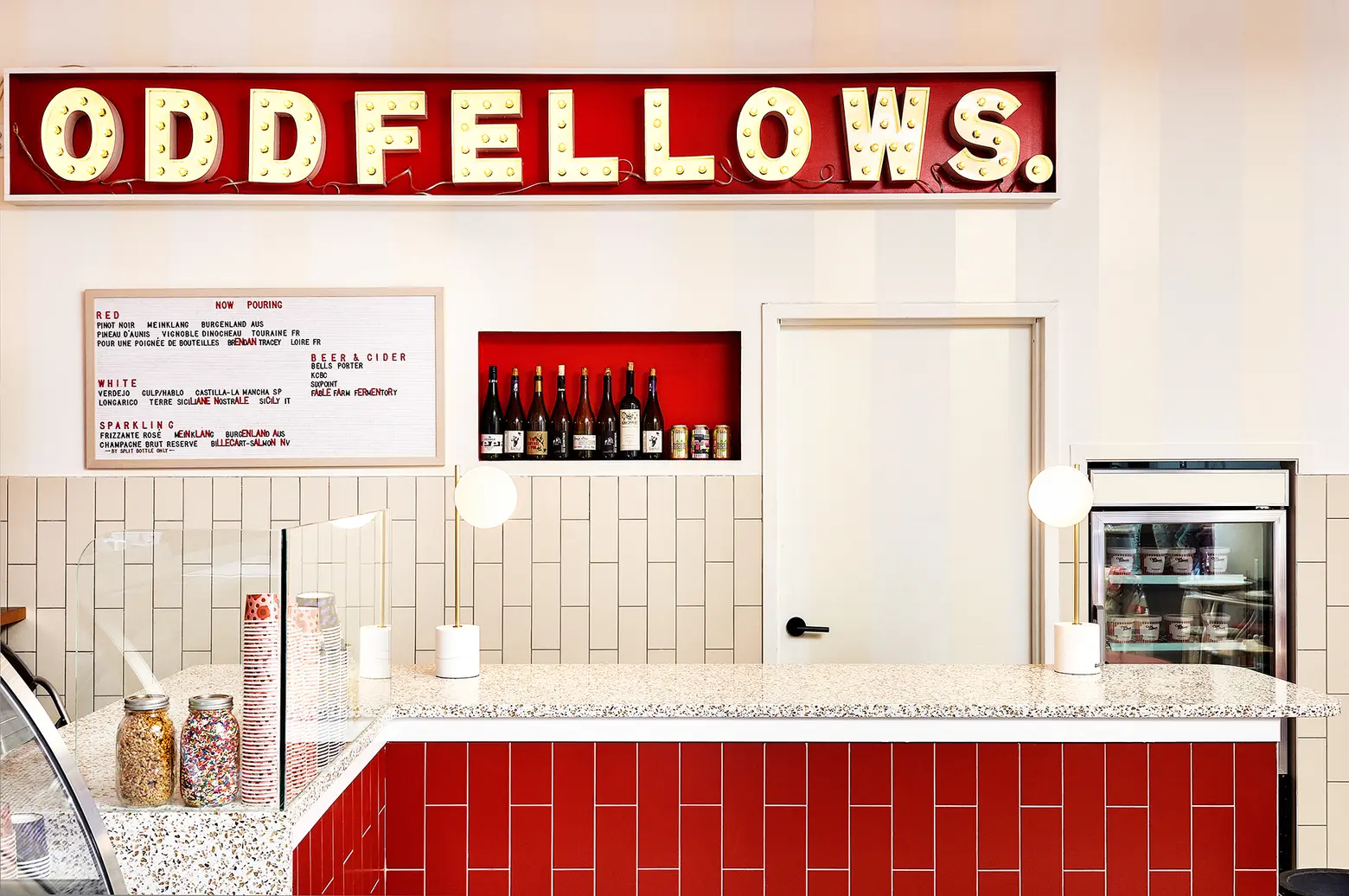 Photo via Oddfellows
Oddfellows Scoop Shop
Oddfellows boasts an impressive archive of flavors and a selection that rotates daily including exotic highlights like Matcha Rocky Road and Italian olive oil sweet cream. Stop for a scoop while enjoying the photo-ready Dumbo streetscape.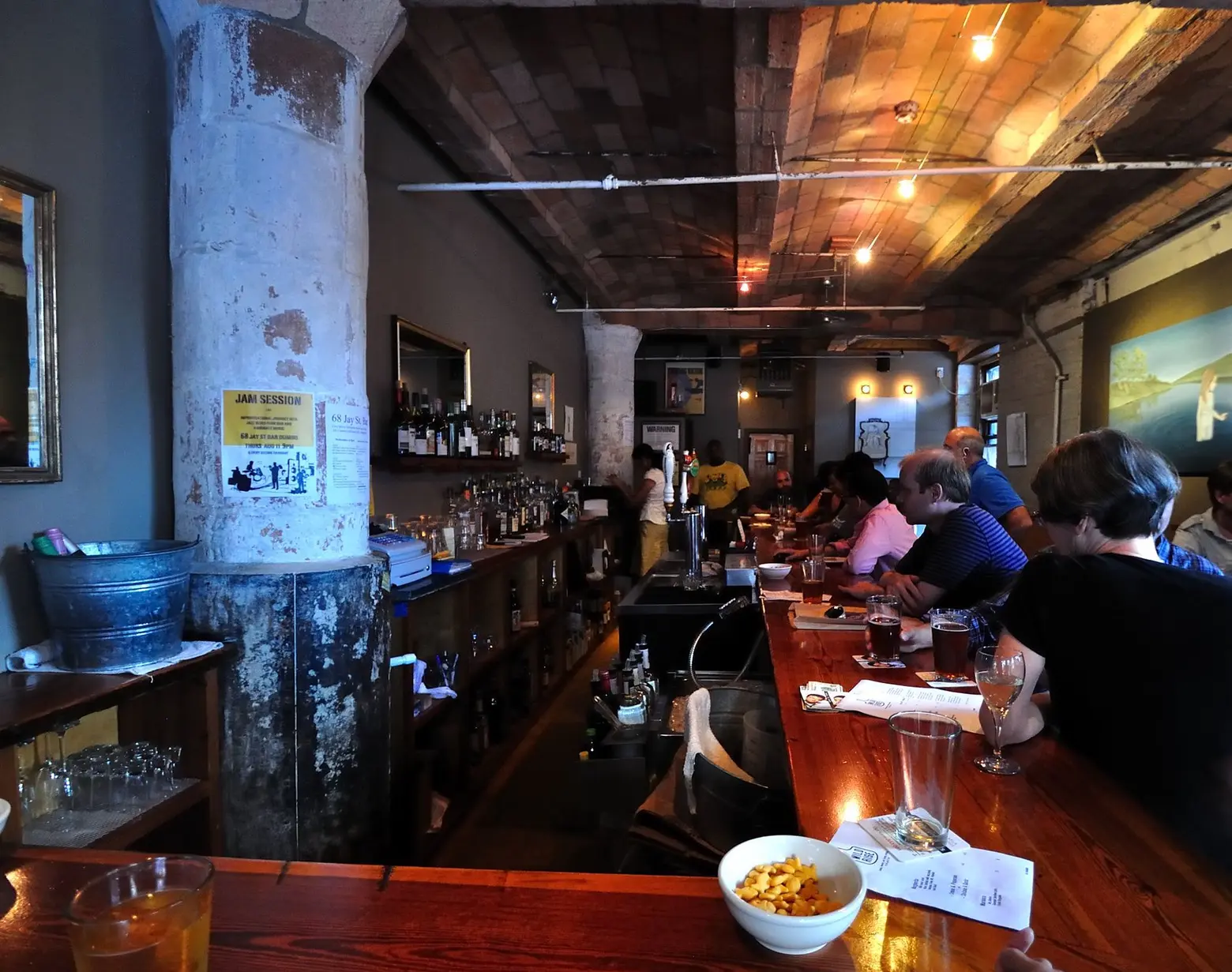 Photo credit: Dumbonyc via Flickr
68 Jay Street Bar
In an upscale neighborhood like Dumbo, it's good to have a local. This corner bar has kept its industrial vibe, and, since it opened in 2003, offers a welcoming happy hour and friendly, local faces daily.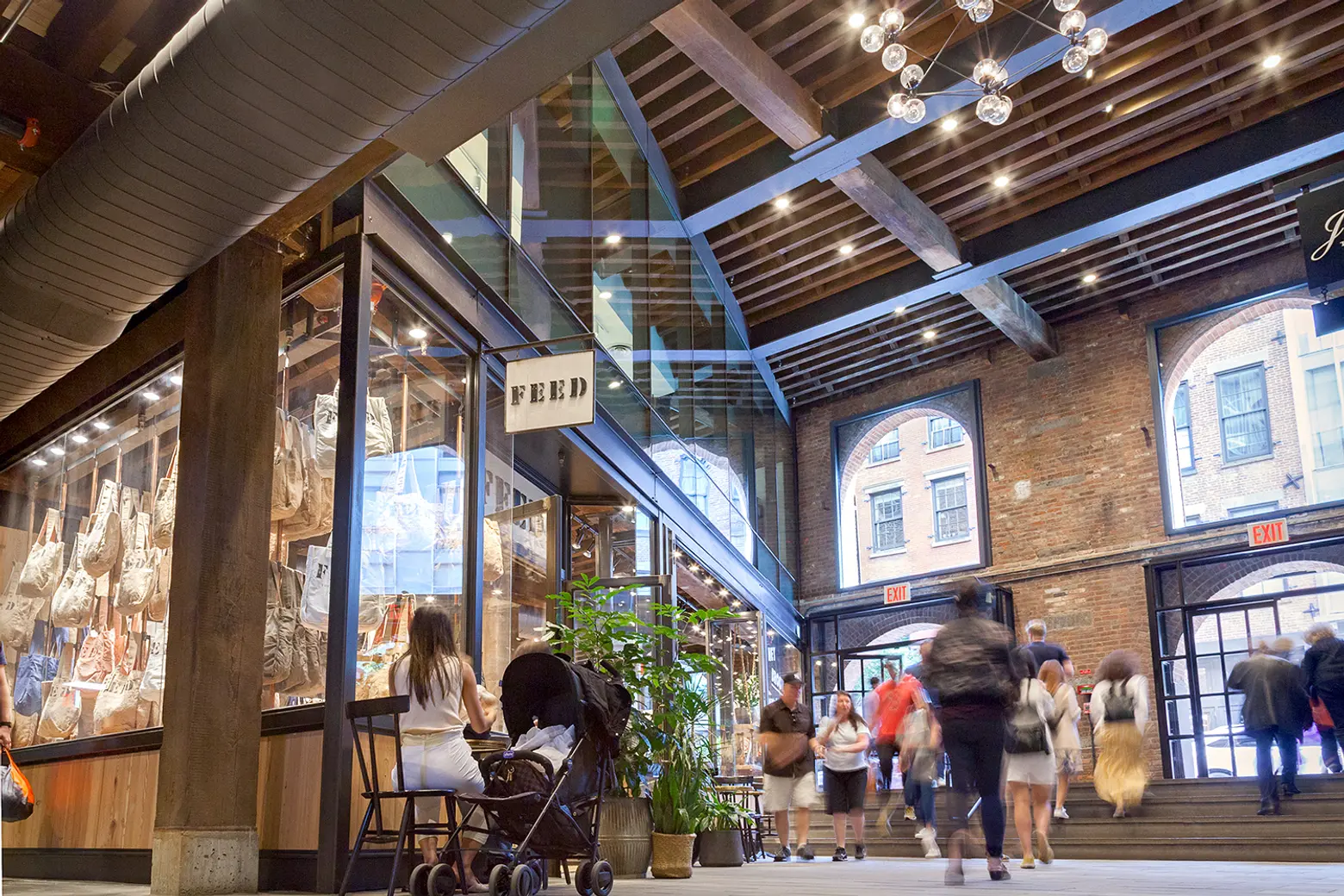 Photo credit: Caroline Culler via Wikimedia cc
Where to shop
Empire Stores
Located in a Civil War-era coffee warehouse, Empire Stores on Dumbo's Water Street opened in 2017. Stores include West Elm's global flagship store, café, and accessories store FEED Projects along with Time Out Market food hall and Brooklyn's first Soho House location, with a rooftop pool.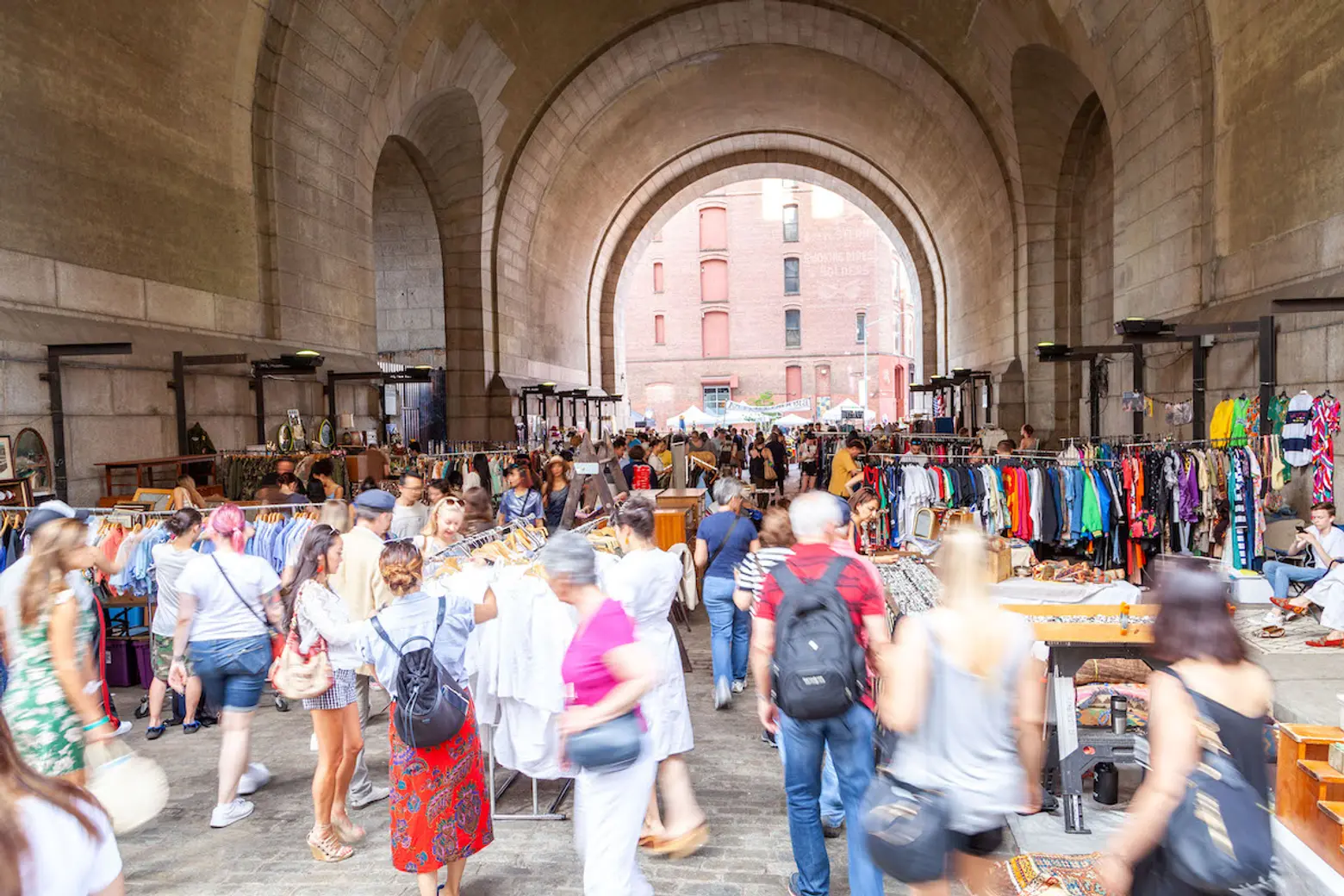 The Brooklyn Flea in Dumbo, photo by Noemie Trusty
Brooklyn Flea 
This iconic location under the Manhattan Bridge Archway hosts the borough's famous flea-and-food market on Sundays from 10-5. Expect 40 and 50 vendors, many of which are also at the Williamsburg location.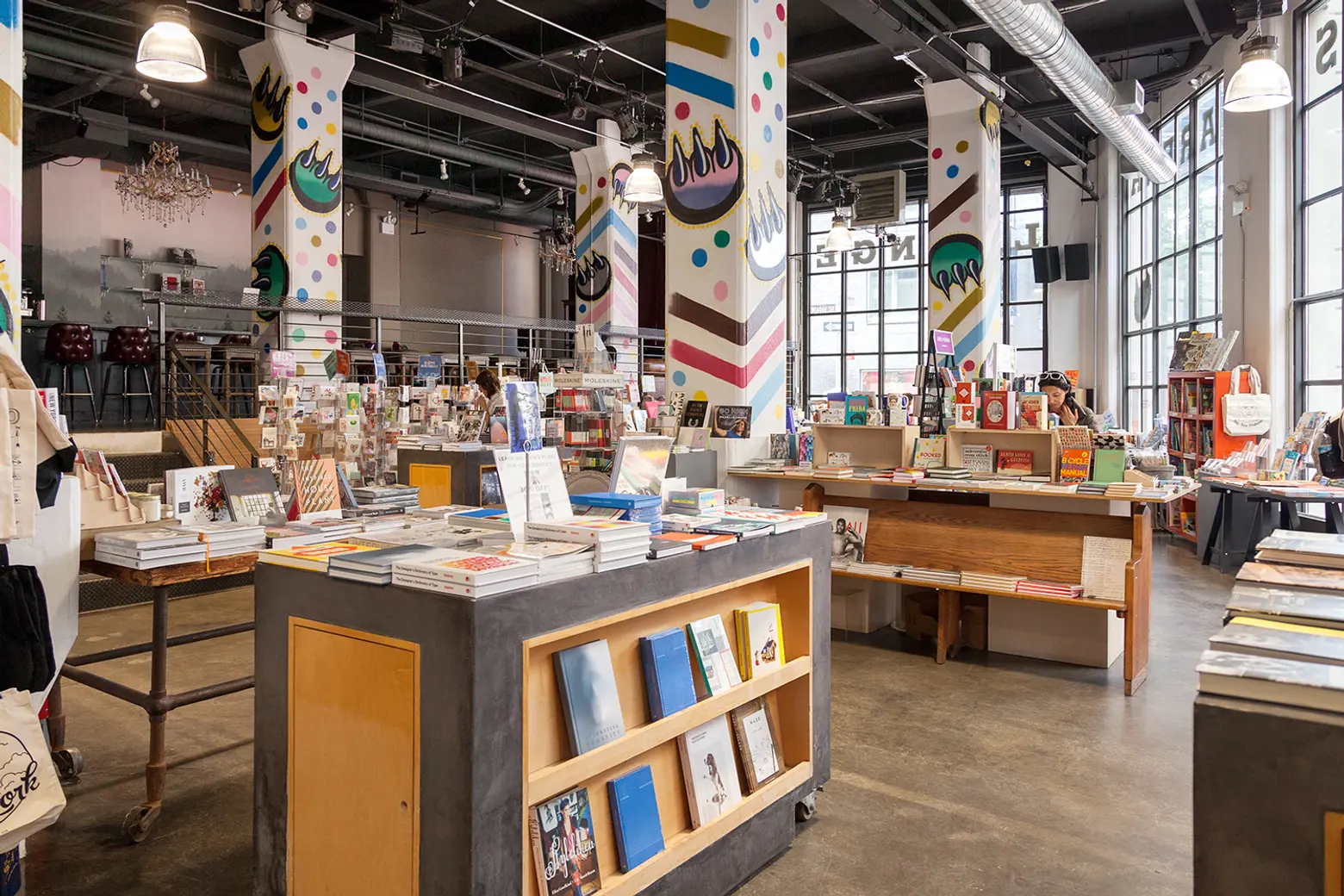 Photo credit: Caroline Culler via Wikimedia cc
Powerhouse Arena
In the vanguard of the neighborhood's cultural offerings, world-renowned art book publisher Powerhouse Books opened in 1995. As a cultural venue, Power House Arena showcases a series of landmark exhibitions and performances from the worlds of art, photography, design, fashion, pop culture, advertising, music, dance, film, and television.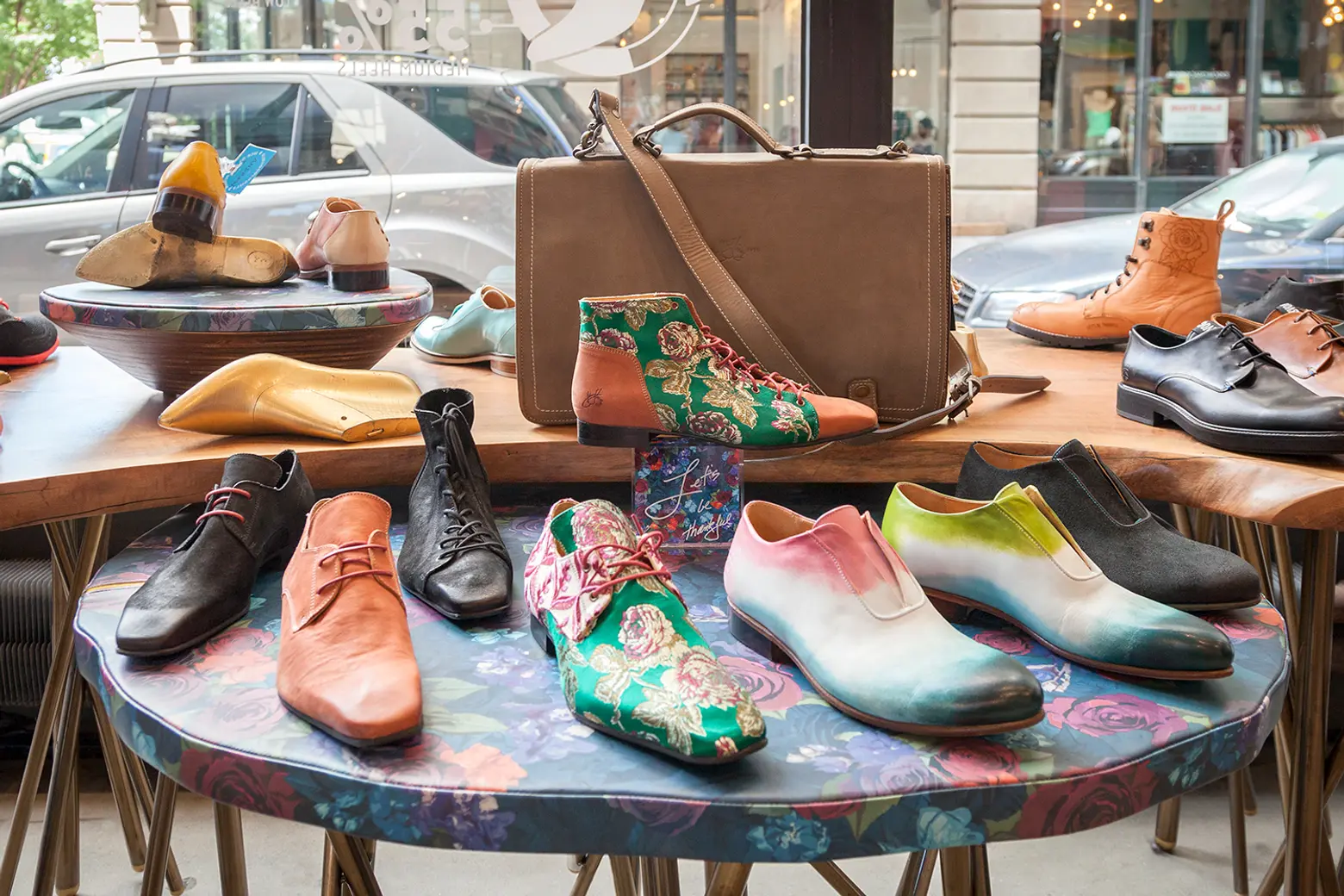 Photo credit: Caroline Culler via Wikimedia cc
John Fluevog
The quirky purveyor of handmade footwear for all genders has been the darling of creative types since the 1970s. It's entirely fitting that the brand's Brooklyn location be in Dumbo, as the timeless Fluevog style perfectly embodies the aesthetic of the neighborhood's artsy set.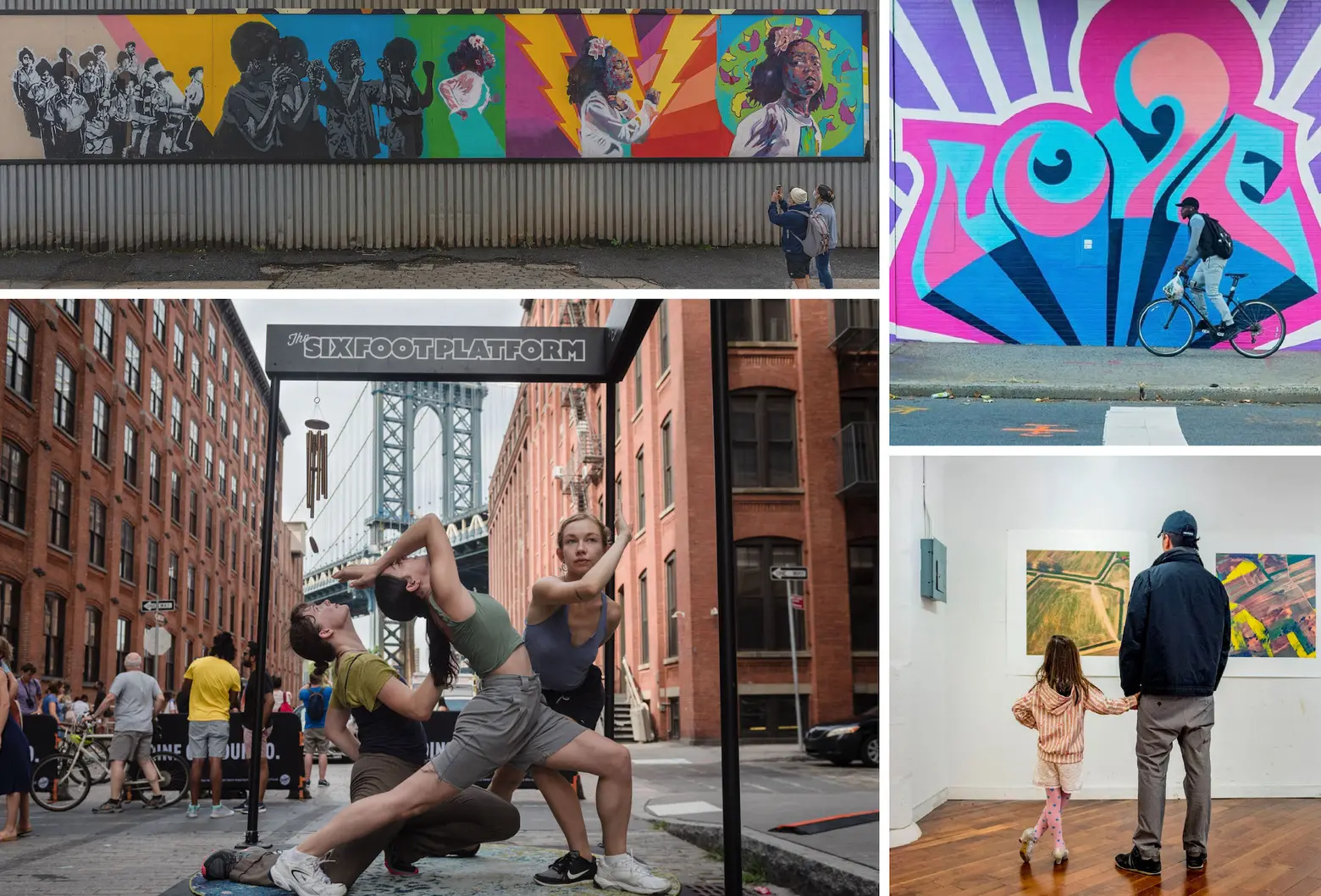 Top right photo: Cey Adams' "Love" mural; Photo courtesy of Dumbo BID
Events and culture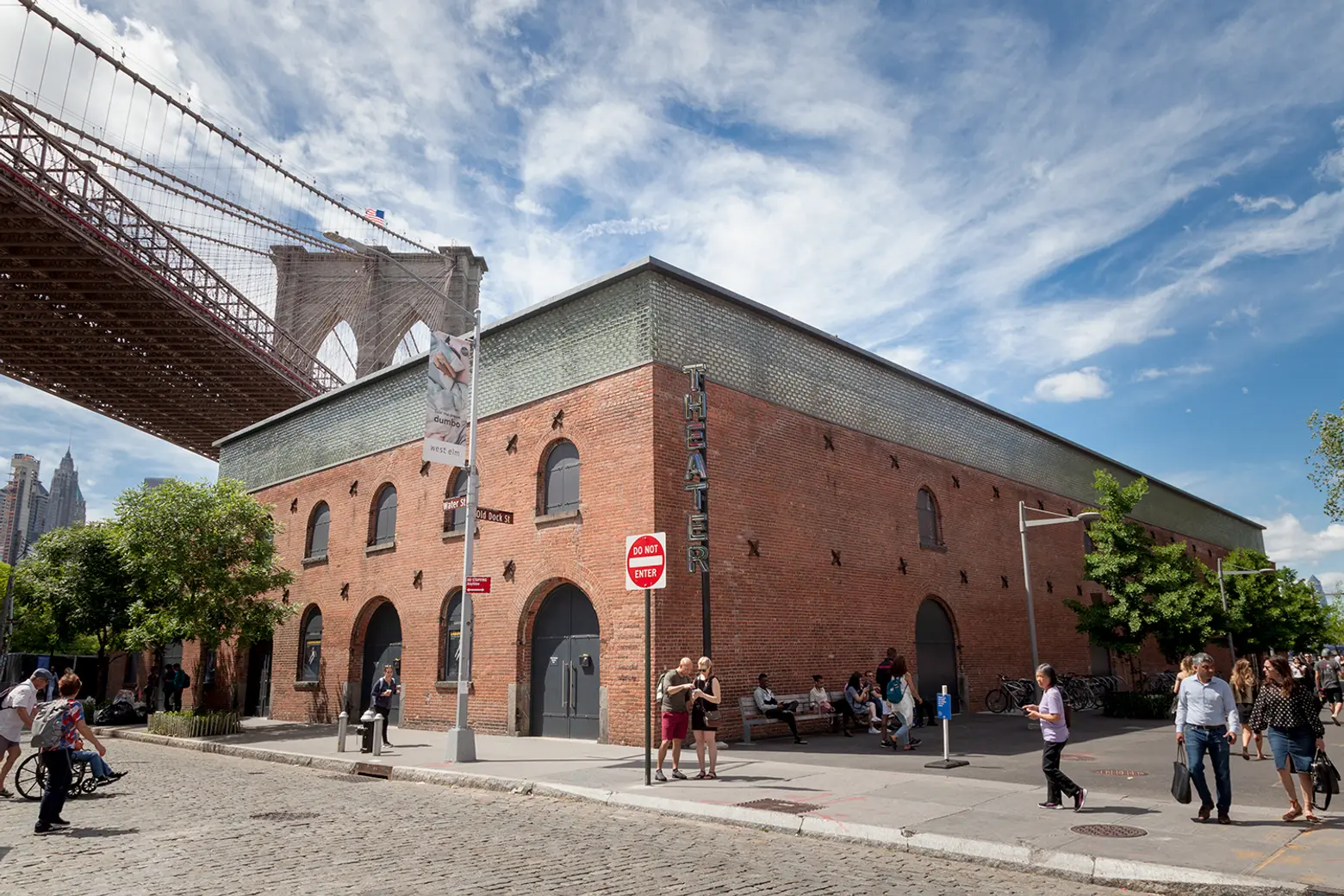 Photo credit: Caroline Culler via Wikimedia cc
St. Ann's Warehouse
This Dumbo arts institution was one of the first of its kind in the re-energized neighborhood. It's still going strong and is instrumental in keeping the arts community vibrant here as well as being an internationally-renowned home for emerging and already-famous artists of every kind. St. Ann's signature flexible, open space allows for unfettered creativity for theater, music, dance, film, and more. Housed in an 1860 Tobacco Warehouse, the space has seen performances by luminaries from Lou Reed to Gillian Anderson and many more.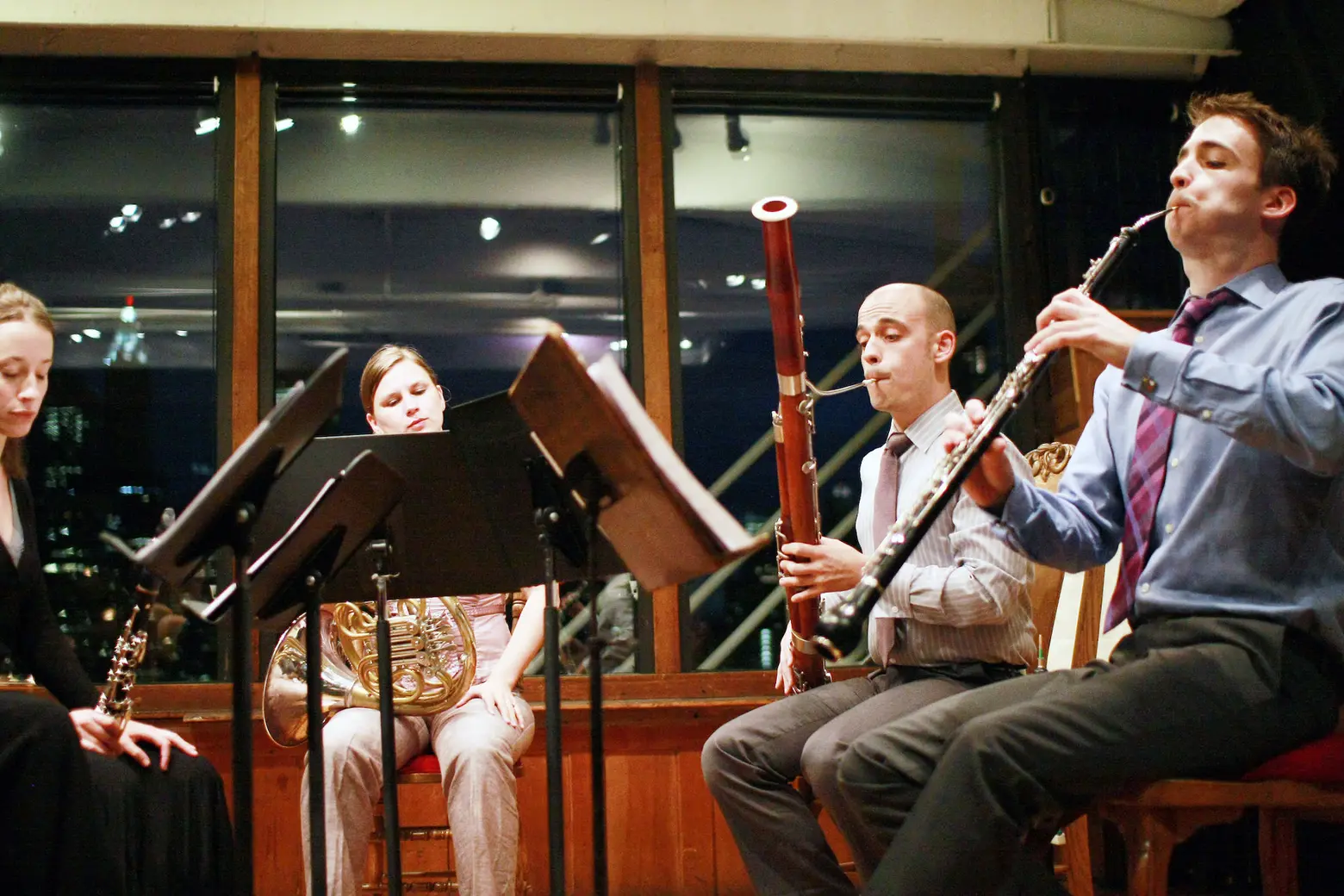 Photo credit: Andra Mihali via Flickr
Bargemusic
Moored just under the Brooklyn Bridge in a renovated coffee barge, Brooklyn's floating concert hall offers great music year-round. Where else can you enjoy a chamber music concert surrounded by views of lower Manhattan?


Dumbo Open Studios, 2019. Photo: Giles Ashford
First Thursdays
On the first Thursday of every month, the neighborhood's art galleries stay open late for a night of art openings, artist talks, and live performances.
Smack Mellon Gallery
Founded in 1995, this nonprofit arts organization was among the first and most important organizations to support arts in the neighborhood. With an emphasis on supporting emerging, under-recognized mid-career and women artists in the creation and exhibition of new work, the gallery offers artists the exposure and recognition they deserve.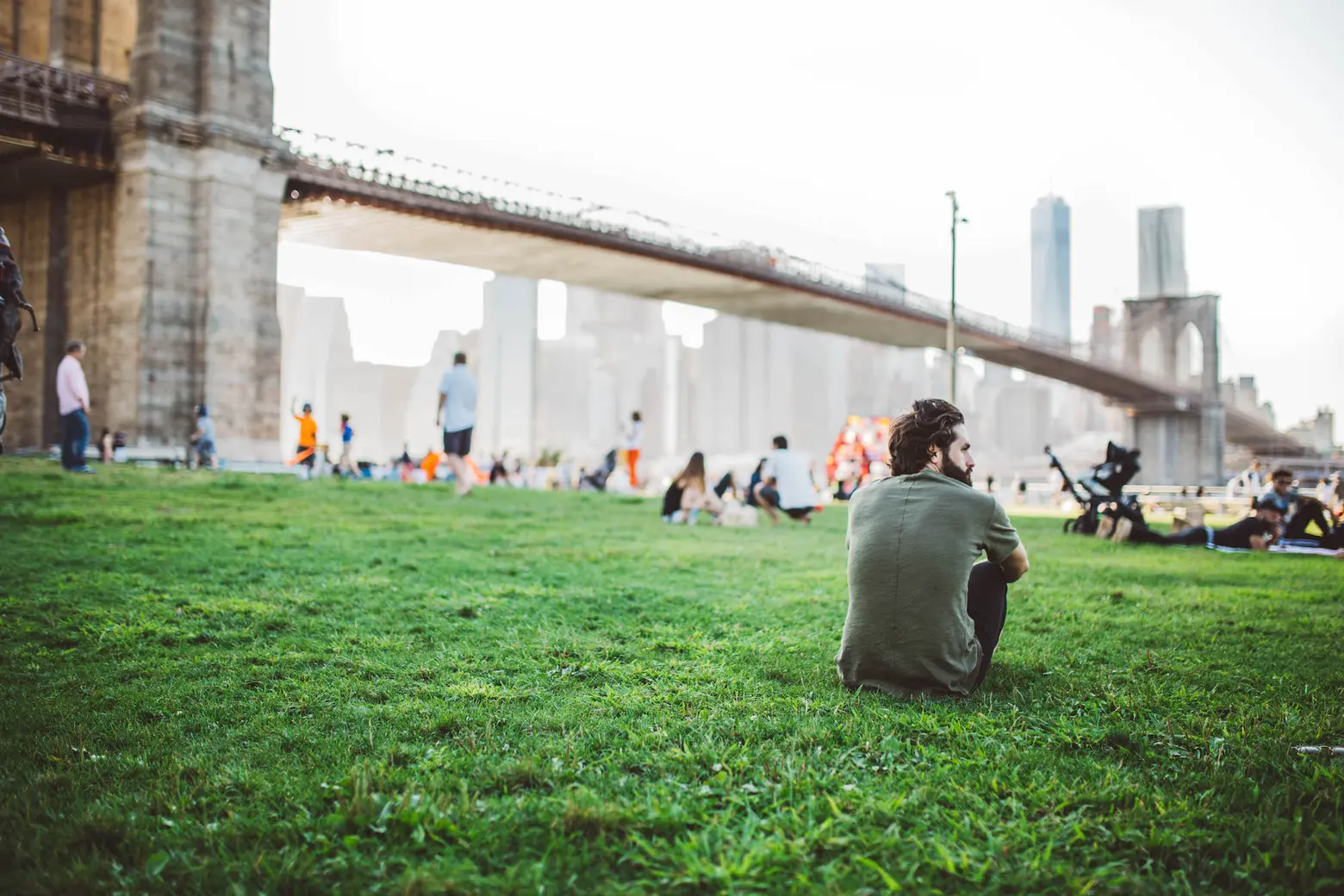 Photo credit: Brook Cagle via Unsplash.
Parks and public places to gather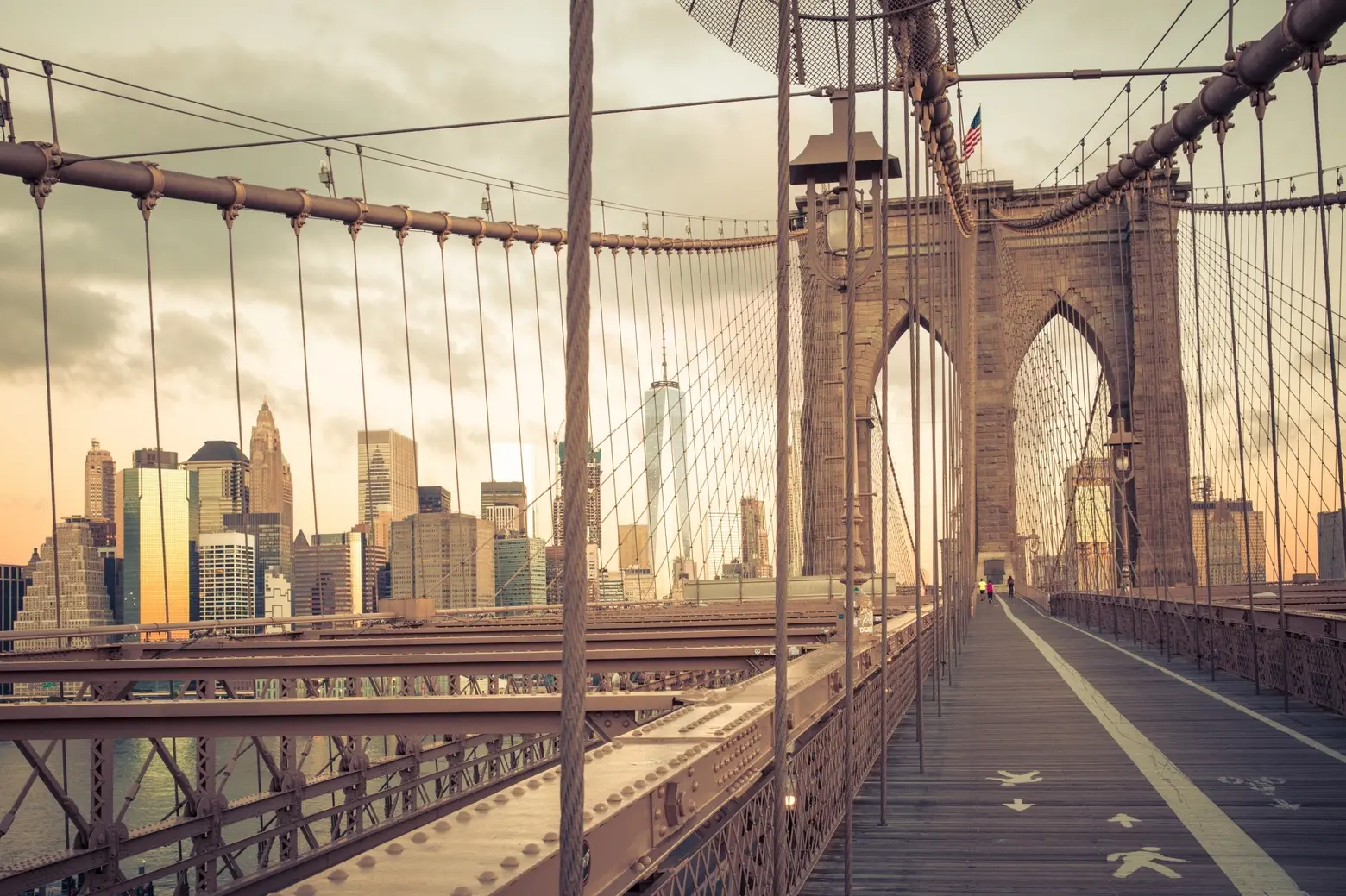 Photo via Public Domain Pictures
The Brooklyn Bridge
There are endless places to gaze at this engineering wonder, but if you'd like to realize your dreams–or daily goals–of walking across it, you can access the pedestrian walkway via the staircase located in the underpass on Washington Street/Cadman Plaza East and Prospect Street.

Photo credit: Caroline Culler via Wikimedia cc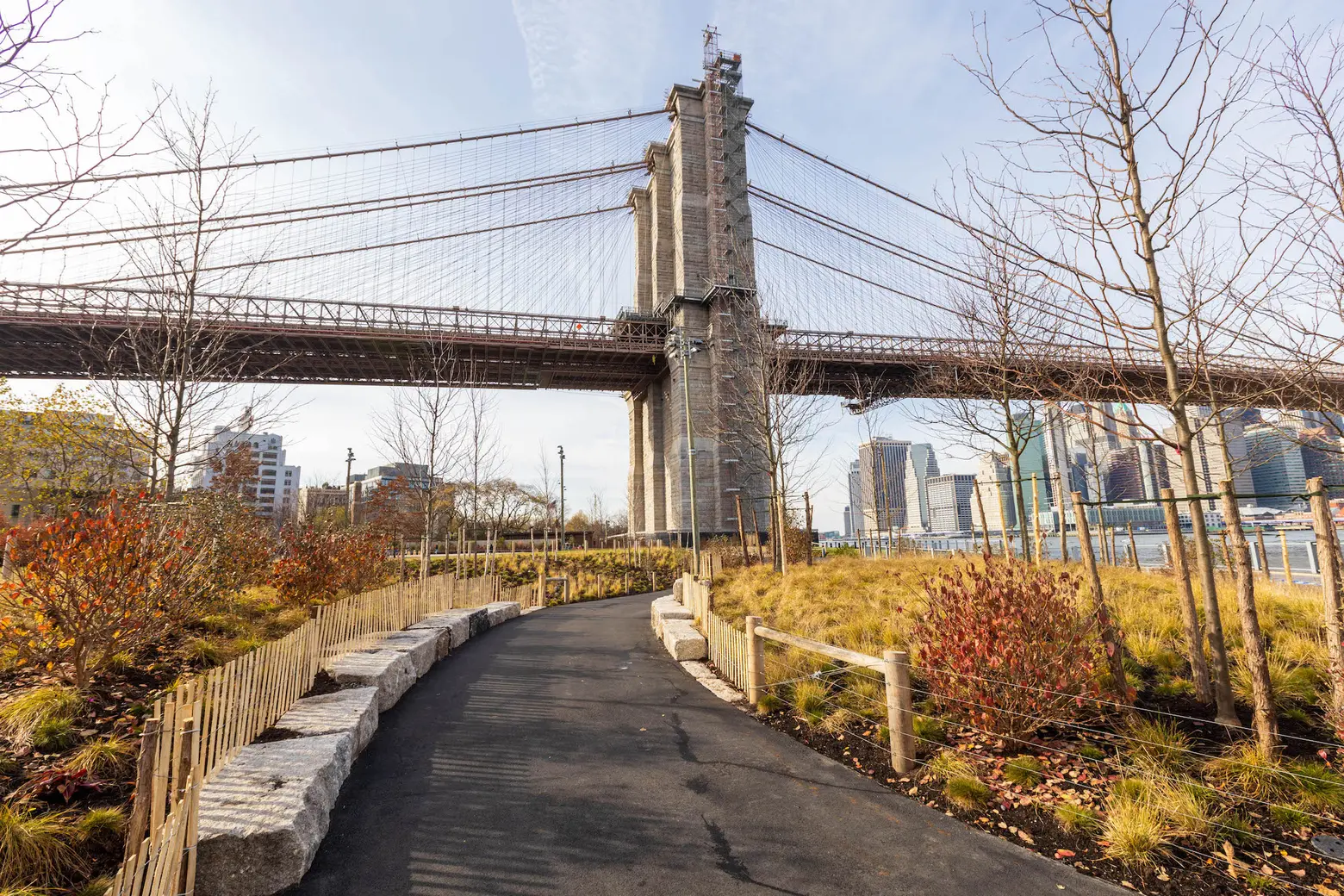 Emily Warren Roebling Plaza. Photo credit: Alexa Hoyer
Brooklyn Bridge Park
Stretching from Brooklyn Heights to Dumbo along the shores of the East River, the first six acres of the 85-acre Brooklyn Bridge Park were opened in March 2010. The park has expanded–including the just-opened Roebling Plaza–to offer public space for large cultural events, green lawns for relaxing, a home for public art, and a vantage point for skyline gazing. The jewel-like Jane's Carousel as well as in-park dining spots make it a warm-weather favorite.

Photo by Gregg Richards
Adams Street Library
Designed by WORK Architecture Company (WORKac) and constructed by Shawmut Design & Construction, this recently-opened 6,500-square-foot library is located on the ground floor of a former trash processing center. It's worth a visit just to behold the interior design, featuring original elements like brick and exposed timber ceilings.
Notable neighborhood highlights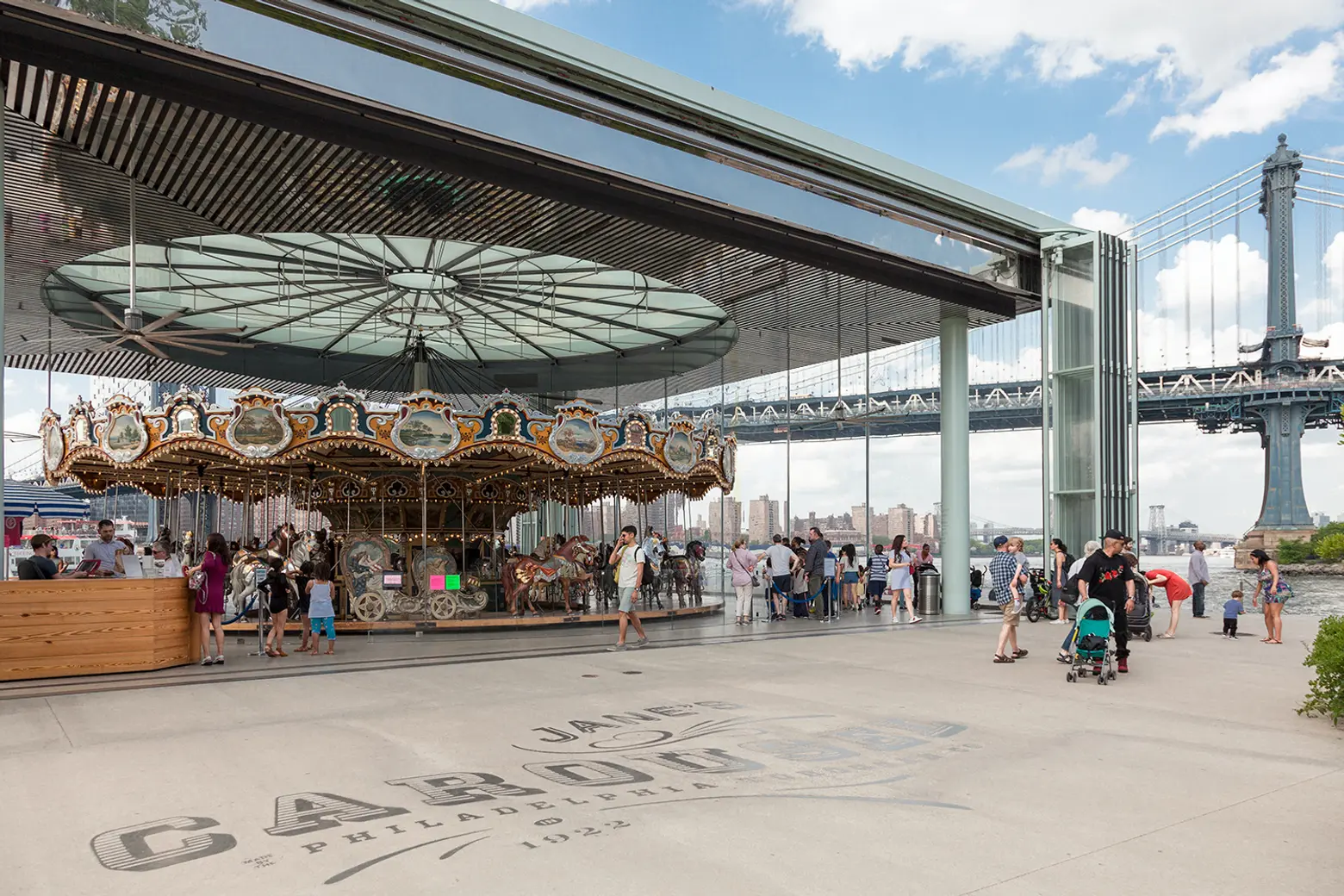 Photo credit: Caroline Culler via Wikimedia cc
Jane's Carousel
This antique 1922 carousel was rescued at an auction, imported from Youngstown, Ohio and painstakingly restored to become an anchor of Brooklyn Bridge Park, with the addition of a stunning glass pavilion designed by starchitect Jean Nouvel. The carousel project was spearheaded by developer David Walentas' late wife, Jane, who was known for her tireless support of the neighborhood's arts and culture community.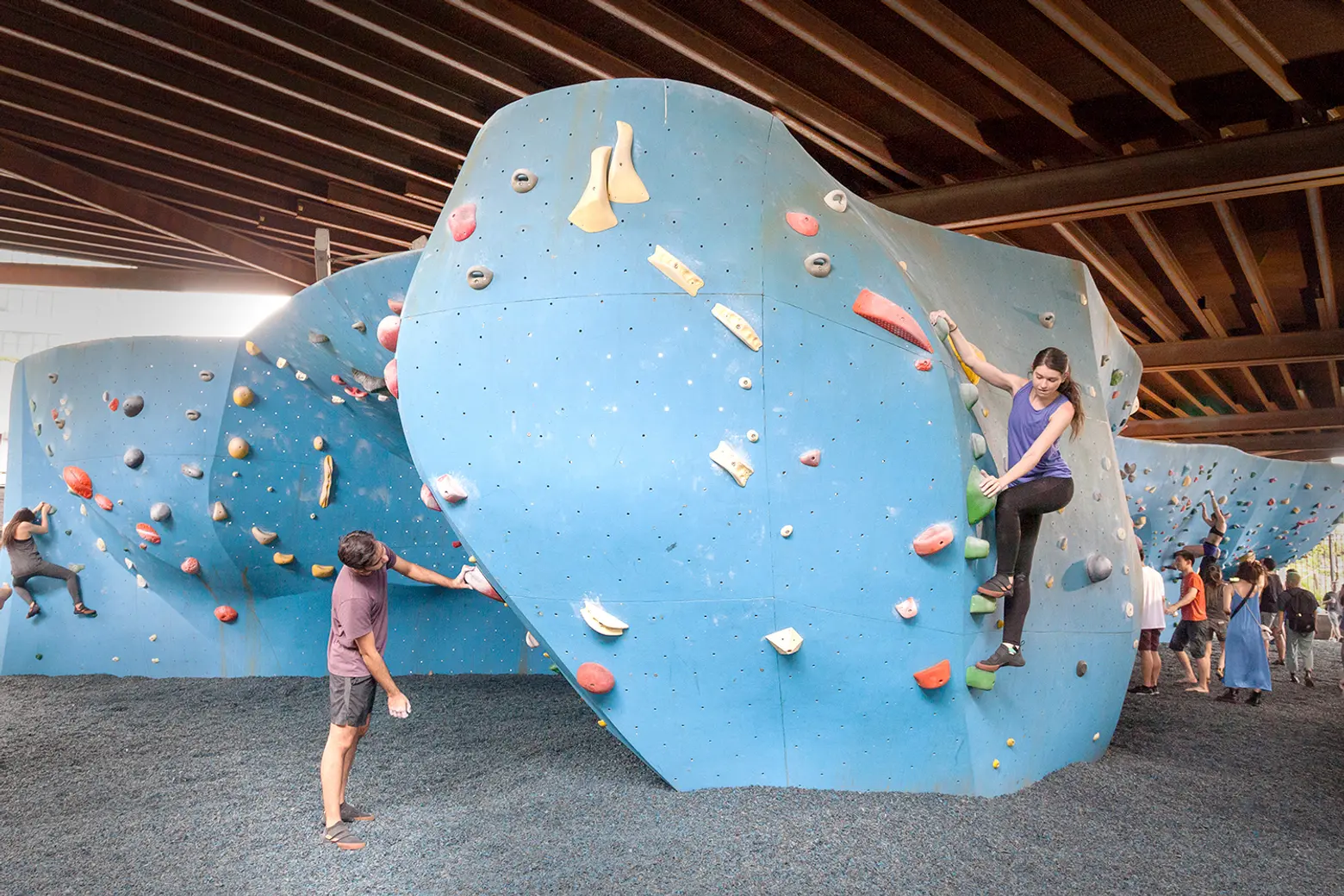 Photo credit: Caroline Culler via Wikimedia cc
The Cliffs at Dumbo
This 7,800 square-foot outdoor climbing gym within the Main Street section of Brooklyn Bridge Park is North America's largest outdoor bouldering gym.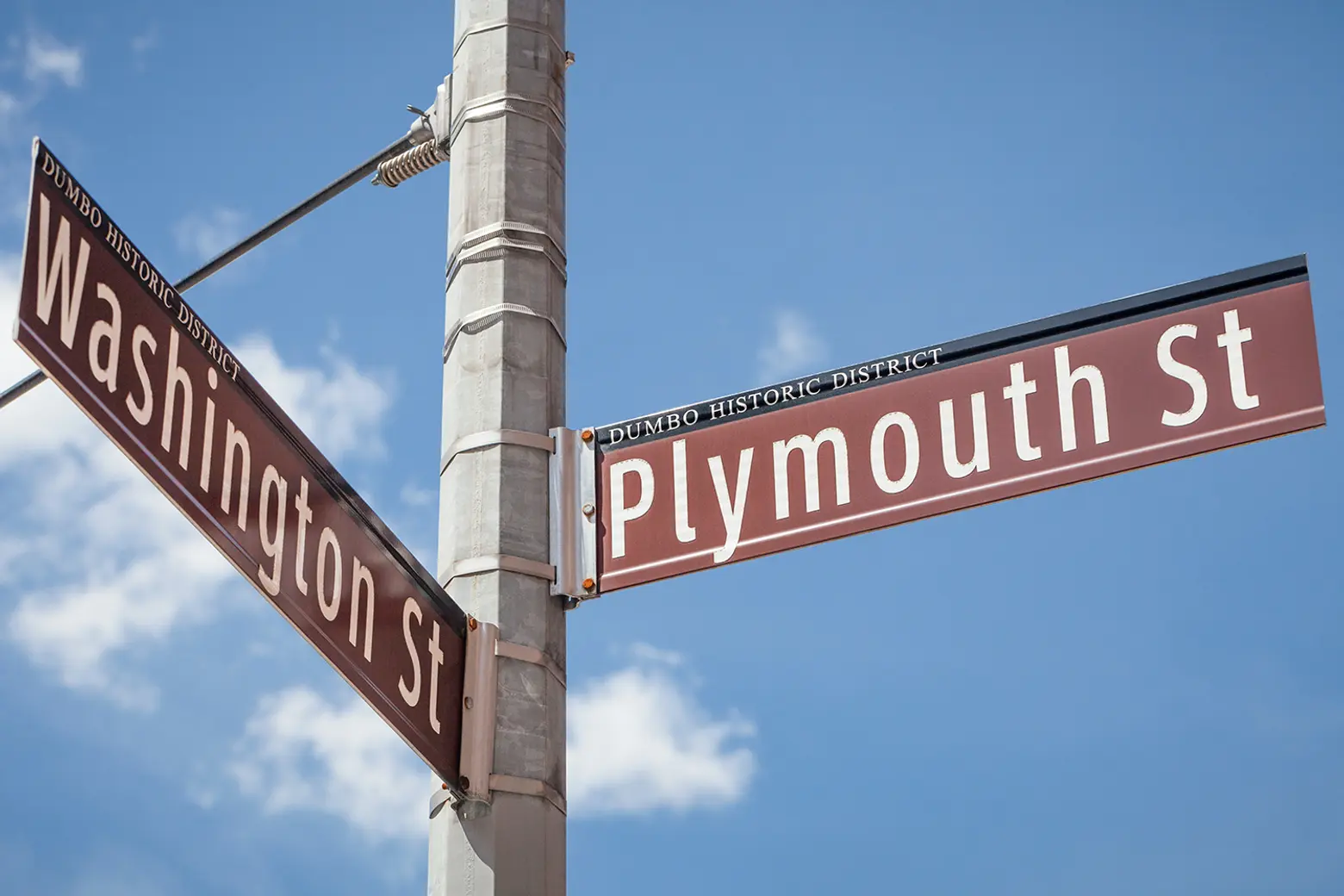 Photo credit: Caroline Culler via Wikimedia cc
Where to live
Residential options in Dumbo include airy lofts with plenty of space and luxury condos with breathtaking water and Manhattan skyline views; the dramatic bridges are part of the neighborhood's draw and a backdrop to daily life for residents. Below are a few recent additions to the Dumbo scene.

Rendering: Marchmade
Olympia Dumbo, 30 Front Street
Among the choices for 6sqft's 2021 Building of the Year, Olympia Dumbo was developed by Fortis Property Group and designed by Hill West Architects. The twisting tower rises along the waterfront at 30 Front Street, reaching 33 stories–the neighborhood's tallest residential building. The tower, which launched sales in 2021, has a sail-shaped exterior with picture windows and west-facing terraces.
There are 76 residences, with a mix of one- to five-bedroom apartments. As 6sqft previously reported, the building's top-floor penthouses list for $16 million and $19.5 million–the neighborhood's most expensive asking prices. Workstead designed the homes, which have super tall ceilings, custom cabinetry, high-end appliances, and amazing views, with some flaunting terraces and private outdoor spaces. Amenities start in the triple-height lobby and garden lounge, continue to the cellar level with a two-lane bowling alley and fitness center, and are complete on the 10th floor with an indoor lap pool, an outdoor pool, tennis court, and a playground. Current availabilities range from a $1.8 million one-bedroom to the aforementioned $19.5M penthouse.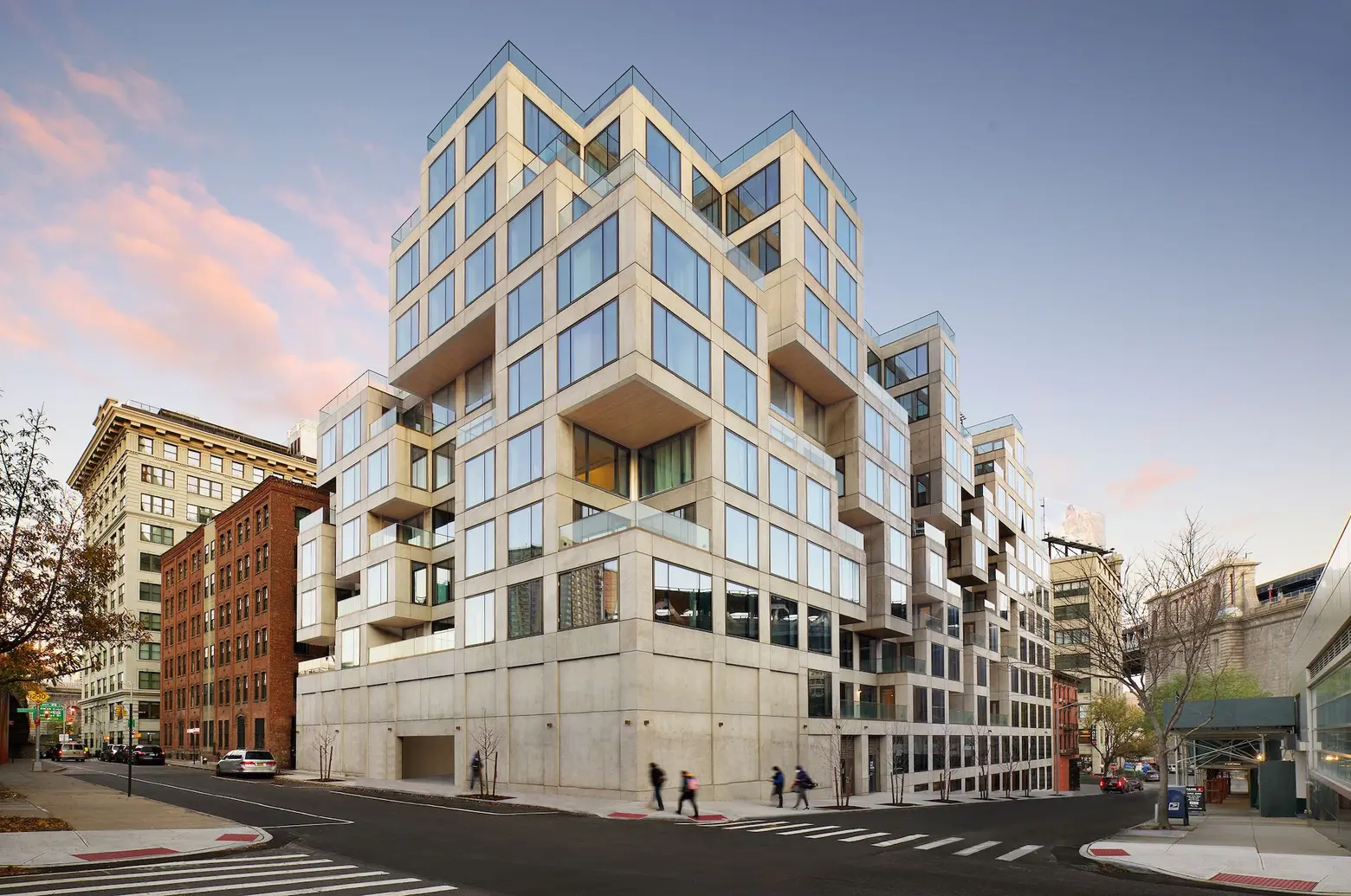 Photo by Aaron Thompson courtesy of ODA New York
98 Front Street
Completed in 2020, The 11-story condominium building at 98 Front Street has 165 units within. The ODA-designed building is recognizable by its Cubist proportions and modernist good looks. Apartments are available in 100 different layout options, and residents get an impressive array of amenities. Homes range from studios to four bedrooms, some with private decks. High-end finishes and appliances include soundproofed windows, white oak flooring, matching white oak cabinetry, and Corian countertops.
Amenities include a doorman, a live-in resident manager, smart locks/intercoms, a saltwater pool, a steam room, spa, and fitness center, bike storage, on-site parking, and storage units. There's also a residents' lounge and co-working space, a children's playroom, a 7,000-square-foot roof deck with outdoor kitchens and grills, screening capabilities, and an outdoor workout facility with stunning views. Current availabilities range from an $835,000 studio to a $4.5 million three-bedroom penthouse.

Rendering by Williams New York
Front & York
Formerly a vacant parking lot at 85 Jay Street, this exciting new Dumbo addition was designed inside and out by internationally-renowned architect Morris Adjmi. The full-block development offers elegant interiors with the neighborhood's stunning views and top-of-the-line finishes. Pricing for available residences ranges from a $1,050,000 one-bedroom to $4.51 million for a three-bedroom penthouse.
Apartments feature 10-foot ceilings, chevron-patterned white oak flooring, custom-designed chef's kitchens equipped with Gaggenau appliances, and master bathrooms with custom Waterworks and Morris Adjmi-designed fixtures. Tall windows frame breathtaking views of the Lower Manhattan and Brooklyn skylines.
Another standout at the building is New York City's most comprehensive amenity collection. With over 150,000 square feet of perks includes access to one of the city's largest private parks, a rooftop pool deck and lounge area, a porte-cochere, co-working lounges, private chef's kitchens, wine rooms, coffee lounges, teen lounges and more. Front & York also offers a state-of-the-art Life Time fitness facility with a full-court basketball court, fitness studios, a Kids Academy, a full-service salon, and café.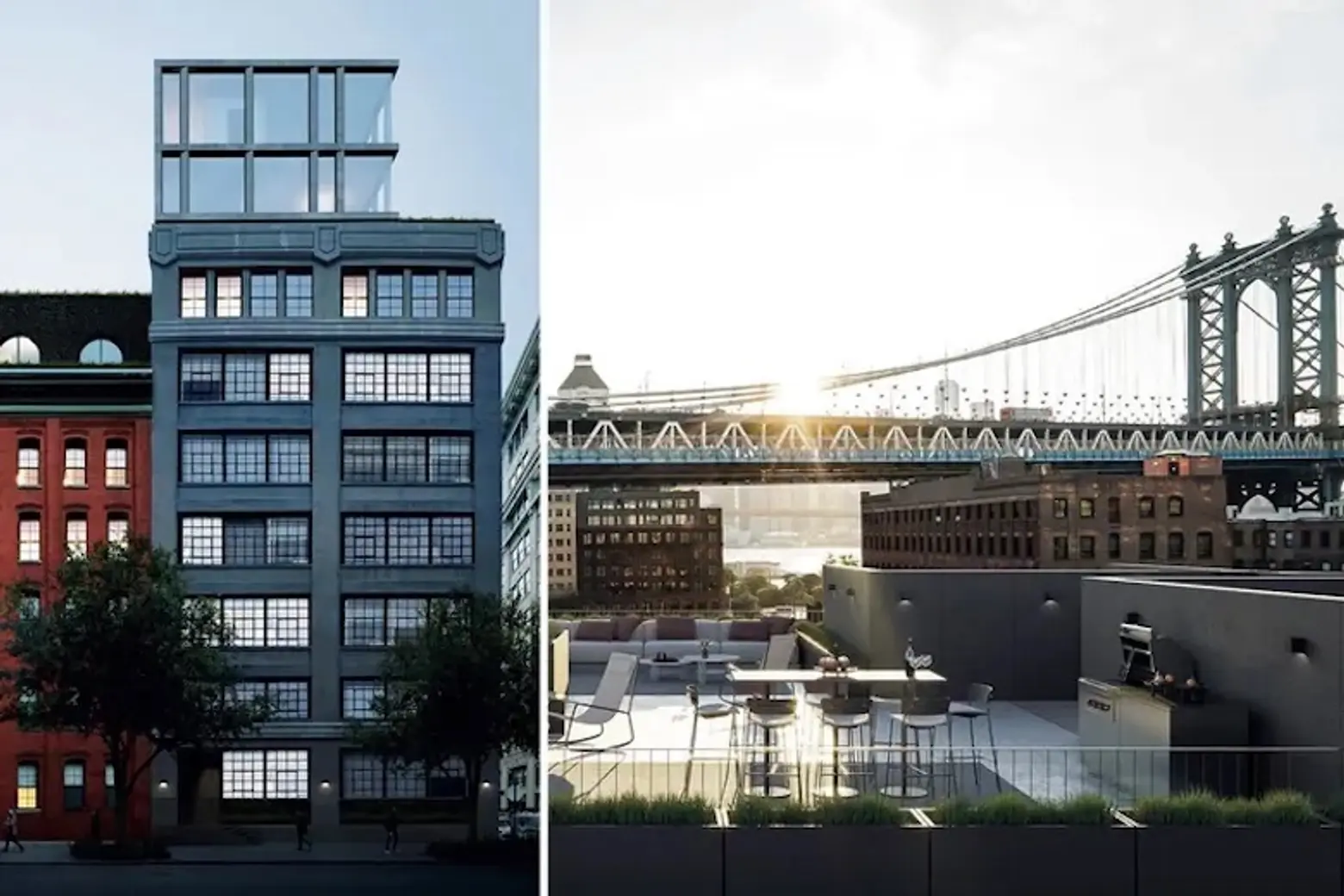 Renderings of 168 Plymouth courtesy of Alloy Development via Sotheby's International
168 Plymouth Street
As with many of the neighborhood's most prestigious addresses, Alloy Development's 168 Plymouth features the restoration and conversion of two distinct 1891 factory loft buildings into a 46-unit condominium residence, topped by a pair of head-turning glass-clad penthouses. Situated just a block east of the Manhattan Bridge near the John Street Park on the East River waterfront, the conversion, completed in 2020, made news with the $6.8 million sale of one of its penthouses that same year.
Building amenities include a 24-hour doorman, a lobby lounge, bike storage, a landscaped common roof deck and a La Palestra-designed gym. Currently available apartments range from a $2.076 million one-bedroom unit to a $4.846 million three-bedroom penthouse.
RELATED: