67 years ago in Queens, Althea Gibson became the first African-American on a U.S. tennis tour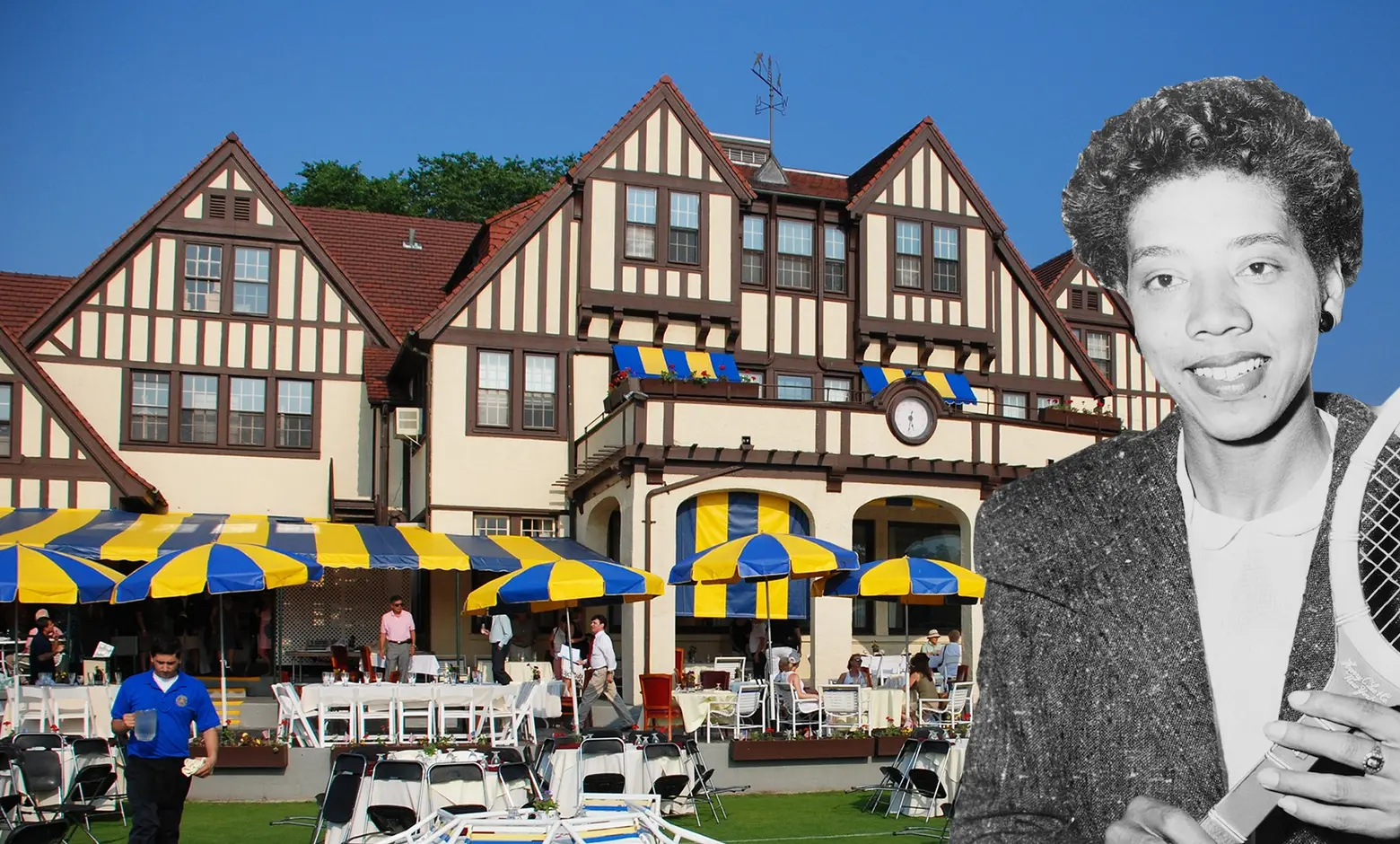 On August 22, 1950, what was then known as the United States Lawn Tennis Association (USLTA) accepted Harlem's Althea Gibson into their annual championship at Forest Hills, New York (the precursor to the U.S. Open). The spot on the championship roster made Gibson the first African-American athlete to compete in a U.S. national tennis competition, launching a storied career in which she won a whopping 16 Grand Slams, including the 1956 French Open where she became the first person of color to win such a title.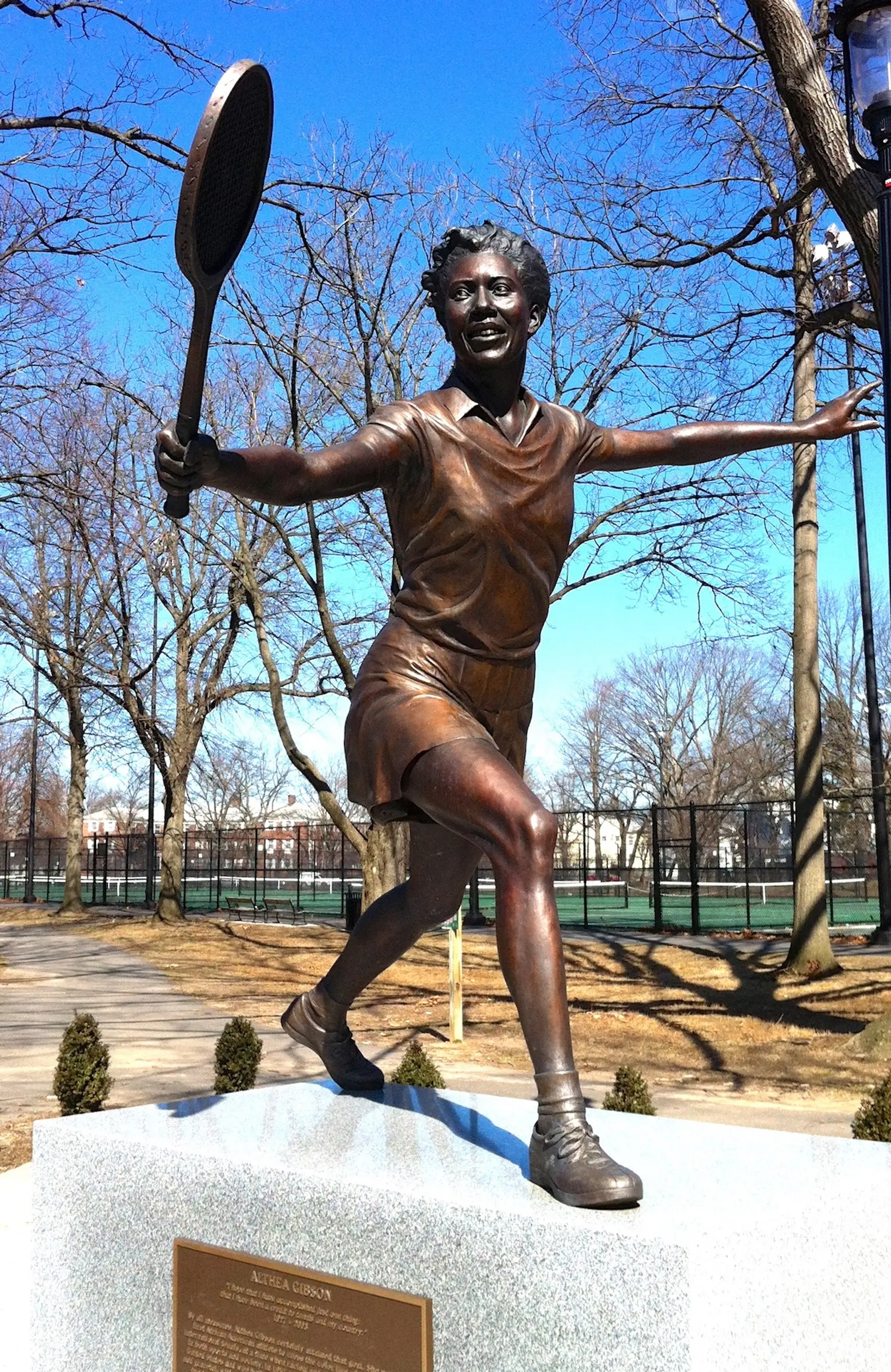 Gibson in bronze in Newark, NJ near the courts on which she ran clinics for young players in her later years. Image: Wikimedia Commons.
Gibson, an all-around athlete who also played golf, grew up in Harlem and started playing tennis at the age of 14. At 15 she won her first tournament, the New York State girls' championship, which was sponsored by the American Tennis Association (ATA), a tournament organized by black players as an alternative to the exclusively white USLTA.
Gibson was by now being coached by Hubert Eaton and R. Walter Johnson, prominent doctors and tennis enthusiasts who had taken her under their wing. She followed her earliest tournament win with 10 straight ATA championships beginning in 1947.
A 1949 attempt by the young star to gain entry into the USLTA's National Grass Court Championships at Forest Hills was rebuffed; when the organization failed to invite Gibson to any qualifying tournaments, four-time Forest Hills champ Alice Marble wrote a letter on her behalf to the editor of American Lawn Tennis magazine in which she criticized the bigotry of the USLTA and its members. Marble suggested that if Gibson was a formidable challenge to the organization's tour players, "it's only fair that they meet this challenge on the courts." The letter got her a spot in a New Jersey qualifying event, which led to her place at Forest Hills.
When the tournament opened on August, 28, 1950, Gibson beat Barbara Knapp in her first match. After a narrow loss in a subsequent match, Gibson struggled for her first few years on the tour, but won her first big victory at the French Open in Paris in 1956. That kicked off a victory streak that included Wimbledon and the U.S. Open the following year at the age of 30. It should be noted that at the time, the entire pro tennis league was poorly organized and developed: At one point Gibson went on tour with the Harlem Globetrotters, playing tennis during halftime.
Gibson retired shortly after her U.S. Open victory but went on to play on the women's golf tour though she never won a tournament. She was chosen for the International Tennis Hall of Fame in 1971. Gibson, who died at the age of 76 in 2003, has been compared to black athletic trailblazer Jackie Robinson, but more often she is credited with paving the way for African-American tennis greats like Arthur Ashe and Venus and Serena Williams.
RELATED: