A History of the US Open in New York: From the West Side Tennis Club to Arthur Ashe Stadium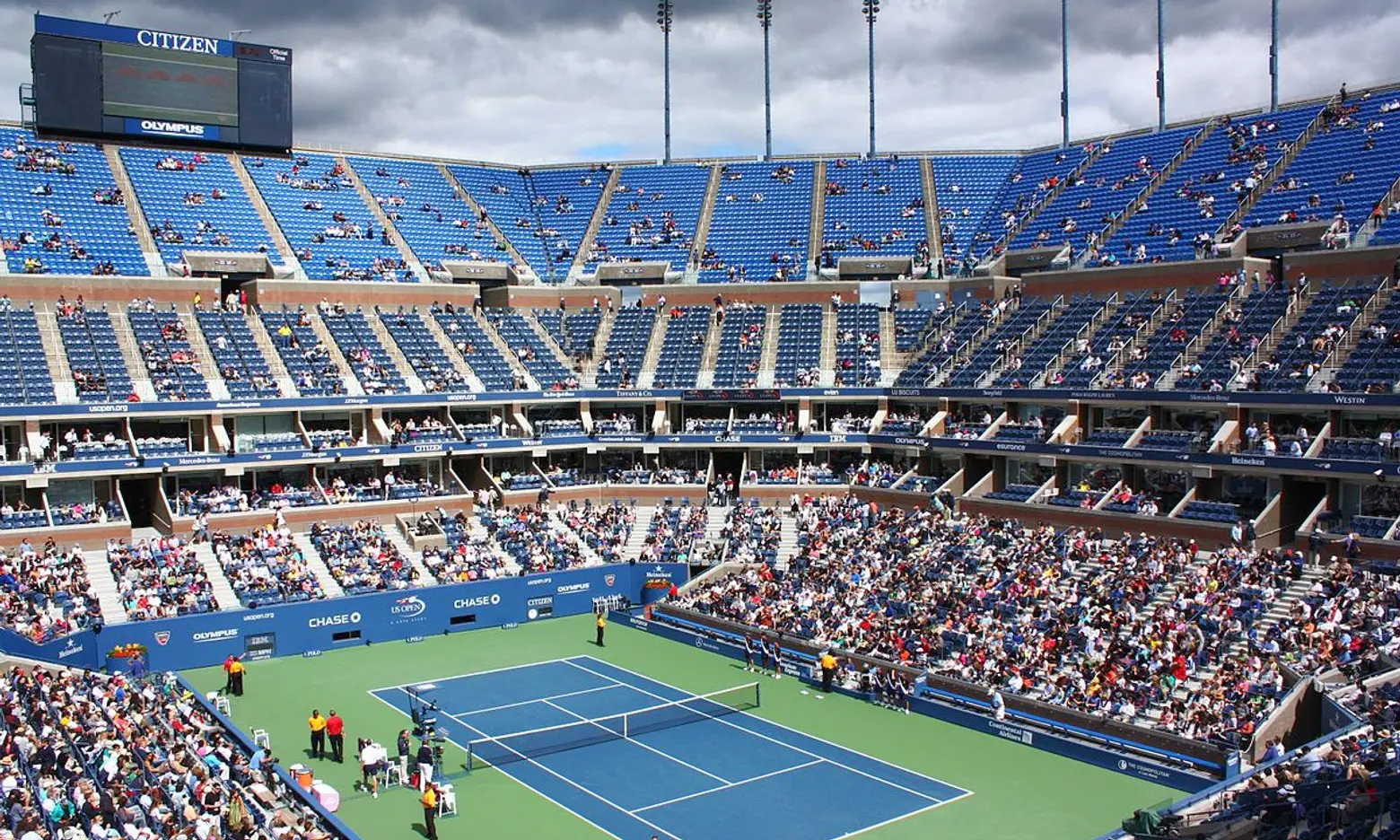 Now in its 51st year, U.S. Open fever has once again swept the city. Though nowadays it's all Venus and Djokovic and craft beers and lobster rolls, there's a long history behind the world-famous event. Here, 6sqft takes a look at how the international tournament made its way from an elite, private club in Newport Rhode Island to Forest Hills' West Side Tennis Club and finally to its current home in Flushing Meadows-Corona Park, even uncovering a little connection to the 1964 World's Fair.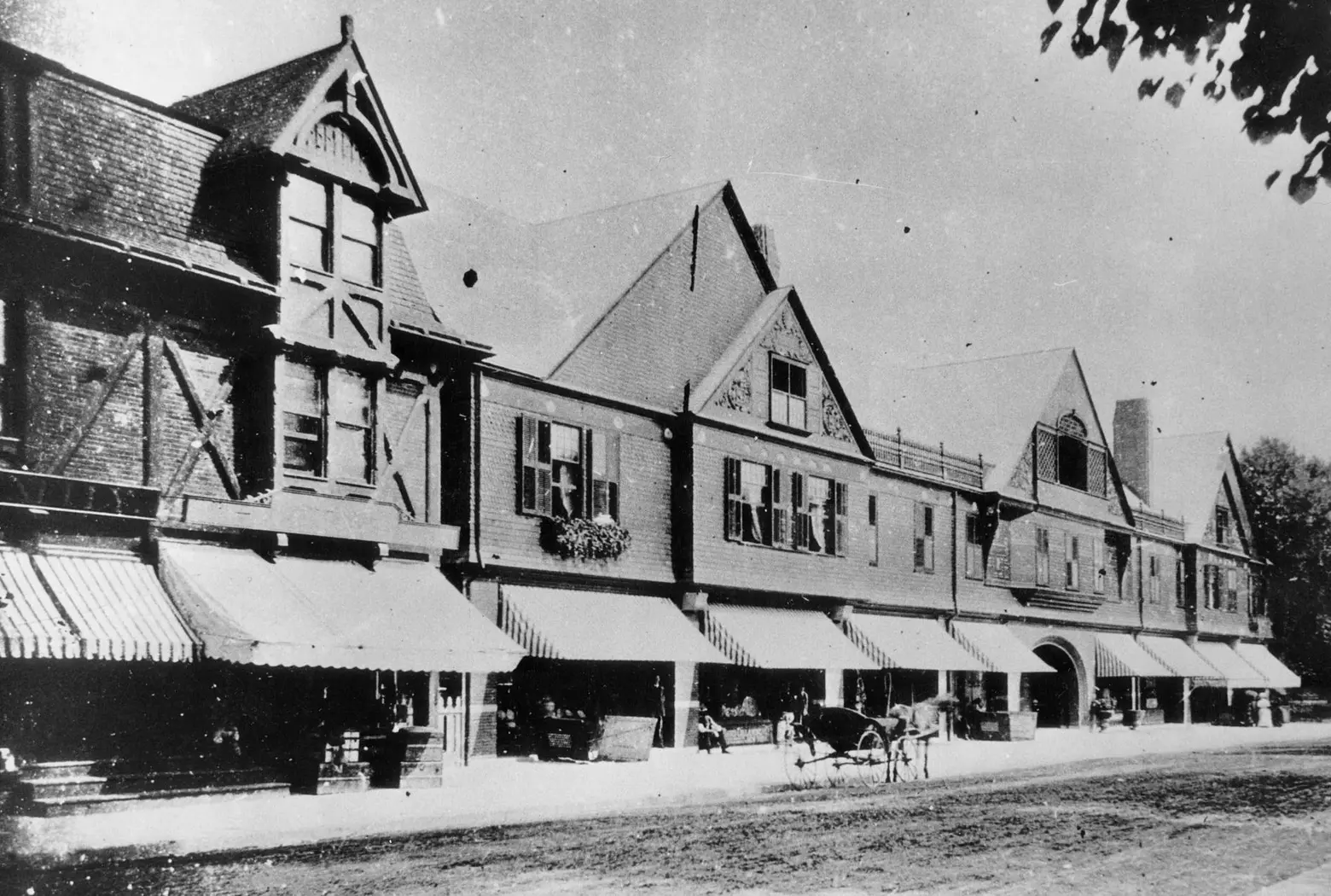 Newport Casino in 1880, via Wiki Commons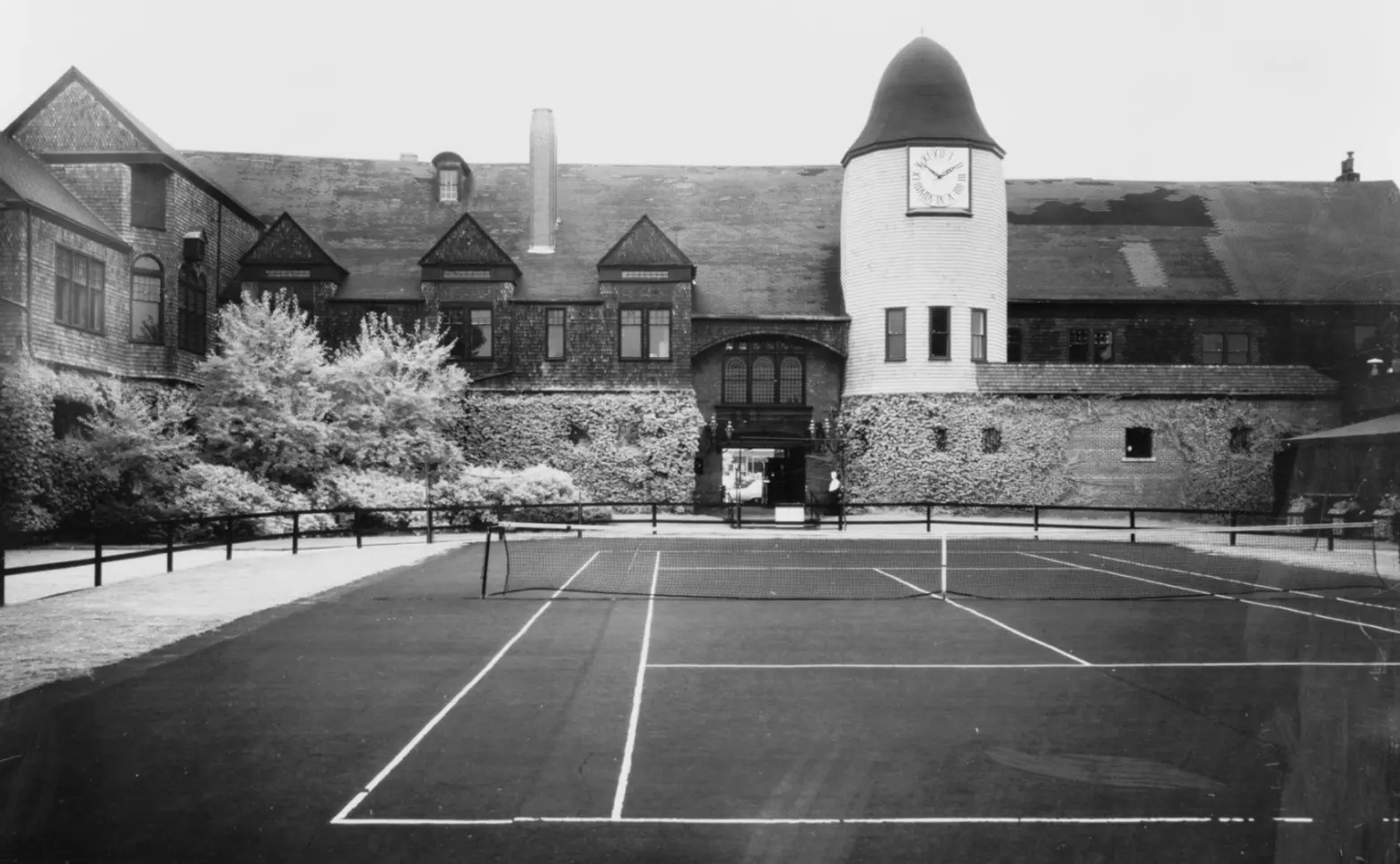 Newport Casino in 1969, via Wiki Commons
International Tennis Hall of Fame today, via Wiki Commons
The first US Open match was held in August of 1881 on grass courts at the Newport Casino in Newport, Rhode Island. Members of the United States National Lawn Tennis Association (USNLTA) were the only people able to attend. Today, the McKim, Mead & White-designed Casino is home to the International Tennis Hall of Fame.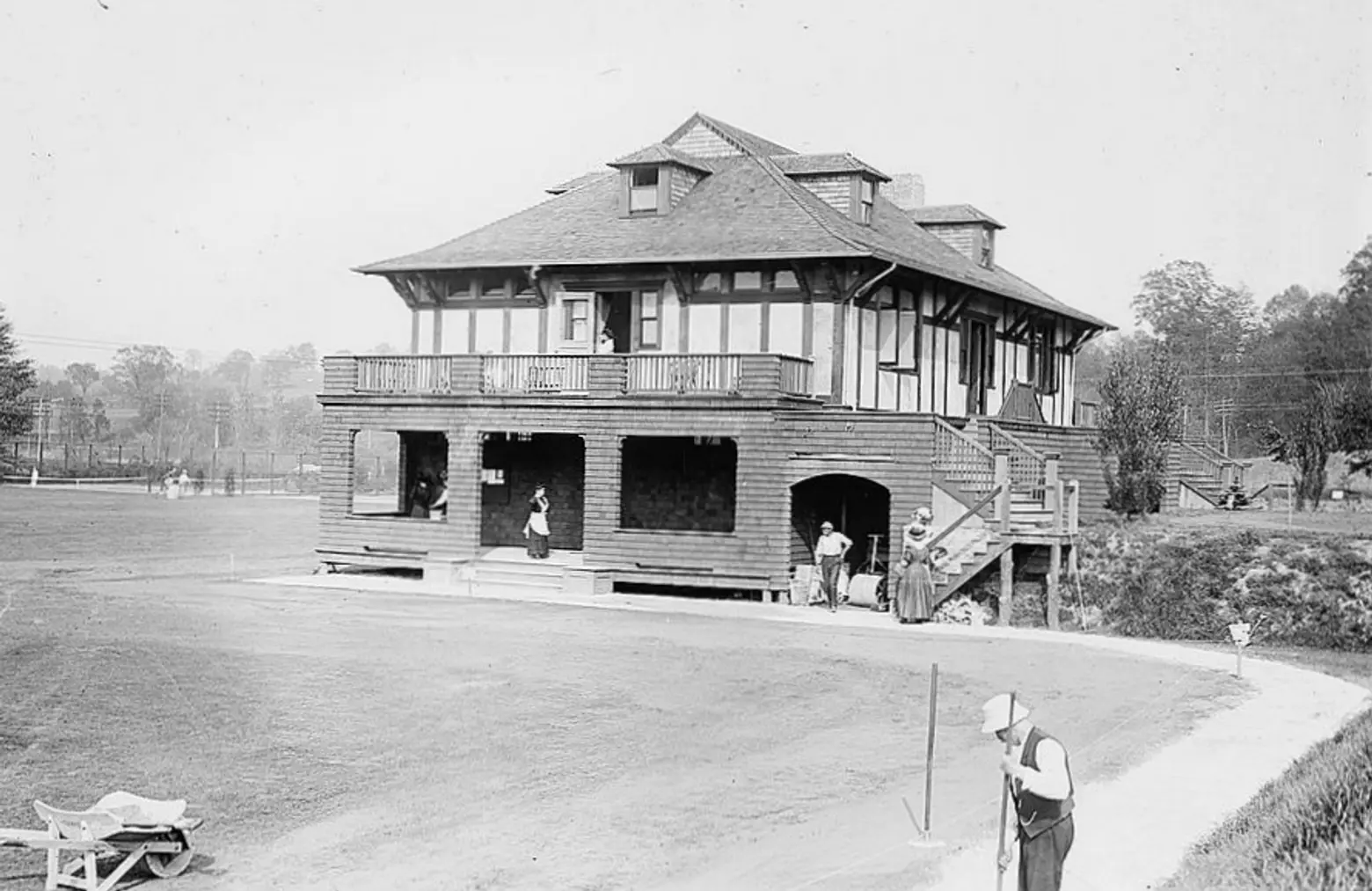 West Side Tennis Club in 1912, via Wiki Commons
By 1911, a group of tennis players headed by New Yorker Karl H. Behr petitioned for the tournament to be moved to Behr's home city. They succeeded in 1915 when 100 players signed a petition, asserting that most tennis clubs, players, and fans were located in New York. After a vote of 128 to 119 by the USNLTA, the event was moved to the West Side Tennis Club in Forest Hills, Queens. Aside from a brief hiatus from 1921-1923 when the game was played at the Germantown Cricket Club in Philadelphia, the annual sporting event remained in Forest Hills until 1977.
The West Side Tennis Club was founded in 1892 in Central Park West when 13 members rented land for three clay courts and a clubhouse. Ten years later the club moved up near Columbia University, expanding to eight courts, and moved again in 1908 to 238th Street and Broadway, this time expanding to 12 grass courts and 15 clay. After hosting the Davis Cup in 1911 and drawing thousands of fans, the club realized it needs to expand yet again. In 1912, it attained a permanent site in Forest Hills, Queens and a Tudor-style clubhouse was erected the following year.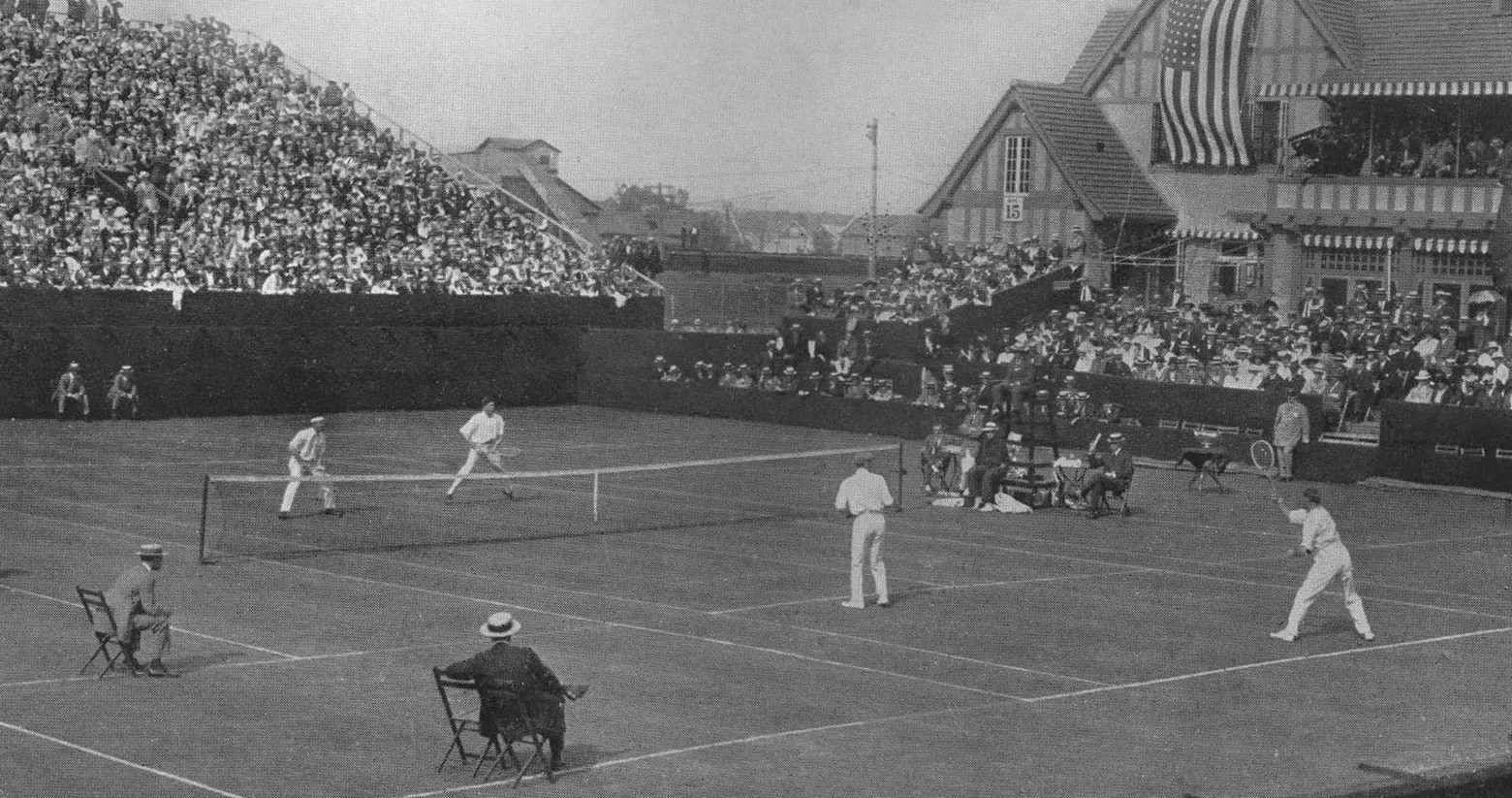 The 1914 International Lawn Tennis Championship, via Wiki Commons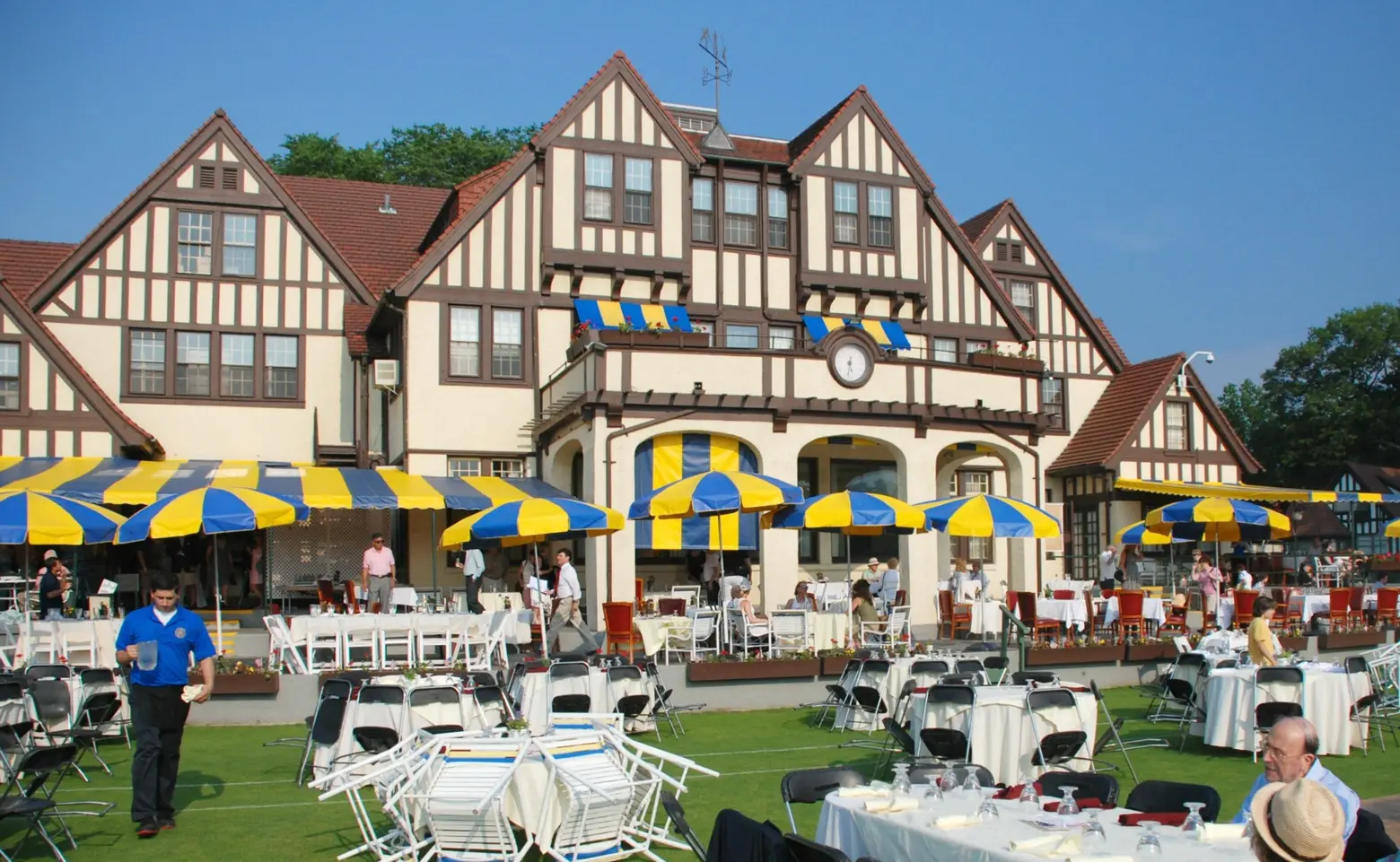 The West Side Tennis Club today via Joe Shlabotnik/Flickr
Once the US Open (then known as the International Lawn Tennis Championship) came to the Forest Hills courts in 1915, a 14,000-seat horseshoe-shaped stadium was built with classic columns and graceful arches; it still stands today, along with 37 other courts. During the 1960s and '70s, the stadium hosted countless high-profile concerts, including those of Frank Sinatra, Bob Dylan, and the Beatles. Though currently operating as a private club, plans were released in 2010 to raze the historic site and replace it with condominiums. Citing its deteriorating condition, the Landmarks Preservation Commission denied landmark status for the West Side Tennis Club in 2011, but the club's owners have not yet accepted a redevelopment bid.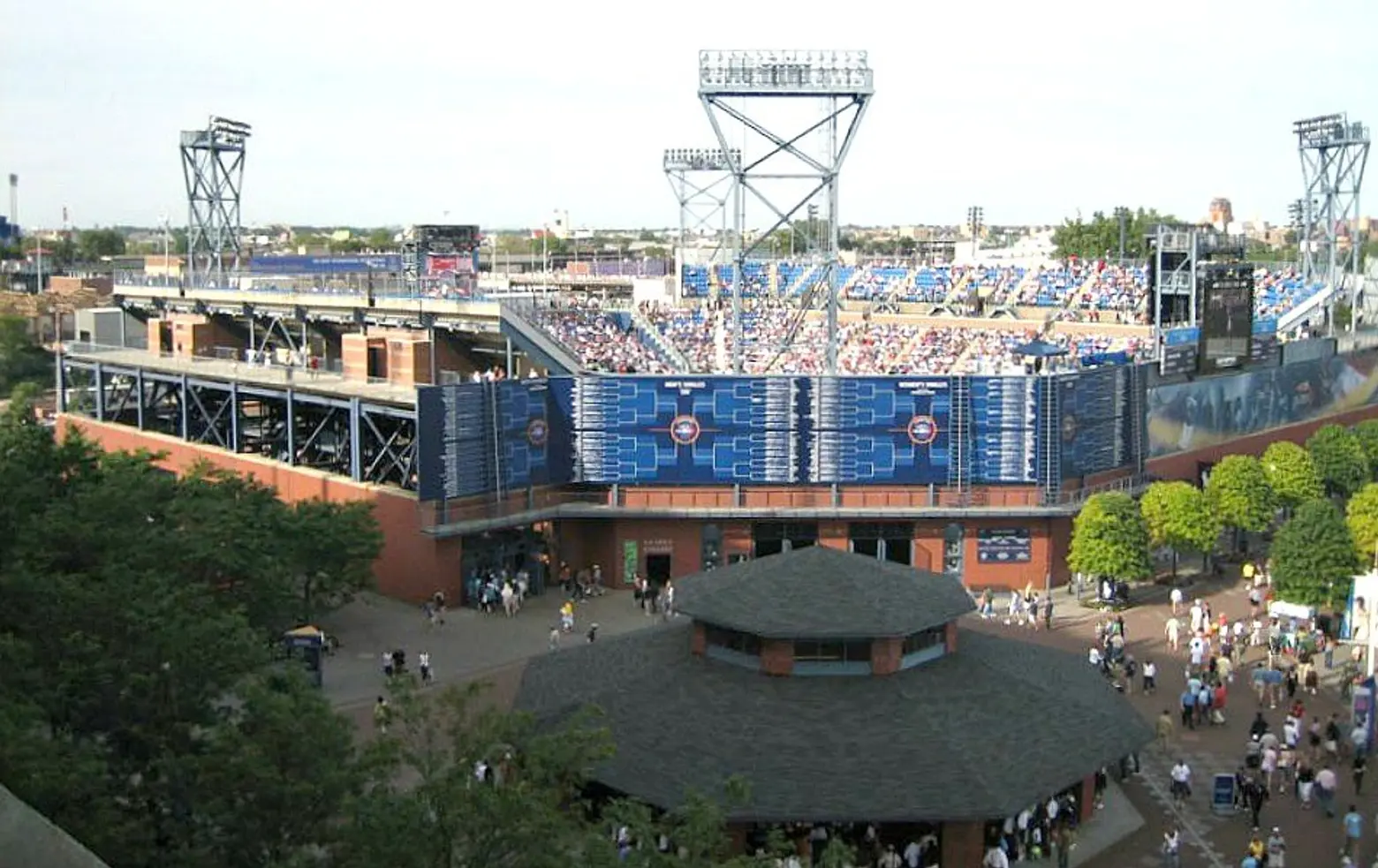 Louis Armstrong Stadium today, via Wiki Commons
In 1978, the tournament relocated to the USTA National Tennis Center in Flushing Meadows, Queens, a larger site that also offered hard courts instead of clay, which had been used in Forest Hills. When looking for a new home, incoming USTA President W.E. Hester saw the old Singer Bowl from the window of an airplane flying into LaGuardia Airport. The open-air stadium was built for events during the 1964 World's Fair. It seated 15,000 people and had a 60-foot movable stage. During the fair, it hosted the 1964 Olympic trials, as well as folk festivals and various sporting exhibitions. Named for the Singer Sewing Company, it showcased a series of displays related to sewing machines, typewriters, and vacuums. It also hosted many concerts in the years to follow, including a 1968 show by the Doors with the Who as the opening act.
In preparation for the USTA's move, the old, rectangular Singer Bowl was renovated and divided into two adjacent stadiums, becoming the Louis Armstrong Stadium and the Grandstand Stadium. The latter is currently the third-largest stadium at the US Open with 8,125 seats. Louis Armstrong Stadium is the second-largest. Last year, as the last piece of a five-year, $600 million renovation of the National Tennis Center, Louis Armstrong stadium debuted a new retractable roof and a 15,000-seat capacity. According to The Architect's Newspaper, it became "the world's first naturally ventilated tennis arena with a retractable roof."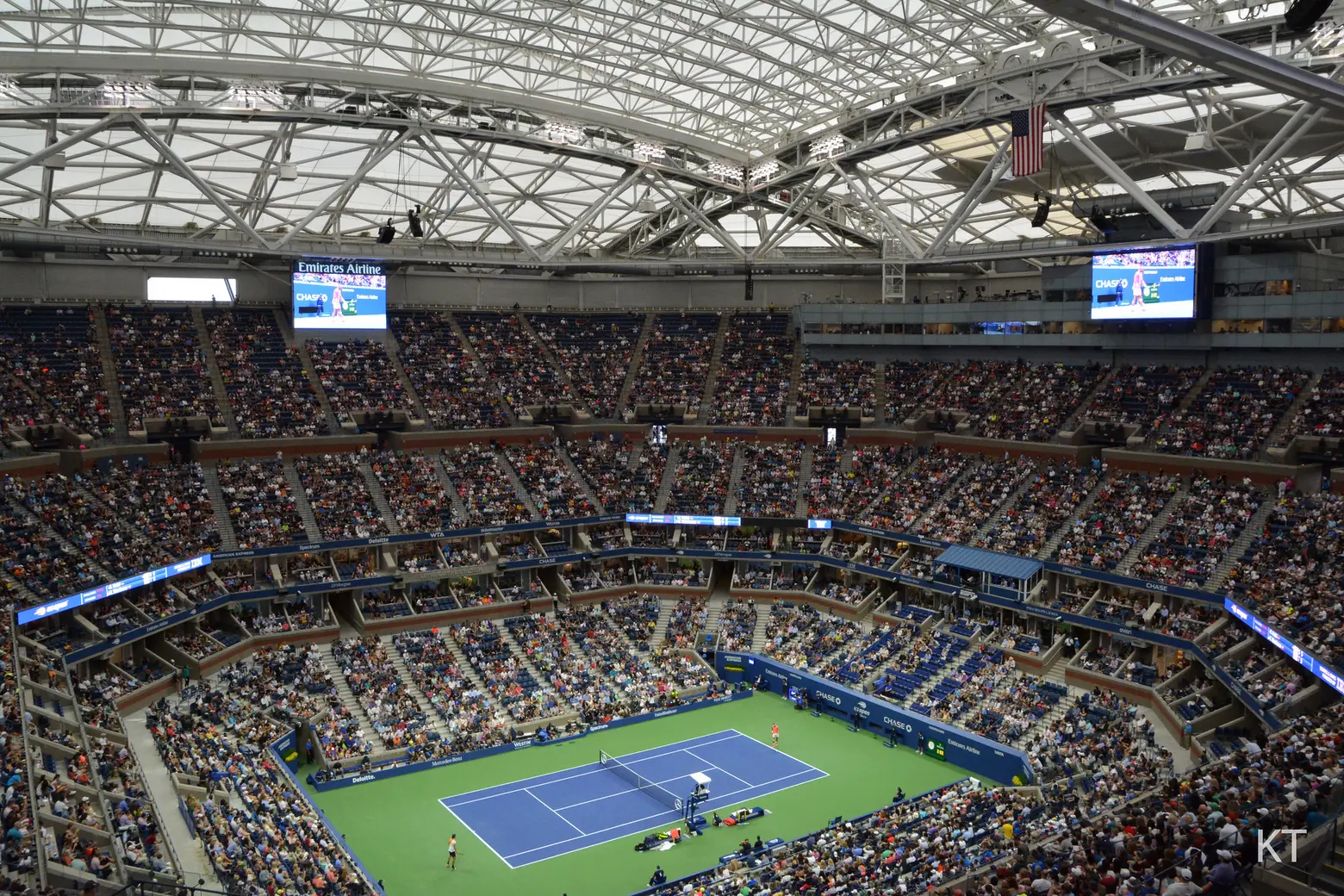 Arthur Ashe Stadium in 2018, via Carine06/Flickr cc
Named for tennis great Arthur Ashe, Arthur Ashe Stadium opened as the US Open's main court in 1997 with 22,547-seats. It cost $254 million to construct and features 90 luxury suites, five restaurants, and a two-level players' lounge, crowning it the largest outdoor tennis venue in the world. In 2016, the stadium unveiled its $100 million retractable roof. As Curbed explained, "The roof is comprised of two panels that sit atop a 6,500-ton steel superstructure. This is covered with a special fabric that allows for the sun to reflect off of the panels and make the stadium more energy efficient." Plus, it can be opened or closed in just seven minutes.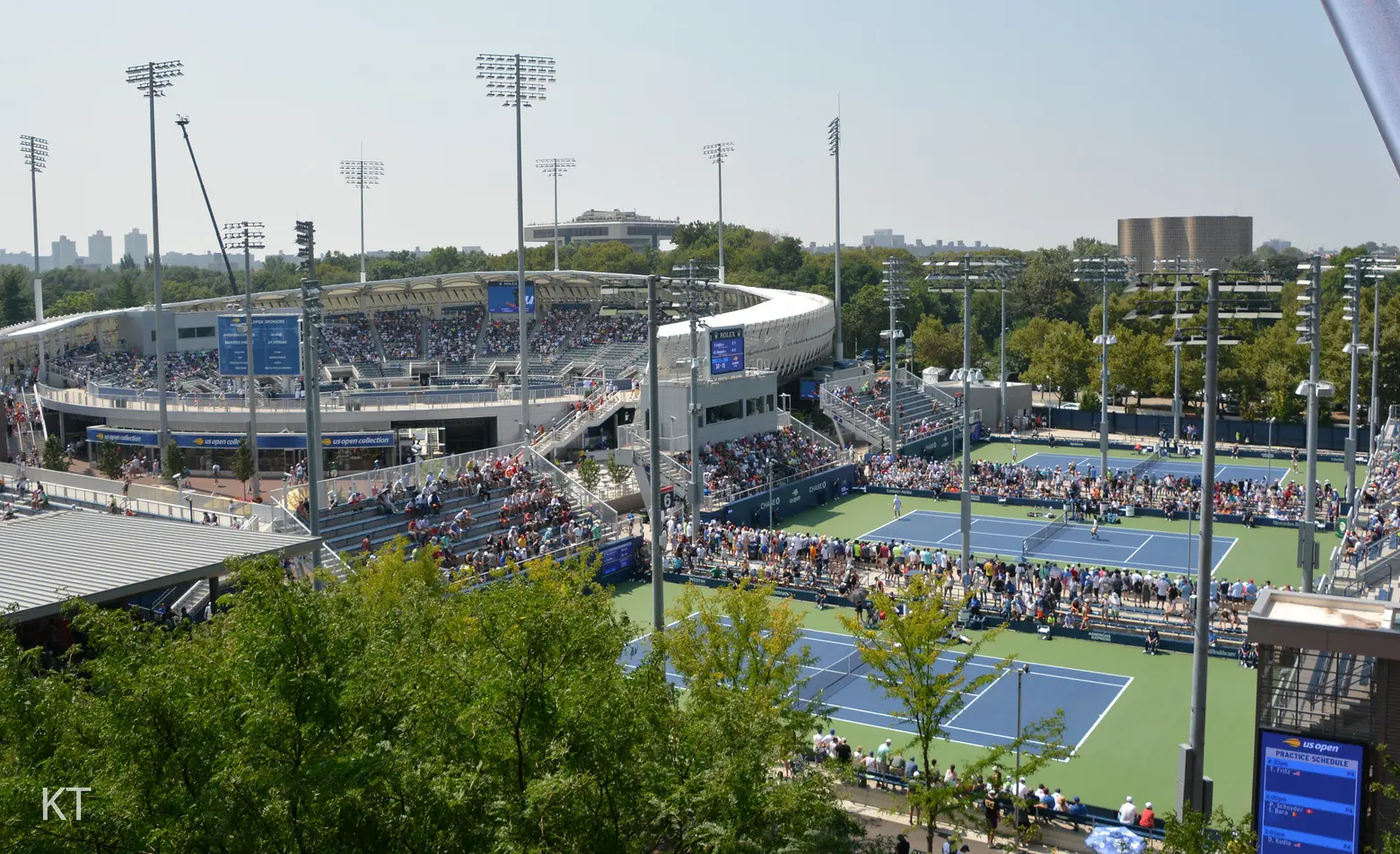 Flushing Meadows and the Grandstand Stadium in 2018, via Carine06/Flickr cc
This year's U.S. Open runs from August 26th to September 8th, with Novak Djokovic and Naomi Osaka returning as the defending champions. For the full schedule, tickets, and more click here >>
This story was originally published on September 1, 2015.
RELATED: