Preservationists, LGBT groups push Landmarks to designate Walt Whitman's Clinton Hill home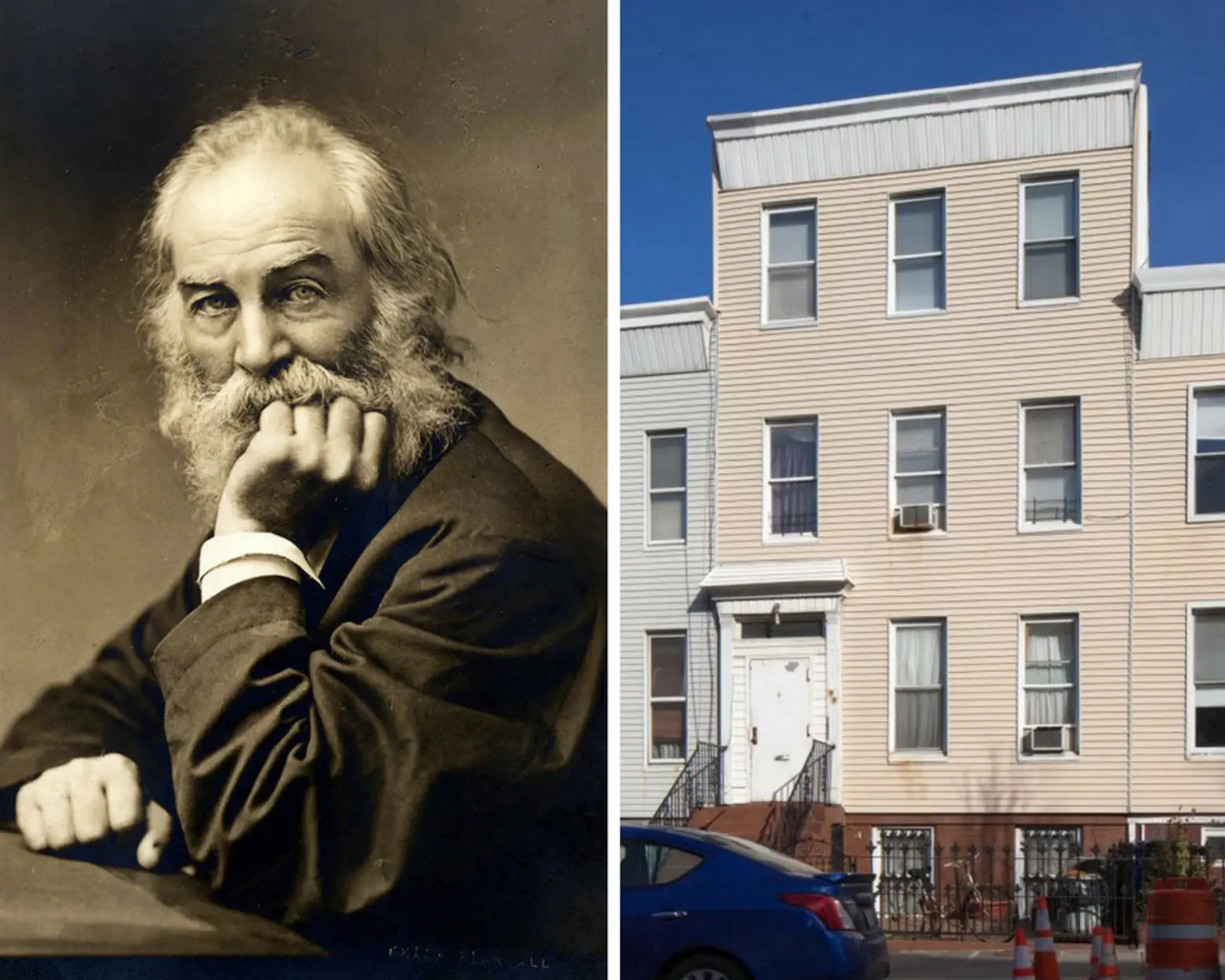 A coalition of preservationists, LGBT groups and literary experts is asking the Landmarks Preservation Commission to reassess their decision last year to not landmark Walt Whitman's Brooklyn home, the last residence of the 19th-century poet remaining in New York. Located at 99 Ryerson Street in Clinton Hill, the home was where Whitman and his family lived between May 1, 1855 and May 1, 1856.
While living at the home, Whitman wrote "Leaves of Grass," a collection of poems considered to be one of the most significant American works ever. The home is also one of the earliest extant buildings in NYC associated with a member of the LGBT community.
In 2017, the LPC rejected requests to designate 99 Ryerson Street because the house "does not rise to the level of an individual landmark," a commission spokesperson told the New York Times. The commission had said Whitman did not live in the home long enough to merit a designation and that the home was substantially altered with new aluminum siding after he had lived there.
But after former chair of the LPC Meenakshi Srinivasan announced her resignation last April, preservationists are now asking the commission to reconsider its decision. Led by Brad Vogel, a group called the Coalition to Save Walt Whitman's House has started a Change.org petition in hopes of convincing the LPC to landmark the building.
"The house at 99 Ryerson Street is one of only two buildings directly associated with Walt Whitman that are still standing in New York City," the online petition, which has over 3,100 signatures, reads. "It would be an unforgivable tragedy to lose this crucially important building to history."
In May, a group of Brooklyn politicians, including NYC Council Speaker Corey Johnson, penned a letter to the LPC urging them to designate the Whitman home.
"The significance of Whitman and his residence to world culture cannot be understated," the pols wrote. "Needless to say, as one of the first Americans to express same-sex desire in literature, Whitman has a special place in LGBTQ history and designating the house would help address the dearth of landmarked LGBTQ sites."
Although a hearing date has not been set, groups in favor of designation will continue to push the LPC to reconsider their decision.
"Through his famously homoerotic 'Calamus' poems, which he included in a later edition of Leaves of Grass, Whitman became one of the first people to openly express the concept of male-male love," Amanda Davis of the NYC LGBT Historic Sites Project told 6sqft.
"It's crucial for LGBT youth and the public at large to understand that LGBT people not only existed well before the 1969 Stonewall Uprising but that they also thrived and contributed significantly to our collective American history. We're thrilled that City Council Speaker Corey Johnson and the LGBT Caucus are in support of landmarking the house, and we hope the LPC will follow suit."
[Via NY Times]
RELATED: