From neglected mud patch to outdoor oasis, a Brooklyn backyard gets a garden makeover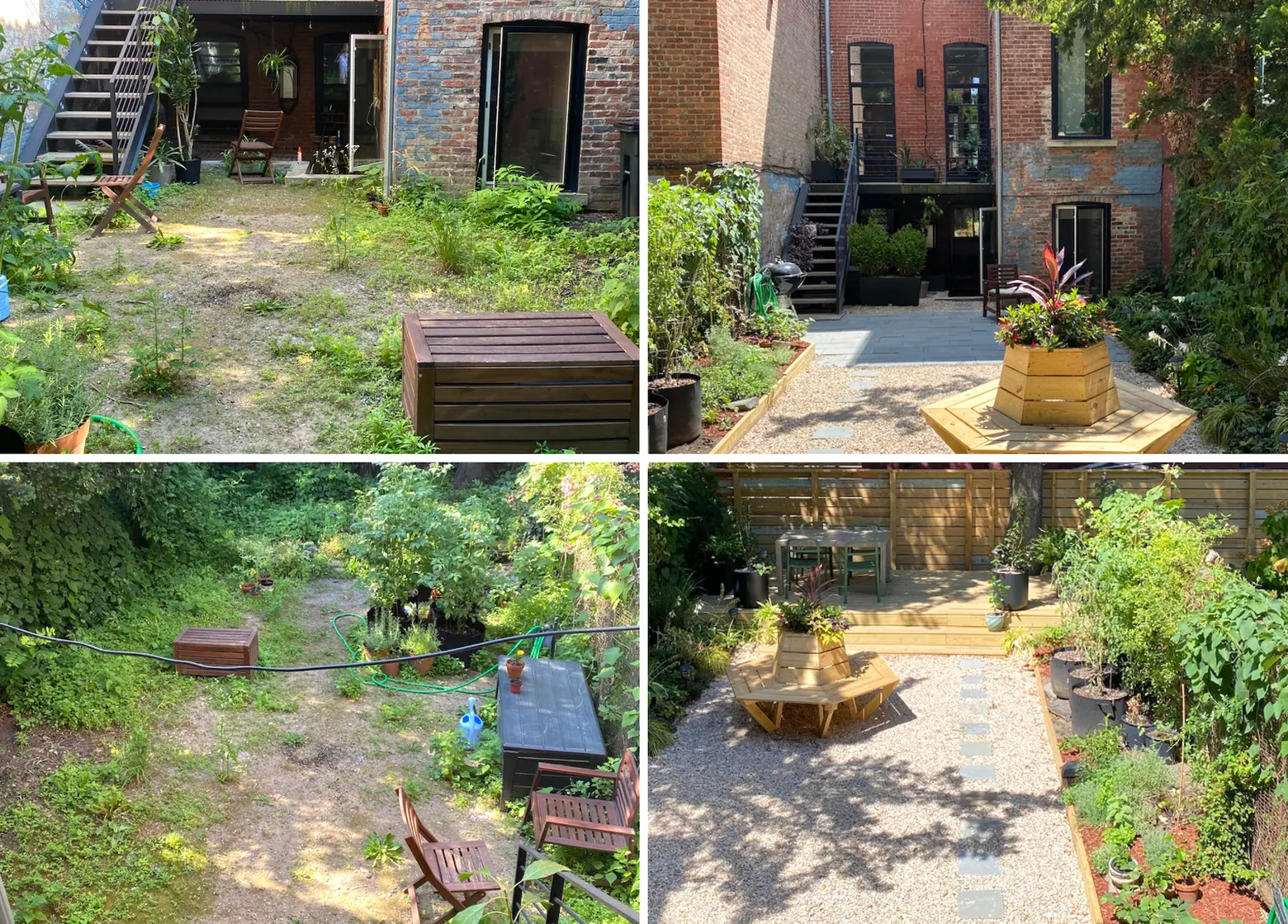 After a top-to-toe renovation of their 1870s Clinton Hill two-family townhouse that spanned two years (read all about it here), 6sqft writer Michelle Cohen and her husband, Stanley Peck, decided to relegate sprucing up their brownstone backyard to "phase 2." They'd already added a rear terrace with steps to the yard and created a small roof deck above their lower extension. The couple certainly planned to address the neglected outdoor space–even though the existing weed-jungle-meets-mud-patch had a certain overgrown charm. Below, hear from Michelle about the results, along with professional advice for creating a verdant outdoor space in the city.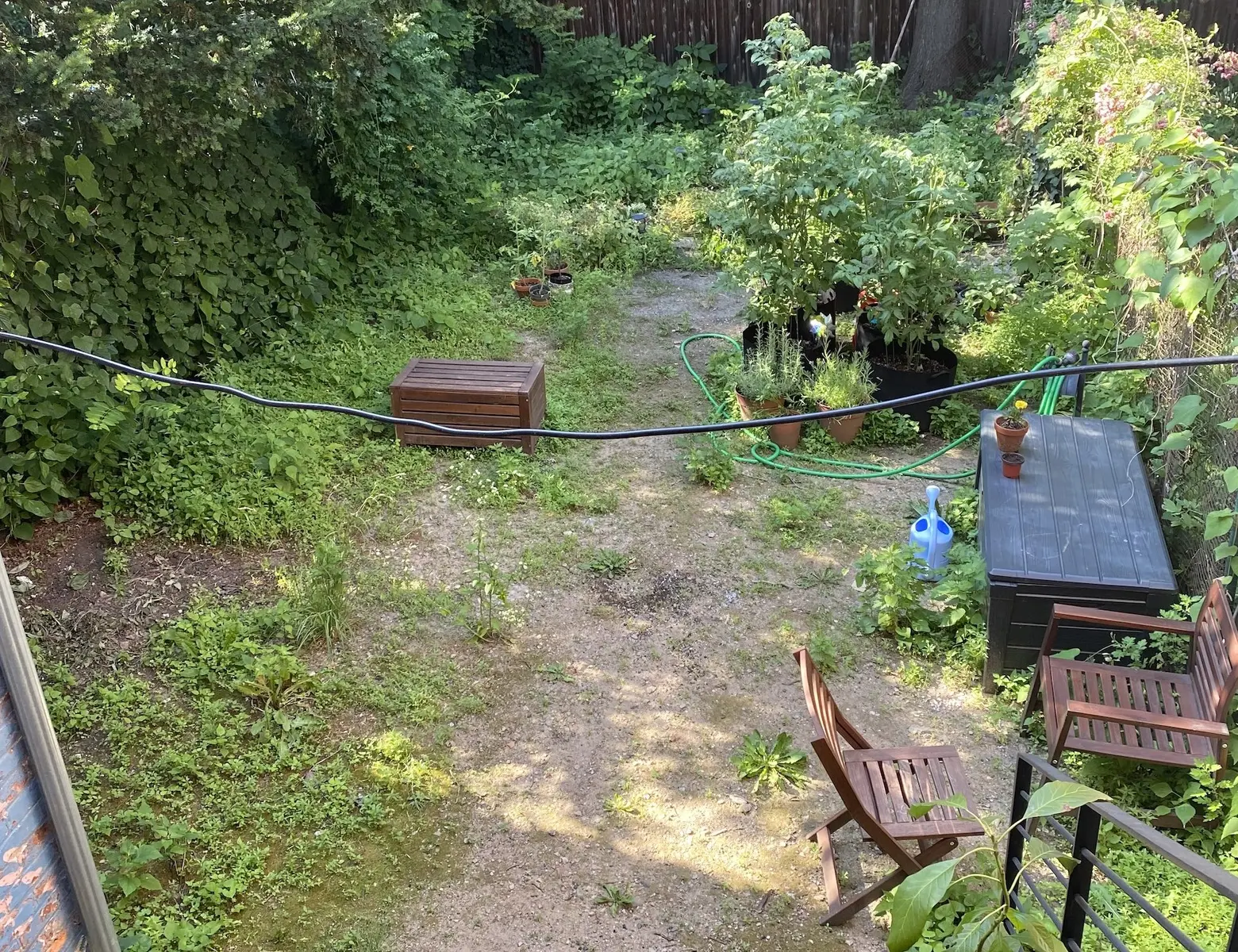 Pre-renovation, we scattered buckets of wildflower seeds on the back half of the yard for a laid-back urban meadow effect, but the flowers, mostly annuals, didn't survive the renovation. Two sets of apartment tenants, both avid gardeners and happy to have the outdoor space, whipped it into civilized shape, adding pavers and solar lighting, weeding and growing vegetables, flowers, and herbs.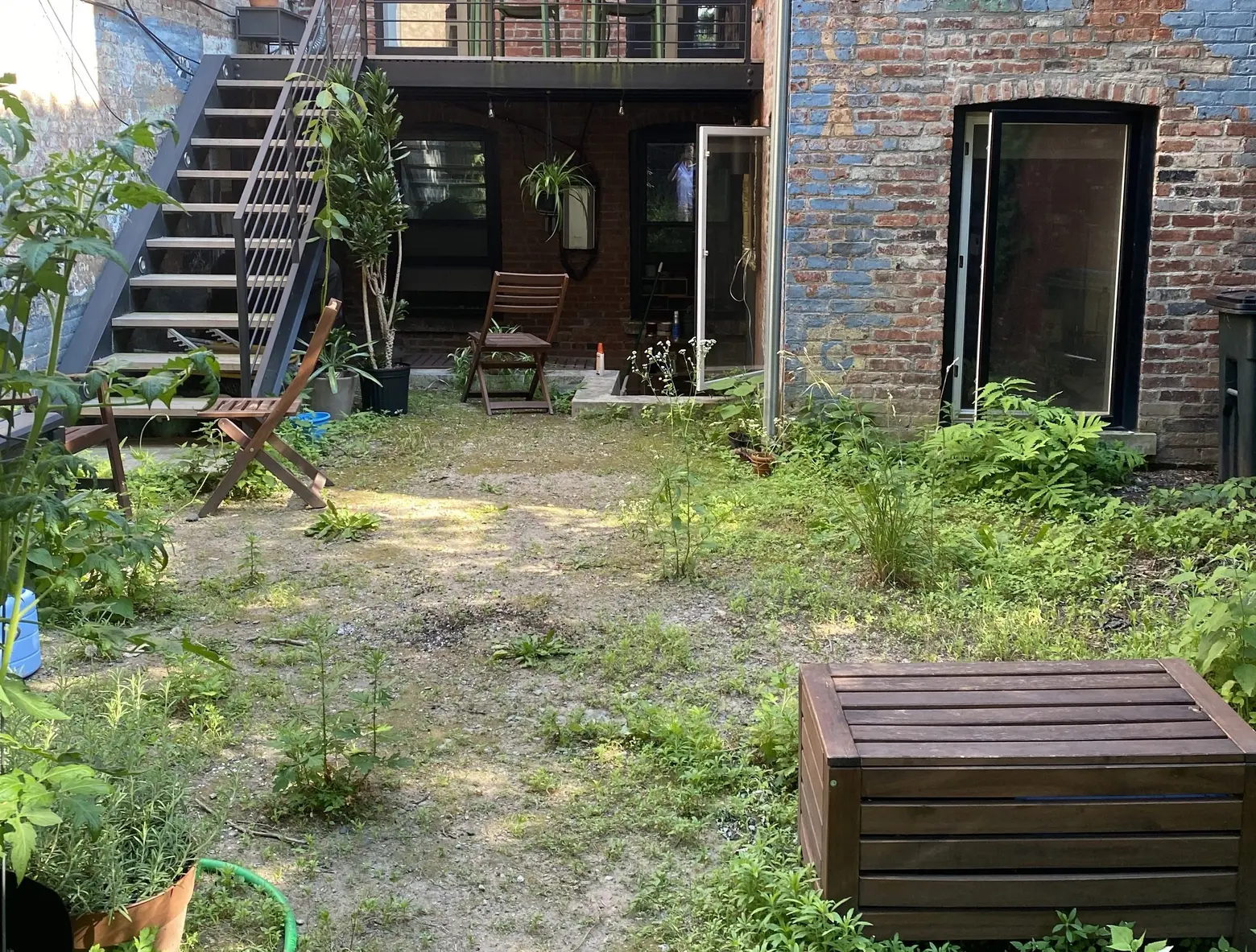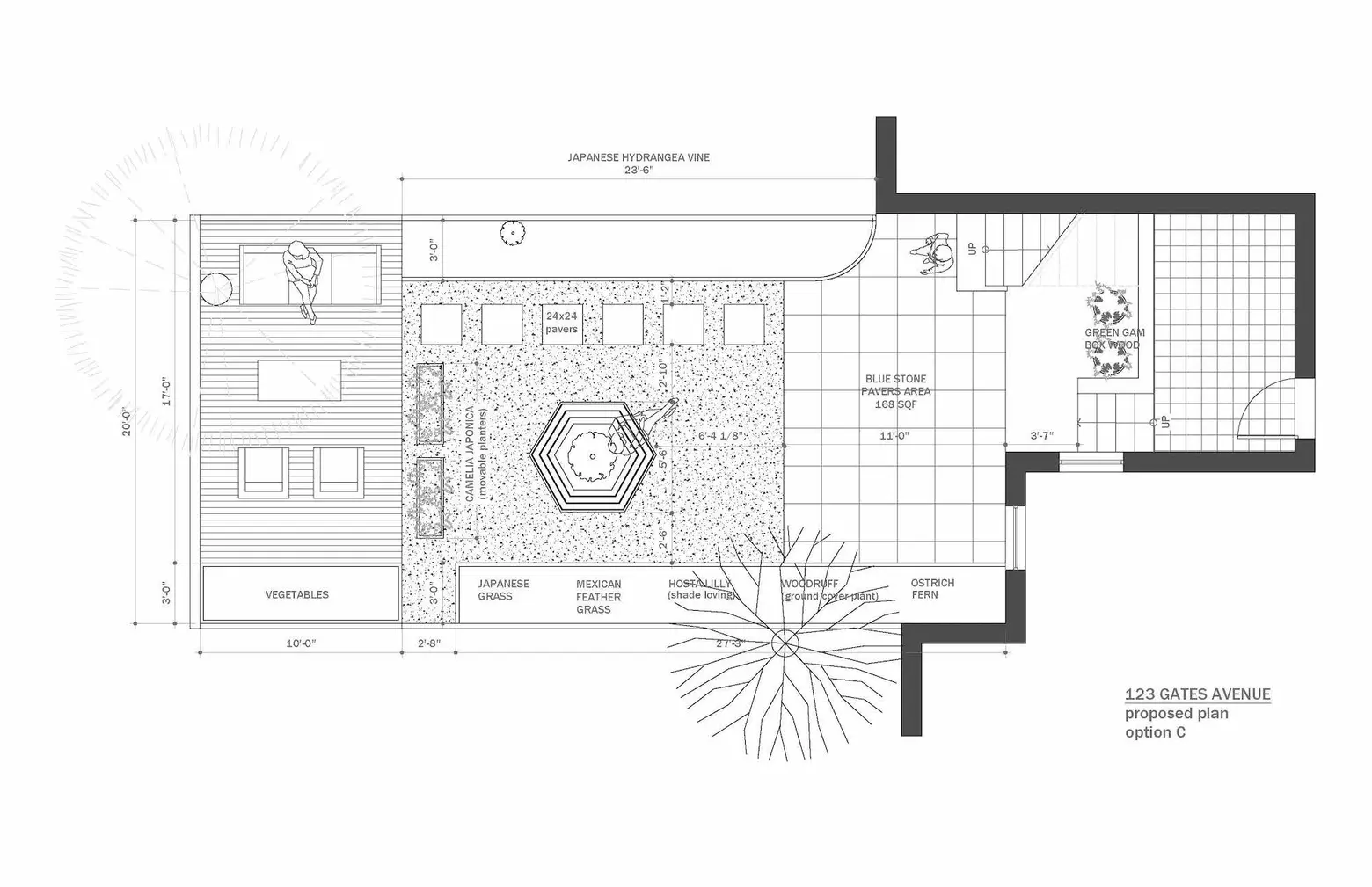 We wanted a paved area and lots of pea gravel for a nice English garden vibe. We didn't want grass, but we did want space around the sides for planting low-maintenance ornamental greenery and vegetables and herbs seasonally. We also wanted a space in the back for dining or hanging out that wasn't right outside the tenants' patio space.
An acquaintance of Stanley's recommended a friend who was launching a landscape design business while working for a Manhattan-based landscape pro and studying Ornamental Horticulture at CUNY. When we spoke to Dragan Stevanovic, he was excited about the opportunity to work on the project.
In addition to his passion for plants, Stevanovic had experience from his work with Roger Miller Gardens and plenty of creative ideas. After drawing up a plan, he added some cool details.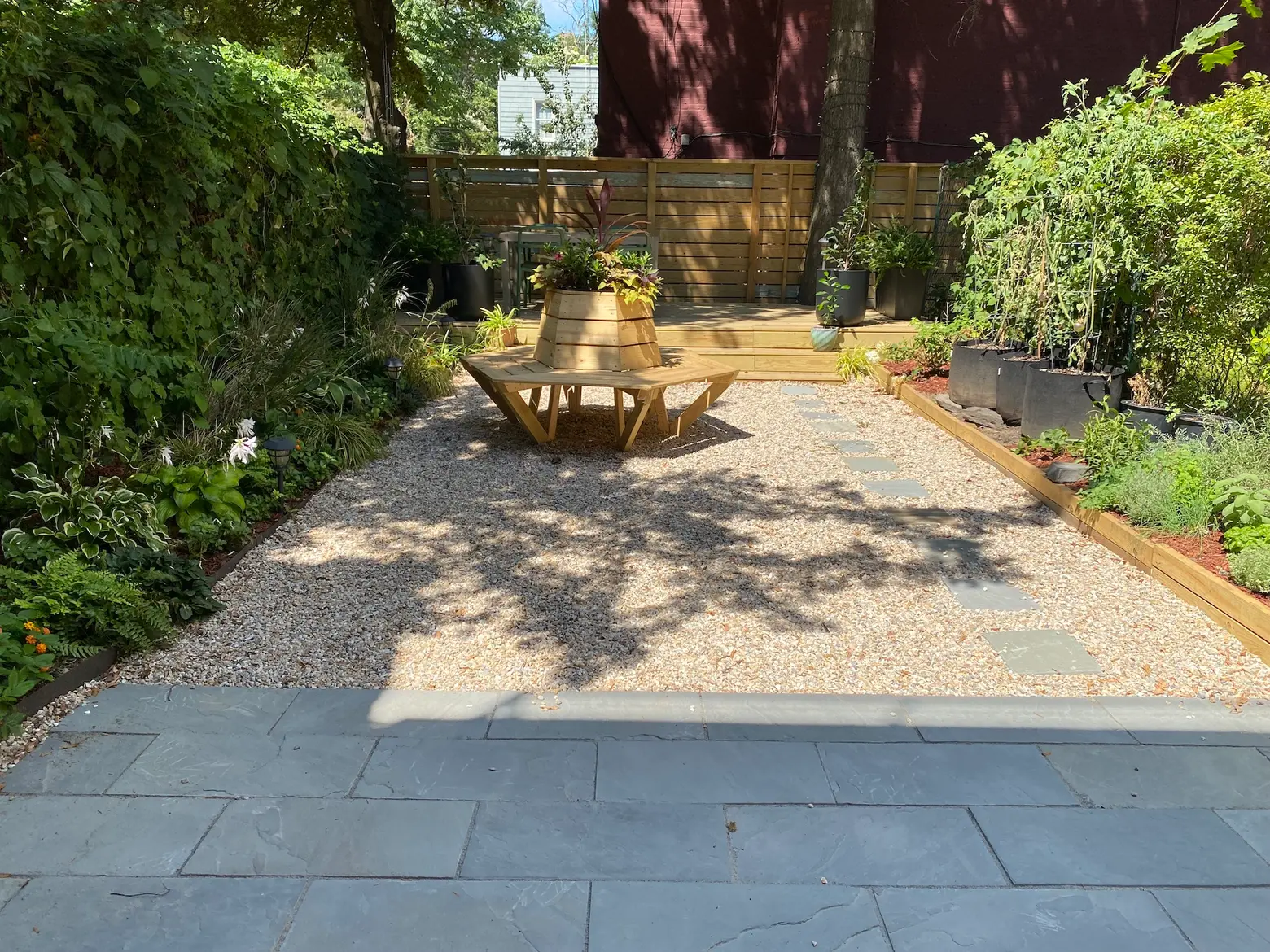 According to Stevanovic:
"The first thing I see in the garden space is a suggestion to create a place where we can meet nature as a whole; that's my approach and the atmosphere I try to bring to the final garden product. Gardening is about becoming aware of the presence of nature as a whole.

In terms of more practical aspects, I pay attention to a few important things before I start transforming the space: The first one is scale and proportion. There has to be a playful balance in how garden elements relate to each other. The second aspect is circulation–to allow people to move naturally and effortlessly through. And the third one is comfort, as the most important one."
Bluestone pavers would make up the area just beyond the garden apartment patio and the stairs leading up to the deck. Multi-colored pea gravel would comprise the center section. In the back, Stevanovic enlisted the carpentry talent of Stevan Milenkovic, his partner in their small landscaping company, Strawberry Celts Gardens. Milenkovic would create a slightly raised wood deck for seating and dining. A hexagonal wood bench with a planter at its center would provide built-in seating and a dramatic living conversation piece.
According to our plans, each side of the yard would offer planting space, with a modern mix of perennial greenery on one side. The other side would feature raised beds for planting veggies and whatever we–or our tenants–chose to grow.
The yard itself is north-facing, which means that, other than shady areas (which were fine for shade-loving plants), there was less direct sunlight, but enough for plants to thrive. A large mature tree provides a shady spot in the back.
A "living fence" already covers both sides of the yard: Climbing roses, hydrangeas, trumpet vines and ivy already lined the yard when we moved in, providing verdant privacy walls. And our neighbor just installed a lovely new horizontal wood fence.
Stevanovic and his tiny crew would work only on weekends–in-between regular employment and school. The whole project, which normally would take no longer than a week or two, would take about nine weekends.
Says Stevanovic, "In my eyes, the biggest challenge of small backyard spaces is the art of focal points because they create views or views of the space. Creating an element that arrests the vision momentarily sounds very fun and risky at the same time but I never hesitate to take it and challenge myself. The object has to create a visual pause before the eye resumes to observe the whole garden space."
One of the biggest challenges of doing landscaping work in New York City townhouse backyards is the fact that there is no street access: Everything–from bags of soil and pavers to yard waste–has to be taken through the home and in (or out) the front door. This aspect can add significantly to landscaping costs in the form of labor. In our case, there weren't massive amounts of heavy items or equipment, and thankfully our tenants were on board with having their apartment hallway function as a landscaping corridor on weekends.
Says Stevanovic: "In terms of budget challenges, finding and getting appropriate decorative hardscaping material is the most challenging aspect. Also, another logistical and budget-sensitive topic for brownstone backyards is bringing all the material to and through the house."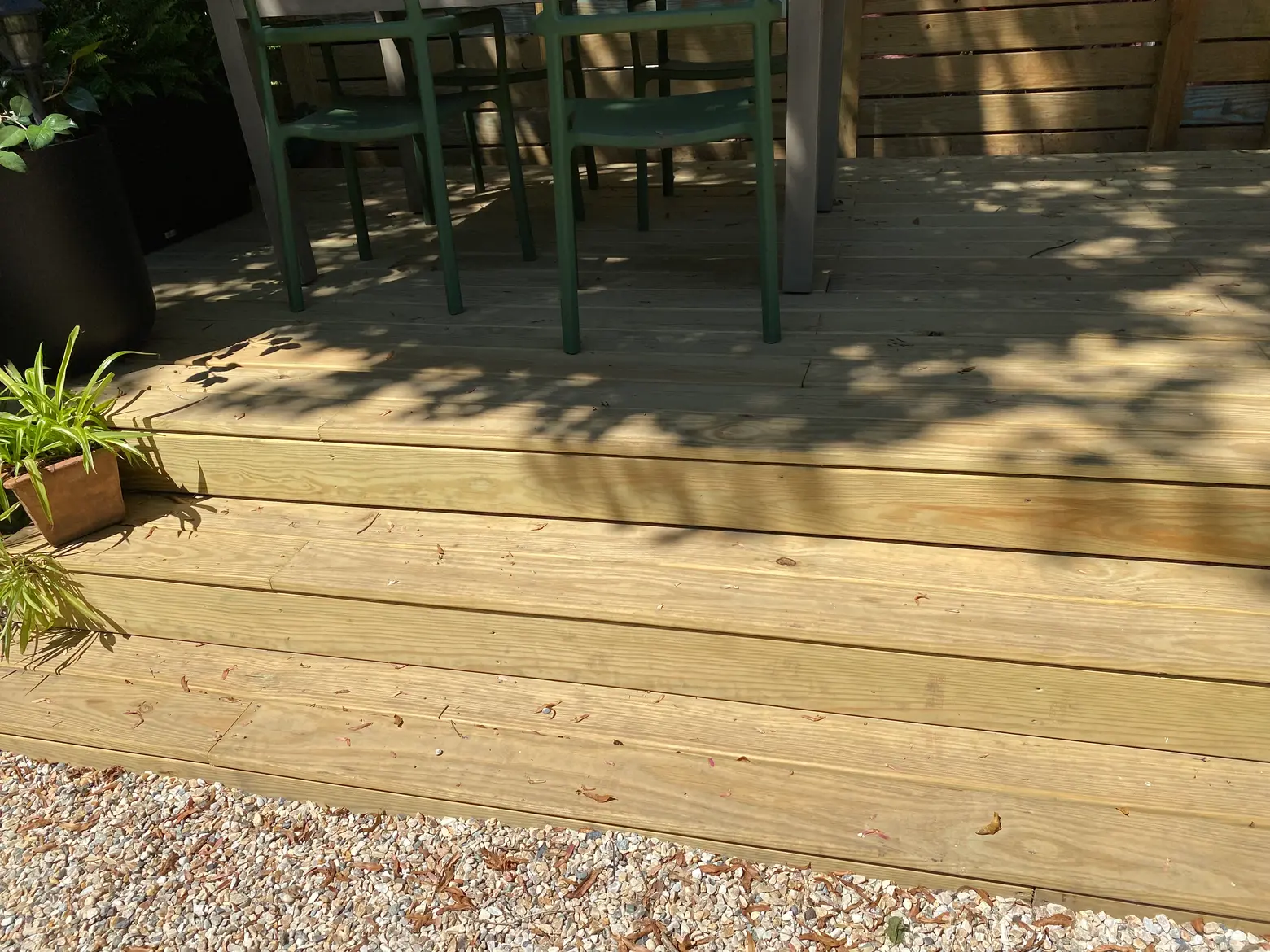 As the space slowly took shape, everyone learned a few things. Bluestone pavers, for example, require a choice between paver shape (regular or irregular) appearance (thermal or natural cleft), and color (full-range color or blue). We selected natural cleft rectangular pavers in blue color for a modern yet organic appearance.
In almost no time, the front paving, rear decking, side edging, and raised beds were done. The bench was constructed, and it was time to choose plants.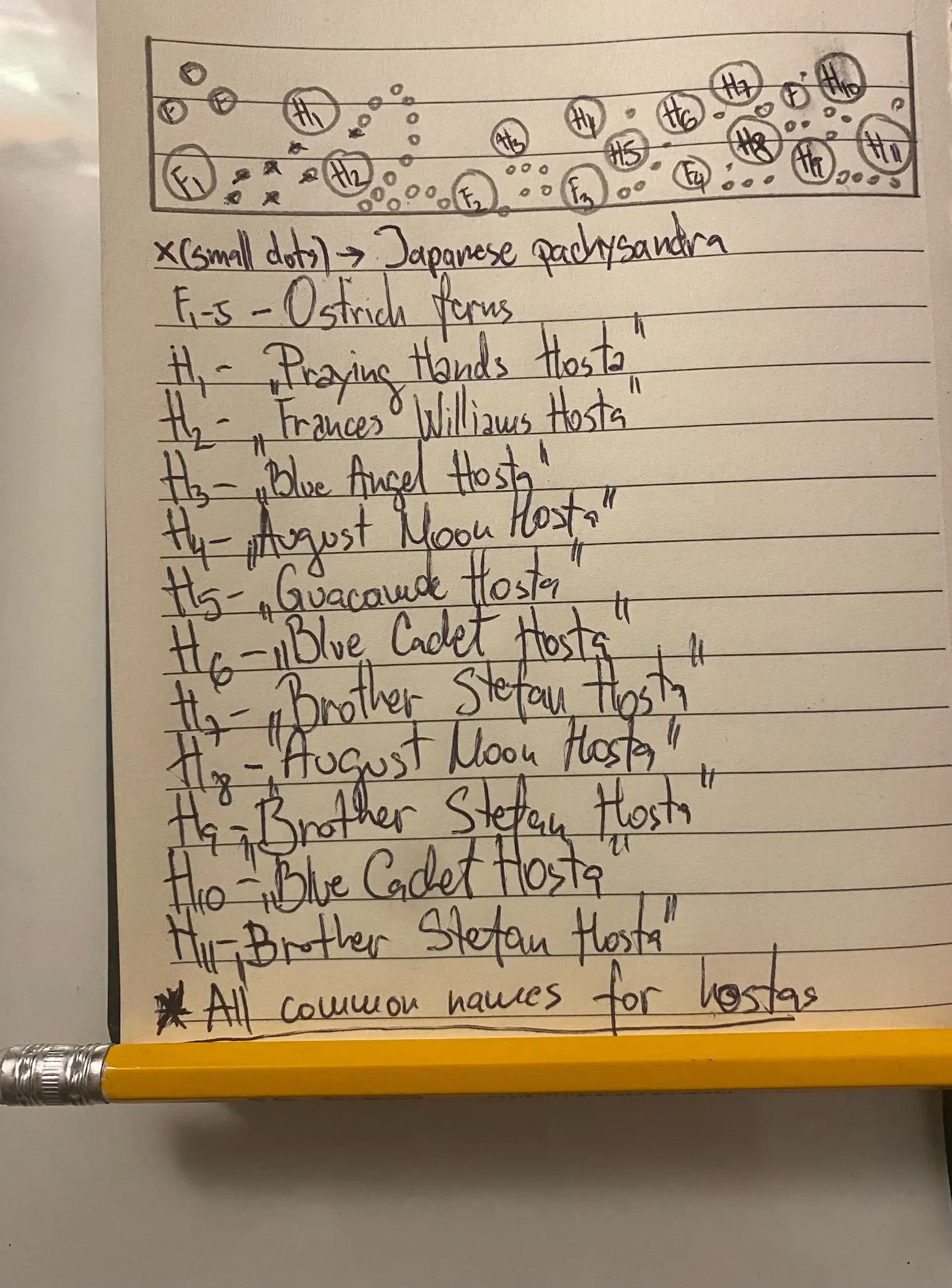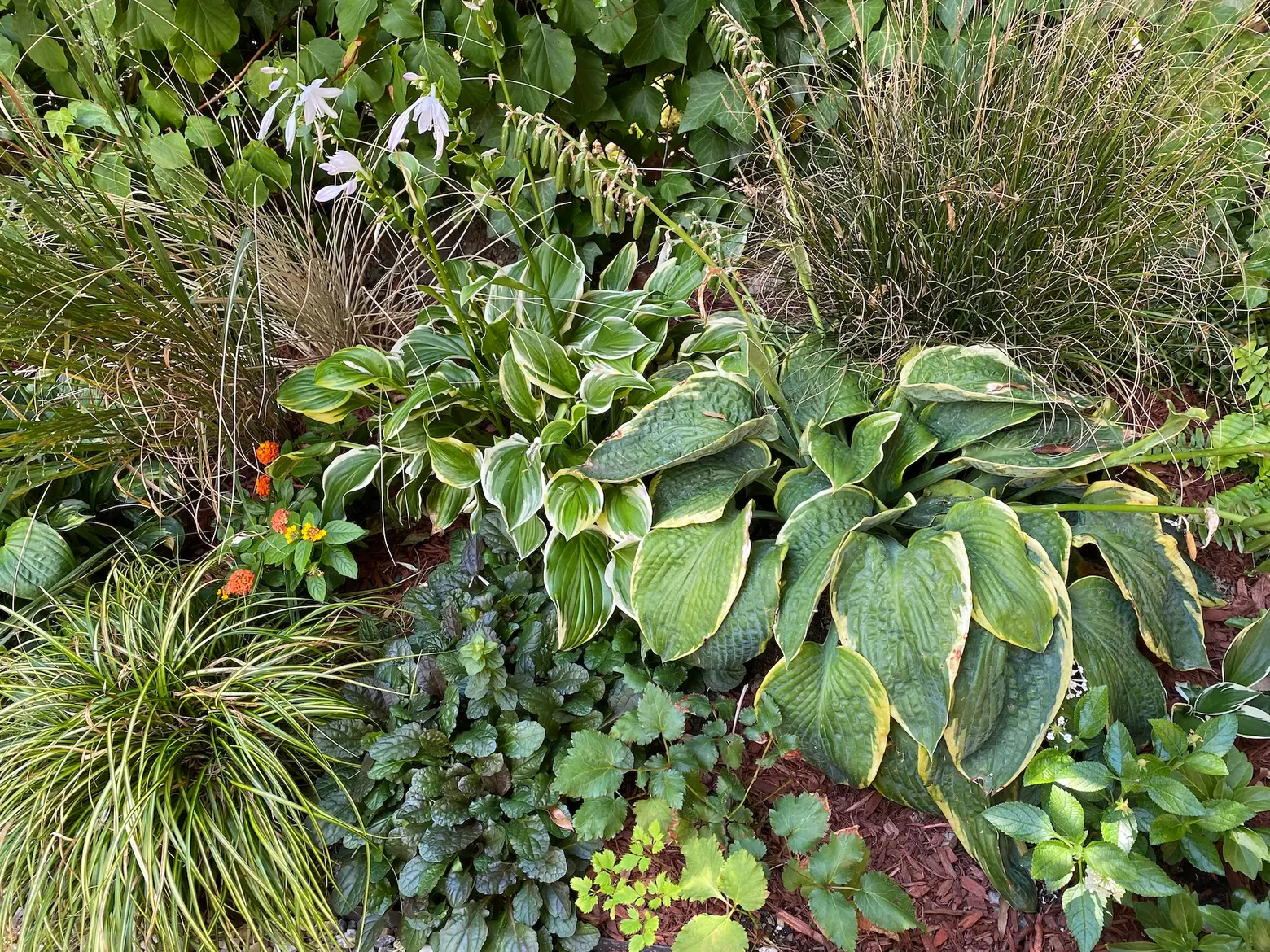 Working together, with Stevanovic making the rounds of a short list of nurseries, we decided on hardy, elegant hostas in many different varieties, several types of ferns, and some dramatic decorative grasses for the perennial garden section.
In addition, a pair of hydrangea bushes and some Japanese climbing hydrangeas would be planted along the right-side fence, plus a rhododendron bush in a quiet corner. Pachysandra and ajuga ground cover filled in the spaces between larger plants..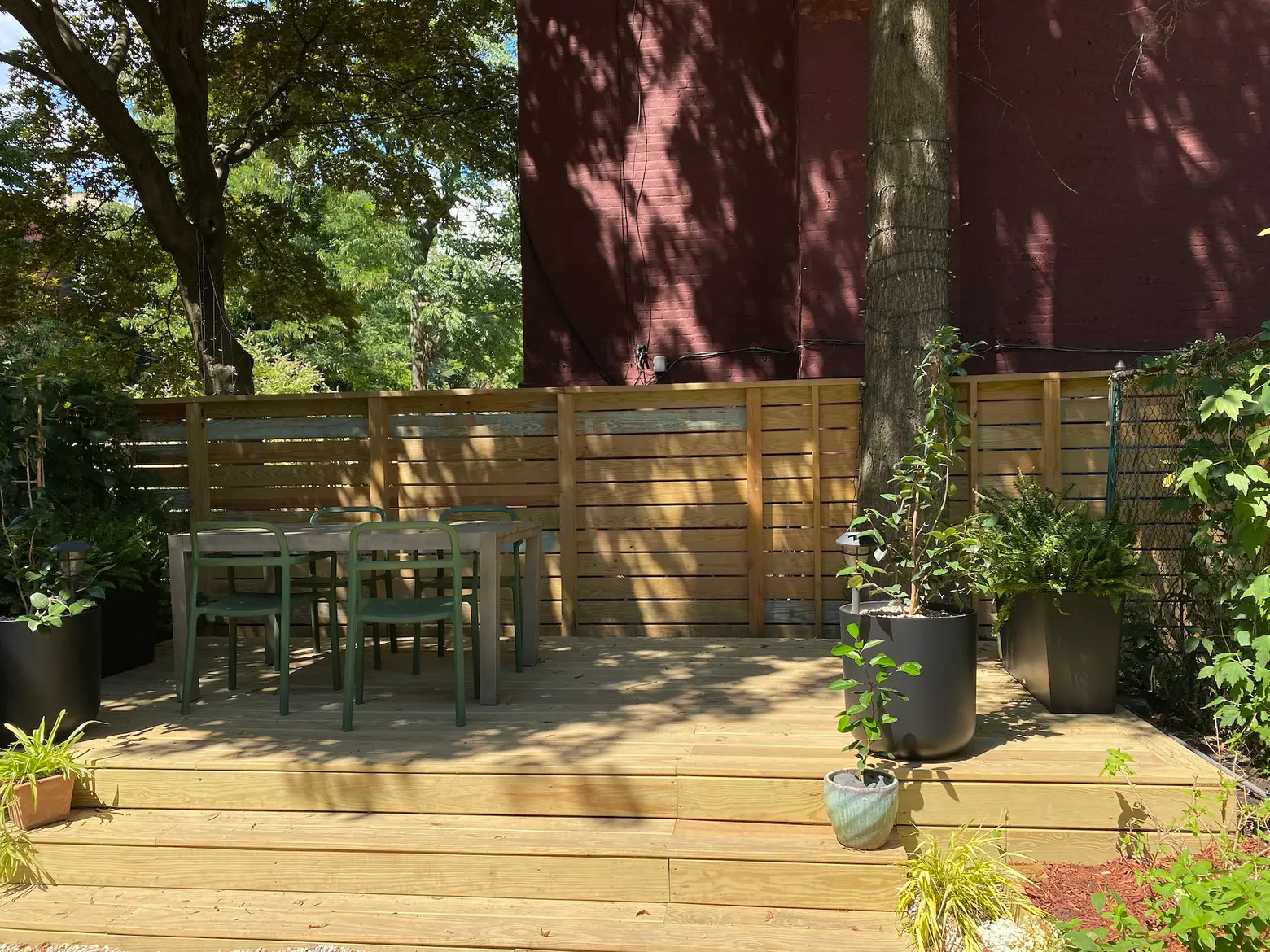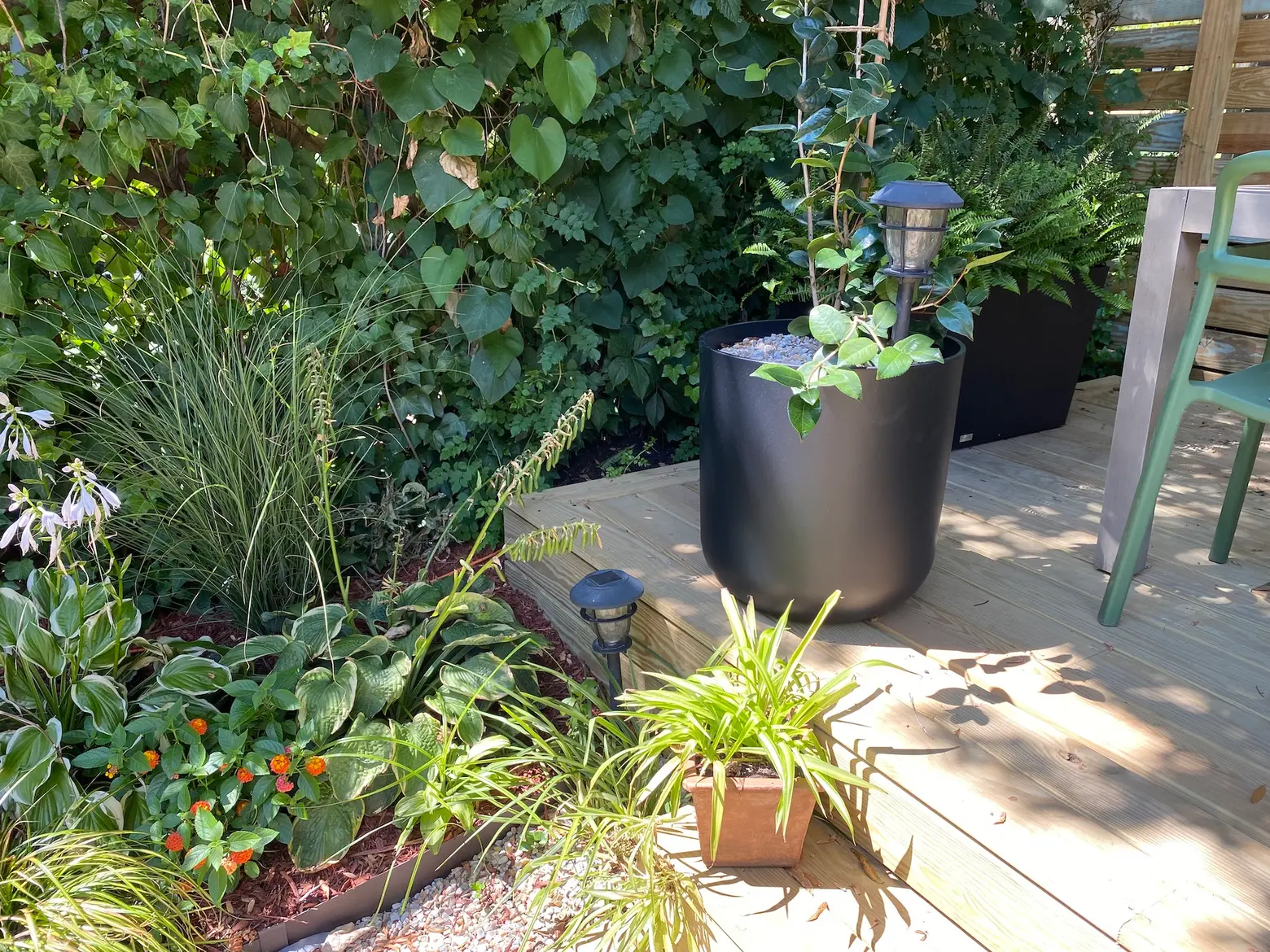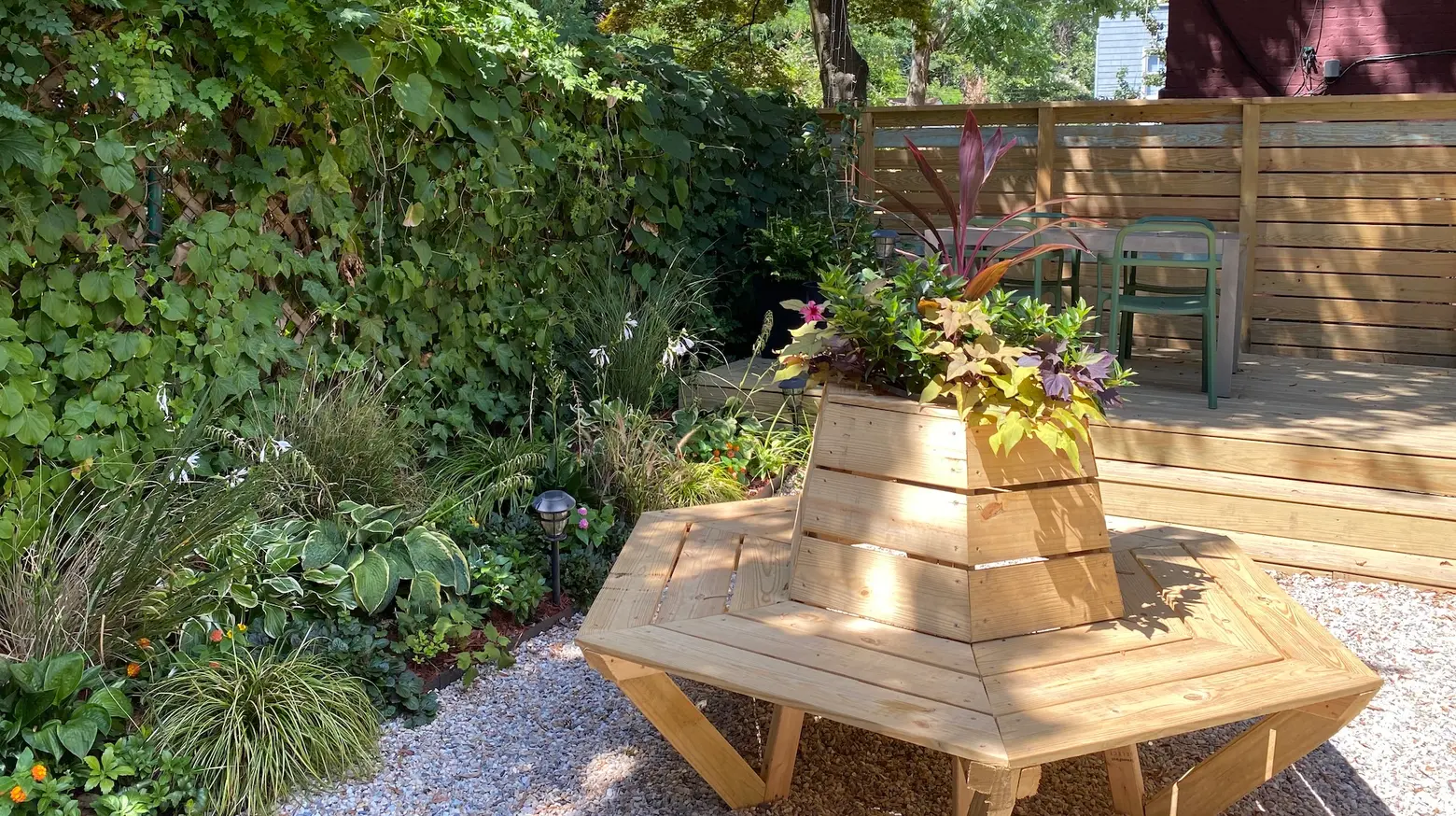 Ferns in planters and camellias in large pots enhanced the back decking area and a large planter with a boxwood hedge in front of the apartment for privacy and decor. At the center of the bench/planter is a dramatic spray of dracaena, sweet potato vines, and Mandevilla.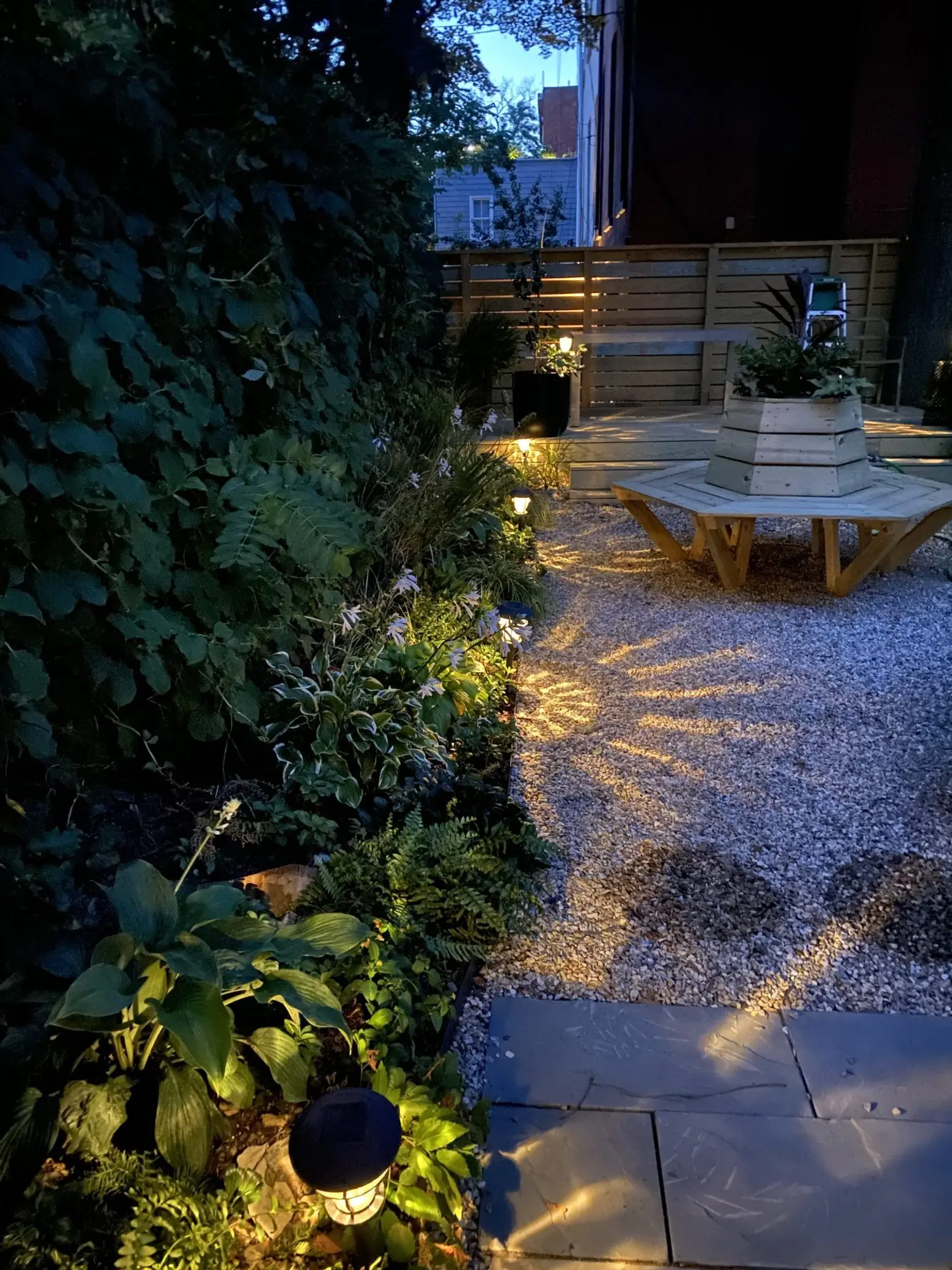 Stevanovic wrapped the large corner tree with fairy lights for a magical effect after dark; planted areas will be lined with solar lights. A collection of outdoor lights (like these, and these) can plenty of sparkle as needed.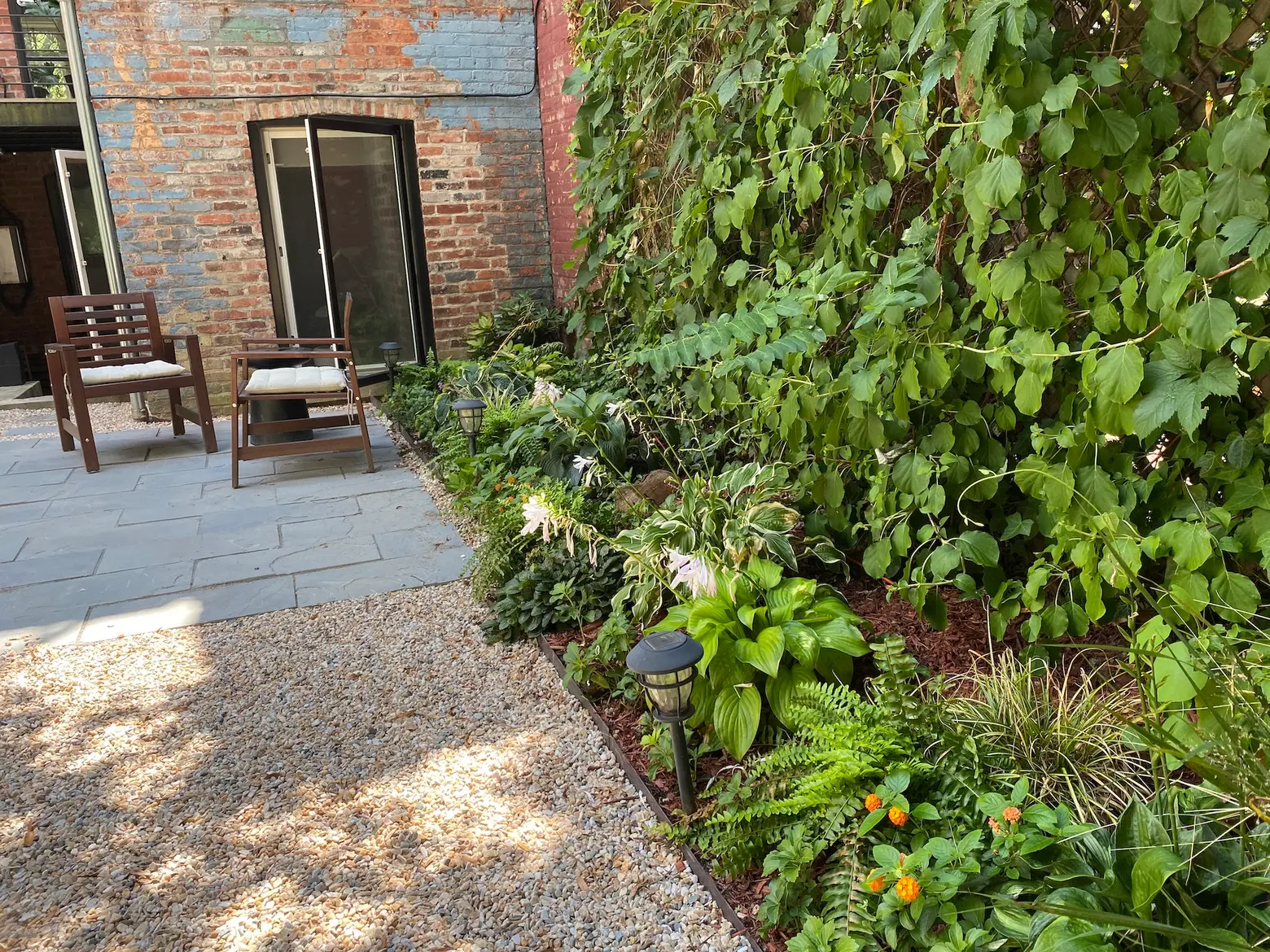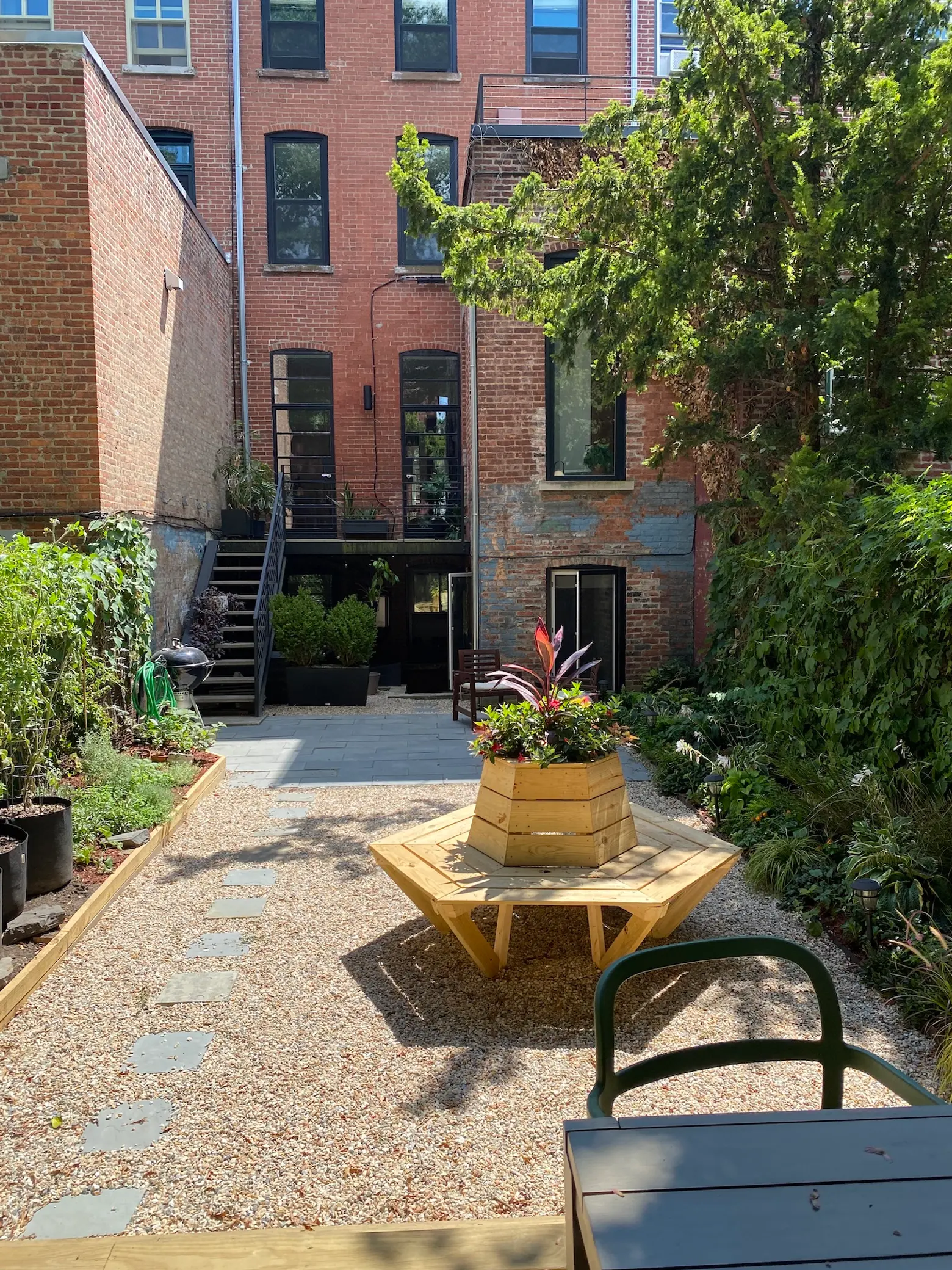 An outdoor dining table from CB2 and a set of Hay x IKEA chairs furnish the dining area, and more outdoor furniture is on the way, including a pair of pale green cafe sets for the deck and some retro, all-weather chairs, and a loveseat from CB2.
We're thrilled with the end result by Stevanovic and his colleagues who brought it all together in their meager "downtime." We can finally enjoy an outdoor space that's not overgrown and muddy. Our only gardening goal, for now, is waging war on the mosquitos.
Tips for city outdoor spaces from Roger Miller, principal of Roger Miller Gardens: 
What are you seeing in urban garden trends now: More modern? more sustainable or more plants vs hardscape? Do people want gardens that look like the High Line? Trends in hardscape materials? Plants or flowers?
Yes, more modern but still lots of traditional. I find townhouses more traditional and rooftops more modern. And yes! People ask for the High Line look. Often!
Porcelain pavers for hardscape. Plants or flowers, [it] depends on the client. I get requests for both.
What is one thing you think is worth splurging on for a private city garden/outdoor space?
Comfortable furniture.
What are a few tips you'd offer people with small spaces (tiny terraces, roof decks, or small backyards) to make the most of their outdoor gardens?
For small spaces, keep it simple: one to three plants and maybe a focal point if applicable.
Advice to make your garden special/stand out from the rest, or how to add drama for an outdoor event.
Lighting for [adding] drama and for events.
The best low-maintenance plants for an urban garden?
Evergreens for low maintenance.
RELATED:
All photos © 6sqft