Penn South co-op reveals plan to replace Chelsea McDonald's with 200-unit mixed-income building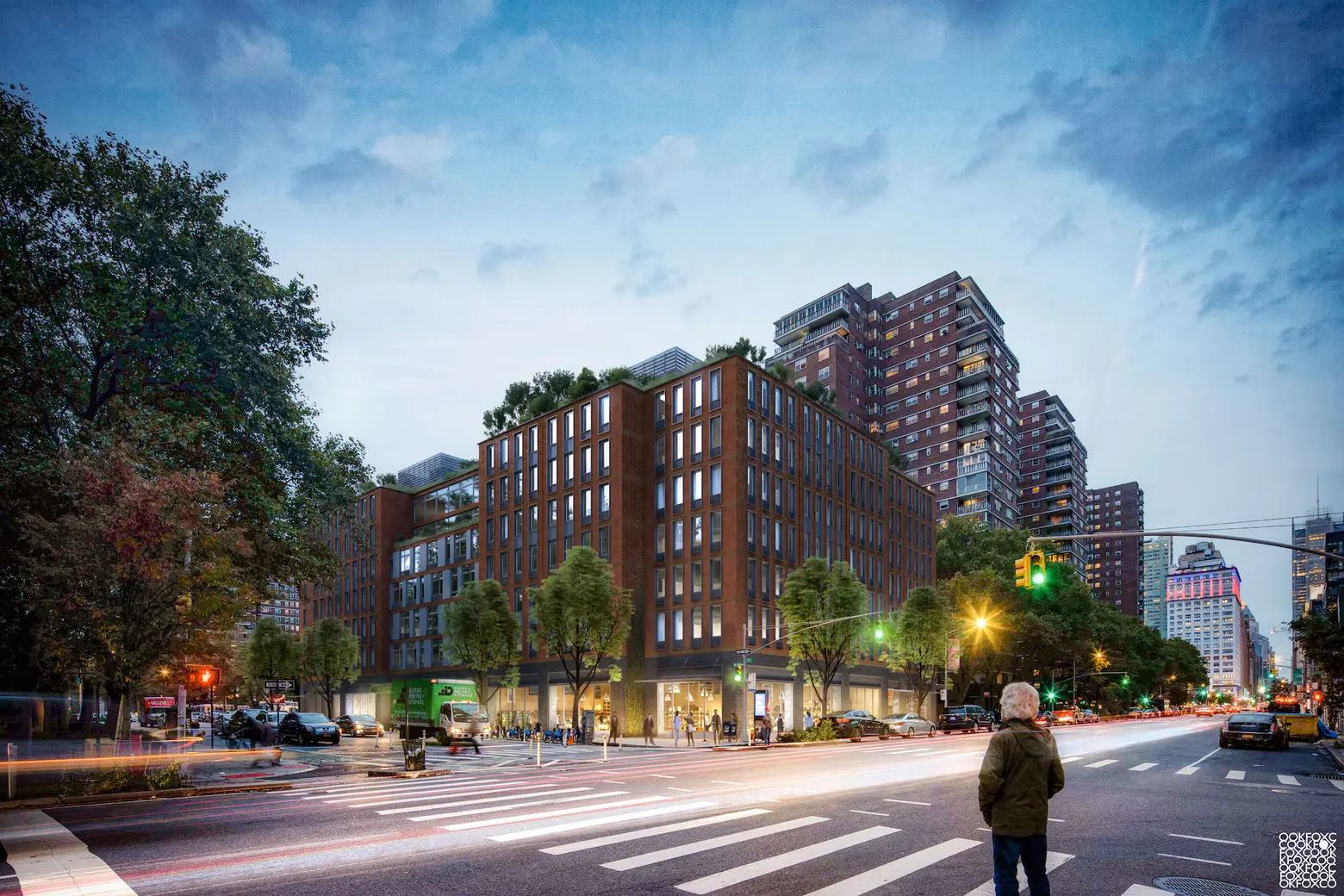 Rendering of 335 Eighth Avenue courtesy of COOKFOX and MAG Partners
A run-down commercial building in Chelsea will be replaced with a 200-unit mixed-income apartment tower. Affordable housing cooperative Penn South announced this week it tapped MAG Partners to redevelop 335 Eighth Avenue as a seven-story residential building with ground-floor commercial space, including a grocery store. The site, located on the corner of West 26th Street and 8th Avenue, is currently home to Gristedes, McDonald's, and a tennis center.
Penn South, also known as Mutual Redevelopment Houses, opened in 1962 as a limited-equity co-op, which means the development receives a tax abatement in exchange for offering below-market-rate apartments to tenants. The complex stretches between Eighth and Ninth Avenues from West 23rd to 29th Streets. The complex has 15 buildings, almost 3,000 units, and nearly 5,000 residents.
In 2017, the NYC Council approved a resolution that extends Penn South's tax abatement to the year 2052, protecting its affordability.
The existing commercial building at 335 Eighth Avenue requires significant repair work, which the co-op could not afford to make. The leases of the current tenants at the site are set to expire, which would result in a loss of revenue for Penn South and an increase in monthly maintenance fees for residents of the development.
To maintain the revenue produced by the site, Penn South and its 15-member Board of Directors sought a development partner to redevelop the corner site. As the Real Deal reported, the board looked at bids from seven developers before selecting MAG.
"The top priority for the Board of Directors is to preserve the affordability of Penn South for current residents and future generations," Ambur Nicosia, president of the Penn South co-op board, said in a press release. "We needed a solution that does not require our shareholders to pay major increases in monthly maintenance fees. The stores are supposed to subsidize the apartments, not the other way around."
"I am pleased that we found a partner who will help us achieve these key objectives through the development of a new building that is contextual and appropriate to the surroundings."
MAG selected Rick Cook's COOKFOX to design the new residential building, which will feature a modern facade and measure about 200,000 square feet. According to a press release, the design will "bridge the historical character of Chelsea, mid-century visions of urban living and contemporary aspirations for a new building that supports sustainable and healthy living."
"We believe it is a special opportunity to reimagine this important corner of Chelsea and design wellness-focused, nature-connected residences for a diverse new community," Cook said.
The new 200-unit building will be developed under the city's Affordable New York program with 30 percent of its units reserved for low-and-middle-income New Yorkers. Construction will kick off sometime in 2022.
RELATED: