New details for 100% affordable housing complex planned for historic hospital site in Brooklyn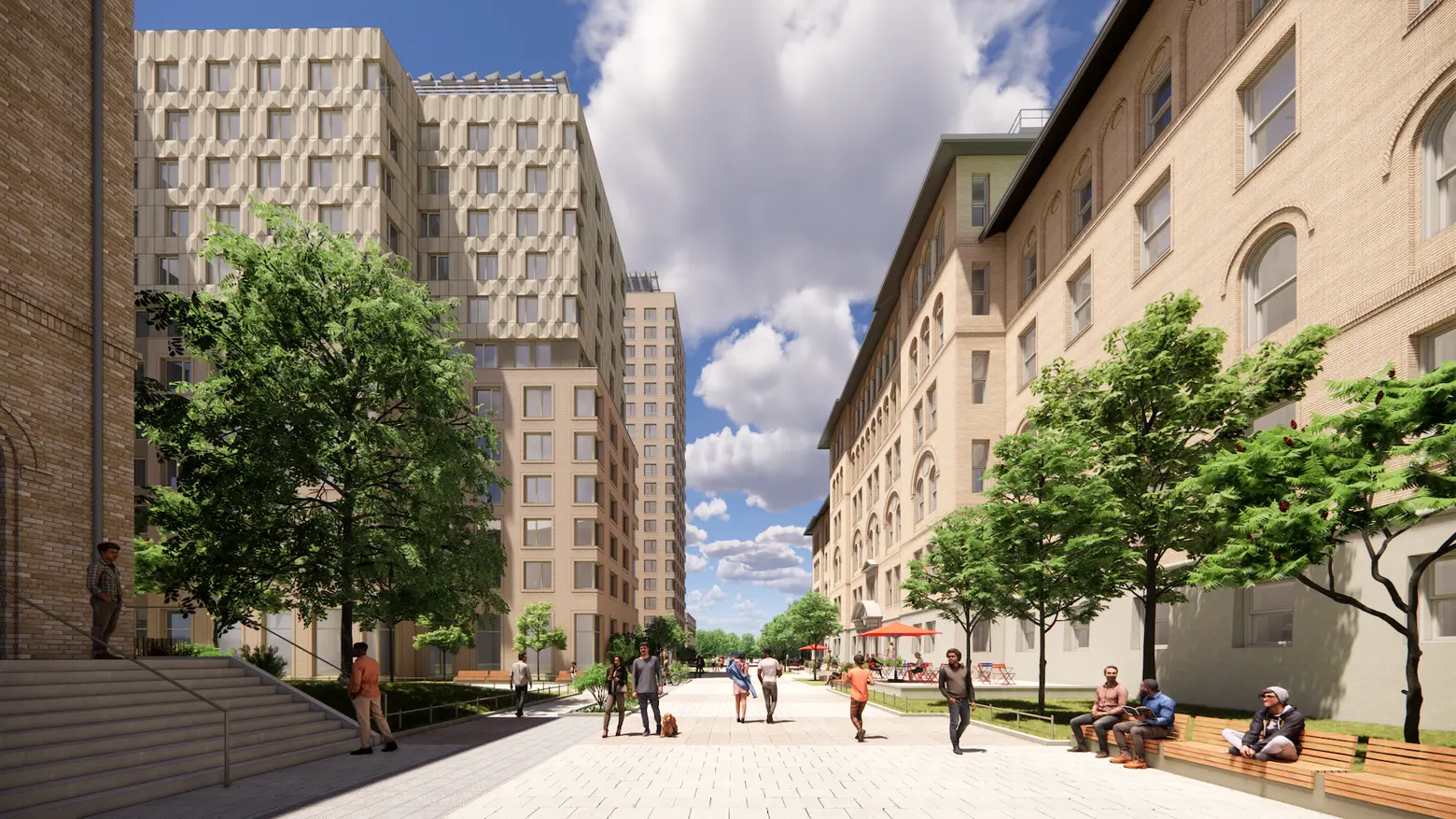 View west from Skillman Avenue; All images courtesy of Architecture Outfit/Magnusson Architecture and Planning
New details and images of an affordable housing development planned for the site of an abandoned hospital in Brooklyn were released earlier this month, ahead of the project's expected public review. During an April 13 meeting, Hudson Companies and St. Nicks Alliance presented Brooklyn Community Board 1 with an updated proposal for Cooper Park Commons, a four-building 100 percent affordable complex that will be built at the long-vacant Greenpoint Hospital site at 288 Jackson Street in East Williamsburg.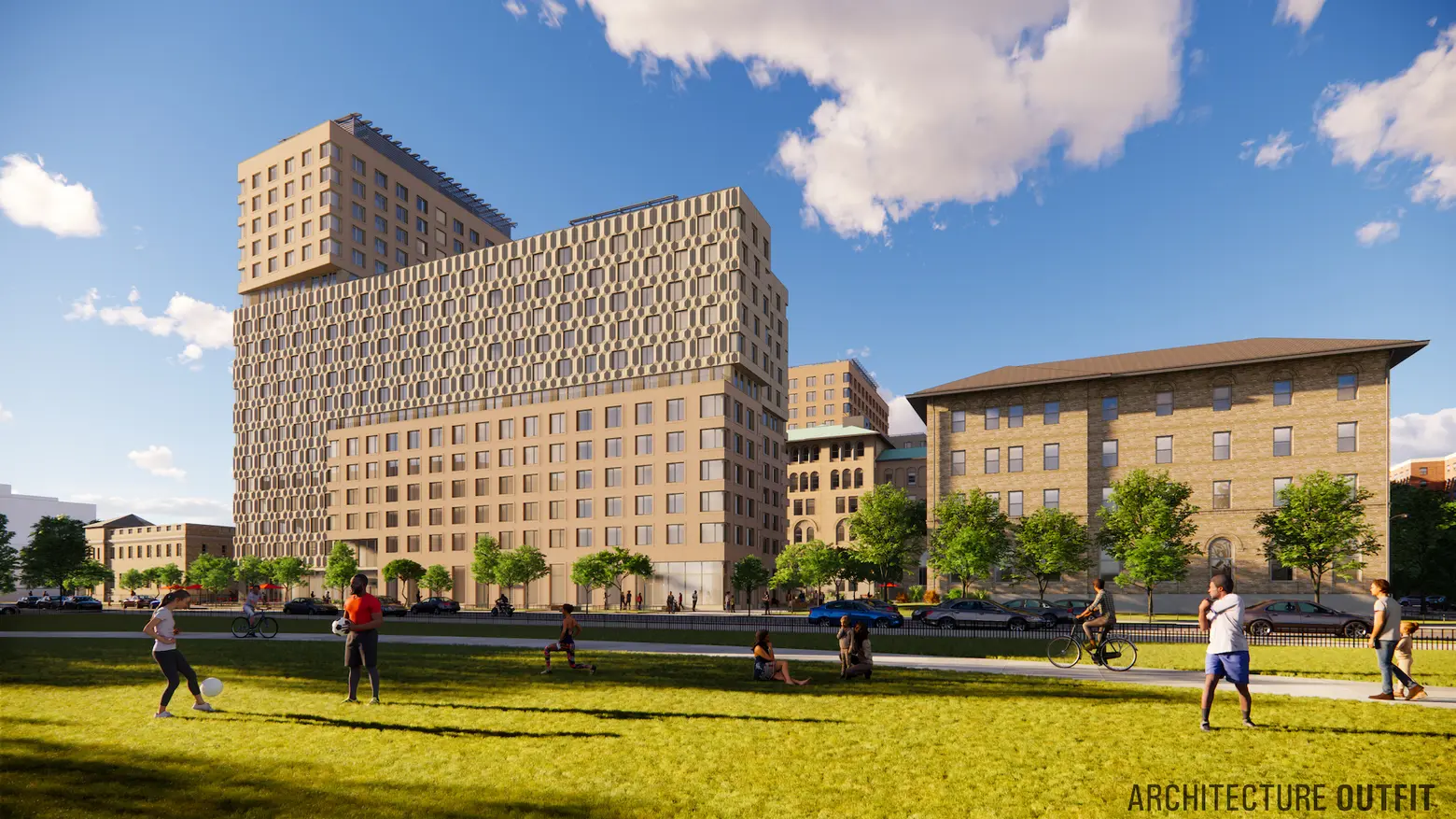 View of Building 2, northwest from Cooper Park
The Greenpoint Hospital opened in 1915 to serve victims of work accidents from nearby factories. During the city's financial crisis in the 1980s, the hospital shuttered for good in 1982, except for one building, the Barbara S. Kleinman Residence, which housed homeless New Yorkers.
As 6sqft previously reported, four auxiliary buildings were redeveloped as affordable housing in the 1990s and the city later converted a fifth into the Greenpoint Renaissance Center a few years later. Various proposals for the site's redevelopment have come and gone over the last three decades, as reported by Bedford + Bowery.
The Department of Housing Preservation and Development issued a request for proposals in 2017 to redevelop the rest of the campus. In 2018, HPD selected Hudson Companies, in partnership with St. Nicks Alliance and Project Renewal, to convert the site into a mixed-use development with affordable housing.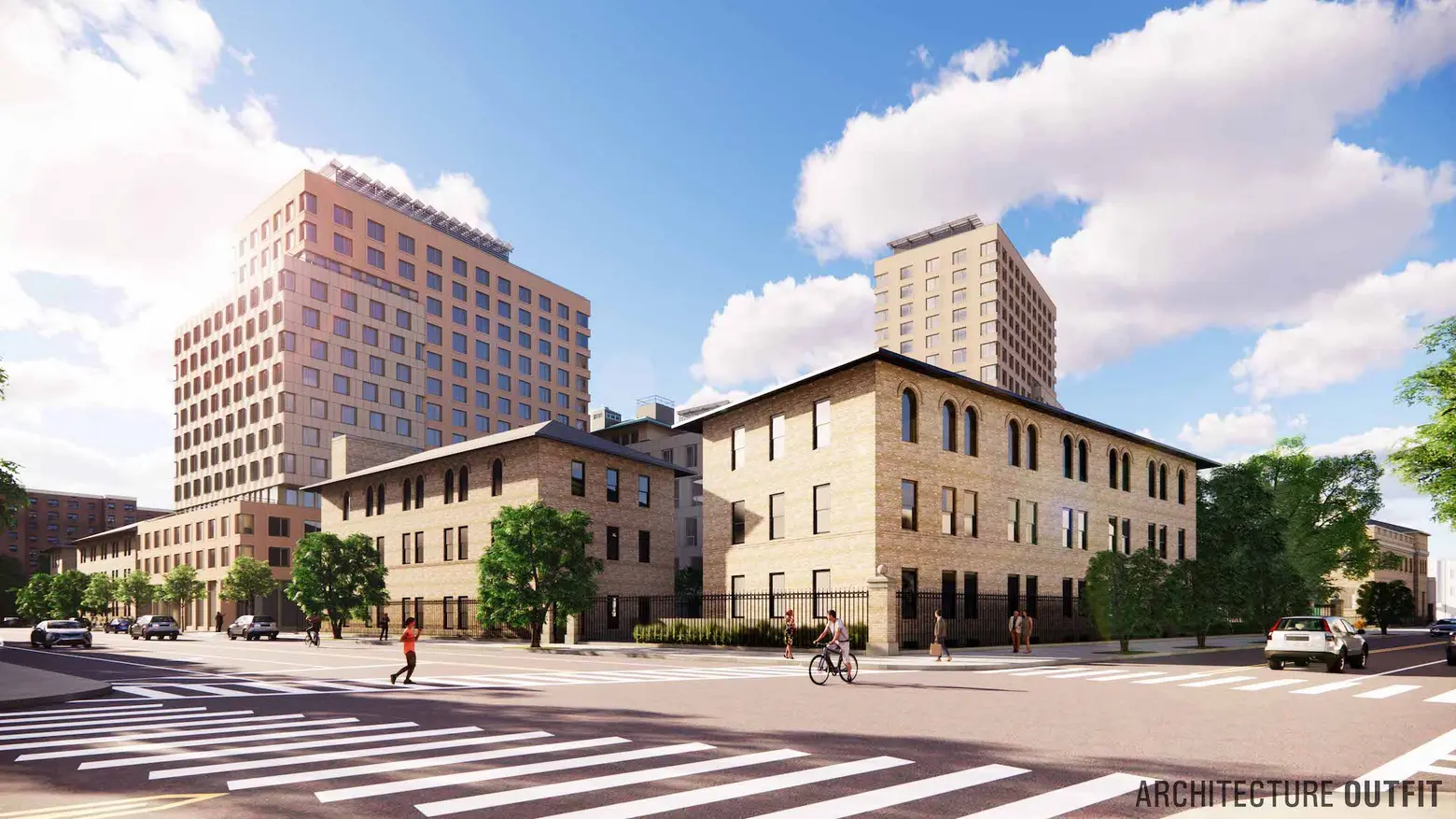 Building 4, view southeast from Jackson Street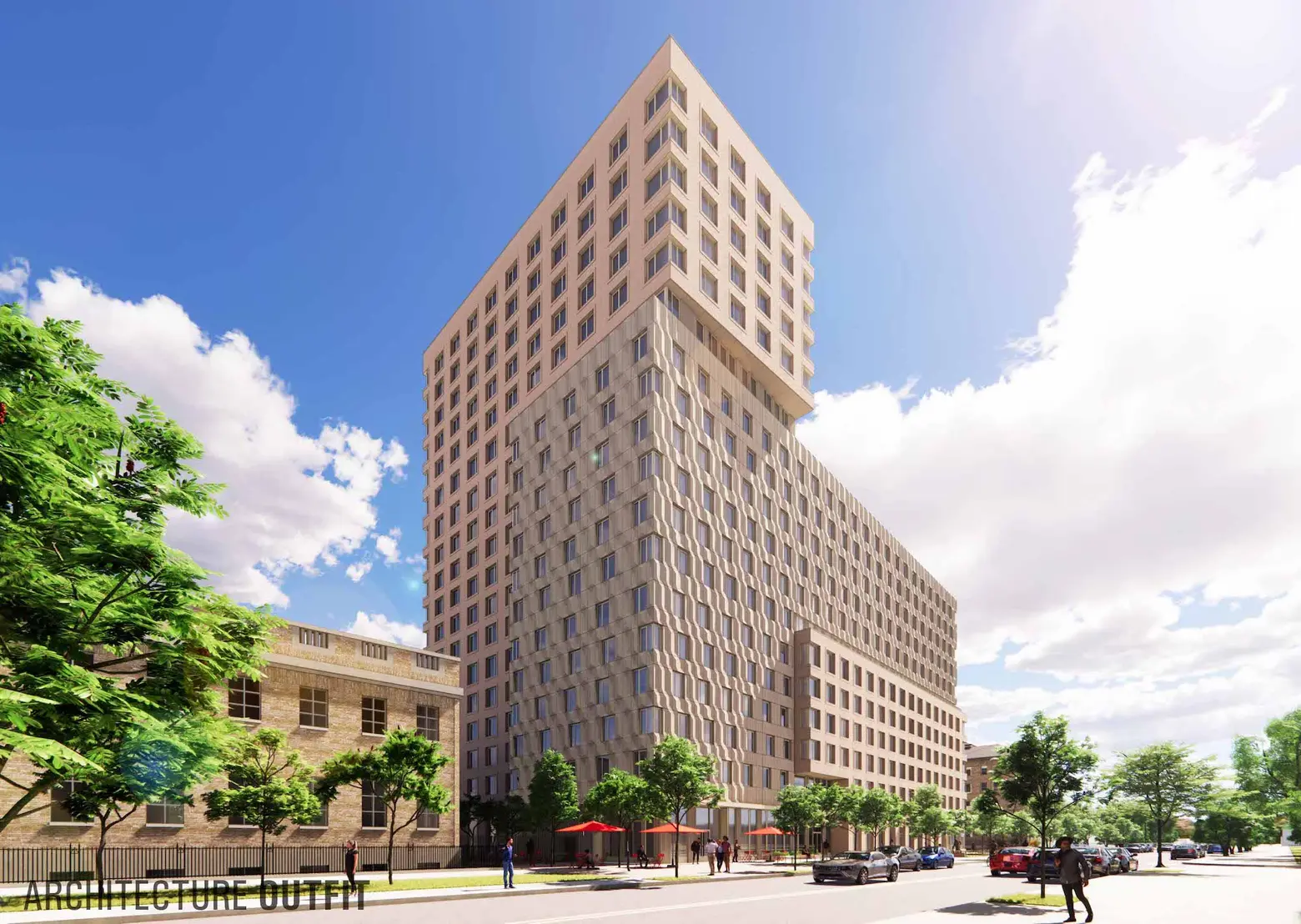 Designed by Magnusson Architecture and Planning and Architecture Outfit, Cooper Park Commons consists of four buildings, two of which will be new construction and two which involve the adaptive reuse of existing hospital buildings.
As first reported by Brownstoner, the first phase includes opening a 200-bed homeless shelter for single adult men at a converted existing building, to be designed by Edelman Sultan Knox Wood. Project Renewal will offer residents on-site programs related to healthcare, employment, occupational therapy, and more.
The remaining three buildings will include 557 units for extremely low-, very low-, and low-income households, with 109 of the units designated for senior New Yorkers.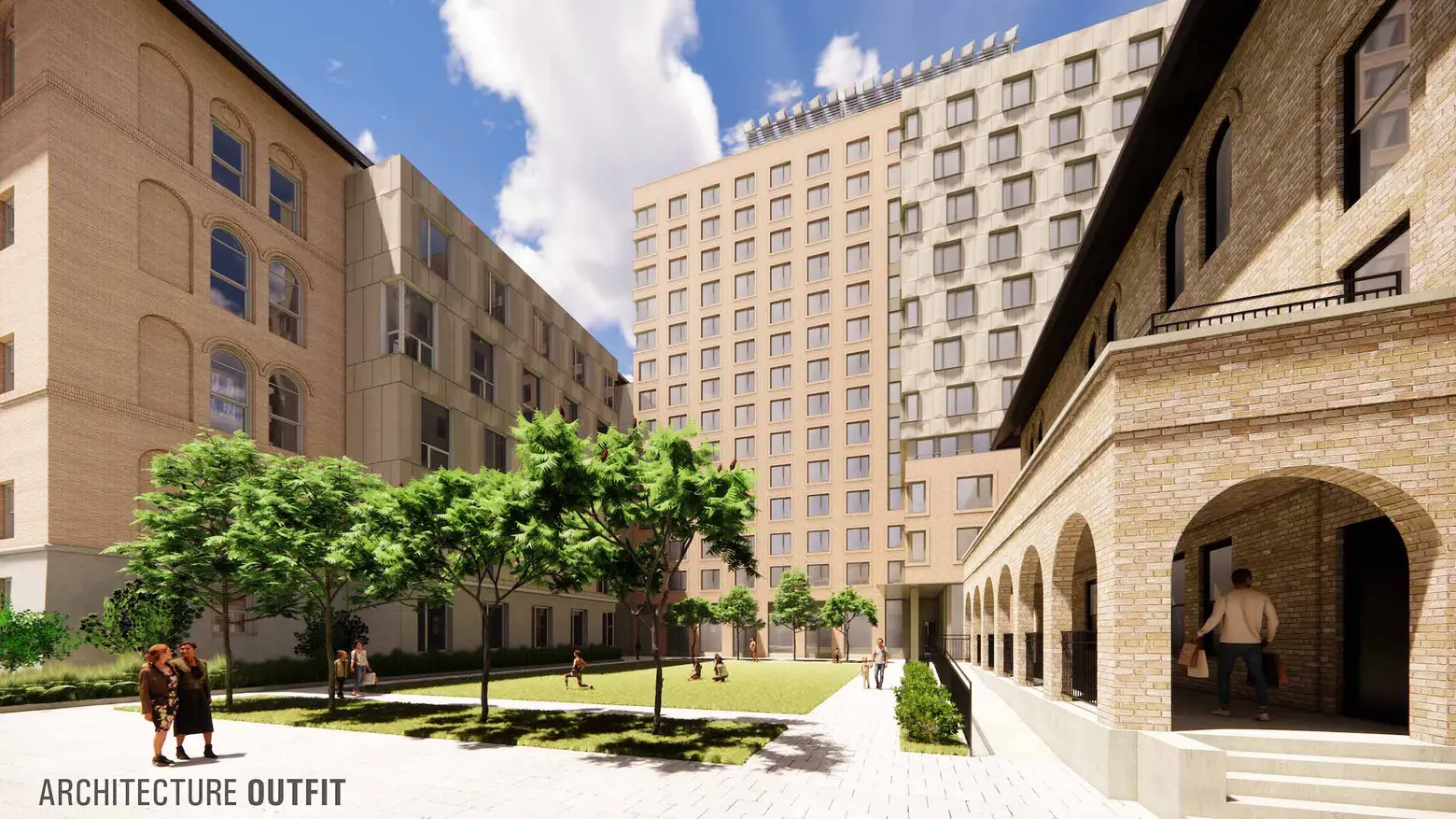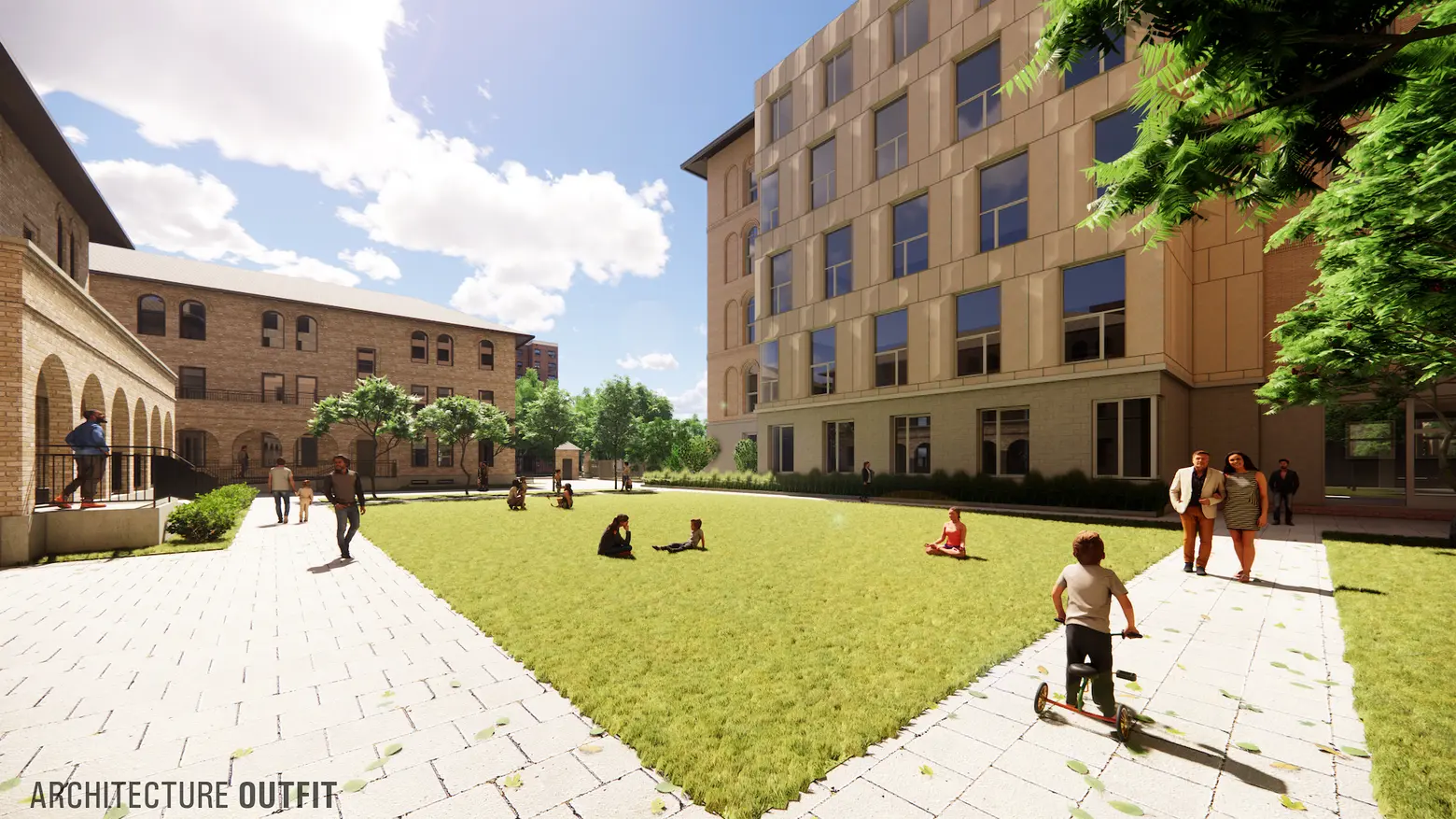 View of the recreational lawn, looking southeast.
The breakdown of the affordability, subject to HPD approval, includes 167 units for formerly homeless individuals, 48 units for households earning 30 percent of the area median income (AMI), 48 units at 40 percent of the AMI, 88 units at 50 percent of the AMI, 69 units at 60 percent of the AMI, and 134 units at 80 percent of the AMI. The remaining three units are for the building supers.
Community facilities proposed for the two new buildings include a 5,000 square-foot walk-in clinic, a 2,500-square-foot workforce development center that will be operated by St. Nicks Alliance and Evergreen, a small cafe, and a senior center with on-site services. One new structure will be 18 stories tall, and the other will be 14 stories.
All new buildings will meet Passive House standards, with the existing buildings renovated to meet LEED Gold standards. Every building will also have amenities like outdoor space, lounges, rooftop terraces, children's playrooms, fitness centers, laundry rooms, and bike storage.
"As we've been designing these buildings, we really want this to be the best affordable housing in New York City," Max Zarin of Hudson Companies told the community board during the meeting. "We're designing this housing for the same standard we would design market-rate housing."
The developers expect the project to be certified by the Department of City Planning and enter the city's uniform land use review procedure (ULURP) by the end of June. If approved, construction start on the first phase this time next year, with phase two kicking off in 2025 and wrapping up in 2027.
RELATED: 
All images courtesy of Architecture Outfit/Magnusson Architecture and Planning