NYPD 'robocop' now patrols Times Square subway station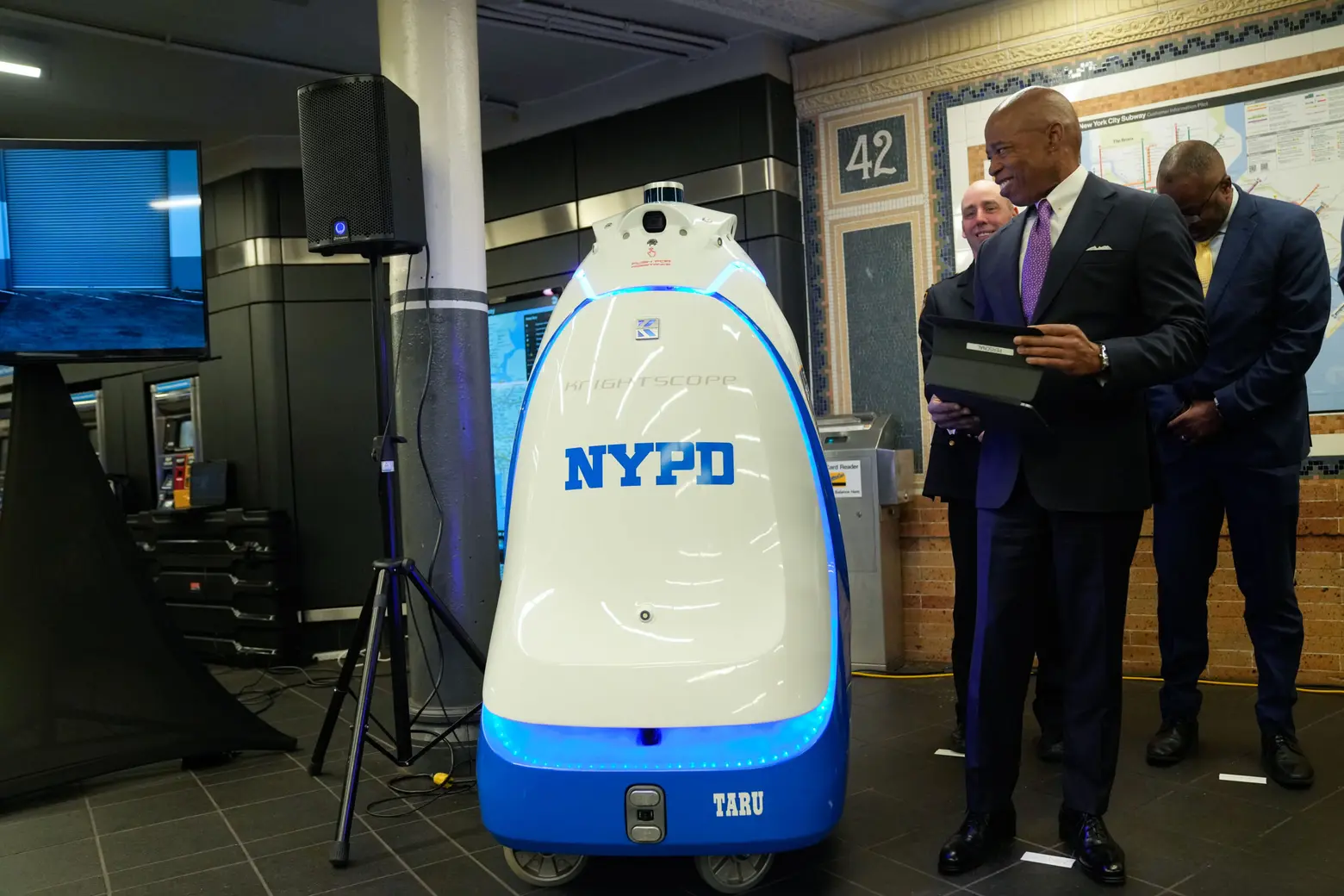 Late-night commuters fear not! A 420-pound, 5-foot-2-inch-tall robot is now patrolling the Times Square subway station overnight. During a press conference held at the 42nd Street subway station last Friday, Mayor Eric Adams announced a two-month pilot program to test the robocop, officially known as the Knightscope K5 Autonomous Security Robot. The robot will patrol the 42nd Street station from 12 a.m. to 6 a.m., recording video to be viewed in case of an emergency or crime, according to the mayor.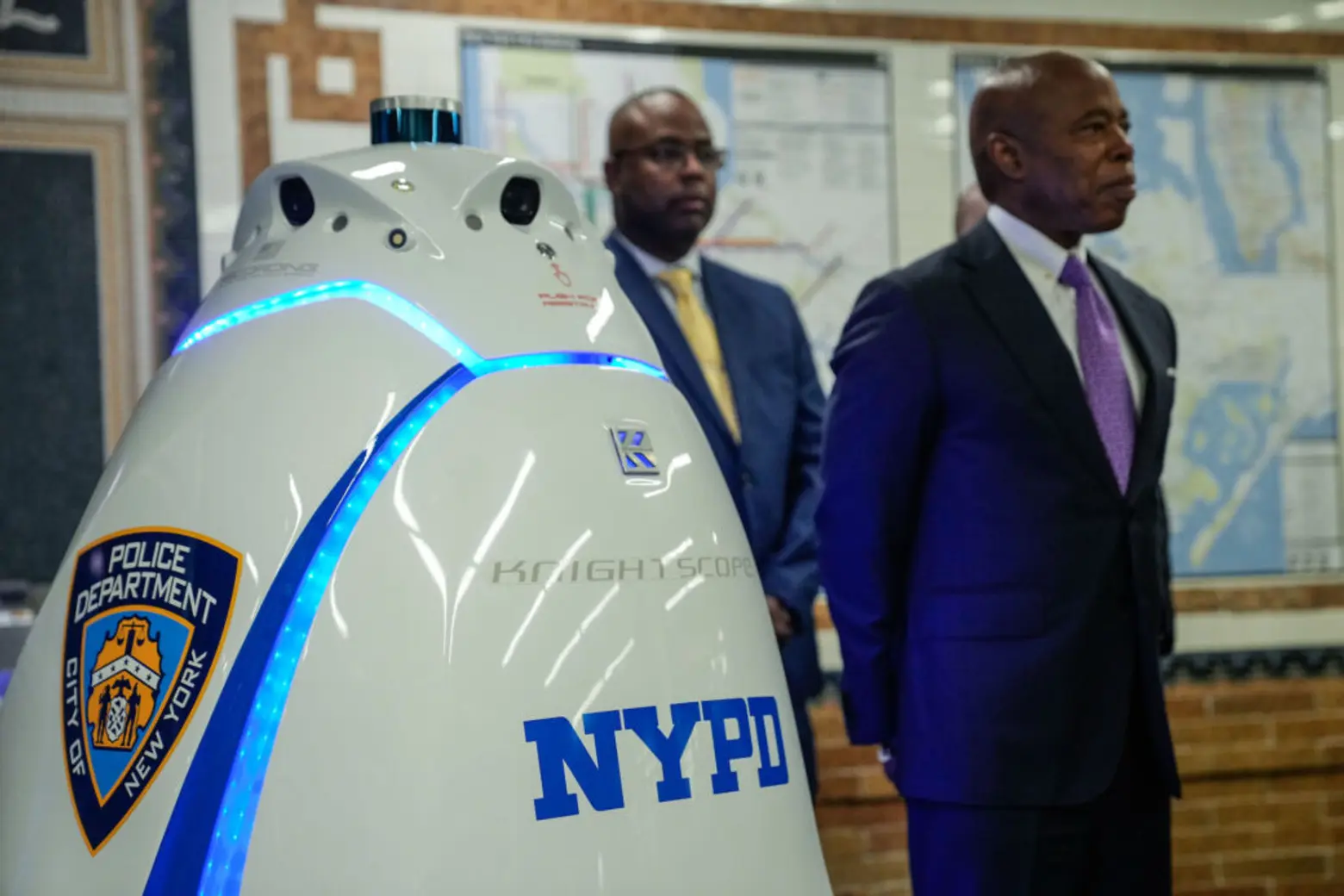 Manufactured by Knightscope, the K5 has 360-degree vision and can travel at a maximum speed of three miles per hour. It will serve as another camera in the NYPD's citywide surveillance system.
Throughout the initial two-month pilot phase, an NYPD officer will accompany the robot during its nightly patrol of the Times Square subway station from midnight to 6 a.m. After this trial period, the robot will no longer require a handler and will be on patrol alone.
According to the mayor, the robot does not record audio or employ facial recognition, but it does include a button that connects immediately to a live person 24/7 to report an incident.
Addressing concerns about potential vandalism, Adams demonstrated the machinery's hefty build by attempting to move it with a few hard pushes to no avail.
"Let me say this: if anyone destroys this or vandalizes this, they're going to be captured on video and we're going to prosecute them, and they're going to be arrested," Richard Davey, president of NYC Transit, said during a press conference Friday.
"And then depending on the damage, it could be a felony. So, and just, I warn anyone, the camera system in the subway system, particularly in this station, is expansive and it's supplemented big time by K5. So, if you come here and you want to damage K5 or commit any crime in the subway system, prepare to be identified and arrested."
According to Gothamist, during its tenure in San Francisco, the K5 was pushed over and smothered in barbecue sauce; another one was battered by a drunken man in Mountain View, California. And in Washington, D.C., a K5 accidentally scooted itself into a pool of water.
While New Yorkers may question the necessity of robotic NYPD personnel, Adams claims that the K5 is cost-effective, with the city only paying $9 an hour to lease the robot.
"This is a good investment of taxpayer dollars," Adams said. "This is below minimum wage, no bathroom breaks, no meal breaks."
The NYPD has also proposed the use of a number of additional policing technologies, including the deployment of robot dogs known as "Digidogs" and a device that shoots GPS devices onto cars, which are expected to arrive in the five boroughs in the next few months, according to Gothamist. The 70-pound robotic dogs have the ability to run at three-and-a-half miles per hour and climb stairs.
During his administration, former mayor Bill de Blasio called the robotic dogs "creepy," and ordered that the robots be returned to their manufacturer, Boston Dynamics, according to the Guardian. De Blasio even went so far as to say that he was happy the dogs were "put down."
Police have said that the dogs will be used in dangerous situations like hostage and terrorism incidents, as well as interactions with people experiencing mental health crises.
The introduction of these new policing technologies, which the Legal Aid Society has called "dystopian," has been criticized by police reform and legal advocates who questioned the city's use of their budget and spoke about their potential to violate New Yorkers' privacy.
In June, the Legal Aid Society published a press release calling on the city's Department of Investigation to determine whether or not the new surveillance technologies violate the Police Oversight of Surveillance Technology Act (POST).
During Friday's press conference, the NYPD said that the K5 will only use video surveillance to monitor situations, and will not use audio or facial recognition technology.
RELATED: