NYC transit system still widely inaccessible despite recent improvements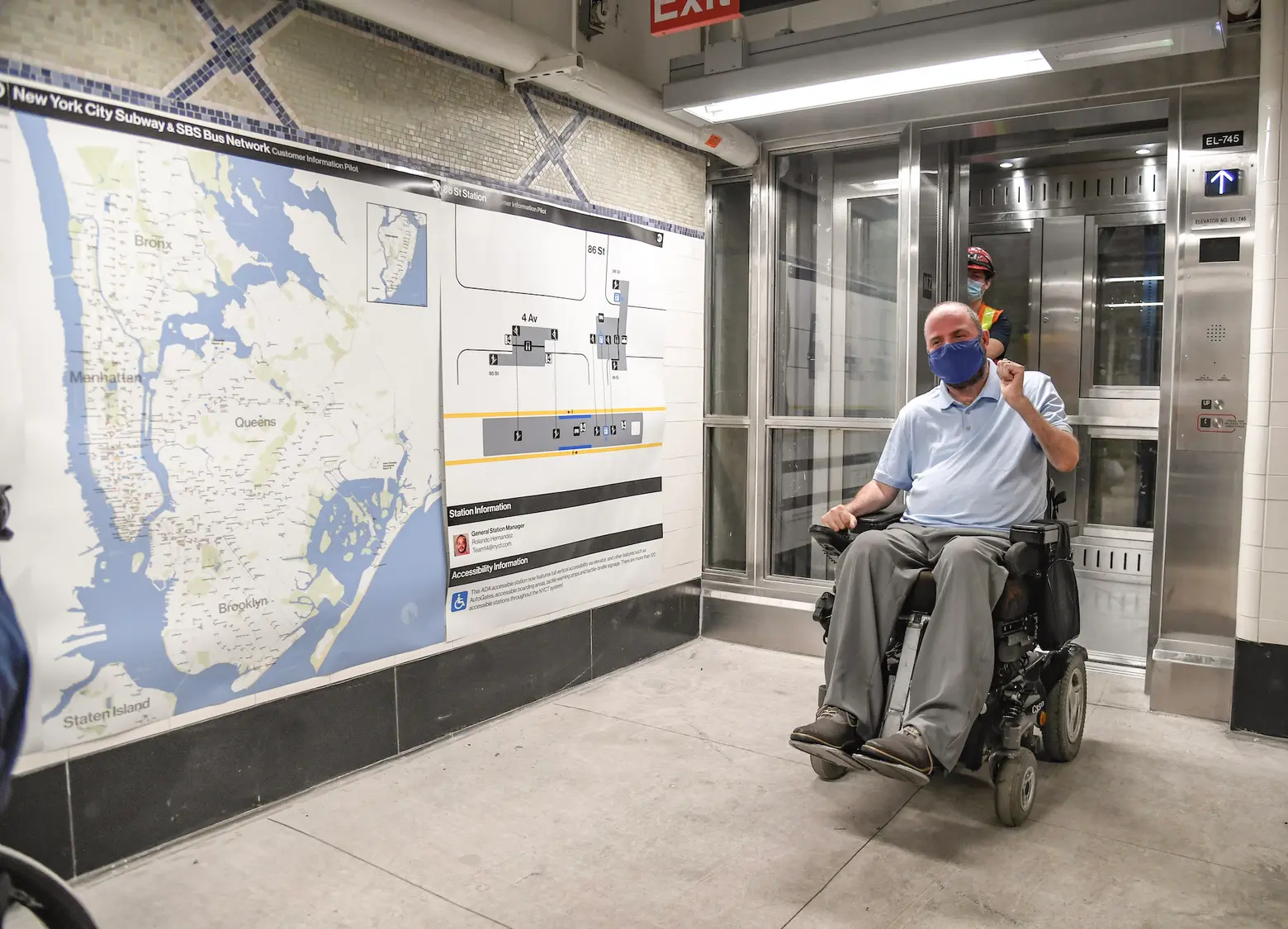 While the Metropolitan Transportation Authority has picked up the pace of making New York City's public transit system more accessible, the agency still has a long way to go before it can be totally accessible. Gov. Kathy Hochul and the MTA on Thursday announced the completion of the project making Grand Street L subway station fully accessible, marking the fourth station across the five boroughs that have been made fully accessible this year. Despite the agency's recent efforts, the city's transit system is still incredibly difficult for riders with disabilities to navigate because a majority of stations lack elevators, ramps, and other accessible features.
NYC's transit system's accessibility pales in comparison to those of other major cities across the country. Despite being North America's largest transit network, only 27 percent of the system's 472 stations are deemed accessible under the Americans with Disabilities Act, which requires a facility to be navigable without climbing stairs for riders with a wide range of disabilities, according to the New York Times.
According to a study conducted by the Times in 2019, roughly 550,000 New Yorkers have difficulty walking and two-thirds of them live far away from an accessible subway station. That meant that at the time, four percent of New Yorkers were unable to ride the subway. The study also showed that most of these residents reside in the Bronx, where only 15 of the borough's 70 stations are accessible. Ten more Bronx stations are set to be enhanced, including the East 149th Street station on the 6 line, which is expected to open with new elevators in September after missing its previous target in July.
In June 2022, the MTA pledged to make 95 percent of all subway systems accessible by 2055, with 81 stations made accessible by 2025, another 85 stations by 2035, another 90 stations by 2045, and the remaining 90 stations by 2055. The promise was part of a settlement agreement in two class-action lawsuits that targeted the subway system's inaccessibility. However, such a comprehensive plan requires a clear timeline, and the city has yet to establish one.
There is currently no definite timeline for when accessibility upgrades will be completed at the remaining 45 stations to help the MTA achieve its first goal by 2025, according to the transit agency.
So far this year, the Court Square G station in Queens, Dyckman Street 1 station in Upper Manhattan, the 8th Avenue N station in Brooklyn, and now the Grand Street L station have been made fully accessible. Accessibility projects at eight more stations are expected to be completed by the end of the year, and 30 stations are currently undergoing construction for accessibility upgrades, according to a press release.
The eight stations include:
181st Street – A line
Tremont Avenue – B and D lines
East 149th Street – 6 line
Lorimer Street – L line
Metropolitan Avenue – G line
7th Avenue – F and G lines
Beach 67th Street – A line
New Dorp – Staten Island Railway
The MTA says it is awarding contracts for new accessibility upgrades at a rate five times faster than what it was before 2020. The agency awarded 13 contracts in 2020, 10 in 2021, and 13 contracts in 2022, with 17 contracts expected by the end of 2023.
Advocacy groups for disabled New Yorkers have long been pushing the MTA to speed up their accessibility projects, saying that making the transit system more equitable for riders of all abilities could help increase fare revenue and overall ridership. However, agency officials have said that the MTA is working as fast as it can without disrupting the service of its riders.
Quemuel Arroyo, who manages the MTA's accessibility efforts, told the New York Times that in order to build safely, work crews need to shut down entire sections of the subway. "Everybody wants it done faster, but not at the expense of their commute," Arroyo told the Times. "There's only two things that New Yorkers really hate: the status quo and change."
RELATED: