40 blocks of Manhattan's Third Avenue to be transformed with bike and bus lanes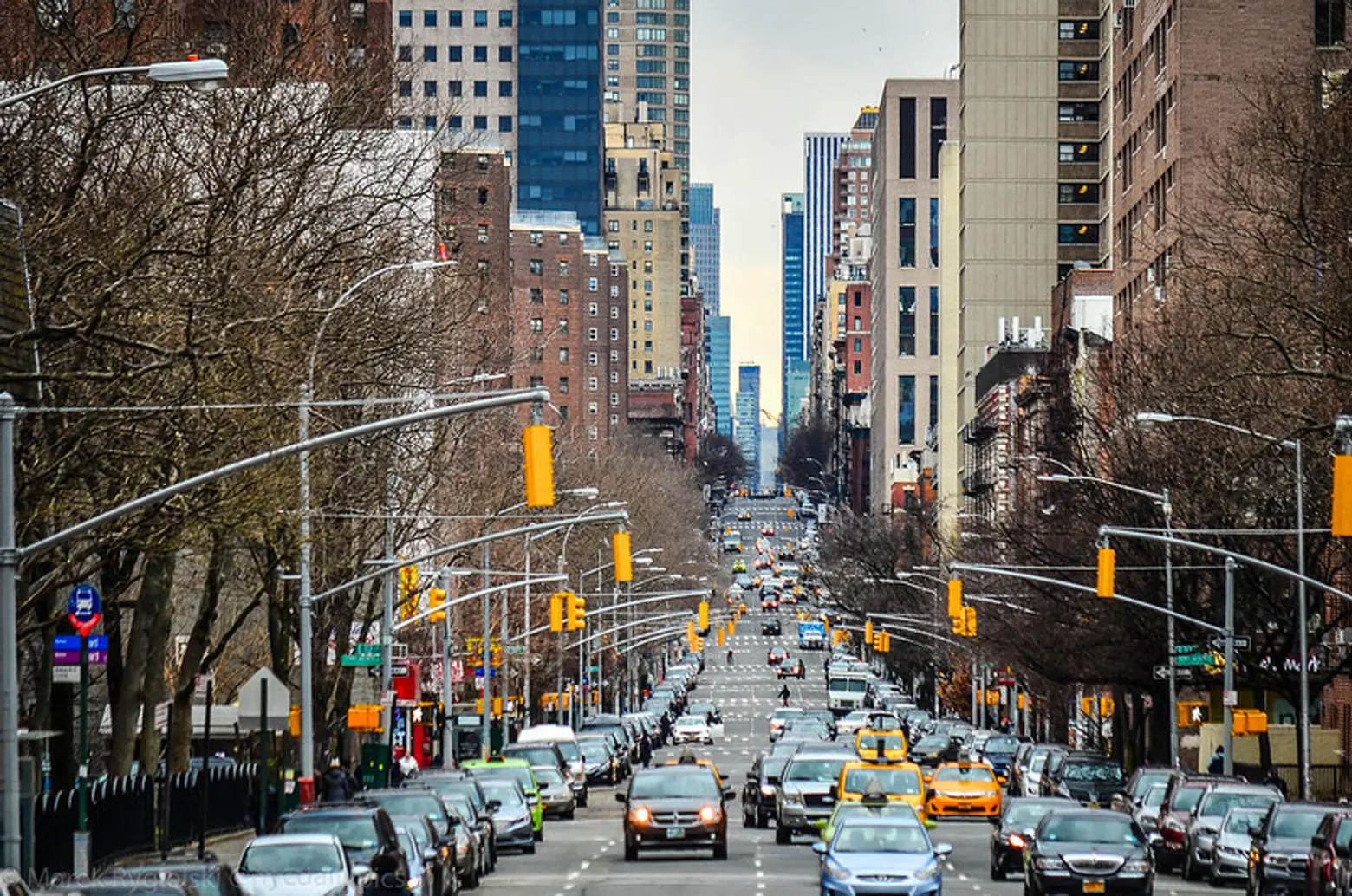 New York City is moving forward with its redesign of a 1.9-mile stretch of Manhattan's Third Avenue. Construction will begin next week on the "complete street," which will span from East 59th Street to 96th Street and include a new dedicated lane for buses and a parking-protected bike lane, the Department of Transportation announced. The redesign aims to make Third Avenue safer for pedestrians and cyclists; according to DOT, six pedestrians and one cyclist have been killed between 59th and 96th Street since 2016.
"This project will be transformational for Third Avenue, prioritizing the safety and mobility of all New Yorkers," DOT Commissioner Ydanis Rodriguez said. "Building a Complete Street featuring a dedicated bus lane, protected bike lane, and pedestrian islands is about putting people first."
Third Avenue currently serves the M98, M101, M102, and M103 bus routes, which during weekday peak hours from 6 a.m. to 10 a.m. travel at 5.4 miles per hour, significantly below the city's average. The redesign project will work to increase speeds by installing a 24/7 camera-enforced offset bus lane, which will ensure that the corridor is kept clear and completely open for bus travel.
The bus lane will complement existing bus lanes on First Avenue, Second Avenue, and Lexington Avenue, connecting to eight different routes.
To accommodate the high number of cyclists traveling at different speeds across Third Avenue, DOT has designed the corridor's protected bike lane to be wider, giving cyclists more space and improving safety conditions. The new bike lane will measure nine feet wide with a three-foot buffer, compared to the typical Manhattan protected lanes, which measure six feet wide with a five-foot buffer.
On two uphill portions of Third Avenue between 64th and 66th Streets, and 80th to 82nd Streets, DOT will install wider, 11-foot bike lanes to create safe passing lanes for e-mobility users to pass cyclists.
At eight intersections with signalized left turn lanes, DOT will widen bike lanes to 10 feet and protect them with physical barriers, giving riders sufficient passing space as they approach green signals, and providing additional space for riders waiting at red signals. The new bike lanes will be identifiable by two side-by-side bike stencils.
The new bike lane is a continuation of DOT's effort to promote the use of bicycles and micro-mobility vehicles, with the transportation agency's last effort being its creation of safer lanes on Ninth Avenue earlier this year.
As part of the project, DOT will build new pedestrian islands to increase visibility at intersections and reduce time crossing streets, creating two new layover areas for delivery workers to keep sidewalks clear. DOT is considering further safety redesigns across all of Third Avenue but is focusing on 59th Street to 96th Street due to it having the highest number of fatalities, according to DOT's project plan released in October 2022.
"This nearly two-mile project will make a busy stretch of Manhattan smoother and safer for bus riders, pedestrians, and cyclists, including many hard-working delivery workers," Mayor Eric Adams said.
"DOT has been creative in deploying a range of tools to suit this particular corridor, building on our 'Charge Safe, Ride Safe' plan with wider bike lanes to encourage more and safer cycling. We've worked closely with the community to come up with a plan that works for everyone, and we look forward to helping those who live, work, and travel through the East Side get around more quickly and safely."
DOT will observe the effects of Third Avenue's improvements and make adjustments as needed, reviewing the redesign, the use of the new widened bike lane, and how cyclists adapt. DOT will also measure the capacity of the new bike lane and determine whether or not it can accommodate the projected growth in micro-mobility usage.
RELATED: