Last year's holiday open streets in Midtown drove $3M in spending at local businesses
Banning cars on blocks around holiday hotspots in Midtown last year led to an additional $3 million in spending at businesses on the pedestrianized streets, according to a new report. Mayor Eric Adams this week announced the 2022 holiday-specific Open Street program, which opened 11 blocks to pedestrians during the busiest time of the year, created more foot traffic and led to an increase of 13.9 percent in transactions at local businesses along open streets. The study conducted by Mastercard found merchants on pedestrianized streets saw an average of $90,000 in additional spending per day. The success of the car-free holiday streets program laid the groundwork for a permanent redesign of Fifth Avenue, said Adams, who has selected a team for the design process.
Last year, streets around the Rockefeller Center Christmas Tree and Radio City Music Hall closed to cars (some partially, others fully) starting on November 30 through mid-January. The city also made West 49th Street and West 50th Street between Fifth and Sixth Avenues pedestrian-only from 11 a.m. to 12 a.m. daily.
On several Sundays last December, Fifth Avenue from 49th to 57th Streets went totally car-free between 12 p.m. and 6 p.m., with food and beverage vendors and live performances. It was the first time Fifth Avenue was closed to cars since 1970.
The holiday-specific open street led to Adams' plan to reimagine Fifth Avenue from Bryant Park and Central Park as a pedestrian-focused space, part of the "New New York: Making New York Work For Everyone" action plan, which calls for transforming the city's business districts into mixed-use 24/7 destinations.
As part of the mayor's vision, a pedestrian-focused Fifth Avenue would deliver new green spaces, enhanced lighting, safer corridors for cyclists, and more. The broader goal is to draw more residents, businesses, and workers to the area.
Mastercard's report supported many of the "New New York" plan's core tenets, especially the plan's identification of public space as a key component in helping to boost the city's economic recovery.
The report also backs up an earlier study by the Department of Transportation, that found businesses participating in the Open Streets program reported better sales than those located on streets with car traffic.
"The data is clear: When we give more space to people walking and biking, business thrives," DOT Commissioner Tdanis Rodriguez said. "That's because our streets can accommodate far more people on foot than in cars – a key reason why businesses had such great success during our car-free holiday Open Streets."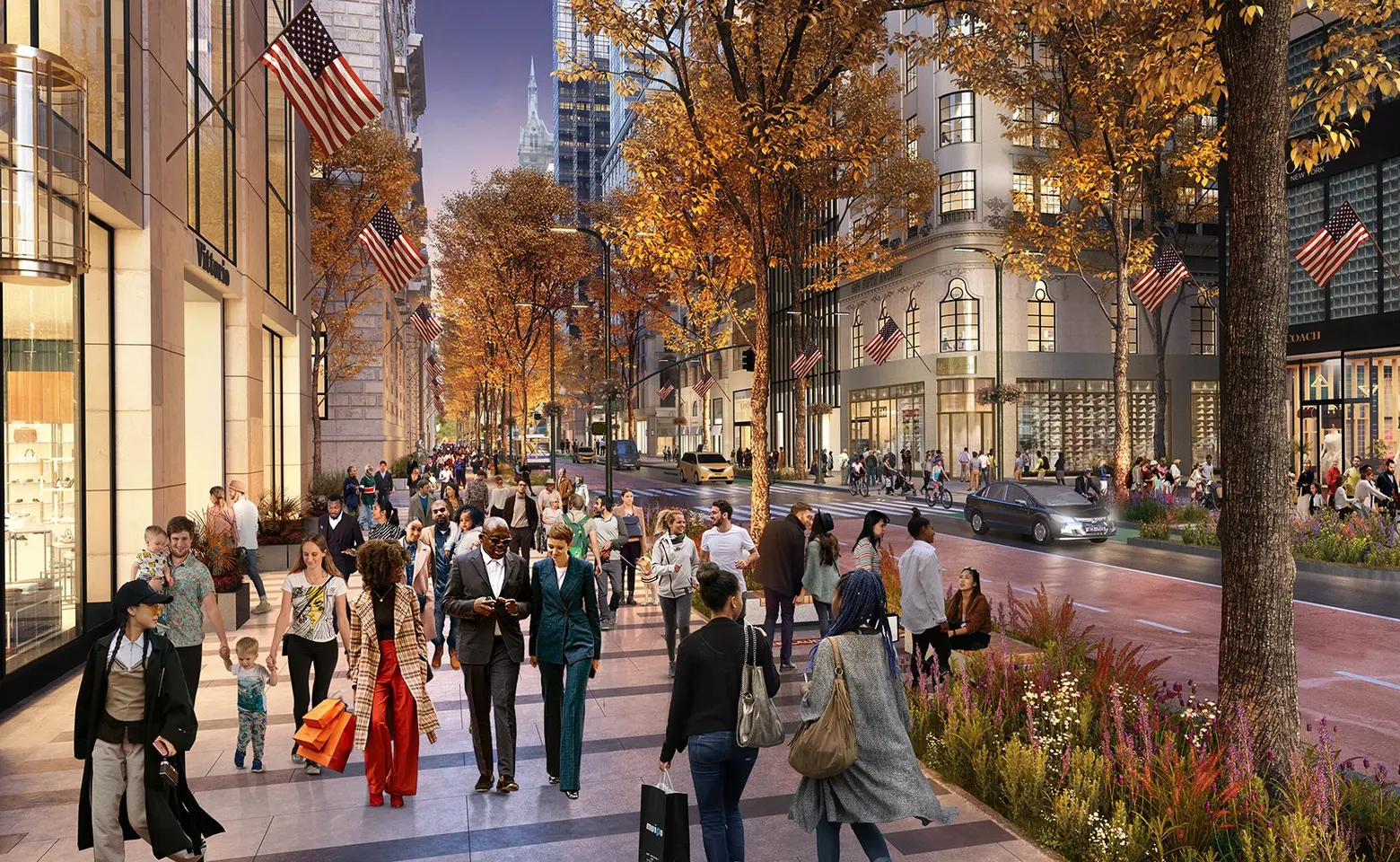 Adams on Tuesday also announced the establishment of "Future of Fifth," a public-private partnership that will permanently reimagine Fifth Avenue as a pedestrian-centric space. The partnership consists of the Fifth Avenue Association, Grand Central Partnership, Bryant Park Corporation, and Central Park Conservancy.
The partnership has selected a core team of four engineering, planning, and design firms, as well as 10 additional firms to serve as consultants. These firms will work together to analyze Fifth Avenue's current layout and conditions, work with local residents and stakeholders during the design process, and develop a plan and design that keeps the interests of Fifth Avenue's residents, workers, and visitors in mind.
"Future of Fifth" will begin the visioning and design process this year and release a plan with a conceptual design by mid-2024. A final schematic design is expected to be finished by early 2025.
"Open Streets were an essential part of our city's economic recovery, and they will continue to be a core part of our city's future. The research is clear that Open Streets bring more people to our city's public spaces, more business to our city's stores, and more jobs to New Yorkers," Adams said.
"That's why we are reimagining Fifth Avenue as a safer, less congested, pedestrian-centered boulevard that also prioritizes public space, mass transit, and cyclists. That's why we are excited to establish this public-private partnership and bring on this team of exceptional partners who will help us ensure that businesses and pedestrians can enjoy the benefits of a more open, accessible city – not just in December but all year round."
RELATED: