Midtown East casino proposal adds Bjarke Ingels and 500 affordable apartments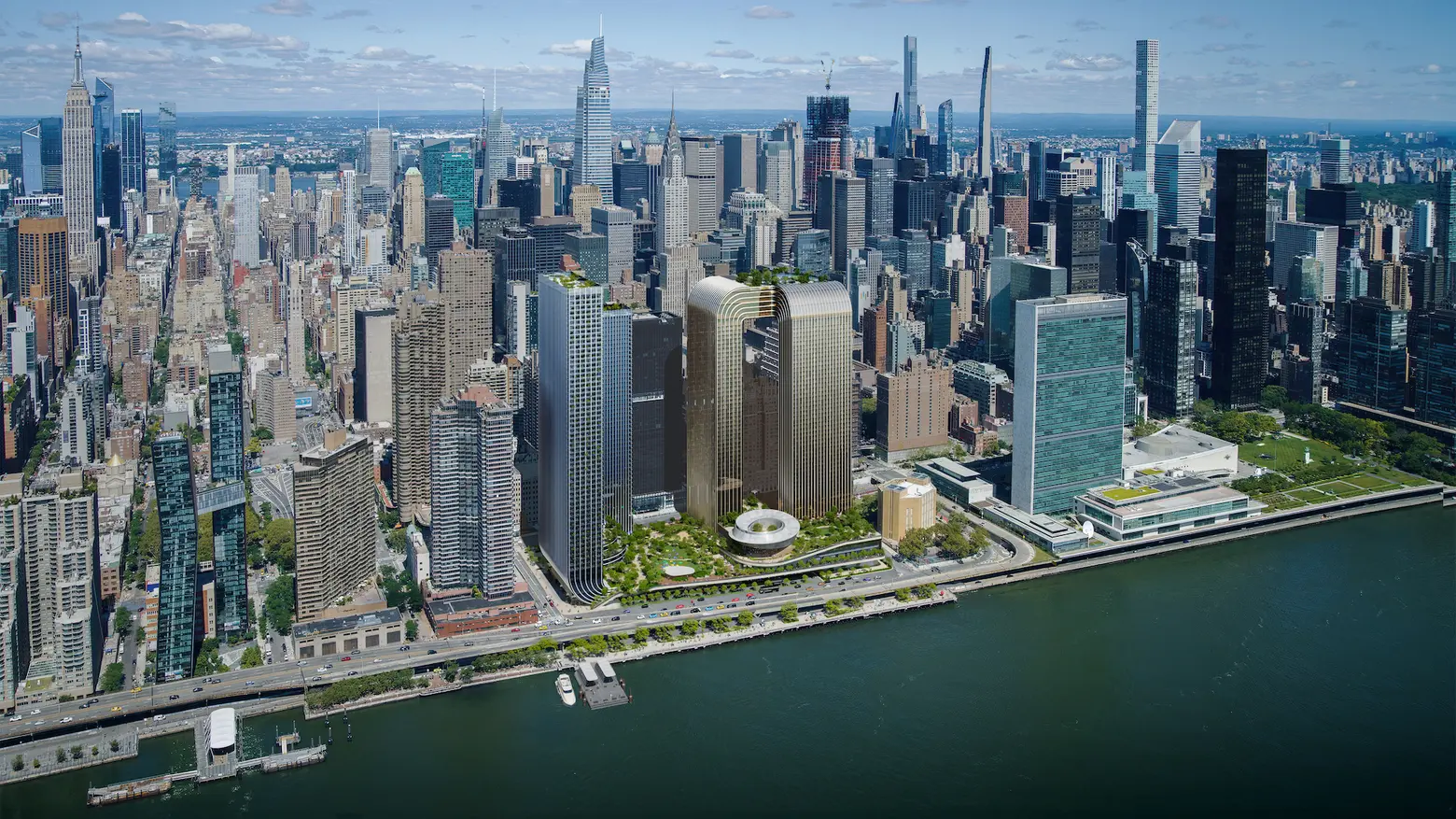 Rendering of Freedom Tower by Negativ
A developer hoping to build a casino near the United Nations is adding two components to its plan to appeal to New Yorkers: a famous architect and hundreds of affordable apartments. Soloviev Group last week announced its proposed mixed-use development in Midtown East dubbed Freedom Plaza will include 1,325 apartments with more than 500 of them permanently affordable. Plus, as the New York Times first reported, starchitect Bjarke Ingels will design the project, which includes a hotel, museum, public green space, and an underground casino.
Soloviev Group is among a group of several developers vying for one of New York City's three casino licenses. Early this year, the developer unveiled plans for Freedom Plaza on a six-acre stretch of vacant land near the U.N. headquarters. The proposal calls for a hotel, two residential towers, retail space, a human rights museum, public green space, and a partially subterranean casino operated by Mohegan from 38th to 41st Streets east of First Avenue.
The original plan also included a giant Ferris wheel, but that idea has been scrapped. Instead of an amusement park ride, Soloviev's latest proposal offers something desperately needed in New York City, particularly in this section of Midtown: affordable housing.
The development's two high-rise apartment towers would share a podium and include 513 studio to three-bedroom apartments priced below the market rate. The developers say at least 30 percent of the 1,325 total homes will be permanently affordable "at an average of 80% or below the average median income," which is $112,960 annually for a family of four.
According to the Times, the affordable housing will only be built if a casino license is issued to the developer. "We're not required to do it," Michael Hershman, the firm's CEO, said.
The project would create more affordable housing than has been built in Midtown East from 2010 to 2020, the Times reports. If a casino license is granted, construction could begin in 2025, Hershman told the newspaper.
"Affordable housing, specifically the creation of new low- and moderate-income units, is a top priority in our City and nationally," Hershman said in a statement. "We are dedicated to mitigating the housing crisis within our community and intend to develop more than 500 affordable units, while also introducing meaningful economic and social benefit initiatives."
Bjarke Ingels Group (BIG), the Brooklyn- and Copenhagen-based firm, will design the development.
Soloviev will also debut a free light installation at the proposed casino light this winter. Designed by Bruce Munro, Field of Light at Freedom Plaza will include 17,000 low-light, fiber-optic stemmed spheres that change hues and create a dreamlike landscape. The installation, which will be on view for 12 months, cost $1.5 million.
RELATED: