NYC opening guide: Dates and details for events, museums, dining, travel, and more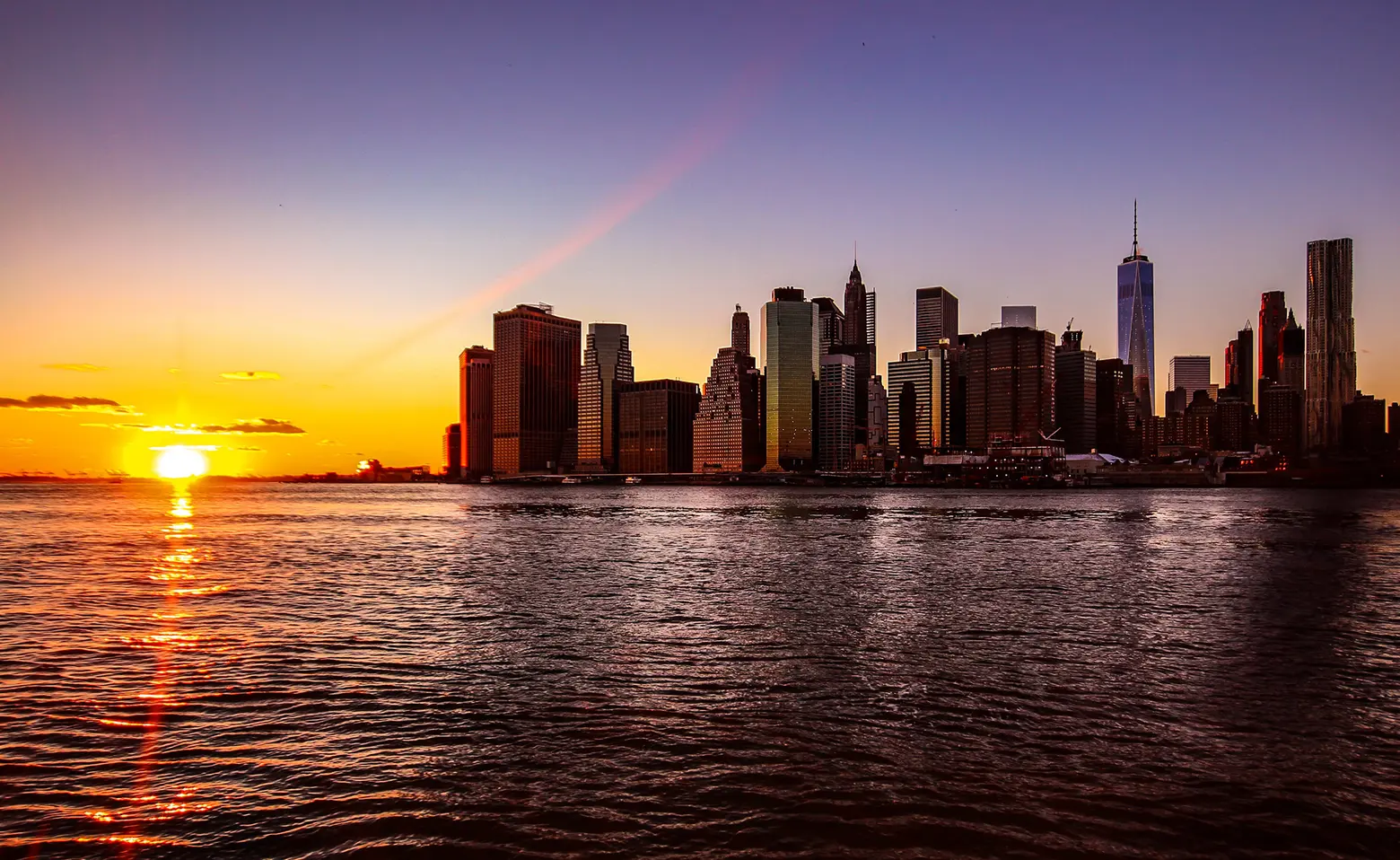 It's been over a year since the city first shut down due to COVID-19. It's been long and painful, but we are finally starting to see the light at the end of the tunnel. Gov. Andrew Cuomo announced that most state-mandated capacity restrictions would be lifted on May 19, with some exceptions. Nearly all aspects of city living– including sports stadiums and arenas, restaurants, events, museums, weddings, amusement parks, movie theaters, and travel–are gradually returning to a new normal. Ahead, we've put together a list of all the reopening dates and details in New York City. We'll be updating this list as more information becomes available.
MUSEUMS + OTHER CULTURAL INSTITUTIONS
As of April 26th, indoor museums and zoos were able to increase capacity limits to 50 percent. Guidelines include pre-set staggered entry, face-covering enforcement, and controlled traffic flow. Most museums require timed tickets to be purchased in advance.
On May 19, museums and institutions can opt to open at 100 percent capacity, which is subject to the six-foot social distancing rule in place.
LIBRARIES
More than 50 branches of the New York Public Library are currently open for grab-and-go pickups and book returns. The Library's research centers remain closed but are serving patrons virtually. The Brooklyn Public Library has opened lobby service at most of its locations, while more than 30 locations of the Queens Public Library are open for to-go service.
Beginning May 10, the New York Public Library, Brooklyn Public Library, and Queens Public Library will expand services to include browsing shelves and computer use at select branches. Appointments for a set period of time will be required. Additionally, in The New York Public Library Library system, patrons will be able to access the research collections by appointment.
THEATERS + VENUES
Events, arts, and entertainment venues can reopen indoor spaces at 33 percent capacity or up to 100 people indoors and 200 people outdoors as of April 2. If all attendees present proof of a negative coronavirus test prior to entry, capacity can increase to 150 people indoors and 500 people outdoors.
On May 19, theaters and Broadway can open at 100 percent capacity. But Cuomo said all industries can make their own decision regarding reopening. Broadway theaters will begin reopening on September 14. Select shows will begin selling tickets to fall performances as of May 6.
LARGE ARENAS + STADIUMS
Currently, sports venues can host fans at 10 percent capacity indoors and 20 percent capacity outdoors. Smaller, regional venues that hold 1,500 people indoor or 2,500 people outdoor have the same capacity restrictions. Stadiums, which could include outdoor performing arts venues, are considered "large" if they hold more than 2,500 people. Starting May 19, large indoor sports arenas can increase capacity from 10 percent to 25 percent, and outdoor venues from 20 to 33 percent.
Starting May 19, large-scale outdoor event venues can increase capacity to 100 percent for vaccinated people and 33 percent with six-foot distancing for unvaccinated people. There will be two separate seating sections, both of which will require fans to wear masks. Proof of vaccination will be required. For large indoor events, venues can operate at 30 percent capacity on the same date; by June 19, reduced social distancing will be piloted for indoor venues.
GYMS & FITNESS STUDIOS
Gyms have been open at a limited capacity across New York state since September. In March, indoor fitness classes were allowed to resume at 33 percent capacity and with face-covering requirements. According to the state, classes should be scheduled to allow extra time for cleaning and disinfection between sessions. On April 5, the state lifted the 11 p.m. curfew currently in place at gyms. Gyms outside of NYC can increase capacity from 33 to 50 percent on May 15, but no increase has been scheduled for those in the city.
On May 19, all gyms and fitness studios can open at 100 percent capacity.
AMUSEMENTS
Indoor entertainment centers reopened in March at 25 percent capacity, while outdoor amusement parks and rides reopened on April 9 at 33 percent capacity. Both groups must disinfect high-touch areas throughout the day, have staff enforce compliance, and sell timed tickets in advance. Customers will be required to have a health screening and temperature checks and face coverings and social distancing will be mandated.
Billiard and pool halls were able to reopen on March 5 with 35-percent in New York City and 50-percent capacity outside of New York City. On May 15, casinos and gaming facilities can go from 25 to 50 percent capacity.
On May 19, family entertainment and amusement park can open at 100 percent capacity.
MOVIE THEATERS
Currently, movie theaters across the state are allowed to operate at 33 percent capacity. Masks are required at all times except when seated and eating or drinking. Assigned, social-distanced seating is required.
WEDDING RECEPTIONS + CATERED EVENTS
As of March 15, wedding receptions and catered events in New York can take place with 50 percent of a venue's capacity, up to 150 people. These events, which must be approved by the local health department, will require all guests to receive a rapid COVID test or be fully vaccinated and to provide contact-tracing information. According to the state's current guidelines, masks should be worn at all times when not eating or drinking, including while dancing. Venues must create "zones" for dancing that are at least six feet apart and are where members of the same household can dance.
According to Cuomo, "congregate commercial and social events," or venues that host "sports competitions, performing arts and live entertainment, and catered receptions"—can exceed the social gathering limits of 500 people outdoors or 250 people indoors if all attendees over the age of four present proof of vaccination or recent negative COVID-19 test.
RESTAURANTS + FOOD
Currently, indoor dining at NYC restaurants is operating at 50 percent capacity (outside of the city, it's increased to 75 percent). On May 19, restaurants and bars can open at 100 percent capacity.
Next month, the 12 a.m. curfew at New York restaurants and bars will end, and bar seating will be allowed again. The curfew for outdoor dining ends May 17 and the curfew for indoor dining will be lifted May 31.
State rules for indoor dining require temperature checks, tables set up six feet apart, and face coverings required for all diners when not seated at a table. Outdoor dining continues and has been made permanent and year-round.
PUBLIC TRANSPORTATION
Last May, NYC shut down 24-hour subway and bus service to disinfect trains, buses, and stations, but in February, the system began closing for cleaning from 2 a.m. to 4 a.m. instead of from 1 a.m. to 5 a.m.
The governor said the subway system will resume 24/7 service on May 17, about one year after it was shut down for the first time ever.
GRADUATION CEREMONIES
Effective May 1, indoor and outdoor graduation and commencement ceremonies will be allowed with limited attendee capacity, depending on the event size and the location. Detailed guidance for graduation events is available here.
TRAVEL
Starting April 1, domestic travelers will no longer need to quarantine when entering New York. International travelers must still observe a mandatory quarantine, even if fully vaccinated. All travelers must fill out the state's Traveler Health Form upon arrival in the state. All of the latest travel details can be found here.
Editor's Note: This story was originally published on March 1, 2021, and has been updated with new information.
RELATED: