New York's First-Ever Penthouse: A 54-Room Upper East Side Mansion Built for a Cereal Heiress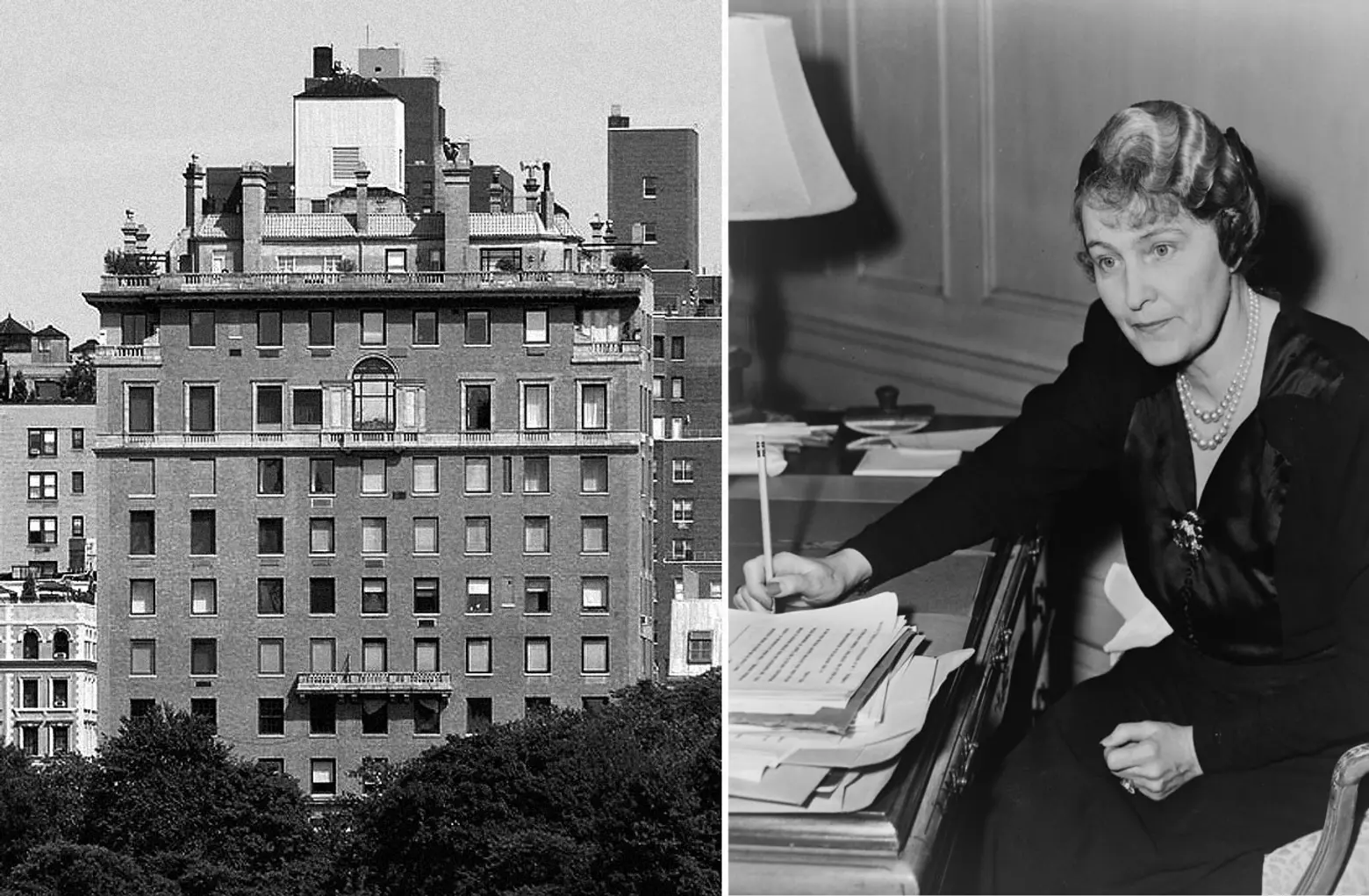 There's nothing like owning thousands of square feet of living space inside a penthouse, particularly in a town where power is measured by the size of one's apartment. Ever wonder when the very first penthouse was built in Manhattan? It was in 1925, when George Fuller Construction Company decided to develop a 14-story apartment house at 1107 Fifth Avenue between 91st and 92nd Streets.
However, erecting this new building wasn't that easy, and before moving ahead, Fuller had to convince cereal heiress Marjorie Merriweather Post Hutton (of Post Cereals, if you didn't catch that) to give up her home known as the Burden mansion that stood on the site. She agreed, but only if Fuller virtually recreated much of her 54-room mansion on the building's top three floors plus a for-her-use-only porte-cochere on the 92nd Street side that would lead to her private, and rather showy, lobby staffed with a doorman and concierge. Mrs. Hutton wanted to preserve the privacy she was currently maintaining with her existing mansion.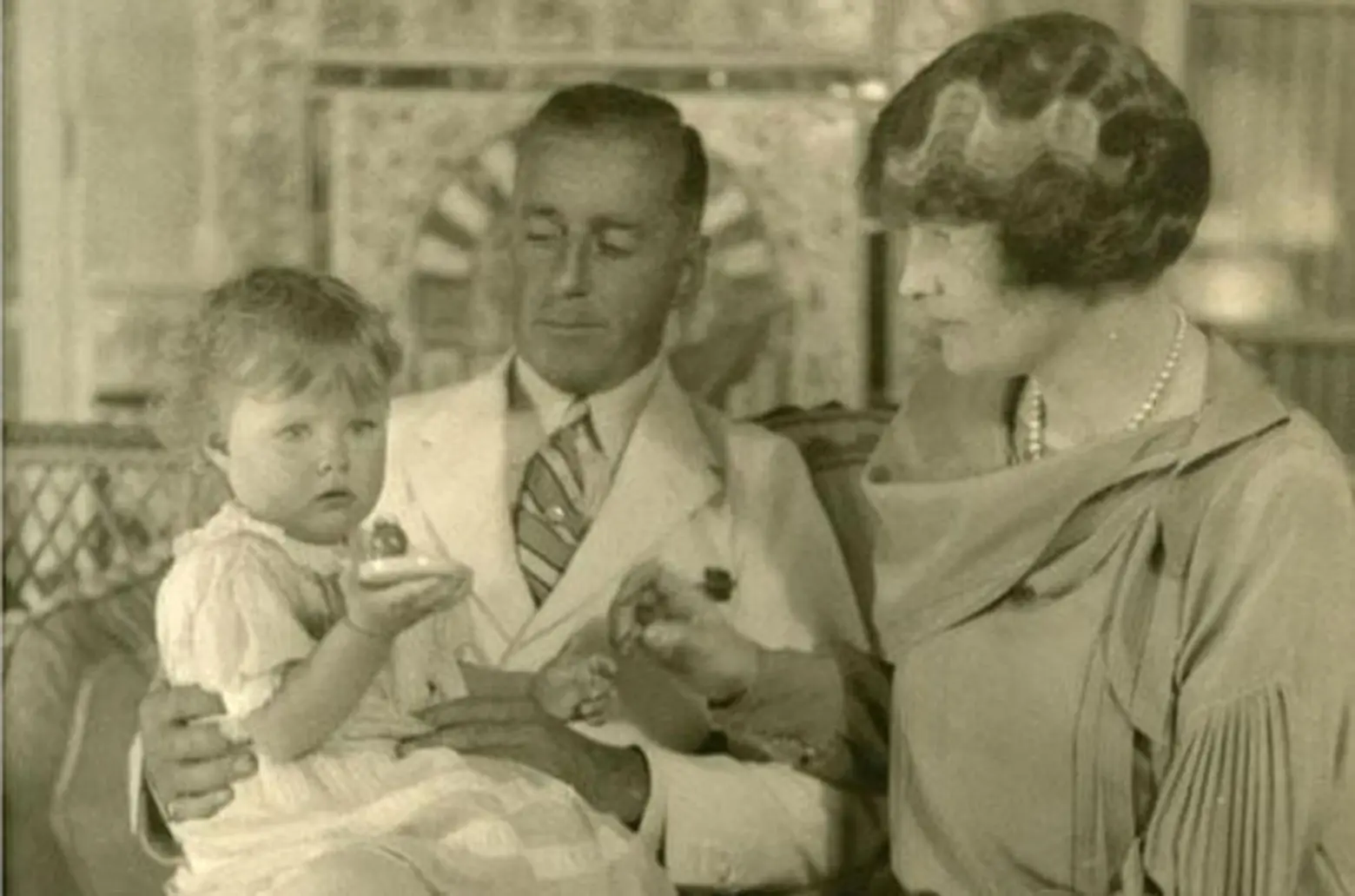 Image of Marjorie with her family via Hillwood Museum
By accepting her conditions, Fuller created not only New York's first penthouse, but also its largest. Funny enough, Fuller had no idea that the wealthy socialite had become increasingly exasperated by street noises and fumes emitted by the cars and buses that motored past her house all day long and was indeed prepared to pack up and move anyway. Incidentally, Mr. and Mrs. Hutton were already building the 126-room Mar-A-Lago estate in Palm Beach, which was completed in 1927. (And declared a National Historic Landmark in 1980–Donald Trump reportedly paid $10 million for it in 1985, eventually turning it into a private club.)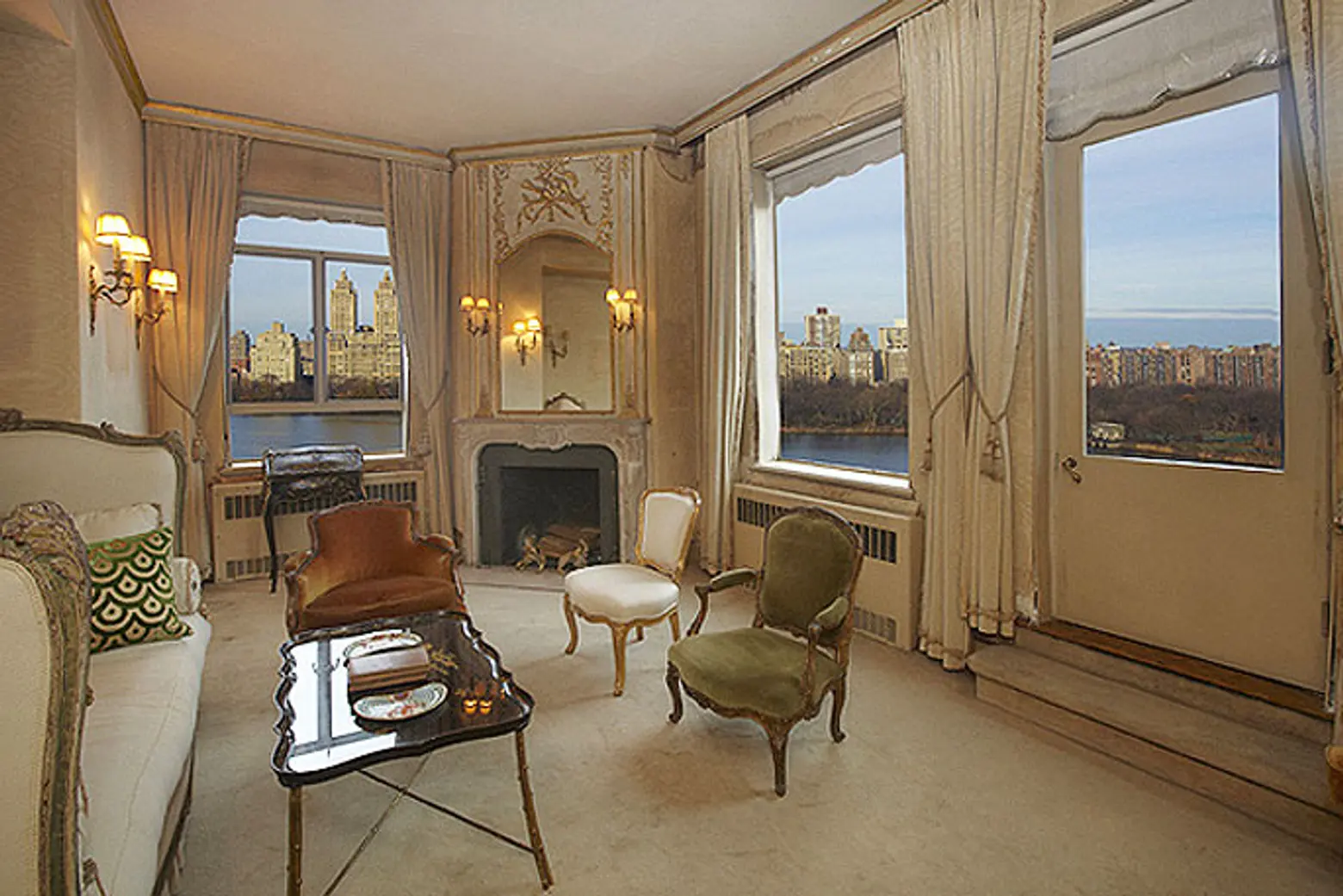 Image of one of the split up penthouses, 2012. Image by Brown Harris Stevens
The unit's design included a wrap-around terrace on its highest floor, 12 wood-burning fireplaces, 17 bathrooms, two kitchens (one with a larder and one with a butler's pantry), a breakfast room, a wood-paneled dining room large enough to invite 125 guests for a formal sit-down meal, a silver room, a bakery, a cold-storage room for flowers and furs, a linen room, a wine room, a pair of coatrooms (one for the ladies, the other for gentlemen), a gown closet, sun porches (one for sleeping), a playroom and some sitting rooms. One of its most talked-about features was the huge main entry on the 12th floor with a marble stairway, a skylight and gigantic Palladian window facing Central Park. Laid out in the shape of a Greek cross, it often doubled as a ballroom.
With a Downton Abbey-like staff said to reach at least 70 at any one time–including a personal maid and private secretary –there was a large servant's hall and kitchen and dozens of staff bedrooms along with a pair of workrooms for the valets.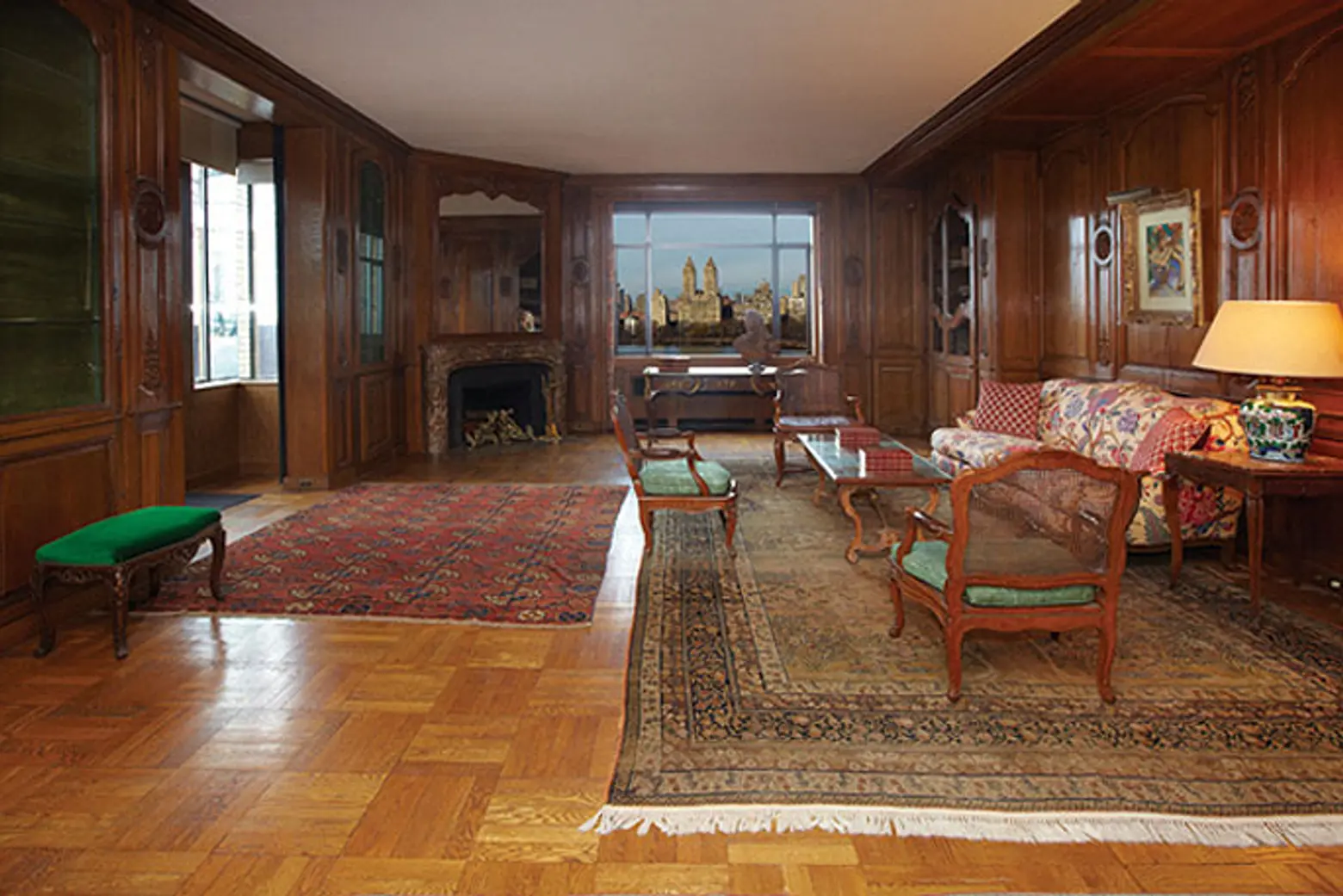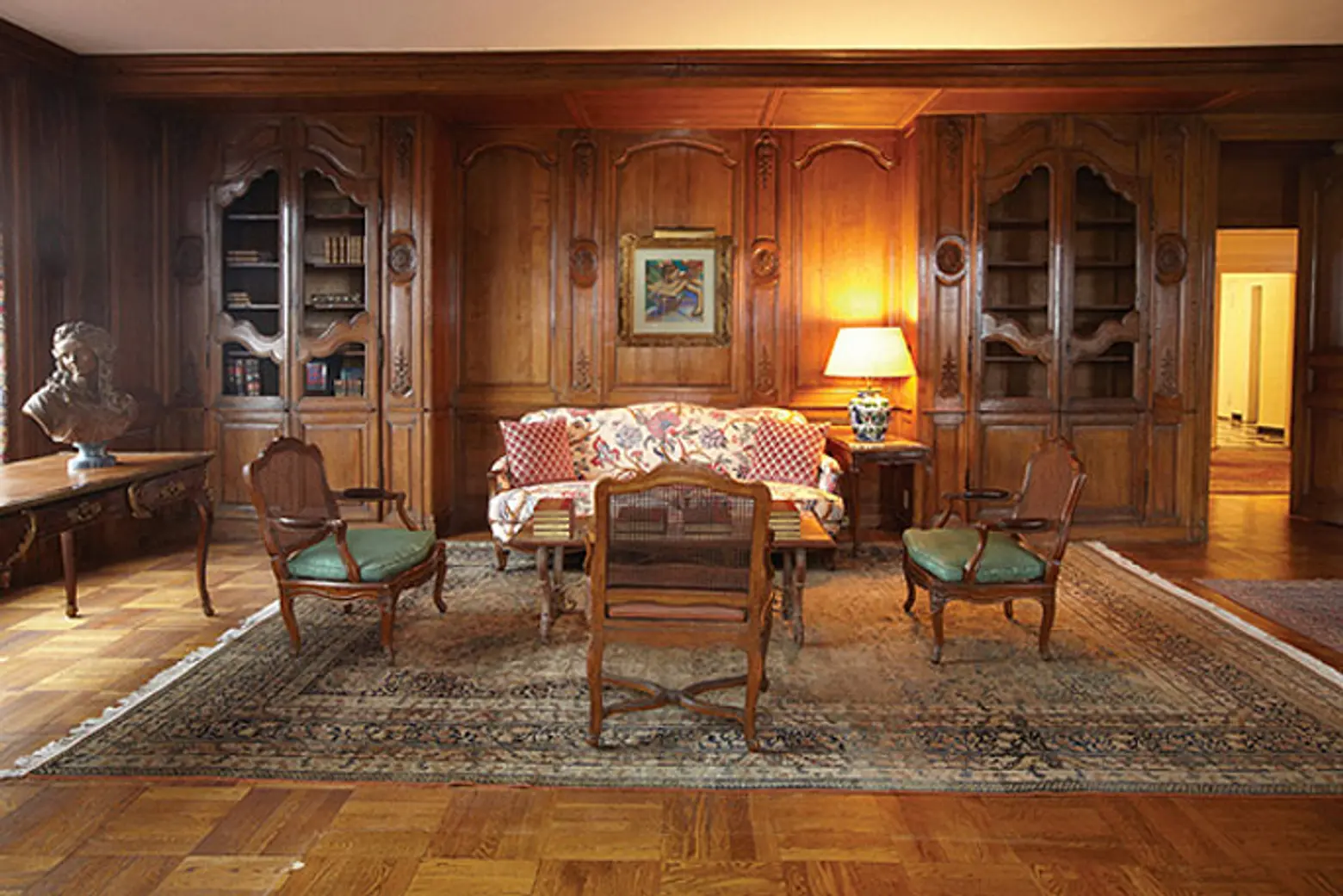 Images one the split up penthouses, 2012. Courtesy of Brown Harris Stevens
As a rental, the 15-year lease was only $75,000 a year. And when it expired in 1941, the family moved on. The triplex remained empty for about 10 years, and when the building converted to a co-op in the early '50s, six units were carved out of the original triplex. Word is that designer Ralph Lauren purchased one of them nearly a decade ago for some $20 million.
RELATED: