A Guide to the gilded age mansions of 5th Avenue's Millionaire Row – Part II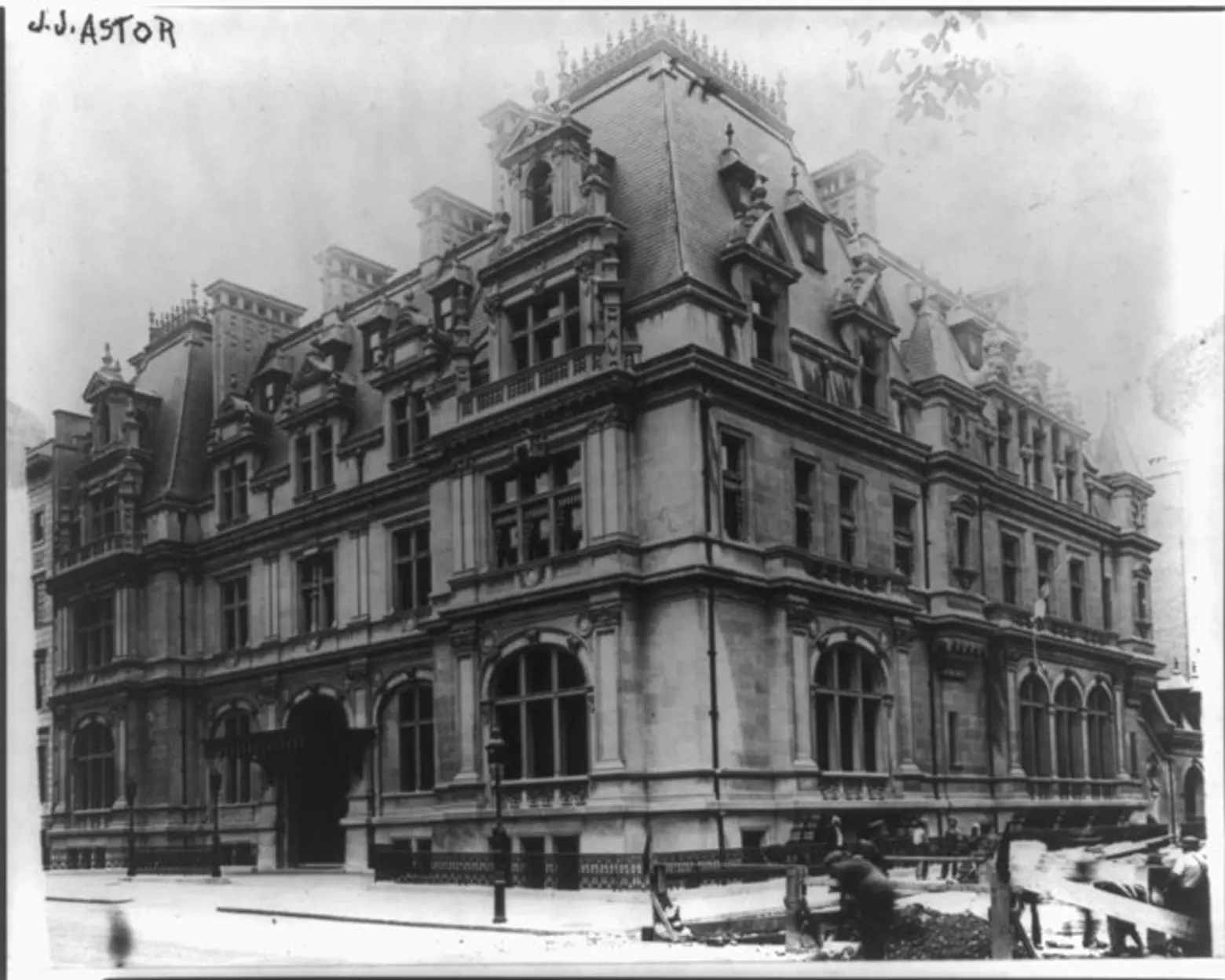 Last week, 6sqft went through the many mansions, predominately lost, along Millionaire's Row on Fifth Avenue up to 59th Street. Most of this stretch has been converted into upscale luxury retail and corporate skyscrapers, but Millionaire's Row continued northwards along Central Park, which opened in 1857. Though some have been lost, a significant number of these opulent Gilded Age mansions still stand within this more residential zone. The AIA Guide to New York City calls this area of Fifth Avenue from 59th Street to 78th Street the "Gold Coast," and rightly so.
Walking up 5th Avenue, you'll first pass the decadent Sherry-Netherland Hotel with its recently uncovered 1927 Beaux-Arts mural and the Stanford White-designed Metropolitan Club, founded by J.P. Morgan in 1891 for friends who were rejected from the old-money Knickerbocker Club. But even before the construction of the Metropolitan Club, a mansion was rising less than a block away on 61st Street and Fifth Avenue.
The Bostwick Mansion, 800-802 Fifth Avenue: Demolished
Jabez A. Bostwick was a founding partner and treasurer of Standard Oil, and moved his family into this 10-room French Second Empire mansion in 1876 on the corner of 61st Street. When his daughter married, he extended the mansion to 801 and 802 Fifth Avenue.
Various tragedies hit the Bostwick family over the years and the home was purchased by family friend Mrs. Marcellus Hartley Dodge, a daughter of William Rockefeller in 1922. From the get-go, Mrs. Dodge intended to redevelop the property but it sat seemingly abandoned until 1977. Today, it is a 33-story luxury apartment building. The three-story ground floor facade leads to a set-back tower, which is in accordance to requirements within the Fifth Avenue Special Zoning District. According to the AIA Guide, the new building "matches in height–but not in ambience–the Knickerbocker Club to the north."
+++
The Second Mrs. Astor's House, 840 Fifth Avenue: Demolished
The first Mrs. Astor's House on 34th Street and 5th Avenue heralded the beginning of high society in New York City, with the famous 400 hobnobbing in her grand ballroom. But a family feud between Caroline and her nephew William Astor manifested itself in terms of real estate. William demolished his townhouse next to Caroline to construct the Waldorf Hotel. A year later in 1894, Caroline and her son moved away from the construction zone and uptown to a more fashionable spot on 65th Street and Fifth Avenue.
The architect was none other than Richard Morris Hunt who designed the William K. Vanderbilt House for Alva Vanderbilt in 1878. Alva had her mansion on 5th Avenue and 52nd Street designed with the express intent of breaking into the New York society Mrs. Astor had barred her from. Though there were technically two homes inside, one for Caroline and one for John Jacob Astor, the exterior was designed to look like one enormous mansion–likely a deliberate one-up to the massive Cornelius Vanderbilt II mansion on 59th Street and 5th Avenue. The ballroom connected the two residences and could host up to 1,200 guests, a number interestingly standardized by Alva Vanderbilt as well. The other interior spaces were also flexible and could be joined for events.
After Caroline's death, John Jacob Astor took over Caroline's portion of the mansion and performed major renovations to the ballroom and other spaces. On the personal end, he divorced his first wife Ava, remarried and booked travel for him and his new bride aboard the RMS Titanic for their return from a European honeymoon. The new (and pregnant) Mrs. Astor and her maid survived the tragedy but John did not. When Mrs. Astor remarried, she had to give up the mansion on 65th Street in accordance to Astor's will. William Vincent Astor, John Jacob Astor's son from his first marriage moved in with his wife. Later, preferring their Long Island estate, Astor and his wife sold off the mansion on 65th Street to developers and auctioned off the entire interior. Today the Temple Emanu-El stands in its place.
+++
R. Livingston Beekman Townhouse, 854 Fifth Avenue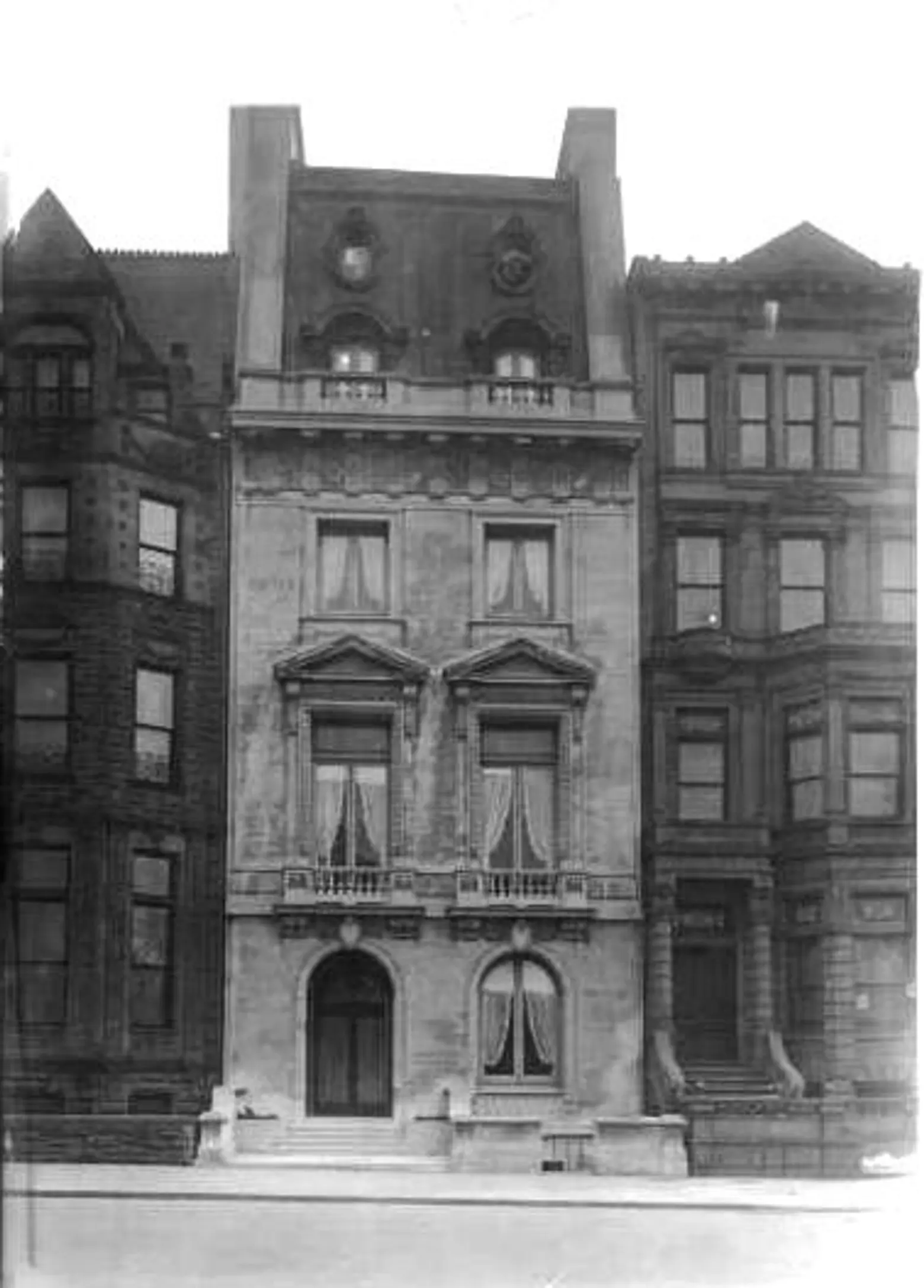 Image via NYPL
Though its now sandwiched between two apartment buildings, the R. Livingston Beekman townhouse designed by Warren & Wetmore remains as distinguished as when it was completed for the politician in 1905. Warren & Wetmore were also the architects behind Grand Central Terminal and Yonkers Train Station. The Landmarks Commission writes effusively that "in its noble scale this house, if multiplied, could form a palace. The design has a purity of style which was executed with such finesse and authority that it sets this French style residence apart as one of the finest small townhouses extant on Fifth Avenue." In her later years, Emily Thorn Vanderbilt Sloane, who had lived in the Vanderbilt townhouses on 5th Avenue and 52nd Street, moved into this house.  Today it is home to the Mission of Yugoslavia to the United Nations, between 66th and 67th Streets.
+++
Henry Clay Frick House (The Frick Collection)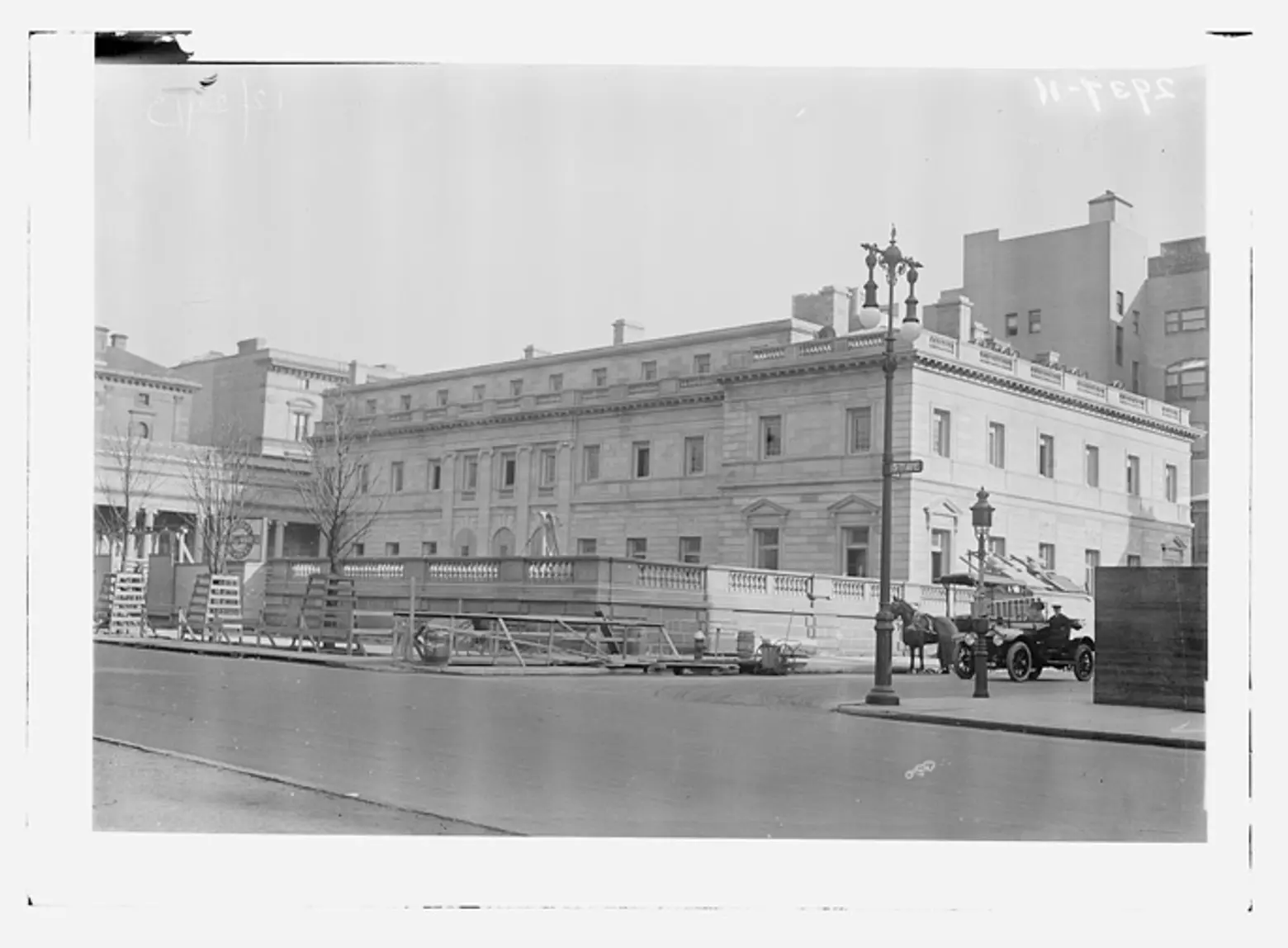 Image via Library of Congress
As we mentioned in the previous guide, Henry Clay Frick began amassing his art collection in one of the Vanderbilt Triple Palaces further south on Fifth Avenue, which he leased for ten years. In 1912, he commissioned this mansion on 5th Avenue and 7oth Street from Thomas Hastings, of the firm Carrère and Hastings who also designed the New York Public Library at Bryant Park. After Clay's widow died, the mansion was converted into a museum but the underground bowling alley was kept intact. In the last century, the museum has been enlarged several times with the latest plan under attack by residents and architecture critics.
+++
925 and 926 Fifth Avenue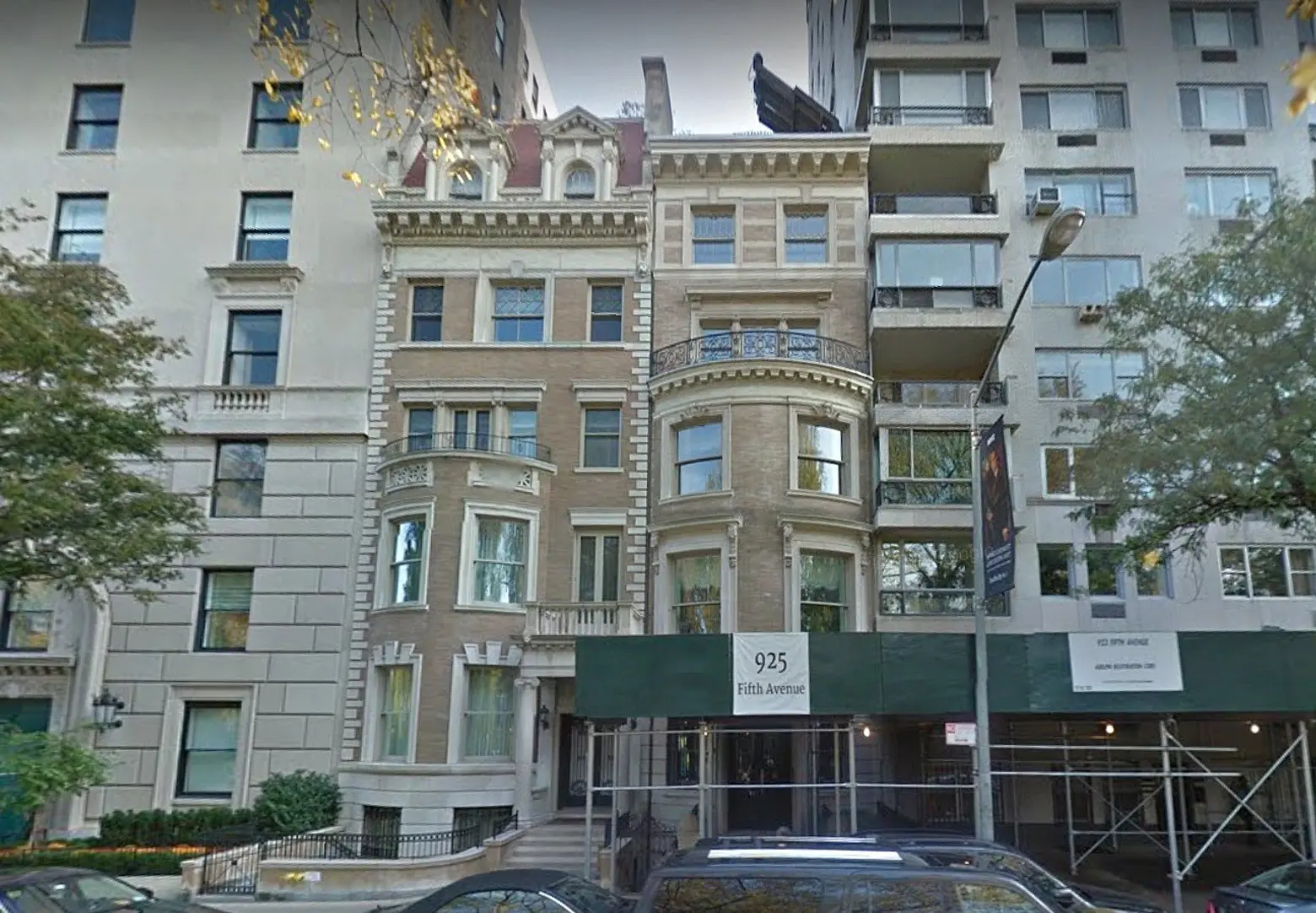 Via Google Street View
Between 73rd Street and 74th Street, you'll pass by two five-story townhouses designed by C.P.H. Gilbert. While they were originally typical of turn-of-the-century Fifth Avenue architecture, today they provide a welcome respite amidst the tall apartment buildings that have come to dominate this stretch. These homes have been notable more in recent news–the lease on 926 Fifth Avenue was taken over for $21 million in 2008 with a $37,500 monthly rent on top.
+++
Edward S. and Mary Stillman Harkness House, 1 East 75th Street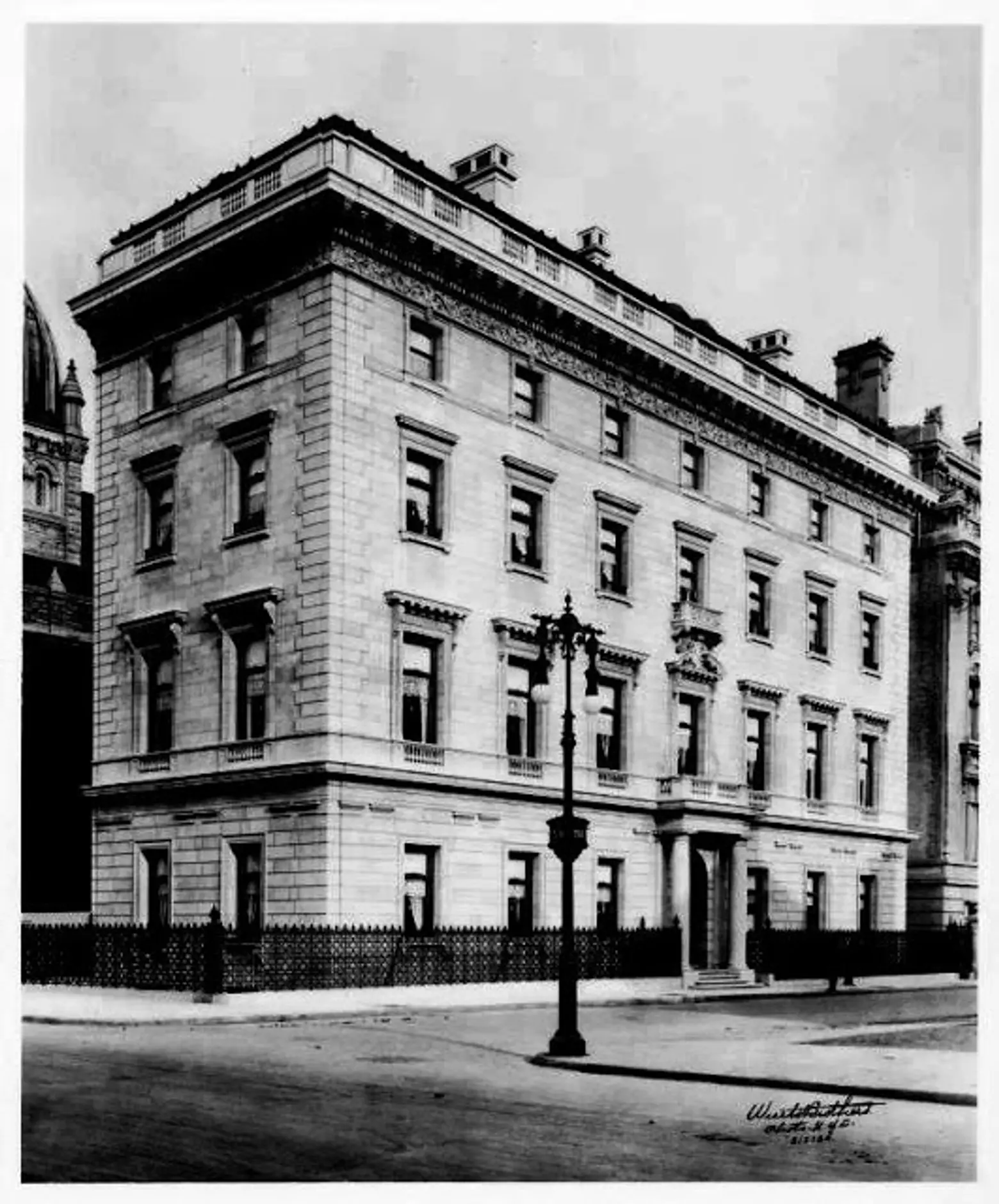 Image via NYPL
This Italian Renaissance-style mansion was built for the son of Stephen V. Harkness, a businessman in Ohio who had invested in Rockefeller's oil business. Though the building is understated in its core design, pay close attention to the detailed ornamentation on the top. Because of the narrow lot, architects Hale & Rogers designed the main entrance to be on 75th Street and had to ask the neighbors to change their address to 3 East 75th Street.
+++
Payne Whitney House, 972 Fifth Avenue
This beautiful Stanford White building between 78th and 79th Streets was designed for Payne Whitney and his wife Helene Hay Whitney as a wedding present from his uncle, Colonel Oliver Hazard Payne. The domed entrance hall and main staircase were installed by the Guastavino firm and the Marble Room, Reception Room and Venetian Room are truly a sight to behold. Today, it's the Cultural Services of the French Embassy which holds events, allowing anyone to glimpse its interiors. It also features frequently in television shows like Law and Order and The Blacklist.
+++
Harry F. Sinclair House, 2 East 79th Street

Via Archi/Maps
We conclude our walk along Millionaire's Row with two homes on 79th Street, one lost and one still standing. The Isaac D. Fletcher Mansion on the south side of 79th Street and 5th Avenue is a French Gothic style home designed by C.P.H. Gilbert and completed in 1899. There have been a number of notable residents which include oil tycoon Harry F. Sinclair and August Van Horne Stuyvesant Jr., a descendant of Peter Stuyvesant. It's now the Ukrainian Institute of America, a non-profit.
+++
Isaac Vail Brokaw Mansion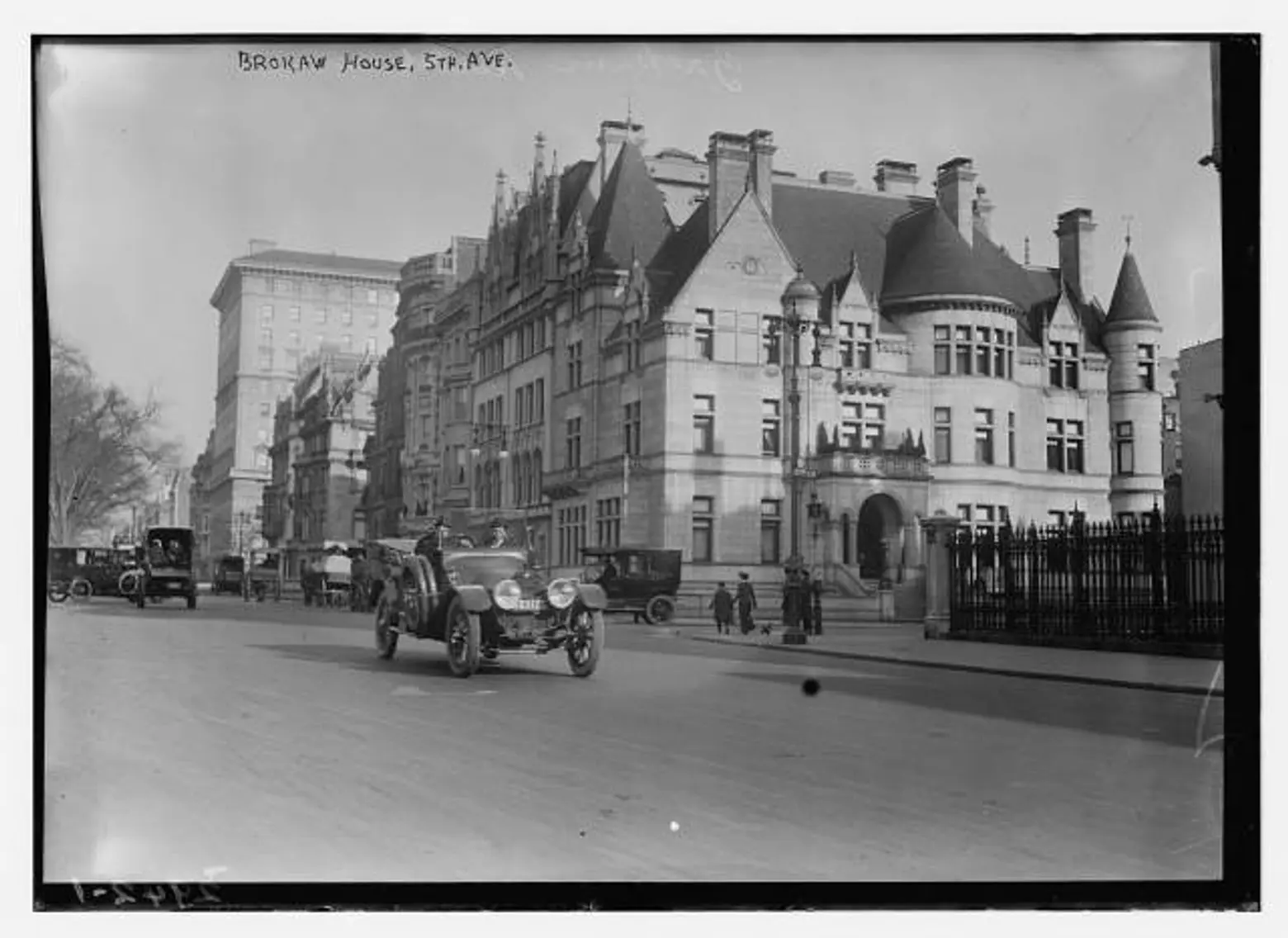 Via Wikimedia
This home on the north side of 79th Street is also in the French style, inspired by the Château de Chenonceau in France's Loire Valley. Built by Isaac Vail Brokaw, a clothing manufacturer, in 1890, it suffered the fate of other historical buildings under threat in the 1960s. Like the original Metropolitan Opera House, the Landmarks Commission was already formed when the wrecking ball made its mark, but it had little legal authority. A rather nondescript apartment building went up in its place.
+++
That so many of these Gilded Age mansions and townhouses have survived in this stretch of Manhattan's Gold Coast is a testament to the reputation of Fifth Avenue as a bastion of real estate and cultural heritage. The re-appropriation of these homes into embassies, cultural institutions, apartments (and sometimes back to private homes), lend a rich history to these singular buildings, built by the city's most influential to reflect their power, wealth and standing to the world. Though many of these individuals are no longer names remembered in the popular sphere, their more permanent memory lies in the architecture they left behind.
RELATED: 

Michelle Young is the founder of Untapped Cities, a publication and tour company about urban exploration and discovery in New York City. She is also an adjunct professor at Columbia University Graduate School of Architecture, Planning and Preservation and is the author of a forthcoming book on the history of Broadway from Arcadia Publishing. Follow her on Twitter @untappedmich.