Join the cash mob to help save St. Mark's bodega Gem Spa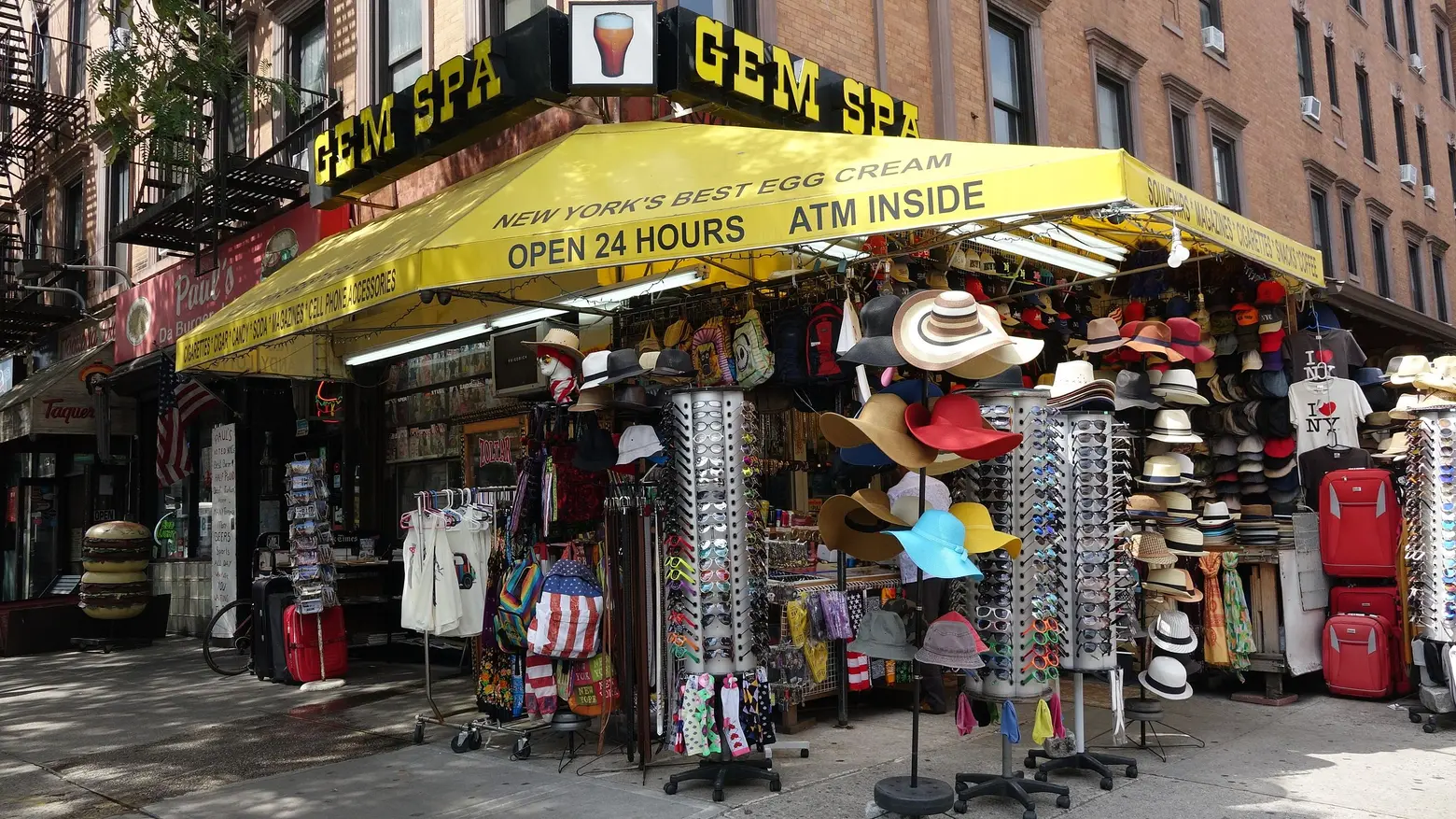 The East Village's Gem Spa first opened in the 1920s on the corner of St. Mark's Place and 2nd Avenue and received its current moniker in the 1950s. The shop became famous when it was frequented by Beat writers such as Allen Ginsberg and featured in a painting by Jean-Michelle Basquiat and then later as an all-night punk hangout and tourist stop for egg creams. Today, however, the store is struggling to stay afloat due to the ever-increasing gentrification of the neighborhood and losing its cigarette and lottery licenses in the spring. In an effort to save the icon, small business advocacy group #SaveNYC is hosting a cash mob this Saturday. In preparation, a faux storefront was installed that reads "Schitibank coming soon," in reference to rumors that Citibank is trying to take over the storefront.
In a recent New York Times article, current owner Parul Patel (her father bought the store in the 1980s) explained how Gem Spa is $100,000 in debt and is operating at a $17,000/month loss since losing its cigarette and lottery licenses. To try to make ends meet, she spends more time on the store's Instagram account, created t-shirts to sell, and even introduced a vegan egg cream. But times are still tough, and #SaveNYC is hoping its cash mob tomorrow from noon to 2pm can help. The event's Facebook page reads:
Come prepared to spend some money—egg creams, pretzels, t-shirts, toothpaste!–and take your photo with a surprise work of guerrilla street art, as an acclaimed group of cultural activists and designers radically transform Gem Spa into a dystopian vision for the new St. Mark's Place.
Vanishing New York's Jeremiah Moss enlisted artists Tommy Noonan and Doug Cameron of the design firm DCX Accelerator to create the street art piece. According to Time Out NY, the fake ads make reference to the cover of the New York Dolls' first album, which featured Gem Spa. The fake ad says it was their favorite "bohemian" bank. Other ironic ads feature Jean Michel Basquiat and Patti Smith on "Schitibikes," Allen Ginsberg and Jack Kerouac, and Robert Mapplethorpe. On Vanishing New York, Noonan and Cameron said:
We see too many large banks and large chain stores move into these small neighborhoods putting mom and pop shops out of business. We wanted to see if our art could prevent that. Gem Spa is a fixture of the community and we wanted to help.
So far, Citibank has denied claims that it is interested in the storefront and has even invited Gem Spa to bring its famous egg creams to their headquarters. You can find more information on tomorrow's cash mob here >>