Astor Place Hairstylists to close next month after 75 years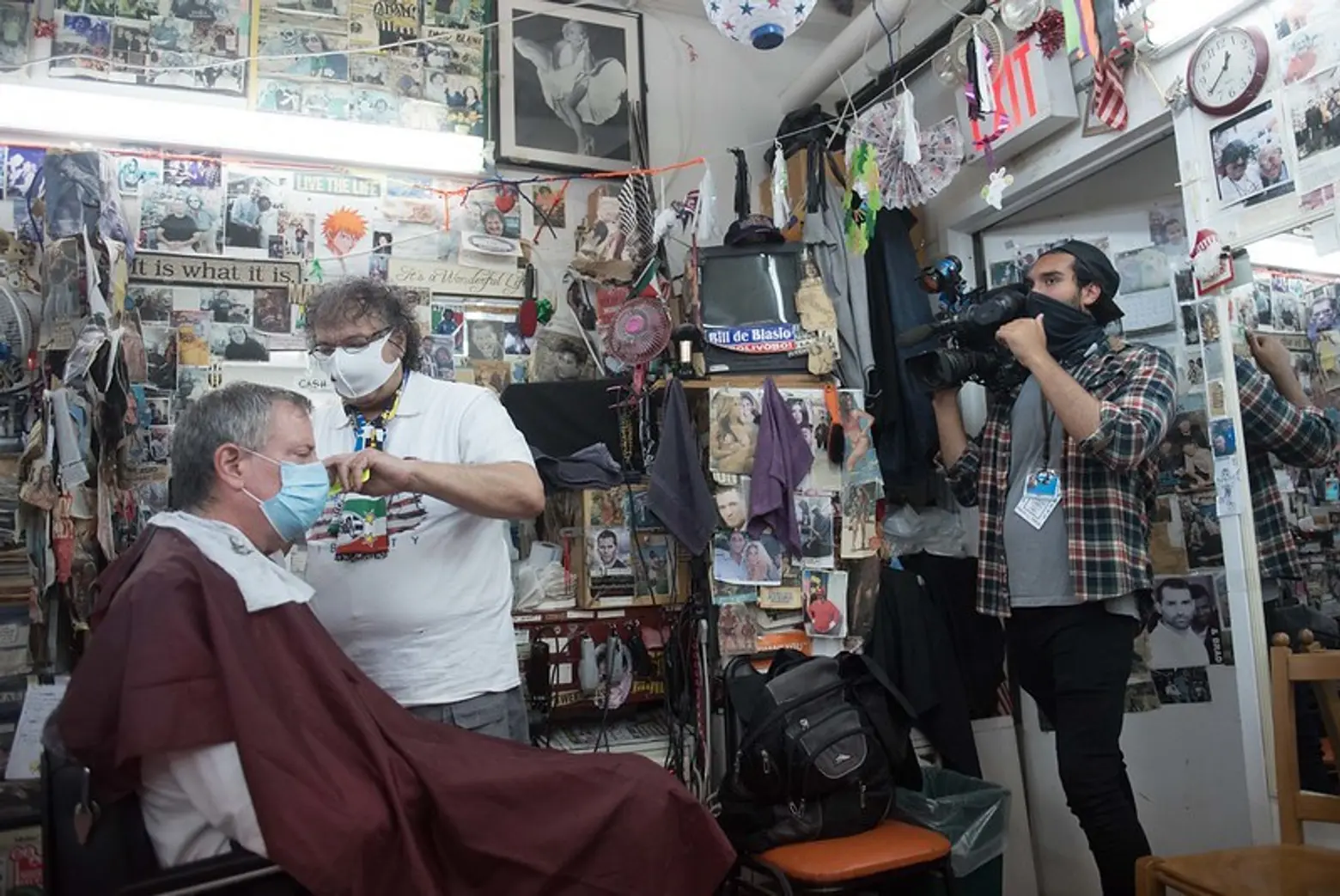 Mayor Bill de Blasio celebrated the Phase 2 reopening with a visit to Astor Place Hairstylists on June 23, 2020. Michael Appleton/Mayoral Photography Office on Flickr
Another New York City institution will close its doors this year because of the coronavirus pandemic. Astor Place Hairstylists in the East Village, which opened in the 1940s and is known for its affordable prices, multilingual stylists, and celebrity clientele, will shutter at the end of November, as the New York Post reported. Hair salons and barbershops were allowed to open in June as part of the city's second phase of reopening, but a lack of business, and no additional federal funding, has forced the iconic barbershop to close.
Despite opening every day since phase two launched, manager Michael Saviello told the Post that business is down 90 percent. "A lot of people cried when we told them the news," Saviello told the newspaper. "Some of our customers cried because they came here as kids and now bring their kids to get their hair cut."
Astor Place Hair opened nearly 75 years ago in the East Village. After occupying floors at 2 Astor Place, owners John and Paul Vezza moved all operations to the basement of the building in 2004. While the Vezza brothers are third-generation owners of the business, they do not own the building.
Prior to the pandemic, the shop operated 40 stations and employed 54 barbers and beauticians, Gothamist reported. Currently, Astor Place Hair employees at most 25 stylists. The shop has launched a GoFundMe to help the staff who will be laid off. "This is not a plea to try to stay open, as that is too big of a task. The hardest part of closing is putting all of our dedicated stylists out of work," Adrienne Marie, the fundraiser's organizer, wrote.
"We have persevered through some challenging times such as long hair of the 60s and 70s, 9/11, and stock market crashes. Unfortunately, the last few months battling Covid19 pandemic has proven fruitless. We so truly love our Astor family past and present, employees, clients, and friends."
Called "the United Nations of hair cutting" because of its diverse, multilingual stylists, the single-room shop has served customers like Robert DeNiro, Andy Warhol, and Mayor Bill de Blasio, who got a hair cut at Astor Place Hair when it reopened in June. According to Gothamist, de Blasio returned to the barbershop on Saturday after hearing the news of its closure.
"After hearing the horrible news, the Mayor visited his friends at Astor Place Hair on Saturday," de Blasio spokesperson Bill Neidhardt told Gothamist in an email. "They are a true New York City small business institution and we hope for a positive path forward."
RELATED: